Re: WWE: A Strong Response
---
Good show Nige as usual. I do feel a little let down with the announcement, but i'm sure you'll get the best from it in the end. Just one request....can Steph become slutty Steph again like in the actual McMahon/Helmsley era?
---
Tag Teaming With James Ellsworth
Join Date: Mar 2005
Posts: 1,214
Points: 0
Re: WWE: A Strong Response
---
Raw Review

Nice way to start the show off with a good very aggressive promo by Triple H. Complaining about the votes being rigged would usually be left for somebody heel but I liked you have Triple H complaining about it. HHH v Orton tonight is a bit of a surprise but expect Vince to get involved and cost HHH the match.

Kennedy v Val tonight should be a good way for Kennedy to regain some lost momentum from Cyber Sunday. Lol at Val telling Kennedy he might win for a change, when was the last time Val won? 2000?

Decent Womens match like the teaming of Beth and Victoria. Good victory for Mickie continuing her feud with Beth and I expect that she will take the title off Beth sooner or later.

Wasn't too keen on this promo seemed to drag on a bit for my liking. Interesting to see Regal get angry at Vince. End of the promo basically confirms the ending of the Orton v HHH match and he will make an interference.

Again this promo seemed to drag on a little, the promo started off very nicely but got weaker towards the end. However it was a nice humerous promo between the two and I expect these two to feud in the future sometime. Also I thought that the Bret Hart line seemed pretty forced as that came from nowhere pretty much.

Squash match here for Kennedy which was expected and was the right booking especially after losing at Cyber Sunday.

Decent promo here between CM Punk and Triple H, bit surprising to see Triple H apologise as that really is not the type of thing he would do. Will be interesting to see what Triple H means when he said some things need to be remained secret.

Jeff v Hardcore Holly in a hardcore match should be a good match and I can see Hardcore putting Jeff over to make him look strong.

Battle royal was a very well written match, good to see a more detailed summary on the match which is what I prefer to just writing the ending of the match. Interesting ending to the match with Burke hitting Punk and Santino with the chair, would of thought that the match would continue though. The announcement of the IC Title being defended in a survivor series match is a unique idea but I would really like more information on it because what happens if two men from one team survive?

Randy Orton promo was one of the better ones of the night, as you got Ortons character spot on. Shame that we won't see the WWE Title defended at Survivor Series, but Team Orton v Team Triple H (I would think) should be very good.

Jeff picking up the win is not surprising, as a victory over Hardcore Holly in a hardcore match would of course make him look very strong. It was a solid match and there was a nice use of weapons and you can't beat someone being put through a table.

Good main event and no surprises about the ending with HHH winning via DQ. Vince is about to hit HHH with sledgehammer when Stephanie comes out? Stephanie is Triple H's wife? NO FUCKIN WAY! I THOUGHT THEY GOT DIVORCED IN 2002? Now seriously a bit of a disappointment for the bombshell as everybody pretty much knew Stephanie was Triple H's wife, but should make the Vince/HHH more feud more interesting.

Overall was a pretty good show, the matches were good, promos were overall decent but some seemed to drag on a little and some things that were written in the promos seemed a little forced. Only big disappointment was the ending however, but overall good show. 7.75/10
Re: WWE: A Strong Response
---
JD SPURS RAW REVIEW
Good promo from HHH and then Vince comes out a tells him no title whic his dissapointing but good ole' William R comes and makes a title match hich should be good but can't see Trips winning it, well not for now. Also confused where everyone was, who was on the ramp, who was in the ring? Dosen't really matter but hey.
Kennedy and Val was okay but a crap porn star lol strange insult. But that match is so gunna be a squash and it will keep KK going strong, like hi mto get to main event soon and maybe a face turn? Liked the womens match a Mikie getting the pin over Beth wow thats gunna keep her momentum going.
Vince and Regal was well okay, so the title matc his gone which is dissapointing and all I can see now is Vince getting a pin over HHH. Poor Regal getting controled by Vicne. This wa san okay promo but I would prefer for Regal to have complete controle over everything. HHH and Vince fued then, where have I seen this before?
Nothing special from Burke and Marella some funy moments but nothing that Marella can produce and Burkewith his cocky attitude was good. Got quite boared towards the end should have been quicker and not too long. And the match with Kennedy and Val was good, not a smuch of a squash as I thought but was good and keeps KK rolling well to main even
Punk and Triple H was something Ididn't like , at CS was mcuh better this was too soppy and boring . Saying I'm Sorry and explianing to him why he's mad I didn't like it much. Punk should win the IC Battle Royal, well I hope. Holly and Jeff was random but Holly like, Hardcore match should be good.
Battle Royalwas good match and I thought Punk had it but no damn Burke. The tag match will be great next RAW and I like the SS match you made should be intresting. Orton was well Orton, and Regal gives him a captain spot, but I can't see it lasting long hopefully a WWE Title Match will still happen. Beth and Victoria was boring but gets the point across.
Harcore match was great and SB on the table was amazing big spot. Good win for Jeff. That code thing is wierd don't know what it's for, Rock, SCSA, Jericho, Scotty Too Hotty? I dunno. And the main event was really good and the DQ was a good way to end it and now for this annoucment.
Hmmmmmmmmmmmm? Well I know this ia shock for Vince bt it really was an anti cliax and not really a bombshell. So I was hoping for something bigger but I guess is going to be Vince vs. HHH/Steph which is always good.
Overall another solid show and the bomshell was medium not as big as you said. The matches were all god, like the womens match a lot and the battle royal was well written, a good show. Well done keep it up.
---
Or is it?
PWInsider.com
---
Backstage WWE News & Rumours
Quote:
Originally Posted by PWInsider.com

Last night on what was a sensational night in Pittsburgh, we had several huge announcements, some of which were massive.

We learnt that the reason behind Mr. McMahon's anger towards Triple H is down to the fact that The Game is married to his daughter Stephanie. This obviously is the case in real life and it appears that the WWE have decided to make it public knowledge. It will come as a shock to some fans, but most of the wrestling world knows the situation, but for it to come out in this way was a big surprise. Creative knew it would be a risk, but see it as a big storyline, otherwise it would not have been sanctioned. This will develop throughout the year and into next with several twists along the way, this bombshell will be the first of some major shocks. It is understood some fans would criticise the angle, but creative sees the angle as a big event and the reason it was hyped so much as it was considered a big shock for TV, but it does obviously mirror real life and obviously rubbed off on how some people reacted to the angle. It is understandable, but from what you see on TV, it is completely different from real life, that is why it was hyped as would it be a huge bombshell had they not been married in real life as they are. That was always going to be taken into account, but this is a TV show and real life should be left behind and now the storyline can continue without a big build up of a bombshell.

We also found out that there will be a tradition Survivor Series elimination match for the Intercontinental Championship at the upcoming pay-per-view. Elijah Burke's chair shots to CM Punk and Santino Marella cut short the Battle Royal last night to determine the number one contender, and William Regal quickly made the match. It appears that whoever gets the winning fall will be the Champion and Jeff Hardy will most likely be joined in the match by CM Punk, Cody Rhodes, Elijah Burke, Santino Marella & Carlito. More entrants may also be involved.

Another traditional elimination match will take place and that we learnt that Randy Orton will be one of the team captains and that the WWE Championship will be on the line. It is believed that Orton will head up a team of heels from both brands and that Orton will be heading to Smackdown this week to get some superstars to join his team. There is no news on the other team captain, but the Save_Us video made returned with a new code, maybe that will be part of this storyline. Chris Jericho is expected to return soon, and it would come as a shock if it was not him, but it can't be ruled out.

On the Smackdown front, Rey Mysterio is most likely out of the Survivor Series following the concussion he received at Cyber Sunday. The card has been reviewed and it seems that the kayfabe injury will keep Rey on the sidelines for now, without harming the pay-per-view. However, The Undertaker suffered a legit injury in his match last week on Smackdown, but it is nothing too serious. It is understood he will not be at the tapings this week though to rest up for the Survivor Series.

There are rumours circulating that Carlito has asked for his release, and that is something that cannot be confirmed right now as at this moment, they are only rumours. We will keep you updated on that front.

Also, Matt Bentley has been trying out at Florida Championship Wrestling in order to gain a WWE contract. It was more than likely set up by his cousin, Shawn Michaels and could help him get a contract, but there is no word yet on how he has performed.

The WWE is said to have no interest in signing The Naturals but they are actively looking for some more talent and expect to see some OVW & FCW stars appearing on TV soon.
Re: WWE: A Strong Response
---
Bradley's RAW Review

A very good and emotional opening promo from HHH, you sure can write him well as a face but it seems like he always has to fight a heel Vince, never mind I am still liking this storyline. I saw a slight grammar error 'that is track down Vince' should have had a to in between the is and the track. Interesting and edgy to find out the votes were seemingly rigged and this was a good angle but I didn't like Regal overruling Vince as Vince is higher in the hierachy than Regal, much higher. Other than that questionable decision a very good promo.

I really liked this promo between Val and Kennedy. Val is getting a push out of nowhere, he did need more build up but I loved the wording and didn't feel it was forced at all and it was just intense sentences and it was really very good.

The women's match had decent action but not every woman had an equal amount of time in the match but Mickie getting the win over Beth is huge and she deserves a good run as champ and you have 3 other diva's all rooting for the same thing so that is definitely strong.

Regal was doing a massive amount of ass kissing here, I was sensing a turn as he would do better on Smackdown, hell I hope he screws RAW at Survivor Series but the promise of those matches sure seems fine.

I liked Santino's promo, very corny and I did laugh at battle of the royals. I sense a decent rivalry between Elijah Burke and Santino and Maria was perfect as the dumb (non)blonde so I liked this promo to hype up the matches later on.

It is a real shame Venis didn't beat Kennedy or get a no contest as I thought he was going to be pushed but it is a credible stepping stone for Kennedy and it looked like he got a decent amount of offense in but the finish was cliched.

The interaction between Punk and HHH was OK, a little slow to start off with but it definitely got better but I can't see HHH talking like a chum to Punk, more of a mentor. I was also surprised that Punk was rooting for HHH, face or not he doesn't want to cross the boss.

This promo was a little generic and maybe 2 promo's in a row is a little too much (as you did it earlier on as well) and Hardy seemed too much of a badass and I am not a great fan of Holly (if at all) but he showed his old arrogant self and you could tell he was jealous, nice match announcement but Holly fighting the I.C champion but then he isn't in the battle royal for #1 contender for I.C makes no sense IMO as Holly won't be involved in anyway for the next month.

Very good battle royal, I won't dwell on it too much but interesting moments. I didn't like 4 big names go out in one go but Kendrick accidentally eliminating London is an awesome idea and thank holy fuck you are the second person to give Santino some sort of push and he better win! If Burke gets in the match I will be surprised.

I liked Orton's promo here, got was needed to be said across, with that said he was a nice pathetic type of heel but world champions shouldn't be pathetic, I hope you build the character in to someone more ruthless. I sense Regal double crossing Orton because you have to have a world title defended on the big 4.

To be honest I thought the women's promo to be very weird, I don't see Beth laughing, maybe it is because (I'm a Londoner) I don't know much about Beth.

WOW, this match was very brutal and physical, Holly showing off his ruthless side once again but the ending was perfect, a great ending for the match and the title really should have been on the line to make it a little more special but I really have no complaints.

It's Austin? Y2J? Cena? HBK? Rock? To be honest I don't know.

I didn't see Vince add himself in to the match. The match had a nice pace throughout but why would HHH be scared of Vince? (As to break the hold as he was coming in the ring) Shame HHH didn't hit the Pedigree but as it was for the title I guess it needed to be a DQ. The ending wasn't bad, think of the possibilities of a new McMahon/Helmsley era, the ideas could be amazing.

Overall a good show, a few questionable lines in places but otherwise it was very good.
---
Re: WWE: A Strong Response
---
Good news Nige, it cleared up some things.
---
Or is it?
WWE.com HOMEPAGE
---
BREAKING NEWS - IC TITLE MATCH SET FOR SURVIVOR SERIES
Following William Regal's announcement that the Intercontinental Championship will be defended in a Traditional Elimination match at the Survivor Series on Raw Monday night, we can now confirm which superstars will contest this highly anticipated match. Regal himself contacted WWE.com earlier today to announce the superstars who would take part and said that the winning fall would determine who would leave as the champion if there is more than one survivor.

The match will see two teams try and eliminate one other, with the sole surivor or the superstar who clinces the match with the winning fall walking out of the Survivor Series as the Intercontinental Champion. Both teams will have three superstars, with the current champion Jeff Hardy joining forces with CM Punk and Cody Rhodes to take on Elijah Burke, Santino Marella and Carlito.

With two singles title now on the line in traditional elimination matches in addition to the WWE Champion Randy Orton heading up one team for another huge elimination match, it sure seems like the Survivor Series will indeed be bringing back tradition this year.

Whatever you do, don't miss Friday Night Smackdown this week to find out what else could be in store for you at the Survivor Series!
WWE.com - HOMEPAGE
---
SMACKDOWN PREVIEW
2nd November 2007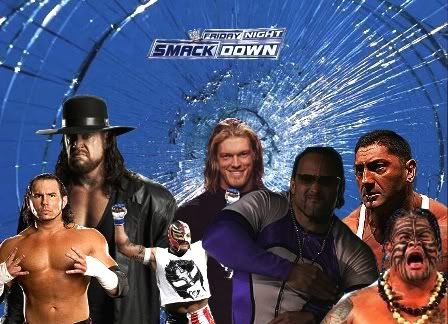 BATISTA RETAINS THE GOLD
In what was an epic match this past Sunday night, Batista was able to prevail with his World Heavyweight Championship in toe as he overcame huge odds to defeat Umaga in a Last Man Standing match with Edge acting as the referee. In a huge twist, and the only match to be affected by this, two stipulations had the exact same amount of votes, resulting in Edge taking charge of this brutal match up. Edge seemed torn while officiating until going to spear The Animal, a move which backfired as Batista took him out of the equation with a spine buster before putting Umaga out for the count.

What response will we get from what should be an unhappy Edge as well as the two competitors?

*Save_US.112*
Get Ready!
The time is near!
Time for the Saviour!

MATT MAKES HUGE MISTAKE!
At Cyber Sunday, Matt Hardy looked like he had finally got the upper hand on MVP as he led 1-0 with just seconds to go in their 30 Minute Iron Man match. But, as ever, MVP came through by the skin of his teeth, but it was all down to Matt's costly error. MVP saw time was running out on him and tried to snatch a late fall by using his US title belt, but Matt blocked him from using it. With the belt lying on the canvas, Matt saw red and decided to let out his months and months of hatred on the cocky champion, earning himself a disqualification and costing himself the United States Championship at the same time.

What state will Matt be in this Friday night?

FINLAY PUTS REY ON THE SHELF
We were all aware that Finlay loved to fight, but boy was he prepared for the fight of his life at Cyber Sunday. The hatred between him and Rey Mysterio become so intense after Finlay's brutal assault of Mysterio at No Mercy, but nothing could prepare us for what happened this past Sunday night. With the fans voting for the pair to fight in an I Quit match, both men went to extreme lengths to come out victorious and neither would say the two words that would lose them the match. It ended that way too when it looked like Rey was about to take control, however that changed rapidly with one explosive chair shot to the skull from Finlay. The blow knocked Rey out cold and he was taken to a local medical facility suffering from a concussion. It is not known what Rey's condition is right now, but he is recovering back at home.

ORTON COMING TO SMACKDOWN?
William Regal made a strong statement this past week on Raw when he said that he intended to make this years Survivor Series the greatest ever. Part of his plans led him to ask the WWE Champion, Randy Orton to become one team captain of what Regal says will be the best ever traditional elimination match. Earlier in the evening, Mr. McMahon told Regal that he could cast his eyes over to Smackdown too and with that in mind, could we see Raw's Randy Orton make an appearance this week and invite Smackdown stars to join his team. Could a Smackdown star become the second team captain?

So many questions to be answered this Friday night, will we get the answers?

WHICH CRUISERWEIGHT WILL SURVIVE?
Last Friday night, Chavo Guerrero returned to Smackdown, attacking Jimmy Wang Yang after the adopted redneck picked up another victory. Later on, he went to acting GM, Mick Foley and was told that at the Survivor Series, he would be one of eight men competing for the vacant Cruiserweight Championship in what won't be a typical eight man match. Oh no! It's going to be a traditional elimination match with the person collecting the last fall winning the currently vacant title. With Chavo back, it certainly adds some heat to the already burning division.

With the title match fresh in peoples minds, what lengths will they go to this week to make an impression?

ALSO
One burning question on everyone's minds will be just who takes charge of this weeks show as acting GM? No word has come out yet, but we already know that after two weeks of losing to Paul Burchill, Chris Masters will join forces with the WWE Tag Team Champions, Shelton Benjamin & Charlie Haas to take on Burchill and his fellow Brits, Drew McIntyre & Dave Taylor in six man tag team action.

Plus after weeks of strange looks between Kevin Thorn and his brother, The Undertaker, Kane will go one on one with the impressive Thorn this week, a week after his brother stopped him choke slamming the former extremist. Will Kane be able to put Thorn away this week?


CONFIRMED FOR SMACKDOWN THIS WEEK

Kane vs Kevin Thorn

Paul Burchill, Drew McIntyre & Dave Taylor vs The Worlds Greatest Tag Team & Chris Masters



Re: WWE: A Strong Response
---
PWInsider.com

BACKSTAGE NEWS FROM THE SMACKDOWN TAPINGS

Currently, there is no sign of either Rey Mysterio or The Undertaker as expected, with their injuries picked up in the last week (Rey's being kayfabe). It should also be noted that the McMahon's, Triple H and Randy Orton are in the building. The McMahon's could be here to further the Stephanie/Triple H/Vince angle or it could just be in an official capacity as every TV. Orton is most likely here to promote his role as team captain at Survivor Series and begin the recruitment process.

There are some strong rumours going round that we could find out just who is behind the Save_Us promos at the tapings tonight as we get closer to the Survivor Series. It has to be said that no one has seen any big names in the building just yet, however it could be kept as a surprise by bringing them in at the last minute, after the fans have entered the arena. Chris Jericho remains the superstar expected to be unveiled, but don't rule out a shock.

After speaking to some officials, we found out that Low Ki would be considered to being brought in to work dark matches after his release from TNA, as would Michael Shane who is currently working for free at FCW. We have also learnt that some developmental guys could feature tonight. This is on the back of Paul Burchill & Drew McIntyre being called up in the last few weeks.



Re: WWE: A Strong Response
---
Just to let you all know Smackdown will be up tomorrow night, maybe Sunday depending on what time we head out tomorrow
Posting Rules

You may not post new threads

You may not post replies

You may not post attachments

You may not edit your posts

---

HTML code is Off

---