Re: WWE: A Strong Response
---
>Headlines<


>4 Teams & 1 Winner Next Week!<
Last night we heard Eric Bischoff tell The Miz that he and his rookie, Heath Slater will be taking on Rey Mysterio and his rookie, Mystico in the final first round match of the tag team title tournament next week. However we've since been told by Raw's Head of Authority that there will now be four teams competing for the last spot in the semi finals of the tournament that will determine new World Tag Team Champions.

Bischoff has now added the teams of The Big Show & Justin Gabriel and The Corporation, consisting of John 'Bradshaw' Layfield & Shane McMahon with the winners going on to meet Matt Hardy & Gregory Helms for a place in the final of the tournament which we're told will be at Survivor Series next month. The other semi final will see another combination of mentor & rookie when JTG & Homicide face the impressive new team of Christopher Daniels & Kaval.

There's going to be some tremendous competition over the next month or so as all these teams battle it out to win tag team gold, and with four teams going at it next Monday night, the unmissable action starts right there. Make sure you're there to see it all unfold!

If you happened to miss last night's highly eventful show where we saw a new champion crowned and all hell break loose between the three former members of Evolution, click here to find out what happened!
Re: WWE: A Strong Response
---
Interesting twist. Not sure if i was able to pick up on a reason why they were added but it will be a chaotic match. There must be a reason for the addition, obviously it sees Show and Corporation continue their rivalry but wouldn't have thought in this manner.

The Tag division is defo going in the right dircetion though.
Re: WWE: A Strong Response
---
RAW Feedback



As usual, good way to catch us up with the two major happenings of Unforgiven being shown to kick off the show.

Surprised to see Bischoff starting things off rather than Orton, but I liked how you made it seem important by having him cut off the commentary, out in a hurry to open the show. I'm really surprised you didn't have Bischoff talk about the WWE Title situation to begin with, because that seems like a far more pressing matter after the way the show closed, and really, I feel like a promo about it should have been the way for this show to open. Still, the Bischoff promo about Cena was leaving, brushing it off and talking up RAW well, before again hyping the big SmackDown! signing, whoever it is (thinking it may be Shawn Michaels too with all of the accolades detailed). The rookies speech coming before any mention of the WWE Title didn't seem right either, because you would think Bischoff would be pissed at Triple H and want to run him down very early in the show, although I guess the Triple H interruption should fix all of that. Bischoff immediately addressing Hunter like he was going to anyway because you would think interference in the main event of his Pay-Per-View should have taken top priority and thus being the first thing for him to address, although Triple H's attitude was good to see. I was surprised that Bischoff didn't put Triple H in his place immediately, although I thought the way you went about it worked out better, as you got Triple H to say his piece, then head Bischoff call him out on not deserving a title shot. I was a little surprised to see Orton come out, because I really don't like the heel/heel dynamic, although he would obviously want revenge for being hit with the sledgehammer the previous night. With Orton seemingly playing more of a tweener role, and thus being the face of this situation, I find it a little odd that he uses the cowardly tactic of staying at the top of the stage, away from Triple H, especially when he has the numbers edge with Young by his side. Orton bringing up the past he, Triple H and Batista have shared and using it against Triple H to make it seem like a current occurrence that he and Batista have been screwed by Triple H is clever, and really gives this whole angle that extra dynamic. The trading of words between Orton and Triple H was done pretty well, although the idea from Orton isn't something I like at all. I believe we're supposed to be getting behind Orton as more of a likeable guy against Triple H, so giving him the numbers advantage in a match against Triple H is just plain odd, because he has the advantage. I understand it fits in well with what Bischoff has said and what happened at Unforgiven, but from the point of view of trying to get the crowd to cheer Orton when he faces Triple H, I just don't think it works. A pretty good segment in terms of writing, but I'm unsure about the booking.

Good to see Ryder keeping his laid back attitude even when around Bischoff, catching Bischoff a little off guard. The decision to make Ryder a wrestler is the right one in my mind, although I'm a little disappointed he wasn't host for a bit longer before getting involved in any of the wrestling at all, because I thought it was a good, different way to introduce someone. At the same time, him being a wrestler now is by no means a bad thing, and having Bischoff talk him up a bit was good to see. The little exchange between DiBiase and Bischoff was good to see too, continuing their little thing with another good match for tonight.

Not really sure the promo from Cody was necessary. It doesn't really build on his character, nor does it start anything else up or further anything. It just addresses that he has a past with Kofi, which I think is the job of the commentators to detail.

Clever way to have Rhodes bounce back with a win here, while continuing the breakdown of Kingston along. The more serious side worked for Kingston in real life, so hopefully an angry Kingston will here too.

Okay post-match promos from both teams, although both were a little bland. I understand Matt has a lack of character, but Helms seems to have inherited too by teaming with him, while Kaval and Daniels need a little more to them than just being confident, which will hopefully come as they cement themselves on RAW.

Simple win for Daniels to keep the momentum for him and Kaval rolling, while Helms taking the loss doesn't really do a whole lot to harm him.

Really glad to see The Miz getting some mic time after scoring what was a very big for him at Unforgiven. Simple way to get some cheap heat at the start by thanking the crowd for his "ovation", before talking up his victory over Morrison in good fashion, along with some decent cheap heat tactics with the Capotelli mention as well. Miz taking on that real Hollywood heel persona, calling his naysayers "haters" and rubbing in that they were wrong about him is great to see, especially with the line that he's a star both in the ring and out of it, continuing the slight tweak on his real life persona that is working well for him in this thread. I thought it was overdoing it a bit for him to bring Capotelli up towards the end, even if he was talking up the Intercontinental Title match pretty well, and it seemed weird that he went to do his awesome shtick first, especially when it probably wasn't needed the first time. I'm not so sure about the Michaels interruption either. He's already feuding with Jack Swagger in a similar role to what you'd expect he would be feuding against Miz with here, and while a feud between Michaels and Miz would be okay if Michaels were the one to move to RAW, it feels a bit similar to the other thing he has going on at the moment for mine, so I'd need some convincing. Michaels taking exception to Miz mocking Capotelli's religious views was a good way to show why Michaels has a major problem with The Miz, although the little exchange between Miz and Michaels, again, seemed a bit similar to what is happened between Michaels and Swagger. I don't mind Michaels playing the grizzled veteran type continually, but I think Miz is kind of stealing Swagger's thunder over on SmackDown! a little here. Again bringing the religion up separates it a bit, while Michaels and Miz having their little exchange, with Miz really calling Michaels out on his past was done well. Miz using his awesome shtick for the third time in the segment was overkill imo, but Michaels landing Sweet Chin Music on Slater rather than Miz was a fine way to end the segment. As I said, not sure about how much this is overlapping with Swagger/Michaels, but a pretty good promo here.

Simple way to get Ryder his first win over Hardcore Holly, but it works, as a few squashes should help build Ryder well.

The simple promo from McMahon, but I expected something more lavish from them tonight in terms of a celebration. Having them continue their momentum along with a squash victory works though, I guess. I found it a bit off that Big Show and Gabriel came out for the save after the match, considering, if they were there, they could have just accepted the challenge themselves logically, although I don't mind you continuing this along at a slower pace.

Not too sure what to say about this. While Michaels getting Miz with Sweet Chin Music here is fine, and the action in the match was good, having DiBiase drop the title now seems very random, and I think it hurts him a fair bit. Up until this show, he had looked a worthy foe to anything that Bischoff could throw at him, and if you had built that up for several months, he would have been in a great spot. Instead he's dropped the title here in a random match, and it kind of throws him back to square one. Sheamus seems like a bit of an odd choice for champion here as well, as he just debuted not long ago. As I said, not too sure about this decision, as I think it's really hurt DiBiase. I hope this isn't a result of you maybe colling on his push, because I thought you were doing a good job of it.

God to see DiBiase is at least determined to get the gold back, while having Kelly get a word in there is a nice bit of justice for what's happened between them with the Kofi/DiBiase storyline.

Good to see you utilizing the rookies in the divas division too, although the lack of anything of substance in the women's division of late is disappointing. I think you need to get Melina back in action soon, because as Women's Champion she has been doing nothing of late, and I'm not quite sure why.

If this gong thing is to indicate The Undertaker is the guy Bischoff signed (and therefore signed weeks ago), then these aren't bad teasers, although I find it weird that you've had it in the midcard every time. As I've said every show, I guess it's a wait and see type thing.

Good way to make a match for next week, as well as signaling that Miz will go after Michaels now, with a nice last line especially.

Alright little promo with Sheamus, which I thought was going well with him talking up the importance of the IC Title, until he suddenly took the focus off it and started talking about becoming WWE Champion, which I don't think was right. Carlito feuding with Sheamus seems very odd, because Carlito bringing up the injury to Primo now seems a bit random after it happened a few weeks ago, while Carlito was very much a heel last we saw, and Sheamus is too. Okay segment, but I'm not sure about the pairing of Carlito and Sheamus for a feud.

The main event never actually getting underway was a bit of a surprise, and I thought the way Triple H dealt with both Young and Orton so easily was a bit weak, especially in Orton's case, considering you would think he would be able to counter out of the pedigree. I'm surprised Batista made his first appearance of the night now, as even a backstage interview would have been good from him to talk about what happened at Unforgiven, although him standing tall is a pretty good way to finish.


All in all, a bit of a mixed bag here. A lot of the booking I was a little unsure about on this show, although I guess that's to be expected with a whole bunch of new feuds starting. At the same time, I don't think the booking was quite right in parts already, although the writing throughout was up at the new standard you seem to be setting for yourself. Maybe I'll get into these storylines a little more as the weeks go by, but for now, I don't think it was really your best effort in terms of pure booking, despite the writing improving.
---
Re: WWE: A Strong Response
---
Friday Night Smackdown Preview
Friday 26th September 2008
Live from the Bud Walton Arena
Fayetteville, Arkansas





>Cena's Coming Home!<
There's been speculation for weeks regarding the future of John Cena, but last weekend at Unforgiven, he announced his decision. It was a decision that will change the shape of Friday Night Smackdown as Cena told the world he'll be heading back to Smackdown, the show where he made his WWE debut over six years ago. It was a decision that obviously delighted Smackdown's General Manager, Tazz, but you have to wonder if the reaction of the Smackdown locker room will be the same. There's already been opposition raised from CM Punk & Chris Jericho, and after learning that Cena will be leading a team of men at Survivor Series against a team led by the World Heavyweight Champion with a potential shot at the title lying in wait at Night of Champions, Punk & Jericho, as well as Christian do now have something to worry about.

Tazz also has something to worry about. He was told by Eric Bischoff that an important member of the Smackdown locker room will be heading to Raw. We didn't get any indication as to who that was on Raw this past week. Maybe we'll get a clue or find out who is heading to Monday nights tomorrow night when Cena marks his return to the blue brand three years after he left. We don't know what to expect, and with Cena, you know to expect the unexpected. You can't afford to miss his big return. Tune in and make sure you don't!

The days are counting down until No Mercy, and as we get closer & closer, the tension is growing each & every week. We saw that first hand last Friday night when the two men who will challenge CM Punk for the World Heavyweight Championship ten days from now made their respective cases for being the next World Champion. Chris Jericho & Christian had differing views on not just who would leave No Mercy with the world title but who deserved to be there in the first place. Jericho was indeed the man who set the time to beat in the Beat the Clock Challenge two weeks ago. However the chance to better it was taken away from Christian due to Jericho's interference in his match with Punk's rookie, Alberto Del Rio-Ramirez.

The Straight-Edge Superstar then interrupted his title rivals and made a case for Del Rio-Ramirez, stating that he too was deprived of an opportunity of a title shot thanks to Jericho. He also let the Canadian duo know that the only person who will be leaving No Mercy as the World Heavyweight Champion is him. The arguing didn't end there, and with Punk so sure of himself, he challenged Christian to a match this week, a challenge that was accepted. Jericho said he would enjoy watching his two rivals go at it, and so will everyone in the Bud Walton Arena in Fayetteville, Arkansas this week. It's going to be an epic main event tomorrow night. Make no mistake about that and make sure you don't miss it at home!

Jack Swagger sure made his mark on Shawn Michaels last week during The Heartbreak Kid's match with 'The Gold Standard' Shelton Benjamin. In what was a gripping main event, The All-American American brought a halt to the proceedings and gave his No Mercy opponent a disqualification victory and maybe a sneak preview of what's to come when they meet in ten days live on pay-per-view. It sure did bring a smile to Swagger's face, but will he be smiling this week? If he saw The Heartbreak Kid's trip to Raw on Monday night, he may not as Michaels sure did mean business when he went after The Miz. Maybe Swagger should tread carefully tomorrow night!

It's fair to say that Harry Smith was in one foul mood last week, and understandably so after Petey Williams & Johnny Devine attacked his mentor & long time friend, TJ Wilson & Natalya Neidhart. Smith was hell bent on getting back at them, and when he did find the two men who will be challenging him & Paul Burchill for the their WWE Tag Team titles at No Mercy, he let the Canadians know exactly what he'd do to them if they messed with TJ or Natalya again.

We'll see Smith get his hands on them this coming week as Tazz has lined up a four team Tag Team Turmoil match that will see The UK Pack not only meet their No Mercy opponents but four other men who have struggled to get along as of late in the shape of Charlie Haas & Bobby Lashley and Chris Masters & Ryan Sheffield. Only one team will be left standing. Just which team will that be?

Mickie James & Michelle McCool have been blaming each other for their respective eliminations in the series that saw Beth Phoenix claim the Diva's Championship back at The Great American Bash. This week we will see them compete for the chance to fight for the opportunity they both cost each other previously as the winner of tomorrow night's clash will go on to No Mercy and face The Glamazon with the diva's title at stake.

After jumping Mickie while she was watching her boyfriend, Matt Sydal in action last week, McCool and her rookies were told by Tazz of the match he's lined up for this week and that if either Alicia Fox or Rosa Mendes played any part in the match, McCool would be disqualified on the spot. It's safe to say that Mickie will be out for revenge this week, and what better way to get it than keep McCool away from the title she wants so badly one more time. Whether she can do that is another matter. We'll find out tomorrow night in Fayetteville.

Shelton Benjamin's certainly had a tough few months, culminating last month at SummerSlam in losing the United States Championship to Matt Sydal in another losing effort to the King of the Ring. Last week we saw Benjamin push Shawn Michaels to the limit, and he may even have defeated The Heartbreak Kid had it not been for Jack Swagger's interference. Has The Gold Standard turned the corner? He needs to as his rematch for the United States title at No Mercy is just over a week away. Can he carry on from his solid performance last Friday night? He'll sure hope so.

In ten days, Dolph Ziggler will be looking to earn himself a date with Layla, and last week a gift of flowers he sent to her weren't appreciated at all by her boyfriend and Ziggler's No Mercy opponent, Elijah Burke. After Ziggler was successful in his match, Burke stormed down to the ring and confronted him, throwing the flowers back at him. He had to be restrained by Layla, much to the relief & amusement of Ziggler. It looks like Burke is running out of patience and quick with Ziggler. That could mean trouble for someone tomorrow night.

Chavo Guerrero's had a bad couple of weeks with his rookie, J-Red, and things didn't get any better last Friday night. A week after being defeated by Red, Chavo tasted defeat again last Friday night against Santino Marella. The Mexican reacted in the same manner he did the week before by attacking his opponent afterwards. What he didn't bank on though was J-Red coming to the Italian's aid, laying his mentor out with the Red Alert for the second week in a row. How is Chavo going to react this week?

Another superstar having difficulties dealing with mentoring is the Cruiserweight Champion, Johnny Jeter. He watched on as Yoshi Tatsu was in action against Matt Sydal, and despite pushing the United States Champion to the limit, Jeter's rookie just fell short. Instead of encouraging his rookie, Jeter told Yoshi that his defeats were reflecting badly on him. Will Yoshi step up his game to please his mentor this week?

We'll see bitter rivals M.V.P. & Ron Killings and The Empire compete in a flag match in just over a week's time at No Mercy. The Empire were impressive in victory last week but their American rivals were quickly on hand to remind them of their No Mercy clash. Both teams will be on hand this week, and we've learned to expect anything can happen with these four men.

It's not long until No Mercy, and all hell could break loose as we get even closer. Make sure you're there to see just what goes down in Fayetteville tomorrow night.
>Confirmed for This Week on Smackdown<

Non-Title Match
Christian vs. CM Punk

Number One Contender Match
Mickie James vs. Michelle McCool

Non-Title Tag Team Turmoil Match
The UK Pack vs. Bobby Lashley & Charlie Haas
vs. Petey Williams & Johnny Devine vs. Chris Masters & Ryan Sheffield
Re: WWE: A Strong Response
---
Preview looks good Nige, Cena's first Smackdown back is something to look forward to. I wonder who he will fued with, im hoping Christian. You must have big plans if you brought him over.

Im also hoping that Miz confronts Shawn Micheals and gets some payback. It could develop into a classic fued if you want it to. Interestign to see how Swagger will fit into it as well though. Christian Punk will be a good match to main event. Ziggler situation is getting good as well. Good luck with show
Re: WWE: A Strong Response
---
Interesting looking card, Nige. While I'm not so sure about having a random Tag Team Turmoil match, as they're a bit time consuming for a match that won't really be doing anything other than furthering a couple of feuds, although the main event looks good, plus the divas situation is set to be resolved, plus seeing Cena's debut (and probably confrontation with CM Punk) should make for a good promo.
Expect a review when you get it up, mang.
---
Re: WWE: A Strong Response
---
Friday Night Smackdown
Friday 26th September 2008
Live from the Bud Walton Arena
Fayetteville, Arkansas


*Video Recap*
From Last Week

A very serious Chris Jericho makes his way out in to the arena with a scowl on his face despite last week earning himself a shot at the World Heavyweight Championship in two weeks at No Mercy. He gives the jeering fans nothing but looks of contempt before entering the ring and walking across to collect a microphone. He turns back and stands centre stage in the middle of the ring with his music cutting, giving us a taste of how loud the boos are for Jericho. He's definitely not appreciating the response at all.
Chris Jericho:
One week ago I was just one of the superstars competing in the beat the clock challenge to determine the number one contender for the World Heavyweight Championship, and after I was successful in my match, I set the time to beat. It was a time that no one else was able to beat, and with that factual information in mind, you would assume that I would be the only one to find myself in the World Championship match at No Mercy. However that is not the case even though I set the best time. The concept of the beat the clock challenge is as straightforward as it sounds. The person who sets the fastest time in their match is declared the winner, and with a shot at the most prestigious prize in this industry at stake, that one person would go on to No Mercy to compete for that prize. Seeing that I was the one who set the time that was not eclipsed by anybody else, surely you can understand my frustration and confusion as to why I find myself in a triple threat match along with someone else who wasn't even victorious last week. That person couldn't be any more undeserving of a world title opportunity, but since he has an ally in our general manager, he has managed to sneak his way in, and the person I am referring to is the definition of failure you know as Christian.
"GO!. . . IF YOU CLOSE YOUR EYES. . ."

'Captain Charisma' Christian strolls out to the stage to a big pop in jeans and a T-shirt, looking quite relaxed. His problem solver, Tyson Tomko is by his side, and they're both getting dirty looks from the unhappy Jericho in the ring. Christian smiles and points to his fans as he gets in the ring, and even throws a smile Jericho's way as he walks past him to get another microphone. Tomko stares right at Jericho, unsettling him ever so slightly as Christian turns back and walks towards his problem solver with his music cutting.
Christian:
Chris, I'm sorry to interrupt, but I couldn't help come out here and back you up. You're right. You are indeed the best in the world at what you do. The only problem is that wouldn't exactly help if you were a mentor seeing that when it comes to being the best in the world at what you do seeing that's not being the best wrestler but a liar and a
pissy little bitch
. . . I'm sorry t' be the one to tell you this Chris but you won't be walking out of No Mercy as the new World Champion. . .
I will
.
"This Fire Burns"

Here comes the World Heavyweight Champion, CM Punk to a chorus of boos. He walks out to the stage with his rookie, Alberto Del Rio-Ramirez, and 'The Straight-Edge Superstar' is carrying a microphone. He smirks down at his No Mercy opponents, who now set their sights on him instead of each other, as does Tomko. Dressed casually and with the world title draped over his shoulder, Punk turns and shares a private joke with his Mexican rookie.
CM Punk:
Guys seriously, all this arguing is pointless. You can argue all night if you want. It's still not gonna the change the fact that neither of you are going to take this title from me. All you
both
have t' do is look back to The Great American Bash where if I remember correctly I didn't just defeat the two of you, I also saw off both The Undertaker and Edge to retain the same world title I will when I beat the pair of you
again
. I beat four of the best this show has to offer that night, and at No Mercy there's just two of you. . . you two. It's a foregone conclusion, just like it is that John Cena will be staying on Raw if he has any sense.
Christian:
Champ, if I were you I'd f'get all about John Cena. You've got a whole lot more t' worry about right now like No Mercy.
CM Punk:
I know full well what I have to deal with and how to handle my business. I certainly don't need any advice from you, but if you're so worried about my focus, I've got a proposition for you. . . How about next week you prove to the world that we're wrong about you by accepting a match with the man who will actually walk out of No Mercy as the World Heavyweight Champion. . . C-M Punk?
Christian smiles, not overawed at all while Jericho grins away too, looking quite happy at the thought of his two rivals going at it so close to their triple threat match.
Christian:
You an' me next week?
You got it
.
Christian & Punk stare at each other with Jericho & Del Rio-Ramirez smiling.
Chris Jericho:
I'd just like to say that I wish you both the best of luck next week and I look forward to picking up the pieces for myself at No Mercy and leaving as the. . .
CM Punk:
. . . You can get that out of your head right now. By the time I'm done with the dreamer next week, you're next. No one will take this title from me. That's a promise.
Punk lowers the microphone and "This Fire Burns" plays to heat from the crowd as Punk and his rookie smirk down at the serious duo of Christian & Tomko with Jericho smiling in the background.
*Opening Video*

"If You Rock Like Me"



*Cut to the Arena*


***Pyro***
***Pyro***
***Pyro***
Tazz
is standing in the middle of the ring holding a microphone with the crowd on their feet cheering like mad, and the music cuts, freeing the wide smiling General Manager to speak.
Tazz:
T'night marks the start of a new era here on Smackdown. Exciting times lie ahead people, 'cause if you ain't heard already, we've got the
biggest star
in the
business
comin' over from Raw. You guys might know 'im as
John CENAAA
.
*Massive Pop*
Tazz:
Oh yeah, an' later on t'night, John Cena will be
in this ring
!
*Big Pop*
Tazz:
You guys have got no idea how great it is f' me t' say that, but that's still t' come. We've got some great action lined up for ya, an' we're gonna get straight to it
right now
.
"Time to Shine"
The
WWE Cruiserweight Champion
,
Johnny Jeter
walks out in to the arena in his ring gear looking as cocky as ever, and his rookie,
Yoshi Tatsu
follows behind him. Tazz doesn't look all too pleased to see Jeter, and even Yoshi is putting a brave face on for the fans while keeping his distance from his mentor.
*Video Recap*

From Last Week

Non-Title Match
Matt Sydal w/Mickie James vs. Yoshi Tatsu w/Johnny Jeter

Jeter was highly amused as Tatsu went on to trouble Sydal. However the King of the Ring & United States Champion came back fighting as ever and after ducking a roundhouse kick, he connected with a Cyclorama (belly to belly moonsault slam). Tatsu was in deep trouble and despite clearly being preoccupied, Sydal capitalised, dragging him to the corner in a hurry before climbing up to the top rope and hitting the Shooting Star Press to pick up the victory. He quickly collected his title belt and left the ring, probably to find out how Mickie was doing as Jeter entered the ring with a microphone. He watched Tatsu make his way back up, not looking too impressed with his rookie.
Johnny Jeter:
Yoshi, you disappoint me. That's two defeats in two weeks, and that doesn't just reflect badly on you, which if I'm honest, I don't really care a rat's ass about. It reflects badly
on me
.
Tatsu just looks blankly at his mentor.
Johnny Jeter:
If you want me to carry on being your mentor, you're gonna have t' step up your game. And since I'm the Cruiserweight Champion of the world, there's no one better t' help you, so you better get your act t'gether quick if you wanna stick around.
Jeter drops the microphone and keeps looking at Tatsu, who clearly doesn't understand a word his mentor's just said. The Cruiserweight Champion's music plays again and he leaves the ring with an unsure Yoshi following him awkwardly.
*Cut to the Arena*
Jeter gets in the ring, not paying any attention to his rookie as he walks towards Tazz and asks for his microphone. Tazz hands it over as Jeter's music stops with Yoshi staying on the outside and it looks like Tazz is taking his leave.
Johnny Jeter:
Hey, just before you wander off boss, there's something I wanna talk to you about.
Curious, Tazz turns round and shrugs his shoulders at the Cruiserweight Champion.
Johnny Jeter:
This whole mentor rookie deal, it ain't workin'. What the hell were you thinkin' givin' me someone who doesn't even speak a word of English? What am I supposed t' do huh genius? All he's doin' is gettin' in my way, and t' be quite honest, I ain't exactly helpin' him either. So what I want you t' do now
boss
is give him to someone else, f' his sake.
Tazz walks back over to him and holds out his hand, getting the stick handed back to him.
Tazz:
Y'make an int'resting point. Yeah you're right about 'im not speakin' English, but he can learn a lot just from watchin' you, and you are the Cruiserweight Champion after all Johnny.
Jeter nods his head, looking very smug.
Tazz:
So no Johnny, I'm not gonna split you two up just yet. I've already had a word with Chavo about the same thing, an' if I feel the need t' do somethin' about it, I will. Only right now I don't think I need to. What you need t' do Johnny is put on a show t'night an' show Yoshi what it takes t' be a champion. Y'can do that right now 'cause you've got a match against someone who's on a role an' you're gonna have t' be at your best if you're gonna win this one. . . So all I can suggest Johnny is suck it up an' act like a champion, starting as of
right now
.
Tazz lowers the microphone and looks at Jeter, who's not that happy now.
"La Vittoria é Mia"

Santino Marella
hits the stage to a surprisingly big pop, and he soaks it up, loving every minute of it. He walks down the ramp smiling & holding his hand up to the crowd modestly as Tazz leaves the ring, walking past Santino on the way. They shake hands as the unhappy Jeter takes a look at his opponent with Tatsu also watching at ringside. Marella gets in the ring and waves to the fans with Jeter taking off his belt and handing it over to the referee as he prepares for the match.
*The Opening Match*
Non-Title Match
Santino Marella vs. Johnny Jeter w/Yoshi Tatsu

Jeter was a lot more serious than he has been in recent weeks, and rightly so given Santino's winning streak as of late. The Italian started the match the stronger much to the pleasure of the crowd but the displeasure of the Cruiserweight Champion, but Jeter came back in to the match and took charge after Marella missed with a flying thrust kick. The stunned Italian was stunned, and then even more so when he turned round in a flash to get drilled by a tornado DDT. Jeter was the one who was then stunned to see Marella get his shoulder up at the count of two.

Jeter wasn't going to let Santino's winning streak continue, and after some back & forth action, it looked as if the Cruiserweight Champion was about to seal the deal. After seeing Marella kick out at two again following a springboard moonsault, Jeter was determined to put him to bed and finish him off (
). He kindly helped Santino up to his knees and fired him in to the ropes, looking for the Genesis Kick, but Santino ducked and then caught Jeter as he hurried back up with a jawbreaker.

The crowd were cheering, and even Yoshi was smiling on the outside at the sight of his mentor laid out in the middle of the ring. Santino somewhat surprisingly opted not to make a cover and hit the ropes, climbing up to the top rope and then connecting with a diving headbutt. It was met by a big pop from the fans, and despite looking dazed from the headbutt, Marella shifted around on his knees to make a cover, earning himself somewhat of an upset victory over the Cruiserweight Champion, and boy did he enjoy it.

He stood up with a massive smile on his face, looking shocked as the referee raised his arm victory, and Yoshi was clapping him on the outside, something Jeter certainly didn't appreciate as he sat up in the ring. Tasting success yet again, Marella left the ring and headed back up the ramp, still delighted with the win. Jeter wasn't happy at all and had to watch on as Santino seemed to make out he wanted the Cruiserweight title around his waist, making him even angrier.

Winner: Santino Marella by pinfall.


*Cut Backstage*
There's an almighty pop coming from the arena as we see Smackdown's newest recruit,
John Cena
walking through the hallway, shaking hands with a number of production workers & superstars, including
Super Crazy
,
Jimmy Yang
&
Sonjay Dutt
. As he carries on up the hall and turns a corner, he meets an old foe in
'Captain Charisma' Christian
and his problem solver,
Tyson Tomko
. There's some brief tension between them, but they both grin after a few seconds, but not Tomko obviously. Cena & Christian even shake hands.
John Cena:
Good t' see you again man.
Christian:
Man? What was it you used t' call me John?. . . Creepy little something right?
Cena grins, looking a little embarrassed.
John Cena:
Yeah I think it went somethin' like that.
Christian smiles.
Christian:
F'get about it, it's good t' have y'here. We could do with someone else t' lighten the mood with guys like Punk an' Jericho walkin' around.
John Cena:
Yeah I heard you've got a match with Punk t'night an' the world title match at No Mercy comin' up. An' hey, if it all goes well, we might be seein' a lot more of each other.
Christian:
Yeah so I hear. I know I was just sayin' how serious it can be over here, but since you brought it up I should probably tell y'that even though Punk an' Jericho don't want you here for whatever reason, if I do walk out of No Mercy as the new World Heavyweight Champion as I plan to, and it comes down to you an' I at Survivor Series or Night of Champions, I'm not gonna hold back. You might just wish you had stayed on Raw.
John Cena:
Don't worry 'bout it. In your shoes, I'd be the same. Good luck t'night though bro', I mean it. I'll be watchin'.
Christian:
Thanks. I guess I'll see y'round.
John Cena:
Y'sure will.
Christian smiles briefly and walks past Cena with Tomko following him, leaving Cena to carry on his journey up the hall.
*Video Promo*

The all smiling duo of M.V.P. & Ron Killings are shown walking through the back, headed to the ring it would seem for when we come back after the break.


*Commercial Break*


"I'm comin'. No one can stop me, no one can hold me. . ."
M.V.P. & Ron Killings
walk out to the stage to a big pop, and they're looking very relaxed, both in their ring gear. They slap hands with the fans all the way down the ramp, and as they climb up the steps, M.V.P. picks a microphone up off the apron before entering the ring. They walk in to the centre, still smiling as the music stops.
M.V.P.:
Y'know, after hearin' our British buddies runnin' their mouths week after week, it appears they've been holdin' back on us. It appears that they do in fact have some skeletons in their closet, well one of 'em does. It's not like it's somethin' real bad they've done or anythin' like that, but I think you're gonna like it like we did.
M.V.P. turns & smiles at Killings, and he is looking fairly amused.
M.V.P.:
See what it is guys an' girls, well it's kind o' funny. . . Thanks to our reliable sources, we heard that the inspirational Mister Stu Sanders has been hidin' somethin' this whole time, an' what that is ain't what you'd expect. What he's been keepin' from all of us is that his name, well it ain't Stu Sanders. It seems that he was kind of embarrassed by his actual name, an' in this business I can't blame 'im. What he don't want you t' know is. . .
"On a Mission"
Looking pissed off and to heat from the crowd,
Stu Sanders
(Wade Barrett),
Drew McIntyre & Katie Lee
(Katie Lea Burchill) walk out to the stage with Katie carrying a Union Jack. Sanders has a microphone in his hand and stares down at their smirking rivals with McIntyre & Katie stood at either side of him.
Stu Sanders:
Well good f' you. You should be very proud of yourselves. You've done some digging and you've come up trumps. Very well done, I applaud your efforts. However I think we can agree that whatever it is you believe you've found out about me, it doesn't come anywhere near to what the both of you have done in the past.
M.V.P.:
You're right. You're absolutely right. No, seriously you are. The only diff'rence is, all these people know our secrets. We ain't
ever
lied about what we've done in the past, but you, you've kept this from us
all
, which makes me think you're embarrassed Stu, or should I say,
Wade
. . . That's right I called him Wade. That's 'cause he was so embarrassed about his actual name,
Wade Barrett
, that he went out an' changed it so he didn't get bullied or picked on at. . .
Stu Sanders:
. . . Hold it right there because that's not true. I've never been embarrassed by name at any time in my life, not once, so you can get that out of your head right now.
M.V.P.:
Really? That ain't happenin', an' the way we see it, you changed your name f' a reason. Maybe y'can let us in on just why y'did that if you ain't embarrassed like you claim
Wade
..
Stu Sanders:
Well actually it's very simple, just like the two of you and the typical American wrestling fan. Anyway, that's not the point. The point I'm trying to make is that there are thousands of people on this planet who use a diff'rent name or something we intelligent people like to call an
alias
. I don't expect you to understand Porter, but let me tell y'this. . .
M.V.P.:
. . . HEY! You don't fool me, Ron or anyone in this building. In fact I've just thought of an idea t' put that theory t' the test. . . See if you're tellin' the truth and you ain't embarrassed, you won't have any problem steppin' in this ring with me t'night, an' if you lose, you go back t' usin' your actual name. How's that sound huh?
Sanders smirks, but McIntyre & Katie aren't amused.
Stu Sanders:
Well I'm afraid to tell you this but your whole plan has backfired. There's nothing I would love more than to join you in that ring t'night and beat you to a bloody pulp like both Drew and myself will in just over a week's time at No Mercy.
McIntyre turns to his partner and asks for the microphone, confusing Sanders, but he hands the stick over.
Drew McIntyre:
Look pal, I know this is your problem an' all, but I want ya t' let me take care o' this for ya.
The Scot turns and looks down at M.V.P. & Killings.
Drew McIntyre:
See fellas, I'm just as sick as he is of you two comin' out here week after week without a care in the world like nothin's ever happened. Well I'm gonna tell y'what is gonna happen t'night, if he lets me that is. Then
M-V-P
, I'm gonna come down t' that ring an' wipe that smug look right of y'face.
M.V.P.:
Y'know what? I don't care which of y'wanna comes down here. It don't matter t' me 'cause I'm happy whoopin' both y'asses.
*Pop*
Sanders turns back to McIntyre and has a short chat with him before taking back the microphone.
Stu Sanders:
Drew, if you want to accept his challenge on my behalf, then that's fine by me.
The serious Englishman turns his attention back to his & Drew's rivals in the ring, both looking very relaxed.
Stu Sanders:
Well Porter, you've got your wish. And as much as you'd like t' think I'd be embarrassed by actual name if you do win t'night, it doesn't make a blind bit of diff'rence, because I have ev'ry faith in Drew here walking down to that ring and defeating you just as we will t'gether in just over a week at No Mercy.
M.V.P.:
Great
. Now bring y'asses down here an' let's get this party started.
Sanders kneels down and puts the microphone on the floor, then the focused Brits make their way down the ramp, staring at M.V.P. & Killings, and they too are looking very serious now.
*Match #2*
Montel Vontavious Porter (M.V.P.) w/Ron Killings vs. Drew McIntyre w/Stu Sanders & Katie Lee

Sanders had to contend with the fans in the first few rows at ringside behind him shouting "Wade" at him, getting some encouragement from Killings too. Despite claiming not to be embarrassed beforehand, he didn't like it one bit and turned round to give them a piece of his mind. His partner & MVP were both fired up for this one, and it was MVP that was gaining the ascendency. Both men had their partners cheering them on, and a timely distraction from Sanders allowed McIntyre to turn the match round in his favour, kicking Porter in the gut as he turned round before lifting him up off his feet in to a fireman's carry and then dropping him in to a gutbuster.

The very determined Scot didn't look impressed at seeing MVP get his shoulder up, and even more so when he later ducked a big boot. MVP unloaded with right hands, knocking McIntyre off balance in the middle of the ring. The Franchise Player turned back and ran the ropes, but the Scot came to life in a flash and planted him with the Ego Trip, a swinging side slam in to a sitout facebuster. MVP looked well & truly out of it, but after the impact took him closer to the ropes, it allowed him to get his boot on the rope at the count of two. McIntyre, Sanders & Katie Lee were all gobsmacked, and McIntyre was fuming.

He stared down at his groggy opponent as he slowly came round, and then stood up and watched him struggle to make his way back up. The Scot somehow kept his cool until MVP made it back up to his feet, and he went right after him, setting him up for the Future Shock DDT right by the ropes. It was a big mistake as MVP reached on to the top rope when Drew fell to the mat to a big pop. Sanders was looking concerned as MVP then grabbed the Scot's legs, lifted them up and went for a jacknife cover, but McIntyre kicked out at two. Both men made their way back up as quickly as they could, and MVP caught him with a snap overhead belly to belly suplex.

MVP got his breath back as McIntyre was squirming around on the mat, and as the Scot tried to sit up, the focused MVP charged at him and nailed him with the Drive by Kick to a huge pop. Sanders was panicking big time and was helpless as MVP wasted no time in shimmying round to make the cover to pick up the victory, leaving Sanders, or now Barrett, gobsmacked. He didn't know how to react as Killings joined MVP in the ring, and boy did they enjoy it.

They were taunting Wade and so were the crowd with "I'm Comin'" playing. The Americans then left the ring and slapped hands with the fans as they made their way up the ramp. McIntyre sat up not looking at all happy, and he was joined in the ring by Barrett & Katie. He apologised to his partner, and Barrett appeared fine with it. He was too focused on MVP & Killings laughing at him at the top of the ramp, and Killings kneeled down to pick up the microphone Barrett left there before the match.

Winner: M.V.P. by pinfall.
Ron Killings:
HEY STU
! Or should I say Wade. . .
WHAT'S UP
?!
*Pop*
Killings hands the microphone over to M.V.P.
M.V.P.:
We'll see y'next week,
Wade
.
"I'm Comin'" plays again with the fans cheering and Killings & M.V.P. laughing away at the top of the ramp, pissing off all three members of The Empire back in the ring.
Michael Cole:
Well M-V-P has picked up a big vict'ry heading in to No Mercy next weekend, but someone else on his way to No Mercy is Shelton Benjamin, and he'll be looking for his
first
vict'ry against Matt Sydal when they meet for the United States Championship. There's a lot of people who believe he can't beat Matt Sydal, and we've all see how that's affected the former United States Champion over the last few months. I myself have found out that first hand, so earlier t'day, Matt Striker sat down with The Gold Standard to talk about his ladder match with the King of the Ring. Let's take a look.
*Video Promo*
Shelton Benjamin
is sat down with
Matt Striker
in a makeshift studio. Benjamin is looking very serious, dressed in his casual gear sat a few feet apart from Striker, who's sat there with some pieces of paper on his lap.
Matt Striker:
Shelton, I'd like to thank you for taking the time out to talk with me. . . I think it's safe to say that you've had a very difficult few months, and regardless of a number of people openly stating that they don't believe you can beat Matt Sydal. How are you feeling going in to your SummerSlam rematch next weekend?
Shelton Benjamin:
For the first time in months, I'm feeling good again. I'm feeling better than I have in a long time. It's taken a long time f' me t' realise that I've let ev'rything that's gone on get way out of hand. I let it all get it on top of me, and it sent me over the edge. It got to the point where I was obsessed with not just beating Matt Sydal but hurting him. I thought I'd done that a few weeks ago, then I found out that he'd played me. From that moment I knew that the only way I'm going t' beat Sydal is by beating him in the ring. I'm not gonna beat him by putting him out on the shelf or tryin' t' get inside his head. I've gotta do what I've done from the first time I stepped foot inside a wrestling ring, and that's by being the best that I can be. I know better than anyone like all the critics that at times I've let myself down, but I'm gonna make sure at No Mercy that all that is behind me. I've got this one last chance t' do what so many people say I can't, and next weekend when I step inside that ring with him again, I'm not gonna worry about that and what people are saying about me. The only thing I'm gonna be thinking about is getting back the United States title. I've had the wake up call I needed. I've got this one chance, the one chance I'm going t' take. I have t' take it and I will, because I have to.
Matt Striker:
You said it yourself that this all got out of control and became an obsession, but can you really f'get about ev'rything that's happened and been said when you compete for the title he took away from you last month?
Shelton Benjamin:
I have to. I had t' get my focus back and I have. Last week I got in the ring with the best this business will ever see in Shawn Michaels, and I was more than a match for 'im. If the doubters can't see that, I don't care. I know that I'm more focused now than I have been my entire career because I have t' be. My career depends on it. For the first time in my career, I have t' step it up to a whole other level. That started last week, and with no disrespect t' Sydal, he's not in the same league as Shawn Michaels and never will be. He can't compete at the same level I did last week, and at No Mercy, we're not gonna be in his comfort zone, we're gonna be in mine. He's never been in a ladder match, and when it comes t' ladder matches, there's no one better than me,
no one
.
Matt Striker:
Well it's clear t' see that you've got your confidence back and you're in the right mindset, and I have to ask you here and now whether in just over a week's time you think you'll have defeated Matt Sydal and you'll once again be the United States Champion?
Shelton Benjamin:
You'll find out the same time I do.
Matt Striker:
I guess so. . . Well Shelton, thanks again for your time and good luck next weekend.
Benjamin nods his head slightly at Striker and the camera fades out.
*Commercial Break*
Looking as slimy as ever with a goofy smile on his face and dressed casually,
Dolph Ziggler
is walking through the hallway with a large bouquet of flowers in his hand. He stops at a door and composes himself before opening it and walking in. He walks in to the room where
Layla
turns round in shock, looking very angry indeed.
Layla:
WHAT ARE YOU DOING HERE? GET OUT. I'VE GOT NOTHING T' SAY T' YOU.
Dolph Ziggler:
Take a chill pill baby, you know you don't mean that. Besides, I'm not here to cause trouble. I came here to give you these beautiful flowers since that loser boyfriend of yours threw the ones I got you last week right in my face.
Layla:
Oh
how sweet
. May I?
Dolph Ziggler:
Of course.
Layla holds out her hands with a big smile on her face and he passes them to her, and she flips. She hits him in the chest & face with the flowers, surprising the hell out of Ziggler.
Dolph Ziggler:
WHAT ARE YOU DOIN'?
Layla:
I DON'T WANT YOU
OR YOUR FLOWERS
. NOW GET. . .
The door opens and
Elijah Burke
walks in with
Matt Sydal & Mickie James
, and they're all stunned, but Burke's livid.
Elijah Burke:
WHAT THE. . ? GET THE HELL AWAY FROM HER.
Layla lets up and the rattled Dolph turns round to see Burke walking right at him. Burke grabs him by the shirt with both hands.
Elijah Burke:
WHEN ARE YOU GONNA GET THE MESSAGE? SHE DOESN'T WANT YOU.
Dolph Ziggler:
Yeah? Sure about that are ya? How come she held you back last week huh? How about you ask y'self that?
Elijah Burke:
A'ight, how 'bout we ask her now?
Burke looks over his shoulder at Layla, and she doesn't seem too bothered about holding Burke back now.
Elijah Burke:
Babe, how you feel 'bout me throwin' his ass through that door?
Layla:
I'd love it.
Ziggler panics with Burke smirking right in his face.
Elijah Burke:
Y'hear that did ya? I'm pretty sure she said she couldn't give a shit. Y'know what that means?
Dolph doesn't have a clue how to react as Burke spins round with Ziggler.
Elijah Burke:
Open the door bro'.
Sydal opens the door with Layla & Mickie looking on as Burke shoves him back towards the door and then down to the floor outside.
Elijah Burke:
If y'think I'm pissed now, just you wait 'til I get my hands on y'at No Mercy.
Ziggler sits up fuming.
Dolph Ziggler:
YOU'RE NUTS.
Elijah Burke:
Maybe, but you're in deep trouble. I'm gonna bust you up so bad when I get in that ring with you y'won't even know who the hell you are, let alone Layla. Y'got that?
Burke turns round and slams the door with Ziggler looking furious as he remains sat on the floor in the hall.
*Video Recap*

From Last Week

An unhappy looking Chavo Guerrero walks out to the stage dressed to compete and to a negative reception. He shakes his head at the crowd as he makes his way down the ramp in one foul mood. As he gets in the ring, he walks towards Roberts and the referee, then asks for the microphone. Roberts doesn't think twice and gives it to him. The music stops and Chavo walks in to the centre of the ring with a big frown on his face.
Chavo Guerrero:
What happened last week was nothing but a fluke. It's true. He's only a
rookie
, an' the sooner he understands that the better.
T'night
he spat his dummy out. He refuses t' talk t' me after I set him straight last week. I did what I did for his own good. It was a lesson he needed, only his already massive ego is out of control. I'm out here t'night to make him see that it was a fluke by not just winning my match but. . .
"La Vittoria é Mia"

Santino Marella (in his ring gear) hits the stage to a decent pop, interrupting & angering Chavo even further. The music stops as we can Santino standing there all happy with a microphone in hand.
Santino Marella:
A fluke you say Chavo? Well-a the way I see this is you are a horrible mentor. I am-a not surprised he is not talking to you after you-a beated him up the way you did last week. I wouldn't want to-a talk to you either. . . You are a bad man Chavo, a very bad man and I-a have also noticed that you are a jealous man that these-a people like your rookie, mister J-Red.
Chavo Guerrero:
JEALOUS
?
OF HIM
? I don't think so.
The crowd cheers and Santino places the microphone down on the stage as his music plays once again. He heads down the ramp, smiling at all the fans with a furious Chavo watching his opponent's every move.



Santino Marella vs. Chavo Guerrero
Just as it looked like he was on top after the Three Amigo's and went up to for the Frog Splash, Marella rolled away and Chavo landed horribly on his chest to the joy of the crowd. As both men then made their way back up, Chavo went to kick his opponent in the gut but Santino grabbed his boot. He then spun The Mexican Warrior round before rolling him in to an inside cradle to score another upset victory, setting off a big pop inside the arena. The stunned & elated Santino stood up and got his arm raised with Chavo sitting up in shock.

He wasn't happy as he watched Santino celebrating in front of the cheering crowd. Chavo snapped and stood up, then went after Santino, turning him round and planting him with a brainbuster. The fans booed and Santino's music stopped. Chavo then went to the corner and started to make his way up to the top rope when his rookie, J-Red raced down the ramp and climbed up on to the apron. Chavo was furious and told his rookie to get lost, but he didn't and a row ensued, resulting in Red shoving Chavo down to the mat to a huge pop.

With Chavo clawing his way back up, inspiration struck for his rookie. Red climbed up to the top rope and watched closely as Chavo stood up, Red stepped off the top and hit the Red Alert, a diving swinging reverse STO to a big pop for the second week in a row. The rookie sat up and enjoyed the sight of his mentor struggling in a big way, squirming around on the mat as the dazed Santino sat up. Red stood up and helped Santino up to his feet and raised his hand with Santino's music playing again, met by another pop as they both took satisfaction in Chavo getting his just desserts.


*Cut to the Arena*


"OOH CHAVO. . ."
Chavo Guerrero
and his rookie,
J-Red
(in his ring gear) walk out to the stage with either of them looking particularly happy. There are some cheers & boos for them, and they glance at each other with disgust as they make their way down the ramp and in to the ring. Chavo picks a microphone up off the apron as he enters the ring with J-Red following hesitantly, not hiding his anger towards his mentor. Chavo's music stops and allows him to speak, and he turns to the side to take another quick irritated look at his rookie.
Chavo Guerrero:
For the last month, my life has been made incredibly difficult, all because of one man, or should I say
kid
. Not just an ordinary kid but an
arrogant selfish
kid who's shown me no respect
whatsoever
.
Red sn-iggers as he listens in the corner to his mentor's opinion.
Chavo Guerrero:
Even last week when he had no right getting involved, it didn't stop him coming down here and embarrassing me again. Well whether he likes it or not, he's
going to respect me
, and t'night he's going to learn some respect the old fashioned way, the way I had to when I started out. So what I did was go out and find an opponent who's going to beat some respect in to him, and then we'll see just how good he is.
Chavo turns round and smirks at Red, who shrugs his shoulders at him, looking ready for action.
"AIN'T NO STOPPIN' ME, NOOO!. . ."
A ton of boos greet
Shelton Benjamin
as he walks out to the stage looking very focused indeed, causing Chavo to smirk again with Red trying to ignore his mentor, who leaves the ring as Benjamin walks down the ramp with his eyes locked on the ring.
*Match #3*
J-Red w/Chavo Guerrero vs. Shelton Benjamin

Both these guys meant business, and Benjamin was more calm & composed than normal. He had to contend with someone in J-Red who was even quicker than him, and Red was more than a match for him. With the fans willing the rookie on, something that didn't do down well with Chavo, J-Red went all out to gain the biggest upset to date in his short WWE career. After ducking a springboard clothesline, he nailed Benjamin with a roundhouse kick and then a standing shooting star press.

The Gold Standard got his shoulder up at two, quickly changing the mood of the now relieved Chavo. Red shook off the disappointment right away, and headed to the top rope, looking like he was getting ready for the Red Alert, a swinging reverse STO from the top rope. Benjamin struggled back up to his feet, still in a daze, but as Red came flying through the air, Shelton pulled away at the last second and the rookie crash landed on the canvas. Benjamin wasted no time in pulling him up to his knees, whipping him in to the ropes and planting him with a Samoan Drop.

Red's back hit the mat hard and Benjamin wasn't done there. He quickly picked himself back up and brought his opponent up with him, placing him between his legs. He then lifted Red up above his head and shifted direction, heading in to the corner and tossing Red's back in to the pads with a turnbuckle powerbomb. Chavo winced and then laughed on the outside as he saw his rookie rolling around in agony, and the calm Benjamin dragged him away from the ropes to make a cover, but Red managed somehow to lift his shoulder up before the ref could count to three.

Chavo was stunned, as was The Gold Standard somewhat as he sat up. He slowly picked himself back up and once again brought Red with him. He fired him in to the opposite corner and went for the Stinger Splash, but Red stepped out of the corner and then slipped behind Shelton to roll him up. Benjamin kicked out at two and both men made it back up as quick as they could. Benjamin was left rattled by a stiff kick to the gut, dropping to one knee as Red ran the ropes. He came back charging at Shelton, but The Gold Standard exploded up to both feet and nailed him with a super kick.

Red was in dreamland as he lifted his head up, not having a clue where he was, much to the amusement of Chavo in his corner. The fans were worried for the rookie too, and Benjamin backed up in to the corner, coolly stalking his prey. As Red managed to pick himself up, Benjamin raced out of the corner and connected with the Paydirt. Chavo was smirking away again and took great pleasure in winding up the fans as Benjamin made the cover and picked up the hard fought victory despite a courageous effort from the rookie.

"Ain't No Stoppin' Me" played to a large amount of boos as Shelton stood up and got his arm raised, not showing much emotion at all. The same couldn't be said for Chavo as he carried on laughing, and Red caught a look of it as he sat up staring daggers at his smug mentor. Shelton left the ring and stopped at the top of the ramp to turn round and raise both his arms to more boos before heading to the back.

Winner: Shelton Benjamin by pinfall.


*Commercial Break*
A serious
Shelton Benjamin
is walking through the back and something or someone catches his attention. He slowly walks further where he sees
Matt Sydal & Mickie James
talking, and Mickie looks over Matt's shoulder, then nods at her boyfriend to signal there's someone behind him. The United States Champion turns round and sees his rival staring right at him, sweating after his match before the break. They stare at each other for a good few seconds.
Matt Sydal:
Good job t'night Shelton.
Shelton Benjamin:
I'm glad you noticed, because last week against Michaels and t'night, they're just the first steps to me taking back the United States title at No Mercy, and I will. . . Right now, you're the one who can't beat me.
Benjamin gives him the eyes for a second then walks on up the hall, leaving Sydal & Mickie not sure what to think about the changed Benjamin's words.
*Cut to the Arena*



"Check one two, OH YEAH!. . ."
'The All-American American' Jack Swagger
makes his way out to the stage, met by a chorus of boos. They don't bother him one bit, and the casually dressed youngster heads down the ramp beaming & laughing off the fan's taunts.
*Video Recap*

From Last Week

Shawn Michaels vs. Shelton Benjamin

Upon joining Cole & Striker for commentary, the bitter Swagger said that Michaels embarrassed him last week and that losing to Santino is something he'd never forget for as long as he lived but promised to make up for it at No Mercy. He also pointed out his belief that he's got inside Michaels' head, and that's why he will defeat him when they meet at No Mercy in two weeks.

Benjamin was fuming, but to his credit he stood up and focused on finishing the job. He dragged Michaels away from the ropes and backed up in to the corner, then urged him to get up for the Paydirt. The crowd tried to encourage Michaels as he stood up, not looking in the best of shape. Benjamin was almost foaming at the mouth, and the moment Shawn got to his feet, he ran at him, but Michaels stepped forward and Shelton hit the mat to a big pop. Shawn then helped him up to his knees before slamming him right back down and heading to the dizzy heights of the top rope.

With the crowd cheering, he levelled Benjamin with a diving elbow drop and then retreated to the corner where he tuned up the band for some sweet chin music. The fans were on the feet as well as clapping and stomping their feet in tandem with The Heartbreak Kid's boot. As Shelton then sat up, Swagger saw red and threw off his headset before sliding in to the ring. He went right after Michaels, who saw him coming up and tried to take Swagger's head off instead.

The All-American ducked his head though and stomped Michaels in the gut as he turned round, resulting in an instant disqualification for Shelton. With Michaels slumped forward, Swagger then planted him with his trademark spin-out powerbomb to a ton of heat from the sell out crowd. He stared down with no remorse whatsoever as Michaels lay out cold in front of him. A confused Shelton sat up and looked over, not too happy as Swagger then threw his arms up in the air with his music playing again as this week's Smackdown came to a close.


*Cut to the Arena*
Swagger is in the ring with a microphone, grinning big time at the jeering fans as his music stops. He carries on looking in to the crowd with the goofy smile for a few seconds.
Jack Swagger:
By now I'm sure you're all aware of just how much talent I possess. Ever since my very first match, I've been nothing short of perfection in this ring. However last week I showed you that I'm more than just a great wrestler. I showed you that I'm intelligent. More importantly, I showed Shawn Michaels that I was intelligent.
*Boos*
Jack Swagger:
I didn't attack Shawn Michaels from behind. I didn't jump Shawn Michaels, I caught him by surprise and he didn't react as quickly as he needed to. That's what I counted on. It wasn't the act of a coward. It was the act of an intelligent, resourceful, brave. . .
More boos meets Swagger, and he doesn't appreciate them one bit.
Jack Swagger:
You heard me right people. I said it was brave. I took a chance and it paid off, and I intend to do the
exact same thing
when I meet Shawn at No Mercy.
A mix of boos & cheers meet that announcement.
Jack Swagger:
You people will see Shawn embarrassed yet again just like he was last week. However Shawn, I have to say that I was impressed with how you tried to brush that under the carpet with your trip to Raw Monday night. . . Y'see, where Shawn would like you to think he was playing the hero by giving The Miz a moral lecture, all he was actually doing was diverting what I did to him last week from your memory. That Shawn was smart, but you don't fool me. I know that after what happened in this ring last Friday night, you're worried. You're worried about what might happen at No Mercy, and you're right to be worried Shawn because I will prove to you yet again that I am not a coward. I will show you that I'm smarter than you, that I'm more talented than you and I'm going to be better than you ever have been.
*Major Heat*
Jack Swagger:
I'm warning you Shawn. You've not even seen the best of me yet, and that's despite the fact I beat Bobby Lashley,
Bobby Lashley
in a best of five series. How many
rookies
do you think are capable of that? I'll tell you how many Shawn. . . just one. . .
me
.
*More Boos*
Jack Swagger:
May I remind you I'm an
All-American American
, a true athlete and the breakout superstar of the decade. The worrying thing for ev'ryone in the W-W-E is that you've not seen the best of Jack Swagger yet. You've not seen what I'm capable of doing in this ring, and Shawn, that's why I'm going to beat you in nine days, especially if you allow yourself to get distracted like you did on Raw. . . I don't have to do this Shawn, but if your attention is on anything over than Jack Swagger, you should f'get about turning up at No Mercy if you don't want me to embarrass you again. That's exactly what will happen,
and that's a promise
.
Swagger soaks up the boos, and there are a lot of them.
Jack Swagger:
I understand you don't want to hear this but it's the truth. If the truth hurts, that's tough. I'm just pointing out the facts. I promise I will beat Shawn Michaels and prove once and for all that I'm not a coward. . . In fact, I'd like to put an end to that myth t'night. . . So Shawn, if you think I'm a coward, do you think I'd do this? I'm calling you out
right now
.
Swagger looks up at the stage looking very determined, waiting for Michaels' response.
"I think I'm cute. I know I'm sexy. . ."

'The Heartbreak Kid' Shawn Michaels
hits the stage to a huge pop, but Swagger's not giving him a warm welcome at all. He stares at Michaels as his rival walks down the ramp and looks back at him while slapping the hands of the fans in the front row. He climbs up the steps and enters the ring, then walks past Swagger to get a microphone from Justin Roberts. Swagger turns round and watches Michaels walk back towards him. The music cuts and they take a long look at each other with Swagger fairly relaxed, as is Michaels.
Shawn Michaels:
Jack my boy, I appreciate the concern but honestly, there's no need t' worry. Right now there's only one person who's got my attention, and you'll be glad t' know that person is you.
*Big Pop*
Jack Swagger:
I'm glad t' hear it. You. . .
Shawn Michaels:
. . . Whoa Jack, that's not all I've got t' say, and for your sake I'd give your mouth a rest before something happens to those nice white teeth of yours.
*Pop*
Shawn Michaels:
I've told you before kid, talk's cheap. Granted you've made a big impact in a short of space, but that could all come crashin' down before you know it. And by going after The Heartbreak Kid, you've set yourself up for a fall. . . You might have all the talent in the world, but come No Mercy you'll be going toe t' toe with The Showstopper. I've been around the block many times before and eaten snot posed punks like you f' breakfast, and since you saw Raw Monday night, I'm still dishin' out sweet chin music t' those who could do with a cold hard dose of reality.
*More Cheers*
Shawn Michaels:
Believe you me Jack, in no way have I tried to sweep what happened last week under the carpet. It's been on my mind ever since. Whether you believe it or not, you'll find out that for yourself next Sunday. What I will say kid is, it was smart. Yeah it was smart that you waited f' your chance t' jump me again, but Jack, it wasn't smart for another reason, because at the same time you pissed me off.
*Big Pop*
Shawn Michaels:
You pissed me off and you got my full attention, and Jack that's not good news. You've lit a fire inside The Heartbreak Kid, and I might not be an All-American American jackass, but if you ask anyone in that locker room, that's one thing history says you
don't wanna do
.
*More Cheers*
Shawn Michaels:
I've done my homework on y'Jack, and I admit, you've got some talent, no doubt. But I'm tellin' y'this f' your own good kid. . . you're nowhere near as good as you say you are.
*Big Pop*
Swagger doesn't like that and has a pop at the crowd too.
Shawn Michaels:
I'm not going t' stand here an' tell you what y'wanna hear, but this is for your own good. . .
Jack Swagger:
. . . Oh really? What makes you think I should listen to you? Like The Miz pointed out Monday night, you don't exactly have a hist'ry being honest do you Shawn? What I think you're trying t' do is dent my confidence because you know that after I left you on your back in this ring, you don't have a hope in hell at No Mercy.
*Major Heat*
Jack Swagger:
You know it, I know it, and soon these people will know it.
More boos are aimed at The All-American American and Swagger backs away to the ropes smirking at Michaels. "On Your Knees" plays as Swagger steps through the ropes with Michaels shaking his head. Swagger walks to the ramp and turns round, shrugging his shoulders at Michaels, who appears to be amused by Swagger's confidence. The fans start to boo with the camera focused on Swagger, but as it goes back to Michaels in the ring and
The Miz
and his rookie,
Heath Slater
slip in the ring behind him. Swagger's smirking as the Raw superstars jump Michaels, clubbing him to the floor and stomping all over him to a ton of heat with the music stopping. The angry Miz & Slater put the boots to Shawn, and Swagger, smirking slips back inside the ring to get a closer look.
He slaps The Miz's shoulder and tells him to step back, and then drags Michaels up to his feet. He sets him up for the gut-wrench powerbomb and looks in to the stands with a big goofy smile on his face, then lifts him up off the mat and sends him crashing down to the mat to a barrage of boos from the sell out crowd. He, Miz & Slater like what they see, sn-iggering away, and then The Miz instructs his rookie to go get something. Slater leaves the ring and comes back with a steel chair with Michaels squirming around on the mat. The smirking duo of Swagger & Miz queue up to take the chair from Slater, but Swagger gives in and allows Mr. Hollywood to have his turn at inflicting pain on The Heartbreak Kid.
As Shawn tries to claw his way up to his knees, his cousin, Michael Shane races down the ramp trying to come to his rescue. Slater nudges The Miz, and his mentor switches gear to nail the oncoming Shane with a steel chair shot to the skull. Boos are ringing round the arena as all three men look down with sick smiles on their faces at Shane, who is flat out. Michaels is on his knees and is trying to stand back up, but Slater sees him and quickly kicks him in the head, sending Michaels back down to the mat. That's where Shane remains, and Swagger has something in mind. He takes the chair from The Miz and places it on Shane's left leg, then stamps on it, causing Shane to scream out in agony.
Swagger enjoys seeing him in pain but isn't done there. He removes the chair and grabs Shane's injured leg, then turns him over, applying the Ankle Lock to even more heat, and Shane taps frantically straight away, screaming at the same time to the satisfaction of Miz & Slater. Swagger looks directly at Michaels while torturing his cousin, and Michaels sits up to see what's going on. He panics and rushes up to his feet as quickly as he can, and Swagger lets the hold go to leave the ring, followed closely by Miz & Slater. They look back and laugh as the very worried Michaels checks on his cousin's condition and immediately calls for help from the back. Swagger kneels down smirking and grabs the microphone he left there earlier.
Jack Swagger:
Shawn, just so you know, I have some news for you. . . I believe you know The Miz. Well in nine nights at No Mercy, he'll be in my corner when I beat you. . . Oh an' Shawn, I hope your cousin's not too badly hurt.
Michaels stares daggers at the giggling Swagger, Miz & Slater as "On Your Knees" plays again to a ton of heat with a couple of EMT'S running down to the ring with a stretcher. They attend to Shane as Swagger, Miz & Slater heading back up the ramp with Michaels looking very concerned for his cousin.
*Video Promo*

We're shown a split of screen of Mickie James with her boyfriend, Matt Sydal and Michelle McCool with her rookies, Alicia Fox & Rosa Mendes heading through the back with the number one contender match for the WWE Diva's Championship coming up after the break.


*Commercial Break*


*Video Promo*
During The Break

The pain ridden Michael Shane is shown being put in to an ambulance on a stretcher with Shawn Michaels jumping in the back of it before it takes off in to the distance.


*Video Recap*
From Last Week

Non-Title Match
Matt Sydal w/Mickie James vs. Yoshi Tatsu w/Johnny Jeter
Sydal showed a few minor signs of ring rust and Tatsu followed on from his impressive debut display last week against Chris Jericho by making Sydal work hard on his first match for almost a month. During the match, Michelle McCool and her rookies, Alicia Fox & Rosa Mendes raced down to the ring and attacked Mickie James, distracting & worrying her boyfriend (Sydal). The trio of divas backed up looking very proud of themselves, and Mickie looked in a bad way, barely moving on the floor. Matt went to check on his girlfriend, then Elijah Burke & Layla rushed down to help her to the back.

***
Michelle McCool is laughing and joking with her rookies, Alicia Fox & Rosa Mendes as they walk back through the production area.
Michelle McCool:
That was a good job t'night ladies, far better than the last two weeks. I sure hope Mickie's not too badly hurt. . .
not
!
Alicia & Rosa continue laughing with their mentor, but they suddenly stop, as does McCool. The camera pans to the right and standing there is the not so happy General Manager, Tazz
.
Tazz:
I could ask you ladies what you're lookin' so pleased about but I already know. . . Y'think that was smart or helpful Michelle t' let your rookies jump Mickie like that. I mean what did they learn from that exactly apart from doin' your dirty work?
McCool doesn't have an answer and shrugs her shoulders at Tazz.
Tazz:
Well I'll tell y'what Michelle, I've got a way t' settle this problem o' yours wit' Mickie. . . The way I see it, you both want a shot at Beth Phoenix an' the diva's title, an' in two weeks at No Mercy, one o' you is gonna get it. An' right here next week we're gonna find out who that'll be, 'cause you're gonna go one on one wit' Mickie an' the winner will face Beth at No Mercy.
Michelle McCool:
That's a great idea. I love it.
Tazz:
Yeah I thought y'might. The only thing is, I'm gonna be watchin' t' make sure neither o' these two help you out again next week. An' if they so much as breathe on Mickie, they'll get you an instant disqualification an' it'll be Mickie who gets the shot.
*Cut to the Arena*


*Match #4*
Number One Contender Match
Mickie James w/Matt Sydal vs. Michelle McCool w/Alicia Fox & Rosa Mendes

Both divas looked up for this one with a shot at Beth Phoenix's Diva's Championship lying in wait for the winner at No Mercy, Mickie particularly so. The contest was competitive and fairly even when it spilled to the outside around the three minute mark after Mickie sent McCool flying over the top with a hard clothesline. She didn't think twice about staying in the ring and slipped under the bottom rope to go after Michelle. She helped her up and fired her in to the security wall. McCool's rookies, Alicia & Rosa were concerned for their mentor, and despite their warning from Tazz last week not to get involved, they tried to sway Mickie's attention from Michelle to them.

They did just that by walking towards Michelle and telling Mickie to stay away. Mickie wasn't having any of it and pushed them aside to get back at McCool, but as Michelle was helped up, she fought back at Mickie and drove her head in to the security wall. Mickie fell to the floor with Sydal looking worried on the opposite side, and McCool put the boots to Mickie, oblivious to the referee's count, who counted to ten. McCool turned round in shock at hearing the bell and looked at the referee for answers, but she quickly went back to work on Mickie.

With the match over, Rosa & Alicia joined in the attack on Mickie, pulling her up and whipping her in to the ringpost. Sydal was pissed and immediately went to check on his girlfriend, and at the same time, Beth Phoenix and her rookie, Nikki Roxx made their way out to the arena to even it up. McCool and her girls didn't want anything to do with her as the Diva's Champion entered the ring with Roxx and called them in. McCool, Mendes & Fox stayed where they were, shaking their heads at Phoenix when an unhappy looking Tazz hit the stage with a microphone in hand.

Result: Double Count Out.
Tazz:
Well it kind o' looks like we've got ourselves a situation here. The whole point o' this match was t' determine who's gonna face Beth at No Mercy, but we don't have a winner, leavin' me in a bit of a pickle. Luckily I've got an idea. . . In just over a week at No Mercy,
Beth
, you'll be defendin' your diva's title against
both
Mickie James
and
Michelle McCool in a
triple threat match
.
"13"
plays as Tazz stares down at the smirking McCool as Mickie sits up on the floor with Sydal alongside her. The defiant Diva's Champion stares right at McCool with Mickie not looking too happy either.
*Cut Backstage*
Dressed to compete, the
WWE Tag Team Champions
,
The UK Pack
,
Paul Burchill & Harry Smith
are walking with intent through the back along with Smith's rookie,
TJ Wilson & Natalya Neidhart
. Smith looks particularly determined, and so does TJ to a lesser extent.
TJ Wilson:
I wish I was in there with you guys t'night after last week.
Harry Smith:
Don't worry, they're going t' pay I promise. I'm going t' enjoy ev'ry minute of it too.
All four of them keep on walking up the hall.
Michael Cole:
Ladies and gentleman, coming up after the break, four teams including the tag team champions will compete in
tag team turmoil
. Don't go anywhere folks. We'll be back before you know it.
*Commercial Break*
John Cena
is shown talking to
M.V.P. & Ron Killings
in the back. All three men are looking very relaxed.
M.V.P.:
Y'just need t' ignore all the haters dog. It's great t' have y'here.
?:
Isn't it just?
The camera zooms out slightly and the
World Heavyweight Champion
,
CM Punk
is standing there with his rookie,
Alberto Del Rio-Ramirez
. They don't look happy with Cena being there like M.V.P. & Killings do, but even they're not too pleased to see Punk. Cena though seems quite happy at the opportunity to see Punk, and the World Champion is in his trunks and a T-shirt with the World Championship draped proudly on his shoulder.
CM Punk:
Well look who it is. It's the saviour of Smackdown. On behalf of ev'ryone here John,
welcome
. There is however one thing I'd like you to come to terms with right away. . . Whatever it is Tazz offered you t' get you here, don't think for a second that you're going to steal my limelight, and you're certainly not going to take this title from me. . .
John Cena:
. . . Whoa let me stop y'there champ'. You've got me all wrong. I'm not here t' steal anyone's limelight, but I gotta say I like the look of that title o' yours.
CM Punk:
You can like it all you want Cena, but just like Christian and Jericho, you're not taking it from me either. I'm the World Heavyweight Champion and it's going t' stay that way for a
long, long time
. You think about that.
Punk means every word and stares right at Cena for a couple of seconds, letting it sink in and then walks away with Del Rio-Ramirez following him, staring at Cena. M.V.P., Killings & Cena watch them leave and Cena just smirks.
John Cena:
I think I'm gonna like it here boys.
The camera zooms in on Cena's smile.
*Cut to the Arena*


*Match #5*
Tag Team Turmoil
Non-Title Match
The UK Pack w/TJ Wilson & Natalya Neidhart vs. Bobby Lashley & Charlie Haas
vs. Petey Williams & Johnny Devine vs. Chris Masters & Ryan Sheffield

Each team were well & truly pumped up for this one, meaning business from the first bell. The UK Pack & Harry Smith in particular were extremely fired up for this one, and the first elimination took a while. After some competitive action between Bobby Lashley & Ryan Sheffield, Lashley forced his way in to control, finding himself just moments away from putting the rookie away after a ferocious spinebuster. He was sizing Sheffield up for a spear with the rookie slowly picking himself up when Masters stormed the ring and caught Lashley's attention.

It was The Masterpiece that found himself on the end of a spear, and as Masters went back after Sheffield, he was swiftly kicked in the groin by the desperate rookie. It earned Masters & Sheffield the first elimination via disqualification, not that Sheffield was happy about it. However while he was arguing with the referee, the opportunistic Petey Williams raced in to the ring and dived on top of Lashley then hooked the leg. The ref pushed past Sheffield and counted the squirming Lashley's shoulders to three with Petey desperately holding on to his tights.

Haas wasn't happy about it and hit the ring to question the referee and got in to a slanging match with Sheffield, resulting in a brawl between the two of them with Haas coming out on top. He ducked a clothesline from Sheffield and caught him with an Olympic Slam that sent the rookie rolling to the apron and down to the floor with Masters also on the outside following the spear. When the match resumed, the champions quickly went about getting some retribution for the Canadians attack on TJ last week.

Smith was more intense than he's ever been and had Devine on the ropes. Williams knew it after his partner fell victim to a delayed vertical suplex. He hit the ring but quickly got tossed out by Smith, landing in front of TJ & Natalya. Devine tried to claw his way back up with the intense Smith urging him up to his feet. Just as Devine made it up, so did Petey on the outside, and he wasn't happy to see TJ there. Smith scooped Devine up on to his shoulder for the running powerslam, but as he turned round, he saw Petey & TJ shoving each other, and he let go of Devine to walk over to the apron.

Burchill jumped down to the floor and backed TJ up, and with everyone ignoring Devine, the Canadian sneaked up behind Smith and rolled him up, holding on to his tights to pick up a big victory heading in to No Mercy when he & Petey challenge Smith & Burchill for the WWE Tag Team titles. Devine quickly slipped out of the ring with Smith sitting up fuming. Petey made his way over to the foot of the ramp to join his partner, and they revelled in their victory, winding the champions up big time. Smith & TJ were seething, and Burchill wasn't happy either as number one contenders to their titles laughed back at them to heat from the crowd.

Winners: Petey Williams & Johnny Devine by pinfall.


*Video Promo*

Smackdown's newest superstar, John Cena, looking very laid back is making his way through the back, seemingly on his way to the ring!


*Commercial Break*


*Video Promo*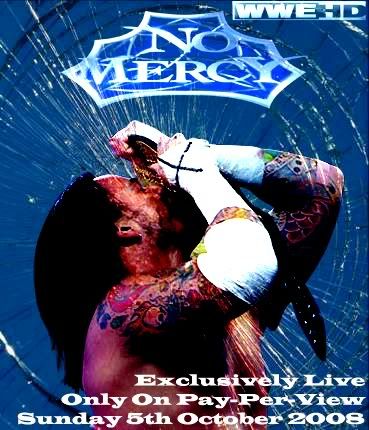 >9 Days!<


*Cut to the Arena*
Tazz
is standing at the top of the stage holding a microphone and is positively glowing, looking immensely proud.
Tazz:
Ladies an' gentleman the time has come. I want you all t' stand up an' welcome the latest addition to the Smackdown locker room. . . He is the one,
the only
. . . JOHN
CE-NA
.
"My Time is Now"


John Cena
flies out to the stage to a deafening reception, mostly cheers. He runs past Tazz to the left of the stage and throws his arms up in the air in front of the pumped crowd, and they're just as pumped as he is. He runs over to the other side and does the same before joining Tazz to shake hands with his new boss, who passes the microphone to him and then takes his leave, turning round and walking to the back.
Cena does his trademark salute for the fans and heads down the ramp beaming, looking very happy to be on Smackdown. He runs & slides under the bottom rope and jumps up to poses for the fans again with the atmosphere electric inside the arena. He looks on in amazement, gazing in to the stands as his music stops, letting us hear the true extent of the reception he's getting. It's nuts! There's a few boos but the cheers are huge, and Cena looks genuinely appreciative of them.
John Cena:
Y'know there's a lot I could say t'night but the first thing is a
huge
thank you f' that reception. Seriously that was off the hook, so thanks all of you.
*Pop*
John Cena:
I gotta admit I was worried about coming here t'night. I know not ev'ryone back there's not exactly happy I've made the jump from Raw, an' I've gotta clear somethin' up some right now. I've heard some of the guys back there aren't that happy about how I'm gonna be goin' t' Survivor Series leading a team t' take on a team led by whoever the World Champion is after No Mercy and that if I lead my team t' vict'ry, I'll be goin' t' Night of Champions for a shot at the world title.
*Some Cheers*
John Cena:
I know a lot of the guys are sayin' that's the only reason I chose t' come here but it's not at all I promise ya. I said I wanted a new challenge an' that's the true story, one hundred percent. I know I'm not gonna make a believer out of ev'ryone but it's the god's honest truth. The last thing I wan'ed was t' come here an' cause all this trouble like some would have y'believe. I'm tellin' ya, that's the last thing I want. That's why I wanted t' come out here an' set the record straight. I'm not here t' steal the spotlight from anyone. That's never been what I'm about. All I've ever done IS BUST MY ASS DAY AN' NIGHT AND THAT'S NOT GONNA CHANGE NOW I'M BACK
RIGHT HERE ON SMACKDOWN
.
*Big Pop*
John Cena:
I'm
absolutely
pumped t' be here no matter what people might be sayin'. There might be some people who call Smackdown the
B
show, but let me tell y'somethin'. All the guys on Raw watch Smackdown, and they all know like I do that the competition here is
off the scale
. You've got two of the biggest stars this business will ever see in Shawn Michaels an' The Undertaker. The only two guys
still
in the W-W-E who were on the first Raw show, but they're not on Raw anymore. They're here on Smackdown.
*More Cheers*
John Cena:
Then you've got the up an' comers like the tag team champions, Paul Burchill an' Harry Smith, The UK Pack. These guys have been champs for nearly a year. No team on Raw's come anywhere close t' that. And then you've got the United States Champion, an' if that's not enough, he's the King of the Ring too. . .
Matt Sydal
.
*Pop*
John Cena:
Man is that kid somethin' right?. . . Then there's the best in the world at what he does. . . Chris Jericho.
*Heat*
John Cena:
I've got a little fact about Jericho I'm sure you're not aware of. . . Did you know that Chris Jericho once beat Stonecold Steve Austin an' The Rock in the same night?
*Pop*
John Cena:
He did, seriously it's true. . . And last but not least, that brings me to the World Heavyweight Champion an' one of my worst critics, C-M Punk.
*Major Heat*
John Cena:
Now I ain't got a problem with Punk but he's already come an' told me exactly what he thinks about me bein' here. Well Punk you're just gonna have t' get used to it, 'CAUSE JOHN CENA IS HERE T' STAY.
*Pop*
John Cena:
I said before I ain't here t' steal the spotlight an' that's the truth, but if I get a shot at the world champion whoever that may be, you better believe I'm gonna take it.
*More Cheers*
John Cena:
I didn't come here f' the chances Tazz gave me, but now I'm here I'm gonna do ev'rything I can t' find a team f' Survivor Series, lead them t' victory an' go on t' Night of Champions t' become
THE NEW WORLD HEAVYWEIGHT CHAMPION
.
*Big Pop*
John Cena:
This hasn't exactly been the best year of my career with injuries an' time out, but there's still time f' me t' make two thousand an' eight a year t' remember, finishing it on a high in the best way possible by walking in to Night of Champions fightin' for the world title and
walking out the new World Heavyweight Cham
. . .
A ton of boos break out and we see
'The Rated-R Superstar' Edge
sneak in the ring and stalks Cena, getting ready to explode out of the corner. Cena has no idea and turns round curiously to get speared by the returning Edge.
Michael Cole:
What's going on? We've not seen Edge since SummerSlam. What's he doing here, and why's he just speared John Cena? I don't get it.
Matt Striker:
Nor do I Michael but he sure has made a statement t'night.
Boos ring out as the intense Edge stares down on his knees at Cena and runs his hands through his air with Cena rolling around holding his stomach. Edge looks up and smirks in to the crowd as
"Metalingus"
blasts out. He stands up and continues smirking at the crowd as he steps through the ropes and makes his way up the ramp. Cena sits up in the ring, still clutching his chest but now glaring at Edge, who turns round and just laughs to himself at both Cena and the jeering crowd.
*Video Promo*

The World Heavyweight Champion, CM Punk is making his way through the halls with his rookie, Alberto Del Rio-Ramirez alongside him, and the shot switches to Christian & Tyson Tomko doing the same for the upcoming non-title main event between Christian & Punk!


*Commercial Break*


*Video Promo*
During The Break
Edge
is shown in the back with
Petey Williams & Johnny Devine
, all of whom appear to be in a good mood.
Petey Williams:
It's good you're back man, and what you just did t' Cena, that was awesome. I mean seriously awes. . .
All three of them are distracted and we see
Tazz
walk up to them, and Smackdown's General Manager is not at all happy. Edge is revelling in it though, looking very brash indeed.
Tazz:
You gonna tell me that was about huh? What the hell d' y'think you were doin'?
Edge just smirks at Tazz, who's desperately waiting for an answer.
Edge:
You really wanna know what just happened?. . . Let's just say I did what had t' be done.
That's
what just happened. Now since it looks like you're not here t' thank me, I think we're gonna take off. You can thank me next week.
Edge taps him on the shoulder and walks off with the grinning Canadian duo, leaving Tazz fuming with the camera zooming on his angry face.
*Cut to the Arena*


*The Main Event*
Non-Title Match
Christian w/Tyson Tomko vs. CM Punk w/Alberto Del Rio-Ramirez

Chris Jericho joined Michael Cole & Matt Striker at the announce table and told them that he wasn't there to scout his rivals in the triple threat match at No Mercy for the World Heavyweight Championship as he claimed it didn't matter who would win this contest because he is better than both of them and everyone else in the world. He was saying that he was making sure the entire world was told that to avoid false hope as far as their hope for Christian to win the world title is concerned.

He watched on as Christian went all out to shock the World Champion, and after being rattled in the early going, The Straight-Edge Superstar came back fighting and showed why he is the top dog on Smackdown. On a night of extremely competitive action, this one stole the show with both men hell bent on earning a huge victory heading in to No Mercy. Captain Charisma was given a helping hand when Punk's rookie, Alberto Del Rio-Ramirez was ejected from ringside when they clashed on the outside. Despite protests from both mentor & rookie, the Mexican was reluctantly sent packing by the referee.

However it brought more out of Punk, and he stole a march after catching Christian with a standing dropkick as a counter to a diving cross body. The World Champion was dominant, but the courageous challenger to his throne kept on fighting and fought his way back, countering a springboard tornado DDT by tossing Punk forward and down to the mat. As Punk picked himself back up, Christian struck, running at him and taking him down with a spear, only Punk got his shoulder up at two. Christian kept on going, heading to the top rope for the Frog Splash, but Punk rolled to the side and Christian splashed in to the unforgiving canvas.

They both struggled back up to their feet and it was Christian that struck gold, ducking a roundhouse kick and catching Punk with an inverted facelock backbreaker. The fans were cheering and Punk was in trouble. Christian knew it and went for the cover, only for the resilient Punk to kick out before the ref could count to three. Captain Charisma could taste victory and was getting ready for the Killswitch as the World Champion clawed his way back up. The crowd were on their feet and Christian jumped on Punk the moment he got to his knees and dragged him in to place for his finisher. Punk wasn't done though and countered, shoving the Canadian in to the ropes.

Christian hit them and held on to the top rope, causing some panic for Punk. He ran right at Christian and in to an extended elbow, sending him staggering back in to the centre of the ring. As he then turned round in a spin, Christian ran out at him but in to a roundhouse kick out of nowhere from the World Champion. The Canadian fell to the deck and Punk immediately dropped to his knees and covered him, but it was Punk this time that was left frustrated as Christian got his shoulder up at two. The fans were going mad, and so was Punk, literally. He stood up and dragged the apparent dead weight that was Christian up and lifted him up on to his shoulders for the GTS.

With the fans trying to will Christian to a fightback, he managed just that and stunned Punk by slipping down to safety by Punk's back. The World Champion turned round in a flash, and Christian immediately tried for an irish whip, but Punk reversed it and sent Christian in to a collision with the referee. Christian was stunned & concerned for the ref, but Punk took the opportunity by turning him round and lifting him up on to his shoulders for the GTS. Then out of nowhere, Jericho slid in the ring to the shock of everyone, especially Punk, who dropped Christian and ran right in to a Codebreaker from Jericho.

The fans weren't sure how to react to that, but Jericho just looked down and smirked at the sight of the World Champion flat on his back. He then left the ring and made his way up the ramp as Christian sat up not sure as to what just happened, but he stared up angrily at Jericho who had taken up to watch the final moments from the stage. Punk began to come round as Christian sensed his opportunity, making his way back up and watching Punk struggle on to all fours.

The referee too was shaking off the cobwebs as the crowd got behind Captain Charisma, and as Punk made it back up, he didn't know where he was. Christian took full advantage and grabbed the champion's arms, spun him round and planted him with the Killwitch to a massive pop inside the arena. Jericho was smiling like mad at the top of the stage as Christian turned the lifeless Punk on to his back and made the cover with the referee crawling across, slowly counting to three to give Christian a huge victory ahead of his World Championship match in nine days.

Jericho was smirking away as the tired but proudly satisfied Christian sat up on his knees and lifted his right arm up in the air with the crowd going nuts. Tomko joined him in the ring and helped him on to his feet, then raised his arm with the ref still in a bad way. Punk rolled to the apron and Jericho caught Christian's attention. Still smiling, Jericho looked down at him with the curious Christian glaring up at him as the show came to a close.

Winner: Christian by pinfall.


*Credits*


>Quick Results<
Santino Marella df. Johnny Jeter
M.V.P. df. Drew McIntyre
Shelton Benjamin df. J-Red
Mickie James DCO. Michelle McCool
Petey Williams & Johnny Devine df. The UK Pack, Bobby Lashley & Charlie Haas and Chris Masters & Ryan Sheffield
Christian df. CM Punk

>Superstars Tapings<
Dolph Ziggler df. Super Crazy
Matt Sydal df. Brian Kendrick


>Confirmed for No Mercy<

Date: Sunday October 5th 2008 (9 days)
Venue: Wachovia Center
Location: Philadelphia, Pennsylvania

World Heavyweight Championship
Christian vs. CM Punk © vs. Chris Jericho

WWE United States Championship
Ladder Match
Matt Sydal © vs. Shelton Benjamin

WWE Tag Team Championship
The UK Pack © vs. Petey Williams & Johnny Devine

WWE Diva's Championship
Beth Phoenix © vs. Mickie James vs. Michelle McCool

Flag Match
M.V.P. & Ron Killings vs. The Empire

Plus

Shawn Michaels vs. Jack Swagger

Elijah Burke vs. Dolph Ziggler
(If Ziggler wins, he gets a date with Layla)
Re: WWE: A Strong Response
---
Review

Good detailed recap as always, nearly like a segmant ha

Eh ok, It was good that Tazz announced that to everyone but couldn't the announce team have done that or Tazz speak a bit longer ? I just thought it was pointless to have him say Three lines...Announce team could have said it and later when it happened Tazz could have introduced him proper.


Ok bit more reason for Tazzz to stay, I still stand by my words a bit though. Jeter seemed good, quiet arragont making demands and slightly funny that he got Tatsu who can't speak english. Match was short for you're standards but not a big deal. Santino winning is something I like because Jeter can't say much about Tatsu's defeats now, but a diving headbutt putting a Champ away is a bit questionable.


I like this segmant. Mainly because I dont knw wtf to make of it ha. Is Christian being fake ? Is Cena keepin enemies even closer or just being a usual lick ? So many questions and the answer will be interesting.


Ok I like this rivalry but I wasn't really feeling the whole name thing. I was getting excited about him finding out something then it was his name. Wade Barret is a better name than Stu Sanders and gives no reason to believe he was embaressed. The stipulation was ok it added to the match, if it was a way off changing his anme then fair enough but maybe a reason as to why Wade hated it would have been good. The match was ok, not surprised MVP won.


Not much too say about Shelton. He got some good points across and was a good way to get him involved without fighting and to play the match at No Mercy up more


Another good promo backstage. It was good and realistic throughout but when you said You're Nuts from Ziggler I couldn't imagine it and threw me off a little. Anyway, got the point across, heated the rivalry a bit more. Just need's a Layla turn and its perfect ha.


THis match was good. It was good having him lose and Chavo laugh at him. You are using the rookies well anyway. It's a hard job. I would have liked Shelton not to wrestle here. I thought The Interview set up the No Mercy match well and now he has done something since.


Another good promo. Swagger came across well as a big heel and was so cocky. He played himself up really well and by having shawn say he has his attention, it plays Swagger up even more. The attack from Miz is something I expected and it was well done and described. I do't know about Miz being in Swagger's corner. Why? Anyway good promo.


So was ther not suppsoe to be any entrances in this match ? Strange to have all of them already there ? Good match, with a good finish, a triple threat match between these will be a good idea and should be a nice match.


The Cena build up has been well done so far, He is mixing with the faces and having confrontations with the heels, good start to time at Smackdown.


This was very short and had a lot of potential. I know it's a pain writting long show matches so the rest weren't bad but this had 4 teams in it ? I would have prefered to see another team win as well but not that it means anything, I know it has good reason.


Cena spoke soem good lines. I especially liked the Jericho one ha. The ending was brilliant, Edge Cena always gets ratings. They work so well and he makes a return as well. It brings a lot to talk about from the one promo.


Main Event was really good and you showed you're good match writting skills here. Interestign situation between Jericho and Christian. We know the history and obv the tactic is to take out the champ but I don't know what will happen next between these.


Overall: It was a good show as always, enjoyed it. Think first time I have ever found some faults but even with them it was a good show. Took me ages to do this as well ha, I do prefer reading them with more detail though. Good job
Re: WWE: A Strong Response
---
>Headlines<


>2 More Matches Added to No Mercy!<
Mickie James & Michelle McCool finally went at it last night with a shot at Beth Phoenix's Diva's Championship waiting for the winner at No Mercy.

However the match couldn't produce a winner and quickly ended in a double count out. McCool and her rookies, Alicia Fox & Rosa Mendes weren't happy and put the boots to Mickie until The Glamazon and her rookie, Nikki Roxx made their presence felt. It left Tazz with a decision to make regarding the title shot at No Mercy, and he announced that Beth would be defending it against both Mickie & McCool in a triple threat match.

It didn't appear to bother The Glamazon one bit, but her chances of walking out of No Mercy next weekend with the title have shortened. It promises to be an interesting contest next Sunday, and there's sure to be a large rookie presence for the title clash. Anything really could happen!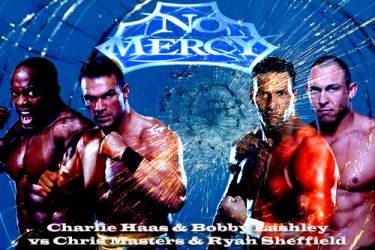 They've been dying to get their hands on each other for months, and despite the one meeting that ended in controversial fashion recently, Charlie Haas & Chris Masters will meet one on one next week before colliding two days later in tag team action when Masters' rookie, Ryan Sheffield joins forces with his mentor to face Haas and the man who came to his aid a few weeks ago, Bobby Lashley.

When Haas finally had the chance to face Masters, he was on the verge of making his former partner tap out. That was until Sheffield made sure that didn't happen, leading to a two on one brawl, only they didn't bank on Lashley coming out to help Haas. Lashley & Haas have forged a strong partnership in recent weeks, and last night they were all in action in a tag team turmoil match that saw Masters & Sheffield get themselves disqualified first, which directly led to Haas & Lashley being eliminated moments later.

Tazz didn't waste any time in letting WWE.com know that he has decided to put the former partners in action against each other next week as well as making the tag match for No Mercy. There's no doubting that both contests will be fiercely competitive. Make sure you tune in to Smackdown next week and don't miss out on the action!
>Cena Returns. . . but so does Edge!<
Going in to last night's show, everyone was talking about the return to Smackdown of John Cena, but no one counted on Edge returning and spearing Cena.

We hadn't seen The Rated-R Superstar since SummerSlam where he lost to his brother, Christian. However he made a huge impact on his return last night, cutting short Cena's address to the Smackdown fans all around the world when he snuck in the ring out of nowhere and speared him in half. Nobody saw it coming, especially Cena!

The question is, why did Edge do what he did? We may just find out next week, and you have to bet that one man who's going to be gunning for an answer is Cena himself!
>Broken Ankle for Shane!<
Someone else who received a surprise last night was 'The Heartbreak Kid' Shawn Michaels. Four nights after giving Raw's The Miz a piece of his mind as well as some sweet chin music, we should've expected Mr. Hollywood to retaliated, and he sure did that.

However it wasn't Michaels that got the worst of it, it was his cousin. Michaels' No Mercy opponent, Jack Swagger had dared Shawn to go out to the ring so he could prove to him he wasn't a coward, and the trap was set. As The All-American American left the ring, Michaels was jumped by The Miz and his rookie, Heath Slater after coming through the crowd. With all three men then putting the boots to Michaels, Michael Shane rushed to the scene in an attempt to help his cousin. It didn't work that way and Shane quickly found himself in dangerous territory. Swagger didn't stop at snapping his ankle with a steel chair and then applied an ankle lock with Shane desperately tapping out. He was then taken to a local medical facility with Michaels accompanying him, and we were later told that he has broken his ankle, meaning he will be out of action for the rest of the year at least.

How on earth is Michaels going to react to that and the news that The Miz will be in Swagger's corner at No Mercy next weekend when he faces Swagger one on one? How long will we have to wait to find out? Could Michaels surprise Mr. Hollywood on Raw again Monday night, or will he be gunning for Swagger come next Friday night?
Re: WWE: A Strong Response
---
Monday Night Raw Preview
Monday 29th September 2008
Live from Boardwalk Hall
Atlantic City, New Jersey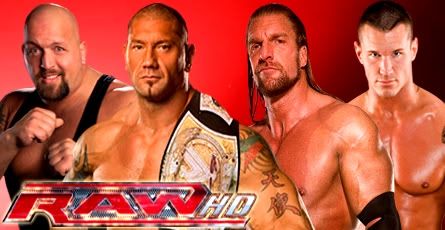 >The Animal Strikes Back!<
We all thought it would be Randy Orton who would be baying for blood last week after Triple H cost him the chance to reclaim the WWE Championship back from Batista at Unforgiven the night before, but it was The Animal who slayed the King. The livid Orton persuaded Eric Bischoff in to giving him a handicap match against Triple H with his rookie, Darren Young as his partner. However before the match could start, The King of Kings introduced them once again to the same sledgehammer they were battered with 24 hours earlier. Only the WWE Champion wanted revenge too and finally got his hands on Triple H, laying him out with a Batista Bomb. After what went down last week, what on earth can we expect to happen this Monday night in Atlantic City?

There was plenty of excitement last week, and we even crowned a new Intercontinental Champion in 'The Celtic Warrior' Sheamus. The Irishman has been almost unstoppable since coming to Raw in the last few months, and just hours after defeating Finlay in a hellacious Celtic Brawl, he followed that up by winning a fatal four-way set up by Bischoff, who will surely would have been delighted to have seen Ted DiBiase lose the title. You have to wonder how DiBiase is gong to react this week, and how Sheamus will react to Carlito spitting in his face moments after the victory. It appears that Carlito isn't too happy with Sheamus after his brother, Eddie was injured at the Dubliner's hands several weeks ago. Trouble may well lie ahead this week in New Jersey!

Everyone was in for a shock last Monday night when Smackdown's Shawn Michaels came to Raw to have a word with the egomaniac that is The Miz. He told Mr. Hollywood some home truths that he's had coming for a long time now, and unsurprisingly, The Miz didn't accept them graciously. He tore in to Michaels, which led to his rookie, Heath Slater getting some sweet chin music that was meant for his mentor. However The Miz didn't escape later on when The Heartbreak Kid caught him with one by surprise during The Miz's attempt to win the Intercontinental Championship.

The Miz did gain some revenge last Friday night on Smackdown when he ambushed Michaels with Slater after joining forces it would seem with Jack Swagger, the man who will face Michaels at No Mercy a week from now. The All-American American also announced that The Miz will be in his corner that night, and we also learned that in the attack on Michaels and his cousin, Michael Shane, Shane has broken his ankle. The Heartbreak Kid is said to be seething. For once in his life, maybe The Miz should keep a low profile this week! That may be difficult though as he & Slater will be one of four teams competing for the final spot in the semi finals of the World Tag Team Championship tournament.

The Corporation were in a gloating mood last week, and just like The Miz & Slater, they will be competing for a match against Matt Hardy & Gregory Helms with a shot at the tag team titles not so far away. However, The Big Show was quick to warn Mr. McMahon and his boys that they weren't going to get away with their cheap victory over him and his rookie, Justin Gabriel at Unforgiven. Fortunately Show & Gabriel have the chance to settle the score this week as they too will be competing for a place in the last four of the tournament along with Rey Mysterio & Mystico. It promises to be an exciting match to say the least! Just who will emerge victorious and find themselves just one win away from a shot at the gold?

One team already there is JTG and Homicide. The mentor & rookie already know their semi final opponents, and they will get a chance to send the impressive & unbeaten duo of Christopher Daniels & Kaval a statement tomorrow night when they take on Cody Rhodes & Joe Hennig. Even though Rhodes & Hennig were eliminated from the tournament at Unforgiven, Rhodes picked up a big win over Kofi Kingston last week. It won't be an easy contest for JTG & Homicide, but can they send themselves in to their semi final clash on a high? Will Cody's win over Kofi lift him and his rookie to another victory, and how much more frustrated can Kofi get? Tune in to Raw tomorrow night to find out.

John Morrison may well have had a bad night at Unforgiven in his controversial defeat to The Miz, but he will return to Raw tomorrow night to take on Zack Ryder, the now former host of Raw. Last week Ryder was given the ultimatum of being Raw's host or a full time wrestler, and he made the decision to give up the microphone. It looked like the right decision as he fought his way to a hard fought victory over Hardcore Holly. Can he follow that up with a victory over what will surely be a very determined John Morrison?

With all this & more, including the mystery surrounding which huge Smackdown star will be joining Raw, you can't afford to miss Raw tomorrow night live from Atlantic City. Make sure you don't!
>Confirmed for Raw This Week<

World Tag Team Championship Tournament – Final First Round Match
The Big Show & Justin Gabriel vs. Rey Mysterio & Mystico
vs. The Miz & Heath Slater vs. John 'Bradshaw' Layfield & Shane McMahon

Plus

JTG & Homicide vs. Cody Rhodes & Joe Hennig

John Morrison vs. Zack Ryder
Posting Rules

You may not post new threads

You may not post replies

You may not post attachments

You may not edit your posts

---

HTML code is Off

---