Re: WWE: A Strong Response
---
.com
>HEADLINES<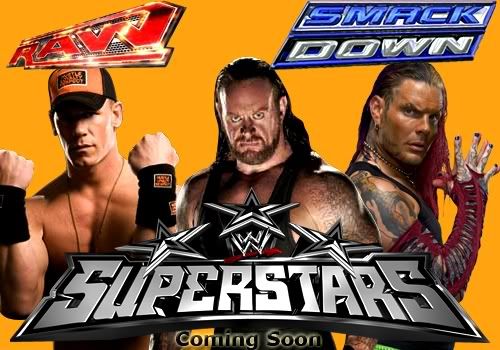 The WWE is proud to announce that one of its all time most popular television shows "Superstars" is making a come back.
Yes it's true. As of Saturday June 21st 2008, "WWE Superstars" will hit your screens via WGN America at 5pm Central, replayed on Sunday and Wednesday nights at 9pm Central. The show will be 60 minutes long featuring stars of both Raw & Smackdown, as well as the stars of tomorrow each and every week.

Just six days after the King of the Ring makes its return to pay-per-view, "Superstars" will also make a return to your screens. Everyone involved in both the WWE and WGN America couldn't be happier and is very much looking forward to its return.

The show has also secured a theme song titled "Invincible" by Adelitas Way. Make sure you tune in three weeks from tonight when "Superstars" makes its big return to television.



---
Last edited by Nige™; 08-04-2009 at

01:25 PM

.
Re: WWE: A Strong Response
---
COPY CAT
Seriouslt though, this is an interesting development. I'm suprised at your willingness to take on more work, especially given the fact you write FCW shows. Maybe you'll do away with the latter. All credit to you. I find it hard to bang out 1 show a month.
---
Moron
Join Date: Nov 2007
Location: England
Posts: 8,966
Points: 0
Re: WWE: A Strong Response
---
Very interesting to see WWE Superstars coming to your thread, Nige. I hope it does well, and I'm intruiged to see where it goes. I'm looking forward to seeing the matches you can put on in the show, hopefully, imo, there'll be some Main Events with the best from Raw and SmackDown.

Looking forward to the debut show, man.
Re: WWE: A Strong Response
---
Quote:
COPY CAT
Seriouslt though, this is an interesting development. I'm suprised at your willingness to take on more work, especially given the fact you write FCW shows. Maybe you'll do away with the latter. All credit to you. I find it hard to bang out 1 show a month.
I'm doing Superstars for mine and it's acutally not that hard to write, it's basically three or four matches with a promo for one maineventer. It really doesn't take long at all.
Mid-Card Champion
Join Date: Nov 2007
Location: Phoenix
Posts: 5,652
Points: 0
Re: WWE: A Strong Response
---
You sure are giving yourself quite the workload, Nige, but I'm confident you'll be able to make it work. Interbrand matches with your roster should be fantastic, definitely looking forward to seeing what you do with the show.

And I haven't forgotten about SD! just yet. I should be starting the review today, sorry for the lateness.
Re: WWE: A Strong Response
---

Update on the return of "WWE Superstars"
It was PWInsider that first reported "Superstars" was being lined up for a comeback what seems like an age ago now. Earlier today, the WWE confirmed that it will be returning to the television schedule after the King of the Ring.

We can confirm that it was just a matter of 'when' and not 'if'. With the additions to the Smackdown roster, it was seen as the right time so that both the Raw and Smackdown superstars are given more time on screen, especially the mid cards instead of being left to rot.

What we can confirm is that "Superstars" will also be a launch pad for FCW talent as they will also be given the chance to appear on the new look one hour show. It's doubtful there will be a strong FCW presence, but they won't just be used as jobbers as there are some names there that are being touted for call ups very soon. They include The Empire, Nic Nemeth, The Second Generation Hart Foundation, Shantelle Taylor & Milena Roucka. "Superstars" will give them the opportunity to break their way in to the WWE and also give creative time to choose which brand they will end up on if they're not assigned straight away. The main role of the show is to act as an extension to Raw and Smackdown to give everyone involved in a running program time on television that week. There has always been the chance that they have to be bumped from TV's to make way every now and again, but this won't be such a big problem now.

From what we've been told, inter-promotional matches are very possible, but inter-brand feuds are not.
<To answer a query raised, FCW will either be written in simple results format or not at all.>


Re: WWE: A Strong Response
---
Man, Nige. Just adding to greatness lol
I like that you are going to "somewhat" follow what WWE did and create superstars.
Even though its not possible, I can see a couple inter-branded feuds coming about, but maybe around the time of SummerSlam or Survivor Series. Plus, you can put some great matches together for this that you wouldnt see on Raw or Smackdown!
I'm looking forward to the addition Nige
---
Re: WWE: A Strong Response
---

FCW RESULTS (31st May)
Dusty Rhodes started the show in the ring and announced that Reid Flair was injured and he wouldn't be able to compete in his match with Nic Nemeth for the FCW Television Champion. He said that he had a found a replacement to challenge Nemeth, announcing CJ Red to the ring.
CJ Red
defeated
"The Natural" Nic Nemeth
to become the new FCW Television Champion. Nemeth was stunned after as he could only watch in shock as Red left the ring celebrating with the title.
Commercial Break
Nemeth was walking through the back and saw Red being congratulated by The Badstreet Boys & Jay Bradley. Nemeth didn't look happy and thought better of doing anything stupid, opting to leave him alone. Joe Hennig then walked up to them and congratulated Red, then told JJ Matthews & Cameron York that he'd chosen them to be his partners tonight against James Reiher and The DiBiase Brothers. They thanked him and told him he wouldn't regret it.
Nikki Roxx
defeated
Roucka
in her debut match, looking very aggressive. The crowd took to her very well, and despite being aggressive in the match, she was delighted at the bell.
Commercial Break
Ryback
defeated
Jesse
comfortably and looked to continue the attack afterwards, but Festus pulled him out of harms way with Ryback glaring at Festus.
Shantelle Taylor, the FCW Women's Champion was interviewed by Lena Yada and was asked how she felt about the couple of new divas who have debuted in the last few weeks. Taylor said she welcomes competition and has no problem putting her title on the line at any time or place. Amber O'Neal walked in to the shot and introduced herself to Taylor before walking off straight away but looking back, leaving Taylor confused.
Commercial Break
Joe Hennig & The Badstreet Boys (JJ Matthews & Cameron York)
defeated
James Reiher & The DiBiase Brothers
. Hennig stunned Reiher by pinning him with a Perfect Plex while Matthews, York and the DiBiase's fought on the outside. Hennig signalled the strap would be around his waist very soon as a worried Reiher sat back up, clinging on to the FCW Championship passed to him by the referee.
Commercial Break
The Empire
defeated
TJ Wilson & Teddy Hart
to retain the FCW Tag Team Championship in a Lumberjack Match. Hade Vansen slipped in to the ring and helped them as the referee dealt with other lumberjacks. Wilson was pissed at the end as The Empire left the ring grinning with the title belts in their hands.
BREAKING NEWS: Flair Fired
After the show, we got word that the reason Reid Flair didn't get his rematch was because he was fired and not injured. Apparently, Reid was released from his contract due to gross misconduct. The rumour going round is that drugs may be have been involved. Nic Nemeth is moving up to the main roster very soon and the decision was made to put the title on CJ Red at the last minute for the shock factor too.



Re: WWE: A Strong Response
---
5 shows you got going on! Wow, VERY IMPRESSIVE! I wonder why you fired Flair. He could have been a nice call up to the main roster one day with the possibility of Natch coming up and managing him.

As for Superstars, it will be interesting to see what you do with it. Im pumped to see how you can push The Hart Dynasty. Best of luck, im getting into this BTB
Mid-Card Champion
Join Date: Nov 2007
Location: Phoenix
Posts: 5,652
Points: 0
Re: WWE: A Strong Response
---
SmackDown! Feedback



Wow. Now that was a seriously, totally phenominal opening between Punk and Shawn. Punk was absolutely brilliant, because he played his role perfectly, the heel that's completely right, but you hate him for it. I loved it, and how he threw Montreal back in Shawn's face, great move there, especially since they're in Canada. Shawn was also great here, and also right about how Punk disrespected the classic he had with 'Taker. Everything that these guys said was true, whether the other would want to admit it or not, and the main event to this show sounds phenominal. Definitely looking forward to it, even more after this tremendous promo. Gold. Pure gold.

Straight-forward ending. We didn't see Kash come back at all during what we got, but it's alright, I'm guessing now that his program with Shane's over, his time in the spotlight's through. Anyway, great win for Burke, getting back on track, seems like he might have a great showing in the KOTR tournament.

Great segment between the two Divas, and awesome line at the end by Mia. The first time we've heard her speak, I believe, and she's definitely witty and edgy. Definitely sparked more interest in her, a great thing, and I'm looking forward to what becomes of her and Beth, should be fun.

Huh. Definitely a unique way to change his name, one that I never really was a big fan of, but I'm not sure if I liked it. For one, I never liked the name "Jack Swagger" either, and second, it made sense, but still left you scratching your head. I think maybe it would've been best just to introduce him as Swagger, retconning ever calling him "Josh Hayger". As for the match, well, made for Swagger to look impressive. Would've left a better impression if it was more than just two noticeable moves he hit, but I get it. Looking forward to what you do with this guy, as it's evident you've got plans for him.

More Taz being a hard-ass. He was the most reasonable I've seen him here, sympathizing with the Masters for what Burchill did, and I'm definitely looking forward to both matches made here. I was expecting Sydal to get into the CW Title picture, but I can see him jumping to the US Title, which would be a great move. Both guys have got momentum for it, and the talent to make it a great one. The No DQ Match maybe should've been reserved as the closer to the feud, but I read your address about questions, and I can understand wanting to drag out a feud until the big payoff. Good stuff here.

Another quick finish demonstrating Mia's abilities. She's been booked very impressively, and I love how she got off her own pin when she could've easily won, good heel tactics. I didn't like that Mickie and Michelle were going to double-team Rain, it's not in Mickie's character (but well within Michelle's bitch character; she's a bitch as a face too, but enough about Michelle McBitch), but Beth coming down for the save was great. If the two are forming some sort of alliance, I'm all for it. Should be awesome stuff.

Intense interview from Chavo, and great, too. I don't agree with what he's doing, but he certainly makes a very strong case, or at least words things very well. Great job here, and their match next week for the KOTR spot should be just as intense. Great stuff here, and I'm expecting the same out of this program next week.

I wasn't sure if you'd be able to top the awesome promo at the start of the show, but this came damn close to doing it. Brilliant, absolutely brilliant. I loved Christian and what he said about turning his back on the friendship formed with the Hardys, and about how Edge's the disgrace in the family. Edge was awesome, as well, especially about Christian winning titles at Disneyland, great way to mask TNA in Universal Studios, and how he was the Bret Hart and Shawn Michaels of his team. I also loved how Tomko was introduced, great way to bring him in. The one thing that I have a question about is that, Edge was referred to as a 2-time WWE Champ, and while that's true for the time period, why wouldn't he include his World Title? It was acknowledged when Christian said he pulled a Punk twice (although you could better argue that Punk pulled an Edge). But anyway, more gold. This show's been rich with it, and it seems like it's just going to get even better. Definitely looking forward to whenever Edge and Christian will throw down.

Good stuff between the Tag Champs. Intense speech to start us off, and cooled down nicely into a feel-good ending. I can understand them wanting to get rid of the Masters of the Mat, as they've been huge thorns in their side, and provided to their big No DQ Match later on. Looking forward to it.

Very solid match here, I liked that it was more than just the ending like before. Some fast-paced moves and the huge win for Sydal left more to be desired from these two, and I'm very glad that you're giving the guy a good push. Looking forward to this continuing, should make for an awesome PPV match if you decide to go in that direction.

I've always enjoyed the interaction between the cousins. They have a very down-to-earth feel to them, like a normal family. It's good stuff. I'm liking Shane's thought process, but you can't help but admire Shawn's determination for wanting back the gold. The match should be fantastic, can't wait for it.

Good match, although I confused myself at points. I was expecting this to be pretty disorganized, with everyone to be in the ring at the same time, so I was sort of confused when it turned out to be more or less controlled and tags were made. Anywho, very brutal moment with Masters crushing Burchill's wrist with that chair, very heelish move, too. Big win for the Masters, and I'm thinking that their next title match will more than likely be where the Masters pick up the belts and close the feud.

The Empire, huh? Looks to be another good team to add to the division.

Another brilliant promo to complete the trifecta, the hat trick. Jericho was absolutely awesome. He wasn't the grandiose Y2J, he wasn't the guy that reads the dictionary to find new insults, I could feel that he was being genuine about wanting to drive 'Taker back to his old self. The thing that I loved the most about this promo (and I loved all of it) was the part about his son asking what was so great about 'Taker. Phenominal line, pun intended. This clearly sets up a program between the two, and I said that purposely because I have a feeling that this won't be a feud, just a series of matches for Jericho to get 'Taker back into the swing of things. Definitely looking forward to more from these two.

Good and exciting match to close out the show. I could tell that you were holding stuff back for when these two face off at a PPV, but it was still a damn good match. I was fine with Punk kicking out of the superkick, especially since there was time between it and the pin, and I liked the ending, too. Kept Punk as a great heel, but also as a rather credible and crafty champ. I wasn't exactly surprised at MVP coming out, but I was surprised that he seems to be in for a face turn. Makes sense, and I'm definitely looking forward to it as the two have had great segments in the past, but I wasn't expecting a face turn. I just hope you keep MVP true to his character, not like what WWE did, and use Matt Hardy at some point as well, sad to hear that he's out for a bit. But in any case, great main event, and great stuff.

You said that you put a lot of effort into the promos, and it was definitely noticeable. The three big promos of the show were some of the best I've ever read, and the whole show in general was probably the best I've read from you, all around brilliant stuff. The fallout to Judgment Day throughout the whole show was fantastic, and this show seriously left me wanting more, more, and even more than that. Amazing job here, Nige, you should be proud of yourself for this awesome show. 9.5/10.
Posting Rules

You may not post new threads

You may not post replies

You may not post attachments

You may not edit your posts

---

HTML code is Off

---