Regularly Beating Up James Ellsworth
Join Date: Jan 2007
Location: Spewcastle, Australia
Posts: 3,346
Points: 0
Re: WWE: A Strong Response
---
Judgment Day is gonna be good, all three of those new matches have potential to be great. I can't wait to read it.
Re: WWE: A Strong Response
---
D-K-L's Smackdown Review

This was a decent promo from HBK and a nice way to open the show for the Aussie fans. Although this wasn't exactly an exciting promo it was very well written and it did it's job of progressing this feud. This feud is huge and you seem to be taking your time with it as they haven't had many confrontations, however I think there are still around four shows from now to JD, so there is time for this to heat up. Also with this being a feud between two faces you are booking it slightly different, with a lot of focus on respect which I like. Yeah so this was a good promo, liked his talk about the history and the showstopper line worked well again. I was expecting a scary 'Taker promo on the screen, but as I said it seems like you are developing this slowly which is cool.

This was a good little promo, all these promos for Shane are doing a lot for his character. The parts with Kash and Maria were interesting too. Not sure about HBK leaving the building though but I guess you can build his feud without him. I don't know where you are going in the long term with Shane either, but I have certainly warmed to him since WM.

I thought this had the makings of a good little feud, however Shelton made quick work of Moore. Doesn't do much for Shannon Moore but Shelton is the focus and it puts him over well as the champion. It doesn't look like he'll be coming back for more, so I wonder who is next for Shelton.

The segment with Hardy and Tazz was very good again, the two were very friendly with each other as you would expect, and it's great to hear that Hardy will be taking on Punk at JD, can't wait for that. Shelton coming in was interesting, this was a little quick after Shelton just had a match, but it makes sense for him to find Tazz straight after. An arrogant heel asking for some decent competition is used a lot and it works here, but maybe he might just regret it. I wonder who Tazz has in mind. Nice bit of comedy too btw.

Shane's advice didn't help then haha. Good win for Beth Phoenix, makes her look even more dominant and the aftermath was cool. Phoenix is good on this brand as the dominant diva and it looks like the others will try and stop her. I thought you were going to introduce a title for them, but it doesn't look like it yet.

This was a good promo with Jeter and Sydal, I haven't seen too many promos from them so I imagine this would do a lot for their characters. Jeter was great in this promo and I liked what he had to say, and he had some typical heel excuses for turning on his buddy. The shot from Jeter surprised me a little, thought it was going to be the other way around but it was a good way to give him even more heat. Good to see Tazz using his authority again and thats a good match announced, Taker is sure to win but I don't think it will do Jeter any harm.

This segment was okay, I see what you are doing with Chavo and it was a very good twist, but it didn't really make sense to me. Why was Killings saying sorry? Didn't he just get beat down by Chavo last week, thought he'd be attacking him not saying sorry. Anyway as I said them making up only for Chavo to take him out again was good.

The pre match promo from Masters was great, really good way to build up heat. The win for Haas is good for them and it makes it look like they are a real threat to their titles at JD. This will give them somehting to brag about again as well.

The short segment with Burke warming up was very good, I think it would come off very well to show his hate for MVP. It's always good to hear from MVP so his interview was cool, and it adds some more hype for their match later on.

I thought Hardy was going to run through his opponent tonight and send a message to Punk, but I liked how it played out. Punk turning up was a surprise but it was a great thing to do to further the feud by having him distract Hardy, making him hate Punk even more. Good win for Kash too despite the distraction.

Tazz is a busy man tonight. Decent segment this, I liked where it took place as well, showing that Tazz is clever and knows how Punk works. Next week should be very good.

The match between MVP and Burke would be a good one to see. The DQ finish was probably the right thing to do, keeps both men looking reasonably strong and it was a good set up for Tazz to come out again. Tazz is certainly a busy man, but he's showing his authority and showing that it really is his show. The match at JD should be great, and no DQ is even better. I thought the briefcase might be on the line though, which makes me think this may be a win for Burke.

Well it was good for Jeter to get a main event match against Taker despite his loss. It wasn't a squash by the looks of it which is good. A convincing win for Taker is a good thing with JD approaching too.

Overall it was a good show, not one of your best but a good show. Things are developing nicely on the Smackdown side for sure and JD looks like it will be very good. Matches were a bit short, but they were only slighlty shorter than my TV's and I think you are focussing on Backlash so it's understandable. Good job mate.
Re: WWE: A Strong Response
---
Kanefan4E's Smackdown Review

Good little video, it helps people like me get a feel for what's to come. I hope you don't mind if I incorporate the bullet point style into my thread. It really is helpful. It's good that you actually care enough about your readers to do this. Credit where credit's due.

I'm not too keen on Michaels being the one to use the 'cheap pop'. Well saying that, I'm sure he's done it in the past. I loved it when you described that Michaels had the belt around his shoulder. It's been too damn long since I've seen Michaels as Champion, whether that be in BTB or in real life. I don't know why but I enjoyed that line immensely. It was basically a given that Michaels would turn serious, and it was at the right moment. Building up the crowd to get excited and then really turning up the heat. Good stuff Nige. I'm also interested in the direction of this feud. Interesting to see you go for the respect/respect battle, rather than the heel vs. face battle. It will be interesting to see what happens after this feud. Maybe Undertaker wins the title at Judgment Day and Michaels turns heel. That would be too awesome to come true to be honest. Oh and Undertaker not being in the promo was disappointing. Well for me anyway. Hopefully he shows up later in the show.

I wasn't too keen on this backstage segment. I mean Michaels just came out of a serious promo talking about his World Heavyweight Championship match with The Undertaker, then he agrees to go to a few bars. Not my cup of tea. I would have preferred Michaels to turn the offer down, knowing that he's got to put all of his energy into the title match. You did get some more Australia hype in here though so that's a good thing I guess.

I have to admit. I really like the condensed match recaps. Really easier and enjoyable to read. It also makes the PPV matches seem that little bit more special. It was a good opening contest, but it was always going to be Benjamin who wins.

I understood the direction of this next promo. But if Matt wasn't thirsty, why would he be looking for a bottle of water from the trolley? Just seemed illogical. The overall promo was decent enough though. Benjamin is being used perfectly here on Smackdown. I can't wait to see who will step up to Benjamin. Oh and I laughed hard at Tazz not being happy with the food. That was an awesome end.

Dominant divas are awesome. Perhaps that's why I love Beth Phoenix so much. She's just so ruthless. A decent little match which got Beth Phoenix over, aswell as Maria to be honest, as she gave as best she could.

I think I mentioned it in the comments I left after you posted the preview. I'm not a fan of two low key guys having big in ring promos. It may sound pretty biased but I guess that's just me. I did however love the match that Tazz set up. My god is he getting a push. I just hope he doesn't beat The Undertaker, that would suck in so many ways.

Not much to say about the Killings/Chavo promo. It looks like you're setting up a Killings/Chavo promo. That's fine I guess. Again not my cup of tea. I've hardly seen any main eventers yet on this show apart from Shawn Michaels. I may have missed a lot and some of these guys may be main eventers. I'm not sure though. I know you like the young guns so I guess that explains it.

Masters is fucking awesome. I'm glad you're using him. Singles push please. I'll make do with him in a tag team for now as he seems to be the ring leader so to speak. However, I'll be rooting for a singles push, and when that happens I'll be here to mark the fuck out. I noticed that you don't have a lot of action after your matches. Maybe you're not a fan of that. I however think that it's needed sometimes. Rather than just have the winner celebrate.

Nice hype here for the Burke/MVP match. I hope Burke wins. Can't see it happening though after this segment.

Oh, is that Jack Swagger? I'm sure it is. I feel like a right idiot. I've been staring at that image for the last hour lol. Looking forward to see how you use him.

I actually forgot that MVP was Mr. Money In The Bank. I think I can see MVP and Burke facing off at Judgment Day. That would actually be pretty sweet.

Heel Punk is more than awesome. You're using him well too. I love the fact that he screwed Matt Hardy. I can see big things from their PPV match. Especially considering the hype it's getting.

More Tazz. I'm not going to complain like others have because I actually see it as a necessity. Your General Manager should play a predominant role on the show. Especially when he's as good as Tazz is. I was doubting whether Tazz would work, but you sure as hell have proved that he can.

Ahh see I knew this match would be booked. One question though. Is it going to be for the briefcase. I guess if it is you'll make that point known in the next few weeks. A decent match with a more than satisfying ending.

Jericho will own Smackdown. That's all I have to say here.

Undertaker was never going to lose. If he did I would have probably smashed my laptop. This match worked wonders in hyping Taker and Michaels' match at Judgment Day, as well as putting Jeter in the limelight. Great stuff and a nice little match to end the show.

Overall I was impressed. I did have some negative points throughout the show, but I think I mentioned them during the review. There were far too little main event guys on the show for my liking. There should be more in my opinion to carry the show, while you build up the others. Overall though it was a solid show with four weeks left to build until Judgment day. Good work Nige.
---
Last edited by Mr. Kanefan; 02-12-2009 at

01:19 PM

.
Re: WWE: A Strong Response
---
Thanks for the reviews guys. The Matt "thirsty" line was meant to come across that he was hungry for Punk, not thirsty for him. It was corny and i worded it wrong looking back.
But,
WOO - 100 PAGES!!!

BREAKING NEWS

WWE SNAPS UP FORMER TNA TALENT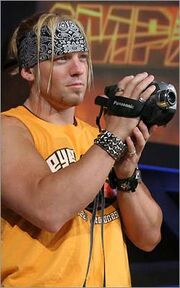 We have just had that former TNA stars, Petey Williams, Low-Ki & Johnny Devine have signed contracts with the WWE. There is no word on how long the deals are, when they officially start or if they will be assigned to FCW.

We will have an update for you when we get more information.


Re: WWE: A Strong Response
---
I'm so excited I can hardly contain myself. Please bring Devine up. Hell bring all of them to the main roster. It will be interesting to see how you use them.
Oh and congratulations on reaching one hundred pages. That's fucking dedication for you. I'll reach one hundred pages soon
Re: WWE: A Strong Response
---
Some great signings, i can see room for Williams on Raw, Senshi on Smackdown and Devine in FCW. Overall they will be good additions, for a seond i tought that was Steiner
lol. Looking forward to Backlash, will leave predictions when you template.
Re: WWE: A Strong Response
---
"FCW" TV Results
(Saturday 26th April)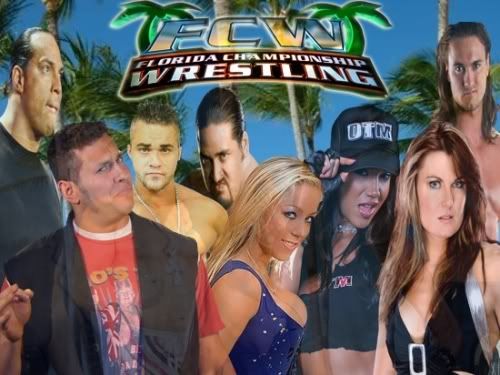 The Empire made their way down to the ring, looking very smug with Katie Lea grinning more than ever as Drew McIntyre & Stu Sanders, the FCW Tag Team Champions walked behind her, both holding Union Jack flags over their shoulders. Once in the ring, Katie said that last week they defied the odds and Dusty Rhodes by emerging victorious in the 5 team elimination match to retain the tag team titles. She said that they proved they can overcome anything Dusty could throw at them, and directed a message to him by saying that are only too happy to take on any challenge he issues them, just so they can add to his disappoint. It didn't go down well with the fans in attendance as Katie then said that last week, all three of them were impressed by the attitude of one man who also stood up to Dusty last week, and even leant a hand in his support for them. She said that they were so impressed that they are proud to announce that there is an addition to The Empire, and that addition is Hade Vansen. He made his way out looking very pleased with himself. He thanked Katie and took the microphone, saying that it is a privilege to be a part of The Empire with the honour that they stand for and demonstrate in a discriminative environment such as this. He pointed the blame a Dusty and said that he got what he deserved last week with Sanders & McIntyre holding on to the titles that they deserve, but he also said that someone else who got what he deserved was Reid Flair.

Vansen then said that Reid was brought in for no other reason other than his father's name on his birth certificate, and that he learnt a valuable lesson last week by finding out that life isn't easy around here. With the rest of The Empire smiling behind him, he went on to say that he was looking forward to roughing up Reid himself, but he will have the chance once he beats another pampered son of a Hall of Famer in Joe Hennig and moves on to the semi final of the Television Championship tournament. He got distracted with the fans booing him, and it allowed Dusty Rhodes to have his say as he walked out to the arena. He said that first, Vansen should worry about Hennig as it's not going to be easy, just like it was supposed to be last week for them. He then promised it would be difficult tonight for The Empire as they will be taking on the team that Vansen helped them beat last week in Teddy Hart & TJ Wilson. It didn't seem to bother them, but Rhodes then announced that Afa Jr would be joining forces with Teddy & TJ, while the FCW World Champion, James Reiher would be their partner, and if their team loses the match, both they and Reiher will be forced in to defending their titles against the same three men in two weeks time. That didn't go down so well, and Dusty barely cracked a smile as he left with The Empire looking shaken in the ring.
**Commercial Break**


Match 1
CJ Red
vs
Jay Bradley
A entertaining match with Red using his speed and agility to his advantage while "The Natural" Nic Nemeth watched on eagerly from the curtain. Bradley took CJ close, but Red was able to slide down his shoulders, spin him round and kick him in the gut before finishing him off with the Red Alert, a springboard swinging reverse STO. CJ stood up and got his arm raised as Nemeth applauded him with a sly grin. CJ stared right back at him, not put off by the man he'll face in the Semi Final of the Television Championship tournament.
Winner:
CJ Red.
Shantelle Taylor, the FCW Women's Champion was talking with The Bella Twins in the backstage area when Roucka and Michael W. Kruel walked up to her. Brie & Nicole made a quick exit as the serious looking Roucka told Taylor she knows that she won the right for a title match several weeks back, and then told the champion that she will be getting the match next week. She said that she wanted to come and tell her that to face, as well as that it would be the last week she is Women's Champion. Taylor took it quite well and didn't seem surprised, and she asked Roucka if she's heard. Roucka & Kruel looked confused, and Taylor said she clearly hadn't before walking off. Roucka turned to Kruel and asked him what Taylor was talking about, but he said he didn't know either. Roucka wasn't happy and said they'd have to go find Dusty Rhodes to find out what's going on.
**Commercial Break**
Match 2
Television Championship Final Quarter Final Match
Joe Hennig
vs
Hade Vansen
w/Katie Lea
A very good technical back and forth match. Hennig managed to fight his way in to control after slipping away from Vansen's grasp, leaving Katie Lea concerned. Just as Hennig looked to be setting Vansen up for a Perfect Plex, Colt Cabana walked down to the ring and tried to catch Hennig's attention. He was confused and let go of Vansen before walking to the ropes and trying to understand what Cabana was asking him, but Vansen reacted by recovering and walking up behind him to spin him round for the South City Driller, a lifting spike DDT for the victory. Katie joined Vansen in the ring and raised his arm as Cabana watched on, looking slightly angry with himself.
Winner:
Hade Vansen.
In a busy backstage area, Dusty Rhodes was talking to some workers when Roucka & Michael W. Kruel walked up to him. Roucka asked him why Shantelle Taylor was so pleased with herself, and what she meant by saying "haven't you heard?" Dusty told her that after giving her the title match next week, he thought he'd spice things up a little and make a mixed tag team match for tonight with Roucka & Kruel teaming up to face Taylor & Shawn Spears. Kruel asked Dusty if he was kidding, and of course he said he wasn't, leaving Kruel frustrated and shaking his head. The DiBiase Brothers then walked past and were bragging about how they took apart The Badstreet Boys last week, and that caught Dusty's attention. He excused himself from Roucka & Kruel to catch up with Brett & Mike. He quickly put them in their place and told them that they ruined his plans last week, and that because of them, Matthews & York weren't allowed to compete this week, but they will be next week. Mike asked Rhodes what he was getting at, and Dusty explained that they have to deal with the consequences of their actions, and that if they want to act like thugs, he's going to let them, next week against The Badstreet Boys in a Streetfight. They looked stunned as Dusty told them maybe they'll learn before walking off, leaving Mike & Brett not so thrilled.
**Commercial Break**
Colt Cabana was pacing up and down a locker room when Joe Hennig walked in. He wasn't happy at all and asked Cabana what the hell he was doing out there earlier on, and said he would have been in the semi finals if it wasn't for him. Cabana calmed himself down and asked Hennig if he remembered what he said to him last week when he wanted them to be partners. Joe knew, but he played it down, and Cabana said that Henning lied, saying he already had a match when he didn't. He then asked Joe why he lied, and said that all he wanted was to team with the son of Mr. Perfect. Hennig shook his head in frustration and asked Cabana what he wanted from him, and that if he wanted revenge by costing him his match, then he sure got it. Joe turned his back to leave when Cabana grabbed his arm, not going down well with Joe, who turned back and stared at him. Cabana let go and said that he didn't do it on purpose and only wanted an answer, but Hennig told him to save it and walked out anyway, leaving Cabana glum as he stared at the door.
Match 3
Shawn Spears & Shantelle Taylor
vs
Michael W. Kruel & Roucka
Taylor & Roucka had a real go at each other, and after tagging out, it spilled to the outside. It left Spears & Kruel to fight it out, and the over anxious Kruel fell victim to a hangman's neckbreaker to give Spears & Taylor the win. Roucka looked stunned on the outside as Taylor got back in the ring and celebrated with Spears. Roucka couldn't take her eyes off Taylor.
Winners:
Shawn Spears & Shantelle Taylor.
Lena Yada was with the FCW World Champion, James Reiher. She asked him how he felt about facing Afa in a matter of moments, and about the possibility of having to defend his title against him if his team lost tonight. Reiher played it down and said that even if the worst does happen, there's no chance of Afa ever winning the FCW Championship from him. He said that Afa's no threat to him, and that he couldn't even win the title in his wildest dreams. Lena pulled the stick back and was going to ask another question, but Reiher pulled it back himself. He said that even though he has no problem in taking care of Afa and two Canadian punks, he doesn't have a clue why Dusty Rhodes has brought him in to his problems with The Empire. He said that he knew Dusty has it in for them, but that it has nothing to do with them. He then said that Dusty might think he calls the shots, but he's going to show him very soon just who really is the top dog in FCW. He grinned at the camera before walking away with the FCW Championship gleaming on his shoulder.
**Commercial Break**
Match 4
If the team of Reiher & The Empire lose, the opponents will receive title shots in 2 weeks
Afa Jr, Teddy Hart & TJ Wilson
vs
James Reiher & The Empire (Stu Sanders & Drew McIntyre)
w/Katie Lea & Hade Vansen
An unbelievably competitive match with both sides getting close calls. Reiher thought he had it and yelled at the referee, turning his back on Afa on tried to capitalise with a samoan drop, but Sanders saved the match by breaking it up at two. That led to TJ & Teddy getting involved as they took Sanders to the outside before doing the same with McIntyre with Teddy then taking them both down to the floor with a springboard plancha. Vansen then pulled TJ to the outside by his feet as Afa went to the top rope with Reiher barely moving. Katie Lea sensed the danger and got up on to the apron, then grabbed Afa's foot while Vansen tossed TJ in to the barricade. He then jumped up on to the apron and pushed Afa up the top, causing the referee to disqualify Reiher & The Empire. Vansen & Katie looked stunned, and Reiher wasn't best pleased either as he stood up. He walked over to Vansen, who talked smack back at Reiher before being shoved down to the mat by the FCW Champion. He got back up, but Katie pulled him back as Reiher stared back at him as the show came to a close.
Winners:
Afa Jr, Teddy Hart & TJ Wilson.
**End of Show**

FCW GETS A NEW INTAKE
We can announce that the WWE have signed a number of workers to developmental contracts. Ryan Reeves & Heath Miller were let go by the company last year, but they have resigned and will now head to the Florida training camp.

Victor Ceron, known to many as "The Brazilian Beast" Kafu will also be heading to FCW after an impressive spell in the IWA, based in Puerto Rico. He will be joined by Taylor Rotunda, the son of Mike Rotunda, Irwin R. Schyster. It is believed that Rotunda will need some more time before making his debut.



Re: WWE: A Strong Response
---
WWE Backlash 2008
Sunday April 27th
From The Pepsi Center – Denver, Colorado
***The Preview!***
WWE CHAMPIONSHIP
Randy Orton vs Kane (c)
Can Randy Orton regain his WWE Championship and become the first man to defeat Kane since his shock return and victory at the Royal Rumble in the process? That is the question on everyone's mind as we approach Backlash tomorrow night, live from The Pepsi Center in Denver, Colorado.

It's fair to say that the WWE Champion has looked almost unbeatable since his return, but we have seen the former Champion take his intensity up another level ever since he lost the title at Wrestlemania last month. However, as The Legend Killer puts it, it was John Cena that lost to Kane, meaning he didn't 'officially' lose the title. He looks extremely determined to get his hands back on the title, and for the last two weeks, he has done just that, stealing the title away from The Big Red Machine. The levels that he has gone to in order to make a statement have been fierce, and he has been at it since the moment Kane took the title away from him.

The very next night after Wrestlemania in the first action of the night, Mr. Money in the Bank, MVP was taking on Mr. Kennedy. After MVP was victorious, Orton stormed down to the ring and punted Kennedy in the head for no reason before demanding his rematch there and then. Eric Bischoff, Raw's Independent Head of Authority told him he would have to wait until Backlash, but Orton couldn't wait to go on the warpath. Not only has he stolen the WWE Championship from Kane, he has attacked his father, Paul Bearer twice in the last two weeks. Is The Legend Killer on the road to revenge, or will he be on the end of it?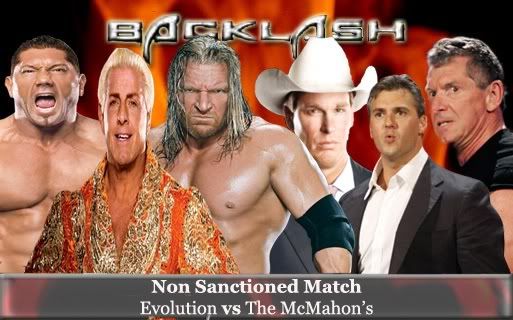 NON SANCTIONED MATCH
Evolution vs The McMahon's
If the rivalry between these two groups of men wasn't heated before, it certainly is now after the events of Monday night.

This goes far beyond Triple H & Stephanie McMahon-Helmsley's marriage, their deception over John "Bradshaw" Layfield being the illegitimate son of Vince McMahon, Shane McMahon reuniting with his father, and the reformation of Evolution. This now has become an extremely personal situation between six men that will see them compete with no rules whatsoever when they meet this Sunday in a Wrestlemania rematch. It is a match that The McMahon Men actually lobbied for, and were awarded by Eric Bischoff. When the announcement was made by Mr. McMahon himself, they set the tone for what would and will follow with JBL vowing revenge for Wrestlemania, and changing the balance of this unholy war.

With Evolution standing in the ring, JBL calmly approached the ring to declare that it if there was any justice in the world, along with his family, he would defeat Evolution at Backlash, and that Stephanie would lose her unborn child. It understandably infuriated The Game as a wild brawl broke out which took security an age to break up. That was not as personal as it would get, as The McMahon's took it to a whole new level this past Monday by taking advantage of the Raw trip to Sydney. Knowing that Ric Flair and Evolution would be away for the long weekend, Vince and his sons paid a visit to Reid Flair, the son of The Nature Boy and assaulted him after his debut match in FCW on the Saturday night. They then presented the footage to an irate Evolution live on Raw, leading to The Nature Boy rushing back home to be with his son. God only knows what to expect tomorrow night.
John Cena vs Kenny Dykstra
It's crunch time for Kenny Dykstra as he is forced to give his mouth a rest for the night to go up against the multi time WWE Champion, John Cena.

There is no doubting the accomplishments of John Cena, but Dykstra seems to value his lesser ones way too much. There's no doubt he was impressive in becoming the sole survivor last November to become the Cruiserweight Champion, beating seven others to take the gold, but it doesn't come anywhere near matching up to the record of Cena. Dykstra has the chance to climb up the ladder tomorrow night, but Cena has the chance to ensure he doesn't get past the first rung, and gain a whole lot of satisfaction in the process. Dykstra sure has done a lot to get under Cena's skin, making sure everyone knows exactly who he is at the same time.

Having been drafted over to Raw a week earlier, Kenny took exception to Cena's arguably sarcastic response of not knowing who he was. The fun loving side of Cena came back to haunt him later on as Dykstra made sure he knew, distracting Cena and costing him chance to become the WWE Champion. He continued in his quest to anger Cena by running down to the ring during his match with Santino this week and attacking the referee before counting a quick fall to give Santino a huge victory. When Cena returned to his dressing room, he discovered the wall had been spray painted with the words "You can't see me". It could be one long night for Dykstra when he faces the backlash of John Cena.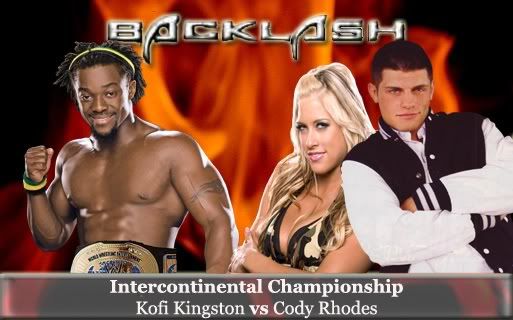 INTERCONTINENTAL CHAMPIONSHIP
Kofi Kingston (c) vs Cody Rhodes
What can you say about the friendship of Kofi Kingston & Cody Rhodes?

We're going to get a good idea of the answer to that when these two clash for the Intercontinental Championship in Denver tomorrow evening. Things between them have become strained to say the least since Kofi won the Intercontinental title nearly four weeks ago in a tag team elimination match that saw Cody as his partner. Due to the rules put in place, the member of the team that got the pinfall would leave as the champion, and seemingly to the frustration of Cody. He went to Eric Bischoff and asked for a shot at the gold, but he didn't get the answer he was looking for, but it wasn't just the Intercontinental Championship that was upsetting him.

A couple of weeks earlier, there was an insinuation from The Colon Brothers that there may be more than meets the eye as far as the relationship between Kofi and Cody's girlfriend, Kelly Kelly. It was clearly designed to wind Cody up, but with the bitterness already sinking in, it was obvious that Cody had doubts. Both Kofi & Kelly denied the rumours, but Cody has changed drastically from being very laid back to an aggressive control freak. His treatment of Kelly has been questionable, and that appears to have had an effect on Kofi as he went to Bischoff himself this past week to ask for Cody to be given what he wants, a shot at the gold. Will Kofi's plan to move on work, or is their trouble around the corner?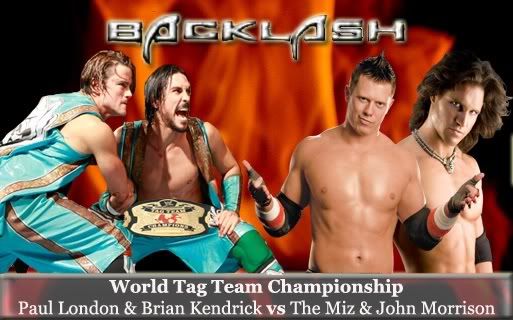 WORLD TAG TEAM CHAMPIONSHIP
Paul London & Brian Kendrick (c) vs John Morrison & The Miz
The arrogance of the challengers here may just be their undoing come Sunday, as they sure have lit a fire underneath the two men that wear the gold right now.

John Morrison & The Miz haven't held back in their comments towards Paul London & Brian Kendrick since moving to Raw from Smackdown two months ago. But over the last few weeks, it has escalated at quite a pace with the challengers accusing the champions of not being good enough to carry the titles, and even going so far as to speculate that their hearts aren't in anymore. That got a strong reaction a week later as one half of the champions in Kendrick met The Miz one on one, and emerged victorious. It seemed to take Miz and his partner by surprise, but they called it a fluke Monday night just gone, and they quickly continued to put down London & Kendrick. However, they only caused to anger them further as the champs struck back by attacking them backstage during the interview. There's no shortage of tension going in to this one as the defiant champions put their gold up for grabs against the cocky duo of John Morrison & The Miz. Just who will have the bragging rights when this is all said and done?
NUMBER ONE CONTENDERSHIP FOR THE WOMENS CHAMPIONSHIP
Candice Michelle vs Kelly Kelly vs Melina vs Natalya Neidhart
We all saw Victoria crowned as the new WWE Women's Champion at Wrestlemania 23, and to shake the foundations of the diva division even further, a number of the top divas were drafted to Smackdown, including Mickie James & Beth Phoenix. That quickly left a void with Victoria needing a challenger, and we're going to find out who that will be when these four divas compete for a shot at her title.

Beth Pheonix's ally, Natalya Neidhart told Victoria a couple of weeks ago that life without Beth on Raw wasn't going to be as easy as she thought. Could it be that Natalya carries on where The Glamazon left off before heading to Smackdown? We have two former champions in Candice Michelle & Melina who will be desperately trying to stop her and add to their number of title reigns. The troubled Kelly Kelly will also be looking to take her mind off of Cody Rhodes & Kofi Kingston by earning a crack at the title, in addition to following up her first two victories since joining Raw. Just who will it be that is standing tall with a title shot waiting in the wings?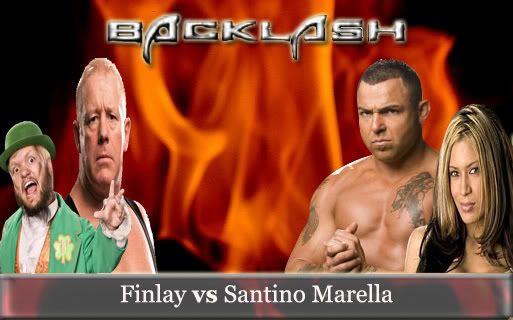 Finlay vs Santino Marella
It doesn't take much to get under the skin of Santino Marella, but by the looks of things, a leprechaun does just the trick.

Since Finlay was drafted to Raw, Hornswoggle has become quite a menace to Santino and his girlfriend, Melina, leading to the fiery Italian gunning for the fighting Irishman in this all European encounter. It all started quite innocently as Hornswoggle's antics around the ring led to Melina screaming out loud during a match between Finlay & Santino, resulting in a defeat for the Italian Stallion. He's been quite busy since then, asking for Finlay to be punished, but when action was forced on to him, he quickly got the Irishman's attention. Two weeks ago on Raw, he raced down to the ring during Finlay's match to steal his shillelagh, and in turn, the distraction led to Finlay losing the match. He and Hornswoggle fired back this past Monday after Santino was celebrating like crazy due to his shocking yet controversial victory over John Cena. They quickly crashed the party and left him lying in the ring. Which one of them will be left lying in the ring tomorrow night?
PREDICTIONS TEMPLATE
WWE CHAMPIONSHIP
Kane (c) vs Randy Orton
NON SANCTIONED MATCH
Evolution vs The McMahon's
John Cena vs Kenny Dykstra
INTERCONTINENTAL CHAMPIONSHIP
Kofi Kingston (c) vs Cody Rhodes
WORLD TAG TEAM CHAMPIONSHIP
Paul London & Brian Kendrick (c) vs John Morrison & The Miz
NUMBER ONE CONTENDERSHIP FOR THE WOMENS CHAMPIONSHIP
Candice Michelle vs Kelly Kelly vs Natalya Neidhart vs Melina
Finlay vs Santino Marella
QUESTIONS
What match will open the show?

Which match will be the main event?

How many title changes will there be, if any?

Will Kelly Kelly turn on either Kofi Kingston or Cody Rhodes during any part of their match?

Will there be any influential run ins?

If yes, how many?
The show is written and formatted, and will be up towards the end of the week. If you want me to let you know when it's up, give us a shout!



Re: WWE: A Strong Response
---
Quote:
PREDICTIONS TEMPLATE

WWE CHAMPIONSHIP
Kane (c) vs Randy Orton

NON SANCTIONED MATCH
Evolution vs The McMahon's

John Cena vs Kenny Dykstra

INTERCONTINENTAL CHAMPIONSHIP
Kofi Kingston (c) vs Cody Rhodes

WORLD TAG TEAM CHAMPIONSHIP
Paul London & Brian Kendrick (c) vs John Morrison & The Miz

NUMBER ONE CONTENDERSHIP FOR THE WOMENS CHAMPIONSHIP
Candice Michelle vs Kelly Kelly vs Natalya Neidhart vs Melina

FinlayvsSantino Marella


QUESTIONS

What match will open the show?
The World Tag Team Championship match.

Which match will be the main event?
Evolution vs. The McMahons.

How many title changes will there be, if any?
One (the tag team titles).

Will Kelly Kelly turn on either Kofi Kingston or Cody Rhodes during any part of their match?
She'll turn and side with Cody.

Will there be any influential run ins?
Yes.

If yes, how many?
One.


The show is written and formatted, and will be up towards the end of the week. If you want me to let you know when it's up, give us a shout!
Good luck Nige!
Forever
Join Date: Aug 2006
Location: From Downtown, outta nowhere, in a heartbeat!
Posts: 5,138
Points: 87
Re: WWE: A Strong Response
---
WWE CHAMPIONSHIP
Kane (c) vs Randy Orton
Gotta keep Kane looking strong, his push should keep going and not be cut short.

NON SANCTIONED MATCH
Evolution vs The McMahon's
Not sure if this will end the feud, but it may and therefore the "wrestlers" are my picks.

John Cena vs Kenny Dykstra
Nice push for Kenny and giving Cena something to do, but its time to move them both on.

INTERCONTINENTAL CHAMPIONSHIP
Kofi Kingston (c) vs Cody Rhodes

WORLD TAG TEAM CHAMPIONSHIP
Paul London & Brian Kendrick (c) vs John Morrison & The Miz

NUMBER ONE CONTENDERSHIP FOR THE WOMENS CHAMPIONSHIP
Candice Michelle vs Kelly Kelly vs Natalya Neidhart vs Melina
Theres only one diva here who can wrestle.

Finlay vs Santino Marella
Finlay should put him over.

QUESTIONS

What match will open the show? Divas Match

Which match will be the main event? WWE Title

How many title changes will there be, if any? 1

Will Kelly Kelly turn on either Kofi Kingston or Cody Rhodes during any part of their match? no

Will there be any influential run ins? Maybe in the Non Sanctioned Match
Posting Rules

You may not post new threads

You may not post replies

You may not post attachments

You may not edit your posts

---

HTML code is Off

---