Re: WWE: A Strong Response
---
Thanks for the reviews guys. Hataf, i will be going to full promos as of Cyber Sunday which i will be working on this next week. As i said when i started the thread, the matches won't be that long, just to warn you all not to be disappointed

On the subject of Cyber Sunday, as i will start writing it tomorrow, all votes will need to be posted by PM by tomorrow at midday (UK Time). I must say that i have been shocked by the sheer amount of votes i have received and would like to thank everyone who has voted, it gives me a lot of inspiration for writing the show

To address some of the feud/storylines on Raw, it's only the third show and i'm only just getting started, so it's not going to be where i want it just yet, it's just the build up right now. With superstars to return or debut and some big storylines i have in mind coming up, it will start getting close to where i want it to be around Survivor Series

Thanks again everyone and Smackdown will be posted tomorrow night
---
Last edited by Nige™; 11-16-2007 at

01:32 PM

.
You Don't Know What You're Talkin' About!
Join Date: Jan 2006
Location: Hyd, Pakistan. (hataf_siyal@hotmail.com)
Posts: 8,341
Points: 0
Re: WWE: A Strong Response
---
Nige, I forgot man. Sorry, but I'm gonna PM my votes right now.
---
**Banner/Avy Credit; Princess Xtyne**

------------------


------------------
Re: WWE: A Strong Response
---
Cheers for the reminder about voting. Got mine in now. Card looks seriously awesome.
WWE.com - HOMEPAGE
---
Here are some important bits of news highlighted on WWE.com today (Friday 26th October)



Quote:

Originally Posted by WWE.com


The voting for Cyber Sunday has now come to a close and they are being counted and verified as we speak. We would like to thank everyone for voting and hope you all check out the show to find out if your votes worked out.

The WWE has come to terms with the release of Smackdown interviewer Brooke. We wish her the best of luck in all her future endeavours.

Smackdown results will be posted here later on tonight. Check back later to find out who the general manager for the night will be and what goes down just 48 hours before Cyber Sunday. Umaga is scheduled to make his first official appearance on the brand since joining from Raw.
WWE.com - HOMEPAGE - Smackdown Results (10/26)
---
SMACKDOWN RESULTS (26th October)

The Sprint Center
Kansas City, Missouri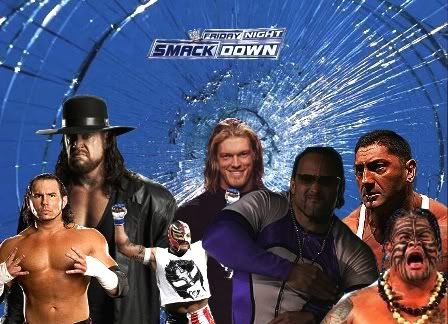 LAST STOP BEFORE CYBER SUNDAY


***VIDEO PROMO***
• A recap of last week is shown of Edge distracting Batista at the end of the show and Umaga making his Smackdown debut by attacking The Animal from behind
• Edge announcing that at Cyber Sunday he will be the special referee and it will be Batista vs Umaga one on one in a non title match

***PYRO***
***PYRO***
***PYRO***


***"I'm Comin'" hits & MVP with a wide grin on his face walks down to the ring for the VIP Lounge***

***HEAT***

In his ring gear with his T-shirt on top, MVP says that what happened last week would to most people be a bad thing, but to him it was the greatest night in a long time and tells everyone to look at the tron

***VIDEO PROMO***
• A recap of last week with MVP leaving ringside during the Invitational Gauntlet match for the Tag Team titles, causing Matt Hardy to be pinned by Big Daddy V, costing MVP & Matt the titles
• The Worlds Greatest Tag Team stunning everyone by jumping to Smackdown and winning the WWE Tag Team Championship, beating Dave Taylor and fellow Smackdown debutant, Drew McIntyre

***HEAT***

MVP smiles and says that losing the tag team titles was a relief because he never wanted to be Matt Hardy's partner and that's it all Teddy Long's fault for making him do it. He then says that at Cyber Sunday he has the chance to prove to Matt what Matt has always wanted to find out, just who the better man is, and at Cyber Sunday, it will be the Franchise Player, Montel Vontavious Porter who walks out with the gold around his waist (Heat). He starts to get hot and says that for months and months Matt Hardy has done his best to get inside his head, but says that it's just like what will happen at Cyber Sunday, Matt ain't getting one over MVP.

He says that Matt is a dumb son of a bitch for trying to play his mind, but says that this Sunday when all the internet geeks try and vote for whatever match they think Matt can win, everyone especially Matt Hardy will find out why MVP is half man, half amazing (Heat). He then tells the fans that they should vote however they want and encourages them to vote for whatever match they like because it just doesn't matter.

He follows up by saying that at the end of the day they can't vote for who they want to win and that the winner will be the greatest ever WWE United States Champion, Montel Vontavious Porter (Heat). With the crowd booing heavily, MVP then says that it's not all about him tonight and that he wants to welcome his two good friends and the newest champions on Smackdown to the VIP Lounge. After a short pause he tells all the fans to give it up for WWE Tag Team Champions, The Worlds Greatest Tag Team, Shelton Benjamin & Charlie Haas.

***Haas & Benjamin walk out to the ring to their music and wearing their ring gear***

***HEAT***

MVP shakes both their hands and tells them that last week they overcame all the odds by running the gauntlet and walking out as the new Tag Team Champions. Shelton asks to take the mic and MVP lets him as Shelton then says that he and Charlie are sorry that it meant MVP had to lose one of the titles. MVP reassures Shelton it's fine as Shelton then says that as the United States Champion, MVP is a role model to everyone on Smackdown and says that he hopes he and Charlie can be just as good champions as MVP is (Heat).

Shelton turns to the crowd and says that they should appreciate MVP as MVP then takes the mic back off Shelton and tells him that the crowd are just jealous because they can not be anything like the three men in the ring right now. He launches an attack on the crowd and says that it's a well known fact that everyone in Missouri has nothing to do but hate on people who make a success of their lives and that they should stand up and show him, Shelton & Charlie the respect they deserve with a minute's applause (Heat). He yells at them to stand up until. . .

***"Live For The Moment" blasts out and Matt Hardy walks out to the entrance with a microphone in hand***

***POP***

Matt sarcastically asks MVP why everyone should applaud them. He says that the only thing they have in common is that all three of them are cowards (Pop). He says that the self proclaimed but as he calls them, the World's Biggest Cowards didn't run the gauntlet, they showed up at the end and stole away what was someone else's (Pop). Shelton & Charlie react angrily and point aggressively towards Matt, threatening him from a distance.

MVP tells Matt they are intelligent and know what it takes to become a champion, something that Matt knows nothing about. Matt says that he knows that walking out on your partner isn't going to save the tag titles and that's what MVP did last week to him, proving that he is a coward. MVP tells Matt that he cares even less about the tag titles than he does about the idiots in Kansas City (Heat) and that at Cyber Sunday, he will show him why he is the United States Champion. Haas then whispers something to MVP who smiles and tells Haas that it's a great idea.

He looks down at Matt and says that he can put Matt's theory of being a coward to the test tonight and says that if Matt has the guts, he would come down and face all three of them right here right now and tells the guys in the back to come down and clear the ring. The crew run down past Matt who says that he's not a coward and he's not stupid either. He says he knew that MVP would try and pull something like this so he came prepared. There's a silence for a few seconds and. . .

***Dave Taylor & Drew McIntyre walk out to the entrance with Matt to a small pop***

Matt tells MVP we'll find out who's got guts now if they don't accept Matt's idea of a six man tag match. MVP shakes his head and reluctantly accepts as Matt, Taylor & McIntyre make their way down to the ring (Pop) as we go to commercial.


***COMMERCIAL BREAK***


MATCH 1
Matt Hardy, Drew McIntyre & Dave Taylor vs MVP, Shelton Benjamin & Charlie Haas

SUMMARY: Matt started the match on fire, taking it to Haas and then Benjamin. Matt eventually made a tag to McIntyre who looked impressive, taking Shelton by surprise and looked to have had the match won with The Ego Trip (Swinging sit down side slam into a face buster). As he went for the cover, Haas came in and stopped the count. McIntyre went back to his corner holding his head after the stomp across the head from Haas and tagged in Taylor. He ran in and knocked Haas off the apron, but was met by a right hand from MVP and Shelton then caught Taylor in a roll up, but only got a two count. Both men were up quickly and Taylor knocked Shelton down with a couple of hard right hands and then went for MVP, knocking him off the apron.

Haas got back in and the ref tried to separate them, bringing in McIntyre who went for Haas and clotheslined him over the top. The ref then tried to get McIntyre to the apron and MVP then slipped in one of the tag title belts to Shelton who was crawling on the mat. Matt saw this and ran across the ring and knocked MVP off the apron as Haas got back to his feet and pulled McIntyre by his feet to the outside as Shelton got to his feet and smashed the belt across Taylor's face. The ref was watching the action on the outside as Shelton yelled at him to turn round and count the fall, which he did for the heel team victory.

AFTERMATH: The brawls continued on the outside until Haas whipped McIntyre into the steps and then double teamed Matt to help MVP before getting back in the ring to celebrate with Shelton


***COMMERCIAL BREAK***


Paul Burchill is in the hallway with an official when an angry Chris Masters walks over to them (Heat) and tells the official to leave, which he does. Masters tells Burchill that he heard he was here tonight and says that he had to see it to believe it. Burchill remains calm and tells Masters there's no reason he wouldn't be here now he's signed a Smackdown contract, and in a cocky but funny way, says it's all down to beating Masters last week in the UK (Pop).

Masters rubs his face for a second, looking more angry and tells Burchill that what happened last week will never happen again, not in a million years. Burchill grins and says that tonight is good a time as any, that's if Masters can find time to stop looking in a mirror. Masters gets in Burchill's face and says that the honeymoon period will be over once tonight is through. Burchill remains calm still and tells Masters he'll see him out there and Masters looks intense as he backs up and walks away as Burchill then watches on.


***CUT TO THE ARENA***


***Mick Foley's music hits & he makes his way down to the ring to a huge pop***

Foley says first off that it's great to be in Kansas City, Missouri for his cheap pop. He then says that it doesn't take a genius for everyone to figure out why he's out here after what's happened the last couple of weeks. He enthusiastically says that he has thrown his name in the hat for the job of Smackdown general manager, raises his arm in the air and announces that he is in charge tonight (Pop). He then says that he thinks Smackdown is as good as or even better than Raw and that's why he wants the job, and of course to come back in front of his fans every week (Pop).

He then gets to the serious business and says that last week everyone saw Edge abuse his power as general manager for the night by making Batista versus Umaga for Cyber Sunday and making himself the special guest referee (Heat). He then says that all the fans should be aware by now that the Board of Directors over ruled Edge's decision last week and made the match a title match and that two other options were made for all the fans to vote on for this Sunday (Pop). Foley says that it seems like a popular decision and that he's not going to let anyone, including Edge to undermine him tonight because he wants the GM job. . .

***Matt Striker's music hits and he walks down to the ring***

***HEAT***

Foley tells Striker straight away that he just told everyone that he was not going to be undermined by anyone tonight and that includes him. Striker tells him that he's not come out to try and undermine his authority but has one simple and fair request, to which Foley says seems reasonable and asks what it is. Striker says that the last two weeks he and Big Daddy V beat the Tag Team Champions, but they don't have the titles and says that they deserve at least a title match. Foley tells Striker he saw what happened last week and explained that only last week the titles were on the line, then moves on to say that it was a gauntlet match and they didn't win the match, meaning they didn't win the titles.

Striker says that they should put it down to a technicality and move on to what is only fair, a title shot for him and Big Daddy V. Foley says that as he is only GM for the night and that The Worlds Greatest Tag Team have already been in a match meaning his hands are tied. Striker tells Foley that he has no intelligence to think outside the box and work around the obstacles like a man in his position should. Foley then sarcastically says he appreciates the kind comments and says that he has just had a great idea that will work out for Striker and Big Daddy V. Striker asks him what it is and Foley tells him that he is going to help out his fellow former ECW guys and will put them in a huge match tonight.

Striker seems pleased and tells Foley that he should have given Foley more credit than he deserved. Foley thanks Striker and says that along with Striker, he will be joined by Big Daddy V and another former ECW star he has seen in recent weeks and has been impressed with, Kevin Thorn to take on three of Smackdown's best, Kane, The Undertaker and the World Heavyweight Champion, Batista (Pop). Striker shakes his head in disbelief and asks Foley how that helps them. Foley tells him that they can make a name for themselves tonight and that maybe they could get a title shot down the line and then looks to the crowd and tells them that they should all vote Foley for the next Smackdown Gm, then tells them to have a nice day as his music hits and Striker shakes his head.


***COMMERCIAL BREAK***


MATCH 2
Jimmy Wang Yang vs Super Crazy vs Kenny Dykstra vs Jamie Noble

SUMMARY: A real quick paced back and forth match with lots of high flying action. As the match came to an end, Super Crazy looked in control as he dodged a dropkick from Dykstra by holding onto the top rope, then exploded with a couple of clotheslines. As Dykstra got up for the third time, Crazy connected with a dropsault and then a STANDING SUNSET FLIP. He was about to go for a cover when Noble got back to his feet, but Crazy saw him in time and ducked a running clothesline. As Noble spun round, Crazy kicked him in the gut and whipped him to the corner, followed in but Noble was able to get his foot up into Crazy's face. As Crazy staggered out of the corner, Noble reacted quickly by spinning him round, stomping him in the gut and was able to connect with a thunderous TIGER DRIVER.

Noble was quick to cover Crazy, but as he was about to hook the leg, Yang was climbing back up on the apron and to the top rope where he leapt off and connected with a LEG DROP across Noble's head to stop the count at two. Noble held his head with one arm but slowly got back up to his feet and turned round into a series of kicks to the stomach, followed by an ENZIGURI from Yang. With the crowd cheering, Yang walked over to the corner and climbed to the top rope as Noble slowly got back up to his feet, but as he walked over to the corner, Yang came off the top with a MOONSAULT onto Noble and in to a pinning combination for the win.

AFTERMATH: The referee raises Yang's arm in victory and Yang then walks over to the corner and climbs to the top rope. With the camera zoomed in, we see him pulled backwards, and then see it's CHAVO GUERRERO making his return. He pulls Yang back, kicks him in the stomach and then hits a Brain buster. He then climbs to the top rope and connects with a FROG SPLASH. He stares down at Yang and the rest of the cruiserweights with an intense look on his face as the crowd boo loudly


***CUT BACKSTAGE***

Rey Mysterio is in Mick Foley's office (Pop) and Mick tells him that he sure hopes he gets the job as General Manager too. He then pauses before asking Rey if he's ready to take on Finlay at Cyber Sunday. Rey says that after what Finlay did to him at No Mercy three weeks ago, he's going to show Finlay that he's more than just a high flier. Foley tells Rey that all his career, he's had people call him nothing more than a glorified stuntman and says that he knows there's more to Rey, just like there's more to him. Rey agrees that Foley was more than just a stuntman and says that everyone watching Cyber Sunday will see a side of Rey Mysterio they've never seen before, a ruthless and dangerous. . . he is interrupted as Edge walks into the room (Heat). Edge takes a look at Rey and tells him he looks like angry, like a kid without his toys (Heat).

Rey tells Edge that maybe he should go home if he can't compete and that Smackdown's a better place without him. Edge just laughs and tells Rey that he has no choice but to live with the fact that the Rated R Superstar is back where he belongs (Heat). Rey shakes his head as Edge then calls him the underdog who's going to get run over at Cyber Sunday by Finlay (Heat). Rey looks Edge in the eyes and tells him that maybe he should worry about his own problems, like maybe having to face Umaga for the World Heavyweight Championship and not Batista like he planned. Foley steps between them both and tells them that they're not going to fight tonight. Edge then turns to Foley and says that since Rey's in such a fighting mood tonight, maybe he should have a match later on (Pop).

Rey tells Foley that Edge maybe right as Edge then says if Rey is such the underdog, maybe he can prove everyone wrong tonight. Foley asks Edge what he has in mind and Edge says that he has the perfect opponent for Rey tonight, The Samoan Bulldozer, Umaga. Edge asks Rey to think about, how impressed everyone would be if he can beat Umaga tonight, just days before his big match with Finlay at Cyber Sunday. Foley asks Rey if he wants to do it, telling him he doesn't need to. Rey thinks about it before turning to Foley and says that he'll do it and once he's done with Umaga, Finlay will be next to find out what Rey Mysterio is capable of (Pop). Rey then leaves the room, keeping his eyes on Edge before Edge then tells Foley he's got to go and leaves the room too, but as he leaves, Chavo Guerrero walks in (Heat). Foley doesn't let Chavo speak and tells him that he saw what he just did and he didn't appreciate him attacking Jimmy Wang Yang like that.

Chavo says that it could have been anyone because after being out for a few months, he's got all this frustration built up inside of him and only one thing can change that. Foley asks him what it is and Chavo tells him that the one thing he wants and the one thing he has come back for is the Cruiserweight Championship, and until he gets it, he's not sure what he'll do to everyone in the cruiserweight division. Foley says that there's nothing he can do tonight as there's already been a cruiserweight match and that Cyber Sunday is all booked. He then has a short think before saying that he has a great idea and that in three weeks it's the Survivor Series and what's better than crowning a new Cruiserweight Champion in a traditional Survivor Series elimination match, with the sole survivor becoming the new Cruiserweight Champion (Pop). Chavo thinks and then says that it doesn't matter how he has to do it, he will go every superstar in the cruiserweight division to get what's his and at Survivor Series, that's juts what he'll do (Heat).


***COMMERCIAL BREAK***


***VIDEO PROMO***
A recap of last week when Paul Burchill made his Smackdown debut, defeating Chris Masters


MATCH 3
Paul Burchill vs Chris Masters

SUMMARY: Masters was aggressive from the start, connecting with a lot of hard right hands and vicious kicks in the corner. As the match went on, Burchill was able to fight Masters off with a series of counters, but Masters used several dirty tricks to get back on top, including a kick to the groin in the corner as the ref tried to separate them. Burchill dropped to the mat and looked in some pain as Masters then stalked him for the Masterlock, and as Burchill slowly got back to his feet, Masters was lying in wait behind him. Masters then grabbed Burchill's arms, pulling them back into position for the Masterlock, but Burchill was able to fight it before Masters could get it locked in fully.

Using all the strength he had, Burchill snapped his arms forward and out of Masters grasp to the crowds delight. But as Burchill turned round, Masters ran at him and connected with a HARD RUNNING CLOTHESLINE. Masters looked down angrily at Burchill before pulling him back up to his feet and setting him up for a suplex, but Burchill was able to counter and pushed Masters back into the ropes, and as he came back, Burchill then stomped Masters in the gut and hit the C4, following up with a cover for the victory.

AFTERMATH: Burchill got his arm raised and then calmly left the ring, walking up the aisle as Masters started to come round, not looking very happy in the ring


***CUT BACKSTAGE***

We go to the Smackdown interview set where we see Josh Matthews standing by. He introduces us to his guest at this time, the newest superstar to Smackdown, Umaga and his manager, Armando Alejandro Estrada (Heat). Josh asks Estrada just why Umaga left Raw to come to Smackdown. Estrada says that it's simple, for months and months, Umaga did favours for Mr. McMahon on Raw, taking on Bobby Lashley and Triple H. He says that nearly two weeks ago when Edge found out he was going to be general manager for the night, he called Estrada and wanted Umaga to face Batista at Cyber Sunday. Estrada then says that on Raw two days later, Mr. McMahon used Umaga again for his personal gain against Triple H and didn't even make Umaga one of the challengers for the WWE Championship at Cyber Sunday, after all he did for the selfish Mr. McMahon. He then says that after that, Umaga was very angry and was more than happy to come to Smackdown.

Josh then asks Estrada how Umaga feels about possibly becoming the World Heavyweight Champion this Sunday (Heat). Estrada says that Umaga came so close to becoming the WWE Champion earlier in the year and that he wants to be champion so badly that he is willing to make this match Batista's last ever in order to win the World Heavyweight title this Sunday (Heat). Estrada then looks into the camera and tells everyone watching that Batista better get ready for the fight of his life because nobody will be able to stop the Samoan Bulldozer and says that Rey Mysterio will be able to tell everyone that, that's if he will be able to talk from his hospital bed after Umaga's done with him tonight (Heat). Estrada laughs as he and an intense looking Umaga walk out of the shot.


***COMMERCIAL BREAK***


***VIDEO PROMO***
A recap of first, two weeks ago when The Undertaker defeated Kevin Thorn, then nodded to him, seemingly in approval after the match. Then a recap from last week when Thorn squashed Funaki


MATCH 4
Batista, The Undertaker & Kane vs Big Daddy V, Matt Striker & Kevin Thorn

SUMMARY: Big Daddy V was instructed by Striker to start the match and took Kane to the limits early on, but The Big Red Machine was able to fight back. After an irish whip by Big V, Kane came back off the ropes, ducked a clothesline and then hit a FLYING CLOTHESLINE which led to both men making their way to their respective corners and tagging out. Striker was always reluctant to get involved and it was Kevin Thorn who was in the ring as the match came to a close. He gave The Undertaker all he had and was forcing the best out of Taker. Thorn looked in trouble as Taker held onto his arm and went up to the top rope, looking for some old school, but Thorn kicked the top rope and Taker fell down to the mat. Taker took a couple of seconds before getting back up to his feet, but as he did, Thorn ran at him and hit him with a hard clothesline. Taker was back up quickly and was whipped into the ropes by Thorn who then planted him with a SITDOWN BACKBREAKER DROP. Thorn went for a cover but was only able to get two as Taker kicked out. Taker got back up to his knees and was then pulled up by Thorn who tried to whip him to the corner, but it was reversed by Taker who followed in with a HARD CLOTHESLINE.

Taker then whipped Thorn to the opposite corner, but as he ran in, Thorn ran past Taker and into the ropes, ran back and smashed a BIG BOOT right into the face of the Deadman. Thorn then dropped to the mat and tried for another cover, but was again to get past a two count. Thorn stood back up and signalled for the end, waiting for Taker who then sat up to a pop from the crowd. Thorn looked a little phased before pouncing on Taker and throwing a right which Taker ducked and then wrapped his hand around Thorn's throat before planting him with a CHOKESLAM down to the mat. It was Taker who then signalled for the end, stalking Thorn for the Tombstone and as Thorn slowly started to come round, Striker ran into the ring towards Taker who lifted his boot into the face of Striker. As Striker fell to the mat, Big Daddy V got inside the ring and walked over to Taker and hit him with a right hand, causing the referee to call for the bell.

AFTERMATH: Kane and Batista then came in to the aid of The Undertaker as V tried for a belly to belly. Batista pulled Big V away, whipped him into the ropes and connected with a spinebuster. Kane then tried for a chokeslam on Thorn, but Taker grabbed Kane's arm and shook his head at him, telling him not to do it. Kane looked confused but let go as Thorn dropped to the mat and looked towards The Undertaker who stared back and nodded his head at him. Kane and Thorn looked back and forth at each other and Taker, not sure of what Taker is doing


***COMMERCIAL BREAK***


***CUT BACKSTAGE***

Batista is getting changed in his locker room (Pop) when Mick Foley walks in (Pop). Batista stands up fully and shakes hands with Foley and says it's great to see him. Foley says the same and then tells Batista that he wants to let him know that it wasn't him that made the match with Umaga at Cyber Sunday for the World Heavyweight Championship. Batista says he knows it wasn't him and that it's all down to Edge, but he doesn't care who made the match anyway. Foley looks confused as Batista then says that if Edge is trying to send him a message, it's fine because no one is taking the World title off him, not Edge and not Umaga (Pop).

He then says that he's going to send Edge a message at Cyber Sunday if he is referee or not, and that is that it's going to take a lot more than a Samoan Bulldozer and a bent referee to take away the one thing he holds dearest in his life, the World Heavyweight Championship (Pop). Foley smiles and tells Batista that that's the best thing to do, show Edge who is boss. Batista then tells Foley that if Edge tries to get in his way at Cyber Sunday, even if he's the referee, he'll put him back on the shelf quicker than you can say ouch! (Pop). Foley laughs and wishes him luck before shaking his hand and leaving the room with Batista smiling and then finishing getting changed.


***Michael Cole & JBL talk up Cyber Sunday before as the match cards play on the tron***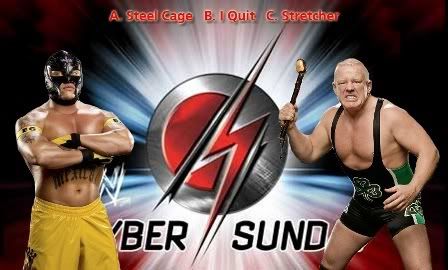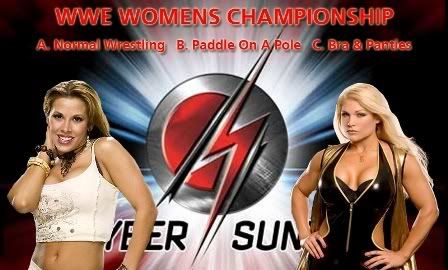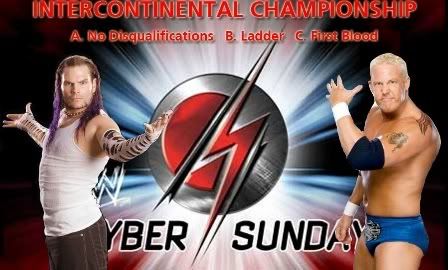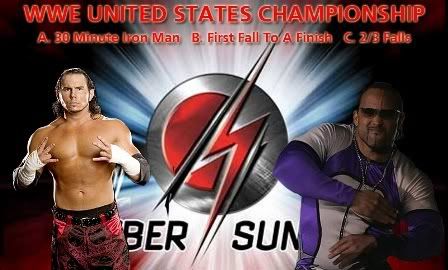 ***CUT TO THE ARENA***


THE MAIN EVENT
Rey Mysterio vs Umaga w/Armando Alejandro Estrada

SUMMARY: Rey went all out at the start with hit and run attacks on Umaga. He managed to gain the upper hand towards the end of the match by ducking a clothesline from Umaga, coming back off the ropes and sliding through Umaga's legs, then dropkicked him in the back of knees. Umaga fell to his knees and then Rey dropkicked him in the back, making Umaga drop face first on the mat. With the crowd cheering Rey on, he went to the ropes and climbed through to the apron, half way across it and hit a SPRINGBOARD LEG DROP on the back of Umaga's head. He quickly turned over and went for a cover, but ESTRADA got up on the apron and distracted Micky Henson as he went to count the fall. He walked over to Estrada and yelled at him to get down off the apron, but he wouldn't budge. Rey got pissed and stood up, walked over to Estrada and hit him with a right forearm, knocking him off the apron.

He stared down at him for several seconds as Umaga started to sit up on the mat. As Rey turned round, he saw Umaga sitting up and ran at him, but Umaga pulled himself up to his knees and pushed Rey back into the ropes. As Rey came back off the ropes, Umaga stood up, walked out to Rey and planted him with a SAMOAN DROP. Rey hit the mat hard as Umaga took a couple of seconds before getting back up to his feet and dragging Rey to the corner and sitting him up against the turnbuckles. The crowd showed their displeasure with lots of boos and then started chanting for Rey as Umaga backed up into the opposite corner before charging at Rey. But Rey managed to get his feet up and kicked Umaga in the back, who then staggered out of the corner as Rey crawled along the mat, holding onto the ropes. Umaga then turned round and again ran at Rey who then connected with a DROP TOE HOLD ONTO THE MIDDLE ROPES.

The crowd went crazy as they all stood up as Rey dialled up, then ran off the ropes and went for the 619 and CONNECTED. Umaga fell back towards the middle of the ring, but got back up quickly as Rey then stood in wait on the apron. But, FINLAY ran down the aisle and grabbed Rey's foot. Rey kicked back at Finlay, knocking him down to the arena floor and then hit a springboard off the ropes, but was caught by Umaga in a bear hug position before hitting a BELLY TO BELLY SUPLEX on Rey. Umaga had a sadistic look on his face as he looked down at Mysterio before hearing Estrada yelling instructions at him, pointing at Umaga to go to the top rope as he came round from the blow by Rey. Umaga listened and went to the corner, climbing to the top rope as Finlay watched on. Umaga then LEAPT off the top rope and connected with a SAMOAN SPLASH before getting the victory.

AFTERMATH: Finlay got in the ring and started stomping Rey straight away as Umaga looked on emotionless. Finlay slapped Umaga's chest and pointed for him to go up to the top again. Umaga looked at Estrada who nodded at him to do it. As he got to the top rope, "I Walk Alone" blasted out & BATISTA ran down the aisle and into the ring. Finlay turned round into a spinebuster from Batista, who then walked to the corner and punched Umaga in the chest as he stood on the top rope, then tossed him down to the mat. Umaga got back up to his feet and Batista reacted straight away, planting him with a spinebuster. The crowd went nuts as Batista's music hit again and he helped Rey up to his feet as Edge appeared at the entrance and started yelling at Batista as Smackdown came to a close


***END OF SHOW***


QUICK RESULTS
MVP, Shelton Benjamin & Charlie Haas df. Matt Hardy, Drew McIntyre & Dave Taylor
Jimmy Wang Yang df. Kenny Dykstra, Jamie Noble & Super Crazy
Paul Burchill df. Chris Masters
Batista, The Undertaker & Kane df. Big Daddy V, Matt Striker & Kevin Thorn by DQ
Umaga df. Rey Mysterio


DARK MATCH
Johnny Jeter df. The Miz



Re: WWE: A Strong Response
---
An update on Cyber Sunday. Now that Smackdown is out of the way, i will be posting the preview in a few days which is all done and formatted, as long as i progress on the show. All the promos are done and in full (Nige is back to full promos baby) as are the videos, it's just the matches, which could take a week maybe, at the most. I've started on one match and expect to finish it tonight, but they won't be too long
Re: WWE: A Strong Response
---
great SD man i will review CS woo!
---
Re: WWE: A Strong Response
---
Quote:
Originally Posted by jman619hbk
CS woo!
Someone's on the Pro Plus! Thanks for the encouragment man!
I've somehow managed to get the Intercontinental Championship & Womens Championship matches done now, so just five to go!
WWE.com - HOMEPAGE
---
BREAKING NEWS
Quote:
Following an internal vote count, all the votes for Cyber Sunday have been counted and verified. You will all have to wait and see what outcomes have been selected by you the fans for this historic pay-per-view.

One secret that we will let you in on is that there will be a huge twist in one match, and possibly one of the most important matches on the card. What could it possibly be?
Re: WWE: A Strong Response
---
CS looks really good, and the card is strong. I hope the ones I picked get choosen for the actual match. Anyway good luck writing the matches, we all know it's gunna be good. Keep it up
---
Or is it?
Posting Rules

You may not post new threads

You may not post replies

You may not post attachments

You may not edit your posts

---

HTML code is Off

---