Re: Deadman & Legend Present: World Wrestling Entertainment
---
Welcome back Brandon, I thought you were coming back with a new thread and a different partner but it seems you've changed your mind. Good luck to you and Legend.
---
***

Re: Deadman & Legend Present: World Wrestling Entertainment
---
I am really liking this booker. It is a brilliant booker and it is the right time to start (2005 into 2006). Anyway i like yuou past three shows and they all have some good fueds going on. Undertaker winning the royal rumble this year. Could happen but then who will he face. Anyway out of 10 i give this booker about a 9.8
Heel Turn on James Ellsworth
Join Date: Jun 2005
Location: Hamilton, Scotland
Posts: 2,162
Points: 0
Re: Deadman & Legend Present: World Wrestling Entertainment
---
Glad to see you back, Brandon. I will be reading and good luck to Legend too.
Re: Deadman & Legend Present: World Wrestling Entertainment
---
WWE Friday Night Smackdown Preview January 13th, 2006

This week Houston welcomes Friday Night Smackdown to its great city, in anticipation of another recording breaking show.

Hell hath no fury like the Deadman, as the old WWE saying goes, and Randy Orton may find that out first hand on Friday night. The self-proclaimed "Legend Killer" used questionable tactics to eliminate his old nemesis The Undertaker from the Battle Royal last week, thus becoming the #1 Contender to the World Heavyweight Championship. Smackdown expects a reaction from the "Phenom"; the only question remains, what are the repercussions for Randy Orton?

Smackdown's General Manager has seemingly had enough of the differences between Chris Benoit and the United States Champion Booker T. Last week Booker T purposefully got himself disqualified in a match up with the "Rabid Wolverine" following a heinous steel chair attack. Benoit attained revenge though later through eliminating Booker from the Battle Royal, but Teddy Long doesn't want their differences on his show anymore. On this week's show, the United States title will be on the line in a No Disqualification bout, as both Benoit and Booker T look to finally put an end to their feud.

Two more men who have been at one another's throats of late are the former World Heavyweight Champion John "Bradshaw" Layfield and Matt Hardy. JBL took a disliking to Hardy in the weeks before Armageddon, and it escalated further last week. Despite JBL defeating Hardy in their one-on-one match up, the former WWE Tag Team Champion got the last laugh, as he helped eliminate Bradshaw from the Battle Royal. With the World Heavyweight Championship meaning more to JBL than life itself, the backlash for Matt Hardy will be far from light.

And The Animal, Batista, will be in attendance on Smackdown, and we also will see appearances from MNM, Kid Kash, Lashley, and so many more. Also, tune in for a special appearance from the injured Ken Kennedy, as he joins us once again to let us know how his rehab is coming along. Friday Night Smackdown comes on at 8/7 central on Friday Night, don't miss it, its going to be a Smackdown to remember..
Tag Teaming With James Ellsworth
Join Date: Jun 2005
Location: Sidford, England
Posts: 1,864
Points: 0
Re: Deadman & Legend Present: World Wrestling Entertainment
---
Good to see the two of you back, and this looks as if it should be a promising partnership. Look forward to seeing some shows from the two of you, and the Smackdown preview looks to be setting us up for a decent show
Re: Deadman & Legend Present: World Wrestling Entertainment
---
WWE.COM News and Notes


The Monday Night Raw Announce Team has been changed. Jim Ross will be returning to Raw effective this Monday Night and 'The Coach' Jonathan Coachman is the only other announcer. WWE has come to terms on the release of Joey Styles. The WWE wish Joey Styles the best in his future endeavours.

Booker T and MNM have been added to the Royal Rumble, the reasoning is because of their magnificent performance lately, and because their champions on Smackdown. Rey Mysterio has been added for his spectacular performances over the last month in big matches.

Raw Preview:

Monday Night's are heating up on the Road to the Rumble, live from Fort Lauderdale, Florida where another extravagant edition of Raw is heating up!

As if anymore animosity between The Chairman and Shawn Michaels, or John Cena and Eric Bischoff was needed tonight Eric Bischoff AND Mr. McMahon will be addressing Shawn Michaels and John Cena. The real question is, has hell frozen over? Because there must be something up the sleeves of The GM and Chairman to be working as a coherent unit, what do they have in store for their enemies???

And, if that wasn't enough, John Cena and Shawn Michaels have bigger fish to fry then Vince and Eric, because on Raw there has been a huge main event signed in the form of a tag team contest. Surprisingly Eric Bischoff has paired Kurt Angle and Triple H TOGETHER against HBK and Cena on Raw. An epic classy encounter with the superstars of today pitted against one another, which team will prevail on Raw?

Shelton Benjamin has his own issues to deal with and that is, who he really is. Unsure of himself and very unreliable as of late makes Shelton Benjamin very unpredictable. Benjamin's going to have to figure out who he really is fast as he's been granted a big opportunity in the form of an Intercontinental Championship shot, against the current title holder, 'The Nature Boy' Ric Flair. Flair's looking to retain his gold while Shelton's trying to obtain the treasure of which he seeks, which mean will leave victorious, and after the heinous actions of Carlito last week in The Cabana, will he have anything to do with the outcome, plus what will Charlie Haas say after his former tag partner backed away from his handshake rejecting it?

Everyone is wondering what is happening as the tag team champion's partnership is falling apart quicker then wild fire spreads through the forests! Last week Eric Bischoff forced the partners against each other and The Big Show left infuriated after his loss, this week the duo are forced against the uprising tag team, The Spirit Squad with the gold on the line. Can the champion's hold it together? Or will the newcomers come together and use the miscommunications of their opponents against them?

Plus will Edge possibly cash in his Money in the Bank tonight, an outside possibility, but it is a possibility so stay tuned!

And, if that wasn't enough, more Royal Rumble competitors will be announced and earn their spots, Carlito, Charlie Haas, Gregory Helms, Matt Striker, Trish Stratus, and so many more will be appearing and competiting on Monday Night Raw!

WWE News & Notes (Rumors/Unofficial)

It appears as if Jerry 'The King' Lawler and Joey Styles have been pulled from TV because of an immediate request of off time for Lawler with a severe family issue to deal with and Styles contract ran out as of last week which they are still negotiating until then he is off TV, but most likely he's gone for good since he didn't re-sign before WWE would of liked. As of now, Jim Ross has returned two weeks early to take his position back and right now the WWE is testing if Coach could do well with J.R whom can do most of the moves and Coach could play a good heel commentator that Lawler could have been.

Rumors are flying around about possible WrestleMania appearances this year, one of the hot topics is if Bret Hart will accept an induction into the Hall of Fame. WWE is pushing for this as they are hinting Mr. Perfect and Owen Hart inductions as well. Bret's relationship with Vince has been rebuilt as the DVD they have done has shown it, but we've yet to see an acceptance of the induction, more on this at a later date and time.

WrestleMania buzz is already around with rating's dramatically flying through the roof up with the Road to the Rumble. Raw has scored a 4.7 as a high for last week and SD has scored a 2.5 with UPN, unpleased with it is WWE, in the future they might look to venture away from UPN to another network, speculation about a possible FX move, TNT, or Spike TV is possible.

Buy rates have been a problem for WWE lately. They have been dropping and UFC's have been rising. WWE looks to be setting out an 'Ultimate' Royal Rumble card this year that is a must see and buy. So far it looks that way and its being said on Raw the Rumble will truly receive another big match that will solidify it as a must see, if not any RR is just for the inaugural Royal Rumble match.

In other news, Finlay looks to be getting a push upon debut, as Kennedy's return looks to be receiving mega hype and he must likely will receive a late entry into the Royal Rumble, plus Shelton Benjamin's on the other end of a super push straight back into the Intercontinental Division. He may take the title on Raw this week, but right now plans say otherwise.

In a last tid bit, The Rock and 'Stone Cold' Steve Austin look likely to appear on the Road to WrestleMania due to upcoming movies that are starting to be produced in 'The Condemned' with Steve Austin in the lead role, plus The Rock in a role likely to be in a roll for a movie actually not officially confirmed, but if he would appear for WWE, or even compete at WM his chances would definitely increase though The Rock could find other roles, more on this to come.

***

Legend's still gone and will be back Sunday, things are going to plan still and SD at this point is planned to be up on the 19th, figured I'd add in the Raw preview now since its usually up on WWE.com right after Raw anyways. Enjoy.
---
Last edited by Deadman_016; 04-16-2007 at

09:44 PM

.
Re: Deadman & Legend Present: World Wrestling Entertainment
---
I can't wait until 4/19/07! RAw looks good Deadman and I also loved the news. Rock and Austin possibly being on the same show again would be great!
Tag Teaming With James Ellsworth
Join Date: Mar 2005
Posts: 1,214
Points: 0
Re: Deadman & Legend Present: World Wrestling Entertainment
---
Raw Preview looks good Deadman big main event. Nice news and notes Kennedy and Finlay getting pushes is good news and will be interesting to see if you have any matches involving Rock or Austin at WM22.
Re: Deadman & Legend Present: World Wrestling Entertainment
---


Friday Night Smackdown!
Friday, January 13th
Houston, Texas

PYRO

**Rise Up** by Drowning Pool sweeps in through the sold out arena in Houston, Texas, with a capacity crowd on their feet heralding the arrival of only the second Friday Night Smackdown of 2006. The entire building is shaking, as we cut across to Michael Cole and Tazz at ringside, who both share equally, flabbergasted expressions on their faces.

Michael Cole: Just over two weeks away from the Royal Rumble and tonight Smackdown rolls through the heart of the south in Houston, Texas. I'm Michael Cole, with Tazz at ringside, and tonight, partner, we are going to hear from the new Number One Contender to the World Heavyweight Championship, in the form of the "Legend Killer" Randy Orton.

Tazz: Oh, absolutely, Cole, I can't wait to hear what Randy has to say after he eliminated The Undertaker last week to earn his shot at Batista's title at the Rumble.

Michael Cole: No doubt The Undertaker is going to be looking for some payback, but let's forget another huge match tonight. Made last week after the rivalry between the United States Champion Booker T and Chris Benoit reached boiling point; tonight the two men will do battle in a No Disqualification match with the gold on the line.

Tazz: That's gonna be huge, Cole. Teddy Long promised us an end to that feud and it looks as though that is exactly what we are going to get.

Michael Cole: Also tonight, expect the bad blood between Matt Hardy and John "Bradshaw" Layfield to only get worse after last week, and we will be hearing once again from Smackdown's own, but currently injured, Ken Kennedy…

**Burn In My Light** suddenly hits and the Houston crowd erupts in a huge chorus of boos, heralding the arrival of the new #1 Contender to the World Heavyweight Championship. Randy Orton swaggers out onto the stage clad in his non-wrestling attire of jeans and a shirt. He is smiling broadly, as he throws his arms apart brazenly in his 'Destiny' pose, with the Golden Rain falling elegantly behind him. After returning to reality, Orton continues down the ramp to the ring, clutching a mic in his hand. He rolls under the bottom rope, before quickly ascending to the top rope and once again posing for the hostile fans. Despite having received nothing but heat since his arrival, Orton is still smiling confidently.

Randy Orton: You are now looking at the new Number One Contender to the World … Heavyweight … Championship!

Despite Orton only stating the fact in a matter-o-fact tone, the crowd can see the arrogance clearly on the face of the "Legend Killer" and they boo frantically.

Randy Orton: That's right. For the first time in along time you're exactly right. Last week it wasn't The Undertaker defeating Randy Orton, it was Randy Orton defeating The Undertaker. I showed last week once and for all who the better man really is.

The crowd's contempt for Orton is clear, as they jeer him liberally.

Randy Orton: But still, all week I've had to put up with stupid questions about how I defeated The Undertaker and about whether or not I'm worried if he's gonna respond.

The crowd cheers at the prospect of a backlash from the "Phenom".

Randy Orton: The Undertaker is just an egotistical, overrated superstar who couldn't stand the fact that I was in his limelight... he couldn't stand the fact that he was and is now nothing more than a stepping-stone for me and others to rise to the top. I couldn't care less about The Deadman anymore to be honest, 'cause I've only got one thing now on my mind…

The crowd boos, as Orton motions casually around his waist that that is where the World Heavyweight Championship is going once again.

Randy Orton: You all need to understand that at the Royal Rumble in two weeks time I will fulfill my destiny when I defeat Batista, before once again becoming the youngest and greatest World Heavyweight Champion in history!

Hating the thought of Randy Orton as the Champion, the crowd pour scorn on the claim, as the "Legend Killer" grins happily.

Randy Orton: In 2004, you saw how I was cheated out of the World title by, amongst others, Batista! And just last year, instead of challenging for the title like I should have been, I got stuck facing Undertaker every week and beating your ass Deadman, got old.

Despite still booing, some laughs and cheers can also be heard at what Orton has been through over the last two years, though mostly heat from his last statement.

Randy Orton: Well, at the Royal Rumble, Batista, payback's gonna be a bitch!

This claim results in the loudest heat of the night for the #1 Contender.

Randy Orton: And as for payback on The Undertaker, (smiles to himself), well, I guess I've already taken care of that one, haven't I?

Huge boos erupt from the crowd now, as Orton knowingly. He is about to speak again, when…

**MacMillitant** booms out over the speakers to a warm and friendly reception from the fans. With his familiar strut, the General Manager of Friday Night Smackdown, Theodore Long, makes his way out onto the stage with a microphone in hand. Randy Orton looks extremely annoyed to have been interrupted, as he glowers up the ramp at the fan-friendly GM.

Theodore Long: Now, Randy Orton… playa, ya know, I know, and all these people know that last week in the over the top rope Battle Royal, The Undertaker began the match fairly. But, playa, ya did not even start the match.

The crowd is really getting behind Teddy Long now, as he is bringing up Orton's questionable tactics from last week. Back in the ring, the "Legend Killer" is looking furious at Long's claims.

Randy Orton: I hate to break it to you, Teddy, but it doesn't say anywhere in the rules that you have to start the match in the ring. We can cut all of the crap anyway, because if anyone should be facing Batista for the title it should be the man who destroyed The Undertaker countless times last year. That man is me, the "Legend Killer" Ra…

The "Arsehole" chants cut Orton off, and his lowers his microphone momentarily whilst scowling at the crowd.

Randy Orton: … the "Legend Killer" Randy Orton!

The boos are deafening in the arena for Orton now, and the arrogant youngster looks frustrated.

Randy Orton: It isn't arrogance, Teddy, it's destiny!

The crowd boos once again.

Theodore Long: Now, it's come to muh 'tention that there are one or two fellas in the back who ain't too happy with what went down last week, and it wouldn't be right if I didn't do anythin' about that. So, tonight, we're gonna have a match.

Crowd pops, even though Long was really just stating the obvious.

Theodore Long: But it ain't gonna be Randy Orton against Batista, 'cause, playas, that match is still on for the Royal Rumble, ya feelin' me?

The crowd boos, disappointed that Orton is still getting a title shot. The "Legend Killer" smiles happily, the relief clear on his face.

Theodore Long: But tonight, ya will be in a match. 'Cause tonight Randy Orton will be going one-on-one with … THE UNDERTAKER!

Huge pop from the crowd at this news, as Undertaker is probably the most popular superstar in the WWE at the moment. In the ring, Randy Orton is going crazy, slamming his fists against the ropes in outrage.

Theodore Long: And, playa, if The Undertaker wins that match, then he will be added to the World Championship match at the Royal Rumble, and it will become … a TRIPLE THREAT MATCH! Now holla back, playas.

The crowd is really buzzing now for the match tonight, as **MacMillitant** hits once again and the General Manager struts out to a great ovation from the fans. As we cut away, Randy Orton is left in the ring looking horrified.

~~Commercial Break~~

When we return to Friday Night Smackdown after a short break, with **Act How I Want To** still playing over the speakers, whilst Orlando Jordan warms up in the ring to mild boos from the crowd.

**Live For The Moment** hits next to a large pop from the crowd, who always give Matt Hardy a great reception. The former WWE Tag Team Champion bounces out onto the stage energetically looking ready for action. He throws his hands up in the V-1 sign, which the fans mimic, before racing down to the ring.

Match #1
Single Match
Orlando Jordan vs. Matt Hardy

Match Summary: A fairly entertaining encounter between these two good workers, although it is used mainly as a way to get Matt Hardy on the card. It is not a squash match though by any means, as the former United States Champion Jordan dominates for a large part. Towards the end he is in control, as he whips Hardy across the ring, causing him to slam into the far turnbuckle. Jordan races towards Hardy, but the high-flier gets a boot up, and Orlando runs straight into it. With his opponent down, Matt jumps up onto the middle turnbuckle and plays to the crowd, before leaping off for a Leg Drop. Jordan rolls out of the way though and Hardy crashes to the mat.

Both men stagger back up painfully, but it is Jordan who is the faster. He hits Hardy with his fast, boxing jabs, before doing his little shuffle on the spot and going for the final big right hand. Matt ducks under it though and catches Jordan, nailing the Side Effect. Instead of going for the cover, Hardy taunts for his finisher behind Jordan, as the former US Champion struggles back up to his feet. Jordan turns into a kick to the gut, and Hardy grabs him under his arm, looking for the Twist Of Fate. Orlando shoves Hardy away into the ropes and goes for a clothesline. Matt avoids the clothesline and catches the turning Jordan with a second kick to the mid-section, before finally executing the Twist Of Fate successfully. Hardy covers Jordan for the 1 … 2 … 3!!!

Winner: Matt Hardy

With **Live For The Moment** blasting out over the speakers once again indicating his victory, Matt Hardy plays to the crowd, whilst Orlando Jordan tries to recover. The crowd starts screaming though, but Hardy doesn't notice though, until John "Bradshaw" Layfield nails him from behind. Smartly dressed as ever, Bradshaw rolls his shirtsleeves up, ignoring the boos from the crowd. Jillian Hall is standing at ringside smiling and applauding her man. Hardy struggles on all fours, but Orlando is back up on his feet. JBL can be heard yelling at Jordan to pick Hardy up, which the former US Champion does. Bradshaw then comes off the ropes and nails Hardy with a brutal Clothesline From Hell! JBL smiles at his victim, having achieved some revenge for last week. As the boos rain down on him, JBL performs the Longhorn gesture with his familiar toothy grin upon his face.

Michael Cole: Damn it! What the hell was that from JBL? He just nearly destroyed Matt Hardy in the centre of the ring.

Tazz: Well, you gotta see that it was payback for last week, Cole. Matt Hardy cost JBL a shot at the title when he eliminated him from the Battle Royal.

Michael Cole: That's no reason to assault a man, Tazz. JBL started this whole thing with Matt Hardy and now he can't take it when Matt hits back.

Tazz: Uh, well, I guess you can think that, Cole. Anyway, still to come tonight Booker T and Chris Benoit will clash in a No Disqualifications match with the United States title on the line.

~~Commercial Break~~

On returning to Friday Night Smackdown we are immediately taken backstage where Josh Matthews is standing looking prepared with microphone in hand.

Josh Matthews: Ladies and gentlemen, joining me now is the former WWE Champion … John "Bradshaw" Layfield!

JBL steps into the shot alongside Matthews to huge heat from the watching fans. Jillian is present also. Bradshaw is still clad in his suit ensemble, as he is not slated to be competing tonight. The perspiration is still evident on his face after his exploits in the ring.

Josh Matthews: John, just now you attacked Matt Hardy after his match with your former colleague Orlando Jordan. Can you explain…?

John Bradshaw Layfield: Listen up, son; Matt Hardy is a piece of garbage! He showed that last week when he had the bear faced nerve to eliminate me – me, JBL, the greatest WWE Champion of all time – he the nerve to eliminate me from that Battle Royal ... a Battle Royal I had won dammit!

Josh Matthews: Lately this issue between you and Matt Hardy has been getting quite heated. Is there any particular reason for this?

John Bradshaw Layfield: I'll tell you why; Matt Hardy is jealous, he's jealous of everything I have achieved. He knows that when he steps in the ring with me, Matt Hardy is just like the rest, he's a loser, Josh, when he steps into the ring with me, he realizes that he's in the ring with... a God, Josh.

Josh Matthews: So how do you expect to…

John Bradshaw Layfield: Don't ask me how I'm gonna finish this thing with Matt Hardy, 'cause I just finished it! I left him lying in that ring like the pathetic piece of crap he is. Ladder matches? That's all these people cheer him for? I'd expect better being in Texas, but hey we are in Houston, son. Hardy calls himself a professional 'wrestler', Josh? Where's the garbage can when you need it, because this joke smells like it's gone bad, like Matt Hardy's career that I just put up in flames!

Matthews looks to speak again, but JBL shoves him out of the shot and grabs the mic.

John Bradshaw Layfield: Matt Hardy thinks being 'extreme' makes him talented, Josh? No, it makes him stupid! Where has that gotten Matt Hardy, Josh?

Josh Matthews: Well Matt Hardy is doing quite well, JBL, at this point and time...

John Bradshaw Layfield: It's gotten him no where! He's done nothing with his career, nothing Josh, nothing. Like a true champion, I put my body on the line each week, for these people, like a true AMER-ICAN HERO!

JBL gives one of his infamous toothy grins at the camera.

John Bradshaw Layfield: I smell like smoke 'cause I've walked through fire. I've done more in a day than Matt Hardy has done in his entire life. Matt Hardy tried to walk through fire but he got burned by me! This is now over and you all will now forget the name "Hardy" and chant my name John … Bradshaw … Layfield!

Removing his cowboy hat arrogantly, JBL waves it at the camera.

John Bradshaw Layfield: … A true Wrestling GAWDDD!!!

We return to the commentators at ringside, where Michael Cole is shaking his head.

Michael Cole: In all my years in the WWE, I – I still don't think I've ever come anyone as arrogant as JBL.

Tazz: He's confident, Cole, and he's got reason to be. I mean, he's right in what he's saying. Matt Hardy has made himself famous for his ladder matches, but JBL has been in Last Ride matches, Bullrope matches, I Quit matches, the list goes on. I think he's earned some respect.

Michael Cole: I don't think you earn respect by insulting the fans. Anyway, coming up next we'll be seeing our British superstars in action.

**Turn It Up** is just fading into the background, as Funaki stands in the ring with his friend and partner Scotty 2 Hotty dancing around in the ring with him. They are entertaining the fans before…

**St. George's March** blares out over the loudspeaker to a decent amount of heat, as William Regal makes his way out, accompanied by the ever-present Paul Burchill. They head down to the ring menacingly.

Match #2
Tag Team Match
Funaki & Scotty 2 Hotty vs. William Regal & Paul Burchill

Match Summary: This match is used basically as a means to get the team of Burchill and Regal on the card, but Funaki and Scotty use their speed to make it a decent match up. Towards the end, having been dominated for most of the match up, Funaki counters with a monkey flip to Regal. Burchill gets up on the apron and Funaki knocks him down with a spinning heel kick. Funaki turns again… right into a thunderous clothesline from Regal! He tags in Burchill who goes right after Funaki with a hard scoop slam, followed by a delayed vertical suplex. It is all too easy for Burchill, who is tossing the smaller Funaki around like a rag doll.

The tags are rapid between Regal and Burchill as they work on Funaki with a series of harsh submission manoeuvres. Right now it is Regal who is in the ring with Funaki is a side headlock. The Japanese superstar pushes Regal into the ropes and dives at Scotty, finally getting the tag, which gets a huge cheer from the crowd. Scotty jumps in and ducks a clothesline attempt from Regal, but runs straight into the follow up from Burchill. Regal takes Scotty down and locks in the Regal Stretch (his version of the STF), whilst Burchill grabs Funaki and nails the C-4. With Funaki down and out, there is no one to help Scotty from the Regal Stretch, and he has no choice but to tap out in the centre of the ring!!!

Winners: William Regal and Paul Burchill

~~Commercial Break~~

Upon returning to Friday Night Smackdown we head straight back to ringside and to Michael Cole and Tazz.

Michael Cole: Welcome back to Friday Night Smackdown, ladies and gentlemen. Before the break we saw the veteran William Regal and his new partner Paul Burchill basically destroy poor Funaki and Scotty.

Tazz: You ain't kiddin', Cole, that was plain nasty. Regal and Burchill are two tough guys who will just beat you if they get even half a chance. They're gonna be a force to reckon with in the tag and singles division for sure.

Michael Cole: Absolutely, partner. Now, in keeping with the run up to the Royal Rumble in a little over two weeks, we are joined once again by a man who will be making his return from injury in the famous Battle Royal… Mister Ken Kennedy.

Tazz: Welcome to Smackdown, Ken.

The camera cuts to a non-descript location – possibly just Kennedy's home – where the injured superstar is sat in front with a smug little smile on his face.

Michael Cole: Well, first thing's first; I guess we better ask just how the recovery is coming-

Ken Kennedy: Michael Cole, can you please shut your freakin' mouth?

The crowd boos at Kennedy's arrogance once again, especially after his attitude last week. Kennedy just smiles though as he gets up close with the camera. Michael Cole looks offended.

Ken Kennedy: First and foremost, I think you should all congratulate me on making such a swift, speedy and downright amazing recovery!

Boos from the crowd once again.

Ken Kennedy: Secondly, I think it's about time Michael Cole appologize for waisting my time, and I want my appologe NOW!


Crowd boos.

Michael Cole: I'm sorry Mr. Kennedy.

Ken Kennedy: Your DAMN RIGHT your sorry Michael. But your not as sorry, as every superstar is in the back, (wipes his eyes) crying their eyes out because they know with me coming back at the Royal Rumble, that they have no chance against the spectacular, one and only... MISTERRRRRRRRRRRRRRRRRRRRRRRRRRRRR KENNNEEEEEEDDDDDDDDDDDDY!

Crowd boos.

Ken Kennedy: ... KENNNNNNEEEEDDDDY!

Crowd boos even louder.

Ken Kennedy: To win the Royal Rumble. `Cause you see, I have single handidly changed friday nights (snaps fingers) just like that. Without me, Smackdown has been in chaos and with me, you all will be at peace at heart, knowing your favorite superstar, the most talented man ever to grace the WWE, ME, is back in the square circle.

Continuous heat piles on.

Ken Kennedy: I'm like a Monster Truck, there isn't anyone, or anything that can stop me. Michael Cole and Tazz can say whatever they want, you all can think what you want, but at the end of the day, when you order the Royal Rumble in just over two weeks. You all will come to the realisation that I, Mister Kennedy, will main event WrestleMania 22, because when the show is going off the air all you will hear is the ring announcer screaming... The winner of the 2006 Royal Rumble Match... MISTTTTTTTTEEEEEEEEEEERRRRRRRR KENNNNNNNNEEEEEEDDDDDDDY!

Kennedy stands up and goes as though to walk away, but suddenly he jumps back in front of the camera, shouting over the boos of the crowd.

Ken Kennedy: KEEENNNNEDDDDYYYYYY!!!

We return to Michael Cole and Tazz at ringside, who both wear rather bemused expressions on their faces.

Michael Cole: Uh, well, our thanks to Mister Kennedy for that rather 'unique' interview' to say the least.

Tazz: It's good to see Kennedy is so confident coming back to Friday nights. Maybe he can give us a Smackdown winner of the Rumble this year.

Michael Cole: I hope so, partner, but if it were up to me, I'm not sure I want Ken Kennedy representing Smackdown in the Main Event at Wrestlemania with that kind of attitude.

Tazz: Uh, it's called confidence, Cole, but whatever. We've still got two huge matches still to come tonight, including Randy Orton versus The Undertaker!

~~Commercial Break~~

Returning to Friday Night Smackdown as **Booyaka 619** hits to a great reception, bringing out the small but tough Rey Mysterio. He bounces down to the ring excitedly, slapping hands with the fans, before rolling into the ring and jumping onto the top turnbuckle. He motions to Eddie Guerrero up above, as…

**Paparazzi** blares out to heat from the crowd and all three members of MNM make their way out in their usual extravagant manner. Johnny Nitro is walking slightly in the leas, as this is his match. After strutting down to the ring, Nitro takes off his WWE Tag Team title belt and hands it to Melina. Back in the ring, Rey eyes the belt enviously, having been the one who MNM won it from.

Match #3
Single Match
Rey Mysterio vs. Johnny Nitro

Match Summary: The feud between Mysterio and MNM never really got going, but it is used as a means to get a big star like Rey and the Tag Champs MNM on the card in the build up to the Rumble. With Mysterio and Nitro both fast paced workers, this proves to be quite an exciting match. Having been tripped by Joey Mercury, Rey is down with Nitro applying the headlock. With the crowd trying to get behind the small superstar, Rey is fighting back up to his feet, with Nitro unable to prevent this resurgence. Back on their feet, Rey elbows Nitro in the gut several times before racing off the ropes. Nitro goes for the clothesline, but Rey ducks and comes off the ropes again, leaping up on Nitro and hitting a Tornado DDT!

Rey covers but Melina jumps up on the apron to distract the referee. Rey runs at Melina, but behind Mercury slides into the ring and tries to nail Mysterio from behind. Rey ducks though and Mercury accidentally knocks Melina off the apron. Mercury looks on in horror, allowing Rey to dropkick him over the top rope to the outside. Nitro charges at Rey, but gets tripped onto the middle rope. After coming off the ropes again, Mysterio hits the 619 to Nitro, before scoring with the West Coast Pop for the 1 … 2 … 3!!!

Winner: Rey Mysterio

We go backstage again where once again Josh Matthews is standing by.

Josh Matthews: Ladies and gentlemen, my guest at this time is the United States Champion … Booker T!

Flanked by his wife Sharmell, the United States Champion Booker T steps into the shot clad in his wrestling attire with his title belt over his shoulder, and is greeted by loud boos. He looks very serious and ready for action.

Josh Matthews: Now, Booker, in just moments you will be facing Chris Benoit in a No Disqualifications match with your title on the line. Teddy Long has promised an end to your feud tonight. What are your thoughts at this time?


Booker T: Muh thoughts? Muh thoughts are simple, sucka', Imma gonna be tha leavin' ma hometown o' Houston tonigh' still the United States Champion!

Josh Matthews: Your rivalry with Chris Benoit has resulted in some victories for you in the past, but tonight where anything goes, do you think the "Rabid Wolverine" might just have the edge?

Booker T: Tell muh you did not jus' say that? In muh hometown here in Houston ah was raised in the baddest, toughest streets there are. No Disqualifications? It don't make a difference! Chris Benoit stuck his punk ass in muh business and now he's gonna get what's comin'.

Josh Matthews: Anything else you'd like to say, Booker?

Booker T: Chris Benoit messed with tha wrong man. He's messin' wit' da five time… five time… five time … Dubya C' Dubya Champion and duh United States Champion! Chris Benoit betta' understand dis': tonight, someone gonna get hurt!

Booker T shoves Josh out of the way, before walking out into the arena with Sharmell walking alongside him as…

~~Commercial Break~~

**Can You Dig It, Sucka?** hits to an extremely mixed reaction from the Houston crowd, as their hometown boy Booker T makes his way out arrogantly, his face serious and unflinching, as is Sharmell's. The United States Champion feels it and sets off his amazing pyro. With the enormous fireball rising into the air, Booker marches down the ramp to the ring, where he waits for his opponent, as…

**Whatever** blasts out over the speakers to a great reaction, heralding the arrival of the "Rabid Wolverine". In the ring, Booker T is clearly angered by the fantastic reaction the Houston crowd is giving his opponent. Chris Benoit rolls his neck in preparation, his face a picture of intensity, before heading down to the ring.

Match #4
United States Championship
No Disqualifications
Booker T © vs. Chris Benoit

Match Summary: As one would expect from these two veteran performers, we get a great match to end their feud that has been going on since No Mercy in 2005. Towards the end it is Booker T is in control currently, having taken advantage of the No Disqualifications rule and brought the title belt into play. He swings it at Benoit, but the "Wolverine" side steps the shot and catches Booker's arm, going for the Crippler Crossface! Out of sheer desperation Booker T manages to power out before the submission can be applied; he shoves Benoit into the ropes, but the former World Heavyweight Champion comes back quickly and takes the Book Man down with a vicious forearm clothesline. Benoit places the US title belt in the centre of the ring and nails a snap suplex on Booker onto the gold! Benoit scores a near fall, much to his annoyance.

Benoit picks Booker up and nails a hard German suplex. Keeping the hands locked, Benoit goes for a second, but the wily Booker manages to block it. The Champ rolls around behind Benoit and shoves him into the ropes again. Benoit rebounds straight into Booker's arms, and he hits the Book End! It looks to be all over, but Benoit somehow gets a shoulder up. Booker T is now really growing angry and he rolls to the outside to grab a steel chair. Back in the ring, Benoit is up and he hits the baseball slide, smacking the chair back into Booker T's face! On the outside, Benoit looks to take advantage of this, but is distracted by Sharmell. As Benoit looks to go after her, Booker blindsides him and throws him into the steel steps. It is now the defending Champion who is in control, as he rolls Benoit into the ring for a near fall.

Booker places the steel chair in the ring and kicks Benoit in the gut, looking to hit the Scissors Kick right on the chair… but Benoit counters and trips Booker up, applying the Sharpshooter! Benoit rolls Booker onto his stomach, and now there is nowhere left for the Champion to go. With the crowd roaring for him to tap out, Booker reaches out desperately for the title belt nearby. Just managing to grab hold of it, Booker smashes it against the back of Benoit's skull, causing the "Rabid Wolverine" to break the hold and fall away. Taking advantage, Booker quickly covers his fallen rival for the 1 … 2 … 3!!!

Winner and STILL United States Champion: Booker T

As **Can You Dig It, Sucka?** plays again, the United States Champion Booker T rolls over in exhaustion and delight, as Chris Benoit lies on the mat holding his wounded head in dismay. Sharmell climbs into the ring and helps her man up, along with his title belt. Having won the match, the championship and the feud, Booker T staggers away happily.

We cut to backstage where Josh Matthews is once again standing by with microphone in hand.

Josh Matthews: Joining me at this time is the World Heavyweight Champion… Batista!

Clad in an attractive suit, wearing his sunglasses and with the World Championship slung over his shoulder, "The Animal" Batista steps into the frame to a huge pop from the crowd.

Josh Matthews: Batista, in just a few moments Randy Orton and The Undertaker will be doing battle. What are your thoughts at possibly facing these two men at the Royal Rumble?

Batista: Well, y'know, Josh, Randy Orton and myself know each other very well from our past. He's got a big mouth and an even bigger head, which gets him in a lot of trouble. But, he backs it up in the ring, so I would never underestimate him.

Batista wipes his brow and removes his sunglasses.

Batista: And as for facing The Undertaker … well, that would certainly be something special, something that everyone, including myself, would love to see. But both men at once? It doesn't bother me. I earned this title the hardest possible way, and I defend it the hardest possible-

From off-screen, suddenly Randy Orton appears and gets up close with Batista, face-to-face with his former teammate. Orton is dressed for action and is clearly still upset. He slaps the title belt.

Randy Orton: You better spend all the time with that title you can, Dave, 'cause in seventeen days … it's coming home with me.

Batista: Is that right?

Randy Orton: Yeah, it's been clear for years, Dave. I am the future of this company … not you. Triple H knew it, Ric Flair knew it, and deep down, Dave, you know it too.

Batista: Well, holding the title for a month is anything to shout about, Randy. But tell me, how long have I held it?

Randy Orton: It doesn't matter Dave. Smackdown is my place now. You might not be a legend, but at the Royal Rumble, Dave, you're still gonna get killed by the RKO!

Batista: Well, I guess we'll see… won't we?

Batista smiles in Orton's face, and the "Legend Killer" backs away slowly, glaring furiously at the Champion.

~~Commercial Break~~

When we return from the final commercial break, **Unleashed** hits throughout the arena to a superb reaction, as the World Heavyweight Champion Batista makes his way out. Carrying his title belt, he swagger down the aisle and goes to join Michael Cole and Tazz for commentary, eager to observe his potential opponents.

**Burn In My Light** blasts out next, heralding the arrival of the current #1 Contender Randy Orton. After striking his infamous Destiny pose at the top of the stage, Orton angrily marches down to the ring, ignoring all of the boos he is getting, but clearly unhappy at the match he is being made to compete in.

With Orton waiting nervously, **Graveyard Symphony** suddenly hits, plunging the arena into darkness. The crowd is on their feet for the biggest reaction of the evening, as The Undertaker makes his slow but majestic entrance through the mist. Orton looks extremely nervous as he waits in the ring. In the ring, Undertaker never takes his eyes of his opponent whilst removing his hat and coat. The Main Event of the night is upon us.

Match #5
Single Match
Randy Orton vs. The Undertaker

Match Summary: They have faced many times in the past on grander stages, but these two rivals still manage to put on a great match with a decent length. Right now it is Undertaker is control, having nailed Orton with two brutal clotheslines in the corner. He scoops the "Legend Killer" up onto his shoulder and drops him onto the top turnbuckle for some Snake Eyes. Undertaker races off the ropes and goes for the big boot… but Orton pulls the referee in front of him, and the referee is knocked down! Undertaker turns around and Orton nails him with a dropkick to the face. With Undertaker and the referee down, Orton senses his opportunity and rolls out of the ring to grab a steel chair. Before returning to the ring, Orton points threateningly at Batista and shouts out that this will be his fate at the Royal Rumble.

Back in the ring, Orton waits for Undertaker to get back up to his feet and then swings the chair back … but Batista grabs hold of it from the ring apron! Batista pulls the weapon away from Orton and shakes his head at the "Legend Killer". Suddenly, Undertaker comes running at Orton for the big boot, but Orton ducks and Undertaker inadvertently knocks Batista off the apron. Undertaker stares at Batista for a moment before turning around … into an RKO! Orton hits his finisher out of nowhere, but the referee is still down. Orton slaps the ref desperately until he makes the count … 1 … 2 … NO!!! Undertaker gets a shoulder up. Orton is in total dismay, but he quickly begins to stalk the "Phenom" in preparation of a second RKO. Undertaker clambers back up to his feet, and Orton leaps into the air for a second RKO, but Undertaker shoves Orton away into the turnbuckle. Orton rebounds straight into Undertaker grasp, and is nailed with a chokeslam. Batista is now up on the outside, and watches angrily, as Undertaker performs the cutthroat taunt, before scooping Orton up into the air and brings him crashing down for a devastating Tombstone Piledriver! With his tongue out, Undertaker folds up Orton's arms for the pin … 1 … 2 … 3!!!

Winner: The Undertaker

**Graveyard Symphony** hits once again, as The Undertaker rises triumphantly having successfully booked his place in the World Heavyweight Championship match at the Royal Rumble. Standing over the fallen Randy Orton, Undertaker locks eyes with his other opponent Batista through the darkness.

Michael Cole: What a Main Event! The Undertaker has some revenge for last week and now the "Phenom" is going to the Royal Rumble!

Tazz: Oh, man, get ready, Batista, the "Deadman's" coming!

Michael Cole: What a night! With the Royal Rumble only two weeks away, we have out World title match. Good night, folks!

Tazz: Good night!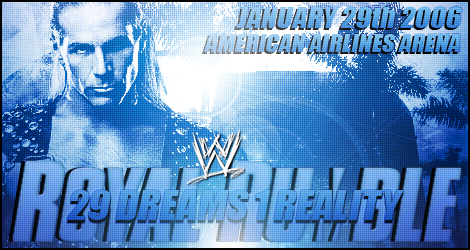 Current Card for the Royal Rumble
Date: January 29th 2006
Location: American Airlines Arena; Miami, Florida
Theme: Unknown

Royal Rumble Match;
Winner has automatic shot at EITHER brand's Champion at WrestleMania XXII:
Entrants in Alphabetical order;
Booker T, Carlito, Charlie Haas, Chris Benoit, Finlay, Gregory Helms, John `Bradshaw' Layfield, Joey Mercury, Johnny Nitro, Kane, Ken Kennedy, Matt Hardy, Matt Striker, Rey Mysterio, Ric Flair, Rob Van Dam

WWE Championship Match:
Kurt Angle © vs. Triple H

World Heavyweight Championship Match:
Triple Threat
Batista © vs. Randy Orton vs. The Undertaker
Tag Teaming With James Ellsworth
Join Date: Mar 2005
Posts: 1,214
Points: 0
Re: Deadman & Legend Present: World Wrestling Entertainment
---
Smackdown review

Good promo to kick off the show, Orton's character is pretty hard to get to but it sounded on character to me. Sounded lot like the Kennedy/Batista/Taker situtation before the Rumble where Kennedy had to face Taker. However good match made for tonight, but have feeling that Orton will pick up the win somehow.

A pretty good match here with no suprises on the outcome with Hardy getting the win. Great aftermath with JBL getting some revenge on Hardy for eliminating him from previos weeks battle royal, looks like they will be feuding for a little while then. Don't see it as a Wrestlemania match, but could happen at No Way Out.

Great JBL promo here explaining why he did what he did to Hardy. Wasn't sure if he sounded on character at the start, but as it went on it he got better.

Filler Squash match here with the main purpose of this to get Regal/Burchill on the show and make them look good which they did with Burchill hitting the C-4 and Regal locking on the regal stretch for the win.

Lol another good promo here, Kennedy owns Michael Cole befote talking about the Rumble. Don't think he will win but could last a long time i would think.

Good victory here for Rey Mysterio fighting the odds having to fight all three members of MNM but ends up picking the win.

Booker T promo was decent hyping up this upcoming match. Great match to end the feud, not really many hardcore moments despite it being a No DQ match, but for these two it would be better for just an all wrestling match anyway. Not sure how Booker could hit from behind with the championship belt in the crossface however.

Good back and forth main event, shocked a little to see Taker kick out of RKO. Taker gets back in the match and finishes Orton off with a tombstone piledriver meaning we have triple threat match at Rumble.

Overall for the first show i have read from you it looked very good, the Royal Rumble card is looking very nice at the moment with two top quality championship matches of course along with the Rumble.
Posting Rules

You may not post new threads

You may not post replies

You may not post attachments

You may not edit your posts

---

HTML code is Off

---