Asking JAMES ELLSWORTH for Wrestling Advice
Join Date: May 2005
Posts: 397
Points: 0
Re: WCW 2001- The Trio Ownership
---
Halloween Havoc review:
Flying Harts vs Crazy and Helms:
A good fast paced match to start off the night. It started off well with a lot of good aerial moves. However i felt it lasted on the outside too long (would have been fine if they re-entered the ring after Evan's swanton, everything after that seemed un-needed). I did like the storytelling throughout the match of the mis-communications between Helms and Crazy. But i thought it was weird how it turned from something serious into a bit of comedy... The flying Harts winning was no surprise.
Overall though a good match to start off the show.
Get your translator essa:
Pretty basic promo, got the point across (I was sort of obvious what that was going to be). But wasn't exactly inspired.
Lance Storm vs Curt Henning vs Cal Anderson:
I thought this was a great match. Some good technical wrestling with a lot of cool triple man moves (although i thought some were a bit sloppy, such as Henning's leaping knee at the beginning). There's not a lot i can say i didn't like about this match... Although one thing i thought was weird, was that after the AA spinebuster, brainbuster combo, Cal didn't go for the pin. But besides from that it was a great match.
PPV is uncensored:
Typical Steiner promo lol. Hyped up his match with awesome well… I've noticed your promos are a bit shorter then normal. (Though I guess since it is a ppv, the matches should be the main focus).
Kronik vs The Young Lions:
I couldn't really get into this match, there was too much brawling and not enough "wrestling" for my liking (which was ok for realism… but didn't really grab my attention). I think the isolation of O'Haire seemed rushed, and no sense of urgency was really created… though I did like him getting taken out on the outside, leaving Palumbo to fend for yourself… One of my other dislikes about the match was the overuse of some of the moves (such as the jungle kick). Overall, there just wasn't really a lot to interest me here.
Scott Steiner vs Mike Awesome:
A lot of brawling again, but for this match it worked (It's a stipulation match, so a pure wrestling classic isn't to be expected, also it got over the hate between these two men). I didn't like the number of impact moves both men took on the concrete floor (I dislike having more then one per match). Another thing I disliked (which is common in table matches) was how the two men brought out and set up tables, when there were others already set up… However besides from that I thought the match was quite good, there were several times I thought it might be over. And I liked the use of the "he put himself through the table, so the match continues" story. Especially having it happen to both men in turn. (Surprised that Steiner took that bump though… it made me chuckle how you highlighted his stupidity when climbing the turnbuckles).
survey says:
Well it is certainly interesting to see the Outsiders return. I thought the promo was great, it seemed to be in character and kept me interested. I look forward to seeing what effect their return has on the NWO vs WCW war. I didn't really like the way they returned though… them coming out and cutting a promo with no suspense seemed to take away any impact I would have expected from an outsider return.
Scott Hall vs Sting:
A decent match… I was surprised by how many momentum changes it had, and that neither man had a long advantage. I wasn't expecting a DQ ending. I guess that's typical of the outsiders though, they come in as faces but leave as heels (well, the booing suggests that, based on their objectives it sounds like your giving them a tweener role).
Choke on these slapnuts:
Good interview with Jarrett here, seemed pretty well written and I thought the "woo" was a nice touch… Oh I think you've made a typo afterwards (and the camera
shit
back to the ringside area).
Rey Mysterio vs Billy Kidman:
Very exciting match, I loved how you tried to make full use of the no count-out stipulation. I liked a lot of the spots throughout it (the hurracarana down the steps being my favourite)… Though I thought some seemed a bit sloppy (missile dropkick off the stage by Kidman… a cross body would have been better in my opinion). The DQ ending was a good way to end it as it gets Mysterio over as a cowardly heel (he can't get counted out, so he gets disqualified). But this now makes 2 DQ endings in a row, which is a bit disappointing.
Hogan's gonna dig it brother:
After I was able to translate it, I thought this was a very good interview, possibly the best promo yet during this show. Booker was spot on in character. I also thought the "respect" angle was very suitable here.
Ric Flair vs Jeff Jarrett:
Don't really like that the title match isn't THE main event, but oh well… The match started off well and at a realistic pace, although I didn't think Jarrett's early blade job was entirely necessary. Bischoff making it a no DQ match after the NWO was an interesting twist… There were also several times I thought the match was over (such as after Jarrett's stroke and Flair's small package). I thought the brawl between the two fractions was great (although Arn taking out Bischoff was overused in my opinion). The outsiders getting involved was a nice touch and probably the right way to end it (although seems it a bit weird that they dished out more punishment for Flair then Jarrett, hence allowing the chosen one to get the victory).
The super cage:
decent little hype video. Described what the structure was very clearly… I'm very interested to see who will be in the match.
Hogan vs Booker:
I was hoping that Booker would have the majority of the offence during this match (despite being the face), so I was pleased that he did. I thought this was a pretty good match… It had some moments when I thought it was over (Hogan's leg drop), and I thought the Harlem hangover was a good way to end it… My only problem with this one was I felt some of Booker's moves were overused. But besides from that there's not much I can criticise about it.
Overall:
There were a couple of dry spots, but overall I thought this was a very enjoyable read. (I would have liked to see a few more backstage promos or interviews, but that's only a minor point). Keep up the good work
.
Tag Teaming With James Ellsworth
Join Date: Jun 2005
Location: Sidford, England
Posts: 1,864
Points: 0
Re: WCW 2001- The Trio Ownership
---
A few comments first on the previous show, before I do a full review on the latest show that you posted

Great brawl to end the show, and great to see Steinar end the show standing tall with the title belt, but only one criticism of this is that maybe the big end of show brawl has been done a bit too often, as it seems that every week it happens, just with someone else standing tall (although this is WCW, so it gets very high marks for realism)

Storm probably wont join the new world order, as it wouldn't be advantageous for him to do so, but it is still a nice angle you have going will them trying to get everyone to join them

Vito against the Bull looks to be filler style fued, but will get whoever wins it over into the mid card, so it is worth having on the show

The Super-Cage looks great, and liking the way that the odds have been stacked in favour of Jarrett retaining with the 4 men having to go through the super cage just to face him.

And now Nitro…

Loving the opening with Jarrett being in deep focus, while the Outsiders embarrass him on the N64, which was a great piece of comedy to start with

Out comes Steiner with the belt, and cuts a promo on how he wants in the super cage, and I can see him getting the spot, and this was a good promo, even though I don't like the guy. Bischoff comes to arrest him, but Steiner beats the hell out of the policemen, which continues his great booking, and he is probably the most over guy at the moment

Hart gets a win over Crazy, as the flying harts continue to look strong, but Helms distracts Crazy in the process, which gives the slow build to the match that is coming. Should be a classic when it happens

Loving the Lance Storm promo, as it actually gave the guy some dimension to his character, and that was probably the best promo that he will ever cut in his life, and now he is on team WCW, which gives them another big player in the ranks. Very, very good promo here

The NWO is in trouble it seems, but somehow, they will save it in the end, probably due to Hogan as he hasn't been mentioned just yet

Konnan beats the Wall in a filler really, but then Rey, Kidman and Chavo all stage run ins, and it looks as if Chavo is on the side of Rey now. This will be a very good tag match when it happens, and adds a new dimension to the feud, even if it still will end in a one on one match

Triple threat for the cruiserweight title will be a great match, and there was a good promo in there from Helms, who came off looking good in this. I expect him to retain, as his push has been good so far

Hogan vs. Flair at the ppv will be a great match, and this promo that led to it was again very good, and the promos have been on fire tonight. Some great intensity as always from Flair, while Hogan came off as the egotistical heel as he should do. The match wont be as good as this promo, I can say that

Young Lions get a win which just gets them over as the tag champs, although they don't seem to be heading anywhere specific at the moment.

Steiner has left the building? Run in in the main event then

Interesting to see the Outsiders have a plan, but I don't see the title changing hands here, whatever happens.

Huge shock in the original match, as Nash gets the win, but uses the guitar to do so… don't expect him to be the champion though, as Eric is bound to come up with some sub clause which means that Jarrett gets to keep the match going. The match does restart due to the cheating of Nash, and then we get the wild brawl, which leads to Jarrett keeping the title

Then we get yet another massive brawl between the NWO and WCW, which is okay, but is on the verge of becoming overkill, so maybe there needs to be at least a week where this doesn't happen

Steiner gets his wish and is in the super cage to end the show, and then beats down Bischoff just for the hell of it. Great ending to the show, and he has to be the big favourite to win at the moment
Re: WCW 2001- The Trio Ownership
---
Flying Harts vs Helms/Crazy- Great choice of an opener and a great match, spotty and fast, the way it should be. Harts get most of the offense of course, but you gave Helms and Crazy a decent amount of offense to make them look good. Finish was awesome, the low blow followed by the new Hart Attack. My one gripe is that Hart shoulda done the tiger suplex while Evans hit the springboard lariat, as that woulda fit their styles better. 8/10
Helms/Crazy segment- Decent segment, good words by Helms to get him over as a heel, and I wouldn't be opposed to a Crazy/Helms feud, although it doesn't interest me much. Although, heel Helms is greatness. Coulda been longer and more in depth, though. 6/10
Storm vs Anderson vs Henning- Wow, this was an awesome triple threat match. Glad to see someone besides me uses three-way spots, like the Spinebuster/Brainbuster combo you had on Henning, just sickening. All the men had portions of dominance in the match which was great, and the finish was nice as Storm retains but just barely. Well-booked, well-written, nice spots...awesome match. 10/10.
Steiner interview- Okay, the cursing was getting pretty ridiculous, and not good ridiculous. Went way overboard. Other than that, you got Steiner's character down perfectly, really sounded like him and hyped the tables match later well. Also, well placed on the card. 8/10
Lions vs Kronik- Meh, this was boring to read, especially since I've only seen one of the guys involved in action. Did what it needed to do to get Young Lions more credibility and retain the belts, but other than that, don't really care. Decent match, also, but nice job keeping it short. 6/10
Steiner vs Awesome- Seemed really like "You do table spot, I do table spot, etc", but that works considering the age/size/agility of the wrestlers involved. Great booking, with each man missing a big table spot leading to them crashing through a table, all leading up to the big finish. I liked the finish, but I didn't like the booking, made it look like Steiner *barely* got the win when he should have had a more dominant win. Really fun match to read, and well booked (sans the ending). 8/10
Wolfpack promo- Sweet promo, loved every second of it. Wolfpack has a problem with Bischoff, and wants some money, so they come back? Makes sense for them. Nothing too special, but Nash and Hall got their point across that they're going to take down the NWO and Bischoff as well. But wait...they accept Sting's challenge as well? Sweet! Overall great promo that really set up a good feud possibility, and caught their characters and actions well. Great length, too. 10/10
Sting vs Hall- Decent match, the moves were kept basic and the match was relatively sport, but it was well booked and well written, plus the entire match made sense and was realistic, which is what counts in the long run. Ending was interesting...heel turn already? Hmmm. Anyway, it was all solid stuff here. 7/10
Jarrett interview- Disappointing from you. Too short, very repetitive, and not very creative. Did what it was meant to do, but nothing more. 5/10
Kidman vs Misterio- Loved this match, really fast paced and spotty which is fun to read, and watch in real life. Some of the spots struck me as unrealistic though...SSP off the guardrail? I don't think Kidman can do it. Other than that, it made sense, and I liked Kidman dominating most of the match, which makes the finish make sense even though I hated it. Hopefully a No DQ, No Countout match ahead for these two? And, heel Misterio is ew. Other than that, great stuff. 9/10
Booker interview- Love that slang. Well-written, good length, good hype, made the match seem really important, and you got all of Booker's little catch phrases and stuff involved. Coulda added a little more, considering it's his biggest match ever and all, but still a great interview. 9/10
Jarrett vs Flair- Started off mediocre, good back and forth, more technical contest, but then the run-ins, the beatdowns, the hard hitting, the cheating...and it becomes a NO DQ match! But Flair uses it to his advantage and makes a comeback, almost winning the belt...Outsiders come down to help him with all the crazy action going on...but they help Jarrett retain the belt! Awesome booking, lots of drama and build up to the finish. Also, Outsiders with the NWO? This match and everything involved was just perfect. 10/10
Super Cage- It's Super, and it's a Cage. Why do you need a hype video for that, it sells itself!
No rating
Booker vs Hogan- Had a big match feel with a lot of drama involved during the match. I liked how Hogan got in a lot of offense, to make it seem like Booker was the underdog, which he is. The "He's Hogan and he has political stroke, damnit!" when cheating was hilarious. So funny, yet so true. Back to the match, Booker made a big comeback and...it paid off, Booker T won and beat Hogan cleanly! Well-booked and well-written match, but it didn't interest me too much. Also, I thought it was really obvious Booker was going to win, oh well, big things in his future I hope. 8/10
Overall- 104/103 = 80% = B- Coulda used more promos, and I disliked a few match endings, but other than that, this was awesome.
---
Quote:
Originally Posted by Andy3000
If I had multiple personalities I'd play with myself all day. I wouldn't even leave the house. I'd give my girlfriend a penny every time she correctly guessed which one of me was fondling her.
Re: WCW 2001- The Trio Ownership
---
Spanks for the feedback ya'lls.

The next Nitro is booked... but haven't even started it yet. I have had no free time. However, I'll be looking to make a considerable dent in it this weekend, and hopefully have it up sometime within a week.

Word.
---
When An Empire Falls - The Tale of World Championship Wrestling
Szumi's back, but not in black - back in BTB! And yeah, I know, he's doing WCW again - so unoriginal.
My Awards:
2008 - Best PPV - Starrcade
2008, 2007, & 2006 - Best Promo Writer
2007 & 2006 - Best Promo(s)
2007 - Most Creative
2007 - Best Feedbacker
2006 & 2007 BTB World Cup - Top Overall Scorer
2007 BTB World Cup - Booker of the Tournament
Only Person to Ever Score Perfect Score in a Tournament
BTB Hall of Famer
World Championship Wrestling 2001 - The Trio Ownership
This was The Trio Ownership; I did it a long time ago, for a long time. T'was a good ready, I think. People liked it and stuff.
Re: WCW 2001- The Trio Ownership
---
Flying Harts vs Helms/Crazy-
Nice match to begin the show. It appears the Cruiserweights are finally getting some respect in WCW. A very enteratinig match, spotty as always and I hope The Flying Harts head into a tag team title run... bdw, what happned to the wc cruiserweight tag team title? did u drop it?
Helms/Crazy segment-
I hope this storyline continues, as it gives both cruisers a reason for the crowd to care. Nice segment, poor crazy lol
Storm vs Anderson vs Henning
-
Well written and entertaining match of the night I thought.
Hemnig should have won, but still Storm retaining is OK though, I just wanted more gold for The New World Order. Nice spots in the match, and CW is great, should win the gold soon too, or maybe join the NwO?
Steiner interview-
Looking forward to the tables match, this was a good interview, bit over the top with the obsecties though, but still a good interview
Lions vs Kronik-
Decent match, but was a bit poor in places. Kronik should have won, but Lions winning was ok I guess, but Kronik could be a monster tag champion team if booked well.
Steiner vs Awesome-
Lovely tables match, match of the night so far. But it reminds me of the old, shit WCW, all gimmicky. However, the match was good, and the finish was especially enteratining.
Wolfpack promo-
I love the Wolfpac, and this was a great promo, both men are legends and i love how they were both in charcater here. Nice promo, but I will say that is it wise to bring back the wolfpac, having the wolfpac and the Nwo hurt the real WCW. Plus, the old guys appear to be having all the spotlight
Sting vs Hall-
Well written , emotional match. I love Hall, and wnated to see him win, and i must say that Hall wrestled quite well, as did Sting.well booked, I wonder if Sting will fued with The Outsiders?
Jarrett interview-
Not the best interview, and Jarrett could do a better promo than this. Dissapoitning, but it didn't damage the show.
Kidman vs Misterio-
Very good match, almost beat the tables match. Some of the spots were a bit unrealistic, but hey, who cares? an ideal CW match, and a fitting conclusion to this fued, or are u going to draw it out, this could be a CW fued for the ages.
Booker interview
-
Well done with this interview, as Booker T was really in character, and I can't wait for his match with Hollywood
.
Jarrett vs Flair
-
This match had a lot of drama, and I really liked it, the world title should be the last match. Oh well, this was a fitting match to thsi fued, and i enjoyed this contest greatly, wish Flair had won.
Booker vs Hogan-
This match really had a big match feel, and I loved it, a true PPV main event. Booker and Hulk both work thier asses off. Hogan wrestled his bes match in years. After this, book should vy for the world title. Also, I think Booker desrves a bigger place in WCW.
overall
10/10
, ure best ppv so far. Please return this review
---
Last edited by Xcellence WCW; 12-15-2006 at

08:12 AM

.
Re: WCW 2001- The Trio Ownership
---
I've been extremely busy lately, however, thanks to everyone who has reviewed Halloween Havoc, and voted for it and myself in the November BTB Awards. Much appreciated. Back to being busy. I have another week until break starts, so I will probably continue to be busy for the most part, as I have my big graduation project tomorrow. I'll return the reviews I owe to Xcellence, Sneapy, and meh, even you Sparty
. Here's a Nitro preview, but my all means, leave some review for the Nitro posted a week go. Poor child has gotten no love.
WCW Wednesday Nitro Preview- November 14, 2001
World Championship Wrestling will host its next primetime edition of Wednesday Nitro on NBC this Wednesday night at 8 PM EST from the Kiefer Lakefront Arena, in New Orleans, Louisiana! Join "The Voice of WCW" Tony Schiavone and "The Professor" Mike Tenay for another two-hour, action packed edition of World Championship Wrestling!
With Nitro's next stop, we are only four days away from the next PPV, Mayhem! And I think we all know what to expect at Mayhem, the Super Cage! Booker T, Sting, 'The Bad Guy' Scott Hall, and as of the very end of last week's Nitro, 'Big Poppa Pump' Scott Steiner, will enter the demonic Super Cage at Mayhem! The prize is one every man dreams of, headlining Starrcade, and fighting for the WCW World Heavyweight Championship! Tonight, we will get a preview of what to expect in the Super Cage, as well as what will be in the third and final cage on Sunday! The last time the Super Cage match was held, acoustic guitars filled the top tier of the three cages. This time around, each wrestler will have a specially chosen weapon in the cage! And tonight on Nitro, Booker T, Scott Hall, Scott Steiner, and Sting will all select what weapon they will choose to put in the third cage! And not only that, in the main event, the four men will butt heads in a fatal four way match! Tonight they'll need the pin or submission for victory, but at Mayhem, in the Super Cage, it's all about who can get to the top of the third cage, and grab the briefcase from the clasp dangling from the ceiling! It's going to be a wild night on Nitro for the four participants in the Super Cage, so don't miss it!
Last week on Nitro, Jeff Jarrett was able to slip by Kevin Nash to retain the World Heavyweight Title, but only after Randy Anderson's initial decision was overturned, thanks to Eric Bischoff. Tonight, now with the WCW World Title Belt back in his grasp, Jeff Jarrett will face Hugh Morris in a non-title match! Also, 'Big Sexy' Kevin Nash is in the building! Will he have anything to say regarding what happened in the main event last week!? Tune in to find out!
Over the weekend, it was announced that at Mayhem, with both the WCW Tag Team and North American Title on the line, 'The Young Lions' Chuck Palumbo and Sean O'Haire will team up with Lance Storm to take on KroniK and 'The Career Killer' Mike Awesome! Tonight on Nitro, Bryan Clarke will have the chance to win the gold off of Lance when the two men fight for the WCW North American Championship! Can Storm once again retain his Title!? Will Adams and the nWo win a second piece of nWo Gold!? And will the other 4 men in the match at Mayhem make an appearance!? Find out on Nitro!
Also, 'The Nature Boy' Ric Flair and 'Hollywood' Hulk Hogan will be in the building! Will there be a confrontation between these two as they head into their match at Mayhem, and how will Flair respond after Eric Bischoff proclaiming he could kick Flair's ass!? You can only find out by watching Nitro!
Last week on Nitro, it was announced that 'Sugar' Shane Helms will be defending his WCW Cruiserweight Title at Mayhem in a triple threat match against 'The Insane Luchadore' Super Crazy and Teddy Hart! And during the weekend, it was also announced that the new team of Rey Misterio Jr. and Chavo Guerrero Jr. will take on the Filthy Animals, Billy Kidman and Konnan at Mayhem! Tonight on Nitro, the Filthy Animals will team up with the Cruiserweight Champion and Crazy, to take on Misterio and Guerrero, and the Flying Harts! The action will be red-hot, so don't miss this match on Nitro!
Plus, Johnny Stamboli will be in the house to announce whether or not Big Vito has accepted his challenge for Mayhem! Two weeks ago, Stamboli assaulted his former partner and issued a match for Mayhem. Has Big Vito accepted Stamboli's challenge, or will Vito be unable to compete after the attack he received two weeks ago!? Find out on Nitro! As always, Nitro promises to be an exciting showcase of professional wrestling that you do not want to miss! Be sure to tune into NBC this Wednesday night at 8 PM EST to catch all the action!
Confirmed Matches:
Booker T vs. Scott Hall vs. Scott Steiner vs. Sting
WCW North American Title- Lance Storm © vs. Bryan Clarke
Non-Title- Jeff Jarrett vs. Hugh Morris
Filthy Animals, Shane Helms, & Super Crazy vs. Flying Harts, Chavo Guerrero Jr. & Rey Misterio Jr.
[I]And Xcellence, the WCW Cruiserweight Tag Titles were unified at Souled Out, I believe it was, when the Filthy Animals took on KroniK, who were the Tag Champs at the time. Oddly, Konnan was in the match for Rey, representing the CW Tag Belts, because KroniK had assaulted Rey at Slamboree. Rey returned to WCW in the match and turned on Kidman and Konnan, which has led to the Rey/Kidman feud.
---
When An Empire Falls - The Tale of World Championship Wrestling
Szumi's back, but not in black - back in BTB! And yeah, I know, he's doing WCW again - so unoriginal.
My Awards:
2008 - Best PPV - Starrcade
2008, 2007, & 2006 - Best Promo Writer
2007 & 2006 - Best Promo(s)
2007 - Most Creative
2007 - Best Feedbacker
2006 & 2007 BTB World Cup - Top Overall Scorer
2007 BTB World Cup - Booker of the Tournament
Only Person to Ever Score Perfect Score in a Tournament
BTB Hall of Famer
World Championship Wrestling 2001 - The Trio Ownership
This was The Trio Ownership; I did it a long time ago, for a long time. T'was a good ready, I think. People liked it and stuff.
---
Last edited by Szumi; 02-24-2007 at

04:29 PM

.
Re: WCW 2001- The Trio Ownership
---
Sorry for the lateness of the review Szumi, but here it is.
Nitro Review
Hahahaha, great beginning with the Wolfpac embarassing Jarrett. Man, I miss WCW/NWO Revenge...
The Title Belt = Power
: Great opening promo. Steiner was very much in character as I could easily visualize him saying everything he said. I like this storyline, with Steiner keeping the belt hostage. Bischoff is out now, and refuses to let Steiner in the Super Cage. May not be the best decision Bisch. Damn! Steiner beats the crap out of all the security officers and takes the title again!
Super Crazy vs. Teddy Hart (w/Jack Evans)
: Good match here. Crazy seemed to be winning this match early on, but after Helms shows up he does not win. I see these two feuding over the Cruiserweight title soon.
New Look Lance
: Holy God, what a promo!! Lance was very in character, as he defended his country. Glad to see him not in the nWo, as he's one of my favorites in this thread.
Does WCW Have A Sponsorship With Prozac?
Lol at the title. Anyway, interesting promo here. Looks like the nWo isn't functioning well. I'm intriuged to see how bad this gets.
Konnan (w/Billy Kidman & Tygress) vs. The Wall
: Filler match here, but the aftermath was pretty good. Looks like we're getting a pretty good tag feud here, and the match seems set for Mayhem.
The First Full Match For Mayhem
: Pretty good promo here, match made for Mayhem. Should be pretty good. I see Crazy going over in that one come Mayhem.
A Match Of Legendary Proportions
- WOO! What a promo here. Flair and Hogan were on the whole time. Looks like we're seeing a match at Mayhem between these two, and it should be pretty good. Can't wait for that. Good brawl at the end of this promo, nice to see Flair come out on top in that one.
Boogie Knights vs. The Young Lions
: Okay match here, nothing really special. Good to see the Young Lions win, and without any run-ins from the nWo. What a shocker lol.
Guess Laws Aren't Enforced
: Bischoff seems furious here, as he should be. He's been getting the bad stick tonight. Steiner's left the building!? Interesting to say the least...
The Master Plan Of The Wolfpack
: Great promo from the Wolfpac. Hall and Nash both seemed very in character, and great to see that Hall will be in the Super Cage. Nash seems ready to go, and looks to be ready to win the title...
World Heavyweight Championship: Jeff Jarrett (c) vs Kevin Nash
: HOLY CRAP! NEW CHAMPION! I can't believe it! Wait, no! Bischoff comes in and says Nash cheated! Match restarts! Jarrett wins!
Dammit, really thought Nash was going to win the title. Oh well.
Pandemonium Bitches
: And the classic WCW/nWo brawl ensues. Wow this sure was f'ing pandemonium. The locker room empties, and damn! WCW stands tall! Wait a minute...
Answering Tony's Question
: STEINER'S IN THE BUILDING! He's the fourth man! Damn what an ending. Stenier toys with Bischoff knocking him out with the lead pipe. Great show Szumi, will be reading the next edition of Nitro.
---
Re: WCW 2001- The Trio Ownership
---
okay mate, this was a great preview and you have a great thread, and i loved halloween havoc, but i will say that Ric Flair Vs Hogan is not the sort of match WCW should book, it will cause WCW to be labelled "Wheel Chair Wrestling" once again. You have also brought back all the old guys, and they seem to have the spotlight, and that is dangerous, becaue they shouldn't take over.
But the Super Cage looks to be A CRACKER! I simply cannot wait for it, and Mayhem looks to be a great show.
bdw, u owe me a review buddy
Learning to break kayfabe
Join Date: Nov 2006
Posts: 128
Points: 0
Re: WCW 2001- The Trio Ownership
---
your last Monday Nitro was class, and this week's is shaping up great too. I will review it, PM me when it is up, i also can't wait for Mayhem.
I have a question, is Jeff Jarrett going to defned the title, or is the SuperCage the main event. Plus, whatever happened to A.J Styles and Air Paris?
Re: WCW 2001- The Trio Ownership
---
Quote:
Originally Posted by Xcellence WCW
okay mate, this was a great preview and you have a great thread, and i loved halloween havoc, but i will say that Ric Flair Vs Hogan is not the sort of match WCW should book, it will cause WCW to be labelled "Wheel Chair Wrestling" once again. You have also brought back all the old guys, and they seem to have the spotlight, and that is dangerous, becaue they shouldn't take over.
But the Super Cage looks to be A CRACKER! I simply cannot wait for it, and Mayhem looks to be a great show.
bdw, u owe me a review buddy
This is 2001. These stars were in it back then so he isint doing anything not known back then. Back then, these wrestlers were still considered in good enough shape to wrestle week in, week out.
---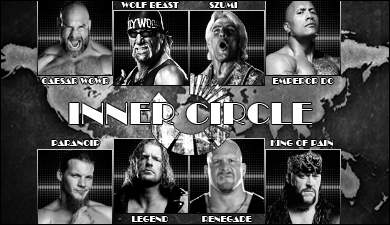 Posting Rules

You may not post new threads

You may not post replies

You may not post attachments

You may not edit your posts

---

HTML code is Off

---