Re: WCW 2001- The Trio Ownership
---
Let's put us over 1,000, aye?
Monday, February 25, 2002
Kevin Nash's Car, En Route to Airport
1:09 PM
Kevin Nash drives his pimped out Hummer – because big guys can't drive luxurious sport cars, sadly – on the highway, heading towards Louis Armstrong New Orleans International Airport to drop off the man in the passenger seat, his best friend, Michael 'Shawn Michaels' Hickenbottom. The two have talked about the whole WCW future the whole way from the hotel, to what should be nobody's surprise.
Kevin Nash:
I'm telling you, bro, with me and Hogan throwing money into this bad boy to keep it running, great things are going to be happening. Me and him, I dunno what the future holds in terms of the power we have in the company, but I got some ideas man. That angle with us and Hall, when me and him invaded your house,
everyone
loved it, and that was our angle, man. We thought of that, the three of us. You know I got ideas, and I know you do too. You need to join me man.
Michaels just laughs off Nash.
Shawn Michaels:
A few select ideas of excellence. That's what I have, big man, and that's what you have too. I'm gonna be honest with ya' because you're my friend, but when you booked WCW in 1999, it wasn't the best product in the world.
Again, Michaels laughs at Nash, rubbing Nash's failure as a booker in his face.
Kevin Nash:
I had that one coming. Yeah, I didn't do too good in 99, but hey, that was three years ago. Back then,
no one
could do a thing with WCW because of all the politics and egos backstage, including mine. It's not like that anymore, you said it yourself. The environment backstage – well, when Bischoff and Flair weren't around to tense things up – was better than up in the WWF.
Shawn Michaels:
Yeah, I'll give ya' that, Kev. The two months I spent working with WCW, it was a hell of a lot of fun. I just wished it could've had the stability to truly stick around for a while, ya' know? If things ran smoothly, I think I could've done some great stuff in the company.
Nash looks at his friend like he's an idiot.
Kevin Nash:
Have you not been listening, Heartbreak? WCW's not gonna die! Me and Hogan are keeping it alive! Borden's on board, he's talking with the network to keep us on for a bit longer… we're still running, man.
Shawn Michaels:
You're runnin', for now. NBC is cancelling Nitro at some point, no matter what; that's clear as day, Kev. And when that happens, WCW's going to have to have another black period, where you're off-air and just buying time until a new network signs on. Now look, I have all the faith in the world that WCW will get the sponsors it needs to stay alive without eating up your life savings, and I think WCW can bounce back… but you're all gonna be sittin' on your asses for a while, just waiting to go back on the air. That's a lot of momentum lost right there.
Nash is ready to counter.
Kevin Nash:
I've been thinkin' about that, too. Yeah, we'll have a period where we won't be on TV probably, but we'll make good of it. We have stuck to holding shows in the South and along the east coast. When we're off air, this is our perfect chance to go on tour! We hit the west coast, go overseas maybe. We use this to expand our profile!
Michaels is pleasantly surprised by his friend's thinking.
Shawn Michaels:
I gotta admit, that's a damn good plan, Kev, one I think will definitely work too.
There's silence for a few moments as Nash gets off the highway, turning along an exit ramp.
Kevin Nash:
Look man, I want you to stay in WCW, and I want you to be by my side the whole way. You know I've been struggling with Scottie in rehab. It's been rough on me, seeing him just plummet to a new fucking low. I'm thrilled he's finally trying to get the help he needs, but knowing his drinking got to the point that even
he
had to admit it was a problem… I dunno, it just fucked with me, man.
Nash staggers off, thinking of what he wants to say.
Kevin Nash:
I want my best friends around me, man. Look at me, man: I'm 42, my wife divorced me, my kid ain't too fond of me… all I got is you and Hall, and WCW. I want you around man, and not only that, I want you
helping
WCW against Vince. I know you're best friends with Paul still, and I'm friends with him too, with all of the Kliq, but Vince, that's a different story. You two, I know McMahon wants you back, but dude, stay with us. Our schedule will let you spend more time with Rebecca and Cameron, and you got me and Hall here. Help me run WCW, dude.
Michaels gives his old friend a sad smile.
Shawn Michaels:
I gotta be honest with ya', Kev… it's over for me. It's like you said, I'm still wanted up north. Ole' Hunter Helmsley gave me a call this morning… he knew about WCW's apparent death. Vince has a contract ready for me, and a feud between Shawn Michaels and Triple H ready to go. It's more money than WCW can afford to give me, more money than I would let you pay me, Kev. I can't stay here, not when I have that offer.
Nash just nods his head at HBK.
Shawn Michaels:
I loved working here, big man, I did, but it's just too unstable. Even with you and Hogan throwing all that money in, this is the 3rd time in a year something big happened here. March, it looked like Vince was buying the company. When was it – June? – that USA dropped you guys, and WCW took another hiatus. Now almost another death? WCW is a ticking time bomb, has been for years. I got my offer, and I gotta take it. McMahon's empire, it ain't going anywhere anytime soon. It's guaranteed money, money to let my family live comfortably, and my kids and grandkids won't ever have to worry about paying for things like college.
Again, Nash can only nod his head in understanding.
Kevin Nash:
I get what you're saying, man, I do. I can only tell you that times are changing, and WCW's days of indecision and instability are over. I know that it's empty words, and there's nothing I can do or say to make you believe that. But WCW's going to stay alive, come on strong, and we'll be the biggest wrestling promotion in the world. Just gotta tell ya' now, man, you're choosing the wrong side.
Nash smirks at Michaels, and he just grins in return. The two laugh at the joke of a war between the two sides, and continue to drive, showing that no matter what, their friendship will continue, WCW or WWF.
-----------------
This wraps up the intro stuff into the new saga of WCW... now it'll get juicy. Up next, the three men in charge will meet back up in 'Nawlins, and get ready for some voting... you're about to change the landscape of WCW
---
When An Empire Falls - The Tale of World Championship Wrestling
Szumi's back, but not in black - back in BTB! And yeah, I know, he's doing WCW again - so unoriginal.
My Awards:
2008 - Best PPV - Starrcade
2008, 2007, & 2006 - Best Promo Writer
2007 & 2006 - Best Promo(s)
2007 - Most Creative
2007 - Best Feedbacker
2006 & 2007 BTB World Cup - Top Overall Scorer
2007 BTB World Cup - Booker of the Tournament
Only Person to Ever Score Perfect Score in a Tournament
BTB Hall of Famer
World Championship Wrestling 2001 - The Trio Ownership
This was The Trio Ownership; I did it a long time ago, for a long time. T'was a good ready, I think. People liked it and stuff.
Moron
Join Date: Nov 2007
Location: England
Posts: 8,966
Points: 0
Re: WCW 2001- The Trio Ownership
---
Another good update, Szumi, Michaels going back to the WWF would be huge but hopefully Shawn stays with WCW, I have a feeling Nash will change Shawn's mind but it's going to be an unpredictable story. Keep up the good work.
Re: WCW 2001- The Trio Ownership
---
I'd say that this was probably the most shocking of the three updates posted so far. I figured that when Michaels decided to sign with WCW that he was in it for the long haul, so I was surprised to hear him say that he was going to take the WWF offer. Even when Nash tried to guilt Michaels into staying, talking about his ex-wife and his kid, that still wouldn't change HBK's mind. Hopefully we will see Michaels somehow stick around, but I think the bigger thing to take from this segment was the comment from Nash about HBK being on the wrong side. A war to come once WCW gets a new TV deal?
---
AS LONG AS IT MAY TAKE ... NOT REMOVING UNTIL
THE CHICAGO CUBS WIN THE WORLD SERIES
PatMan Presents: World Wrestling Entertainment 2007
ROYAL RUMBLE HAS BEEN POSTED
THREAD CURRENTLY ON HIATUS (
)
Re: WCW 2001- The Trio Ownership
---
Another solid update. HBK going to WWF instead of WCW (staying, same shit wtvr) is pretty understandable. What position could HBK have? The ownership will be overbearing and too crowded. Having Shawn out of the picture is fine with me. The only problem I have is how you wrote that Shawn called HHH "Ole' Hunter Hemsley." Would HBK off-screen really call Paul Levesque "Hunter Hemsley?" The sense of realism is very important, but that's the only thing bugging me.

I can't wait for the poll, though.
---
Re: WCW 2001- The Trio Ownership
---
Another good segment, however unlike others I actually believe that Shawn Michaels may be done with WCW. Hell, I could be wrong, but with Triple H and a guaranteed job luring him over he'd be stupid not to take it.

The whole war thing that PatMan mentioned has me very interested, and if that's the case, I'm pretty sure we will be in for some epic television shows.

I also can not wait for the voting to start so hurry up please.
---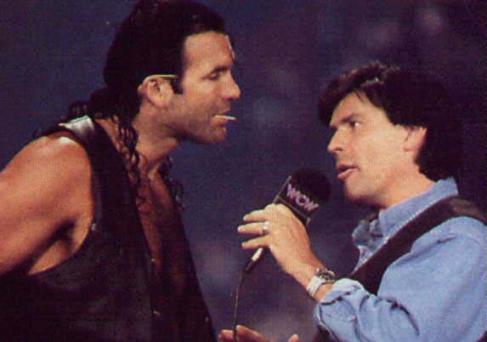 Tag Teaming With James Ellsworth
Join Date: Oct 2008
Location: Land of the Green
Posts: 1,203
Points: 6
Re: WCW 2001- The Trio Ownership
---
Man, you don't how happy I was so see this back in the BTB section
. Anyways, after just reading the other updates, this was indeed probably the most shocking and most interesting update of the three itself. Shawn Michaels done with the company? Never even thought of that, plus you kept it all so realistic throughout, I was very impressed with that as per usual.
Once WCW possibly gets another TV deal, will I be seeing another Monday Night Wars? I guess that I'll just have to wait and see but back to the HBK topic, just like Stojy has stated, I'd probably take the WWF job offer too, if I were in Michaels shoes. Can't wait for the excitement to start and I definitely can't wait to vote, so hurry up and get goin' LOL!
Re: WCW 2001- The Trio Ownership
---
I'm going to keep flying now, as I want you lot to get involved, so posting this now. Obviously, this is where the voting comes in, so the next update probably won't be for a few days.
Monday, February 25, 2002
Room 319, The Ramada Inn, New Orleans, Louisiana
5:11 PM
While all of the wrestlers have already left New Orleans, presumably flying back to their respective homes instead of planning to travel to Cleveland, Ohio, for a house show on Tuesday night, a few men of World Championship Wrestling still remain in the Big Easy. The overnight revival of WCW continues, and the clan reconvenes for an update, plus one.
Steve Borden:
Alright guys, we haven't had the time to talk to each other about today's events, so just, fire away.
Borden, Hogan, and Nash all look at each other oddly, waiting for the other to say something. Eric Bischoff, for his part, just sits in quiet, the odd man out currently. After a short time, Kevin Nash steps up to the proverbial plate.
Kevin Nash:
Ight, I guess I'll go first. I drove Michael to the airport today, and tried to get him to throw some money in too, invest into WCW. I knew that the WWF wanted him back, so if we got an investment from him, he'd stay. It's not happening though. He's not joining up as an owner… and well, we've lost him.
There's a collective sigh in the room. Losing Shawn Michaels, a hot commodity for the company, is not what they wanted to hear. He had a hot two months in the company.
Kevin Nash:
Vince and Paul both wanted him back in the company, and as soon as they heard WCW was going under, the contract was offered. He agreed to it before I was able to talk to him about this.
WWF – 1 WCW – 0.
Kevin Nash:
I know losing him is going to be a big blow for us, especially since he was on his way to becoming the top face of the company as he got more comfortable with his abilities again, but hey, if we can rebound from near extinction, I think we can survive without the ole' Heartbreak Kid.
Nash smirks with the drawl he gives Michaels' nickname, trying to keep the mood light.
Steve Borden:
Hey you did what you could, man. It's like you said, too: we'll rebound without him. We always do. Terry, what about you? It seems like you had some success.
Borden looks directly at Bischoff as he says this, drawing a sheepish smile from The Bisch. Borden, for his part, shows no emotion.
Hulk Hogan:
Heh, well as you can all see, Bischoff's on board. Right, Eric?
Finally getting the chance to speak, Bischoff knows exactly what he needs to say.
Eric Bischoff:
I want to keep being a joint owner of WCW, I'm making that perfectly clear. I know Flair and I had – have – our problems, and it will be hard as hell to even be on peaceful terms. We, uh, had another spat last night after the pre-show meeting. It's just, it's never going to work between us on a great level, but I'm willing to try and find some sort of middle ground, if it means making WCW thrive.
There's a moment of silence, as Borden just looks outside the window, trying to mull his thoughts over. When no one speaks, Bischoff does again, curiosity getting the better of him.
Eric Bischoff:
Speaking of… where is Flair? I know Hulkster said you were gonna talk with him… I guess I just figured he'd be here, maybe so we could talk everything out.
Borden looks back at Bischoff, having to address the topic.
Steve Borden:
I knew we'd have to talk about this at some point, so here's the deal, Eric. You and Flair, it won't work. Last year, when we first bought the company from Turner, I thought it could… but the moment all that stuff went down at Fall Brawl, it was walking through a mine field. I couldn't keep the peace between the two of you, and drove myself crazy trying to. I couldn't keep the peace then, and I won't do it this time. I'm not going to let your hatred and feud distract us from running WCW because the moment we have a distraction, this company falters. We cannot risk it. I will not risk it.
The two men look at one another, while Hogan and Nash just give each other an uncomfortable look.
Eric Bischoff:
So what are you trying to say, Steve?
Steve Borden:
Exactly what you hinted at, what Flair flat out said, and what I always knew. You and Flair, you both can't stay on board. It just isn't going to happen.
Bischoff closes his eyes for a moment, nods his head, opens his eyes, and then nods one more time. As he begins to speak, he starts to stand up.
Eric Bischoff:
It's cool man. I understand that you have to make a choice: me or Flair. You and I, we've become friends over the past year, running the company with Flair and all, but you and Ric, that's a longtime friendship. I got nothing on that. I know that with the New World Order angle over and done with, my on-screen role is cloudy too, but I'll show up on Wednesday for Nitro if you need me.
Before Borden, Nash, or Hogan can even get a word in, Bischoff leaves the room. There's silence in the room before Borden looks at his backers.
Steve Borden:
I know what Eric was thinking, but I'm telling you two right now, it's not like that. I didn't choose Ric to be an owner with us over Bischoff. I'm not arrogant enough to do such a thing. Hogan, Kev, you two are as much of owners of the company as I am, so we decide together who becomes the other owner: Eric, or Flair? Let's decide, right here, right now, before Bischoff gets too far away. He doesn't deserve to leave here thinking that. Remember though, guys, whoever we choose, creates a ripple effect. If we choose Bischoff as the owner, Flair's leaving the company altogether. He won't work under Bischoff again, he said. And if Flair leaves, he'll have supporters in the back who go with him. The same thing with Bischoff too. If Bischoff leaves, some of the guys won't want to work without him, or with Flair in charge. We must know the consequences of our actions… and choose.
There's a look between the three men, knowing that a decision is about to be made, right here, right now, that will affect the future of World Championship Wrestling. The question is, however, who becomes the fourth owner of World Championship Wrestling?
-----------------
This is a decision that I cannot decide. Just like in Chapter 1, the very beginning of this story, you, the readers, made decisions on what would happen with WCW. Well now, here we are, the second chapter of the World Championship Wrestling, with another decision to be made, one that will change the shape and structure of WCW.
Who becomes the 4th owner of World Championship Wrestling?
~Eric Bischoff
OR
~Ric Flair
PM
me your vote, and let us find out what happens next. I know some people will only vote, and not leave feedback, so it'd just be spam and needless. Feel free to leave feedback if you want (
), but PM me the vote. Thanks babes.
---
When An Empire Falls - The Tale of World Championship Wrestling
Szumi's back, but not in black - back in BTB! And yeah, I know, he's doing WCW again - so unoriginal.
My Awards:
2008 - Best PPV - Starrcade
2008, 2007, & 2006 - Best Promo Writer
2007 & 2006 - Best Promo(s)
2007 - Most Creative
2007 - Best Feedbacker
2006 & 2007 BTB World Cup - Top Overall Scorer
2007 BTB World Cup - Booker of the Tournament
Only Person to Ever Score Perfect Score in a Tournament
BTB Hall of Famer
World Championship Wrestling 2001 - The Trio Ownership
This was The Trio Ownership; I did it a long time ago, for a long time. T'was a good ready, I think. People liked it and stuff.
Chopped Liver
Join Date: Jan 2004
Location: Six inches from a computer screen
Posts: 5,433
Points: 321
Re: WCW 2001- The Trio Ownership
---
Two quick thoughts on the last couple of posts...
1) I have a feeling the HBK thing could end up being a swerve for the readers. I guess with the EWR factor though, he might have actually jumped ship and fucked things up royally for you. I'll stick with my initial thoughts though - HBK will be back in the fold before long.
2) You know who HAS to go. My vote counts a million times btw
Re: WCW 2001- The Trio Ownership
---
Can't wait to vote man. I want to vote Flair just to see what crazy shit you could come up with, but I'm not sure either. You bust these things out so quickly, and the quality of it is still solid. Awesome!
---
Re: WCW 2001- The Trio Ownership
---
Another very good update before we head into the voting. Sad to see that it REALLY looks like Michaels is gone, but I love the enthusiasm about being able to survive without him. Bischoff's speech was pretty good but then things went sour when Sting talked about having to lose either Eric or Flair. Gonna be a very tough decision, and with that said, my PM will be sent in a few minutes.
---
AS LONG AS IT MAY TAKE ... NOT REMOVING UNTIL
THE CHICAGO CUBS WIN THE WORLD SERIES
PatMan Presents: World Wrestling Entertainment 2007
ROYAL RUMBLE HAS BEEN POSTED
THREAD CURRENTLY ON HIATUS (
)
Posting Rules

You may not post new threads

You may not post replies

You may not post attachments

You may not edit your posts

---

HTML code is Off

---