WWE 2017 - Remember The Rumble; It's Just The Beginning
---
Quote:

WWE Royal Rumble 2017
Once the dust had settled from the opening pyrotechnics, it was The Unbreakable Natalya that made her way to the ring, followed by her new found attitude towards her former friend Nikki Bella. With jealousy and hatred brewing, it was no surprise that the two Smackdown women fought viciously for a chance to be crowned the victor. After a somewhat intense matchup it was Natalya who managed to make Nikki submit with her impressive Sharpshooter finish.
The celebration was almost non-existent however, as Natalya embarrassed Nikki with an Oscar worthy slap to the face, leaving Nikki Bella down and out, and alone.
Winner via submission, Natalya.
In the second bout of the evening, Smackdown's WWE Intercontinental Champion Dean Ambrose left the rumble with his title intact after defeating Mr. Hollywood, The Miz. It wasn't without its controversy however, as unbeknown to the official in charge, Ambrose used the ropes for leverage during the winning pinfall attempt.
As Ambrose left the arena with the title high in the air, Miz tried his best to argue his point to the man donning the stripes, but to no avail. Miz left furiously with Maryse by his side.
Winner and STILL WWE Intercontinental Champion, Dean Ambrose.
Match number three saw RAW's top two women do battle over the WWE RAW Women's Championship. Crowd favourite Bayley showed true Champion spirit, and proved just how much she deserved to be in the ring. Despite Charlotte's best efforts, she just couldn't get the upper hand over former fan Bayley and the frustration got the better of her.
Charlotte Flair simply exited the ring and took herself up the ramp and behind the curtain, leaving the referee to count to ten. Although victorious, Bayley did not leave the Royal Rumble with what she came for, and Charlotte continued her, somewhat, unfair reign as WWE RAW Women's Champion.
Winner and STILL WWE RAW Women's Champion, Charlotte Flair.
It was the first main event match of the night that saw John Cena and AJ Styles fight for the WWE Championship. With Cena trying desperately to equal Ric Flair's sixteen World Championship reigns, there was a lot hanging on the result.
It was not the result Cena had hoped for however, as just like his girlfriend, the fifteen time World Champion was left down and out, and alone. As styles celebrated his Styles Clash victory, Cena sat in the centre of the squared circle, almost contemplating his career and what was to come next for Mr. Hustle, loyalty and respect.
Winner and STILL WWE Champion, AJ Styles.
After beating Chris Jericho on the Rumble go home RAW for the WWE United States Championship, Roman Reigns went into this match looking to become a double champion. Owens on the other hand wanted desperately to hold on to the WWE Universal title.
With Jericho looking on overhead inside the shark cage, there was nothing he could do to help his buddy as Reigns delivered not only a Superman punch but also a devastating spear.
With the WWE United States Championship in one hand, and the WWE Universal Championship in the other, Reigns smirked like a Cheshire cat as the boo's reigned through San Antonio.
Winner and NEW WWE Universal Champion, Roman Reigns.
In the biggest, star studded Royal Rumble match to date, it was Hall of Famer Kurt Angle who stood victorious as the last man standing. After surprising the WWE Universe as the number 30 entrant, Kurt Angle was left with RAW's Seth Rollins as the final two. Both men went toe to toe with Rollins almost eliminating Angle over the top rope.
However, it was the sight of WWE Executive Triple H standing atop of the entrance ramp, sledgehammer in hand that distracted Rollins long enough for Angle to eliminate him with the Angle Slam, shocking the WWE Universe to its core.
Winner of the 2017 WWE Royal Rumble, Hall of Famer, Kurt Angle.
.
---
Last edited by Mr. Kanefan; Yesterday at

10:30 AM

.
Viva La Raza
Join Date: May 2016
Location: Northern Ireland...and bed.
Favourite(s): Hulk Hogan, Eddie Guerrero, Y2J, Pentagón Jr.
Posts: 347
Points: 1,409
Re: WWE 2017 - Remember The Rumble; It's Just The Beginning
---
Interesting and would like to see this go far. Bit of a backstory and rosters/info would've been nice, but good luck with this. Based on the results and such, looks promising.
---
Re: WWE 2017 - Remember The Rumble; It's Just The Beginning
---
Quote:
WWE Monday Night RAW - The Preview
Monday 30th January 2017
Your 2017 Royal Rumble winner, Hall of Fame inductee, Kurt Angle!
Hot off the heels of the most star-studded Royal Rumble in WWE history, the WWE's flagship show rolls into town as the road to Wrestlemania goes up a gear. In a moment that shocked the WWE universe, recent inductee of the 2017 Hall of Fame, Kurt Angle made history and won the prestigious Royal Rumble match, giving him an opportunity at either the WWE Universal or WWE Championship at Wrestlemania. Nobody knows what's on the Olympic gold medallists mind, but does he have Roman Reigns in his sights?
'The' man and 'The' NEW WWE Universal Champion
Dual champion Roman Reigns will be eager to find out, fresh off his WWE Universal Championship victory over Kevin Owens last night. Now a dual champion, 'The' man will be out to celebrate on Monday Night RAW, but will Kurt Angle be making an appearance? How will Kevin Owens react to losing 'his' belt, and does 'best friend' Chris Jericho have anything on his mind?
Is the Pressure Mounting?
In a WWE.com exclusive, RAW General Manager Mick Foley has announced a blockbuster main event, in the form of a Royal Rumble re-match. Kevin Owens will invoke his re-match clause and tackle the 'Big Dog' in RAW's main event, with the WWE Universal Championship on the line. Fortunately for Jericho, there will be no shark cage in sight, but does Foley have other plans for Owens' best friend? One has to wonder, with his boss and RAW Commissioner, Stephanie McMahon breathing down his neck.
Is it Time to Play the Game?
It was very nearly a Rumble victory for RAW's Seth Rollins last night. Rollins, looking to get back on top of the mountain was one of the final two competitors. It all looked to be going to plan for the man who rebuilt himself to reclaim upon his return, however, an appearance from WWE Executive Triple H put a damper on his plans, and distracted him long enough for Kurt Angle to eliminate him.
It's no secret that Seth Rollins and The Game, Triple H aren't on the same page. Ever since Hunter cost Rollins the WWE Universal Championship and gifted it to Kevin Owens, Rollins has had one thing on his mind. Will the pair clash tonight on Monday Night RAW, will Rollins finally get his hands on his former mentor, turned bitter rival?
Tune in to Monday Night RAW as the fallout of the Royal Rumble ensues, and the road to Wrestlemania heats up.
---
Last edited by Mr. Kanefan; Yesterday at

10:21 AM

.
Re: WWE 2017 - Remember The Rumble; It's Just The Beginning
---
Good to see you back, it has been a long time.

The main thing that stands out so far is what you'll do with Roman Reigns as champion.

Good to see Angle getting a run here as well.

I'll be sure to check back in when you post the first show.
---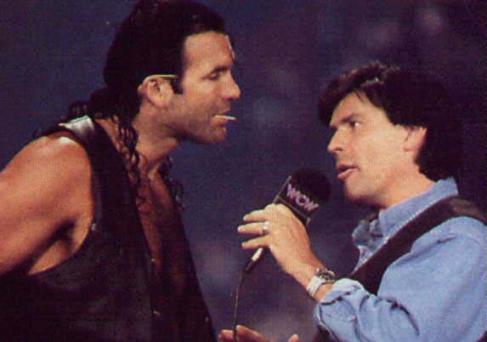 Re: WWE 2017 - Remember The Rumble; It's Just The Beginning
---
Sorry for the delay, I've had quite a busy month, and have just got over another flu bug, but anyway, here's Raw. Just a heads up, I hate writing matches, I'm working on it. For now, just use your imagination.
WWE Monday Night RAW Live from Laredo Texas

Monday 30th January 2017





The Road to Wrestlemania Begins... NOW!


The dust has barely settled from last night's most star studded Royal Rumble event of the decade and the lights are shining bright on Jojo in the middle of the evening's squared circle. 'Ladies and gentlemen, please welcome, the first inductee of the 2017 Hall of Fame, and the WINNER of the 2017 Royal Rumble match, Kurt Angle!'

Before the microphone has left her lips, the all too familiar tone of Kurt Angles entrance music blasts through the arena. The crowd, already on their feet give him a hero's welcome as the Olympic gold medallist punches through the curtain. The roar is deafening and Kurt Angle is enjoying every minute of it, or so his smile insinuates.

As Angle approaches the ring, our three-man commentary team of Michael Cole, Cory Graves and Byran Saxton welcome everyone to Texas, reminding the WWE Universe that Kurt Angle returned last night as a surprise number 30 entrant, and went on to win the Royal Rumble match, battling the Architect, Seth Rollins in the final two.

As the crowd catch their breath, Angle proceeds to announce that a few weeks ago there were rumours circulating the internet that he was going to return to the WWE, and those rumours were true, they were damn true. He states that winning the Royal Rumble match last night means he has one of the most important decisions of his life to make, does he stay here on Raw and wrestle for the WWE Universal Championship, or does he head over to Smackdown, like the old days, and battle for the WWE Championship?

Before Angle can even address his own question, the 'jeer' inflicting music of the former Universal Champion Kevin Owens plays out, and he heads down the ramp microphone in hand, Jericho to his side. Owens wastes no time in telling Angle that he's going to make that decision a little easier for him, because by the time that Wrestlemania comes around, it's going to be him holding up the WWE Universal Championship because in case everybody had forgotten, he has a rematch with the new champion tonight. Jericho adds a 'YEAHHH!!' to the literary warning.

As the pair methodically continue their journey to the ring, Kevin Owens continues, warning Kurt Angle that despite the fact he hasn't been taken too seriously over the last couple of weeks, this is still the Kevin Owens Show, and he reminds Angle that he is in fact standing in 'his' ring. Beside him, caressing 'the list' Jericho mutters 'ours, our ring Kev' but Owens brushes it off.

As Jericho and Kevin Owens step through the ropes, the crowd are enraged at the sound of the current WWE United States and WWE Universal Champion, 'THE BIG DAWWWG' Roman Reigns approaching. The boo's echo through the arena, presumably piercing through the ear lobes of Vince McMahon in the guerrilla position backstage. Reigns also has a microphone, and seemingly also wants to get something off his chest, informing Kevin Owens that in case he forgot, the 'Kevin Owens Show' was cancelled as of last night, when he beat him for the WWE Universal Championship.

Despite trying so hard to get over, the boos continue to come in strong for the former Shield member, but he doesn't let it deter him. He goes on, reminding Owens that last night proved that without his little sidekick Chris Jericho, Kevin Owens just isn't good enough to be 'THE MAN'. Taking a slight pause to climb into the ring, Reigns turns his attention to his opponent last night, stares him straight in the eye and politely informs him that when Wrestlemania comes around, he will still be holding this belt, because tonight, in the main event, he will do exactly what he did last night and pin Owens' shoulders to the mat, 1…2…3! His eyes shift, Kurt Angle is his next target. 'And if you do decide to challenge for the WWE Universal Championship at Wrestlemania, I will beat you too because I am 'THE MAN'

Reigns purposefully drops the mic as if to say statement over, however, from behind, Owens and Jericho assault the dual champion knocking him onto his knees. The two championship belts fall to the ground and the two best friends lay in to him like a pack of vicious wolves.

Watching on, Angle evens the numbers game and goes straight for the Prize Fighter, and it isn't long until all chaos breaks loose.

Chaos on Raw? Cue the music of General Manager Mick Foley who is quick to break up the savagery, much to the crowd's disappointment. Foley reminds all four men, and the whole WWE Universe that it's no secret his job is under scrutiny with Stephanie McMahon and the WWE officials, and he just can't let Monday Night Raw break out in a raucous like this.

As he talks, you can almost see the cogs inside of his head ticking, trying to think of a remedy to this situation, and then it hits him. 'as everyone knows' he states, 'tonight's main event, right here, in Laredo Texas (cheap pop, well done Mick) will be a rematch from last night's Royal Rumble in the form of Roman Reigns defending the WWE Universal Championship against Kevin Owens, however, seeing as both Kurt Angle and Chris Jericho are stood inside that ring, and are willing and able to throw punches at one another, we're going to make things official and have ourselves a sanctioned match… right here, right now, in Laredo Texas'

'OH MY' screams an excited Michael Cole. The crowd react in much the same way. 'Kurt Angle is back, and Kurt Angle is in action next'.

'Oh and Kurt… welcome back' muses Foley, before taking himself and his cheap pops to the back.

Commercials.

Kurt Angle vs. Chris Jericho
Winner via DQ, Kurt Angle.

The 2 on 1 beat down ensues with the sound of fury in the arena. It's not a good night for Kurt Angle, however, saving the day is the dual champion Roman Reigns who storms out of the locker room to Kurt Angles aid. Owens and Jericho flee, not wanting any part of a fair fight and Reigns looks on over the somewhat moderately broken Kurt Angle, before helping him to his feet.

Michael Cole and the team make comment on how Reigns has seemingly aligned himself with a possible Wrestlemania opponent in Kurt Angle. 'But remember folks, Kurt Angle still hasn't given us his choice for Wrestlemania' exclaims Cole, obviously making reference to the fact that Angle has been shoved in at the deep end on the red brand. 'But ladies and gentlemen, this might not be the last we see of these four men as tonight's main event will see Roman Reigns defend the WWE Universal Championship against Kevin Owens in a Royal Rumble re-match'



Revenge is All That Matters!


We shoot backstage and the crowd haven't time to breath before an enraged Seth Rollins emerges in the parking lot. With his hair dripping and his heart rate seemingly rising, Rollins is heading to the arena with intent, and probably one thing on his mind – revenge!



Quote:

'It's the most star-studded Royal Rumble match to date and we are left with one man, Seth Rollins, eager for the number 30 entrant but who can it be? 5…4…3…2…1…

IT'S ANGLE, IT'S ANGLE, IT'S KURT ANGLE'

Raw's Rollins and the recent inductee to the 2017 Hall of Fame Kurt Angle battle for the most prestigious accolade in the business, a spot in the main event of Wrestlemania, but which man will get it?

'PEDIGREE BY ROLLINS, PEDIGREE BY ROLLINS' The Architect looks set to launch Kurt Angle over the top rope and claim his Wrestlemania spot…

THE KING OF KINGS

'What the…'

Rollins is temporarily paralysed as he stares directly at the tron, The Game, Triple H stands atop of the entrance ramp, sledgehammer in hand, pointing it in the direction of Rollins.

'HE'S DONE IT, HE'S DONE IT, ROLLINS IS ELIMINATED, ANGLE IS GOING TO WRESTLEMANIA'

As Angle celebrates, Rollins looks distraught, Triple H, well Triple H just smirks.

He's Here!


'Thanks for the information, I've got it covered'. Raw commissioner Stephanie McMahon hangs up the phone and directs her attention to unknown company, very tall company. She reminds whoever she's speaking with to stay by her side at all times, and to do exactly as she says tonight. 'He's here'

Commercials.

Cesaro and Sheamus © vs. Luke Gallows and Karl Anderson
WWE Raw Tag Team Championship match
Winners and STILL WWE Raw Tag Team Champions, Sheamus and Cesaro.

No time to celebrate though as 'It's a New Day' roars, and the colourful trio dance their way to the ring tromboning as they go, closely followed by the pair of Rusev and Jinder Mahal. It seems like tag team turmoil in Laredo as up next we are treated to the charismatic duo of Enzo Amore and Big Cass, insulting everyone in sight before rudely being interrupted by Epico and Primo.

The six teams make the ring look clustered, and before a brawl can begin, Michael Cole, Graves and Saxton realise that it's all about the Raw Tag Team Championships, 'everyone wants them'

Up next on Monday night RAW, we hear from the WWE Raw Women's Champion Charlotte, who continued her reign at the top last night in a somewhat ambiguous way after walking out and getting intentionally counted out in her championship match with Bayley at the Royal Rumble.

Commercials.



Quote:

Match number three last night saw RAW's top two women do battle over the WWE RAW Women's Championship. Crowd favourite Bayley showed true Champion spirit, and proved just how much she deserved to be in the ring. Despite Charlotte's best efforts, she just couldn't get the upper hand over former fan Bayley and the frustration got the better of her.

Charlotte Flair simply exited the ring and took herself up the ramp and behind the curtain, leaving the referee to count to ten. Although victorious, Bayley did not leave the Royal Rumble with what she came for, and Charlotte continued her, somewhat, unfair reign as WWE RAW Women's Champion.

The PPV Queen - Scared?


She's the PPV Queen, taking her record last night at the Royal Rumble to sixteen consecutive victories on PPV, but it's her controversial victory over Bayley that's first to be addressed. As the crowd eventually pipe down enough to allow Flair to speak, the WWE Raw Women's Champion informs all that will listen that she doesn't owe anybody an explanation on what she did last night. She learned from her father that it didn't matter how you did it, as long as you did it. 'Last night I proved why I am the PPV Queen, and quite frankly I got bored' she sneers.

Not willing to listen to anymore, the former number one contender Bayley escapes the clutches of the locker room and bursts out from the curtain. There are no massive inflatable Bayley Buddies this week however, as Bayley means business.

The super fan goes on a rant claiming that Charlotte was simply put, scared of losing to her last night and that's why she walked out on the match. Bayley thinks Charlotte should be made to put the title back on the line right here tonight, and it seems as though the crowd in attendance agree. Charlotte smirks and counters by telling Bayley to 'get to the back of the line'

Then, in a similar fashion to last night, Charlotte hooks her title and exits the ring, presumably done with Bayley, for tonight at least. Bayley, however, is not giving up tonight. She rolls out of the ring in chase and grabs Charlotte by the briefs, rolling her back into the ring.

NIA JAX… makes an appearance before Bayley can do anything to Charlotte and she stalks both women as she heads to the ring. As Charlotte backs up, her title still strewn in the centre, Bayley lunges at Nia, not wanting anything to get in the way of her and Charlotte. Jax however, is too strong and she connects with a spine tingling Samoan drop. Bayley clutches her stomach after the impact.

With a worried look on her face, the WWE Raw Women's Champion Charlotte tries to grab her title, unsuccessfully, as Nia Jax stomps on the title, her strength, obviously enough to put Charlotte off. The Champion rolls out of the ring, without her title and heads back up the ramp. Jax does not take her eyes off Flair as we head to the back.



Nobody Knows What the Future Holds!


We're in the office of the Raw General Manager Mick Foley. A hyper Sammi Zayn barges in, apologising of course, asking Foley what's next for him after such a good showing in the rumble last night. Foley just stares blankly at Zayn, prompting the former NXT Champion to remind Mick that he was in the final four last night, before he was eliminated, even Mick has to agree that he's more than proved his worth on Raw. Clearly flustered, however, Foley tells Zayn that he really doesn't know what the future holds for Sammi Zayn, but right now, he's pretty busy and he has some business to attend to.



One Goal - One Vision!


We skip to another part of the arena where the Architect, Seth Rollins, still in full on beast mode is walking with intent. We soon realise that he has reached his destination. He stands outside the office of Raw Commissioner, Stephanie McMahon, and begins banging and yelling for McMahon's billion-dollar princess.

Well ladies and gentlemen, after the altercation earlier between WWE Raw Women's Champion Charlotte, Bayley and Nia Jax, later on tonight Bayley and Jax will go one on one.

Commercials.

Sammi Zayn vs. Darren Young w/Bob Backlund
Winner via pinfall, Sammi Zayn.

Zayn continues to impress on the flagship brand and this is the basis of his promo. Zayn grabs a microphone from one of the ringside crew and, after waiting out the crowd cheers, insists that he is running out of ideas, and running out of patience.

Sammi claims that he has proven himself week after week, and yet Mick Foley and RAW's management team still don't believe in him. He lists all of his recent accomplishments including lasting ten minutes with Strowman, beating Strowman one on one, and even eliminating the monster from the Royal Rumble last night and outlasting 26 other men.

Sammi reminds the WWE Universe that he even tried talking to Mick Foley backstage earlier on in the night and he was uninterested and unbothered by his accomplishments.

Sammi, with a look of guilt, regret and unhappiness on his face finishes by letting his fans know that he has finally run out of patience, and despite everything his fans have done for him, he has no other option but to leave.

With that being said, Sammi Zayn drops the microphone and walks back up the ramp looking dejected and miserable, much like his annoyed fans in attendance, and probably, back at home, too.



A Braun Ambush!


We flick backstage with no time to lose as Seth Rollins aggressively bangs on the door labelled 'Stephanie McMahon'. Several seconds go by without an answer, and then, suddenly, out of the blue, Braun Strowman bursts through the frame and assaults Rollins, smashing him head first into the wall behind. As Strowman continues the beat down, the camera pans secretively back towards the office where Raw Commissioner Steph is rubbing her hands in excitement.



Tag Team Division Shake Up!


Further in the depths of the arenas bowls, RAW General Manager Mick Foley is shoeing a stagehand out of the office with strict instructions, find Sammi Zayn and bring him to his office. Once the message has been passed, Foley, who seems to be a busy man tonight directs his attention to Raw's Tag Team Champions Sheamus and Cesaro.

The Hardcore Legend informs the champs that due to what happened inside the ring tonight after their title defence, and seeing as how every tag team on Raw wants to shine, starting next week on Raw, the tag team division will be shaken up, and a tournament will begin. all fighting for those' says Foley pointing to the gold straps. The segment fades out with Sheamus and Cesaro looking down at their tag team straps, and then back at each other, with pride and determination gleaming in their eyes. They fist bump, and leave the office.

Commercials

Braun Strowman vs. Enzo Amore W/Big Cass
Winner via pinfall, Braun Strowman.

Braun continues the beatdown on Enzo and Cass, the numbers game adds nothing and Braun handles both guys with ease. First he throws Cass over the top rope to the outside, closely followed by Enzo Amore (jobbers much?). The announce team speculate over why Strowman was in Stephanie McMahon's office earlier, and why he brutally assaulted Seth Rollins. Something fishy seems to be going on.

Before Braun can continue the beatdown on the outside, Seth Rollins launches himself from the front row over the barricade and, much to the crowds delight begins his vengeful attack of Strowman. The two exchange punches, and trade assaults. Inside the ring and outside the ring, it seems as though nothing can stop them. WRONG! A bunch of tough looking security thugs can, as they run down the ramp and go straight after the architect, Rollins, handcuffing him in the process.

As the crowd's boo's reign throughout the arena, the security thugs, who are speculatively working for one very powerful woman of the McMahon variety haul Seth's ass up the ramp and behind the curtain. Meanwhile, at ringside Braun Strowman throws his hands up in the air as medics check up on Raw's jobber brigade, Enzo and Cass. Michael Cole wonders, as do the universe if Enzo and Cass will be involved in Raw's tag team tournament starting next week, and if so, what condition will they even be in?

Well, ladies and gentlemen, as if this episode of Raw isn't great enough, this just in, next week we hear from the BEAST himself, Brock Lesnar, after yet another embarrassing moment at the hands of one Bill Goldberg!

Commercials

Bayley vs. Nia Jax
Winner via pinfall, Nia Jax.

As the bell tolls, Nia Jax stands tall over a broken Bayley and reminds the Universe that she was coming for the WWE Raw Women's Championship, and that Bayley will now move to the back of her line, where she belongs!

Ladies and gentlemen, don't go anywhere because up next is the HUGE Royal Rumble rematch main event as Roman Reigns defends his newly won WWE Universal Championship against the former champion Kevin Owens.

Commercials

WWE Universal Champion Roman Reigns © vs. Kevin Owens
WWE Universal Championship match
Winner via pinfall, and still WWE Universal Champion, Roman Reigns.

As if it's become a recurring theme on tonight's episode, a beatdown ensues as Kevin Owens and Chris Jericho double team the exhausted champion, not letting him take a breather. Kick after kick, it looks like there's no end in sight, until the Royal Rumble winner Kurt Angle runs out to make the save, presumably thanking Reigns for doing the same for him earlier. Not wanting any part of a fair fight, as usual, Jericho and Owens bail.

Raw comes to a close with the image of WWE Universal Champion Roman Reigns and 2017 Royal Rumble winner, Kurt Angle standing tall together, with Cole and his posse reminding everyone that these two could face each other at Wrestlemania depending on which title Angle decides to go for.

And with that, goodnight everyone!
---
Last edited by Mr. Kanefan; Yesterday at

10:21 AM

.
Posting Rules

You may not post new threads

You may not post replies

You may not post attachments

You may not edit your posts

---

HTML code is Off

---