Tag Teaming With James Ellsworth
Join Date: Jun 2005
Location: Sidford, England
Posts: 1,864
Points: 0
Re: Forever-Delayed does WWE
---
WWE RAW – September 5th



The pyro explodes, and Raw is on the air.

Then, *Just close your eyes* hits, and out comes Christian, who is alongside his problem solver, Tyson Tomko, as he makes his way out for the peep show.

Christian: Welcome to the greatest talk show in the world. Yes, ladies and gentlemen, especially the ladies, welcome to the peep show. And tonight is a very special night. Tonight sees something that all of you in the crowd has dreamed your whole life about seeing. Because, all of you get to see Captain Charisma live in person. I know, I know, it's something that is too much for you, and frankly, I'm not too surprised. Because everybody knows that nobody as important and well respected as moi, has ever visited a town like Nashville, Tennessee. Yes, it may be the home of country music, but seriously, that is absolutely horrible to listen to. In fact, there are only two things worse than it. One thing, is having to listen to Fozzy play their so-called music live, and the second, is listening to that street thug John Cena open his mouth. But don't worry everyone, I don't think that we will have to listen to that tonight. But something you are about to see, if the peep show, and tonight, it is with the man who is the general manager of Raw. He is a man who has re-defined the way sports entertainment was been run, and most importantly, he is the man who is about to give you some life changing news. He is, Eric Bischoff.

*I'm Back* hits, and Eric Bischoff makes his way out to the ring, coming down as calmly and as arrogantly as he normally does.

Eric: Thank you

Christian: No worries. Now my first question for you is about the ending to last weeks main event. Can you please tell everyone here in this arena, exactly why you decided to disqualify Chris Jericho?

Eric: Why did I disqualify Chris Jericho? Well really, it is quote simple when you think about it. In his match with John Cena, which I specifically changed to be a match in which disqualifications would happen, I saw some terrible activities used by Chris Jericho. I saw him, right in the middle of the ring, use a steel chair, and smash it straight into the head of John Cena. And frankly, in my show, we do not accept this kind of violence. Chris Jericho, I was very disappointed in the way you wrestled the match last week, but 1 thing I was not disappointed about was the outcome of the match. You see, when I disqualified Chris Jericho, I may have had an ulterior motive behind it, as although it meant that he won the match, it also meant that he did not win the Raw Heavyweight Title. And seeing as he has used up his rematch, it means that he will never be allowed to challenge for the title again, as long as I am in charge of this show

Christian: Nashville, that should be music to your ears. The fact that John Cena will never be able to represent this brand as a champion again, is something that you will treasure for the rest of your lives. So Eric, this leaves us with a situation where we need to find a number 1 contender, to face Chris Jericho at Unforgiven. Now I admit, last week, I didn't technically win the fatal 4 way, I think that I should be the number 1 contender.

Eric: And I couldn't agree more with you. Because if you look at the tapes of the match carefully, you can clearly see that Christian's shoulder is not on the ground when the referee counts to three, and so, he was never pinned in that match. So therefore, I have no choice, but to declare, that Christian is the new, number 1…

He is interrupted, as *Extreme* hits, and out comes Paul Heyman

Paul: Hold on a second, what the hell am I seeing here. I have never seen two grown men indulge in so much ass kissing. This is pathetic. But what's more pathetic, is the fact Eric, that you can't even stick to the rules that you even set. You see, I have watched the video of the fatal 4 way match, and when the final pinfall occurs, it is quite clear to me, that Christian, and Shawn Michaels's shoulders are on the floor, and so, the match resulted in a draw. So therefore, I have the following announcement to make. At Unforgiven, Chris Jericho will defend the Raw Heavyweight Championship against neither man.

Christian: What! You can't do that!

Paul: Actually Christian, I can. You see, last week, you were originally scheduled to be in a normal fatal 4 way match. However, at your request, the match was changed to be an elimination match. Therefore, when the pinfall in the match occurred, both you and Shawn Michaels were eliminated. Thus, you have no claim to being the number 1 contender. But, I do know someone who does. Because last week, Chris Jericho faced John Cena for the title, and as we all know, the match ended in a disqualification. Now, after reviewing the footage of the match, it has come to my attention that the refereeing wasn't exactly fair, and that the crucial decision in the match, happened just as John Cena was about to win the title. So, at Unforgiven, it will be Chris Jericho, defending his Raw Heavyweight Title, against John Cena!

Eric: You can't do that Paul.

Paul: Actually, I can, because it was my turn to make a decision around here. Now I know that you are going to make another crappy announcement now, so why don't you just go and do it.

Eric: Actually Paul, I have two announcements to make, and I believe that they will both be beneficial to Raw. Firstly, I would like to announce that at Unforgiven, Christian will be going one on one with Shawn Michaels, and secondly, tonight, it will be John Cena and Shawn Michaels, going against Chris Jericho, Christian and Tyson Tomko, in a handicap match.

Commercial

As we return, we see Chris Jericho making his way into the arena, when he is approached by Todd Grisham

Todd: Chris, Chris, have you heard the news?

Chris: What news?

Todd: The fact that John Cena will be your opponent at Unforgiven

Chris: John Cena? What the hell did he do to get another title shot? Promise never to release another rap record?

Todd: Well actually, Paul Heyman said that….

Chris: Paul Heyman hey? Well that's just typical isn't it? You know what junior, do you know why Paul Heyman keeps booking me in these matches? It's because he's jealous of me. Yeh, jealous. He can't take the fact that unlike me, he is not gorgeous, and beautifully build, but that he is the size of the grand canyon. And as for John Cena, that loud mouthed, self-obsessed fake street thug, tell him at Unforgiven, it's on. Because when we face off, I will give him, and every single member of the chain gang, a beating that they will never, ever forget again!

Todd: And do you know that tonight you will be facing him in the ring, when you team up with Christian and Tyson Tomko, to face him and Shawn Michaels?

Chris: Well aren't you the clever one, telling your champion exactly what is happening. Hit the bricks, junior! Tonight, I will show you exactly what will happen at Unforgiven. Tonight, when I get into that ring, and I go face to face with you John Cena, it will be just like last week. It will be me, tearing you apart, showing you what wrestling really is. It isn't about having cheap two dollar catchphrases. It isn't about playing up to the fans at every possible moment, and it sure as hell isn't about you and your chaingang. But what it is about, is the Raw Heavyweight Championship, and more accurately, my Raw Heavyweight Championship. And Cena, when I kicked your ass at Summerslam, I promised you, that you would never get your hands on this title again. And that is exactly what will happen. Because at Unforgiven, I will beat you, and I will shut your mouth for good, and I will remain the Raw Heavyweight Champion. And Cena, 1 more thing, the champ is here!

Jericho walks off laughing, as we cut back to the ring.

Then, *I am* hits, and AJ Styles comes out, and he makes his way down to the ring

Then, *Arabic* hits, and out comes Daivari, who is alongside Mohammed Hassan, who has the intercontinental title.

Match 1 – AJ Styles vs. Daivari w/Mohammed Hassan

Summary – Good match here, with both men displaying high flying antics in this match. AJ has an early advantage, but due to the cheating of Hassan and Daivari, AJ is kept down for the middle part of the match, with Daivari cheating for the most part. However, AJ stages a recovery, and manages to regain control of the match, and despite Mohammed Hassan entering the ring, AJ manages to hit the styles clash on Daivari, and get the pinfall.

AJ Styles wins by pinfall

As AJ celebrates his win, he is attacked from behind by Hassan, who nails him over the head with the title belt, and then he applies the camel clutch to AJ. However, *Masterpiece* then hits, and Chris Masters comes out, and comes down to the ring. However, he just watches what is happening, instead of helping out AJ

We go backstage, and we see Rob Van Dam, who is ready to be interviewed by Todd Grisham.

Todd: I am standing here live with Rob Van Dam. Rob, later tonight you team up with Ric Flair, to take on HHH and Kurt Angle, but firstly, I would like to ask you about what happened last week. In the fatal 4 way match, we saw that you were attacked by Kurt Angle, after he had been eliminated from the match. What are your thoughts on the situation?

RVD: My thoughts? What do you think I'm thinking? I had my chance to go to Unforgiven, and wrestle for the Raw Heavyweight Title. I had my chance to achieve the one thing that I have always wanted to achieve in this business, and that is to be the best at what I do. Bit my chance was taken away from me, by the actions of Kurt Angle. Kurt, I know you must have been upset at being eliminated from the match last week. Yeh, it must have made you upset, and yeh, I know that you didn't achieve what you wanted. But Kurt, that wasn't my fault, it was yours. But Kurt, you had to do what you always do when something doesn't go right, and that is go and cry like a little baby. And then, you go and pick on someone, who at that time, can't defend themselves. Kurt, I know you don't like me, but costing me a chance of glory, that just reeks of bitterness. I didn't take away your opportunity, but you sure took away mine. So Kurt, I have a little proposition for you. How about, at Unforgivem it is me and you, 1 on 1, in the middle of the ring? Do you like the sound of that? Kurt, it will give you a chance to take all that anger that you have built up inside of you out in just 1 match. A chance for you to show me what you are really like in the ring. Yes, you claim to be some kind of god in the ring, because 10 years ago, you won an Olympic gold medal. And yes, that is impressive. But it was 10 years ago, and Kurt, nobody really cares anymore. So Kurt, what do you say, me and you, at Unforgiven? I'll expect an answer in the ring tonight.

Commercial

As we return, *World's Greatest* hits, and out comes Charlie Haas, but he comes out on his own.

Then, *Right To Censor* hits, and Rob Conway of RTC comes out, and we is accompanied by Test, Steven Richards and Stacy Kiebler.

Match 2 – Charlie Haas vs. Rob Conway w/Steven Richards, Test and Stacy Kiebler

Summary – Solid match here, with Conway being in control for the most part, mainly die to the fact that the Right To Censor get involved at any possible moment. However, he does start to mount some offence, and actually manages to regain some control of the match, and actually nails the superkick on Conway. However, Steven Richards distracts the referee, and this allows Test to enter the ring, and nail the big boot on him, and then Conway covers Haas, getting the three

Rob Conway wins by pinfall

The RTC then all enter the ring, and they start a 4 on 1 assault on Haas. But their attack is stopped by Shelton Benjamin running down to the ring to help his tag team partner, and he runs the RTC off. He goes to pick Haas up, but Haas, thinking the RTC are still attacking him, swings a fist, and it connects with Shelton. As Haas realises what has happened, he tries to apologize, and help Shelton, but Shelton just walks out, leaving Haas in the ring.

We go backstage, and we see Christian and Tomko, walking backstage.

Christian: Damn Paul Heyman, how dare he claim that I lost my match last week? Christian doesn't do losing, and him naming John Cena as the number 1 contender what kind of a decision is that? I mean, what does he have, that I, captain charisma doesn't?

Tomko: I don't know, I can't think of anything

Christian: Exactly. I mean, I should be the number 1 contender. All of my peeps were banking on it being me in the main event at Unforgiven, and now, they only get to see me face the has been kid, Shawn Michaels. Come on, what's up with that? Shawn Michaels, a man whose hairline is receding so much, that if it recedes any more, it will be coming out of his backside. And come on, what's with all that dancing about claiming to be a sexy boy? How can anyone find him sexy, when you have me, Captain Charisma to compare him to? But, I suppose there are upsides to me facing Shawn Michaels at Unforgiven. You see Tomko, if, no, when I beat him, it will give all my peeps, and everybody in this arena the knowledge that I am a main event star, who can beat the stars of this industry. Sure, I've done it many times before, but hey, another win won't hurt me? And surely Paul Heyman will then have to give me a title shot afterwards. And then, I will be able to become the next Raw Heavyweight Champion, because that's how I roll.

Then, *Paparazzi* hits, and MNM come out to their usual entrance.

Then, *Miseria Cantare* hits, and CM Punk comes out to the ring, and alongside him, is Kid Kash.

Match 3 – Johnny Nitro w/Joey Mercury and Melina vs. CM Punk w/Kid Kash

Summary – Good match here, with both men showcasing their talent, and their potential singles ability. The match is pretty even, although Nitro dominates for a longer period, due to him and Mercury working as a team when the referee isn't looking. However, a missed cross body turns the tide, and Punk then takes control of the match, using his high impact moves, and then he goes for the shining wizard, but Nitro ducks, and then Mercury enters the ring, and MNM deliver the snapsnot to Punk, as Melina distracts the ref. This is enough to get the three count, and a victory for Nitro

Johnny Nitro wins by pinfall

After the match, MNM celebrate the win, but Kid Kash tries to enter the ring, and get some revenge for his partner. However, the numbers are too great for him, and he is overwhelmed, and is hit with the snapsnot as well.

Commercial

As we come back, *Ooh, its time to rock and roll* hits, and out comes Trish Status, making her way to the ring, for her women's title match

Then, *I ain't a lady to mess with* hits, and out comes Victoria, ready to challenge for the title

Match 4 – Trish Stratus vs. Victoria (Womens title)

Summary – Standard womens match, which is basically a repeat of the match they had on Heat the previous night. The match ends when Trish counters out of the widow's peak, and then, she hits the stratusfaction on Victoria, getting the win

Trish Stratus wins by pinfall, and retains the title

She celebrates with the title, but then, she is attacked from behind by a Stacy Kiebler led RTC. Trish is restrained by the RTC, as Stacy picks up the belt, and then clobbers her across the face with it. Stacy then holds the title up high.

We cut backstage, and we see Shelton Benjamin and Charlie Haas

Charlie: I'm sorry, I didn't realise it was you. You know I would never mean to harm you

Shelton: Then why did you hit me then? Charlie, I actually came out there to help you, I could have sacrificed myself for you. And why? Because that's what friends are supposed to do. There not supposed to hit the person who is helping them. Charlie, I try to do the right thing, but you don't want that obviously.

Charlie: Shelton, Shelton, I didn't mean to hit you, and I am thankful of your help

Shelton: Then why don't you act like it? Charlie, I am sick of everything around here being about you. At times, you seem to think I am your slave, whose only job is to look after you. And yeah, as your friend, I will do that. But only to a certain degree, and recently, I have been getting nothing for my efforts. And frankly, I've had enough. Charlie, 1 more mistake, and we are over.

Shelton walks off, leaving Charlie on his own. Charlie tries to call to Shelton, and get him to come back, but Shelton just takes no notice of him, and walks on regardless.

We cut across to another backstage arena, and we see Maria, who is standing with Chris Masters

Maria: I am standing with Chris Masters, the man who claims to be a masterpiece. So Chris, tell us, who was it who painted you?

Masters: Who painted me? What kind of a stupid question is that? Do I look as if I am a painting?
Maria: But you said that you were a masterpiece, and I thought that painters painted masterpieces?

Masters: They do, but Maria, I am a masterpiece. You see this body here? Every single muscle has been beautifully crafted, into the shape that it is in today. People will come from miles around to have a look at the masterpiece in action, and to find out what a perfect body looks like.

Maria: Wow, that really is something. But I have a question for you. Why do you keep attacking JA Styles?

Masters: I think you mean AJ Styles? And why do I keep attacking him? It's because he, unlike me, is mortal. He is just another average joe, who thinks he had a divine right to have the intercontinental title. But why should he deserve a title match? At Summerslam, he was pinned by Mohammed Hassan, and he lost the match. And by doing that, he cost me my chance to be the intercontinental champion. Do you know that I have never been defeated since I made my debut on Raw earlier this year, and that not one man or woman has ever been able to break out of my masterlock? Yeah, it really is that strong. It doesn't matter who I apply it to, because no-one, and I mean no-one can escape. So why I am attacking AJ Styles? Because if I do this, then I get myself noticed, I get talked about, and most importantly of all, I get to show everyone just how good I am. So AJ, or for that matter, Mohammed Hassan, I have a message for you. I would avoid the masterpiece, because if you don't….

Masters is suddenly interrupted, by him being nailed from behind by a huge clothesline from AJ Styles. He flies after him, and then he nails him with a series of huge right hands, knocking him to the ground, and keeping him down there. AJ starts to stomp on him, when suddenly, he is nailed from behind by a title belt show from Mohammed Hassan. Hassan then just stands over the two of them, and Daivari, who is alongside him, starts screaming at them in Farsi. Hassan then takes the mic from Maria.

Hassan: You see this scene here, the scene with me standing tall? Well get used to it everyone, because you should all realise that I am the great, Mohammed Hassan!

Hassan and Daivari then walk off, looking at the fallen victims that they have left.

Then, *One of a Kind* hits, and Rob Van Dam makes his way out to the ring, doing his normal entrance, slapping the hands of the fans.

Following this, *Wooooooooooooooooo* hits, and out comes Ric Flair, and he slowly makes his way to the ring.

Then, *Medal* hits, and out comes Kurt Angle, to the usual chorus of You Suck from the crowd.

Finally, *Time to play the Game* hits, and out comes HHH, and he makes his usual entrance to the ring.

Match 5 – Ric Flair and Rob Van Dam vs. HHH and Kurt Angle

Summary – Very good match, with all four men putting in very good performances. The match starts off as a brawl, with each team fighting with their respective enemy, but eventually, the match settles down to a normal tag match. RVD is the man to be isolated by the other team, and HHH and Angle takes it turns to beat him down, and stop him from being able to make a tag to Flair. However, after HHH's attempt to superplex RVD is reversed, RVD is able to get a tag to Flair, and Flair then manages to enter the ring. Flair takes down Angle with some clotheslines and some right hands, and then he goes after HHH. However, HHH backs away from Flair, not wanting to fight, until a spinning kick from RVD knocks HHH into the path of Flair, and then Flair nails a low blow on HHH. He then hits a thumb to the eye, but Flair is taken down from behind by Angle with a german suplex. He then goes for the ankle lock, but RVD breaks it up with the rolling thunder. He goes for goes for a five star of the top rope to Angle, but HHH pushes him off the top, and to the floor. Angle waits for Flair to get up, and go for the Angle Slam, but Flair counters, and then nails a ddt. He sets up for the figure four, but HHH blasts him with the ring bell, and then this allows Angle to hit the Angle Slam, getting the win

HHH and Kurt Angle win by pinfall

The crowd boo, as the heels win the match. HHH then enters the ring, and he stands over Flair. He then picks him up, and nails the pedigree on him, and then leaves him lying in the middle of the ring. RVD tries to re-enter the ring, to get some revenge for what happened to him and Flair, and he manages to get a brief flurry of rights in on Angle and HHH, but the numbers are too much for him, and the heels take him down, and then, Kurt Angle locks in the ankle lock on RVD, and forces him to tap. He then tells RVD, that are Unforgiven, it's on.

Commercial

As we return, we are in the general managers office, and we see Paul Heyman, who is in their alone.

Paul: Last week, I announced to the world, that at Unforgiven, we would see the return of the hardcore title. Tonight, I will announce the shape in which that match will take. It will be an open battle royal, in which anyone contracted to Raw is allowed to enter. The rules are simple, at the beginning of the pre-show Heat, the hardcore title will be re-instated. Then, what happens next is up to the wrestlers. The first man to make a pinfall in the evening will be the new hardcore champion. Then, for 1 night only, the 24/7 title rule is back. If anyone pins the champion, then he becomes the new champion, and so on, until the ppv is over. Then, the man who leaves the night as the champion, will keep the championship, and then, the only way they can lose the title, is of they lose it in a hardcore title match.

Suddenly, we see the door open, and into the room steps Eric Bischoff

Paul: Oh, it's you. I've got good news for you Eric, I have managed to make another signing for Raw. Well, I say signing in the loose sense of the word, as there are actually more than 1 of them

Eric: Well aren't you the smart one. So who are these big name stars then?

Paul: I'm sorry Eric, but I can't tell, but one thing I can tell you, is that they will be debuting on Raw, the night after Unforgiven, when we return to the USA network

Eric: Well good for you Paul, and I'm sure that you will have really made a great bit of business there, but frankly, I don't care what you do. Lets get something straight here, Raw by rights is my show, and I don't want you here.

Paul: Your show? I thought this company was owned by Vince McMahon, and the only reason that he hired me on this show, was because you were incompetent of running it yourself. And since I have returned, business on this show has picked up, and I have taken Raw to the extreme. And Eric, do you know what I think of you. I think you ….

However, before we can find out what he is going to say, there is a knock on the door, and in comes the Coach, and he has a package with him.

Coach: Are you pleased to see me, or are you pleased to see me? Well didn't I say that the Coach would deliver the goods, just as he always does? Well guess what the Coach has done?

Paul: I don't know, learn not to wet the bed?

Eric: Don't listen to him Coach. He's just jealous that he can't fit into a bed!

Coach: Well come on then, where's the congratulations?

Paul: For what?

Coach: For finding that crazed, psychotic, lunatic Matt Hardy. When I found out where he was, do you know what the Coach did? I calmly walked straight to that place, went inside the room, and got right into Matt Hardy's face. And like the brave, honourable citizen that I am, I told him that kidnapping Edge and Lita was wrong. And then I demanded that he told me exactly where they were, and by this point, he was so scared, that he just told me exactly what he had done with them. And then he gave me this package here, which he told me was to be delivered to you two, the general managers of Raw.

Paul: Well, well done on finding them, but seriously, he was frightened of you? I've heard more realism out of a dead horse.

Eric: You don't know that's not what happened. You don't realise how brave the Coach really is.

Coach: Yeah, so do you want to open this package or not?

Eric: Well of course we want to? We have to find Edge and Lita.

They open the package, and inside the package is a video. They take the video out, and they put it in the video player than it is in the office. They turn on the TV, and all we see is a dark room. The camera suddenly spins around, and we then see Matt Hardy standing in the middle of the room. We just looks straight into camera, and then we just says five words, Matt Hardy will not die! The camera then spins around, and we see Edge and Lita, who are in the corner of the room, and they are unable to do anything. Matt Hardy then says, "Next week, I'm coming to Raw"

The video then stops, and the three people in the GM's office just look at each other.

We cut to the ring, and then, *Just close your Eyes* hits, and out come Christian, and Tyson Tomko to the ring, making their usual entrance to the ring

Then, *5…4…3…2…1… Break the walls down* hits, and out comes Chris Jericho, carrying his world title, as he makes his usual cocky entrance to the ring, and then meets up with his team mates.

Then, *Sexy Boy* hits, and this brings Shawn Michaels out to the ring, and he makes his way down, dancing in the way he normally does

Finally, *My time is now* hits, and out comes John Cena, coming to the ring in his usual manner, playing up to the fans.

Match 6 – John Cena and Shawn Michaels vs. Chris Jericho, Tyson Tomko and Christian

Summary – Good main event to the show here, with everyone doing what they can for the match. For the main part, the man advantage of the heels proves dominant, and HBK is isolated. The heels take it in turns to put moves on him, and take him down, keeping him away from Cena. However, eventually, HBK manages to get a tag to Cena, and Cena enters the ring, and he is on fire. He takes down the other team with a devastating array of clotheslines and shoulder blocks, and even throws in the odd back body drop. He nails the F-U on Tomko, and goes for the pin, but Christian breaks up the count, and then he knocks Cena over the top rope. However, he turns around, and walks straight into the sweet chin music from HBK. HBK goes to cover, but Jericho re-enters the ring, and nails the breakdown on him. He covers, but is told that HBK is not the legal man. Jericho complains to the referee, and he doesn't notice John Cena re-entering the ring, and when Jericho turns around, Cena plants the F-U on him, and then covers, to get another victory over the champion

John Cena and Shawn Michaels win by pinfall

Cena and HBK celebrate the win, as Christian and Tomko retreat backstage, saying they will see HBK next week, whilst Cena celebrates whilst standing over the top of Jericho, and picks up his title, holds it in the air, before giving it back to him, saying he only has two weeks left with the title.

End of show
Tag Teaming With James Ellsworth
Join Date: Mar 2005
Posts: 1,214
Points: 0
Re: Forever-Delayed does WWE
---
Peep Show: Good opening segment. Great match announced for Unforgiven

AJ v Davairi: Good win for AJ right winner

RVD Promo: Nice intense promo

Haas v Conway: Good match and good win for Conway. Not so sure about RTC though, never liked them

Christian promo: Nice promo by Christian and it would be great to see him as World Champ.

Nitro v Punk: Nice match and good win for Nitro

Trish v Victoria: Decent match and good win for Trish

Flair/RVD v HHH/Angle: Best match of the night so far. Great match and good ending

John Cena/Shawn Michaels v Chris Jericho/Tyson Tomko/Christian: Great match and good win for Cena/HBK

Ovearll rating 42/50 Good show Forever-Delayed will continue reading
Re: Forever-Delayed does WWE
---
Sorry for the condensed review, will be normal when I am

Peep show is a great way to kick things off, making Unforgiven look good

Would have looked bad if Aj lost, so nice that he won. Masters lets him die though.

RVD is ready, great interview

I do not know this Conway is right for RTC

Another golden interview

Nitro picks up the win against a formidable opponent

The women are late in the card. But not for women who can wrestle

I like the combination of the feuds in the tag match

Not a good idea to end the show with two tag matches, but is was not too bad with marquee guys.

Another great show, sorry for the review. Once I am normal, you will receive proper reviews.
Re: Forever-Delayed does WWE
---
Nice opening segmant with the peep show. Chris Jericho vs John Cena at Unforgiven.......I'd rather see Cena vs HBK or Christian, but oh well both will put on a good match and Jericho is better than JBL.lol.

AJ vs. Davairi is a nice cruiserweight opener with clearely the right winner. I like Davairi as an active competitor so nice job there. I liked the attack by Hassan at the end and The Masterpeice coming out just to watch was cool, I actually thought for a second we were gonna see a Chris Masters face turn. lol.

Great RVD promo. He doesn't get enough time on the mic for my liking. Really cold and intense I liked this one alot.

Haas and Conway. I'm not a big fan of either man so this one never really got my full attention. RTC is pretty old and stale now, and unless your fed is really extreme with lots of hardcore spots they are pretty useless. Anyway good win for Conway and the confrontation between Benjamin and Hass was cool.

Good Christian promo.like always.

CM Punk vs. Nitro. I can't beleive Punk lost. Oh well I guess this builds up a feud between Kash/Punk and MNM. Which will be good to see.

Trish vs. Victoria would of like to have seen Victoria pick up the win but Trish winning was good enough.

Angle/HHH vs. RVD/ Flair - Great match with a top class ending. It was great to see HHH hit the Pedigree and Angle lock in the Ankle Lock. Looking forward to both matches at Unforgiven.

Main Event - This match never really interested me. It felt like the usuall booking we see on Raw and It didn't get me on the edge of my seat. Cena and HBK were gonna get the win of course, it was a handicap match. Other than that it was still an okay match, I would of rather seen Angle/HHH vs. Flair/RVD in the main event slot though.

I'll give this show 7/10. The promo's were good but lacked a little for me, maybe a couple more next time. The main event was dissapointing but the tag match made up for it. Looking forward to Unforgiven.
Asking JAMES ELLSWORTH for Wrestling Advice
Join Date: May 2005
Posts: 397
Points: 0
Re: Forever-Delayed does WWE
---
Raw review:
Peep show: Great segment to start off the show, liking the 2 matches announced for unforgiven.
Jericho promo: Another great promo, very well written and in character
Styles vs Davari: An obvious win for AJ, but a good way to continue the IC title situation, however i thought Masters should have done a bit more when he came out.
RVD interview: Again another good promo, his match with Angle should be good.
Haas vs Conway: Personally i love that your using the RTC, I dont remember hating anyone more (i mean hating as in the way your meant to hate a heel
). Anyway it was an ok match, this Haas, Benjamin storyline, continues to get intresting.
Christian promo: Great promo here.. probably not neccesary but it was good.
Nitro vs Punk: This could be a good tag team rivalry, it was also a good match however there seems to be a lot of cheating and attacking after matches tonight lol. I love tag wrestling so its good to see you making good use of yours.
Trish Stratus vs Victoria: I take it we were meant to be more bothered about the aftermatch.. RTC appear again which is fine by me
.
Shelton, Charlie segment: Again this storyline continues to be intresting.
Masters interview: Great promo, Maria was funny.. however i dont think the brawl was neccesary.
Flair and Van Dam vs HHH and Angle:
Possibly the best match of the night, glad to see some action in the HHH, Flair feud.
Matt Hardy segment: I loved this, first of all its good to see you bringing back the hardcore title, again it was very well written and in character, i am so intrested in how the hardy, edge storyline turns out now.
Handicap match: A good way to finish the show with the challenger pinning the champion before the big match.. its a much used storyline but always seems to work.
Overall: A great show, if you hadn't guessed i loved your promos, every line is always in character
Rating 9/10
Chopped Liver
Join Date: Jan 2004
Location: Six inches from a computer screen
Posts: 5,432
Points: 318
Re: Forever-Delayed does WWE
---
Peep Show is a great way to kick things off. Awesome announcement from the duelling General Managers trying to one up. I've said it before, and I'll say it again, the Co-GM situation is working a treat. Big announcements for Unforgiven, although I'm more interested in HBK vs Christian then the main event. Cena vs Jericho might need a gimmick onto it.
Excellent Jericho interview, at his cocky best. This seemed like the old Jericho, that was fresh. Lovely interview, one of the strongest promo's actually I've read in quite a while.
Styles was the much better choice to win between him and Daivari. Nice to see Daivari to actually be wrestling. Masters watching AJ take a beating after further sows the seed for a triple threat at Unforgiven, or possibly, or a non title match between Styles and Masters. Hard to tell.
Another excellent promo, this time with RVD. Loving the quality of promo's on this show.
Haas and Benjamin are just primed for a split, and Unforgiven will be the stage for it to take place. I'd be shocked if it happened any sooner or later.
Not sure what it is, but I'm not really into the Kash/Punk team. Why are they even together?? On a positive note, they'd have some great matches, with a pretty talented team like MNM.
Trish retaining isnt anything newsworthy, although it's hard to see where the womens division is going.
Nice to see some Maria based comedy with Masters. I could've done without the brawl though, and saved it for the following week.
What a tag match. This should;ve been the main event, ahead of the 3 on 2 Handicap Match. Awesome tagmatch to build up two singles match at Unforgiven. Smart booking, and I think a long term alliance between Angle and Trips would be a heck of a way to go.
Nice stipulation for the Hardcore Title situation at Unforgiven. That'll be carnage, no doubt. Hopefully you can make it good, and not messy though.
Why arent the police after Matt Hardy for abducting Edge and Lita
Will be awesome to see this whole thing come together next week though.
Nice main event, with the faces going over. Pretty good booking for these matches. Strong booking of the matches in general lately.
The show did it's job to put Unforgiven over, with a heck of a lot of build up stemming to the big show in a few weeks. I still would say Raw is edging out SD in last few weeks, with the GM situation a personal favourite.
Years I've Been a Fan > Years You've Been Alive
Join Date: Jun 2005
Location: Kansas City - At the Argosy, Playing Blackjack with Harley Race
Posts: 808
Points: 0
Re: Forever-Delayed does WWE
---
Forever, I will try my hardest to get a review in tomorrow, but it probaby wont be until Saturday. I will get one in for sure man, just busy at the moment.
---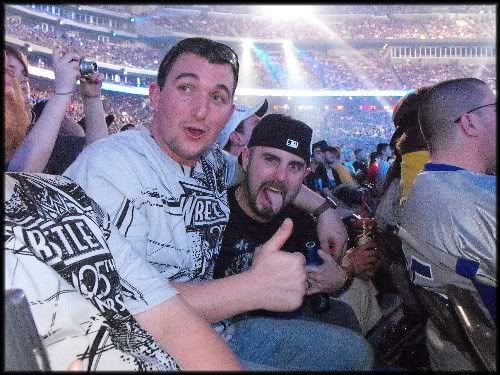 Re: Forever-Delayed does WWE
---
nice Cabana to set up the show with a massive main event, but I think you personally should've put Cena/HBK/Christian/Jericho in a 4 way at Unforgiven and not two seperate matches.
lol funny line from Jericho. "What? Promise to never release another rap record" classic. Good promo and I cant see him losing the belt to Cena, he will most likely be champ till SS or NYR.
RVD vs Angle will be summarized into one word here - AWESOME
Man you can see that Shelton heel turn almost coming, its gotta happen soon, in time for a match at Unforgiven which would pwn.
Both Punk/Kash & MNM should be making a go for the tag titles not just semi-feuding between themselves.
No, don't you dare start a Trish vs Stacy feud for the Womens title, please have a decent wrestler face her. Victoria, or sign back Jazz, Gail Kim & Molly Holly.
It's coming, the long build up from Shelton who is about to explode and hit Haas. Stop prolonging the wait!
A big match looks to be on the cards at Unforgiven for the Intercontinental title between Styles/Masters/Hassan and it will be pretty good if that's what happens.
Good tag match and post match beat down from the heels and yes we have RVD vs Angle! You beauty.
LOL! Great promo between Heyman/Coach/Bischoff.
Cool video package from Hardy and I think you might be taking the angle a little too far, but thats why I like it!
Good main event and a nice win for the faces, very good ending to a very good show.
8/10
---
***

Re: Forever-Delayed does WWE
---
peep show was the great main factor of kicking a show. it was nice and i really loved the two matches announced for Unforgiven. Jericho's promos was well written and it seems likely to be in character. Styles vs Daivari was nice. Hassan and Masterpiece coming in the end was nice. I loved that aftermath. RVD's promo was the POTN for me it was great and intensely written promo. Conway for RTC is good man. Christian promo was also nice and well written. The worlds greatest tag team is gonna split at unforgiven IMO. Charlie and Shelton feuding would be nice. Masters promo was excellent and a bit of funny too. HHH and Angle vs Flair and Van Dam was the MOTN for me. it was great written. Good main event and nice win for the face.

Overall - 9.5/10
Re: Forever-Delayed does WWE
---
The Peep Show rocks, that's all.
Posting Rules

You may not post new threads

You may not post replies

You may not post attachments

You may not edit your posts

---

HTML code is Off

---