Re: Forever-Delayed and Kane01 Do WWE
---
smackdown looks great, it was a good desicion to vacate the world title. I liked the plans you had for chris benoit but you did the right thing pulling him from the thread. I cant wail till this weeks smackdown as the preview lookd good. I am going to strart reviewing this thread from this smackdown onwards
Years I've Been a Fan > Years You've Been Alive
Join Date: Jun 2005
Location: Kansas City - At the Argosy, Playing Blackjack with Harley Race
Posts: 808
Points: 0
Re: Forever-Delayed and Kane01 Do WWE
---
I feel terrible for you Kane01, as you only got 1 review for JD, which is total rubbish. I can HONESTLY say that I haven't had the time to read up yet, what with trying to get Mania done & dusted by the 28th, and having life issues to juggle as well. I just wanted to extend to you my condolences, and PROMISE, that once Mania is up, you will be one of the first ones to hear from me. You & Forever Delayed have always made time for me, and I will for you as well. And if it means I go back a whole month to read JD, than so be it. Or it may be one big review of current thread standings. Regardless, it will come, and be maintained regularly from then on.
Just felt the need to pass this message to you my friend. And this actually marks my first BTB post outside my own thread, since my return.
---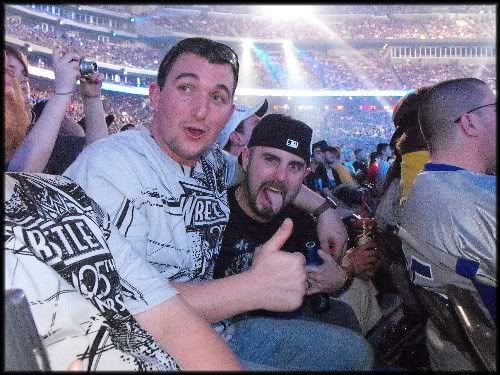 Re: Forever-Delayed and Kane01 Do WWE
---
Kaneo1 ill be dropping you a review on judgment day tomorrow
---
CM Punk is the best thing in wrestling today.
Re: Forever-Delayed and Kane01 Do WWE
---
Fuck I am SO SORRY about the review for Judgment Day, I honestly hold my hand up and say I slacked off. I still have 3 matches left to do, I will get the review up by the end of tomorrow Kane.
Once again, sorry, I can't believe I forgot all about it until just now...
---
***

Tag Teaming With James Ellsworth
Join Date: Mar 2005
Posts: 1,214
Points: 0
Re: Forever-Delayed and Kane01 Do WWE
---
WWE Smackdown-26th May 2006 from Bakersfield California
Instead of the traditional opening video package and pyros we instead go straight to the arena where the entire WWE roster are stood at the top of the ramp, with the only exception being Smackdown General manager Mick Foley who is stood in the ring with the World Heavyweight Championship over his shoulder as Benoit chants start echoing around the arena. Mick Foley announces Chris Benoit's death and he briefly talks about Chris Benoit and what he was like before asking for total silence as they pay respect to Chris Benoit with a ten-bell salute. The camera pans around the WWE superstars like Rey Mysterio, Dean Malenko, Chris Jericho, Kurt Angle, Chavo Guerrero, The Rock and many more superstars who are all crying or holding back their tears. The ten bell salutes finish as the WWE Crowd and Superstars start clapping before Mick Foley cuts in and tells everybody to look at the Titantron for a special tribute video to Chris Benoit.

"One Thing" by Finger eleven plays as we see a video highlighting Chris Benoit's career. We see highlights of Benoit training in small gyms and wrestling rings and also in the Hart Dungeon. It then goes onto Benoit in Japan as the Wild Pegasus and some of his matches with the likes of Black Tiger, Jushin Lyger and the Great Sasuke. It then goes onto his ECW career, showing highlights of him powerbombing Rocco Rock through a table, breaking Sabu's neck and his match with Dean Malenko. It then goes onto his WCW career where we see highlights of him in the four Horseman and his matches with Booker T, Kevin Sullivan, Bret Hart and more. We then go onto his WWF career with his debut with the Radicalz, to his feud with Chris Jericho, becoming tag team champions with Jericho, feuding with RVD, his matches with Angle and the standing applause he received after his match with Angle from the Royal Rumble 2003, we see clips of Benoit winning the 2004 Royal Rumble and winning the World Title at Wrestlemania 20 and his celebration with the late Eddie Guerrero. We then see clips of Benoit's matches in the past year with the likes of JBL, Ken Kennedy, Brock Lesnar and we then see clips of Benoit winning the World Championship at Wrestlemania 22. And we then finally see clips of Chris Benoit's last match at Judgement Day beating Edge to retain his World Title. We then go to a still image of Benoit celebrating his Wrestlemania 20 win, with "RIP Chris Benoit 1967-2007" written underneath it.

We then cut back to the arena where the crowd give Benoit a standing applause and start off a "Thank you Benoit" chant. Mick Foley finishes off by thanking Benoit for the memories before we go to our first commercial break of the evening.

When we get back from commercial we go straight over to Cole and Tazz who have the World Heavyweight Championship belt laid across the table in front of them and they welcome us to the show and they briefly talk about Chris Benoit saying how he would of wanted the show to go on. They talk about the special tribute tag team main event tonight as Raw Superstars Kurt Angle and Chris Jericho team up with Edge to face the returning Dean Malenko, Chavo Guerrero and Rey Mysterio. They also hype up the big rematch between Kane versus The Rock and then finally talk about the King of the Ring Qualifiers tonight.
We then kick off action with some Cruiserweight action as Kid Kash takes on Billy Kidman with both men wanting to state their causes for the Cruiserweight Championship, with Cruiserweight Champion Paul London at ringside. It was a typical fast paced back and forth Cruiserweight match, which could of went either way. Smackdown newcomer Kid Kash however got the victory after countering the BK Bomb into a Tornado DDT, and then finishing him off at around the five-minute mark with the Money Maker to pick up the victory. Kid Kash celebrated his victory as Michael Cole asked London on the possibility of facing Kash for the Cruiserweight Championship. London said he would enjoy the possibility of facing Kash and they are good friends, but if the day comes when they meet in the ring he will show Kash why he is the Cruiserweight Champion.
We then go backstage to see Josh Matthews standing by Ken Kennedy. Josh Matthews asks Ken Kennedy about his loss at Judgement Day to Carlito. Kennedy takes the piss out of Josh Matthews at first asking Josh if he had wanted to become a wrestler and Josh said yes. Kennedy then says the reason that Matthews is behind a mic interviewing greats like Ken Kennedy was because he was a terrible wrestler and lost every match he was in. He criticises Josh for asking him about his loss, before saying that his loss at Judgement Day was a blessing. He says that he is far beyond the United States Championship and that Carlito is going to be stuck in the mid card being just another wrestler on the show for the rest of his career. He says that he has bigger and better things to move onto and that involves becoming the World Heavyweight Champion. He says to do that he has to win the King of the Ring and he will get a title shot at Great American Bash. He talks about past winners of the King of the Ring and what it did to their careers, before moving onto say that after this years King of the Ring no one will remember Bret Hart, Steve Austin, Triple H, Kurt Angle or Brock Lesnar. Because the only winner everyone will remember is himself, he says that this is the dawning of a new era and that after King of the Ring Josh Matthews can call him King Kennnnnnneddddyyy………..Kennnnnnneddddddyyyy.

We then go to another area backstage where we see Mick Foley on the phone, which he has to put down when Randy Orton walks into the room. Randy Orton comes in smiling cockily as Foley looks at him in anger. Orton asks Foley what is the matter before quickly cutting him off before him off and talking about what he said at Judgement Day about how he was going to make Foley's life a living hell. Orton says that he thinks it is harsh on Foley's wife and kids if they have to watch their father get destroyed by the Legend Killer and have a father who spends the rest of his life in the hospital. He then offers Foley a simple proposition. He won't make Foley's life hell, if Mick Foley awards Orton the World Heavyweight Championship. Fair enough proposition you would seem. Unsurprisingly Mick Foley refuses to do so and he says that as long as he is GM Randy Orton will never have a shot at the World Heavyweight Championship. Randy Orton stays calm somehow and he just says that he will have to make Foley's life a living hell. Foley replies by listing some of his past injuries saying that there is only one thing which would be done to make Foley's life hell and that is watching a best of Randy Orton DVD. Orton tells Foley he is a funny man and he says that even though he is gonna make Foley's life hell, he is going to give Foley's wife the best time of her life. Orton then tells Foley to have a nice day and quickly escapes the office knowing that he has pissed off Mick Foley as we go to a commercial.

After a commercial break we go backstage to see Edge walking with Lita backstage. Edge is complaining to Lita that Mick Foley hasn't awarded him the World Heavyweight Title, as he is the number one contender before they walk into the Rock. Edge taunts Rock at his loss at Judgement Day to Kane, reminding Rock before the match this past Sunday he would get a big surprise and he certainly got one as Randy Orton returned and hit him with the RKO. Edge then wishes Rock good luck against Kane tonight and he laughs manically before the Rock cuts in and reminds Edge that he tapped out at Judgement Day which leads to "You Tapped Out" chants. Rock insults Edge and Lita using his normal catchphrases before telling Edge that he has been thinking all night that there is three people's asses he wants to kick. Kane, Randy Orton and Edge and he says he has had to have a little think about it and he has decided that he has picked all three of them. He says that tonight Kane is going to get his head stuffed by Paul Bearer's ass so far that when Bearer takes off his shirt and reveals his sweaty greasy chest his nipples will be covered by a mask. He says he is then gonna go backstage after the match find Randy Orton and he is going to serve that silver spoon piece of monkey trash an ass kicking of a lifetime. He then says that he will then find Edge and he will kick his ass so hard that he will finally realise what an ugly slut he has for a girlfriend. He then finishes off by saying that when the smoke has all cleared and all the dust has settled, The Rock will be gunning for the World Heavyweight Championship and he will become the next World Heavyweight Champion. We then cut back to ringside with the commentators talking about the King of the Ring Tournament.
The second match of the night sees our first King of the Ring Qualifier of the evening as Ken Kennedy takes on Eugene. This was supposed to be an easy victory for Ken Kennedy, but Eugene gave Kennedy a tough test playing up to his normal antics which took Kennedy completely off his game plan. The unthinkable nearly happened when Eugene hit Kennedy with the Stone Cold Stunner but Kennedy kicked out at 2. Eugene went to deliver the People's Elbow but Kennedy moved and he took control of the match, and he finished him off with the Green Bay Plunge at around the five-minute mark picking up the three count and moving to the second round of the King of the Ring. After the match Kennedy grabs the mic and announces himself the winner calling himself King Kennedy once again.
We then go backstage to see Steve Romero standing by the Tag Team Champions Triple X. He congratulates them on retaining their championships at Judgement Day before saying that the draft has already split up one pair of tag team champions and he asks Triple X how they would feel if the draft splits them up. Tag Team Champions. Elix Skipper says that says that since Triple X debuted in December they have revitalised the Tag Team Division on Smackdown and that they are the best WWE Tag Team Champions of all time. He says that if the possibility of them getting split up does occur, they will both make names for themselves in Singles competition but for now they have only one thing in their minds and that is to keep the Tag Team Championships for as long as possible. Skipper then sends it over to Chris Daniels who says that for the last few years the tag team division has been in shambles and that since Triple X debuted on Smackdown that has all changed. He says that Triple X have been Smack down's shining light and they have been their saving grace. He says that at Wrestlemania 22 they proved that they are the best tag team in the world when they defeated not only the Mexicools, not only the Cabinet, but Kane and the Big Show to overcome the odds and bring back tag team wrestling to its glory days. He says that if they get split up in the draft, atleast they will be undefeated tag team champions and he promises that he and Elix Skipper will step up in the Singles Division. He then finishes off by saying that was the gospel according to the Fallen Angel. Triple X then walk off leaving Steve Romero looking very confused at Daniel's speech.
King of the Ring Commercial followed by commercial break
When we get back from the commercial we go backstage to Josh Matthews who is standing by the next big thing who is on crutches and has a brace around his neck. Josh Matthews talks about the Hell in a Cell match which occurred this past Sunday and we see a video of some of the highlights from the match including footage Brock Lesnar falling off the cell through the commentary table. Josh Matthews goes to ask Lesnar about his condition when Brock Lesnar suddenly smacks Matthew's over the head with one of his crutches obviously very angry about Matthews showing that footage. He then gets his face in the camera and very intensely says that he and Batista went to hell and back this past Sunday. He says that Batista tried to end his career, he says that he might have an injured neck and that he can't walk with the help of crutches but he didn't get the job done. He then says well done to Batista for beating him at Judgement Day and he says the eight-month journey has ended. He says that Batista won the match, but Brock Lesnar came out as the overall winner and that he proved his main objective when he returned to the WWE and that was prove that he is not only the next big thing, but he is the best damn wrestler in the WWE. Lesnar is then the forth man of the night to state his cause for the World Heavyweight Championship, saying that when he returns back to in ring action, he will be known as the next World Heavyweight Champion.
We then cut to the ring where Finlay in the ring with Paul Burchill awaiting the forth man to be drafted over to Smackdown in this King of the Ring contest, with the winner moving onto face Ken Kennedy in two weeks time. Finlay awaits his opponent patiently looking very confident, well that's until "I am" hits and AJ STYLES makes his way down to the ring. AJ Styles gave Finlay his toughest match to date so far in the WWE, showing off his wrestling ability to the Smackdown audience nearly picking up the victory on several occasions. After a bright start to the match, Finlay took the advantage when Paul Burchill ran in and hit Styles with the C-4 when the referee had his back turned. Finlay instead of going to the cover decided to try and punish Styles working on his leg trying to slow Styles down, and this lead to Finlay locking on the Indian Death Lock. It looked like Styles would tap but he eventually reaches the ropes. AJ Styles after this started to fight his way back into the match, and both men wrestled in some back and forth action. Finlay got Styles on his shoulders for the Celtic Cross, but AJ Styles took Finlay near the ropes and they both tumbled over the top rope to the outside. Paul Burchill handed Finlay the shillelagh as both men got up at the count of 3, and Finlay went to strike him with the weapon but AJ Styles dropkicked Finlay in the knees before setting him up and connecting with the Styles Clash on the outside of the ring. AJ Styles realised the referee's count was at 8 and he tried to get in the ring when Paul Burchill yanked on his leg preventing Styles from getting in the ring. Styles kicked Burchill off him and got in the ring but was too late as the referee counted to ten ending the result as a double count out which means that Ken Kennedy gets a bye to the straight to the PPV into the King of the Ring Quarter Finals! Paul Burchill helps Finlay up to his feet on the outside as AJ Styles is furious in the ring as he watches them get to his feet, but suddenly he bounces off the ropes and hits a springboard shooting star press plancha onto Finlay and Burchill on the outside. AJ Styles claps hands with fans at ringside as we go backstage.
We go backstage to see Kristal Marshall standing by Batista. Kristal congratulates Batista on beating Brock Lesnar at Judgement Day and asks how it felt beating Lesnar to end their long rivalry. Batista basically recaps the feud saying that for eight months both men had intentions to make each other's life hell, and he says that after all the beat downs, after all the times Lesnar made him bleed, after all the times Lesnar cost him his chance of becoming World Heavyweight Champion, Last Man Standing Matches, Hell in a Cell matches it is great to say that he has won the war. He says that for the last eight months he has been too preoccupied with Brock Lesnar that he hasn't been able to fully concentrate on the main reason why he wanted to become a wrestler and that was to be the World Heavyweight Champion. And he says that now he has let go a 320 pound weight called Brock Lesnar off his back, his main goal now is to recapture the World Heavyweight Championship which he lost 11 months ago. He finally sends a warning to all other wrestlers wanting to become the champion that he is coming for the belt.
The forth match of the night sees a big rematch from Judgement Day as The Rock takes on Kane in a match which could give Foley some thought on what he should do with the vacant World Heavyweight Championship. Like Judgement Day The Rock took the fight to Kane in a pretty even match which was cut a bit short because of time constraints. And also just like Judgement Day Paul Bearer kept on getting himself involved when he could, tripping up Rock from the outside, stomping away at him on the outside of the ring and even clocking Rock over the head with his boot. Kane went to finish Rock off with the Choke slam, but Rock kicked Kane in the crown jewels and set him up for the Rock Bottom when Paul Bearer hit Rock from behind with a hard right hand. Rock let go of Kane and he chased Bearer around the ring, and Bearer led him straight into Kane who set Rock up for the Tombstone Piledriver, but the Rock slipped out of it and he started laying the Smackdown on Kane before whipping him off the ropes and catching him with a Spinebuster. Rock set Kane up for the People's Elbow when out of nowhere EDGE HITS ROCK WITH A HUGE SPEAR! The referee calls for the bell giving the Rock the win via DQ at around the 10-minute mark as Edge pounds away at Rock with repeated hard right hands when BATISTA runs into make the save and he starts pounding away at Edge before kicking him in the gut and connecting with the Batista Bomb. Batista starts taunting Edge when from behind BROCK LESNAR SPINS BATISTA AROUND AND HITS THE F-5! Brock Lesnar laughs maniacally when a Car screech is heard and Mick Foley comes out onto the stage. Mick Foley tells everybody to stop and listen he says that in the ring are five men who all want to be World Heavyweight Champion, and at King of the Ring they will all have a chance. Because at King of the Ring it will be Batista v Brock Lesnar v Edge v Kane v The Rock in a 5 pack challenge for the World Heavyweight Championship! He tells everybody in the ring to have a nice day as Brock Lesnar smiles at the decision before turning around into Kane who turns Lesnar upside down and connects with the Tombstone Piledriver! Kane looks down at the carnage in the ring and he signals that he is going to become World Heavyweight Champion and sets off his pyros as we go backstage.
Backstage we see Paul Burchill walking down the backstage area as his King of the Ring match against Carlito is next. He says to himself that he will become the first British King of the Ring winner when Randy Orton cuts Burchill right in front of his paths and stares him down. Orton asks Burchill if he is in the King of the Ring, Burchill says yes and he says that he is going to win it. Orton wishes Burchill good luck when he offers to shake Burchill's hand, Burchill falls for it however as when he goes to shake it, Randy Orton pulls Paul Burchill into a sick looking RKO on the concrete floor. Orton then looks over Burchill and tells him that he got it wrong, and that the King of the Ring winner will be King Orton. Orton then walks off as we see Burchill on the floor as we go to a commercial.
When we get back from commercial we see the US Champion Carlito in the ring looking very confused not knowing if his KOTR opponent Paul Burchill will even make it after what happened when "Burn inside my light" hits and Randy Orton makes his way to the ring obviously taking Paul Burchill's place in the KOTR just moments after beating Burchill down as Michael Cole and Tazz speculate that Orton is doing this to sneak past Foley saying he won't ever get a title shot on Smackdown. These two men put on a pretty good contest with Carlito proving why he can be a future main eventer against the back in action since Wrestlemania 22 Randy Orton. Randy Orton seemed to have won the match when Carlito went for a moonsault onto a standing Orton who moved and Carlito landed on his feet, only for him to be immediately hit with the Orton was about to make the cover when a car screech is heard and Mick Foley's music hits and this distracts Orton who looks down the ramp awaiting Foley's presence but no one comes out and from behind Carlito rolls up the Legend Killer and picks up the three count advancing to the second round of the King of the Ring where he will face Chris Masters in the second round. Carlito immediately rolls out of the ring to celebrate his victory as Randy Orton is fuming after what he believed Mick Foley costing him from winning the King of the Ring as we go to a commercial.
When we return from commercial we see Carlito arriving backstage looking very happy about his big KOTR win over Orton when Shelton Benjamin walks into the frame. Shelton congratulates Carlito for making the second round of the King of the Ring and he tells Carlito that he doubts that he will make it any further. Benjamin laughs before telling Carlito that if he does make it any further it won't matter because there will be no stopping Shelton Benjamin from winning the 2006 King of the Ring. Shelton then taps Carlito's US Championship belt and walks off leaving Carlito to ponder.
To end the show we have a fantastic tribute match to Chris Benoit as Edge, Chris Jericho and Kurt Angle team up to face Rey Mysterio, Chavo Guerrero and the one night only returning Dean Malenko (All wearing Chris Benoit T-Shirts) with all six men putting on a clinic for the memory of Chris Benoit. It was a fast paced all out exciting match, which could of went either way. Rey Mysterio tripped Jericho against the ropes and he bounced off the ropes and hit the 619 onto Chris Jericho. Rey Mysterio then turned around into a spear by Edge. Edge was then hit with the three amigos by Chavo Guerrero followed by the frog splash. Kurt Angle dragged Chavo off pinning Edge locking on the Ankle Lock. Chavo however span out of it causing Angle to run into Dean Malenko who tripped Angle up and locked on the Texas Cloverleaf. It looked as though Angle was to tap out when from behind a recovered Chris Jericho hit a bulldog onto Dean Malenko, he then went for the Liansault but when he jumped onto the ropes Rey Mysterio dropkicked him from behind taking him to the outside. Mysterio then fought with his nemesis Kurt Angle, with Angle getting the better of Mysterio and he went for the Angle Slam but Mysterio countered it in mid air into an armdrag takedown taking him to the outside. Meanwhile Edge had got to his feet and sized up Chavo before charging up and going for a spear, but Chavo moved and he went behind Edge and hit the famous Chris Benoit three peak German Suplex. Rey Mysterio then climbed onto the top rope and he came off with a diving headbutt onto the face of Edge. Dean Malenko then went to finish Edge off turning him onto his stomach and locking on the Crippler Crossface. And the match ends just like at Judgement Day Chris Benoit's last match as Edge taps out to the Crossface to one of Benoit's best friends Dean Malenko. After the match a thank you Benoit chant hits the arena as Angle, Jericho and Edge all recover and all six men line up and raise one another's hand. Rey Mysterio then shows his respect to Chris Benoit as he takes off his Benoit shirt and lays it in the centre of the ring, before going to the outside of the ring and grabbing the World Heavyweight Championship which was laying on the Smackdown announce table all night and he places the belt over the Benoit shirt as we fade to a clip of the end of Wrestlemania 20 with Benoit and Eddie Guerrero celebrating in the ring with "RIP Chris Benoit 1967-2006" written underneath the clip and then the show fades to black.
Smackdown Results
Kid Kash defeated Billy Kidman
Ken Kennedy defeated Eugene in a King of the Ring Match
AJ Styles fought Finlay to a double countout in a King of the Ring Match
Rock defeated Kane via DQ
Carlito defeated Randy Orton in a King of the Ring Match
Dean Malenko, Chavo Guerrero and Rey Mysterio defeated Edge, Kurt Angle and Chris Jericho
Velocity Results
Chris Masters and Matt Morgan beat the Dudley Boys when Morgan hit the Mount Morgan drop on Bubba Ray Dudley
Tajiri defeats Shannon Moore after the Buzzsaw Kick
Paul London defeated Akio to retain his Cruiserweight Title
2006 King of the Ring Card so far
The 2006 King of the Ring Tournament
Quarter Finals
Semi Finals
Final

Degeneration X v John Cena in a handicap match

World Heavyweight Championship Batista v Brock Lesnar v Edge v Kane v The Rock

WWE Championship Christian v Chris Jericho
Re: Forever-Delayed and Kane01 Do WWE
---
Kane01's SmackDown Review
~ I think this is the second show that I have read on here where someone has actually actively adressed the Chris Benoit situation, so I give you some major credit for that. There isn't a much better way to go about something like this than the way you did it, with Foley in the ring and all of the roster standing by. I'm never really that comfortable with highlighting all of the emotions of the superstars, since we are referring ro The Rock, Edge and Chris Jericho, rather than Dwayne Johnson, Adam Copeland and Chris Irvine. With them in character, it could ocassionally become a little false. I don't think that happened though here, so you're okay. Nice little recap of his past achievements too, and a touching Main Event also, with Malenko, Chavo and Rey taking on Angle, Jericho and Edge. All of his friends together, and there is no better way.
~ Good match to kick off the show with and really get the crowd fired up with some Cruiserweight action, which is perfect for that exact reason. I'm not really sure but I can gather that Kid Kash is a face here, as is Paul London, so it looks as though a face on face match is on the cards, with a possible turn from one of them.
~ Nice little interview with Kennedy backstage to hype his approach to the King Of The Ring tournament. I quite liked the way he mocked Josh Matthews about wanting to be a wrestler but not making it. I hope that Kennedy is speaking the truth with his comments about going past the United States Championship to the WWE title, since that is exactly where he belongs at this point in his career. At this point, I have Kennedy down as the favourite for the KOTR tournament.
~ It looks as though the feud between Randy Orton and Mick Foley is likely to be continuing. Orton made some pretty stinging comments here, especially about Foley's family, such as showing his wife the best time of her life. Ouch! Below the belt. I don't know why, but Foley denying Orton the chance of the World Heavyweight Championship ever again felt a little low, since Foley is a face, and that is quite a low, petty and heelish thing to do. But that might be just me.
~ Nice little backstage segment with Edge, as he makes quite a valid point about being the Number One Contender in the wake of Benoit. I suppose that his meeting with The Rock is hinting at a future feud between the two, possibly to do with the vacant World Heavyweight Championship. Rock was on form here, with his usual cutthroat speech, especially about Paul Bearer, which really made me laugh. I can see Rocky possibly beating Kane later tonight in the rematch, as it looks as though Rock/Edge may be set up for the title.
~ Yep, as I thought, Kennedy picks up the win in the first round of the King Of The Ring tournament over Eugene. With him referring to himself as King Kennedy constantly, it has me wondering that when/if he wins the KOTR, will ke change his name, or will he in fact change his gimmick? It's possible, but I suspect not.
~ What I gathered from this backstage interview with Triple X was that they will be splitting up in the near future and Christopher Daniels will be getting a big heel singles push. I hope so anyway, since I've only ever really been a fan of either man in singles competition.
~ Good to see Brock Lesnar is here tonight, though he is really in a bad way it seems. I hope to god that his comments mean that he will be in the NEW title holder scene now, since Rock/Edge alone might be a little bland, wheras throwing the likes of Lesnar, Batista and Kane into the picture might make it a little more interesting.
~ Oh damn, AJ Styles versus Finlay on a weekly show? That is just brilliance for free. It sounded like an astounding match up also, especially with Paul Burchill getting involved. I liked the hectic way towards the end that they both fought to get back into the ring ... and they were both counted out? Wow, I wasn't expecting that to be sure, and I guess this just serves to fuel Kennedy's heel persona, since gettinga bye is just what Booker T did in 2006. Could be a premonition.
~ Ah, basically a copycat or parallel interview from Batista next to play off with the previous Brock Lesnar one. I was very surprised to see 'Tista pick up the win at Judgement Day, but I'm glad that he is now in the title scene too. Now, with Edge, Rock, Lesnar and Batista all basically confirmed, I guess Kane will be too, but just I think will get the title is beyond me.
~ Nothing really special about the next match up, although it was interesting to see that The Rock was about to pick up the win until Edge got involved. I guess this helped keep Rock strong, as well as keeping Kane undefeated. It was the aftermath that was most interesting though, with all five men involved in the title scene now finally hooking up. Everyone seems to get their moves on one another, until Kane is finally is the one left standing tall. I'm crossing Kane off my list of possible winners now then.
~ Wow, Orton's attack on Paul Burchill backstage was unexpected, but it really got across his new found intensity. I wonder why Finlay wasn't with Burchill though. Hmmm? I had an idea that with Orton getting into the KOTR tournament in such a way, that he might actually win the thing, but it seems as though you are really setting up Foley/Orton match either for King Of The Ring or somewhere down the line. I hope Carlito does well, but personally I think he works MILES better as a heel, where is WWE or WHC title level at least.
~ Good way to do it. Have Shelton get the title off Carlito and let CCC turn heel
Maybe not. This feud wouldn't really excite me, since we've seen it all before, but you never know.
~ Very nice and touching Main Event featuring all of Chris Benoit's best friends. They all got in their signature manouevres, espeacially the Three Germans and the Flying Headbutt, before Malenko perhaps makes the best contribution with a lovely Crippler Crossface to make Edge tap out. I guess, as the heel, it was suitable that Edge gave up. Really nice way to finish it off with Rey laying the belt across the Benoit shirt. Good job.
Overall this was a nicely written show, since you handled the Benoit situation well. The aftermath of the problem looks to equally exciting too, so well done there. Your spelling is fine, but just be careful with your Capital letters, as sometimes you forget to, and it clutters things up.

7 Out Of 10 : Keep It Up
Tag Teaming With James Ellsworth
Join Date: Jun 2005
Location: Sidford, England
Posts: 1,864
Points: 0
Re: Forever-Delayed and Kane01 Do WWE
---
Firstly… are you sure that this would be 2 hours in length? I know I cannot really book to two hours, but this did appear to be a little too long, and was almost verging on feeling like a 3 hour show. Not a major point, but just something I noticed as I was going through the show

The show itself seemed to be perfectly fine, with the Benoit situation handled well at the start and the end, and it also makes the title seen a lot more interesting with there now being a mass scramble to find a champion. Kane looked the strongest tonight, but I don't think he is going to end up with the title at the end. Edge would be logical as he was involved beforehand, but knowing what is going to happen it is likely to go to a face, so probably Batista or the Rock will take the title in the end

Loving the king of the ring tournament on Smackdown so far, and the idea of the King Kennedy gimmick or potential gimmick is excellent, and has potential so far. I do know how far he goes in the KOTR tournament, so I guess we'll have to wait and see whether or not he does get the chance to call himself that, but he is certainly being built up towards the next level well, and will be main eventing by the end of the year at the latest

Orton/Foley is always a great feud here, and good to see it is picking up again after the suspension. The match between them has to come sooner or later though, even though it possibly should be saved for Wrestlemania. The problem is, I don't see it stretching that far without one of the them being off screen for a few months

Kid Kash makes a nice impact on Smackdown, building off his run on Raw, and immediately has picked up a few wins, showing just how superior Raw is to Smackdown. The same is shown by AJ Styles, so sadly has had to leave Raw to go to Smackdown, which poses the question of how am I going to replace him as the go-to mid card face on Raw. Still, looks like he has a feud with Finley and Burchill set up, which is a great start for him.

Raw preview will be up tomorrow, and then Raw by the end of the week... also, there will be some reviews being handed out tomorrow as well for the first time in a very long time
Tag Teaming With James Ellsworth
Join Date: Jun 2005
Location: Sidford, England
Posts: 1,864
Points: 0
Re: Forever-Delayed and Kane01 Do WWE
---
WWE RAW Preview – May 29th


It is Christian vs. Chris Jericho 2 at King of the Ring, and tonight the match will be made official when the two men take part in a contract signing which will kick off Monday Night Raw. With the match just 3 weeks away, how will both men behave when they sign the contract, and will there be any major surprises in store for both men?

We also found out last week that John Cena will have a tough task ahead of him as he faces D-Generation X in a handicap match at KOTR. How will Cena react to having this task ahead of him, and what will DX do as well, knowing that this is a chance to take Cena out once and for all?

Plus, the round of 16 on the Raw side of things will be completed in the KOTR competition when Rob Van Dam faces CM Punk and Kurt Angle faces the final draft lottery pick from Smackdown. Who will that man be, and who will join Matt Hardy, Booker T, JBL, Umaga and Gregory Helms in the round of 16? Speaking of Gregory Helms, with AJ Styles, his opponent in the next round being drafted to Smackdown, it has been announced that he will have a bye to the last 8. Will this make him the favourite to win, with him having 1 less match to go through?

CM Punk is also affected by this, as it means he has lost his partner in an attempt to regain the tag titles that were stripped from him. What will happen to his chance now? And who will be still be in contention for the titles, as JBL and Booker T take on the Highlanders in the final round of 16 match, and The Teachers take on Christian and Tyson Tomko in the first of the quarter final matches?

Finally, Matt Hardy will defend his intercontinental title against Charlie Haas

Find out what happens, only, on Monday Night Raw
Re: Forever-Delayed and Kane01 Do WWE
---
I still feel terrible for never finishing off your PPV review Kane01, I accidentally deleted it and never got around to re-doing it. Instead, I'll review this...

Nice way to pay tribute to Benoit I must say. Focusing on the wrestler and not the man we never really knew. Kash beats Kidman and he should have a title shot against London which I think can produce a great match. Always liked Kid Kash, reminds me of Kid Rock haha

Lol King Kennedy.....Kennedy. He gets his cocky self over in typical fashion. Ouch Foley/Orton gets real personal. Foley's call on Orton was tops, but Orton's retaliation was a little childish I must say and not something you'd expect from him or anyone. Rock was just The Rock and nothing more. Rock/Edge is a unique program that might work well

Kennedy was always going to beat Eugene and thankfully he did. Next. Yeah I can see Triple X going their seperate ways I guess with Daniels on RAW perhaps using the gimmick he has currently. Although it would be a big loss to the tag division. Lesnar is all wrapped up and he smacks Matthews with his crutches before he states his claim for a title opportunity. Makes me wonder if we're gonna see an EC or something soon

AJ vs Finlay would've been great and it ends in a double count out so Kennedy has a bye, not too keen on that but meh. AJ takes out Finlay & Burchill after the match with a nice move, a possible feud between AJ/Finlay coming up methinks. Another man to stake their claim for a title chance is Batista. Big Dave won on Sunday I remember because I absolutely loved the match. I can see something big going down tonight when Rock takes on Kane. Just as I thought, it turns into a wild scene and we have a 5 Way Dance for the title! Huge match with some massive names in Rock, Edge, Kane, Lesnar, Batista. I could see Orton added to that unless he has an actual program to start with Foley...

Orton takes out Burchill, seems like we're gonna have a late change to the card. Orton takes on Carlito but thanks to Mick Foley's music hitting, Carlito still manages to win! haha! Orton will be pissed to high heaven. Shelton/Carlito I can see feuding for the US title as they won't reach the final of the KOTR

Loved the ending with a top tribute match with some of Benoit's closest friends duking it out. Nice touch to end a LOADED show I must say

Good work Kane01, sorry about the PPV review again and the overall lack of commentage I have left for this thread recently but I am back to it now. 8/10
---
***

Tag Teaming With James Ellsworth
Join Date: Jun 2005
Location: Sidford, England
Posts: 1,864
Points: 0
Re: Forever-Delayed and Kane01 Do WWE
---
WWE RAW – May 29th

The show kicks off with Jonathon Coachman standing in the middle of the ring, and he announces that we are about to see a contract signing for the main event of KOTR. He starts by bringing out Chris Jericho, and then out comes Christian, as the two men are ready to sign the contract for the match
Jericho as the challenger speaks first, and tells everyone that this will be the time when he gets to prove that he really is the best in the business, and his loss to Christian at Wrestlemania was a fluke. He says that since then, Christian may have defended the title well, but simply because he hasn't faced the best man on Raw, that man being Chris Jericho.
Christian then takes the microphone, and tells Jericho that he doesn't know what he is getting at, as he has beaten Jericho on more than 1 occasion. He reminds Jericho of Christian pinning him at Saturday Night Main Event as well, and tells Jericho that he is more than happy to do it again at King of the Ring.
Jericho says that won't happen, and then takes a look at the contract, before declaring the whole thing to be a joke. He says that he doesn't want this kind of match, but it is open to fluke results! He says that Christian could fluke a win, or his crew could cost Jericho the match, and says he doesn't want that. He tells Christian that if he is a real champion, he will defend the title in a 3 STAGES OF HELL MATCH!
Christian smiles, and says that he has absolutely no problem with that, as when he wins, it proves to everyone that he isn't the fluke champion that Jericho claims he is, he isn't the man holding the title by default, and he is the true WWE Champion.
Jericho and Christian agree on this type of match, but the Coach takes the mic again, and says that he is the man in charge here, and he will be deciding the type of match. The Coach says it will be a 3 stages of hell match. The first fall will be a regular match, just like it was at Wrestlemania. The second fall will be A STREET FIGHT, and if needed, the third fall… will be a LADDER MATCH!
Christian and Jericho both sign the contract, and Jericho tells Christian to keep the belt warm, because at KOTR, it comes back around Jericho's waist, where it will never, ever, leave. Christian tells Jericho that he can believe that, but it will be Christian who walks out of KOTR as the WWE champion, BECAUSE THAT'S HOW HE ROLLS!

Commercial

We return from the commercial, and Matt Hardy comes out to the ring, as it is time for an Intercontinental Title match, and he will be defending the title against Charlie Haas, who in the traditional style of the midcard has done nothing to earn a title shot, but he might as well be given one. Haas puts up a good effort, but in the end, it is not enough against the experience of Hardy, who has been on fire ever since Wrestlemania. Hardy gets the win after catching Haas with the twist of fate from nowhere, and retains the title.
Hardy celebrates the win, as Shannon Moore runs out from the back and gives Hardy the title, and joins in the celebration with him

We go backstage, and we see Eric Bischoff walking through the backstage area, when he bumps into Rob Van Dam for the second week in a row. Eric asks him whether he has thought about what he said last week, only for RVD to tell Eric that he doesn't really care about what he thinks any more. He tells Eric that as far as he is concerned, he can do what he likes to him, and that Eric can kiss his ass!
Eric is obviously delighted at what he has just been told, and tells RVD that he is no longer a part of the KOTR tournament, and as of this moment, he has been replaced.
RVD seems totally unconcerned by this, and tells Eric that's fine with him. He says that he's had a better offer anyway, and won't be around on Monday Night Raw anyway, so it wasn't really fair for him to have the spot. He tells Eric that he'll see him around, as he picks up his bags, and him and Paul Heyman walk straight out of Raw

Commercial

We return from the commercial, and JR and the King re-iterate the big news that we have just heard; that being RVD appears to have quit his Monday Night raw contract. The commentators discuss what that means for Raw, and what else could happen tonight… but are interrupted by Umaga's music, as it is time for a rematch from last week, as Umaga takes on Hardcore Holly.
We get a solid match between the two of them, with Holly really taking it to Umaga in an attempt to be the first man to beat him, and to get revenge for the loss in the KOTR tournament last week. Holly has a good go at it, and manages to knock Umaga off his feet when he nails a dropkick off the top rope, but in only gets a 2 count. Holly then decides to get a chair instead of going to finish the match off, AND SMASHES THE CHAIR OVER THE HEAD OF UMAGA. The crowd pop, as Umaga stutters backwards, AS HOLLY NAILS HIM AGAIN. The referee calls for the DQ, but Holly just walks off, having taken Umaga down. Estrada tells Holly that he will pay for this, but this has proved that Umaga can be harmed

We then go backstage, and we see John Cena entering the building, which gets a huge pop from the crowd. We follow him walk straight into his dressing room, not wanting to talk to anyone on the way about his handicap match with DX at KOTR

We then go back to the ring, and we see the Highlanders there, and they are soon joined by JBL and Booker T, as it is time for another match in the tag team tournament. We get a short match between the two sides, as there is still a lot that has been booked for tonight, and this is one of the least important segments of the day. In the end, JBL and Booker T get the win when JBL nails the clothesline from hell to Rory, and then covers him to get the win.
JBL and Booker celebrate, as JBL has sent out a message ahead of his KOTR match next week, and they still have a chance of being the tag team champions

Commercial

We return, and Kurt Angle comes out to the ring, as it is time for the next match in the King of the Ring tournament. We are told the winner of this match will face Umaga in the R16 next week, and that Kurt Angle's opponent will be the final draft lottery pick for Raw… WHO TURNS OUT TO BE REY MYSTERIO!
The crowd go wild, as Rey Mysterio is now on Raw, and we are about to witness a Wrestlemania rematch between these two men, but this time with a match against Umaga in the next round of the KOTR as a reward for winning the match.
The match starts with an action packed few minutes, with both men trying to gain an early advantage on the other one, with Angle using a series of suplexes on Rey, and Rey using his speed and high flying ability to take down Angle, before the match settles down a more normal pace after Angle catches him in mid air, and then nails him with a belly to belly suplex. Angle then starts to work on the legs of Rey, knowing that if he takes away his legs, his speed advantage in the match is lost, and it sets him up a bit more for his submission holds.
After a good few minutes of Angle working on the legs, the match spills to the outside, as Rey is whipped into the steel steps. Angle then takes him to the barrier, and he sets him up for an Angle slam onto the barrier…only for Rey to slip out of it, and then dropkick Angle over the barrier and into the crowd… but Rey's relief doesn't last for too long, as Angle takes him down with a flying clothesline off the barrier.
They go back in the ring, but Angle cannot get the job done, so heads up top to hit the moonsault, only for him to spend too long taunting the crowd, as Rey manages to get to his feet, and nails Angle with a dropkick. Rey then manages to nail a hurricanarana to Angle, but can only get a 2 count. He goes to the top rope, but the work Angle did on his legs slowed him down… and Angle has the time to leap up the top rope, and nail a springboard belly to belly, but can only get a 2 count.
Angle then goes for the Angle Slam… but again, Rey slips out of it, and then nails a dropkick to Angle… and Angle falls into position for the 619… Rey then runs at Angle, looking to hit the 619… BUT ANGLE MANAGES TO ROLL OUT OF THE RING. The crowd boo, as Angle walks over to the announce table and picks up a steel chair. REY LEAPS OVER THE TOP ROPE AT ANGLE, BUT ANGLE BLASTS HIM WITH THE CHAIR, CAUSING THE DQ.
Angle then nails Rey with the chair again, before locking in the ankle lock on Rey, who is screaming in pain. Angle looks to have wrecked the ankle of Rey Mysterio, who gets the win and advances in the KOTR here, but could have been taken out by Kurt Angle

Commercial

We come back from a commercial, and we are shown an interview with Angle that happened during the commercial break. Angle is asked why he got himself DQ'ed and cost himself a chance of becoming the 2006 KOTR, and he replies by saying that this match was never about being the KOTR, it was about getting some revenge on Rey Mysterio, and showing him that the Wrestlemania win wasn't a fluke. He says that at Wrestlemania, he beat Rey Mysterio, and he wants to do the same again in the future, just to prove to Rey that he hasn't lost his touch, and he can beat him without cheating, as he was supposed to do have done at Mania (he rolled him up and grabbed hold of the tights and the ropes). He says that he has been wanting another match with Rey ever since the draft began, and was determined to end up on the same brand as him. He says that Rey may have won the match tonight, but Angle won the battle, and will win the war!

CM Punk then comes out to the ring for the final first round match in the KOTR, but has no idea as to who his opponent will be, as the man he was supposed to face, Rob Van Dam, was kicked out of the tournament earlier tonight.
Eric Bischoff comes out, and says although it was tempting to compete himself, and show everyone what will happen to John Cena in 3 weeks tonight, he decided that it wouldn't be the best option. He says that CM Punk will have a match tonight, but it will not be against 1 man… but it will be a 6 pack challenge. And his 5 opponents will be…. THE SPIRIT SQUAD!
Punk is left having to face the whole Spirit Squad in order to qualify for the next round, and he also knows that he doesn't have to be pinned for him to lose the match.
Punk starts off by throwing everything he can at the Spirit Squad, but the sheer numbers of them make it difficult for him, and eventually he succumbs to them, and they work him over, and the 5 of them hit the High Spirits to him. Kenny goes to cover… but can only get to 2 before he is pulled off Punk by Jonny, who also wants to advance to the next round it seems. The Spirit Squad then seem to disintegrate, as they start a showing match between themselves, as all of them seem to want to get the get the win… AND THIS ALLOWS PUNK TO ROLL UP MITCH FROM BEHIND, AND GET A SNEAKY 3 COUNT.
The crowd erupt, as Punk overcomes the odds and qualifies for the next round of the KOTR

Commercial

We then cut back to the ring, and we see the Teachers make their way out to the ring, as they are back on Raw for the first time in 6 weeks after the injury that Nowinski picked up in the run up to Wrestlemania, as they are about to face Christian and Tyson Tomko, who get a massive pop as they come out to the ring… but they are followed by Chris Jericho, who is going to once again reprise his role as part-time commentator, and spends the whole match talking, not allowing JR and the King to get much of a say in.
In terms of the match, it only lasts for a few minutes, as you get the sense that the show is close to overrunning, and with a big segment to come, this match has to be cut. Tomko plays the face in peril for a stretch in the match, but after a double clothesline to Striker and Nowinski, he tags in Christian, and at which point business picks up. Christian then dominates both members of the tag team, and then he ends by following up with the Unprettier to Striker, before covering to get the 3 count, as Tomko nails the big boot to Nowinski to stop him breaking up the count.
Jericho starts to applaud Christian and Tomko, who celebrate the win, knowing they are the first team in the semi finals of the tournament to crown new tag team champions.

Commercial

As the show draws to a close, we get the final segment of the night, as D-Generation X come out to the ring to talk about the match they have with John Cena at King of the Ring. They start with their traditional introduction, which gets the crowd fired up, but they still get booed from the crowd.
HBK takes the mic, and says they felt that they had to come out here, because there has been a change of plan. He says that DX talked this through, and felt that it would be unfair… unfair for all the fans who have paid to see DX compete, as the match would just be too easy for them. They say that they want some competition, and so will allow John Cena to have a tag team partner… but HHH says there is a catch; he has to name the partner tonight. HHH looks at his watch, and he says that Raw is over in roughly 10 minutes.
HHH and HBK then take it in turns to give reasons why people should volunteer to be Cena's partner, and their reasons include such gems such as 'it may be your only chance to get your ass kicked by DX', and 'because it will be good for the soul'.
Cena then comes out to the ring, and he looks very fired up as he does so. He says he appreciates the fact that DX have allowed him a partner, but to be honest, he never needed one in the first place. He says that DX may have had a number advantage going into that match, but he has made a career of overcoming the odds. He mentions that DX at KOTR will be used as a warning sign… a warning to Eric Bischoff as to what is going to happen to him when they meet in a cage, only for HHH to interrupt him, and tell him that all that is going to happen at KOTR is that he will get his ass nailed flat on the floor by D-Generation X.
HBK then says that he is surprised that Cena is out here, when he could be backstage, trying to find a partner. HBK says that Cena may be superman, he may be one of the best superstars in the WWE today, but he isn't good enough to beat DX by himself…and if he's not down with that, DX have just 2 words for him…
Cena then interrupts, and tells DX that he couldn't give a crap about their stupid catchphrase. He says that maybe Shawn is right, maybe he can't beat DX by himself… but unfortunately he won't get the chance to find out whether he can or not. He says that he has found a partner for the KOTR match… but HHH says that it simply doesn't matter whether he has or not. HHH says that there is not a man alive who can scare D-Generation X…AS THE LIGHTS GO OUT, AND THE GONG HITS! WHEN THE LIGHTS COME BACK ON, THE UNDERTAKER IS STANDING IN THE MIDDLE OF THE RING.
Cena then takes the mic, and tells DX that you are looking at his tag team partner, AND IF YOU AIN'T DOWN WITH THAT, HE'S GOT JUST 6 WORDS FOR 'YA, YOU WANT SOME, COME GET SOME!
Cena throws the mic down, and stares straight at DX, whose task suddenly seems to have got a lot harder.

Results

Matt Hardy def. Charlie Haas via the Twist of Fate to retain the Intercontinental Title at 6:29
Umaga def. Hardcore Holly via DQ when Holly nailed him with the chair at 4:55
JBL and Booker T def. The Highlanders via the Clothesline from Hell to progress to the QF's of the tag team tournament at 3:43
Rey Mysterio def. Kurt Angle via DQ when Angle nailed Rey with the chair to progress in the KOTR tournament at 15:30
CM Punk def. The Spirit Squad via Punk rolling up Mitch to progress in the KOTR tournament at 5:12
Christian and Tyson Tomko def. The Teachers via the Unprettier to progress to the SF's of the tag team tournament at 6:00

WWE Heat – 4th June

Candice Michelle and Shelley Martinez open the show by introducing the newest diva to Monday Night Raw, that being… Angel Williams. They state that she was more than willing to help them out in their fight against Trish and Britney Stratus, and that Trish can try and do whatever she likes, they will always go 1 better
MNM def. Matt Hardy and Shannon Moore to progress to the SF's of the tag team tournament when Nitro pinned Moore after the Snapsnot, and a shot of Matt Hardy's IC title
Gregory Helms def. Gene Snitsky when he nailed Snitsky with the top rope ddt
D-Generation X def. Val Venis and Viscera to progress to the SF's of the tag team tournament when Triple H nailed Venis with the pedigree

King of the Ring - June 11th

WWE Title – 3 stages of hell match
1st fall – 1 on 1 match
2nd fall – street fight
3rd fall – ladder match
Christian © w/Tyson Tomko and Maria vs. Chris Jericho

World Heavyweight Title
Edge w/Lita vs. The Rock vs. Kane vs. Brock Lesnar vs. Batista

D-Generation X vs. John Cena and the Undertaker

KOTR QF's, SF's, and the Final
Gregory Helms
JBL or CM Punk
Matt Hardy or Booker T
Rey Mysterio or Umaga
Ken Kennedy
3 more Smackdown Superstars
Posting Rules

You may not post new threads

You may not post replies

You may not post attachments

You may not edit your posts

---

HTML code is Off

---