Making James Ellsworth GET MY BAGS
Join Date: May 2004
Location: Central London
Posts: 4,641
Points: 0
Re: WWE: Afterlife
---
Anyone else got any views on Unforgiven? I was kind of in a rush and hey, it didn't live up to everyone's expectations, but so what? I'll just have to do better next time...
For now here's a Raw Preview....
RAW © PREVIEW
LADDERS FOR ALL…
September 27th 2004
As was announced by General Manager Eric Bischoff at Unforgiven, Chris Jericho will face Rob Van Dam in a Unforgiven rematch, this time it will be a Ladder Match, however one added stipulation has been added to the match. These two men will be fighting for an open contract at Taboo Tuesday to face the Intercontinental Champion Randy Orton. This feud has been escalating for weeks now and join us for what should be one epic Main Event on Raw.
Last week on Raw, Linda McMahon told us that she would be making an appearance this week to inform us of an announcement concerning the next Raw PPV, Taboo Tuesday.
Two weeks ago on Raw, Triple H hospitalised Chris Benoit. We have learnt that the injuries caused by Triple H at the No Disqualification match have been so horrific that Benoit will be out for weeks. This surely will put a smile on the face of The Game, as he now has one person less to face in his pursuit to regain the World Heavyweight Title…
Finally Kane gets his shot one-on-one against the man who cost him his match against Shawn Michaels at Unforgiven, Abyss. Does Kane have what it takes to stop this man, or will Abyss keep his winning streak on Raw intact?
The Hardcore Title will be on the line as Kevin Nash faces Scott Steiner in another Unforgiven rematch. Steiner beat Nash in a non – title contest last week, and does he have what it takes to beat Nash and regain his former Gold?
Next Monday night is sure going to be one epic blockbuster of a night, join us for this and a whole lot more as Raw emanates from the Kemper Arena in Kansas City, Missouri
Chopped Liver
Join Date: Jan 2004
Location: Six inches from a computer screen
Posts: 5,424
Points: 294
Re: WWE: Afterlife
---
Loved Unforgiven, although I would have loved to have seen a full length main event. Some great stuff coming from the event, including Abyss debuting.

Cant wait to see a full RAW next week, should be great!!!! Ladder Match should be amazing!!
Learning to break kayfabe
Join Date: Aug 2004
Location: Lackland Air Force Base, San Antino
Posts: 76
Points: 0
Re: WWE: Afterlife
---
that going to be a bad ass raw man it going to be great cant wait for it to be up
Learning to break kayfabe
Join Date: Sep 2004
Location: Oregon, United States
Posts: 62
Points: 0
Re: WWE: Afterlife
---
looks like it will be a great raw, ill check it out, whens the next ppv, yea im kiknda new at this, i suppose u have sene my thread america wrestling association, im getting alot of views which is cool but i hope to get more replys, but yea whens raw going to be ill check it out,

later man
Re: WWE: Afterlife
---
I wonder how the Abyss/Kane match will work out, Good stuff, anyway.
Making James Ellsworth GET MY BAGS
Join Date: May 2004
Location: Central London
Posts: 4,641
Points: 0
Re: WWE: Afterlife
---
Presents....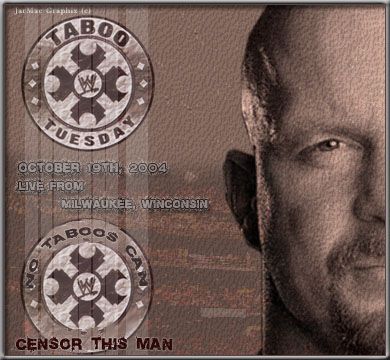 Event: WWE Raw - Taboo Tuesday
Date: October 19th 2004
Venue: Bradley Center
City/State: Milwaukee, Wisconsin
Official Theme Song - Sad Exchange by Finger Eleven
*Matches yet to be announced*
---
Last edited by The_Showstopper; 10-02-2004 at

12:03 PM

.
Moron
Join Date: Nov 2003
Location: NJ
Posts: 3,331
Points: 0
Re: WWE: Afterlife
---
nice banner. Jarmac showed it to me and I like it. Read Unforgiven and it was a good show and I liked Abyss's debut. Saddened by no full length main event I was looking forward to that match, but it is all good. Good show anyway. Raw should be good, especially with the ladder match.
Re: WWE: Afterlife
---
I've been informed that I do not have to write both Smackdowns, so instead I'll just write a summary of what was supposed to happen on the past two shows.
The Undertaker and the Rock's fued continues to build up. The Undertaker gets the upper hand on the Rock on one show, while the Rock gets the upper hand on the other.
Rikishi and Scotty 2 Hotty continue to get the upper hand against Grandmaster Sexay and TAKA Michinoku. GMS says he wants Rikishi at No Mercy. Shane McMahon schedules a match between Rikishi and GMS where whoever wins gets both the tag team titles and can give the other one to their partner.
Madusa says that Chyna win wasn't legit, since she didn't make it in time for the match, as Madusa had already won the title before she came. Shane schedules a match between the two at No Mercy.
JBL gives another dosage of "Learning English with John Bradshaw Layfield". This time he directs it to the LWO, who he says have joined together to get their American citizenship papers together and teaching them counting by singing the "One, two, three four five, once I caught a fish alive..." song. LWO attack him again. JBL then gets his own faction up, called "The American Dream" which consists of JBL, Orlando Jordan and Shawn O'Haire. The two factions get into a physical confrontation and Shane McMahon arranges a lumberjack match between Eddie Guerrero and JBL for the United States title, with the two factions on the outside.
Kurt Angle and Ric Flair continue to feud, and they decide to settle it at No Mercy, in a submission match.
Harlem Heat and The Dudley Boyz get a match at No Mercy, as well as A.J Styles and Dean Malenko for the Cruiserweight title.
BTW, No Mercy should be up on the scheduled day, as long as education doesn't get in the way. A preview of the final Smackdown before No Mercy should be up by Saturday night (GMT)
WWE Championship - Buried Alive Match
The Undertaker © vs. The Rock
WWE United States Championship - Lumberjack Match
Eddie Guerrero vs. JBL ©
WWE Tag Team Campionship
Rikishi © vs. Grandmaster Sexay
WWE Women's World Championship
Chyna © vs. Madusa
WWE Cruiserweight Title
A.J Styles © vs. Dean Malenko
Submission Match
Kurt Angle vs. Ric Flair
Harlem Heat vs. The Dudley Boyz
---
Last edited by CM Fanatic; 09-23-2004 at

04:39 PM

.
Making James Ellsworth GET MY BAGS
Join Date: May 2004
Location: Central London
Posts: 4,641
Points: 0
Re: WWE: Afterlife
---
Card's looking good, should be a classic PPV.
And orton17, sorry about disapointing, damn education nowadays.......but I'm sure that Taboo Tuesday will be better...for everyone
Posting Rules

You may not post new threads

You may not post replies

You may not post attachments

You may not edit your posts

---

HTML code is Off

---