Re: Being the booker
---
Wrestlemania 50: A New Generation

I don't know what'll happen there. Hope Hogan still lives at that time.
Asking JAMES ELLSWORTH for Wrestling Advice
Join Date: Jun 2005
Location: London, England
Posts: 460
Points: 0
Re: Being the booker
---
First Off Great to See that You caught up, i look forward to reading all the new material. I remeber reading that previous Raw and leaving a review, so i hope you don't mind i don't fully review. But i shall leave a few comments, being that Mick Foley and Ric Flair promo was fantastic, so detailed, with home truths from each other being sent both ways. The main event was very good and well written, with a great win for Sting. Though with only 3 Matches announced, WWE Nemesis looks really good. Look forward to all your new material.
Chopped Liver
Join Date: Jan 2004
Location: Six inches from a computer screen
Posts: 5,433
Points: 321
Re: Being the booker
---
Finally, here it is, a new show!!! All FULL replies will be returned.

Smackdown; September 15th: Omaha:

Video Package showing Steve Austin retiring last week, and Chris Benoit becoming the #1 Contender to face Kurt Angle at Nemesis.
Opening Video
Pyro
Michael Cole:
The Qwest Centre is ready to explode with anticipation for another week of Smackdown action!!! Tonight, the WWE Champion, Kurt Angle puts his title on the line, just three and a half weeks away from Nemesis, against the WWE Cruiserweight Champion, Paul London, in our main event!!! I'm Michael Cole, joined as always by Tazz.
Tazz:
I'm here as always Cole, and I'm ready for what promises to be the biggest night in Paul London's short career, as he gets an opportunity to become the first ever man to hold both the Cruiserweight and WWE Titles at the same time.
Michael Cole:
Also on tonight's show, we have the in ring return of Chris Jericho, as it'll be Y2J vs. Matt Hardy to decide the Number One Contender for the United States Championship, and the Number One Contender for Nemesis, Chris Benoit will also be in action.
Tazz:
Don't forget that The Rock, Triple H, Eddie Guerrero, Brock Lesnar and Goldberg are all here too Cole.
** Time to Play the Game** Triple H enters the arena to a stunning amount of heat. The Game is dressed in a suit, not looking like he will be in a match this evening.
Michael Cole:
And speaking of Triple H, it appears that The Game will have something to say.
Tazz:
This oughta be interesting Cole. The Game doesn't look happy at missing out on becoming the Number One Contender.
Triple H stands in the ring, with a mic in hand, waiting to speak.
Triple H:
Last week, I lost, but I wasn't defeated … I lost in a triple threat match, despite not being included in the decision, and if y-
Crowd starts an asshole chant.
Triple H:
Show some respect. I'm in the middle of a sentence, and it's rude to cut me off while I'm doing it.
Asshole chant gets louder.
Triple H:
That's wonderful. You see, that's the reason, this company never comes to places like this.
Crowd gives heat.
Triple H:
Now, as I was saying, last week, Chris Benoit became Number One Contender, without beating me. He only beat Eddie Guerrero. Now, I've spoken to Bret Hart, but it appears that he's got some sort of Canadian bond with everyone's favourite Wolverine, and I wont be getting a one on one match with Benoit to decide the Number One Contender.
Crowd cheers, just to rile Triple H more.
Triple H:
But Benoit, I know, you're a man of honour. I know, that you wouldn't back down from a challenge, right?? So Chris, how about you put your status as Number One Contender on the line, tonight, against me. One o-
**VIVA LA RAZA** Eddie Guerrero enters the arena in his low rider to an amazing reaction from the fans. Eddie pops the car up and down a few times, before turning the ignition off, and taking a mic from the glove compartment. He jumps out of the vehicle, and sits on the bonnet, ready to speak.
Eddie Guerrero:
(Smiling)
Orale Holmes!!!
Crowd cheers
Eddie Guerrero:
Triple H. Hunter. You've been wrestling now for how long?? Over ten years at least, yes??
Triple H:
That's right, but I don't see where you're going Eddie.
Eddie Guerrero:
It's quite simple vato. You've been In this business a long time essa, yet after all this time, you still don't seem to get how exactly a triple threat match works. You see essa, you don't need to be pinned to lose a triple threat match, you don't have to even be in the ring. Holmes, you know this, but right now, you're trying to dig your way out of a loss.
Triple H:
Not true Eddie. I'm not digging myself out of a loss, because I wasn't beaten last week … you were. In fact, you weren't just beaten … you tapped out.
Crowd gives Triple H heat.
Eddie Guerrero:
(Smiling)
Hey, I wont deny I tapped out last week Holmes, but since when was losing to Chris Benoit via the Crossface so demeaning?? Everyone has tapped to the Crippler Crossface at some point essa … even you.
Crowd pops
Triple H:
Y'know, that was so long ago, I almost forgot. Fact is Eddie, you cost me my shot at facing Kurt Angle at Nemesis. You couldn't hold on, just a little while longer for me to break the submission, and save your ass. Face it Eddie, you're a quitter.
Crowd gives heat.
Eddie Guerrero:
(Puts his head down)
You're right essa. I am a quitter. I quit drugs, I quit alcohol, and I quit all my demons.
Crowd pops
Triple H mockingly claps Guerrero.
Triple H:
Well let me say, well done. Congratulations on that
holmes.
It's only the one hundredth and twenty eighth time I've heard it. But in future, save that spiel for something like Oprah, okay?? Now, did you come out here for a purpose?? Or did you just want to tell Omaha about all the problems you've faced in your career.
Eddie Guerrero:
Oh, there is a purpose vato. And it involves, you, me and Nemesis.
Crowd pops
Triple H:
Whoa, whoa, whoa, whoa, whoa. Back up a second. There is no, you, me and Nemesis, understood?? I've been there, and I've done that. Eddie, you're not in my league. Never have been, never will be. Quit punching above your weight. I've beaten you more times, than these inbreds have beaten their animals.
Crowd gives major heat for the distasteful joke.
Eddie Guerrero:
Well holmes, why shouldn't you face me again if you're so sure you can beat me??
Triple H:
You really want this, don't ya Eddie?? You fail to realise that the end result will be just the same. Just the same as at The Royal Rumble, when I beat you, 1,2,3. Just the same as No Way Out when I beat you, 1,2,3. Just the same as two weeks ago on Smackdown, when I beat you, 1,2,3.
Crowd starts an Eddie Chant.
Triple H:
So you know what Eddie. I'll put you out of your misery. October 9th, you and I, one more time.
Crowd pops
Triple H:
But -, there is a but. Eddie, lets make this interesting. How about, we fix a time limit on the match. One fall, with a twenty minute time limit. You have twenty minutes to beat me at Nemesis. No more, no less.
Crowd gives a mixed reaction.
Eddie Guerrero:
That's what you want??
Triple H:
That's the only way you'll get me.
Eddie Guerrero:
Then it's on.
Crowd Pops
Eddie Guerrero:
And holmes, at Nemesis, it wont be time to play the game, no, no, vato. It'll be time to FEEL THE HEAT!!!
Crowd pops again, as Eddies music hits, before we cut to a commercial
Commercial
1st Match:
Acolyte Fashion Agency vs. Basham Brothers
Rico's unique style once again, throws the Basham Brothers, as it does with every team they face, totally off their game. JBL's secretaries of defence eventually take control, once Faarooq is involved in the match, and begin to isolate him from his partner.
Danny and Doug use their incredible likeness to full effect, switching in and out, with the referee not noticing, whilst Rico tries to get the crowd behind his dear 'Ronald', who is in a world of trouble. This eventually helps him, and Faarooq makes a big comeback, making the tag to Rico!!!
Rico enters, all guns blazing, blasting both Basham's with some stiff kicks, showing his aggressive side. He gains a near fall on Danny, before Doug breaks the count, at two. Doug goes to whip Rico, but Rico blocks, pulling Doug in closer, and begins to try and dance with him. Doug pushes Rico away, and slides out of the ring, leaving Danny all alone.
He is face to face with Rico, and the flamboyant ex-cop blows him a kiss. Danny, turns away to keep his distance from Rico, but walks into Simmons devastating Spinebuster. Rico, the legal man, covers, 1...2...3!!!
Winners: A.F.A
Rico hugs Faarooq, but Faarooq pushes him away, not wanting Rico to get too close. Faarooq slides out of the ring, and raises his arm to the fans, whilst Rico starts hugging the referee, before hugging Tony Chimmel. He goes to hug Cole and Tazz too, but the commentators jump over the barricade, keeping away from Rico.
Commercial
Michael Cole:
Welcome back to Thursday Night Smackdown, live as always, and we are rocking in the Qwest centre. Big news for Nemesis already tonight, as Eddie Guerrero will meet Triple H in a one on one match at the event, only with a twenty minute time limit.
Tazz:
And you gotta wonder how that time limit ruling will affect both men in that match, knowing that they've gotta get the job done in a limited time period.
Michael Cole:
I could bet right now Tazz, that the time limit ruling will only help Triple H. He'll try and keep his distance for twenty minutes, and run down the time limit.
Tazz:
I don't know about that Cole. Triple H has beaten Eddie Guerrero three times already this year, and looking at the times those matches lasted, seventeen minutes at the Royal Rumble, twenty nine at No Way Out, and fifteen just two weeks ago. Triple H is capable of beating Eddie well within twenty minutes.
Backstage, Josh Matthews is with The Rock…
Josh Matthews:
Rock, you have an announcement to make??
The Rock:
Correction Josh Matthews. The Rock has a number of announcements. And first is quite simply, that FINALLY … THE ROCK, HAS COME BACK TO OMAHA!!!
Crowd Pops
The Rock:
It's been too long Omaha since The people's champ came to the Qwest centre, and The Rock is gonna make up for it, you betcha. Literally, moments ago, The Rock came from Bret Hart's office, and The Rock was given the news, that at Nemesis, on October 9th, The Rock is gonna be in action.
Crowd Pops
The Rock:
The Rock wanted a piece of Goldberg's ass, and he's gonna get it. But - The Rock also wants a piece of Brock Lesnar's ass after last weeks attack on The Rock. What?? You didn't honestly think Brock, that The Jabroni beatin, Pulse Raisin, entertainment cravin, People's Champ The Rock was gonna just sit idle, and let you get away with attacking The Great One on his show, The Rock's show, Smack-Down.
Crowd Pops
The Rock:
Did you think I was gonna forget what Lesnar did last week Jim??
Josh Matthews:
Umm, my name is Josh??
The Rock:
IT DOESN'T MATTER WHAT YOUR NAME IS!!!
Crowd Pops
The Rock:
Fact of the matter is this. October 9th, Nemesis, it's Goldberg teaming up with Brock Lesnar, to face The Rock … and a partner of The Rock's choosing.
Crowd Pops
The Rock:
So, The Rock has been thinking, and he's been mulling it over, and FINALLY The Rock has come to a conclusion, and he's turning to you
(Turns to Josh Matthews)
Josh. Will you do The Rock one favour?? Will you go that extra mile for The Rock?? Will you step up to the plate??
Josh Matthews:
Gee, it'd be my hon-
The Rock:
To go get The Rock a big huge slice, of the People's Pie.
The crowd laughs, as Matthews puts his head down, then nods to Rock, before walking off.
The Rock:
Now back to The Rock's tag team partner for Nemesis. He's been running down names. Where do I start?? Disco Inferno?? Nah, Goldberg beat him … Ultimate Warrior?? Too weird … Scott Hall?? Too drunk … Brooklyn Brawler?? Not in a million years … you see, I could run down every single superstar that's passed through the doors of the WWE, but only one, and one only can measure up, only one can team with The Rock and collide with Goldberg and Lesnar. And his name … 'Stone Cold' Steve Austin.
Crowd pops big time for the mention of the Rattlesnake.
The Rock:
But, and this is a big but. Last week, the entire world saw Steve Austin call it a day. Everyone saw Stone Cold retire live on Smackdown. Well Steve, and I know you're watching back home. Steve, The Rock needs you … I need you … and most importantly … The People need you.
Crowd Pops
The Rock:
Steve, reconsider. Take back your retirement, because we all know you don't want to throw the towel in just like that. That's not Stone Cold. The real Stone Cold wouldn't quit, that's for damn sure. The Steve Austin that I grew to love, the Steve Austin that all the People grew to love, never just threw his hands up and quit without a fight.
Crowd starts an Austin chant.
The Rock:
Austin, take a moment, turn up the volume, and listen to the people…
More Austin chants.
The Rock:
The People don't want you to quit like you did. They want you here, live on Thursday nights on Smackdown. Austin, you have my number, you have Bret Hart's number, you have Vince McMahon's number. Call me, or Bret, or Vince, but please, do one thing … and say yes.
Crowd Pops
The Rock:
And that's the bottom line … because THE PEOPLE said so.
Crowd pops again, as we cut to a commercial.
Commercial
2nd Match:
Jamie Noble vs. Billy Kidman
Typical cruiserweight action, with both men giving it 100% in a bid to win. Kidman plays the perfect face, taking a sustained beating from the Chief of Staff, before making an impressive comeback against him. Both men get convincing near falls, which bring the crowd to the edge of their seat.
Kidman counters a tiger bomb with a hurricanrana, before climbing up top for a shooting star. He comes off, but Noble gets his knees up, driving them into the sternum of Kidman. Noble follows up with a roll up, grabbing the ropes, 1...2...3!!!
Winner: Jamie Noble
Noble slides out of the ring, raising his arms in the air, jubilant in victory, even though he did cheat to do it. Kidman sits up, in the ring, holding his ribs, moaning in agony, possibly Injured after Noble's knees were driven into his midsection.
Michael Cole:
Well Tazz, the Cabinet appears to be one for two tonight, with the Basham Brothers losing earlier, and Noble picking up a tainted win over Kidman.
Tazz:
Noble impressive here Cole. Despite the fact he may have leaned against the ropes by accident, he wrestled this match perfectly.
Michael Cole:
Leaned against the ropes??
Tazz:
Yeah.
Michael Cole:
Still to come tonight, we find out JBL's opponent for Nemesis. Will it be Chris Jericho, who return to the ring just a month after a brutal assault, or will it be Matt Hardy, who right now is on a heck of a roll.
Backstage, we see Paul London stretching, just a little while from the biggest match of his career.
Raw Rebound
We see Bret Hart enter his office, and walk towards his phone. We see that there is a message left on the answering machine. Bret picks the phone up, and dials a number, before putting the receiver back down, to listen hands free…
Voice:
You have one new message…
BEEP
Another Voice:
Hi Bret, Kurt Angle here. Just thought I'd leave a little message for ya. Something to ponder. Lance Armstrong. Diagnosed with cancer. No one expected him to bounce back like he did, and he won Tour De France, after Tour De France. A miracle some would say.
Your own best buddy, Ric Flair. Caught in a plane accident, broke his back. He was never expected to wrestle ever again. So, what did Flair do?? He went on to become a sixteen time, World Champion, and is still going strong today. Again, some would say that's a miracle.
So, when you say that you CANT ever wrestle again … think about Lance Armstrong … think about Ric Flair, and think about yourself.
The phone line goes dead, as we see the camera close up on Bret Hart's face, deep in thought.
Commercial
Michael Cole:
I'd love to know what's going on with Kurt Angle. He's three and a half weeks away from facing one of his biggest opponents throughout his career in Chris Benoit, but he seems more interested with riling Bret Hart.
Tazz:
Doesn't add up Cole. Kurt Angle surely has an ulterior motive.
Michael Cole:
Well, coming up in just a moment, Chris Benoit, the Number One Contender is in action, as he takes on Test.
3rd Match:
Chris Benoit vs. Test
Fairly quick match, with Benoit taking it to the bigger man immediately, showing his newly found intensity once again, over coming Test's power advantage, hitting the Trifecta of German Suplexes, followed by the Headbutt, and ending with the Crossface, which Test taps out to pretty quickly.
Winner: Chris Benoit
Benoit wins, but as he has his arm raised in the air, he spots Kurt Angle standing at the top of the ramp, looking down at the ring, clapping his Nemesis opponent.
Michael Cole:
It's three and a half weeks, until one of the most bitter, most competitive, rivalry is re-opened, and right now, you can cut the tension with a knife.
Tazz:
Damn straight. But lets not forget that Kurt Angle has to overcome the Cruiserweight Champion still tonight.
Michael Cole:
And that will be no mean feat.
Backstage, we see Chris Jericho warming up for the upcoming match, against Matt Hardy.
Commercial
**Goldberg's March** Bill Goldberg enters the arena, smiling ear to ear, getting a tonne of heat from the fans. He walks to the ring, getting in the faces of the fans, and is handed a mic, before walking up the steps, into the ring. His music dies down, and the fans already start a 'Rocky' chant.
Goldberg:
So, at Nemesis, it'll be Goldberg and Lesnar. A dream team if ever there was one, taking on The Rock, and dare I say it …
(Chuckles)
Steve Austin.
Crowd Pops
Goldberg:
Please come along Austin. It's about time I smashed your skull too.
Crowd gives heat.
Goldberg:
But right now, ladies and gentlemen, I give you, my tag team partner to beat on The Rock at Nemesis, ladies and germs, BROCK LESNAR!!!
**Here Come The Pain** Lesnar enters to a red hot heat filled response from the fans. He walks to the ring, smiling, being accompanied by Paul Heyman. Lesnar slides in, and shakes hands with Goldberg, as does Heyman.
Brock Lesnar:
Thanks Bill. You know, we've battled through thick and thin, you and I. WrestleMania Twenty, Judgement Day last year, and numerous Smackdown's, as well as a triple threat, just last month at Summer Slam. But, I'm pleased to say, that it's been hell working against you, but I'm gonna enjoy working by your side.
Goldberg nods, whilst the fans give heat.
Brock Lesnar:
Rock, you cant seriously believe that you can compete against Goldberg and I, do you?? Goldberg, a four time World Champion, and Brock Lesnar, now at the age of 28, I've been the youngest King of the Ring, at one time the youngest WWE Champion of all time. You'll remember that Rock, because I beat you to do it, and in total, a three time WWE Champion.
Crowd give heat again
Brock Lesnar:
And don't get me started on the has been Austin.
Crowd boo Lesnar immensely.
Brock Lesnar:
Rock, face facts, you're facing Goldberg and I, in a two on one match at Nemesis. You've about as much chance at beating us, as a one legged man in an ass kicking contest.
Crowd boo more, starting a 'Rocky' chant, as Lesnar hands the mic over to Goldberg.
Goldberg:
Do the sm-
**IF YA SMELL … WHAT THE ROCK IS COOKIN** The Rock makes his way out to the stage, and stares down at Lesnar and Goldberg, with a mic in hand.
The Rock:
Bill Goldberg, Brock Lesnar, and lets not forget the Bill Gates of the wrestling business, Paul Heyman.
Crowd laughs at The Rocks sarcasm
The Rock:
You all think that Steve Austin will be a no show?? You all think that The Rock couldn't whip all your asses at once?? Let The Rock tell you this … THE ROCK WIPES A MONKEYS ASS WITH WHAT YOU THINK!!!
Crowd Pops
Goldberg:
Well come down here, and prove it to us Rock … Just bring it.
The Rock looks around the arena, and smiles for a second, before dropping his mic, and sprinting down the aisle to the ring.
The Peoples Champ slides in, but right away, Goldberg and Lesnar are on the attack, stomping The Rock. The fans start an 'Austin' Chant, but there is little chance of The Rattlesnake showing up. The Rock tries to get up, but Goldberg and Brock are far too much for him to handle. They drag him up, with Lesnar holding Rock, allowing Goldberg to Spear him!!
Immediately, Lesnar drags him up, and hoists The Rock onto his shoulders, delivering the F5!! The two men contemplate doing more damage, but Paul Heyman advises them to leave some of The Rock for Nemesis.
The three men exit the ring, and back up the ramp, laughing at The Rock, who is for the second week in a row, laid out.
Commercial
We return, and see The Rock being helped into the medical room for the second week in a row, with Bret Hart following in.
Bret Hart:
Rock?? You gonna be okay??
The Rock:
Yeah, I'll be fine. I can handle it.
Bret Hart:
Sure as hell doesn't seem like it.
The Rock:
Listen, The Rock is gonna be just fine. In fact, how about you give The Rock a match, next week, against Lesnar, or Goldberg or both of their asses.
Bret ponders the decision for a moment, before speaking…
Bret Hart:
Alright, next week, it'll be The Rock vs. Brock Lesnar. But Rock, I cant sit by and watch you take a beating week after week. If you don't find a partner for Nemesis soon, I'm afraid I'll have to call off the match.
The Rock:
Over The Rock's dead body.
Bret Hart:
You keep getting beat up every week, and that is exactly what it'll be.
Hart exit's the room, as doctors tend to The Rock.
4th Match: Winner faces JBL for United States Title at Nemesis:
Matt Hardy vs. Chris Jericho
Tremendous, technical match, between two men with a common respect toward each other. The match is fought cleanly, back and forth, with both men getting a number of near falls. Jericho shows a little ring rust, which allows Hardy to be the aggressor as the match slows down. Version One begins to work on the back of Jericho, and looks to be doing an excellent job, until, almost from nowhere, Jericho manages to cradle Hardy, taking him by surprise, and scoring the pin fall, 1...2...3!!!
Winner: Chris Jericho
Jericho has his arm raised before shaking hands with a shocked Matt, who still cant believe Jericho's resourcefulness to overcome the sustained attack, and surprise him. The two men discuss something in the ring until …
**Longhorn** JBL's limo drives out into the arena, with The Bashams and Noble stepping out first, before the U.S Champion exit's the vehicle to a large amount of heat. He has a mic in his hand, and waits for the music to die down before speaking.
John 'Bradshaw' Layfield:
Chris Jericho. Y-2-J. The first ever, Unnnndisputed Champion. Chris Jericho, you may think that sounds impressive. You may strike fear into opponents by saying it, but in my humble opinion Jericho, being the first ever anything, isn't something that you can shout off the roof tops, but being the current something, is.
Crowd gives heat
John 'Bradshaw' Layfield:
And Chris Jericho, you're not a current champion, but I am. You brag about your past accomplishments, whereas I brag - no, I state, my current achievements.
Crowd boo
John 'Bradshaw' Layfield:
Right now, I have the longest unbeaten record in singles competition in this whole damn company. I am the reigning United States Champion, and in the future… the near future, I'm going to take your pathetic career, and literally do, what you've done with your it these last few years, and flush your career, down the toilet.
Crowd starts a JBL sucks chant
John 'Bradshaw' Layfield:
Chris Jericho, I will finish this little fiasco in dominating fashion, just like how it started, only this time, I intend on making sure that your career does cease to an existence.
Chris Jericho takes a mic from Tony Chimmel, and waits for JBL to speak again.
John 'Bradshaw' Layfield:
So Jericho, wipes your eyes son, dress appro-
Chris Jericho:
WOULD YOU PLEASE … SHUT, THE HELL … UP!!!
Crowd Pops
Chris Jericho:
Junior, I've listened enough to you drone like a robot, these Jericholics have begun to fall off to the land of nod, and Y2J, The Highlight of the Night, is looking for a piece of rope to end this brutal bore down.
Crowd Pops
John 'Bradshaw' Layfield:
Did I just hear you right??
(Looks to Cabinet)
Did I hear him right?? Chris, you fail to realise that when you utter the words, 'Highlight of the Night', these people don't think of you, no, immediately, their thought turns to me. Hell, for these people, I'm not just the Highlight of the Night, but the Highlight of their life!!
Crowd gives more heat
Chris Jericho:
(Smiling)
JBL, it's not when I say Highlight of the Night that the Jericholics think of you. When I say … ass clown … then, the Jericholics think of you.
Crowd Pops
Chris Jericho:
And as for me tak-
John 'Bradshaw' Layfield:
Chris?? I've listened to you rabbit on for too long son. And since it's apparent that you wont listen to what I have to say, perhaps, I can beat it into your skull.
JBL signals to the Cabinet, and the four men begin to walk down the aisle towards the ring. Jericho slides out, and grabs a chair before sliding back in, to defend himself against The Cabinet. JBL instructs The Bashams to go first, which they do, but Danny only reaches the apron, before Jericho takes a swing with the chair. Danny jumps off, with Y2J just missing.
Doug does get in, but is met with a chair shot, sending him back out again, through the ropes. Noble tries to catch Jericho from behind, but Jericho gets to him first, catching him in the midsection, before smashing the chair across his back.
Finally, JBL is about to climb in the ring, but decides against it, with Jericho ready to strike. The U.S Champion looks worried, but tries to shake it off, telling Jericho he's nothing, as he backs up the ramp.
Commercial
Michael Cole:
It's been an incredible night here on Smackdown folks, and next week, Boise, Idaho will host, as The Rock will be facing Brock Lesnar, one on one. Will Steve Austin show up to aide the Peoples Champ, or will he continue his retirement??
Tazz:
That may be the main event, but that aint all we got next week, as during the commercial break, we've been told that Chris Jericho will be facing The Chief of JBL's staff, Jamie Noble!!
Michael Cole:
Don't miss Smackdown, next week…
Main Event: WWE Championship Match:
Kurt Angle vs. Paul London
The Cruiserweight Champion puts on the performance of a life time, frustrating Angle early on, by holding the upper hand. His speed and trickery causes the WWE Champion a lot of problems in the early going, escaping every bad situation Angle tries to get him into.
Eventually, the Olympian manages to get on top of the match, turning London inside out with a Belly to Belly. He takes away the legs of the CW Champ, breaking down London's main weapon.
Angle is methodical is breaking down the challenger, before trying to take the air from him, with a simple front face lock.
After a commercial break, we return, with The Olympian still wearing down London's legs and head. Angle goes for the Angle Slam, but Paul London flips out of it, before taking down Kurt with a drop sault.
That gives London time to recover, and try to shake his leg loose, as well as catch his breath. He starts to use his speed advantage again, hitting a number of deep arm drags to Angle, which begin to hurt Angles offence, with the already bad arm from COTC being singled out. Angle appears to be in deep trouble, much more than he would have expected, with Paul London giving his all.
Kurt misjudges a clothesline, and London manages to slip free, and nail The WWE Champion with a standing enziguri. London quickly jumps to the top rope, and hit's the Shooting Star Press!!!!! He has Angle beaten!!! 1...2...FOOT ON THE ROPE!!!
The crowd comes alive, as Angle looks to be on the brink of defeat, with London closing in on an upset victory, and most likely, the biggest shock WWE Champion of all time.
London hit's a swinging DDT, and goes up top again, going for the 450 Splash, but Angle MOVES!!!!! London eats dirt, as Angle quickly recovers, and delivers the Angle Slam. Angle doesn't play around with the dangerous opponent, and immediately locks in the Anklelock, with London not taking long to tap out.
Winner: Kurt Angle
Angle takes the title belt, and stares longingly at it, as if grateful to still have it after London's scintillating performance. At the top of the ramp, we see Chris Benoit walk out, and Angle spots him. Benoit claps Angle, just like Angle did earlier, with both men staring up and down the ramp at each other as we fade to black.
End of Show
***********
Current Card for WWE Nemesis: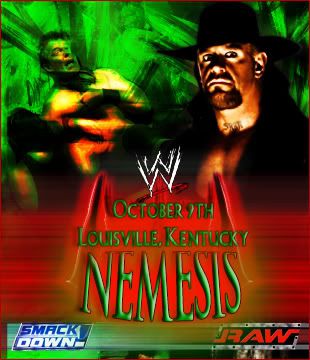 Date:
9th October
Location:
Freedom Hall; Louisville, Kentucky
Event Music:
Adema, Planets
WWE Championship Match:
Kurt Angle vs. Chris Benoit
World Heavyweight Championship Match:
Shawn Michaels vs. Sting
WWE United States Championship:
John 'Bradshaw' Layfield vs. Chris Jericho
WWE Intercontinental Championship Match: ECW Rules:
Rey Mysterio vs. Rob Van Dam
20 Minute Time Limit:
Eddie Guerrero vs. Triple H
Unfinished Business:
The Rock & A Partner of Choice vs. Goldberg & Brock Lesnar
w/ Paul Heyman
All FULL replies will be returned.
---
Last edited by Wolf Beast; 09-30-2005 at

02:35 PM

.
Moron
Join Date: May 2005
Location: Orlando, Fl
Posts: 334
Points: 0
Re: Being the booker
---
The Eddie-Triple H promo was great to start the night off and their twenty minut time limit match at Nemesis will be great.

AFA get another win, I see them winning the tag team championships soon enough.

The Rock wants Stone Cold to come back! I think he will and after Rock and Goldberg settle everything at SS, Goldberg and Stone Cold will feud.

Jamie Noble pins Paul London, I see him as number one contender for Nemesis.

Angle pestering Bret, the match at Wrestlemania will be great.

Benoit beats Test, thats good. I see Angle and Benoit going into Nemesis without too much heat on each other.

The Rock getting his ass handed to him for the second week in a row, thats sucks. Hopefully Stone Cold will be their next week.

Bret wont cancel match lol.

Jericho Beats Hardy!!!! We could have a new US Champion at Nemesis, Im mixed, or Jericho might win it at a rematch at SS.

The Main Event was great, I knew Angle had to retain, London vs. Benoit doesnt sound right for a PPV main event. I hope Angle retains so Benoit can win it at Mania.
Re: Being the booker
---
Smackdown! Review;

Excellent opener with Eddie and Triple H. I already kind of guessed that they would be in a match at Nemesis and I knew they would feud when Benoit won the number 1# contender's match. I promo was a good length and some very strong words by both men.

AFA V Basham Brothers-A nice recapped match and I like the team of Rico and Farrooq it is very interesting. I found it pretty funny when Rico tried to hug everyone and Cole and Tazz ended up jumping overt he barrier.

Your Rock promo was spot on. I could really see him saying it and I am glad that Stone Cold might come out of his retirement! If he does that is going to be one of the best matches at Nemesis. Also I like the way he picked of Josh and then ran down the WWE superstars....that was very good.

Noble V Kidman-Typical cruiserweight match. Surprised to see Noble get the win but it was good nonetheless.

An interesting promo with Hart and Bret....I am liking where this is going.

Test V Benoit-A good win for Benoit. I couldn't see Test winning anyway. Good to see Kurt come out and start clapping but I would have hoped something else would happen.

The only fault for the night was the Brock/Heyman/Goldberg/Rock promo. I like it but I would have preferred it to last a little longer because I like listening to the Rock and it sounds right when you write it so I was looking forward to it. I like the new team of Goldberg and Lesnar and this feud is looking good.

Hardy V Y2J-I knew it! I knew it! I knew Jericho would be the number 1# contender for Nemesis. I would really like to see a match between Matt Hardy and Chris Jericho. I think it would be a good match and the aftermath was excellent. The JBL and Jericho insults were very good and I am glad Jericho wouldn't let himself get beat down by the Cabinet.

WWE Title-A good back and forth match for the end. Realistically I knew London wouldn't pick up the win but it was a very good match and they way you had London get the offensive didn't make Kurt look weak which is hard to do. A nice thing at the end with Benoit coming out to clap Angle. This feud doesn't seem to be heating up much but it does seem to be very slow paced and getting us ready for Nemesis.

Overall a very good show. I liked this show and as you know I will read RAW when it is up!
Tag Teaming With James Ellsworth
Join Date: Mar 2005
Posts: 1,214
Points: 0
Re: Being the booker
---
Opening promo: Good opening promo with Triple H complaining about not being the number 1 contender. And then Eddie comes down to the ring and challenging Triple H for Nemisis. That match should be great

AFA v Bashams: Good opening match. Like how your still using Faaroq even if it is teaming up with somebody like Rico. lol like how Rico went to kiss Cole and Tazz but they jumped over the barricade staying away from him.

Rock promo: Good promo, hope Stone Cold accepts the offer.

Noble v Kidman: Good cruserweight match with Noble cheating to win.

Interesting voice message left by Angle, would be great to see a Bret v Angle match.

Benoit v Test: A short match but puts his has its purposes.

Lesner/Goldberg promo: Interesting promo with Goldberg and Lesner. Nice ending to it with Rock coming down only to be attacked by Brock and Goldberg

Jericho v Hardy: A good match and glad to see Jericho win so he can face JBL. Good promo afterwards between the Cabinet and Y2J

Kurt v London: Great match here and Angle wins rightfully so.

Great looking card for Nemesis

Overall rating: 45/50 Great show ,looking forward to your next one
Re: Being the booker
---
Eddie/HHH- I though I lost all respect for Eddie but him coming out in that low rider actualy got me liking him. Can't wait for HHH vs Eddie hopefully HHH can beat him.

Acolyte Fashion Agency vs. Basham Brothers-Good match. That ending was great with Rico trying to hug everyone and I like Michael Cole and Tazz jumping over the wall to get away.

Just like I said The Rock was going to team up with SCSA against Goldberg and Lesnar. But if he does come I bet you that after the match SCSA will give The Rock a Stone Cold Stunner.

Jamie Noble vs. Billy Kidman-Good cruiserweight match. A good win for Noble.

Kurt trying to get the match again.

Matt Hardy vs. Chris Jericho-Good match and I like the cabinet coming out afterwards.

Kurt Angle vs. Paul London-MOTN. It was very good even though it was easy to know Angle was going to retain. Great match though between the 2.

Great Smackdown! Can't wait for Nemesis
---
"Acquire a peaceful spirit, and around you thousands will be saved." + Saint Seraphim of Sarov

Asking JAMES ELLSWORTH for Wrestling Advice
Join Date: Jun 2005
Location: London, England
Posts: 460
Points: 0
Re: Being the booker
---
Smackdown Review:

First off Congratulation finally getting up to date, now onto the review.

Excellent opening promo, very typical whining Triple H character, about wanting about his 100th title shot. Nice interuption by Eddie Guerrero, with the promo becoming just that much better. Eddie Guerrero vs Triple H, 20 Minutes at Nemisis will be excellent, will Eddie Guerrero finally defeat Triple H, look forward to that.

AFA vs Basham Brothers.
I alway wonder what A.F.A. stood for, Acoyltes Fashion Agency, LOL, that excellent. Onto the match though, really good tag team match, that was very well described, good win for AFA.

Another Excellent promo by the Rock, very in character. I really thought Rock was going to ask Josh Matthews to be his partner, but all he wanted was "Pie." Nice storyline emerging here with Rock requesting Stone Cold to re-consider his retirement and team with him. This will interesting to see where it goes, but i expect Austin to return.

Jamie Noble vs Billy Kidman:
Excellent match, i really enjoy when these two hook up, good spots in the match especially Kidman countering the Tiger Bomb into a Hurracarrana, very nice. Good counter as well from Jamie Noble getting his knee's up from the Shooting Star Press, Ouch, good win for Jamie Noble, still cheating to win.

Nice Bret Hart segment with the Answerphone message from Kurt Angle, nice little truths about Lance Armstrong and Ric Flair, will Bret Hart come out for one Last Match, in what could be a classic, i hope so.

Chris Benoit vs Test:
Good way to have Chris Benoit continue to go over, with him beating Test with a nice combo of a moveset. Good way to start the build up of an intense feud of the past with Kurt Angle having Kurt Angle applaud Chris Benoit victory.

Brock Lesnar and Goldberg promo was good on Stone Cold, it was really well written and built up the storyline. Good interuption by The Rock only for him to get his ass kicked, good way to build up the feud. Nice aftermath between The Rock and Bret Hart, look forward to Rock vs Brock next week, where hopefully Stone Cold will make his return.

Chris Jericho vs Matt Hardy:
Great match here, it was really well written, i liked Matt Hardy taking advantage of Chris Jericho ring rust, only to be rolled up and lose the No.1 Contender Match, which was expected considering Chris Jericho and JBL feud. The promo cut after the match between JBL and Chris Jericho was really good. It was good how a brawl was about to start, but Chris Jericho fought off the Cabinet, only to have JBL leave. I see Chris Jericho finally beating JBL come Nemesis.

Paul London vs Kurt Angle:
An excellent main event, with Paul London being put over really well and putting in a great effort, almost upsetting Kurt Angle. Though Kurt Angle used one his 3 I, being Intestity and putting Paul London away after the flawed 450 was very good, great match. Very nice aftermath, with Kurt Angle and Chris Benoit having their staredown with Chris Benoit returning the applause.

Overall excellent show Wolfy. It built up Nemesis really well, and everything with was right, including the promo's and matches.
Re: Being the booker
---
First off good to see an new show here now and this should be an action packed night, Triple H and Eddie Guerrero with an 20 Minute Time Limit, this should be an real good match between these two men

Ah great stuff with the AFA. Rico is an hilarious character and you have him down pat. I am hoping that somehow they can get the Tag Titles very soon because that would be cool

Great news for Nemesis and I surely hope that Stone Cold does come back and help the Rock and maybe this would be his last match until around WrestleMania where he could retire

Well an great Cruiserweight match between Noble and Kidman and this would be an great feud. Nice touch with Noble winning with his foot on the ropes and gives him good heel heat

Good little call that Kurt Angle gave with the inspirational thoughts for Bret Hart to think about for an while, this feud is going great but please hold it until WrestleMania, please!

Decent Chris Benoit match, nice to see Benoit get an win though and builds him up greatly heading into Nemesis. This is going to be an awesome match and I can tell right now

Great promo from the new alliance of Goldberg and Brock Lesnar, hopefully next week, Stone Cold will come back and attack Goldberg and Lesnar behind and then come back for the tag match at Nemesis

Great news, Lesnar vs The Rock is going to be one hell of an match and I can definently see Stone Cold coming back next week, this feud is progressing awell very good

An expected win from Chris Jericho but it however was an good match betwen both men, nice to see JBL playing the coward and not going into the ring but sending the Cabinet in

Great match to end the night with and Angle retaining was obvious but you still made it an great match. Well after looking at the Nemesis card so far, this is going to be one hell of an PPV and there is still more stars without matches right now anyways!
Making James Ellsworth GET MY BAGS
Join Date: May 2004
Location: Central London
Posts: 4,641
Points: 0
Re: Being the booker
---
Consider it an honour that I'm rating a show even when I'm not booking one....yet :S.
Anyway, what an awesome show. You've been here ever since I started booking and it's an honour. Without you booking, I firmly stand by the opinion that BTB would collapse. There just isn't anyone that can step up the the boundary that you've set.
Anyway, back to the show. The opening Eddie/Hunter promo was intense, and I'm glad that there will be a 20 Minute Match to settle it. Good start.
Loved the first Rocky promo. Your promo skills are truly something extra special. Will be interesting to see if Austin accepts the challenge.
A brilliant Bret segment. You are really keeping me guessing as to see if/when he gets into the ring. Brilliant work here.
Nice work with Y2J coming back with a bang, should be a great match at Nemesis.
Main Event was a bit of an anti-climax, however I can't fault you as Angle simply had to win.
The card for Nemesis is looking freakin awesome, and a good choice with the Theme
Rating - Easily a 10. Loved every bit of it.
Posting Rules

You may not post new threads

You may not post replies

You may not post attachments

You may not edit your posts

---

HTML code is Off

---