Tag Teaming With James Ellsworth
Join Date: Apr 2005
Posts: 1,710
Points: 0
Re: Being the booker
---
Wolf Beast, once again another solid show. Excellent interaction on Raw and even though it was quickposted, it was enough to get me hyped for Bad Blood. I'll be replying to Bad Blood also, even though it won't be so much in detail. As for Smackdown, excellent battle royal. I hope you can make a credible WWE title match with Goldberg in it. But hey, you got the Rock in there too, so it shouldn't be much of a trouble. Anyway here are my predictions for Bad Blood.

World Heavyweight Championship;
Triple Threat Match:
John Cena vs. Edge vs. Christian

Intercontinental Championship Match:
Rey Mysterio vs. Rob Van Dam

World Tag Team Championships Match:
The Worlds Greatest Tag Team vs. Garrison Cade & Mark Jindrak

Casket Match:
Undertaker vs. Luther Reigns w/Shawn Michaels

3 on 2 Handicap Match:
Trish Stratus, Victoria & Lita vs. Shaniqua & Chyna

Randy Orton vs. Batista
With Special Guest Referee; Ric Flair

Carlito Caribbean Cool vs. Eugene

Kenzo Suzuki vs. Booker T
---
[U]KOM has returned to BTB with WWE 2007: The Legacy and Aftermath of WrestleMania!
[U]
Tag Teaming With James Ellsworth
Join Date: May 2004
Location: Bay City, Michigan
Posts: 1,907
Points: 0
Re: Being the booker
---
Here is my Smackdown review:

I am happy to see Paul London and Billy Kidman back togther but I can see a fued over the title in the near future.

All your Chris Kanyon promos were funny throughout the show but I liked the Goldberg and AMW ones the best. Chris Kanyon could have been funny in the WWE if he was used a little bit better.

I was suprised to see Matt Hardy get a win over Matt Morgan but I like Matt Hardy and think he deserves a good push. He has been around a long time and has potential for a good midcard match at a pay-per-view.

Nice to see JBL screw over Eddie and Benoit and manage a win. I really hope he does not win at GAB though because I am anxious for a one on one WM rematch between Eddie and Benoit. I like the way you are using JBL though because as entertaining as he is, I don't think he should be in the main event or at least not right away as he was after Farooq left in the WWE.

Nice to see Angle hintting at a match with Bret once again. The interview with Maria helped to set up the situation too seeing as Angle said that the gold was not everything.

Last but not least, the twenty man battle royal at the end. I am glad that it came down to Goldberg and Angle because if Angle is going for a match with the Hitman, he needs to build himself up. Not that suprised to see Goldberg win seeing as he is very dominant in battle royals. Looking forward to Rock-Goldberg too although I am 99.9% sure of who is going to win already.

Also, I hope that you have Jericho and Lesnar fued because that would be very cool. Both men would work well in the ring and on the mic as well.

Overall:

Realism: Everything was very realistic right down to the announcers but I am not suprised as you write great shows every week. 10/10

Quality: This was a very funny Smackdown with Kanyone running around and you never fail to come up with a new creative idea. (Triple H before Judgement Day setting everyone up) 10/10

Length: I have no problem with the length. That show could have filled up a two hour time slot and brought in top ratings. 10/10

Entertainment: Like I mentioned several times before, I loved the way you used Kanyon this show. Also, since your show is so realistic it keeps you on the edge of your seat. 10/10

Booking: Although I do not have many booking skills I can recognize a top booker when I see you and you are one of the best Wolfie. Keep coming up with new creative ideas! 10/10

Overall: 50/50 X2= 100/100

Overall Smackdown made for very good reading. I cannot wait for Bad Blood and posted my predictions under my review for your Raw in my other post.
---
Wall Jon - EPW Superstar
EPW Record: 20 Wins - 8 Losses - 1 Draw
- Former EPW Tag Team Champion w/ Rick Talant
(2/19/06 - 6/24/06)
- Former EPW Ultimate Edge Champion
(5/27/07 - 7/29/07)
Chopped Liver
Join Date: Jan 2004
Location: Six inches from a computer screen
Posts: 5,433
Points: 321
Re: Being the booker
---
Have a look at the Bad Blood poster, made by Red Cold.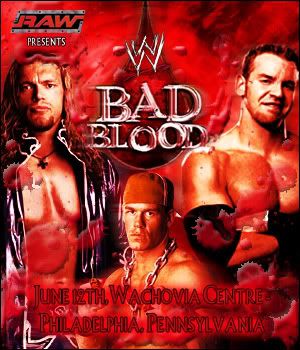 Re: Being the booker
---
Oh shit! That banner is amazing. Calum does it again!
---
WCW.
Re: Being the booker
---
very nice banner and i cant wait till bad blood
Moron
Join Date: May 2005
Location: Orlando, Fl
Posts: 334
Points: 0
Re: Being the booker
---
That banner rules, cant wait for Bad Blood
Asking JAMES ELLSWORTH for Wrestling Advice
Join Date: Oct 2003
Location: Far Far Away
Posts: 254
Points: 0
Re: Being the booker
---
The banner rules man! Nice to see for once Triple H is not on the Bad Blood banner :P
Re: Being the booker
---
Bad Blood is looking good, so is that poster, lol, I will be definatley reading as always
---
***

Chopped Liver
Join Date: Jan 2004
Location: Six inches from a computer screen
Posts: 5,433
Points: 321
Re: Being the booker
---
Raw Presents; WWE Bad Blood 2005: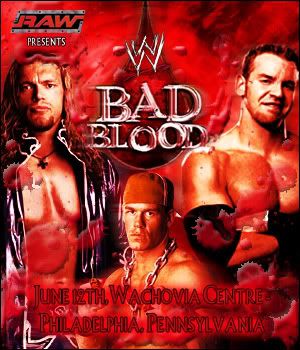 Date:
14th June

Location:
Wachovia Centre, Philadelphia; Pennsylvania

Event Music:
Breaking Benjamins; Away



Opening video, which focuses on the bad blood running, in the main feuds (Orton - Batista, Taker - Luther/Michaels, and the Triple Threat Match)



Pyro



J.R and King open the show, in front of a near capacity arena for Bad Blood. They hype the main matches, and the bad blood behind each one, before we get to the opening match…



Suzuki's Debut Match:

Kenzo Suzuki
w/Hiroko
vs. Booker T

Suzuki begins the match, trying to keep his distance from Booker T, walking around the ring, while Booker gets frustrated by Suzuki's tactics.

Eventually, Booker loses his cool, and comes after Kenzo on the outside.

The two men brawl on the outside, with Booker on top, and brings it back into the ring.

Booker T controls the early going, getting right to work on Suzuki

Kenzo once again bails out, walking around ringside, breaking the ten count on two occasions at 8.

Booker appears to be getting more frustrated with Suzuki, and once again comes after him, but this time, Suzuki has played possum, and gets the better of the Book.

Suzuki beats up Booker on the outside, whipping him into the steps, as well as the announce table.

He brings it back in, working over the back of Booker T, but already, it is clear Suzuki isn't a tremendous performer.

Booker T is forced to work twice as hard, to try and carry Kenzo to a decent match, whilst selling his back injuries.

Kenzo continues to wear down Booker, despite the 5 Time WCW Champion's best efforts to fight back.

Suzuki looks to pick up a submission victory with a backbreaker on Booker, but The Book fights back, breaking the hold, and beginning a comeback.

He scores a near fall with an axe kick, but Suzuki manages to kick out just in time.

Kenzo now appears to be on the back foot, with Booker taken total control, hitting an array of physical moves, many kicks.

Booker T comes close to victory again with the Scissors Kick, but this time, Kenzo manages to get a foot on the ropes, breaking the count.

Then, strangely, Rene Dupree makes his way to the ring, which distracts Booker. Suzuki takes advantage, rolling up Booker, grabbing the tights, but The Book manages to kick out just before 3.

Dupree then distracts the referee, whilst Kenzo continues to beat down Booker, but Book turns it around, and scores with a BookEnd. However, the referee is still distracted, and is unable to count.

Then, Goldust comes to the aid of his tag team partner, running down the ramp, and begins to brawl with Dupree.

The referee makes a count, but Hiroko pulls him out before he can count three.

Booker is irate, and grabs Hiroko by the hair, but she is saved by Suzuki, who attacks Booker from behind, nailing a low blow, before scoring with a STO like manouvre. He covers, and the referee gets back into the ring for the count, 1...2...3!!!

Winner: Kenzo Suzuki - STO - 09:56

After the match, Suzuki, Hiroko, and Dupree leave right away, after stealing the win, with Dupree shaking hands with Suzuki, showing an alliance. In the ring, Goldust helps Booker recover from the loss.



Backstage, we see Eugene preparing for his match later…by spitting Banana



In the DX locker room, Shawn Michaels tries to hype his buddies for tonight's matches, telling Cade and Jindrak that now is the time for them to step up and be noticed, and for Luther, tonight is his time to make himself a legend, and finish The Undertaker for good.

3 on 2 Handicap Match:

Trish Stratus, Victoria & Lita vs. Shaniqua & Chyna

The three smaller women all look nervous, with them eventually pumping each other up to give it their best shot, whilst Shaniqua and Chyna laugh in the opposite corner.

Trish starts off with Shaniqua, and already the Handicap situation makes no difference, as Shaniqua dominates Trish.

Trish manages to stay in the fight, giving her all, and manages to take Shaniqua down, and makes a tag to Lita.

Lita stomps down Shaniqua in the corner, but soon, the Women's Champion fights back, shrugging off Lita's challenge, and puts her down with a Press Slam, before tagging in Chyna.

Chyna then toys with Lita, kicking her in the face, then throwing her to the outside, before laying some more of a beating.

In a show of disrespect, Chyna chucks Lita to her own corner, allowing her to tag in someone else.

Victoria tags in, and tries to keep her distance from the 9th Wonder of the World, but Chyna backs her into the corner, and beats her down like a dog in the corner.

Chyna wears down Victoria, and just as she is about to tag Shaniqua back in, Victoria fights back, hitting a drop toe hold on Chyna.

Victoria keeps the pressure on, dropping numerous elbows, then makes a quick tag to Trish, and they attempt to double team Chyna, but Chyna overcomes both, with a devastating clothesline.

Shaniqua is tagged back in, and she goes right to work on Trish, with the big power moves, and three near falls, two of which broken up by Lita and Victoria.

After more of a beat down, Shaniqua then allows Trish to make a tag, just like Chyna with Lita earlier in the match.

Trish tags in Lita, who immediately goes after Shaniqua, and for a moment, thanks to her speed, she gets an upper hand on the Women's Champion, who quickly tags back out to Chyna.

Chyna comes after Lita, but Lita dodges her, ducking clotheslines, and hitting dropkicks, taking Chyna down.

Lita then tags Victoria back in, and Victoria keeps the pressure on, with a few well executed moves on Chyna, and a near fall, which Chyna powers out of at two.

Eventually, though, Chyna size and power advantage is too much for Victoria, and she retakes control, tagging Shaniqua back in.

Shaniqua dominates Victoria, and along with Chyna, she makes consistent tags, in and out, with Victoria being completely over powered.

Eventually, Trish and Lita have seen enough, and try to help their partner, and despite their best efforts, cannot over throw the two bigger competitors.

Trish goes for a Stratusfaction, but as she bounces her legs off the ropes, Chyna grabs her legs, and hit's a spinning power bomb on her.

Meanwhile, Lita goes for a reverse Twist of Fate, but Shaniqua fights out, then nails a Chokeslam.

Chyna and Shaniqua then both hit power bombs on Trish and Lita, before Shaniqua hits a military press on Victoria, and Chyna follows up with a leg drop, for the three count and the win.

Winners: Chyna and Shaniqua - Press Slam, Leg Drop - 12:04

Chyna and Shaniqua contemplate continuing the beat down, but laugh, and decide to let the three other women off, and decide to just leave instead.
Backstage, Todd Grisham interviews Christian. Christian talks about Mick Foley not wanting him as Raw's Champion, by banning Tomko from ringside tonight, but Christian says that doesn't matter, because tonight, he wont even need Tomko, because Edge and Cena will be their own worst enemy, and he will swoop in, and become the NEW World Heavyweight Champion!!!



The WrestleMania 22 commercial played last month at Judgement Day is played again, hyping the event from Las Vegas on March 26th 2006.



Intercontinental Championship Match:

Rey Mysterio vs. Rob Van Dam

The two men begin by shaking hands, to a huge response.

As the match begins, strangely, both men start off, with some actual wrestling, with holds, and counter holds, before both men reach a stalemate and break, to a big pop.

They then circle around, and tie up again, with some more actual wrestling, which soon develops into a number of roll ups and cradles, for umpteen near falls, before reaching a stalemate again, and breaking, to once again, a great crowd response.

One more time, RVD and Mysterio lock up, with Mysterio whipping Van Dam off the ropes, and connecting with a flying lariat, but as he goes for a seated senton, RVD ducks, then connects with a spinning heel kick.

Van Dam now takes control, after countering Mysterio.

RVD dictates the pace, with a number of impact moves, but for now, he keeps it simple, without going up top, or trying anything too over the top.

Mysterio struggles to fight back, with RVD thwarting each attempt made by the I.C Champ.

Eventually, RVD makes a mistake, whipping Mysterio off the ropes, and goes for a tilt the world, but Rey counters into a head scissors.

Mysterio then picks up the pace, using his height to duck out of the way of any RVD offence, and hitting as many moves as possible.

Now Rey has the upper hand, and works on the neck of RVD for a decent time period.

Ultimately, RVD manages to get back into the match, grounding Mysterio now, and he begins to try and single out the back of Rey for punishment.

Mysterio doesn't stay down for too long, knowing he cant give RVD too much of an advantage, and gets back to his feet, toe to toe with the challenger.

Both men turn it up a notch now, with both slightly worn down, but both eager to win.

We get a series of counters, and reversals from both men, which lights the crowd up, and has The Wachovia Centre on it's feet, split for both men.

Mysterio finally gets the upper hand, and goes for the 619, but RVD grabs the legs, and swings Mysterio back around, but Rey swings far enough around, that he connects with RVD from the other side.

Mysterio then goes for the West Coast Pop, but RVD counters into a power bomb for a very long two count.

RVD argues with the referee that it was three, but has no luck changing his mind.

RVD then goes for rolling thunder, but Mysterio moves, then cradles RVD, who immediately counters into his own cradle, but Mysterio kicks out at two!!!

After some brawling on the outside, the fight gets back into the ring, and Mysterio goes for the head scissors, but RVD flips Rey over his head, then knocks him down with a heel kick.

He goes up top for the 5 Star, but Mysterio rolls out of the way, then as RVD recovers from hitting the mat, Mysterio goes for a springboard bulldog, but RVD throws Mysterio into the turnbuckle, crotch first!!!

RVD goes for a Razors Edge, but Mysterio fights out, and backslides Van Dam, 1...2...KICK OUT!!!!

The two magnificent grapplers continue to go at it, back and forth, move for move, counter for counter, with no end in sight.

After some long back and forth action, RVD has control again, and goes for the Rolling Thunder one more time, but once again, Mysterio has it scouted, getting his knees up. He then quickly jumps up, and nails a West Coast Pop, hanging onto the leg, for the victory!!!!!

Winner: Rey Mysterio, STILL Intercontinental Champion - West Coast Pop - 20:23

Following the victory, Mysterio has his arm raised by the referee, and then is congratulated by his opponent, RVD, who shakes Rey's hand after a wonderful match. Mysterio hugs RVD, and after that, Van Dam leaves the ring, to allow Mysterio the chance to celebrate his victory.

Fanatix Series commercial…this month, "Divas 2005...Hot and Wild"



Flair and Batista chat backstage about the match coming up shortly. Flair says he'll make sure the Animal has his arm raised tonight, but Batista cuts Flair off, asking him to call it straight down the middle. Flair seems confused, but agrees with Batista if that's how he wants it.



Grudge Match:

Carlito Caribbean Cool
w/Stacey Kiebler
vs. Eugene

Right from the start, Carlito tries all the tricks in the book to cheat to victory, with Stacey trying to distract Eugene, but Eugene, being a little slow, doesn't even realise she's trying to distract him, with infuriates CCC.

Eugene gets the better of the early action, as he and Carlito tie up.

Carlito leaves the ring, and thinks about leaving altogether, but changes his mind, as he sees Eugene making fun of him leaving, and runs back to the ring.

Carlito though, runs right into a clothesline from Eugene, then a dropkick, and a fireman's carry, before Eugene starts impersonating the Junk Yard Dog, with headbutts, and then he pretends to urinate on his opponent to a nice pop, and laugh from the fans.

Eugene then shows his wrestling skills, taking Carlito to the mat, and totally humiliating him there too.

Stacey then gets involved, distracting the referee, but once again, the plan goes pear shaped, with Eugene whipping Carlito into the ropes, knocking Stacey off.

Carlito then grabs the ropes, making Eugene back off. Carlito then asks Eugene for forgiveness, offering him his apple as a gift. Eugene looks set to accept, and takes the apple, but Carlito takes advantage, knocking it out of his hand, then taking him down with a running knee.

Now, Carlito is on top, beating down Eugene, choking him with his hands, and on the ropes, before starting to nail some moves on Eugene.

Carlito scores a number of near falls, but Eugene manages to kick out each time.

Once again, Carlito gets Stacey involved in the match, as he takes a break, he distracts the referee, and Stacey gets in, choking Eugene with her long legs.

Carlito then goes for a Double Arm DDT, but somehow, Eugene blocks it, then clotheslines Carlito.

Both men go down, and the referee reaches the count of six, before Eugene becomes first to recover. As he gets up, he appears to be going a little physco, just like at Backlash, and a little like Hulk Hogan.

Carlito looks worried, and tries to run away, but Eugene catches him, and begins to beat down Carlito.

Stacey tries to intervene, but Eugene scares her away, to a chuckle from the crowd as Stacey runs away.

Eugene then moves in for the kill, going for Hulk Hogan's leg drop, but Carlito moves out of the way.

CCC then hit's a Northern Lights Suplex for a two, before reaching for his apple. He takes a bite, and turns around to Eugene, but is met by a big spit of Banana by Eugene!!!!!

Carlito is blinded, and Eugene then hits an Aeroplane spin, 1...2...3!!!

Winner: Eugene - Aeroplane Spin - 10:43

Eugene celebrates the win, eating his Banana, whilst Carlito leaves the ring, covered in Banana, absolutely humiliated.

Interview with John Cena. Cena talks about Christian's comments earlier, and tells Christian he better come into the match with a better gameplan, because the one he has wont pan out. Edge then enters, and has an intense staredown with Cena, before walking off.



Backstage, Shaniqua and Chyna talks about their match earlier, but we can see they arent quite on the same page, as Chyna hints towards a title match against Shaniqua soon.

World Tag Team Championships Match:

The Worlds Greatest Tag Team vs. Garrison Cade & Mark Jindrak
w/Shawn Michaels

Haas and Jindrak start it out, with Haas dominating Jindrak on the mat, forcing Jindrak to tag out to Cade right away, and Haas tags in Shelton.

Benjamin then dominates Garrison on the mat too, and Michaels orders DX out of the ring for a pep talk.

DX take quite a while on the outside, which gets a negative response from the crowd, but none of them are bothered about that.

Eventually, Cade re-enters the ring, and plays cat and mouse with Benjamin, keeping his distance, and letting the champion come after him.

This works in DX's favour, as HBK trips the leg of Benjamin, giving Cade the perfect chance to take advantage, and go to work on Shelton.

The challengers hit a stride right away, thanks to distractions by Michaels towards the official, allowing them to cheat in order to keep the advantage over TWGTT.

After numerous tags in and out between Cade and Jindrak, Benjamin starts a fight back, and is successful in making it to his tag team partner, Charlie Haas, who makes the hot tag, and cleans house.

Haas gives the fans a great showing, ripping DX apart, even dropkicking HBK off the apron to a big pop.

Charlie then goes for the victory, locking in the Haas of Pain on Cade for a submission, but Mark Jindrak saves the day, just in time, before Garrison taps out.

All four men brawl for a brief period, until the referee restores order, and the match once again quietens down, to the two legal men, Cade and Haas.

DX once again manage to get the upper hand, and once again, it is thanks to the shady tactics of Shawn Michaels.

Charlie Haas is beaten down by the challengers, for a long period.

Jindrak and Cade focus mainly on the lower spine, trying to force a submission victory.

On the outside, Shelton Benjamin becomes very agitated with the dirty methods from Cade and Jindrak, and is forced out of the ring by the official countless times during the beat down of Haas.

DX play around with Charlie, but their cockiness backfires, as Haas scores with a énziguri, and crawls towards the corner to tag in Benjamin, but as he makes the tag, Michaels distracts the referee, meaning he misses the tag.

Benjamin comes in, firing from all cylinders, knocking down both challengers, but before he can do any real damage, he is forced back out of the ring by the referee, who believes Shelton is illegally in the match.

Whilst Benjamin argues, DX drag Haas back to the centre of the ring, and use some illegal double team moves to put him back down.

DX now go in for the kill, and hit a double superplex on Haas, but Shelton breaks the count before three.

Then, Cade nails a brain buster, but again, Benjamin saves the day, breaking the count at two.

Now, Jindrak hit's a top rope elbow, and this time, Michaels grabs the leg of Benjamin, stopping him from making the save, but Haas gets a foot on the ropes!!!

DX appear to being losing their composure now, with both looking worried that Haas and Benjamin arent done yet.

The confidence continues to slide, as Haas begins a comeback, and takes down both men, then rattles their heads together, before whipping Jindrak into Michaels, and hitting a double clothesline to HBCade and MJ, before finally, tagging in his partner!!!

Benjamin jumps into the ring, all guns blazing, with a vast array of shots to DX.

Shelton shows his athletisism, with some suicide moves, bringing the crowd to it's feet.

The match comes down to a four man brawl, with Michaels also sticking his nose in, which leads to a fight between Haas and HBK, whilst in the ring, Cade and Jindrak have Benjamin all to themselves.

Michaels forces Charlie to follow him into the crowd, whilst Cade and Jindrak continue the beat down.

Despite his best efforts, Benjamin is unable to withstand the two on one disadvantage, and DX have him right where they want him.

Cade and Jindrak then hit a double power bomb, and Jindrak covers, 1...2...Haas nearly gets back in time to break the count, but is dragged back by Michaels…3!!! NEW CHAMPIONS!!!

Winners: Garrison Cade & Mark Jindrak - Double Powerbomb - 14:54

Haas then gets into the ring, but Cade and Jindrak hightail out, with the belts, as the new World Tag Team Champions. Haas and Benjamin are rightfully irate, as DX taunt on the ramp with the belts, along with Michaels.

Preview video for the next WWE PPV, which will be a Smackdown production, "The Great American Bash", with the Main Event pitting WWE Champion, The Rock against Goldberg, the winner of a 20 Man Battle Royal on Smackdown three days ago.



Cade, Jindrak and Michaels celebrate their victory moments ago, with a number of women, then, before Luther leaves to prepare for his match, they wish him luck, with Luther replying he doesn't need it.



Video Package, hyping up Batista - Orton.

Evolution Explosion:

Randy Orton vs. Batista

With Special Guest Referee; Ric Flair

Orton starts off, as if in a two on one environment, keeping an eye on Flair as well as his opponent, Batista.

Eventually, Orton goes toe to toe with Batista, and the two men brawl, going punch for punch, but with Orton consistently looking over his shoulder for Flair, Batista wins this early battle, backing Orton into the corner, with driving knees and shoulders.

Batista hit's a slam, for a two count, which is counted fairly by the Nature Boy.

Batista takes the fight to the outside, whipping Orton into the steps, and ramming him into the barricade, before bringing it back in.

The Animal continues the punishment, with early working on the kidney region of the Legend Killer, through forearms, shoulders to the kidney, knee's, and whips to the corner.

Orton though, refuses to stay down, and goes toe to toe with Batista, getting himself back into the match, and takes control, with an impressive version of the neck breaker.

Orton scores a number of near falls, all of which counted properly by Flair, which is surprising to both Orton and the fans.

Orton now takes it outside, doing the same to Dave, as Batista did to Orton.

Flair and Orton have their first showdown of the night, as Flair orders Randy to bring it back into the ring, as Orton responds, getting into the face of Flair, who in return, points to his referee shirt.

Randy and Dave go at it back and forth, in an evenly matched contest, with Orton getting a period of control, followed by a phase of dominance.

Throughout the battle, Ric Flair manages to call it right down the middle, which continues to surprise the audience, given Flair's allegiances in the match.

Batista goes back to working on the kidney area of Orton, then goes for a Spinebuster, but Randy fights out, and goes for an RKO, but Dave battle out, and throws Orton to the canvas, kidney first, giving him back the advantage.

The Animal continues the punishment on the kidney joint, with Orton fading rapidly.

Batista applies a various amount of submission's centred around the kidney's, but given Orton's determination, and will to win, a submission appears to be unlikely.

Eventually, Batista realises Orton doesn't look like tapping, and begins to go for the victory by pinfall.

He wears down Orton, and sets him up for a Powerbomb, but Orton once again gets a burst of energy and manages to fight out, and rolls up Batista, but Flair is slow to get to the count, and Orton only gets a two.

This annoys the Legend Killer, and he confronts Flair, who apologises, but this just gives Batista time to once again take control, and he lands a clothesline to the back of Orton's head.

Batista is once again in the drivers seat, and he beats down the tiring Orton, with some big moves, for a set of two counts.

Now, Batista is getting frustrated. He tells Flair to count quicker, which Flair meets with a smirk.

Batista now picks up the pace, and looks for a quick victory, getting desperate, putting his feet on the ropes, which strangely, goes undetected by Flair, but Orton still refuses to go down.

Batista uses everything he has to try and put Orton down for three, but Orton continues to stay in the match, despite how quick the counts appear to be getting.

Batista even hit's the dreaded Spinebuster, but Randy manages to grab the ropes to prevent the loss.

Then, Dave shapes up for the Powerbomb, but once again, Orton counters, and dropkicks Batista over the top rope!!!

Orton and Batista briefly brawl on the outside, before getting back in, with Orton stepping up a gear, taking it to The Animal.

Randy ducks a clothesline from the big man, and connects with an RKO!!!!!

Orton hooks the leg, but Flair stands above him, with a grin, and then shakes his head, before wiping his hands, laughing at Orton.

Randy snaps, and goes after Flair, completely over the edge, beating down the Nature Boy.

Batista recovers, and tries to intervene, but Orton moves, and Dave nails Ric instead!!! Orton then hit's a DDT on Batista, before going outside to grab a chair.

Orton now looks to be on another level, and decimates Batista with the steel chair!!! ]

Orton throws the chair out, and signals for the RKO once more. Batista starts to stir, and reach his feet, but just before Randy can execute the move, Ric Flair, from behind, scores with a low blow on Orton, sending him to his knees.

Batista takes a second to recover, before Flair instructs him to end it now. Batista then delivers the Powerbomb, and Flair isn't even required to make a fast count, with Orton down and certainly out, 1...2...3!!!

Winner: Batista - Power bomb - 17:41

Batista and Flair celebrate the win, standing over their former partner's broken body. Flair and Batista then look to the crowd, getting massive heat, before exiting the ring, and making their way up the ramp, in victory.



In the General Managers office, Mick Foley congratulates Eugene on another victory, telling Eugene that if he keeps winning like this, he could find himself up the ladder very soon. Eugene seems really excited by the news, and licks the face of Foley, ala The Bushwackers.



Ric Flair and Batista celebrate the win moments ago, pulling the wool over Orton's eyes, as well as everyone else's.



Video Package for the Casket Match, coming up next.

Casket Match:

Undertaker vs. Luther Reigns
w/Shawn Michaels

Luther starts off toe to toe with The Deadman, but soon, Taker is on top, beating Reigns in the corner with a barrage of right hands.

Michaels attempts to get involved, but jumps off the apron in fear, as Taker moves towards him.

Undertaker vents his frustration on Luther, with a total beat down in the opening minutes, busting Reigns from the mouth.

Eventually, Luther shows his toughness, fighting back at The Deadman, and eventually, taking him down.

Luther tries to end the match quickly, rolling Taker to the Casket, but The Deadman fights back, and nails a running DDT, but after some thought, decides not to end the match now, but to dish out more punishment.

He goes for Old School, but Michaels provides a distraction, and Luther once again gets back into the match.

This time, Reigns takes proper advantage, wearing down The Deadman, and showing some great power, with a pump handle slam, and a full nelson slam, carried out with ease.

Once again, as he tries to end the match, Luther cant put Taker into the Casket, with Taker fighting back.

Taker beats down Reigns, and this time, does hit the Old School. As he sets Reigns up for a Chokeslam, Michaels tries to get involved, bring a chair with him, but Taker catches him sneaking up, and Michaels freezes.

Undertaker bears down on HBK, with Shawn cowering in fear, and Luther sees a chance, but is caught, and goozled by The Deadman. Michaels then comes at Taker, but is met with a big boot.

Taker connects with the choke slam, then grabs the chair, and obliterates Reigns with it, busting him up inside.

The Deadman takes the fight to the outside, banging Luther's head off the casket at least a dozen times, forcing a cut on the face of Reigns.

Luther then digs deep, and shows his legitimate toughness, rattling Taker with the ring bell, bringing the advantage back to himself.

Reigns then tries to end the match, but Taker refuses to lose, fighting back out.

Reigns continues to dominate though, and comes close to ending the match on three more occasions, but UT still fights back.

Luther then takes Undertaker back into the ring, and hits his swinging neck breaker "The Reigns of Terror". Luther then poses, but unknown to him, Taker sits up.

The Insurance Policy then turns around, and immediately falls back into the ropes in shock, then boots Taker, to no effect.

Undertaker now steps it up, and dominates Luther, with a number of his trademark moves.

Taker then hit's the Tombstone, which forces Michaels to call Jindrak and Cade to run in, which they do.

Jindrak is choke slammed right away, whilst Cade eats boot.

Michaels tries to get involved, but bails, as Taker bears down on him, running away, into the crowd.

Taker then hit's the Last Ride on Cade, as a message to Michaels, before ending the contest with an emphatic Chokeslam into the Casket on Reigns for the win.

Winner: Undertaker - Chokeslam into Casket - 13:11

We see Edge making final preparations for the Main Event, coming up next.



Video Package for the Main Event



World Heavyweight Championship;

Triple Threat Match:

John Cena vs. Edge vs. Christian

Cena and Edge face off in the middle of the ring, bickering back and forth, while Christian stands in the background laughing.

Then, Cena and Edge turn around, and look at Christian, who stops laughing. They look to each other, and go right after Captain Charisma.

Edge and Cena beat down Christian in the corner, stomping at him, and then, they go on a chop fest.

Edge then hit's the buzz killer on Christian, and makes a cover, but Cena pulls him off. The champion and Edge then argue, with Cena throwing the first punch, sending Edge back.

Cena and Edge go at it like there is no tomorrow, brawling to the outside, giving Christian time to recover.

Christian watches from the ring as Cena and Edge beat the crap out of each other, whipping each other into steel steps, barricades, and ring posts.

Eventually, they get back inside, and Christian, smartly, rolls out.

Edge gets the best of the champion for a short period, beating him down with a lot of punishment.

He comes close to finishing Cena off on a number of occasions, and at this point, has the champ at his mercy, with total domination.

Outside, Christian gets worried that Edge will win, and he decides to get back involved.

Christian sneakily kicks Edge out of the ring, and goes for a cover on John Cena, but Cena kicks out at two.

Christian slaps Cena around, but this fails to wear him down, and instead fires the champion up.

John Cena comes back with a flurry of right hands, and gets the advantage on Christian, with his ground and pound attack.

Edge tries to get back in, but Cena knocks him off the apron, and goes back to work on Christian.

Cena tries to end the match with the FU, but Captain Charisma fights it, and rakes the eye, before hitting Edge's Buzz Killer to Cena for a long two.

Edge now re-enters, and he begins to fight it out with Christian.

The two brothers go at it, back and forth, with both going back to their high flying roots.

Christian comes out on top, and grounds Edge, slapping on a sleeper, taking the life from Edge.

He doesn't inflict much damage though, as John Cena gets back into the match, and looks to have made a great recovery, firing on all cylinders, taking down both Edge and Christian.

Christian once again tries to do the smart thing and roll outside, but Cena isn't having it this time, and follows him, leading the a brawl on the outside.

Cena gets the best of the fight, but Christian continues to fight, but both men are taken out, as Edge hit a cross body from the top rope, to the floor, knocking both men down.

Edge now has the upper hand, and he whips Christian into the steel steps, before taking Cena into the ring.

Edge goes for a Spear, but Cena kicks him away, and follows up with the Throwback, getting a near fall.

Cena continues to build up his offence, striking Edge with a fisherman suplex, gaining another near fall.

Edge now looks to be fading, with each near fall coming closer than the last, and Cena piles on the pressure, getting on one of his two challengers relentlessly.

Cena gets Edge up for the FU, but just as he is set to hit it, Christian holds Edges legs, and pulls him down off Cena, then whips Edge into the champion, knocking Cena out of the ring, then gets a roll up on Edge, but at two, Edge rolls through on Christian, getting a near fall himself, with Christian just kicking out.

Edge and Christian go at it punch for punch, with Edge now finding a second wind, and he begins to take control of the situation with his brother.

Edge dominates Christian, sending Captain Charisma sprawling with a succession of dropkicks, and arm drags.

He then hit's the Spear, but Cena breaks the count at the very last moment, saving the Championship from going to Edge.

Edge is absolutely irate, and goes toe to toe with Cena.

Christian then knocks both men down with a clothesline, and decides to send Edge to the outside, throwing him over the top.

Christian slowly goes after Cena, but is taken by surprise, as Cena gets a double leg take down, and beats at Christian, pounding him into oblivion.

The Champion sees Edge coming back in, and takes him down with a Spinebuster, before hitting a back suplex on Christian for two.

He whips the CLB off the ropes, but Christian smartly holds on to the ropes, and as Cena ducks his head, he comes back, and kicks him away.

Christian then hits Cena with a spinning heel kick, but the champ manages to kick out at two.

Captain Charisma now looks to end the match, and gets Cena in position for the Unprettier, but Cena pushes him into the ropes, and gets Christian by surprise up for the FU, but Edge, at the last moment, spears Cena, stopping the chances of the FU.

Now, Edge and Christian showdown, and decide to team up, to eliminate Cena for the match, and bring it to just the two of them.

The former tag team champions double team Cena, with Poetry in Motion, double clotheslines, a double dropkick, and a double flapjack, taking Cena out of the equation.

Then, Edge bends down for Christian to hit the Poetry in Motion, and as Christian runs, he stops when he reaches Edge, and kicks him in the kidney.

Christian then hit's the Spear on Edge!!!! He covers, 1...2...EDGE GETS A FOOT ON THE ROPE!!!

Christian is in shock. He then rolls Edge out, and goes after Cena, who still looks to be worse for wear, and goes for Cena's FU, but John Cena fights out, and manages to score with an Unprettier on Christian!!! Cena covers, 1...2...EDGE BREAKS THE COUNT!!!

Edge then digs deep, as does Cena, and the two men go at it once again, with Cena getting the best of it, driving a knee into the mid section of Edge, then bounces off the ropes, but Edge recovers, and as Cena comes back, Edge gets him up, and NAILS THE FU!!!! Edge gets the hook of the leg, 1...2...CHRISTIAN BREAKS THE COUNT!!!!

All three men are down, all three are spent, but there is yet to be a winner.

Almost 45 seconds pass before the three men reach their vertical base again, and it's Edge and Christian fighting it out first.

Edge goes for the Spear on Christian, but Captain Charisma moves, and Edge runs into the turnbuckle. Christian then capitalises, and scores with the Unprettier.

Christian begins his celebrations too soon, and as he raises his arms in the air, he turns around, and is met by Cena, who immediately gets him up, and delivers the FU!!!! He covers, 1...2...3!!!

Winner: John Cena - FU - 24:30

Cena is jubilant in celebration, clutching the World Championship proudly, after being pushed to the very limit, in an awesome encounter.

Edge buries his head in his hands in the corner, whilst Christian slowly comes to the realisation of the loss.

Cena takes the title to all four turnbuckles, celebrating the victory, before leaving the ring, and taking the celebration to the crowd, as the show goes off the air…



END OF SHOW



Thought's would be appreciated, as well as ratings.

Next time I'll write a PPV will be The Great American Bash, and that will be done in full.

After that is Summer Slam, and as it is a joint PPV, I will be writing both shows for the weeks leading the event, following from GAB, as well as a full PPV.



Thanks again, all replies as always, are welcome.

Asking JAMES ELLSWORTH for Wrestling Advice
Join Date: Oct 2003
Location: Far Far Away
Posts: 254
Points: 0
Re: Being the booker
---
What can I say..It was off the hook

Kenzo and Dupree with an Alliance, I see Tag Title Contendors together with a humor team feuding with Booker and Goldust

Nice way to have Eugene but I don't think this feud is over

Chyna/Shaniqua's win was predictable but can't wait to see what happens now that Chyna wants the title. Maybe Chyna will dethrone the Queen

RVD and Mysterio, a nice match, probably a rematch with a turn from someone

DX getting the Tag Titles just proves that they are DX

Undertaker on his way to finishing off DX. Summerslam is HBK v Undertaker (HIAC)

Batista/Flair teaming up to beat Orton. Summerslam, Orton gets a partner (Maybe Foley) and goes up against Batista/Flair

The Main Event was good and long, just like a true Main Event..Maybe another match between Cena/Christian and Cena/Edge one on one matches

Overall great show!! 100/100
Posting Rules

You may not post new threads

You may not post replies

You may not post attachments

You may not edit your posts

---

HTML code is Off

---