Chopped Liver
Join Date: Jan 2004
Location: Six inches from a computer screen
Posts: 5,433
Points: 321
Re: Being the booker
---
Just a quick announcement. This weeks shows will be up TOMORROW. I will then post a preview for Judgement Day on Friday, and the PPV on Sunday.
Asking JAMES ELLSWORTH for Wrestling Advice
Join Date: Oct 2003
Location: Far Far Away
Posts: 254
Points: 0
Re: Being the booker
---
Great! It's gonna be a great week!
Chopped Liver
Join Date: Jan 2004
Location: Six inches from a computer screen
Posts: 5,433
Points: 321
Re: Being the booker
---
RAW; Las Vegas; May 9th 2005:

Opening Video

Pyro


J.R and King welcome us to the show, and tell us tonight's main event will be John Cena and Edge taking on Christian and Tyson Tomko. They also briefly mention Evolution's turn on Orton last week in the Blindfold match.

Evolution come to the ring, now just two members, Ric Flair and Batista. They talk about beating respect, and sense into Orton last week, but they will consider taking him back, is he comes out now and apologies for his actions. Orton then enters to a decent face pop. He apologises to Flair and Batista………for not leaving Evolution sooner. They then engage in a war of words, and Orton says he's prepared to face both of them right now, as he has brought and equaliser…a steel chair. He then makes his way to the ring, with the weapon, but Flair and Batista run out through the crowd away from Orton.


Carlito defeated Tommy Dreamer in a below average match, winning thanks to a distraction from Stacey, and then hit a Tornado DDT for the victory.


John Cena and Edge then meet backstage, and briefly talk about tonight's tag match, before discussing a match just made by Mick Foley for next week, with Edge challenging Cena for the World Title. Cena wishes him good luck, whilst Edge then tells Cena he has no choice, and will take the championship from him.


In an interview with Carlito, he talks about his attack on Eugene last week, before being interrupted by Mick Foley. Foley tells Carlito that he should be ashamed of himself for his actions last week. Carlito then takes a bite of his apple, but Foley stops him before he can spit it, and tells him he better swallow it instead. Foley then walks off, leaving Carlito with a mouth full of apple. Carlito then swallows and tells Todd Grisham he was gonna swallow it anyway.

Rob Van Dam teams up with Rey Mysterio to face A-Train and Rhyno. RVD and Rey show the makings of a great team, and defeat the bigger opponents, with Rey hitting a 619 on Rhyno, and RVD following up with a 5*.


DX sit back in their locker room, chilling out, then they begin to talk about Undertaker. Cade, Jindrak and Michaels try to make a joke out of the fact he was missing from the grave at Backlash, until Luther makes the conversation serious, and says, "But what if he did disappear??" The other three then lose their smile, and they all begin to worry.


We see Flair and Batista jump in their limo, to get away from Orton, who is looking for revenge.


A video plays, hyping Kenzo Suzuki, the Bronze Warrior, coming to Raw…soon.


In singles action, Luther Reigns takes on Chuck Palumbo. Luther disposes of Chuck easily, but the big story from the match is that afterwards, the lights go out in the arena, and Undertakers gong is heard. The lights then come back, with Luther standing still in the ring, in fear.


We see the arrival of Christian and Tyson Tomko to the arena. Christian looks to be still banged up from the action he has been through the past few weeks.

All four members of DX seem to be spooked out by the lights a few moments ago. Michaels then casually suggests they take off early tonight, which the others agree to. All four then quickly grab their stuff and scarper out of the arena.


Haas and Benjamin defend the Tag Titles against the Brotherhood. Despite interference from Theodore Long and Jazz, The Worlds Greatest Tag Team overcome the odds, and retain the titles.


Mysterio and Van Dam chat backstage about their win tonight, and congratulate each other on their performances, and talk about possibly facing each other at some point down the line. They shake then Mysterio leaves.

A video then plays, hyping WrestleMania 22, which will be held in……THE MGM GRAND, LAS VEGAS!!!!! This gets a huge pop from the hometown crowd, in excitement for the Granddaddy of em all coming from Las Vegas.


Victoria defeats Molly Holly in a hard fought match, after the Widow's Peak.


We then get the announcement from Mick Foley that next week, Booker T & Goldust will face Cade and Jindrak, with the winners being #1 Contenders for the Tag Titles at Bad Blood, and he reiterates that Edge will challenge Cena for the World Title next week.

Interview with Christian. He says he is being persecuted by Mick Foley for being the #1 star on Raw, and cant get a break. He then blames Cena for his loss to Edge last week, and begins to badmouth the champion, ending the interview saying tonight Cena cant see him.


In the main event, Cena and Edge take on Christian and Tomko. There is tension between Edge and Cena, which helps Christian and Tomko. In the end, Cena and Edge comes close to fighting, but instead go nose to nose, which leads to their demise, as Tomko boots Edge in the back, which sends him into Cena, and Christian rolls up the champion, 1...2...3!!! Christian pins Cena!!!

The show ends with Cena and Edge arguing, whilst up the ramp, Christian celebrates, mimicking Cena's "You cant see me" pose.



*************************************************

Smackdown; Reno; May 12th:


We see clips of last weeks set up by Triple H on all the other five competitors in the Elimination Chamber at Judgement Day.


Opening Video

Pyro

Michael Cole:
We are live in Reno, Nevada, just three days away from Judgement Day!!! The first time Smackdown has been on Pay Per View since WrestleMania. Tonight, I am joined by my regular co-host, Tazz.
Tazz:
Indeed it is only three days until Judgement Day, Cole. And three days from my own Judgement Day. I will be stepping back into the ring for the first time in three years, to face Goldberg.
Michael Cole:
Well, I just hope you don't live to regret the decision partner. And talking of Goldberg, tonight, he has requested a match with our backstage colleague, Josh Matthews.
Tazz:
Listen Cole, I know exactly what Goldberg is doing. He's playing mind games, but what he doesn't realise, is that I'm smarter than him, so if he wants mind games heading into Judgement Day, then he's chosen the wrong man to mess with.
**Time to Play The game** Triple H enters the arena, wearing a Armani suit, with a huge grin on his face. He stands at the top of the ramp, looks around the arena sipping on water, before making his way to the ring.

Michael Cole:
Last week in Brisbane, that man, Triple H proved once again why he is the Cerebral Assassin, setting up all five opponents in the Elimination Chamber, firstly, he had La Resistance tell Eddie Guerrero that The Rock had been bad mouthing him, then he had the Basham's tell Chris Jericho that Kurt Angle had been waiting to ambush him, next up was Kurt Angle, who was attacked, supposedly by Chris Benoit, after this, Chris Benoit was informed that Eddie Guerrero had been calling Benoit's wife, and then The Rock was sent a delivery apparently by Jericho, in then end, we found out that none of this was true, and it was all a ruse from Triple H to have the five men fight it out, to give HIM the edge for the Elimination Chamber in three days, in his quest to reclaim the WWE Championship for the tenth time.
Tazz:
Nobody can outthink The Game Cole.
Michael Cole:
Well he may not get away scott free Tazz, tonight he's in ten man tag team action, alongside Test, Scott Steiner and the Basham's, facing his five opponents this Sunday.
Triple H then is handed a mic, and he continues to grin, whilst getting heat. He then ****ily leans back on the ropes, soaking the boo's up.

Triple H:
Keep it coming…
The crowd gets riled up by HHH, and begin an ******* chant. He then starts to talk over it.

Triple H:
You know, the more you people boo, the more I realise just how much of a genius I really am.
More heat. Hunter smiles, then signals with his hands for more.

Triple H:
For anyone who was stupid enough to miss Smackdown in Brisbane last week, I'll remind you exactly what went down. You see, the Elimination Chamber is only three days away, and no one, NO ONE, has competed in all the previous Chamber matches, apart from me. That gives me an edge right from the get go. But, with my experience in the Chamber, I know you need more than experience to be successful inside the structure. You need a psychological advantage, last week, that's exactly what I got. I had all five guys eating from the palm of my hand. I had them believing the bull I was feeding them, they all bought it.
Eddie bought that The Rock was bad mouthing him, why? Because he knows that it was possible that the other guys would talk about him like that. I didn't make it anything too unbelievable, I made a story that Eddie would buy, and boy did he buy it, hook…line… and sinker.
Then you have 'Y2J'. The Highlight of the Night. The last man to enter the Devils Playground. He may be last to enter folks, but he will be first to go, if I have anything to do about it. Now, how to fool Chris Jericho?? Hmmm. Well, I had to get him riled up. So, I let it play out that Kurt Angle was waiting to kick his ass. I got the reaction I expected from Jericho. He doesn't think with his brain, he thinks with his mouth. Think about it next time buddy boy.
Move on to Benoit. Now with Benoit its different. He's been referred to as a robot, and well, robots have no feelings, so I put that to the test. I 'prank' called his wife, from Benoit's phone, as
(laughs)
Eddie Guerrero. Classic or what?? With one small phone call, I killed a friendship. Why?? Because Benoit doesn't trust Guerrero. Heck, no one trusts Latino heat, he lies, cheats and steals. Lies, Cheats with his friends wives, and steals her wedding ring too.
(Laughs)


How about The Rock?? Well, I'll just send him a toy belt, from Chris Jericho, because Jericho is the type of person who would pull a stunt like that. Rock bought it, as I expected him to. Rock, take this advice, keep that toy belt, because this Sunday, I'm taking MY real WWE Title back.
Finally, Kurt Angle. Kurt, Kurt, Kurt. What do I say ab-
**Medal** Angle makes his way through the curtain, and walks down the aisle, but stops, as The Game begins to talk.

Triple H:
Whoa, Kurt hold it there. Let me finish. As I was about to say…I had nothing to do with your beating last week.
Kurt Angle:
Pull the other one Hunter!!! Why would you set up the four guys, and not me?? I don't believe you for a second. But, tonight, in fact, right now, I'll get my payback.
**Whatever** Chris Benoit then walks out, and down the aisle, right to where Angle is.

Chris Benoit:
So Hunter, are you trying to say that I attacked Kurt last week??
Triple H:
W-, W-, We…I- I- I don't know. I don't know who attacked Kurt last week.
Chris Benoit:
Well, first of all, I didn't attack Kurt. Second of all, I guess that was YOU who rang my wife then last week??
Triple H:
(Stands still, not knowing what to say)


**Viva La Raza** Eddie then makes his way out, mic in hand, pointing at The Game.

Eddie Guerrero:
Triple H?? You tried to set me up for ringing Chris's wife last week, huh? Hommes, I may lie, cheat and steal, but not with my friends family. And I don't like being set up for it either essa. And I suppose that The Rock didn't say anything about me?? So I want to rectify this situation, and give you a beating, that you deserve.
**If ya smelllllllllll……WHAT THE ROCK…IS COOKIN'** The WWE Champion then enters the arena to a huge pop.

The Rock:
Eddie Guerrero, The Rock wants to clear something with you right here and now, The Rock will tell you, he never uttered a word against you, but as for you Triple H?? The Rock isn't gonna say anything, instead, The Rock is gonna layeth, the smacketh down, on your candy ass!!! But before The Rock does that, he wants to say one more thing…FINALLLLLLLY, THE ROCK HAS COME BACK….TO RENO NEVADA!!!
Before The Rock starts to walk towards the ring, **5-4-3-2-1-BOOM** Chris Jericho now enters the arena, to a big pop. He brushes past The Rock, then pushes past Angle, Benoit and Eddie, before dropping his mic, and getting in the ring, and goes right after Triple H, but The game immediately jumps out, and exits through the crowd.

HHH quickly gets away, whilst Jericho points to him, telling him he wants revenge.

Commercial

1st Match:


Chris Harris & D' Von Dudley vs. Robert Conway & Lance Storm
(During the introductions, we are reminded that this Sunday all four men in this match will team with their partners in the 4 Way Tag for the Vacant Tag Titles)


With strict orders from Bret Hart, the match is contested with no interference. Harris and D' Von blend well, although there is some tension between the two, as there is with Conway and Storm. Harris and Dudley have the upper hand, having Storm down and out, with Conway out of the ring. D' Von calls for the 3D, but Harris argues, and says he wants them to hit the Death Sentence. The two men then argue, and Rob Conway then takes advantage pulling Harris out of the ring, giving Lance a chance to roll up D' Von, 1...2...3!!!
Winners: Lance Storm & Robert Conway


Lance Storm and Conway scarper up the ramp, celebrating, but then stop, and realise this Sunday they will be in opposite corners, with their own partners. In the ring, D' Von and Harris argue, and go head to head, until Bubba and James Storm run down to pull them apart. However, Bubba and Cowboy then argue over who was to blame for the loss. The Dudleyz and AMW then comes to blows, and begin to brawl. Eventually, security and backstage road agents break the four guys up, and drag them off in opposite directions.


Michael Cole:
Oh my, the intensity has been raised for this Sundays Tag Team Championships match. The Dudley Boys coming to blows with AMW.
Tazz:
Cole, ego's have collided, and I would expect that to continue into this Sunday's event.
Michael Cole:
How about this fact though. In the last three weeks from the singles matches, and tonight's tag match, both La Resistance members lost their singles matches, for AMW Harris won, but Storm lost, Bubba lost, D' Von for the Dudleyz and Regal and Storm both won their singles matches, and with tonight's match, Regal and Storm have a perfect record coming into Judgement Day with wins over their opponents.
Tazz:
William Regal & Lance Storm will have to be considered the favourites for the Tag Titles this Sunday by the looks of things Cole.
We go backstage, and see Los Chavo's chatting…

Chavo Classic:
Son, I'm worried about your title. Paul London seems to have a curse over you these last four weeks.
Chavo Junior:
Dad, you have no need to worry anymore, because I got myself a Cruiserweight Championship defence right here tonight!!!
Chavo Classic:
(Confused)
How does that solve the problem??
Chavo Junior:
Ahhh, you see, when I defend the title against Funaki tonight, I will do the simple thing…and lay down. Then, I get my rematch at Judgement Day, meaning Paul London is no longer #1 Contender. You see, that #1 Contender status only exists while I am Champion, but only during this championship reign.
Chavo Classic:
(Slowly smiles, then nods)
You are a genius Chavo. Genius!!!
Back to ringside;

Michael Cole:
What the hell!!!??? That's not fair to Paul London!!!
Tazz:
Cole, life's not fair. Get used to it. Great plan from Chavo Guerrero!!!
Michael Cole:
Well, it seems very unfair to me. Chavo knows his Championship is under serious threat against Paul London this Sunday, so he wants to lose it to Funaki instead, and then get a rematch at Judgement Day. Folks, we'll be back after the break with the Cruiserweight Title match.
Commercial

2nd Match: Cruiserweight Championship Match:


Chavo Guerrero
w/Chavo Classic
vs. Funaki
As soon as the bell rings, Chavo lays down, and tells Funaki to cover him. The referee, and Funaki are both confused. Funaki thinks it's a trick, and decides not to cover him. Guerrero then gets up, and grabs Funaki to cover him, but Funaki knocks him down with a right hand. Chavo falls to the ground, but instead of getting up, he stays down, and tells Funaki to pin him. Funaki still isn't sure what to do, but before he can make a decision, Paul London runs down, jumps to the top rope, and nails a 450 Splash on Chavo!!! The referee calls for a DQ, whilst London celebrates another one up man ship over Chavo, and a final message for him heading into Judgement Day.
Winner: Chavo Guerrero - DQ

Michael Cole:
HA HA!!! Paul London has just outsmarted Chavo again!!!
Tazz:
He may live to regret it Cole. Chavo is due some revenge on London.
Michael Cole:
We shall find out at Judgment Day Tazz. Folks, if you missed Raw this past Monday Night, then you missed the biggest announcement so far this year, here it is again…
We then cut to a video of Las Vegas. We are shown some of the sights of the city, such as it's casino's, with quick flashing clips of classic WrestleMania moments, then the sign of the MGM Grand Arena comes onto the screen, and the camera then moves down to the main door of the arena, and zooms right in, fading to black, before the WrestleMania logo appears, reading, "WrestleMania XXII…Viva Las Vegas…March 26th 2006...MGM Grand Arena"

Michael Cole:
I'm pumped already for Wrestlemania Twenty Two!!! Right here in the state of Nevada!!!
Tazz:
Oh boy, I cant wait. "Viva Las Vegas…Viva Las Vegas".
Michael Cole:
You're certainly no Elvis Presley, partner.
Tazz:
And you're not a first class announcer, but I don't shout that from the roof tops…
Backstage, Maria is with Chris Jericho for an interview…

Maria:
Chris, this Sunday, is the Elimination Chamber. The Rock defends the WWE Championship against Eddie Guerrero, Chris Benoit, Kurt Angle, Triple H, and you. However, you will be going into the match as the favourite to leave as the WWE Champion, because you will be last to enter. How do you respond to that??
Chris Jericho:
How do I respond?? Martha, I'll tell you exactly how I respond to the claims of me being the favourite to walk out the WWE Champion…I say they are all correct. I am the favourite, but not because I'm last to enter, but because I'm the best. I've been in the Elimination Chamber twice before, and as the saying goes, third times a charm.
I've tasted the metal of those chain walls, I've been put through the bullet proof glass, crashed onto the steel floor, I've bled, I've broken bones, and shortened my career. And I'll do it all again this Sunday. The WWE Championship means that much. Of course being last to enter gives you the advantage, but the will to win, and the desire to be crowned WWE Champion is what makes me the favourite. Triple H can play his mind games, The Rock can keep the toy belt, Eddie already has the United States Championship, Chris Benoit is good, but not as good as me, and Kirk Angel wont outlast me. I'm the odds on favourite, and I am the next WWE Champion.
Commercial

**Here comes the Pain** Brock Lesnar and Paul Heyman enter the arena, and make their way to the ring.

Michael Cole:
I wonder what Brock Lesnar has to say about the Streetfight in three days time, when he faces Steve Austin in a WrestleMania rematch.
Tazz:
I just hope this chair was well cleaned last week, after Paul Heyman sat in it.
Paul Heyman grabs a mic, and waits for the crowd to die down, before speaking.

Paul Heyman:
In three days time, my client, Brock Lesnar will compete in his first ever Streetfight, against Stone Cold Steve Austin.
Crowd Pop for mention of Austin name.

Paul Heyman:
Now, I know you are all thinking that Austin is the favourite right? WRONG!!! Just because Austin is the 'Worlds toughest son of a *****' doesn't mean, he is guaranteed victory. Why? Let me take you on a trip down memory lane. Brock Lesnar's first ever match, April 18th 2002, Backlash. He DESTROYED Jeff Hardy.
Brock Lesnar's first ever King of the Ring tournament…he beat Bubba Dudley, Booker T, Test and RVD and of course, won it.
Brock Lesnar's first ever WWE Championship Match…he annihilated the myth of The Rock.
Brock Lesnar's first ever Hell in a Cell?? Ha, he tore apart The Undertaker, in the Undertakers own match, you know, the match where he makes people famous? Yeah, Brock won that too by the way.
Oh, of course, Brock Lesnar's first ever Royal Rumble…guess what?? Yep, he won it. You guys starting to get the picture here?
How about his first WrestleMania Main Event?? Hmmm, let me see, check. Brock WON!!
Now, let's think about Brock Lesnar's first ever Stretcher Match…or his first Iron Man Match…his first ever Cage Match, or his first ever Chain Match. Guess who won in those?? Brock beat Big Show, Kurt Angle, Chris Benoit, and Kurt Angle again in all those matches.
You see, first time matches for Brock Lesnar has absolutely no effect on this man, my client, BROOCCCCCKKKK LESSSSSNAR!!!
Heyman then hands the mic to Brock

Brock Lesnar:
Thank you Paul. Austin, I want to listen up, and hear what I got to say. Th-
**Glass Shatters** Steve Austin enters the arena, to a HUGE ovation. He walks around the ring, and picks up a mic.

Steve Austin:
Brock, you said you have something to say?? Well, I thought I'd come to hear it personally. Go ahead.
Brock Lesnar:
Yeah, I want you to hear this. This Sunday, it ends. It comes full circle. Last year, it kicked off at Judgement Day. This year, it comes to Judgement Day, TO END!!! I'm sick of you Austin, and I will personally make sure this comes to an end once and for all. You screwed me at the Royal Rumble, No Way Out, and any other match I've had in the last five months!! I don't care if it's a streetfight, Hell in a Cell, TLC, or a frikkin Picnic. I'm beating your ass this Sunday, and that's the bottom line.
Steve Austin:
I'm gonna just tell ya a few things right here and now Brock. Number One, never say 'That's the bottom line' ever again. Number two, I cost you your shots at the title, because you cost me my job ya little *******. Number three, this Sunday, it's gonna be just like WrestleMania, with me whooping your ass, all over Vancouver!!! And if Reno Nevada wants me to open a can of ass whooping on him right now, gimme a hell yeah!!!
Crowd; HELL YEAH!!!

Paul Heyman:
STOP!!! Stop, stop. Austin, this isn't gonna be a repeat of Wrestlemania, there wont be any interference. Not from Vince McMahon, not from Bret Hart, not even from me. It's gonna be just you and Brock. Neither Brock or myself care what Reno wants you to do, but we would like you to get the hell out of here before things get ugly.
Steve Austin:
Paul, unless you don't a mirror, things have already got ugly here tonight.
(Crowd Pops).
Look at ya. You're silly little pony tail, 2 cent cap, second hand jacket, silly little tie, crappy shoes…YOU MAKE ME SICK!!!
Paul Heyman:
You make ME sick Austin. You make me sick to the stomach. I would love to slap your face, and kick your ass, a-
Steve Austin:
Why don't ya then??
Paul then gulps, and shakes his head, saying no. He looks to Brock, who whispers into Paul's ear, then Heyman smiles, and begins to smile.

Paul Heyman:
Alright, you're on!!! I'll face you Austin, TONIGHT!!!
**Hitman** The General Manager then makes his way into the arena, with a mic in hand, and a broad smile.

Bret Hart:
Congratulations Paul. Look's like you've actually grown a set. And you know what, to commemorate your big decision, I'll be banning Brock Lesnar from ringside for your match with Austin.
Heyman's mouth drops, and stands in shock, whilst Brock goes nuts. Austin smiles, as does Bret, as we cut to a commercial.

Commercial

Michael Cole:
We are back on Smackdown, and well, we have ourselves the most unlikely of Main Events here tonight in Reno. Steve Austin will face Paul Heyman, with Brock Lesnar banned from ringside.
Tazz:
Geeez. This might not be a good night to be Paul Heyman.
3rd Match:


Rikishi vs. Kanyon
(We are informed during the entrances that Rikishi will be facing Simon Dean at Judgement Day)


Short match, with Rikishi on offence throughout. He has the match under total control, until Simon Dean makes his way out, with a table of Simon System products, causing himself as a distraction to the big man, and this leads to Kanyon rolling Rikishi up with a handful of tights, 1...2...3!!!
Winner: Kanyon


Rikishi is irate with Simon, who laughs at Rikishi, but then begins to run away, as Rikishi exit's the ring, and comes after him.


Michael Cole:
This Sunday, Simon Dean may regret ever coming to Smackdown.
Tazz:
Oh yeah, you shouldn't make Rikishi angry, and Simon Dean didn't just make him mad, he insulted the big man. At Judgement Day, Simon may have to eat his words.
Backstage, Kevin Kelly is standing by with Chris Benoit…

Kevin Kelly:
Chris Benoit, you are three days away from possibly becoming the WWE Champion for the very first time. However, in your way, are four other hungry challengers, and one mighty champion.
Chris Benoit:
Well Kevin, that's right, I'm less than 72 hours away from completing my journey. I'm 72 hours away from finally realising my destiny. In my way is Triple H, a NINE time, World Champion. In my way is Kurt Angle, an Olympic GOLD medallist. In my way is Chris Jericho, the first ever UNDISPUTED Champion. In my way is Eddie Guerrero, the current United States CHAMPION. In my way, is The Rock, the REIGNING WWE Champion. In my way, is Satan's Structure. 2 Miles of Steel Chain, 10 tonnes of steel, Steel floors, bullet proof glass, all designed to punish the human body.
Look at all the guys in my way. They all have or have had something to polish their legacy. I don't. I wasn't the first ever Undisputed Champion, I've never won an Olympic Gold Medal, I've never held the World Title here, yet others have had it multiple times. Jericho can say he's hungry, Angle can say he wants it, Rock can say he wants to keep it, Hunter can say he needs it, and Eddie can say he's desperate, but I am hungrier, I want it more, I want to keep it too, I NEED it, and I am DESPERATE!!!!
I'm prepared to eat the steel, I'm prepared to loss blood, I'm prepared to break my neck, I'm prepared to do whatever it takes. This Sunday may be the last chance I ever get!!! This Sunday may be the last match I ever have, it may be the last night of my life, but I MUST WIN!!!
Benoit then breathes heavily before storming off down the hallway.


Raw Rebound:


- Orton showdown with Batista and Flair, then chases then out of the arena.

- Announcement of Cena - Edge next week for the Title.

- Taker's gong after Luther Reigns match, then afterwards, DX getting out of the arena.

- Cena and Edge teaming up to face Christian and Tomko. The Champion and next weeks challenger argue, leading to Christian rolling up Cena for a shock win.


Back to ringside;

Michael Cole:
Folks, I am tingling after that emotional interview moments ago from the Rabid Wolverine, Chris Benoit.
Tazz:
Oh man. It has come to the point of Benoit's career, where he will seriously do ANYTHING to become the WWE Champion. I cant believe he said he may not even walk out alive. That's how much he wants it. I'll be honest Cole, I'm worried that Benoit will do something that may bring his career to an end.
Michael Cole:
Well, he is in action later on tonight folks, along with the other five men inside the Chamber this Sunday, in a ten man tag. But up next,
(sighs)
Goldberg takes on Josh Matthews.
Commercial

4th Match:


Goldberg vs. Josh Matthews
Squash match. Goldberg dominates from start to finish. Hitting all his power moves, then nails a Spear, nearly breaking Josh in half. Goldberg then hit's a Jackhammer, and mercifully ends the match.
Winner: Goldberg


Goldberg has his arm raised, then points towards the announce table, and smiles at Tazz, before picking up Josh, and hitting another Jackhammer. Goldberg shakes his head, and scoops Josh up again, and is about to hit another Jackhammer, until Tazz rises from his chair. Goldberg drops the lifeless body of Matthews to the ground, and stares at Tazz. Tazz then picks up a mic.


Tazz:
Leave the kid alone Goldberg. Your problem isn't with him, it's with me. You want to send a message to me, how's about you give it to me in person.
Goldberg:
Tazz, I'm not doing anything to ya tonight. I can wait three days to hold it back. In three days, pal, I'm gonna destroy the myth known as TAZZ!!!
Tazz:
Goldberg, you can beat me up, you can break my bones, but you wont destroy the so called 'myth' known as Tazz, because I'm not a myth. I'm for real, and I'm for real when I tell ya you still have two options…tap out, or choke out!!!
Crowd pops, and starts an ECW chant.

Goldberg:
That's cute, but I don't take threats from jumping beans seriously. Look at it this way Tazz, you ask me tap out, or choke out? I ask you, Spear, Jackhammer, or both??
Tazz:
Goldberg, I'm ready for it all, I'm ready for the Spear, I'm ready for the Jackhammer, I'm ready for it all. That's the difference, I'm taking you seriously, but you aren't taking me seriously.
Goldberg:
We'll see this Sunday Tazz. We'll see.
Goldberg then slowly leaves the ring, and walks up the ramp, keeping his eyes fixed on Tazz. Tazz then leaves Goldberg with one last comment…

Tazz:
But remember this Goldberg…BEAT ME IF YOU CAN…
SURVIVE
IF I LET YOU!!!
Commercial

Backstage, we see Simon continue to run from Rikishi. Simon then jumps into a cab, and speeds off into the night, as far away from Rikishi as possible.

5th Match: 10 Man Tag;


Triple H, Basham Brothers, Test & Scott Steiner vs.
The Rock, Chris Benoit, Kurt Angle, Chris Jericho & Eddie Guerrero
Despite so many men being involved, the match is pretty short, as the five faces all begin to fight over who will take out Triple H. Suddenly the five men begin to brawl amongst one another, and the referee is soon forced to call the match a no contest.
Winners; No Contest


Triple H slides out of the ring, with a huge smile on his face. He tells the Basham's and Test & Steiner to leave the ring, and let them fight.

Whilst the five men brawl, Triple H stands at the top of the ramp, signalling that they are all puppets, and the title is in the bag for him this Sunday. Meanwhile, in the ring, the five men are all broken up, with a portion of the locker room being forced to help out in breaking them apart.


Commercial

We are played a short video, of JBL walking the streets of Reno, almost like a politician. He hands out fliers to the public, with his face on it, saying "Let John 'Bradshaw' Layfield be your choice of #1 WWE Superstar. The video is almost comical, with JBL's over the top antics, with him dropping the odd comment about Faarooq and this Sundays match.

Back to ringside…

Michael Cole:
In three days, Judgement Day will be LIVE, coming right from the PNE Coliseum in Vancouver. Seven matches have been announced, and before we run down the card, the music in the background?? That's "The End Has Come" by Ben Moody, the official theme song for Judgement Day.
Tazz:
Freaky song, freaky song Cole, but it fit's the Elimination Chamber match perfectly.
Michael Cole:
Indeed, on the show, The WWE Tag Team Championships will have new owners. America's Most Wanted, The Dudley Boyz, La Resistance, and the in form team of William Regal and Lance Storm battle for the vacant titles.
Tazz:
Elimination style match Cole, which could be the undoing of William Regal and Lance Storm, because they wont get away with their constant cheating ways in this environment. My pick is the outsiders of La Resistance.
Michael Cole:
Simon Dean will face Rikishi, in a match made during the week, and boy oh boy, is Simon in trouble.
Tazz:
Indeed, Simon Dean is in big time trouble, the big man is after blood. Simon has his work cut out. This may not be a very nice debut for him.
Michael Cole:
How about Brock Lesnar and 'Stone Cold' Steve Austin in a Streetfight. The rivalry comes full circle this Sunday, at Judgement Day. No ringside presence, no interference, just Lesnar and Austin, one on one.
Tazz:
It all began at Judgement Day 2004, it all ends at Judgement Day 2005. Which man will get the last laugh. Cole, it's too hard for me to call. Austin is suited to Streetfight's, but Brock Lesnar always wins when it's his first time.
Michael Cole:
Paul London challenges Chavo Guerrero for the Cruiserweight Championship. Will London prove to Guerrero he is more than a flavour of the month, or will Chavo be right again.
Tazz:
Chavo seems to be jinxed with London, Cole. He just cant get one up on him, but if I know the Cruiserweight Champion, he might just find a way to retain the title.
Michael Cole:
John 'Bradshaw' Layfield takes on his former best friend, and tag team partner, Ron Simmons, in what should be, in the words of good 'ol Jim Ross, a Slobberknocker.
Tazz:
Or in the words of Tazz…a Rocket Buster. JBL is gonna be hell bent on victory, and I cant see Simmons stopping his former partner.
Michael Cole:
Then, Tazz, it's yourself, in action for the first time in three years, taking on Goldberg.
Tazz:
The time for talk is over now Cole, it's put up or shut up this Sunday.
Michael Cole:
Then the main event. Six Men, six careers, inside the device known as Satan's Structure, the Devils Playground, the Elimination Chamber. The Rock defends the title against Eddie Guerrero, Triple H, Chris Benoit, Kurt Angle and Chris Jericho, who don't forget will be last to enter. Triple H has been in all three past Chamber matches, with two victories, and a runner's up spot.
Tazz:
The mind games have taken over Cole, and it's Triple H who is in front as far as that's concerned. Jericho has the advantage as far as being last to enter, but we've heard just how much Chris Benoit wants it, we know Guerrero would love to finally hold the title, and no one has been on a bigger role that Kurt Angle, and lets not rule out the champion. I'm sticking my neck out on the line, and I'm gonna tip The Game to make it a short reign for The Rock. He's got the momentum, and the experience.
Michael Cole:
It's Judgement Day, LIVE, this Sunday, only on Pay Per View.
Main Event:

With Brock Lesnar BANNED from ringside;


Steve Austin vs. Paul Heyman


Heyman tries to run from Austin at the beginning, but soon gets out of gas, and Austin catches him. The Rattlesnake beats down Heyman, opening a can of whoop ass on him. Austin hit's the Lou Thesz press, then goes for a Stunner, but then, Brock Lesnar jumps the barricade, and gets in the ring, attacking Austin from behind.
Winner: Steve Austin - DQ


Lesnar then continues to beat down Austin, whilst Heyman tries to recover. Lesnar hit's a Belly to belly, and follows up with a German Suplex. Lesnar then ends the assault with an F5. Bret Hart then comes out to the stage, but before he can speak, Heyman cuts him off…


Paul Heyman:
What are you gonna do Bret?? You gonna scrap the Streetfight at Judgement Day??
Bret Hart:
No. No I wont scrap the Streetfight at Judgement Day, that wouldn't be fair. But Brock, because of your actions tonight, you've forced my hand. Paul, you're already banned from ringside this Sunday, but I'm adding to that…Paul, you're banned from Smackdown!!! Consider yourself SUSPENDED!!!
Bret Hart then walks off, still furious with Brock's interference. Meanwhile, in the ring, Brock and Paul are irate. They go nuts, especially Lesnar. And in an act of rage, Brock grabs a chair, and NAILS Austin big time, so hard, the Rattlesnake is sent to the outside of the ring, and we end the show with the image of Lesnar irate.


End of Show
*******************************
Official Card for WWE Judgement Day:
Date:
15th May
Location:
PNE Coliseum, Vancouver; Canada
Event Music:
Ben Moody, The End Has Come
WWE Championship;
Elimination Chamber Match: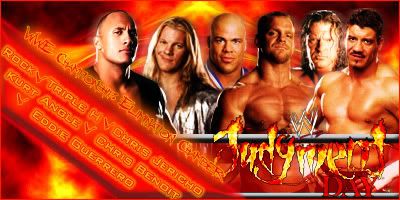 The Rock vs. Triple H vs. Chris Jericho vs.
vs. Kurt Angle vs. Eddie Guerrero vs. Chris Benoit
(Chris Jericho enters last)
WWE Tag Team Championships;
Four Corners Elimination Match for vacant titles: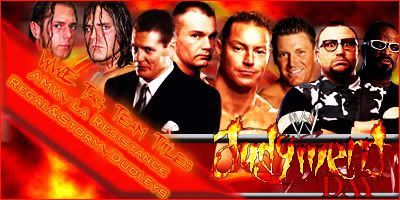 America's Most Wanted vs. La Resistance vs.
vs. William Regal & Lance Storm vs. Dudley Boyz
Cruiserweight Championship Match: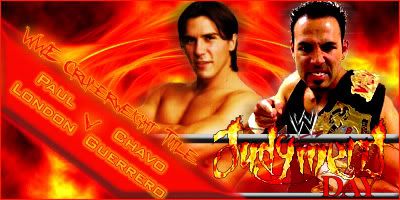 Chavo Guerrero vs. Paul London
Unfinished Business; Streetfight: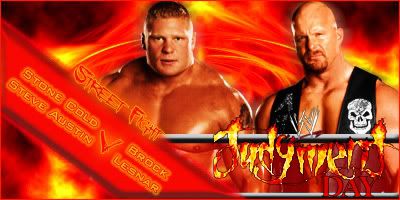 Brock Lesnar vs. Stone Cold Steve Austin
Grudge Match;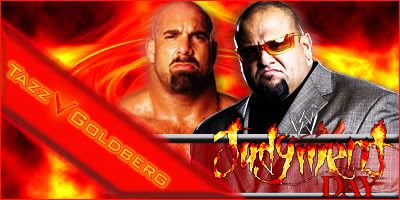 Goldberg vs. Tazz
Former Friends Collide;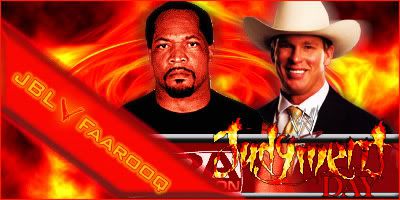 John 'Bradshaw' Layfield vs. Faarooq
One on One;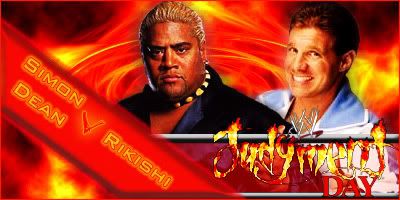 Simon Dean vs. Rikishi
**Credit to Red Cold for the AWESOME match banners. Give him rep, he deserves it, loz...no, really, give him rep.**
Please leave thoughts for the show, and predictions for Judgement Day. I'll post a preview for the PPV on Friday, and the PPV on Sunday. Until then, enjoy.

Re: Being the booker
---
predictions-

benoit wins elimination chamber
Dudley Boyz win Tag Titles
London wins Cruiserweight title
SCSA wins Street Fight
Goldberg wins against Tazz
Farooq gets revenge by winning
and..... simon dean pulls off an upset
Tag Teaming With James Ellsworth
Join Date: Apr 2005
Posts: 1,710
Points: 0
Re: Being the booker
---
once again, another excellent show!

10/10

predictions

Triple H wins the Elimination Chamber
AMW wins Tag Titles
Chavo beats London
Lesnar beats Austin
Tazz beats Goldberg
JBL beats Faarooq
Simon Dean beats Rikishi
Re: Being the booker
---
Great Shows man. The Banners and posters are great as well. Great job from Calum.
RAW-
I like the way you started off the show, with Evolution calling out Orton and asking for an apology. This fued should be great and I would be surprised not to see Orton take on Batista at the next PPV.
Carlito's being used well.
I cant wait for the Undertaker and DX to come to blows. Will The Undertaker be going at it alone though?
WGTT wins again is great. I will be very unhappy when they lose the titles lol.
Loving the Christian push, hopefully we will see Christian/Cena at the next Raw PPV. Although I want Christian to be the champ, Cena isn't ready to lose it yet.
Edge/Cena next week will be great, cant wait. Raw this week gets a 9/10.
Smackdown-
Nice way to start off the show with Triple H talking about his plan and then the 5 superstars coming out, which made him shutup. Elimination Chamber is going to be amazing.
Great idea with the tag match with seperate partners. I knew one of the teams would start fighting, nice way to make it the face teams.
London foils Chavo's plans again. Nice touch.
Nice interview with Jericho and great promo between Austin/Heyman/Lesnar. Really in character.
Simon Dean getting the advantage of the Kish' is another nice touch. You are really pushing the heel's in the past couple weeks.
Trememendous interview by Beniot. He sure sounds "Hungry". LoL.
Goldberg beats Josh Matthews? Didnt see that coming :P . Great to see more buildup between Goldberg and Taz. I mean Tazz. lol
Nice 10 man tag match with Triple H getting the advantage again. Triple H is an evil genious!
Nice way to finish the show with Lesnar going crazy and Heyman getting suspended. I wonder how Lesnar will do well on Smackdown without Heyman?
Great Smackdown and great buildup to Judgement Day. 9.5/10
JUDGEMENT DAY
The Rock retains at Judgement Day. You have really put the focus on everyone but The Rock lately, so I see The Rock slipping through the cracks and retaining.

AMW wins the tag titles.

Chavo retains the CW title. I dont know why I just think that Chavo will pull what seems like an upset, after London's luck lately.

Austin beats Lesnar. I see the fued ending with Austin coming up on top.

Tazz beats Goldberg. Tazz seems for real lately and if we see "Taz", then I see him winning.

JBL beats Ron Simmons. I want to see Simmons win but it seems like JBL is getting the push, while Farooq is getting pushed the other way.

Simon Dean beats Rikishi by cheating.

Cant wait for Judgement Day!
---
WCW.
Re: Being the booker
---
rock wins chamber
dudleyz win tag titles
london wins cruiserweight
austin wins street fight
tazz beets goldberg
jbl beets farooq
rikishi kills dean
Heel Turn on James Ellsworth
Join Date: Apr 2003
Posts: 2,753
Points: 0
Re: Being the booker
---
Predictions for Judgement Day
The Rock
AMW
London
Lesnar
Goldberg
JBL
Rikishi

Excellent SD man, love the way you have introduced the JBL character. JBL is gold and him moving away from the Bradshaw character can only boost the SD roster, I think slowly over time he will become a major player on SD.
Asking JAMES ELLSWORTH for Wrestling Advice
Join Date: Mar 2004
Posts: 474
Points: 0
Re: Being the booker
---
Kurt Angle wins the Elimination Chamber
AMW wins Tag Titles
Chavo beats London
Lesnar beats Austin
Tazz beats Goldberg
JBL beats Faarooq
Simon Dean beats Rikishi
---
Test
Tag Teaming With James Ellsworth
Join Date: May 2004
Location: Bay City, Michigan
Posts: 1,907
Points: 0
Re: Being the booker
---
My Predictions for Judgement Day and Why:

Elimination Chamber
Chris Jericho vs. Triple H vs. Eddie Guerrero vs. Chris Benoit vs. Kurt Angle vs. The Rock

I see the Rock winning because he really has not had a chance to shine yet as champion and I don't see him with a two month title reign.

Tag Team Turmoil
AMW vs. The Dudley Boyz vs. La Resistance vs. William Regal and Lance Storm


I just have a weird feeling that they will win this one.


Cruiserweight Championship
Chavo Guerrero vs. Paul London

London is looking really strong heading up to the PPV and I don't see his momentum dying out there.

Unfinished Business; Streetfight
SCSA vs. Lesnar

Since this will end the fued I think Brock will come out with the momentum so he can possibly go on to beigger and better fueds. At this time I feel he has better wrestling skills than Stone Cold and I think you will take advantage of them in your show.

Tazz vs. Goldberg

Since this fued will probably end as well I can see Goldberg winning because he is currently an active wrestler. I hope Tazz realizes he is a has been and goes back to color commentary to help out Cole on the finer wrestling points.

Farooq vs. JBL

Since everyone in the main event on Smackdown have held the major title on your show I think you will put over JBL and make him a contender in the main event. I don't see this fued ending quite yet however, possibly with a more brutal encounter at GAB.

Rikishi vs. Simon Dean

See someone running in on this match for one of the men although I don't know who.
---
Wall Jon - EPW Superstar
EPW Record: 20 Wins - 8 Losses - 1 Draw
- Former EPW Tag Team Champion w/ Rick Talant
(2/19/06 - 6/24/06)
- Former EPW Ultimate Edge Champion
(5/27/07 - 7/29/07)
Posting Rules

You may not post new threads

You may not post replies

You may not post attachments

You may not edit your posts

---

HTML code is Off

---