Re: Being the booker
---
ooooooooooo I cant wait for Judgement Day......... battle royal is a good idea, god I love this BTB!
---
***

Chopped Liver
Join Date: Jan 2004
Location: Six inches from a computer screen
Posts: 5,433
Points: 321
Re: Being the booker
---
RAW; 2nd May; Melbourne

Opening Video

Pyro

J.R and King introduce us to the show, for the first time in Australia!!!! They then hype that tonight is a special Raw Roulette, with the main event being Edge vs. Christian.

We kick off with Mick Foley standing in the ring, along with Eugene, and the Roulette wheel. Foley briefly talks about tonight's main event, and right now, Eugene will spin the wheel to determine the type of match that Edge and Christian will compete in. Eugene spins, with it landing on……an AMBULANCE MATCH!!!

Christian then enters, wearing a Brisbane Lions jersey to major heat, and complains that his body cannot withstand another gruelling match, after 3 Stages of Hell at Wrestlemania, then the Cage at Backlash, and losing last week was because of it. He tells Foley to replace him in the match, and give him the night off.

John Cena then enters, and tells the CLB to quit complaining, and face his brother man to man. They engage in a short war of words, with it ending in an FU from Cena to Christian, as it cuts to a commercial.

In a rematch from Backlash, Rene Dupree and Rob Van Dam face off in a Melbourne Mayhem match. The only main rule in the match is that the match can only end in a pinfall, with no submissions, No DQ's, or Count-outs. RVD gets the win in an entertaining brawl, after the Five Star Frog Splash.

In an interview with DX, the foursome talk about the Deadman, and pretend not to worry about last week's announcement from Foley about Taker disappearing from the grave.

Mick Foley and Eugene talk with Mysterio, about his first I.C Title defence, up next against Rhyno. They spin the roulette wheel to determine the match, and it lands on……LADDER MATCH!!!

Rey Mysterio defeats Rhyno in a Ladder Match to retain the Intercontinental Championship. The two men throw a number of innovative moves, which gets the Aussie crowd roaring. Mysterio celebrates in the crowd after the match, despite showing some signs of injury from the match.

We see Randy Orton in Foley's office, just about to spin the wheel for his match with Booker T later. He spins, and lands on………A BLINDFOLD MATCH!!! Orton laughs it off, rather than get annoyed. He walks off to the Evolution dressing room, with Flair and Batista still irate over last weeks situation. They ask Orton why he's smiling, and he explains it's because he will be in a Blindfold match later. Batista then tells Orton he's lucky he doesn't wipe that smile from his face after costing him the Title last week. Orton then tells Batista he did what he had to do, and says if he had to make a choice again, he'd do it. Orton storms off, leaving Batista irate, being clamed down by Flair.

We get a video of Carlito walking around Melbourne, site seeing, along with Stacey, making fools of the public, and ending up saying that Australia…das not cool.

After this, we see Carlito and Stacey walking around the backstage area, laughing and joking, then they bump into Eugene. Carlito makes fun of Eugene, but Eugene fires back, and makes a fool of Carlito. Carlito then takes his apple, and spits it in the face of Eugene, before he and Stacey attack the poor little guy.

Cade and Jindrak take on the Natural Born Thrillers in a tables match. Luther gets involved, and helps his DX compatriots to victory, leaving NBT beaten, and down. Afterwards, HBK enters, and the group then get on the mic, running down Australia, calling it New Zealand to start with, then making fun of the accent, and much more, to major heat.

Backstage, we see Rey Mysterio and RVD congratulate each other on their victories tonight, then chat walking down the hallway.

Randy Orton faces Booker T in a Blindfold Match. The two men both seem cautious, especially considering neither can see anything. Neither manages to land a single punch or kick, before Ric Flair and Batista make their way down the ramp. Flair distracts the referee, whilst Batista clotheslines Booker T.

Orton knows nothing about it, and doesn't know what's going on, until Batista level's him with a clothesline too. Batista then picks up Orton, and delivers the Demon Bomb, on the unsuspecting Legend Killer.

Batista then knocks down the referee, before calling Flair in. They throw Booker to the outside, then look to one another, then point to Orton who is down and out. They smile, and begin to put the boots to Orton. Flair grabs a chair, whilst Batista pulls off Orton's blindfold, to Orton's shock. Batista picks him up, whilst Flair knocks him out with a chair shot. Orton is busted open, whilst Flair and Batista stand over his broken body, which looks pretty clear that Orton has been dumped from Evolution.

After the break, we see Orton being helped up the ramp, but as he reaches the top, he pushes the Paramedics away, then wipes the blood from his forehead, and storms off to the back in pursuit of Evolution.

We then go to the main event, the Ambulance Match between Edge and Christian. Tomko is taken out of the equation early by John Cena, who helps out Edge to overcome the two on one disadvantage.

Edge and Christian battle all around the arena, in a high impact brawl, and towards the end of the match, the two men begin to use the Ambulance more, as a weapon, and also to try and end the match.

Christian gets Edge inside, but Edge manages to get out just before the door closes.

After some more brawling, Edge nails a Spear on Christian into the Ambulance!!! Edge then closes the door, whilst Cena handcuffs Tomko to the door. Edge wins the match, with the Ambulance driving off, with Tomko being dragged along for the ride. Edge and Cena celebrate as the show goes off the air in Melbourne.

*****************************

Smackdown; Brisbane, May 5th 2005;

Highlights from last week, with the Over the Top rope match, with Jericho coming out on top, which now means he will be last to enter the Elimination Chamber at Judgement Day.

Opening Video

Pyro

Michael Cole: Smackdown tonight makes history, for the first time, we are broadcast from outside North America, in fact we are down under!!! Brisbane, Australia hosts us tonight, and what a main event we have in store…it's Triple H taking on Kurt Angle, in what promises to be a classic, just ten days from Judgement Day!!!

Paul Heyman: I am shocked and offended Michael. You opened this show, but didn't mention who was sitting in with you tonight. Although, I guess I know why, and that's because I am a man who needs no introduction…PAUL E. HEYMAN!!!

Michael Cole: Indeed I am joined by Paul Heyman, who tonight will be sitting in place of Tazz, who has requested the night off, with his match against Goldberg in just ten days time at Judgement Day.

Paul Heyman: Well Michael, if Tazz isn't lucky, he wont have a job to come back to, because I will steal the show tonight.

Michael Cole: And folks, another move made by Bret Hart tonight, is that neither Brock Lesnar, or 'Stone Cold' Steve Austin will be here either tonight.

Paul Heyman: Is that all?? Michael Cole, let me explain why neither man is here. Brock Lesnar WAS scheduled to be here, but was called away yesterday to attend the birth of his newly born daughter, whilst Steve Austin was banned from the arena tonight by Bret Hart because Brock was expected to be here, until yesterday.

Michael Cole: Thank you, now can we get on with the show??

**VIVA LA RAZA** Eddie Guerrero makes his way to the ring, in his low rider, for tonight's opening contest.

Michael Cole: And what a way this is to kick off this historic show, a United States Championship Match!!!

Paul Heyman: Well, we could be in for a title change here Michael. Eddie Guerrero may not have his mind on tonights title match, with all his thoughts going into the Elimination Chamber which is just ten days away.

Michael Cole: You could be right Paul. Eddie Guerrero needs to get his mind on defending the title successfully here tonight in Brisbane.

1st Match; United States Championship Match:

Eddie Guerrero vs. Christopher Nowinski

Pretty decent action, with Nowinski looking like a threat to Guerrero throughout. However, Eddie steps it up a gear in the final parts of the match, hitting the 3 Amigo's, before finishing the match off with a Frog Splash, giving him another successful title defence.

Winner; Eddie Guerrero

Eddie celebrates posing to the crowd, who go nuts for one of the most popular performers on the roster.

Michael Cole: What a victory for Eddie Guerrero!! STILL the U.S Champion.

Paul Heyman: Michael, Eddie has now been the United States Champion for a whopping FIVE months. And with the competition levels on Smackdown, that my friend is a heck of an accomplishment.

Michael Cole: It most certainly is Paul. And at this point in time, it doesn't look like Eddie will be losing that title any time soon.

Commercial

We then cut backstage, where Eddie is walking towards the locker room. He then overhears La Resistance mention his name. He walks towards them…

Eddie Guerrero: Did I just hear you two mention my name??

Sylvain Grenier: Oh…Eddie, I…I didn't see you there.

Eddie Guerrero: (Looks suspicious of both men) Whats going on esse??

Robert Conway: Listen Eddie, we don't want to be known as squealers, or as antagonists, but we were just talking about something we heard The Rock say about you earlier.

Eddie Guerrero: The Rock?? Talking about me?? What did he say??

La Resistance look to one another, then take a deep breath, and begin to speak.

Sylvain Grenier: Okay…we heard him talking to a bunch of guys about the Elimination Chamber and his opponents in it. We then heard him say the only one who he knows for certain doesn't have a chance was Eddie Guerrero.

Robert Conway: Then he really starting to insult you.

Eddie Guerrero: What did he say??

Robert Conway: I'm sorry Eddie, but I really would rather not say.

Eddie Guerrero: That's okay, I guess I'll just go and find The Rock then, and BEAT it out of him.

Eddie then walks off, looking furious.

We then cut to the parking lot, and see the arrival of J.B.L to big time heat, stepping out of his limo.

Back to ringside;

Michael Cole: This could get interesting later Paul. It appears that The Rock has been down talking Eddie Guerrero here.

Paul Heyman: Indeed it does, but The Rock may have made a big mistake, because he has seemingly triggered that Latino temper of the United States Champion.

Michael Cole: Something doesn't sound right about this situation to me Paul.

2nd Match;

James Storm w/Chris Harris vs. William Regal w/Lance Storm

The cowboy dominates Regal, with Harris blocking off Lance at all times. James Storm goes for a top rope elbow to finish the match off, but Regal kicks the ropes, and The cowboy straddles. Regal then distracts the referee, whilst Lance jumps onto the apron and nails his namesake with the brass knucks. Harris then brawls with Lance Storm, but Regal gets a cover, 1...2...3!!!

Winner; William Regal

Regal and Storm quickly escape with another tainted win, whilst Haris tries to help up his fallen partner.

We then cut backstage, where Chris Jericho is seen walking into the locker room. He is then approached by the Bashams.

Danny Basham: Whoa, Chris you are lucky you weren't here five minutes ago.

Chris Jericho: My, my, it like looking at two breasts. Do you two realise I could eat my dinner off the top of your head??

Doug Basham: This is serious Chris. You don't belei-

Chris Jericho: What's so serious?? Did a second hand wig salesman come around here and offer you two a deal??

Danny Basham: Listen Chris, you NEED to hear this.

Chris Jericho: What the hell is it??

Doug motions to Danny to close the door, which he does.

Doug Basham: Okay, Kurt Angle was here, Danny, how long would you say he was waiting?? Ten, fifteen minutes??

Danny Basham: At least.

Doug Basham: At least 15 minutes. Waiting here, for you.

Chris Jericho: So?? Whats the big deal about that??

Danny Basham: He was waiting with a steel pipe. Chris, he was waiting here to attack you. Man, he was in some sort of trance.

Doug Basham: Kurt was real upset about losing to you last week, and wanted to take you out of the Chamber Match, so he could be the last to enter.

Chris Jericho: Kirk Angel?? Waiting with a pipe?? To attack me?? Okay. I guess that I'll grab myself a weapon, and have a little look for the Olympic Hero.

Jericho then storms out looking in the mood for a fight.

Back to ringside;

Michael Cole: Something is going down here tonight. I don't like it. First Eddie Guerrero is told that The Rock was bad mouthing him, now Chris Jericho is being told that Kurt Angle was waiting to smash his brains in. Something doesn't smell right.

Paul Heyman: The smell is Brisbane, Michael, Brisbane stinks. But I do see something developing here, and it seems a little odd.

Commercial

We return with a short video of the WWE Smackdown stars touring Australia, looking at the sights etc, before we return, with JBL in the ring, waiting to speak.

John 'Bradshaw' Layfield: Ladies and Gentlemen, it is with my deepest sincerity, that I John 'Bradshaw' Layfield, pity you all.

Crowd Boo's at JBL

John 'Bradshaw' Layfield: Do not boo me. You DO NOT boo me. You worship at my feet. This stinking city will worship at my feet, and bow to greatness.

Crowd Boo's at JBL

John 'Bradshaw' Layfield: Okay. I understand that a small portion of you do not like that idea, but for those few, I tell you this, you can either get on your feet, and walk on out of this building, or learn to like it. In fact, you can learn to LOVE it.

Crowd Boo's at JBL

John 'Bradshaw' Layfield: Believe me, your typical, ignorant reactions will have absolutely no bearings on what I prepare to say. You can continue to boo, or you can show manners, and some dignity, by shutting your faces, and opening your ears.

Crowd Boo's at JBL

Mysterious Voice: Or you could be shut up.

The old APA music hits, and Ron Simmons enters the arena to a decent pop.

Ron Simmons: Bradshaw…sorry, I mean JBL, You've been running your mouth now for the last few weeks, and I've had enough.

John 'Bradshaw' Layfield: Whoa. Hold it right there. Don't you dare take another step forward. Ron, we were best friends, but do not force me into beating you up.

Ron Simmons: I aint forcing you into anything man. I'm coming there to kick your ass, because you need to be shut up.

Simmons drops his mic, and walks towards the ring, as he rolls in, JBL immediately stomps him, not allowing his former partner up. JBL chokes him in the corner, then turns away, taking off his jacket, and rolls up his shirt sleeves, but when he turns around, Simmons nails a clothesline.

Ron Simmons then pounds down JBL, in revenge, before rolling to the outside, and picks up a chair. He gets back in, but right away, JBL catches him with a boot to the face. JBL picks up the chair, and nails Simmons on the back, repeatedly, wearing down his former partner. To finish off the assault, JBL puts Simmons down with a Clothesline from Hell.

JBL then picks up his hat, and raises his hands to a huge amount of heat from the Brisbane crowd.

Commercial

Raw Rebound;

- Raw Roulette

- Mysterio retains the I.C Title against Rhyno

- Evolution turn on Randy Orton during his blindfold match against Booker T

- John Cena helps Edge defeat Christian taking out the threat of Tyson Tomko, in the Ambulance Match.

Michael Cole: We are back on Smackdown, LIVE in Brisbane, Australia. Still to come, Triple H takes on Kurt Angle in a personal, personal war. But after what we heard earlier, it seems like Kurt Angle has his mind on other things.

Paul Heyman: Indeed it does Michael. Kurt Angle obviously took that narrow defeat in last weeks over the top rope battle royal to heart. He was so close, but Chris Jericho just beat him out to be the last man to enter the Devils Playground at Judgement Day.

Michael Cole: Not only Kurt Angle, but The Rock seems to have lost it too tonight, as we heard earlier, it appears that the WWE Champion has been bad mouthing Eddie Guerrero.

Paul Heyman: There is definitely something in the water in this country Michael. No wonder they call it down under, everything is upside down.

3rd Match;

Paul London vs. Nunzio

In a fairly decent back and forth contest, London outshines Nunzio, showing why he has earned the right to be #1 contender for the CW title at Judgement Day. As the match seems to be nearing the end, Los Chavo's make their way to the ring, which serves as a distraction for London. Nunzio rolls him up, but only gets a two count. Chavo Classic then gets on the apron and distracts the referee, whilst Chavo Junior looks to nail London with the belt, but Paul ducks, and Chavo nails Nunzio instead. London then dropkicks Classic off the apron, and hip tosses Chavo to the outside, before hitting a 450 splash for the three count.

Winner; Paul London

London quickly rolls out of the ring, in celebration, whilst Los Chavo's have a temper tantrum in the ring.

Michael Cole: What a victory for London, despite the champions best efforts, London still won the match!!!

Paul Heyman: Oh yeah, Paul London showed his tenacity here tonight, and at this point in time, you have to say that he could well be the Cruiserweight Champion in ten days time.

Michael Cole: Chavo Guerrero's reign as Champion could well be on life support at this stage.

We then cut backstage, where Kurt Angle is preparing for his match later. Harvey Whippleman then sprints towards him, wanting to talk to him urgently.

Harvey Whippleman: Kurt, Chris Benoit just sent me here, and wanted me to tell you that he wants to meet you out in the parking lot, so you two can settle some unfinished business.

Kurt Angle: (Looks confused) Are you sure he said me??

Harvey Whippleman: Definitely. He wanted you and him to settle your differences in the parking lot man to man. Then he started joking with a few of the guys that he would kick your ass, because you wont be able to fight in a street environment.

Kurt Angle: Well, we'll see about that.

Angle then storms off down the hallway, and then walks towards the parking lot. He waits at the door, then slowly opens it. He walks out into the parking lot, calling Benoit's name. Suddenly, from behind, Angle is attacked with a steel chair. The chair shot sends Angle onto the bonnet of a car, and his head smacks off the windscreen. We don't see the attacker, with the camera focusing in on Angle, whilst we hear the attacker running off.

Commercial

We return with Kurt Angle being helped into the trainers room, clearly woosy.

Michael Cole: We are back on Smackdown, but right now, I'd have to say that tonights main event looks to be in jeopardy. Just moments ago, Kurt Angle was attacked in the parking lot, by what we can only gather was Chris Benoit.

Paul Heyman: It had to be Benoit. Harvey Whippleman had just told Kurt Angle that Benoit wanted to meet him in the parking lot. Angle decided to meet him, and Benoit attacked him.

Michael Cole: I don't get it though. This has been one really weird night Paul. First Eddie Guerrero is told that The Rock is bad mouthing him, then Chris Jericho is told that Kurt Angle was waiting to attack him, and now Kurt Angle gets attacked by Chris Benoit. Something doesn't seem right in all this.

Paul Heyman: Its obvious to me, that these guys are all trying to one up each other, and rile each other leading to Judgement Day.

Michael Cole: Well none of this can be taken as 100% true. We didn't see, or hear The Rock talking about Guerrero, we didn't see Kurt Angle waiting for Jericho, and we didn't see who attacked Angle. Funnily though, realise this, the only man from the Elimination Chamber that hasn't been involved here at all……Triple H.

Paul Heyman: Oh come on. Triple H hasn't been involved, because he doesn't need to stir things up. He's confident of victory inside the Elimination Chamber.

Michael Cole: Whatever. Folks, right now, we're gonna send it back to the trainers room, where Maria has an update on Kurt Angle's condition.

Maria: Michael, I've just been informed, that despite being advised not to compete tonight, Kurt Angle will indeed wrestle Triple H later on this evening. Until then though, Kurt will be receiving as much treatment as possible until then.

Michael Cole: Big news. Kurt Angle WILL face Triple H later tonight. So you gotta believe that whoever it was that attacked Angle will not be happy.

4th Match:

Chris Benoit & Chris Jericho vs. Test & Scott Steiner

Benoit and Jericho do not look to be aware of the going's on from moments ago, with Angle's attack, which shows that it may have been a set up for it to look like Benoit assaulted the Olympian.

In the match, Benoit and Jericho carry their opponents to a passable match, with Test and Steiner really giving their all. Mid way through the match we have a commercial break, and as we return, Test and Steiner have complete control over Jericho. Eventually, Y2J manages a fight back, and tags in his partner. Benoit hit's the ring, and nails Germans on both opponents, then hit's the Headbutt on Test. Steiner then goes for a downward spiral on Benoit, but Jericho makes the save, and takes Steiner to the outside, whilst Benoit applies the Crossface on Test, with the inevitable tap out, and the victory for the Crippler and Jericho.

Winners: Chris Benoit & Chris Jericho

Benoit and Jericho celebrate, shaking hands, before exchanging a few words, probably about the Chamber in ten days, before saluting the crowd, and leaving the ring.

Michael Cole: A great win for two of the men who will compete inside the Elimination Chamber at Judgement Day.

Paul Heyman: Benoit and Jericho make a great team, and that was a great match. But I cant believe how callous Benoit is. He didn't even show any remorse over his assault on Kurt Angle.

Michael Cole: You know, I really don't think Benoit even knows Kurt Angle was attacked. He seemed totally unaware. I smell a set up.

We then cut backstage, and Maria is standing by with Simon Dean…

Maria: Simon, last week, you had an altercation with Rikishi, after you showed clearly fake photo's of Rikishi in a bid to sell your Simon System. -

Simon Dean: First of all, I resent your statement. That guy in the photo wasn't Rikishi, it was just a lookalike of him, who decided to lose the weight. Okay? Also, I've been thinking…this dude, Rikishi. What's his surname?? Phatu?? Well, I'd like to say this, it shouldn't be Rikishi Phatu…no, his name should be Rikishi, how fat are you?? Really. I mean, how fat is that guy?? He's HUGE. And as for him ruining my chance to promote the Simon Sys-

Simon then spots Rikishi down the hallway, who has also just spotted Simon.

Simon Dean: Uh oh. I gotta go.

Simon then quickly runs off down the hallway, as Rikishi begins to follow him in pursuit.

Michael Cole: Simon Dean has not endeared himself to Rikishi over the last few weeks.

Paul Heyman: That's an understatement Michael. Things may get ugly for Simon if he continues to push the buttons of Rikishi.

Commercial

We return with Chris Benoit entering the locker room. Christopher Nowinski then quickly approaches him.

Christopher Nowinski: Oh my god Chris, you need to hear this.

Benoit looks a little confused, as Nowinski continues.

Christopher Nowinski: While you were having your match, Eddie Guerrero was in here, on your cell phone, calling your wife. Talking about seeing her later.

Chris Benoit: WHAT!!!???

Christopher Nowinski: Honestly. Look at your call records.

Benoit picks up his phone, then fiddles around, checking his call records. He then stops, looks up, has a furious look on his face, then throws the phone against the wall before storming off.

Michael Cole: This is getting out of hand Paul. There is a set up going on here, and I have a feeling Triple H is the one causing it all. There is just too much going on on one night for this to make sense.

Paul Heyman: All I'm saying is that Eddie Guerrero is bringing a whole new level to Lying, Cheating and Stealing. (Laughs hysterically)

Michael Cole: Get a grip.

5th Match:

D' Von Dudley w/Bubba vs. Robert Conway w/Grenier

Blah match, with both men going through the motions. Grenier gets involved, but has a mix up with Conway, and gets himself knocked out. The referee then is distracted trying to get Grenier out of the ring, and the Dudleyz hit a 3D, before D' Von covers, 1...2...3!!!

Winners: D' Von Dudley

The Dudleyz celebrate the win, sending a message to the three teams for the Tag Title Match.

Michael Cole: Will this be a sign of things to come for the Dudley Boyz in ten days at Judgement Day, when the tag titles become no longer vacant.

Paul Heyman: I never go against the Dudleyz Michael. They will be hungry for their 20th Tag team title reign at Judgement Day.

Michael Cole: Well, also in ten days, we have Tazz facing Goldberg. Neither man is here tonight, but right now, here is a video highlighting Tazz's accomplishments.

The video shows Tazz's career highlights and most famous moments, from ECW, with clips of him as the Tazmaniac, then breaking his neck, before becoming Taz, clips of his feud with Sabu, introducing the FTW Title, winning the ECW World Championship, leaving ECW, his debut in the WWF, clips of him feuding with Jerry Lawler and J.R, various clips of him using the Tazzmission, being dubbed the Human Suplex Machine, then clips of his recent feud with Goldberg, before the video ends.

Michael Cole: That video sends chills down my spine. Tazz, most definitely is a ECW legend, and in my opinion, a wrestling legend.

Paul Heyman: Not many people know Tazz as well as I do, and believe you and me, Tazz, although incredibly shorter than Goldberg, will push Goldberg to the limit. If Tazz can apply that Tazzmission, like he did last week, then we could well be seeing Tazz as the winner of that match.

We then cut backstage to The Rocks locker room. He is on the phone to someone, then the door knocks, and he calls the person in. The person has a box.

Delivery Guy: Rock, I have a present for you, from Chris Jericho.

The Rock: Chris Jericho?? Sending me a gift? Have you been smoking something?? Is this some kinda joke??

Delivery Guy: No, this is a package from Chris Jericho, especially for you.

The Rock: Leave it there. (Points to a spot for the guy to leave the box)

Rock then looks at the guy, who is still standing there.

The Rock: Do you want something?? You want to have a beer with The Rock?? You wanna get a photograph of The Rock?? You want to be friends with The Rock??

Delivery Guy: That'd be great.

The Rock: What in THE Blue Hell is wrong with you!!?? Rock's got another delivery for you to make, yeah, I want you to take something with you, and take it just past Know your Role Boulevard, take a left from Jabroni drive, then step right into the Smackdown hotel, then GET THE HELL OUT OF THE ROCKS LOCKER ROOM!!! Beat it!!

The Delivery Guy then quickly exit's the locker room. The Rock then opens the box from Jericho, reaches in, and pulls something out…a kids plastic style WWE Championship Belt. The Rock looks at it, then throws it against the wall, before removing his sunglasses and exiting the room, in pursuit of Y2J.

Michael Cole: You have got to be kidding me. There is too much coincidence going on here tonight for this all to tie in. I'm sorry, but I think these five guys are being set up by Triple H.

Paul Heyman: I totally disagree. Chris Jericho, has sent The Rock a message here tonight, that after Judgement Day, The Great One wont have the real WWE Championship, and having that childrens replica will be as close as he will get.

Michael Cole: I cant believe that you are buying all this crap. I just hope that Chris Benoit, Kurt Angle, The Rock, Chris Jericho and Eddie Guerrero all quickly find out whats been going on here tonight between each other, and then they too will realise it's all Triple H.

Paul Heyman: But you don't know that Michael Cole. You are speculating, you are creating a rumour, and a nasty rumour at that.

Michael Cole: In any event, in just a few moments, we will have our main event, as The Game takes on Kurt Angle, but will Angle be at 100%?? Find out, next.

Commercial

Michael Cole: Right now, you are listening to "The End has come" by Ben Moody, the official theme song for Judgement Day, which folks, is only ten days away.

Paul Heyman: And it will be Judgement Day for Stone Cold Steve Austin, and I should know, because my client, Brock Lesnar, will be the man who passes final Judgement over Austin, and gets him out of our lives, for good.

Michael Cole: We shall see about that Paul. Also, JBL faces his former best friend, Faarooq, one on one, in what should be a knockdown drag out brawl. It will be emotional, and brutal. Will JBL have the last laugh, or will Faarooq get revenge on the man that turned his back on him.

Paul Heyman: And, also, the clash between two very dangerous men, two men I personally would always want with me if I were to get into a fight, Tazz and Goldberg. It is personal, it is very personal. Goldberg has everything to prove, whilst Tazz has nothing to lose. I cant wait for that one.

Michael Cole: And that's not all. The Tag Team Championships will be reclaimed in a Fatal Four Way, and Paul London will challenge Chavo Guerrero for the Cruiserweight Championship.

Paul Heyman: And…the Elimination Chamber.

Michael Cole: The most diabolical structure in Sports Entertainment, the career killer, with six bodies on the line, six lives at stake, is one championship enough reward??

We cut backstage, where we see Eddie Guerrero searching for The Rock, then Chris Benoit looking for Eddie, before cutting to Angle staggering down the hallway for his match, then Chris Jericho looking for Angle, and The Rock looking for Y2J.

Main Event;

Triple H vs. Kurt Angle

The Game dominates early on, taking advantage of Angle's weakened state. He wears down the neck and back of the Olympian, hitting a number of power moves, and then begins to apply a few submissions to further injure Angle.

The Gold Medallist refuses to tap out though, and he fights back, taking The Game out of the comfort zone with a flurry of Belly to Belly suplexes. Kurt then picks it up a gear, and begins to really take control over Triple H.

After a few minutes of dominating, Angle begins to show the signs of his injuries suffered from earlier, and Triple H retakes control, with a heavy clothesline on his opponent. He then pounds down Angle, before scoring a few near falls, then sets him up for the Pedigree, but Angle fights out, and nails an Angle Slam. Kurt then pulls down the straps, and applies the Ankle Lock.

Triple H is caught dead centre in the ring, and looks set to tap out, until Chris Jericho sprints down to the ring, with a steel chair, and nails Angle across the back, causing the DQ.

Winner; Via DQ, Kurt Angle

We then hear Jericho yelling at Angle "You wanna wait for me to attack me with a pipe huh?? You wanna take me out ass clown??" Jericho stomps on Angle, but then, The Rock sprints to the ring, coming after Jericho, due to the gift supposedly from Y2J to The Rock. Rock attacks Jericho, and beats him down in the corner, before nailing a Rock Bottom.

The Peoples Champ then goes for the Peoples Elbow, but as he bounces off the ropes, Eddie Guerrero trips his leg, then pulls him out by his legs, and begins to pummel him with right hands, then sends him into the steel steps, in revenge for what Rock apparently said about him earlier.

Before Eddie can do anymore damage to The Rock, Chris Benoit jumps Guerrero, and pounds him down, taking out his anger for Eddie supposedly calling Benoit's wife. Benoit then throws Eddie into the ring, and hit's a German on the U.S Champ, before applying a Crossface.

Benoit refuses to let go, but Angle breaks it, attacking Benoit with the steel chair, getting revenge for Benoit possibly attacking him earlier. Angle pounds down Benoit, but Jericho then gets to his feet, and goes after Angle, but Guerrero cuts him off, and goes at it with Y2J. The Rock then re enters the ring, and goes after Guerrero for attacking him moments ago, but Jericho attacks The Rock for the Rock Bottom.

All five men beat the hell out of each other in the ring, the carnage is unreal. Meanwhile, at the top of the ramp, we see Triple H standing looking down at his five opponents, laughing his ass off, giving away the fact that he set all five of them up. He walks to the back still laughing, as we end the show, with the five other men going at it, not letting up.

End of Show

************************************************
Current Card for WWE Judgement Day:
Date: 15th May
Location: PNE Coliseum, Vancouver; Canada
Event Music: Ben Moody; The End has come

WWE Championship;
Elimination Chamber Match:#
The Rock vs. Triple H vs. Chris Jericho vs.
vs. Kurt Angle vs. Eddie Guerrero vs. Chris Benoit
(Chris Jericho enters last)

WWE Tag Team Championships;
Four Corners Elimination Match for vacant titles:
America's Most Wanted vs. La Resistance vs.
vs. William Regal & Lance Storm vs. Dudley Boyz

Cruiserweight Championship Match:
Chavo Guerrero vs. Paul London

Unfinished Business; Streetfight:
Brock Lesnar vs. Stone Cold Steve Austin

Goldberg vs. Tazz

John 'Bradshaw' Layfield vs. Faarooq
***************************************************


Re: Being the booker
---
Only have time to review Smackdown, but Raw was fantastic too. Hope Christian and Cena fued now.


Nice way Smackdown, with the introduction of Heyman as tempory announcer, while Tazz trains for Goldberg. Nice opener, did not think Eddie would lose. More single matches for the tag match at Judgement Day is great. More buildup for JBL/Ron Simmons is great to see. I hope you dont leave Farooq in the cold after this fued. Nice job of showing London getting the upper hand on Chavo once again. Simon Dean was hilarious. Well used. Final match was tremendous. Like the brawl between the 5 superstars and Triple H standing on the ramp laughing. The mind games throughout the show were tremendous and played out perfectly. Well done. Hope to see Stone Cold and Brock Lesnar on the show next week in a last attempt to hype their match, as well as Goldberg and Tazz. Great show, 9/10 and I look forward to next week.
---
WCW.
Re: Being the booker
---
Smackdown: 28th April

Negatives
-Nothing.

Positives
-Brilliant opening segment between Steve Austin and Brock Lesnar.
-Simon Dean promo.
-Great buildup for Tazz and Goldberg.
-Chris Jericho entering the Elimination Chamber last.

Smackdown: May 5th

Negatives
-None

Positives
-La Resistance stirring things up between the Rock and Eddie Guerrero.
-William Regal going over Americas Most Wanted, because I believe AMW will defeat them.
-The Basham Brothers stirring things up between Kurt Angle and Chris Jericho.
-Build up for JBL/Ron Simmons.
-Paul London defeating Nunzio despite Los Chavo's attempts to help Nunzio.
-Harvey Wippleman stirring things up between Kurt Angle and Chris Benoit.
-Having Kurt Angle's attacker remain a mystery.
-Build up between Rikishi and Simon Dean.
-Christopher Nowinski stirring things up between Chris Benoit and Eddie Guerrero.
-Great to have Hunter setting up the other five superstars, I just wonder what will happen to him in the final week before Judgement Day.

A-Dust
---
Last edited by A-Dust; 04-09-2005 at

05:02 AM

.
Chopped Liver
Join Date: Jan 2004
Location: Six inches from a computer screen
Posts: 5,433
Points: 321
Re: Being the booker
---
The following is three match banners for Judgment Day, all of which made by Red Cold.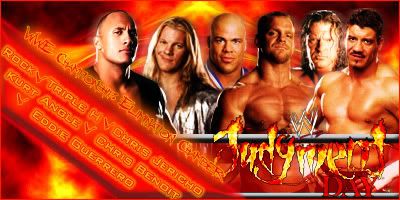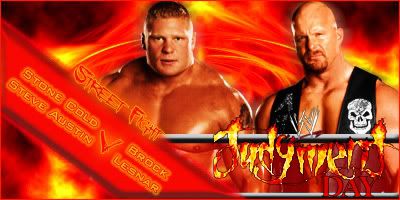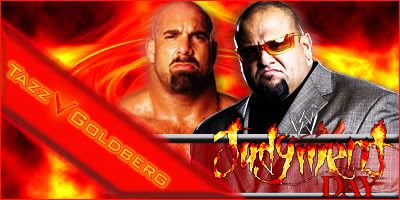 The remainder of match banners should, fingers crossed be finished soon, by Red Cold
. Any more thoughts on SD are always welcome, and next weeks edition should be up on Thursday.
---
Last edited by Wolf Beast; 04-09-2005 at

01:05 PM

.
Heel Turn on James Ellsworth
Join Date: Apr 2003
Posts: 2,753
Points: 0
Re: Being the booker
---
Awesome banners, I like the fact your bringing in Tazz to face Goldberg, Tazz was a great wrestler and I think on his day would've been a tough challenge for Goldberg.
Re: Being the booker
---
RAW and Smackdown! from Australia were fabulous. The matches and romos were awesome. The banners are Excellent, I give'em 10/10. Keep up the good work and I just can't w8 for the next show!!!
Re: Being the booker
---
Wow both were great show I guess I'll start off with Raw.

Raw was good I liked seeing the roullete return and it gave some good matches. Looks like Orton got dumped again by Evolution huh oh well he will do better on his iwn I can feel it. I liked the Main Event match that was awesome and I can't wait to see this Cena-Christian feud next week. Overall Raw was good I give it a 8.5/10

I really liked Smackdown this week and the way you set up all 5 of those men were great that was a classic. Triple H sure seems satisfied with himself and he should be after playing a genius roll by setting them all up. I liked the Guerrero cell phone call that was funny and also the transaction between La Resistance and Guerrero telling Guerrero that the Rock was talking smack was great. Great matches especiall the Main Event between a beaten Kurt Angle and Triple H. Overall Smackdown was great 10/10.

Also I like the banners that Red Cold made there kickass.
---
Yo go on out and look for WWE by Icecoldkilla and Randyorton24 in the BTB section. Raw is written by me The_Ring and
Smackdown is written by Randyorton24.

Asking JAMES ELLSWORTH for Wrestling Advice
Join Date: Oct 2003
Location: Far Far Away
Posts: 254
Points: 0
Re: Being the booker
---
Great Shows man!
RAW:
Raw Roullete was great!
Don't see Rhyno in a ladder match but maybe I'm just being stupid
Cena and Christian should feud now
Evolution break-up was well written. Orton and Batista feuding will be nice but let Orton get rid of Flair first

Smackdown!
Triple H is my man. Excellent plot by Hunter
Nice to have Heyman in colour commentary
Good promo from JBL and a nice confrontation with Farooq
Overall great shows
I'll have my predictions next week after the last Smackdown!
And Great Banners Red Cold!!

Great Shows man!
RAW:
Raw Roullete was great!
Don't see Rhyno in a ladder match but maybe I'm just being stupid
Cena and Christian should feud now
Evolution break-up was well written. Orton and Batista feuding will be nice but let Orton get rid of Flair first

Smackdown!
Triple H is my man. Excellent plot by Hunter
Nice to have Heyman in colour commentary
Good promo from JBL and a nice confrontation with Farooq
Overall great shows
I'll have my predictions next week after the last Smackdown!
And Great Banners Red Cold!!
Re: Being the booker
---
i love this btb, it is wonderful anyways looking forward to judgment day, i like the card and the banners. raw was great with raw roulette, and smackdown's build up to judgment day was amazing too. love these shows and keep up the GREAT work!
Posting Rules

You may not post new threads

You may not post replies

You may not post attachments

You may not edit your posts

---

HTML code is Off

---