Chopped Liver
Join Date: Jan 2004
Location: Six inches from a computer screen
Posts: 5,433
Points: 321
Re: Being The Booker
---
Not sure whether to hold off posting Smackdown for a little longer or not, due to the lack of love for Raw. Hoping the low number of responses is down to busy schedules ... otherwise I'm fucked
***

!!WWE.COM BREAKING NEWS!!

This afternoon, wwe.com has been informed by a reliable source that after hearing about Brock Lesnars furious reaction to being stunned on Raw, STONE COLD STEVE AUSTIN has challenged the Iron Man to make the trip to Corpus Christi this Friday Night, and air his problems, man to man!!! Even though Brock Lesnar is contracted to Raw, Steve Austin, no longer on the official WWE roster, has NO juristiction, and is determined to settle any issues with Lesnar as soon as possible. Will Lesnar take the bait, and meet the Texas Rattlesnake, face to face, this Friday Night???

***

I dont normally post a single bulletin like that, but I didnt want to post that, and then, directly below, post a preview for Smackdown. Would rather let the breaking news settle, and then follow up a day or so later with the preview. Wanted to post that yesterday, then get a preview up for Smackdown tonight, but my connection fucked up, pushing things back at least one day. So, expect a Smackdown preview either tomorrow or on Saturday, with Smackdown going up the following day.
Re: Being The Booker
---
Spam: Nice thread, I think i will become a reader of this
---
---
Last edited by Nigeô; 05-21-2009 at

06:47 PM

. Reason: Received warning for spam
Re: Being The Booker
---
Raw Feedback
I really like the approach that you took for this opening match, as you said that Shelton was on the same level as Christian. Considering Christian is probably the best on Raw right now, itís a great thing to say that Shelton is on the same level. Typical Benjamin match with Teddy at ringside, and I loved the role that he played. Very good back and forth, with the match staying pretty clean overall, until the Brotherhood hit the ring! Cena comes down and helps his WM23 opponent and Christian knows it, as he picks up the win. Wow, that promo between these two was pretty intense, as they both know that the other wants to knock the hell out of the other. CC made some fantastic points, talking about Cena losing his fans, and Cena didnít really say much to deny it. He is obviously the heel in this one, as I see something maybe going down after the Main Event, with something needing to happen before these two actually meet in the ring in 13 days.
Little bit of tension between MNM and Kennedy, but that is pretty much expected with all thatís at stake in their match. Looks like MNMís last ditch effort to try and get something out of the match for WM23, but Bischoff actually didnít do what they want, and the match is still going to happen. Santino against Mysterio tonight? Hopefully Santino loses this and then goes away Ö but I doubt the latter will happen.
You made me a very happy man with this match between Kennedy and Punk, as Iím very glad that they got a decent amount of time and just got to go one-on-one, with no one at ringside for either man. Punk looked very impressive, and I think that you will probably end up breaking Helms and Punk up over the next four months or so, as they both have tremendous talent and they can do more in singles competition. Iím glad that KK got the clean win, as this was the best way to do it, with him needing something good to get back on track. The heel team has the momentum now, and I think they will try and build on it even more after the Santino/Rey match.
Finlay actually talking with other people? This was kinda surprising, but I didnít really expect Orton and Benjamin to go with the idea, as they both have more important things on their minds. Next week this might happen, but Iím gonna say Finlayís scared straight after getting destroyed by Umaga tonight, and he may not wanna be anywhere near him next week.
Until you really made us look back at it, I never realized how much Cena and Christian were the same in the year since WM22. Both men got screwed and both rose back to the top. Just another comparison that makes this the most anticipated match on the WM23 card, imo.
Really no shock here in the match featuring Finlay and Umaga. Glad to see The Irishman stay in contention early on, as it at least gives him a little credit, but then he gets blown out of the water. I really donít like the fact that the little leprechaun is still used, tbh. Completely pointless. Anyway, Umaga continues to pick up the impressive victories, as he rolls into MITB. I donít see him getting touched next week, as the other MITB are sure to run for their lives.
Iím glad that you decided to go about this promo the way that you did, as Triple H tries to dash the hope away from the fans, bringing up the long history that Austin and Lesnar have together, talking about everything from Lesnar costing Austin his job, to the final match the two had at JD í05. Triple H continues to talk about Austin not playing any favorites, and Iím glad that Lesnar came down to the ring when he did. Not much more for him to say, besides talking about Austin hating everyone in the MFE. Lesnarís character is used well, as he doesnít waste that much time talking, instead running down to the ring. Shows just how ballsy he is, taking it to everyone in the MFE, and eating a Pedigree after the early domination. I think everyone DID expect Austin to come out, but the Stunner to Lesnar was pretty shocking. Guess we really know that Austin wonít play favorites, and it was good for this match that he showed heíd take down Lesnar without any real reason. This should lead to an epic face-to-face showdown between Lesnar and Austin next week, imo.
As you said, very generic match between Cade and Michaels. Just shows how far Cade has fallen since the summer, as now he only gets just over six minutes with Michaels, as compared to a main event level feud with him at SummerSlam. Either way, Garrison still looked decent and he did his best, but there was no way Michaels was losing tonight. Surprised that Foley didnít come down to the ring, seeing as it is Michaelsí hometown, but we still have a lot of show left.
That was probably the best Mick Foley promo that you have ever written in this thread. The fact that it just came into the production truck works perfectly with Foleyís character, as he is really a changed man now that his match with HBK is on. I loved that the room was dark and the setting was just perfect. He started out the promo pretty calm, continuing with the trend of the past few weeks, as we would think that he is composed. His mind is just all over the place, talking about needing his ĎMania moment, and then he says that he doesnít even know who he is. I always love these ďvideo promosĒ, as it really gives the wrestlers their own personal touch, instead of just talking in an arena. Next week is going to be pretty nuts between these two. Anytime you can silence an entire arena, you know the promoís gold.
Not shocked with the way that the Rey/Santino match went down, as Rey was always going to win, but it was good to see everyone get themselves involved with this one. Loved the way that KK waited until everyone else had done their damage, and then he rolls into the ring and hits the Mic Check! Great way to continue putting him over, and Iím just hoping that this doesnít lead to a loss at WM23, as thatís what usually happens with heels that have huge momentum.
Two HUGE matches signed for next weekís Raw! The eight-man MITB Tag match is kinda expected, and it should be a great showcase of talent for everyone. The Main Event is going be huge, as Cena being the referee is a great way to keep it original and get him in the ring. Hopefully SD! will be just as stacked, as all the Raw talent will be there as well.
Gonna say it again - the ĎMania card is STACKED.
Also, Paul going into the Hall is another great edition, as this is one of the best classes ever, imo.
Doubtful that Ortonís scheme is going to work out, but itís nice to see him try. Cena should be able to fend off any third parties that come down and try to beat him up.
Great way to tell the story that these two have had in the past, with them going right after each other in the early going. Surprised to see Orton take over so early, and that continues through the break. Finally Cena makes the comeback, as he always does, before ending things with a wicked suplex on the ramp! But Iím glad Orton was able to come back, as he gets out of the way of the leg drop. Great set of reversals at the end, with Orton rolling out of the ring after the STF-U, and then nails Cena with the steel chair! Great way to give Orton all the heat in the world, as he and the rest of the New Wave continue to beat down Cena, before Christian comes out! Glad to see that Christianís conscience made him head down to the ring, and save Cena. Very nice ending to the show, as no physicality results between these two. Hopefully we finally get that next week, as this is set to boil over in a big way.
Another tremendous edition of Raw. The highlight for me would have to be the promo from Foley. Simply eerie. And the continued tension between Lesnar and Hunter, as well as Christian and Cena make next week look like the sex. Only three more shows until ĎMania!
---
AS LONG AS IT MAY TAKE ... NOT REMOVING UNTIL
THE CHICAGO CUBS WIN THE WORLD SERIES
PatMan Presents: World Wrestling Entertainment 2007
ROYAL RUMBLE HAS BEEN POSTED
THREAD CURRENTLY ON HIATUS (
)
Chopped Liver
Join Date: Jan 2004
Location: Six inches from a computer screen
Posts: 5,433
Points: 321
Re: Being The Booker
---
Friday Night Smackdown Preview:
Hot off the heels of a dynamite Monday Night Raw, Smackdown rolls into Corpus Christi, amidst anarchy, as the rebellious Texas Rattlesnake, Stone Cold Steve Austin has issued a personal invitation to none other than former long time foe, The Iron Man, Brock Lesnar to make the trip to Smackdown and confront him, if Lesnar has a problem with how Stone Cold conducts his business. This huge gauntlet has been laid down in the wake of the 'stunner heard around the world' this past Monday, delivered from Austin to Lesnar, after Lesnar had saved Austin from a sure beating at the hands of the McMahon Family Empire. If Lesnar shows up in Corpus Christi - expect fireworks.
Whilst the situation between Raws Brock Lesnar and the legendary Stone Cold has grabbed the headlines, the main event this week could steal the headlines!! After Edge walked out on Rob Van Dam last week, wanting to keep himself fresh for the looming triple threat match in just nine days time - that plan has backfired though, and this week, it's take two, with the added stipulation that the ring will be surrounded by the Smackdown roster for a Lumberjack Match!! This time Edge has no option but to fight the WWE Champion. With Chris Jericho set to sit back and enjoy watching his two opponents tear each other apart so close to WrestleMania, can Edge and RVD make it through the Lumberjack match and move on to WrestleMania at 100%??
Last week, Kurt Angle turned the mind games up on The Undertaker to a whole new level, costing The Deadman a WrestleMania 22 rematch against Chris Jericho. Then, after the match, Angle sent a clear message to his opponent at WrestleMania, before sadistically telling the Phenom that he would spare him. The Undertaker has been played and embarrassed by Angle in recent weeks, and after last weeks blistering assault, The Demon of Death Valley looks incredibly off his game ... plauged by the mind games of Kurt Angle ... something that The Deadman always holds an advantage over all opponents. This week, Angle is in action against the promising Cody Rhodes ... but given the form Angle has been in, could Rhodes promise be extinguished by Angle as he attempts to send another message to his WrestleMania opponent.
Elsewhere, Brent Albright, the United States Champion outsmarted The Animal, Batista, bringing in the 500 pound mastodon Viscera to take his place in the Arm Wrestling Match last week. Batista though, despite the massive size disadvantage, defeated Viscera, but was attacked by the U.S Champ, and his hired gun. The #1 Contender though has refused to let Viscera get away with the beating, and this week, he takes on the man mountain, eager to send another message to his WrestleMania opponent.
And, before they team together this Monday in a Money in the Bank eight man tag team showcase match, Paul London, Charlie Haas, Carlito and M.V.P will compete, every man for himself in a fatal four way contest. Bragging rights will be on the line, as well as a tonne of momentum going into the massive ladder match in nine days time.
***
Expect Smackdown to be posted tomorrow or Sunday.
Re: Being The Booker
---
Sounds good Wolfy. Figured I'd just thank you in here for the double review and I'm going to work on returning the favor by reviewing both Raw and SD for you once Smackdown goes up. Either way Lesnar/Austin situation seems as if it's going to steal the show and I know that we're going to be in for a hell of an episode of SD. I haven't reviewed much recently but I have kept up with what's been going on and what not so I should be fine.
Re: Being The Booker
---
Awesome news really Wolf. Lesnar and Austin settling their problems man to man will be insanely good, even if i think they will turn it against McMahon somehow. Lesnar better accept, but then again i can't see him backing down.

Hopefully Vinnie Mac shows up on Smackdown as well, you know he wouldn't be able to resist these two guys fighting.

Edge and RVD in the main event is going to be off the hook, lumber jack match pretty much means this is going to be a No Contest because you don't want either man to look weak, i can see Jericho taking both men out after the match. That would be awesome since i want Jericho to win at 'Mania.

Kurt Angle to beat the shit out of Rhodes and then OWN 'Taker again right? You know it's got to happen.

Batista to get the easy win over Viscera and then send a message to Albright. This way it clearly looks as if Batista is going to get the win at 'Mania for Albright to pull it out. Either way, i got a feeling this edition will be a big indication to who is coming out on top between these two.

I would mark for MVP to come out on in this match involving the MITB competitors.

Shows looking good Wolf, i will eventually get around to giving it some feedback.
---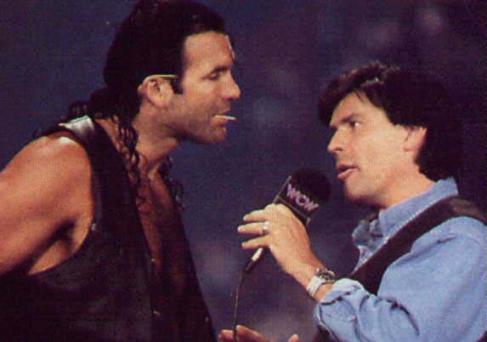 Re: Being The Booker
---
Looks like another far above solid show, Wolfy. The Stone Cole situation is hit and miss for me to be honest since I don't really consider him the Messiah of Wrestling like some people [/Mac], and I couldn't care less about throwbacks to the fabled Attitude Era [/Reney]. He's kind of overshadowed Brock and Hunter since his introduction, but that might just be me. I doubt anything could take away from this awesomeness.

Main event should be crazy as ever, but you know I'm not pulling for Edge or RVD at WM so I'm far more interested to see what kind of role a certain Ayatollah plays tonight.

Postage tonight plz.[/cameo]
Chopped Liver
Join Date: Jan 2004
Location: Six inches from a computer screen
Posts: 5,433
Points: 321
Re: Being The Booker
---
Friday Night Smackdown; March 9th; Corpus Christi:
Opening Video
Pyro
Michael Cole:
Corpus Christi, tonight, hosts the penultimate Smackdown on the road to WrestleMania 23. And folks, expect an incredible night in prospect. Our main event pits two thirds of the WrestleMania main event. Rob Van Dam, the current WWE Champion is up against Edge, and after Edge walked out on their match last week, tonight, he has nowhere to run as General Manager Arn Anderson has signed a Lumberjack match to prevent either man from walking out.
Tazz:
A fantastic, absolutely fantastic call from Arn Anderson. I commend Edge for his smarts last week, but deep down, Iím a fan, and like all fans, I wanna see the best matches, and thatís what we get tonight.
Michael Cole:
And after an unscheduled appearance on Monday Night Raw, wwe.com has reported in the last few days that none other than STONE COLD STEVE AUSTIN will be HERE tonight.
Tazz:
The prodigal son returns Cole!!! Austin raised hell, and soaked us in beer last Friday, and heís likely to do the same tonight!!!
Michael Cole:
Indeed, but what a prospective powder keg it is. Steve Austin, on Monday night delivered an emphatic stunner to Brock Lesnar, and on wwe.com on Tuesday, The Rattlesnake made a clear and concise statement, challenging The Iron Man to make the trip to Corpus Christi tonight and face Austin, man to man if he had a problem with what went down on Raw.
Tazz:
And my guess Cole, would be that weíll be getting a very, very angry visitor from Raw tonight.
**MEDAL**
The music of Kurt Angle kicks off proceedings, as we see Cody Rhodes already in the ring, waiting for the Olympian.
1st Match:
Kurt Angle vs. Cody Rhodes
Short match, with Angle in blistering form, running through the unfortunate Rhodes, though Cody does muster a little bit of offence, but not enough for this to be deemed anything other than a squash. Angle punishes Cody for having the gall to actually put up any type of fight, adding a couple more Belly to Belly suplexes, before delivering an elementary Angle Slam, setting up the Anklelock for the predictable quick submission.
Winner: Kurt Angle @ 04:01
Angle is declared the winner, and has his hand raised, when suddenlyÖ
**GONG**
**Graveyard Symphony**
No parlour tricks tonight, no attempts at mind games Ö The Undertaker enters the arena the traditional way Ö from the entrance, with Angle seeing The Deadman coming.
The Phenom takes off his coat, and hat, then walks down the aisle, with Angle readying himself for a brawl, as The Undertaker looks set to dump all the mind games he usually goes through, and get straight into a fight with Angle instead, as the fans go nuts, hoping to see both men beat the hell out of each other, right here tonight.
And they arenít disappointed, as Taker steps into the ring, and battles Angle, who, to his credit, comes right at The Deadman, with a fist fight proceeding. The Undertaker wins that battle, knocking Angle off his feet, with Kurt bouncing up, and tenaciously coming right back at his WrestleMania opponent, tackling The Deadman, bringing him down, and looks to out wrestle him, but Taker rolls out of harms way, getting back to his feet, and dropping an elbow on Angle!!!
The Undertaker drags Angle back up, throwing him into the corner Ö AND UNLOADS ON ANGLE!!! The Phenom goes to work, delivering body blows with his soup bones, winding Angle, getting his recent frustrations out of his system, before sending the Olympian to the opposite corner, chasing in after, and CRUSHING ANGLE IN THE CORNER!!!
He isnít done yet, and drags Angle back out, gripping him by the throat Ö but Angle kicks him away!!! Angle runs off the ropes, coming back at Taker Ö BUT EATS A BIG BOOT!!! The boot sends Angle staggering right through the middle ropes to the outside, but that doesnít stop Taker from following!!!
The Deadman steps out between the ropes, and drops to the floor, catching Angle with an axe handle off the apron, knocking him down again. Still, The Undertaker hasnít finished with him, wanting to drive home the message, and drags Angle up, SENDING HIM THROUGH THE STEEL STEPS!!!
Angle looks a mess, as the camera closes in, with the Olympian folded up like an accordion after running through the steps. The Deadman now stands over his foe, but shakes his head, still not happy. He reaches down, and grabs Angle by the throat, pulling him up, then barking something in his face Ö BEFORE DELIVERING A CHOKESLAM ON THE MATS!!!
Angle is sprawled out on the floor, with The Undertaker having got his revenge tonight, sending a clear warning to Angle that he wont rollover at WrestleMania, despite Angles own mind games, and his approach to facing The Deadman at the Granddaddy of íem all!!!
The Undertaker kneels down, beside Angle, and rolls his eyes back, leaning on one knee, as the lights flicker, with Smackdown off to an anarchic start.
Commercial
Hall of Fame Video introducing the final inductee into this years Hall of Fame; TONY ATLAS.
Michael Cole:
Congratulations to Mister U.S.A. Tony Atlas joins the memorable class of 2007. And indeed folks, Tony Atlas is the FINAL inductee into this years Hall of Fame, and joins our celebrity inductee Mike Tyson, the Sensational Sherri, Mister Wonderful, Jim Ross, Hulk Hogan and Bret Hart.
Tazz:
Without a doubt Cole, the biggest and the best class to be inducted into the Hall of Fame. Two of the greatest WWE Champions of all time, the greatest commentator in wrestling history, no offence, the premiere valet, arguably the greatest heavyweight boxing champion of all time, the aptly named Mister Wonderful, and the magnificent Tony Atlas.
Michael Cole:
And this coming Monday, we will reveal the list of inductors that will present those seven individuals the night before WrestleMania.
Tazz:
One of my favourite parts of the WrestleMania weekend Cole. I cant wait for the Hall of Fame.
Ö
Backstage, Josh Mathews is standing by with Chris Jericho.
Josh Mathews:
Chris Jericho, itís been a wild rollercoaster ride for you in recent months here on Smackdown. Youíve earned the right to compete for the WWE Championship at WrestleMania, and just last week, you exorcised your demon from last years WrestleMania by defeating The Undertaker.
Boos in the background, as Jericho shows a wry smile. Mathews looks to continue his questioning phase, but Jericho puts his hand on the mic, pulling it from Josh.
Chris Jericho:
Last week Josh, was a statement of intent. I, Chris Jericho, defeated the unbreachable Undertaker. That, wasnít down to luck Ö it was all down to the fact that Iím reaching my peak Ö Iím finally reaching my potential.
Jericho smiles, as the fans give heat in the background.
Chris Jericho:
Now, that might sound a little odd considering I was the first ever Undisputed Champion. It might sound odd considering I defeated The Rock and Steve Austin in the same night. It might sound odd considering I became World Champion again two and a half years ago. But let me explain it to ya junior.
Jericho narrows his eyes slightly, looking right at Mathews.
Chris Jericho:
Because back then, I was good Ö I was damn good Ö but now, years on Ö Iím older, Iím wiser, Iím smarter Ö and Iím better. Iím better than I was a year ago when I lost to The Undertaker. Iím better than Edge, Iím better than Van Dam. I am Ö the best.
Again, Jericho shows off a sinister smile, putting his hand on Mathews shoulder.
Chris Jericho:
And at WrestleMania Ö Iíll prove it to the entire world by once again holding the WWE Championship.
Jericho momentarily ponders, then smirks from the side of his mouth.
Chris Jericho:
And yíknow, last week, I wrestled the match of my life and beat the Undertaker. Van Dam and Edge?? As far as Iím concerned they had the night off. Oh sure, they had a "match" Ö if you could call it that. And it wouldnít surprise me Josh, it wouldnít surprise me in the slightest Ö if RVD and Edge were in it together. Donít doubt it for a second, Van Dam is as cowardly and as deceitful as Edge.
Mathews stands back slightly, surprised by the last comment.
Chris Jericho:
Oh?? You donít agree?? Thatís fine. But think about Ö Rob Van Dam and Edge might just have been in cahoots all along. SuperBrawl?? Edge saves RVD from losing the WWE Championship Ö and last week, they both saved themselves the energy, whilst I put my body on the line for damn near thirty minutes. But tonight, theyíve been found out Ö theyíve got no choice at all. Theyíll have to beat the living hell out of one another in that ring tonight.
Jericho smirks once more.
Chris Jericho:
And Iíll be there to see it, and make sure it happens. Because Iíll be one of the participating Lumberjacks at ringside. And Iíll personally see to it Ö that both Van Dam and Edge go Ö through Ö hell.
Jericho then turns and leaves, having delivered a fairly straight forward, but straight to the point interview.
Commercial
2nd Match:
Matt Hardy w/ Jeff Hardy vs. Chris Harris w/ James Storm
Good encounter, with both men getting ring time to allow Tazz and Cole to talk about the tag team title match that both men will compete in with their partners. Jeff and Storm both get involved during the contest, with Jeff being called into action as Storm trips Matt, with the two partners getting involved in a brawl at ringside, but itís in the ring where the match is won, as Harris looks to deliver the Catatonic, but Hardy counters out, catching The Wildcat with the Twist of Fate, scoring the 1...2...3!!!
Winner: Matt Hardy @ 05:45
Matt Hardy picks up an important singles win over one half of the tag team champions keeping the Hardyís run going, sending them into the title match at WrestleMania riding the crest of a wave.
AMW regroup on the outside, as Matt and Jeff have the title belts in the ring, sending a message to the champions, before throwing the belts to AMW, who quickly retrieve their titles, then look to one another, with a scared look in their eyes, almost feeling the titles slipping from their grasp.
Commercial
Backstage, we see a far off shot of the undefeated M.V.P, stood in a hallway, watching a monitor, with clips from Monday Night Raw, in particular, Umaga, running roughshod over Finlay, with Porter shaking his head throughout, not liking what he sees from the Samoan Bulldozer, and, more importantly, one of his opponents at WrestleMania.
Ö
We then cut to Maria, who is standing byÖ
Maria:
Hi!! Iím Maria, and right now, Iím joined by Matt and Jeff Ö the Hardy Boys!!!
Pop in the background for the Hardys as they come into view.
Maria:
Guys, next week, the two of you team up, and have the chance to win the tag team titles for the first time in OVER five years!! However, as a team, youíve never won at WrestleMania. Can you end that run??
Matt Hardy:
The facts donít lie Maria, and youĎre right. WeĎve never won together at WrestleMania. And Jeff and I Ö we cant change the past Ö we can only forge our own future. This year Ö IN NINE DAYS, we will do just that. Harris and Storm?? Theyíre runnin scared, and they can feel Jeff and I breathing down their necks. They know that deep down Ö weíre the better team Ö and at WrestleMania Ö the rest of the world will know it too.
Jeff now leans in, and takes over.
Jeff Hardy:
It was all fun and games for AMW Maria. It was fun for Harris and Storm to take out Shannon Moore. It was fun for them to take him outta the game, and leave Matt to fight his own battles Ö but it aint so fun for them now, is it?? It aint so fun when the odds arenít stacked in their favour Ö it aint fun when itís two on two Ö and it wont be fun at WrestleMania when Matt and I TAKE those tag team titles.
Matt nods in agreement, before taking over again.
Matt Hardy:
The months of AMW laughing Ö the months of AMW joking Ö the months of AMW running roughshod over Smackdown is coming to an end Maria. We know it Ö you know it Ö the FANS know it Ö and most of all Maria Ö MOST of all Ö THEY know it. The clock is ticking Ö and their time is running out Ö just like their luck.
The brothers smile, and look at each other, before Jeff adds in a final comment.
Jeff Hardy:
And boys Ö weíre sorry bout your damn luck!!
Cue a lame knuckle punch between the brothers as we fade out on the AMW catchphrase.
Back to ringsideÖ
3rd Match:
Kid Kash & Jamie Noble vs. Brian Kendrick & Super Crazy
A chance for Kash and Kendrick to face off, just nine days before they do battle for the coveted Cruiserweight title. Jamie Noble also gets the chance to make a rare appearance, having been relegated to Velocity ever since the injury to JBL, whilst Super Crazy is given a chance for redemption, having just been beaten by Kash last week to miss out on the title shot at WrestleMania.
Both teams work well together, with Kash and Kendrick kept apart for most of the contest, and eventually the match breaks down, as Kash, the legal man against Crazy, cheap shots Kendrick on the apron, sparking Brian into life. Kendrick leaps into the ring, but falls into the trap set by Kash, with the referee being distracted, and holding Kendrick back, allowing Kash and Noble to double team Super Crazy, softening him up for the Dead Level!!! The move connects, as Noble makes sure Kendrick is unable to break the count, 1...2...3!!!
Winners: Kid Kash & Jamie Noble @ 05:54
Kash proves his resourcefulness to Kendrick first hand, using his wily instincts and know-how to gain the win tonight. Wisely, again, Kash slips out of the ring, just before he has to come face to face with Kendrick, keeping his distance from the hungry challenger.
Kash and Noble escape up the ramp, with the cocky Cruiserweight Champion holding his belt aloft, allowing Kendrick to look Ö but not touch Ö at least for now.
Commercial
1ST TIME WRESTLEMANIA MOMENT - X - FOR THE FIRST TIME EVER, BROTHER FACES BROTHER AT WRESTLEMANIA. BRET HART AND OWEN HART OPEN THE SHOW WITH A MEMORABLE TECHNICAL SHOWCASE THAT OWEN WINS, CAUSING A HUGE UPSET.
The VP then ends with the graphic for WRESTLEMANIA XXIII - MARCH 18TH 2007 - FOR THE FIRST TIME EVER IN NEW ORLEANS.
**IíM COMIN**

We return, directly in the ring, with M.V.P stood, centre ring, with a mic in his hand, waiting for the music to die down.

M.V.P: In just nine days, (prods himself) Money in the Bank, becomes (points to the WrestleMania logo) Mister Money in the Bank.

Heat, but Porter shrugs it off.

M.V.P: You think I care about that?? You see, whilst the likes of Paul London, and Carlito seem to live for adulation from you people Ö you people donít make the difference.

More heat, but MVP talks over it.

M.V.P: You wont climb that ladder in nine days time, you wont raise Carlito on your shoulders to help him reach the briefcase Ö heís gotta do it all on his own.

Porter begins to get a bit of a swagger, feeding off the negative vibes from the fans.

M.V.P: And he just. Aint. Up. To. Task.

Heat continues to shower Porter, who looks to be enjoying riling the fans.

M.V.P: As for me?? Heck, when they call the match after MVP, you gotta know, you just gotta know that only one guy is leavin New Orleans with the briefcase. And that man is better than all the rest, better than Raw, better than Smackdown Ö better than Carlito Ö and most importantly Ö better Ö than Ö you.

Porter smirks, whilst the fans let him know what they think of him.

**COOL**

Carlito enters the stage, to a great fan response, nodding at the reaction, as he makes his way down the ring, also ready for action, whilst M.V.P looks a little irked by Carlitos presence.

The Caribbean native steps into the ring, and is passed a mic, taking a look at Porter, then speaking, as the music dies down.

Carlito: I thought I had a big mouth, but you Ö you take the biscuit.

Small pop.

M.V.P: I donít seem to recall asking you out here just yet, I was in the middl-

Carlito interrupts.

Carlito: I wasnít waiting for an invite. I didnít want to listen to you ramble on much longer, and you, out here, talking about Money in the Bank Ö calling yourself money in the bank?? Das not cool.

Cheeky smile from Carlito, whilst Porter looks visibly angered.

M.V.P: What?? Like YOU are gonna win Money in the Bank?? After the run you had last year?? Do I even need to remind you that you couldnít buy a win for over six months??

Heat from the fans, whilst Carlito ponders the comment, chucking his apple up and down in his hand.

M.V.P: Do I even need to remind you that I am UNDEFEATED?? Iíve never been pinned esse, I aint tapped either loco. Iím straight up BALLIN!!

M.V.P gets into Carlitos face to shout ĎBalliní, with Carlito looking less than impressed. Carlito then mouths to Porter ĎIím not a Mexicaní, after the esse and loco remarks.

M.V.P: So, as for y-

**WORLDS GREATEST**

Porter screws up his face like he just smelt a bad fart, as Charlie Haas, the former U.S Champion makes a low key entrance, getting little reaction from the unappreciative crowd. Haas hops into the ring, but as he makes a beeline to get a mic, M.V.P cuts him off.

M.V.P: Now what do you have to say?? Have you got something to get off your chest Charlie??

Haas looks at M.V.P, and takes the mic from him.

Charlie Haas: As a matter of fact Ö I do. See, all you do Montel Ö is talk, and yabber on. Youíve been saying for weeks that youíre ĎMoney in the Bankí, but I beg to differ. You may be undefeated, you may have never been pinned or forced to submit Ö but you havenít proved a damn thing to anybody about your ability, apart from the fact that youíve got a loudmouth.

Carlito looks quite impressed with the no-nonsense style of Haas, with M.V.Pís eyes nearly popping out of his head, taking a moment to take the comments in before retorting.

M.V.P: Hold on just a second. Who are you to call me out?? Iím out here, and Iíve never lost Ö Charlie, the only match I can EVER recall you winning while Iíve been on Smackdown was the qualifying match for Money in the Bank. And the only reason I remember it, was cause it was thanks to me you qualified.

Heat for Porter, whilst Charlie has a wry smile on his face, knowing it is the truth. Porter now steps into Haas personal space, driving his point home.

M.V.P: I can call myself Money in the Bank Ö because Iím undefeated, because Iím the highest paid superstar on Smackdown, and because Iím better than ALL of-

Haas puts his hand over the mic, stopping M.V.P.

Charlie Haas: Before you spout that crap again Ö how about you prove it??

Small pop from the fans, despite Haas being a heel, but liking his challenge to Porter. MVP seems a little shaken by the attitude, but fires back.

M.V.P: Oh, donít you worry bout that, Iím more than willin to back it up in the fatal four way between us and Paul London, but before that, I wanted to actually make a proposition to the three of you. But since you two clowns didnít give me a chance to say my piece-

Carlito cant resist but to butt in.

Carlito: You got more than enough time, idiot. You just love the sound of your own voice too much.

M.V.P looks offended by the comments from Carlito. He thinks about retorting, but instead decides to repeat himself.

M.V.P: Listen, since the only one of you with the decency to allow me to make my point is Paul London, Iím just-

**STAY IN SHADOW**

Porter now looks completely fed up, AGAIN being interrupted midway through a sentence. The fans show their love for the popular ĎGolden Boyí as London jogs down the aisle, not looking to waste anytime. He slides into the ring, with a smile on his face, taking a mic, kindly passed on by Carlito.

Paul London: Did someone mention my name?? Sorry, but once I heard it, I thought I oughta come and see what the commotion was about.

M.V.P rolls his eyes, and once again, tries to get his point across.

M.V.P: (Fed up) Look, hear me out. Weíve all got the same objective at WrestleMania, right?? Weíre all aiming to capture the Money in the Bank briefcase. Forget the fact that we all seem to disagree on which of us is going to win, because over on Raw; weíve got a common problem.

Montel looks around at the three men, looking to see if they follow, but decides to go and drop a few more hints.

M.V.P: Thereís a guy over there, you mighta heard of him, big dude, wears face paint, about four hundred pounds, likes to maim people pretty quick?? Heard of him??

All three men appear to understand that Porter is referring to Umaga.

M.V.P: Well Gentlemen, Iím thinking our chances of winnin the briefcase are a little slimmer with that beast in there.

M.V.P steps into the face of Paul London.

M.V.P: With Umaga out of the equation, our chances get better.

Porter walks around a little, head down, throwing an idea out there.

M.V.P: Now, what I propose, is this Monday Night when the four of us team up, we Ö along with Finlay, Orton and Benjamin Ö make sure the Bulldozer donít make it to the Big Easy.

The three men look around, pondering the proposal. Carlito is first to respond.

Carlito: Why couldnít you just come out and say that in the first place??

Small pop from the fans.

Carlito: I mean, weíve had to listen to you for the last five minutes jabbering on all kinds of nonsense. Had you just got to the point sooner, then maybe I wouldnít have had to resort to this-

Carlito cracks Porter with the mic, and shoves him into the corner, whilst Haas takes the opportunity to attack London, as a brawl breaks down, and we see Arn Anderson at the top of the stage, addressing a referee to go to the ring, and start the Fatal Four Way now!!!

Michael Cole: Tazz, M.V.P didnít get the response he hoped for; in fact he didnít get an answer at all. Carlito lost patience, and we donít know just what Charlie Haas or Paul London thought about it. What we do know though, is that when we come back, the four Smackdown entrants for Money in the Bank will be in action, right after this commercial break.

Commercial

3rd Match: Fatal Four Way Match:
Carlito vs. M.V.P vs. Paul London vs. Charlie Haas
Plenty of energy in this short contest, with all four guys pretty decent talents in their own right. Joined in progress from the commercial, we now see that M.V.P has now paired off with London, whilst Carlito is battling with Haas. Throughout the contest, the four men show off some pretty cool spots, giving the fans high hopes for the eventual ladder match in just over a weeks time.

The big spots include an incredible tower of doom, with Haas looking for a superplex on London, with Carlito then looking for an electric chair to Haas, but as the tower looks set to be complete; M.V.P charges in with a boot to the face of Carlito, and all three opponents go down!!! Porter then covers Carlito, 1...2...KICK OUT. Not to be put off, M.V.P moves on to Haas, 1...2...KICK OUT!!! Shaking his head in disbelief, he then pins his hopes on beating London, hooking his leg, 1...2...NO!!!

M.V.P looks shocked by the three kick outs, and turns his attention now back to his main rival Carlito, dragging him up, and looking for the Play of the Day Ö but CCC fights out of it, and knocks Porter down. The undefeated M.V.P gets back up, and charges at Carlito, but CCC back drops him right out of the ring. Porter hitís the ground hard, as Carlito decides to show off some more, jumping to the middle rope, then the top, then splashes to the outside onto M.V.P!!! Beautiful!!!

In the ring, Haas and London are both getting back to their feet, still groggy from the insane tower of doom, and trade blows as they fight to their feet, with London eventually scoring with a neat spin kick to the gut, then runs off the ropes, looking for an exploding forearm - but Haas dodges it, with London carrying on; NAILING CARLITO ON THE APRON!!! Carlito falls off the apron, and onto M.V.P, as London gets back up, but caught from behind by Haas Ö HAASTILE TAKEOVER CONNECTS!!! Haas covers, 1...2...3!!!
Winner: Charlie Haas @ 09:12

Charlie Haas scores a shock win!!! The technical expert gets the clean win over the impressive Paul London to add some weight to his credentials at WrestleMania. On the outside, M.V.P is out on his feet, looking glassy eyed, whilst Carlito slowly picks himself up on the barricade. Haas has his hand raised, and makes the most of his surprise win, celebrating in style. The question now remains though, will Haas, CCC and London accept the proposal from M.V.P to take out Umaga on Monday Night in the 8 Man Tag Match??

Commercial


WRESTLEMANIA COUNTDOWN - 9 DAYS TO GO!!
We return and see the arrival of
BROCK LESNAR. The Iron Man has arrived on his former home, and looks mighty pissed off. He makes his way through the backstage area, but is met by the General Manager, Arn Anderson.
Arn Anderson:
Brock, we need to-
Lesnar just walks on, with Arn stopping his sentence, being completely ignored.
Brock Lesnar:
No Arn, we donít.
The Iron Man walks on, with Arn looking highly uncomfortable at trying to confront the Raw superstar. Lesnar continues on, walking into a room, slamming the door as he enters. Now, weíre awaiting the arrival of Steve AustinÖ
Back into the arenaÖ
**KEEP THE PEACE**
Itís the United States Champion, Brent Albright, and heís joined by Viscera, who is set to wrestle in the WWE for the first time since 2000.
Michael Cole:
Itís been quite the night so far Tazz, and itís about to get a little more interesting, because in just a few moments, that 500 pound mastodon, Big Viscera at the behest of Brent Albright will be facing the man that Albright defends that U.S Title against at WrestleMania, thatís Batista.
Tazz:
Itís been a hell of a long time since weíve seen Viscera in action, but just look at this beast. Mastodon is probably an understatement. Pure brilliance from the smartest champion in the WWE if you ask me, Brent Albright found himself just about the best Hired Gun out there.
Michael Cole:
Well for anyone that didnít see the shocking return of Viscera last week, hereís a quick reminder of just what went down, just after Brent Albright pulled out of an arm wrestling challenge that HE issued.
Quote:


Brent Albright: So, yeah Ö I did challenge you to an arm wrestling contest Ö but Iím not crazy enough to throw myself in there Ö I found someone else to do it for me instead.

Albright looks to the entrance Ö

No music plays Ö BUT VISCERA, the former WWE employee, and massive man mountain, struggles with his size down the aisle, as Batista shakes his head, angry that Albright has pulled out.

Albright meanwhile, has a huge smile on his face, having gotten the edge over Batista, as Viscera bundles into the ring. The oddity, with the strange blue eye contacts, is greeted by Albright, as Batista takes a mic.

Batista: You think Iím scared?? Címon, Iím sick of wasting time here. Get your ass to the table, and letís do this.

Huge pop for the no nonsense Batista. He pounds the table, and looks at Viscera, who starts to walk towards him, as Big Dave speaks again.

Batista: And donít be thinking Iíve forgotten about you Albright. Iím gonna crush him, then Iím comin for you.

Brent looks a little worried by the last comment, as Batista shoves the mic down, and limbers up for the contest against Big Vis.

The two men lock their hands together, with Nick Patrick holding them, then slowly pulls away, AND THE CONTEST HAS BEGUN!!!

The two men pull and yank at one another, trying to get the upper hand, but Batista struggles early on with Big Vis just too big for him, and overpowering the #1 Contender for the U.S Title. The Animal winces, using everything heís got to keep his hand up, as Viscera piles on the pressure Ö BUT BATISTA COME BACK!!! The Animal turns over the pressure, and turns the tide of the contest, with Viscera now on the brink of defeat, with Albright tearing his hair out, yelling at Viscera to ĎFIGHT BACKí Ö and he does!!!

Viscera comes back, as the two arms are locked again, dead centre, with both men now agonizing, putting everything theyíve got into it. Vis looks to be getting the advantage again Ö BUT SUDDENLY BATISTA FINDS A SURGE Ö AND SLAMS VISCERAS ARM OFF THE TABLE!!!

The fans go nuts, as Batista overpowers the 500 pound mastodon!!! The Animal celebrates his phenomenal victory and massive show of his strength, but not for long Ö AS ALBRIGHT ATTACKS HIM FROM BEHIND!!!

The United States Champion blasts Batista with the title belt, sending The Animal falling into the ropes, then the corner, with Albright laying the shots in, pounding his challenger in the corner, getting in his cheap shots. Brent drags Batista up in the corner Ö BUT BATISTA FIGHTS BACK!!! Batista fights his way out of danger in the corner, then sends Albright off the ropes Ö and looks for a spine buster Ö BUT VISCERA BLIND SIDES THE ANIMAL!!!

Big Vis helps Albright, with Brent going back to work on Batista, pounding him down in the centre of the ring, with Vis adding a few boots. Albright stands off for a second, waiting for Batista to struggle up Ö AND BLASTS HIM WITH THE TITLE BELT!!!

Albright uses so much ferocity on the shot he falls over too, with The Animal flat out on the canvas. The champion pulls himself up, and instructs Viscera with a simple nod and a point of the finger. Viscera knows the signal, and hitís the ropes, coming back off Ö WITH A FAT BASTARD SPLASH!!!

Viscera, being totally out of shape, struggles back up, with Albright standing over Batista, emotionless, having gotten one over on his challenger tonight Ö using his strongest muscle Ö his brain.

**END HIGHLIGHTS**
Michael Cole:
And indeed, Brent Albright got the better of Batista last week, and heíll be hoping that lightning strikes twice, when Viscera takes on The Animal in just a few moments.
Commercial
We return with Batista finishing up his entrance, moments away from the match beginning.
4th Match:
Batista vs. Viscera w/Brent Albright
Viscera, being a fat bastard, struggles to get around, but itís clear from the outset heís only here to make Batista look like a beast. After having to soak up the shots of Big Vis in the early going, The Animal bursts into life with a big clothesline off the ropes, but it doesnít send Viscera down. Twice more, Batista connects with a thunderous clothesline, but still, they only stagger the mastodon. Once more, The Animal powers up, and with a big charge Ö CLOTHESLINES VISCERA DOWN!!!
From here, itís one way traffic, with Batista following the knockdown with a massive running Spear!!! The Animal begins to shake the ropes, and turns back around, AND SLAMS VISCERA WITH A SPINEBUSTER!!! Now, the # Contender signals for the Batista Bomb Ö but just as he gets set to attempt it; he spots the champion on the apron. Batista forgets about Vis for a moment, and moves toward Albright, but the chicken shit champion jumps back off. Now, from behind, VISCERA CRUSHES BATISTA!!!
Batista looks winded, as Vis clubs him into the corner, and begins to mount him, with the 500 pounder scoring with blows to the face Ö THEN BATISTA POWERS OUT OF THE CORNER Ö BATISTA BOMB!!! The arena erupts for the shocking feat of strength (albeit assisted by Vis already being on the ropes), as The Animal hooks the leg, looking straight at a shocked Albright on the outside, 1...2...3!!!
Winner: Batista @ 03:22
Itís an impressive win for The Animal, in a horrible match, but the fans are still popping for the spectacular Batista Bomb. Batista gets right back up, and points straight at his WrestleMania opponent, telling Albright he cant run forever, and signalling around his waist that the title will be coming his way. On the outside, Albright stands still on the spot, gob smacked by the showing from The Animal tonight, possibly the only man watching the show that didnít expect a Batista victory.
Backstage, we now see a focused Edge, pacing down the hallway, ready for the Lumberjack match in just a few moments, when the show returns.
Commercial
We return, with the main event match set to take place now, with all the lumberjacks making their way to the ring (William Regal, Hardcore Holly, Chavo Guerrero, Super Crazy, Jamie Noble, Kid Kash, Brian Kendrick, Funaki, Scotty Too Hotty, The Mad Murdoch Twins, Cryme Tyme, Deuce & Domino, Americas Most Wanted and The Hardy Boys) with some rivals being strategically placed apart. Just as the nineteen lumberjacks take their placeÖ
**BREAK THE WALLS DOWN**
Chris Jericho, the third piece of the WWE Championship puzzle, enters to a mixed reaction, and saunters down the ramp, dressed smartly, despite the occasion, making his way as the twentieth Lumberjack in tonightís main event match. He takes his place at ringside, and, like everyone else, awaits the arrival of his two opponents come WrestleMania, in just nine days time.
**METALINGUS**
Edge steps out onto the stage, carrying the Money in the Bank briefcase, but doesnít go through his usual intro with pyro, instead, storming straight down the ramp, allowing the pyro to go off without him. The Rated ĎRí Superstar slides into the ring, and takes a look around at the superstars surrounding the ring, taking an extra long look at Chris Jericho.
**ONE OF A KIND**
Itís a big pop from the fans for the WWE Champion, and unlike Edge, RVD is able to relax, and complete his regular entrance, acknowledging the fans, pleasing them with the thumb taunt, and casually stepping into the ring, parading the title belt, with a smile on his face, whilst Edge paces around like a wild animal.
Michael Cole:
We are just moments away folks from our main event of the evening, but still to come of course, the much anticipated Brock Lesnar, Stone Cold Steve Austin face to face showdown. After this commercial break though, it is the lumberjack match. Last week, Edge bailed out of the match, tonight, he cant run, itís Edge and RVD, in just a few moments.
Commercial
We return, just in time for the main event.
Main Event: LUMBERJACK MATCH; NON-TITLE:
Rob Van Dam vs. Edge
Average contest, with both men most definitely now saving themselves for the big event in nine days, not wishing to run the risk of a late injury. In the early stages, the ringside Lumberjacks are quickly called into action with Edge trying to talk his way out of trouble, and out of the match, but to no avail, as the Hardy Boys lead the charge to throw him back in (and Chris Jericho keenly watches on for now), with Cole and Tazz referencing the classic battles in the past involving Edge with Matt & Jeff.
RVD and Edge settle down in the ring, with Van Dam the early aggressor, but not for long, getting caught on the top rope, and pushed to the outside by Edge. Out there, the champion is beaten down by the heel side of the lumberjacks, but this time, Jericho doesnít stay as a spectator, and instead, clears a path for himself, and nails Van Dam with a stiff kick to the ribs, with RVD doubling over in pain from the kick. Now, Kid Kash, along with Jamie Noble, throws the WWE Champion back inside the ring, with Edge looking at Jericho, but doesnít acknowledge him, or thank him for the blatant kick to RVD.
The Rated ĎRí Superstar begins to take control, as the lumberjacks are left as mere spectators for the next portion of the contest, with Edge doing a sterling job of wearing the champion down, albeit a pretty boring one. Edge scores a number of two counts on the fighting champion, then begins to set himself up, thinking he has done enough, and looks to connect with the Spear Ö BUT VAN DAM LEAPS OUT OF HARMS WAY!!! Edge stops himself, just before hitting the corner, then turns around, but eats a karate kick to the face!!! Van Dam looks to be hitting the comeback trail, and runs off the ropes, looking for Rolling Thunder Ö BUT EDGE ROLLS OUT OF THE WAY!!! Van Dam lands hard on the canvas, and rolls around the mat, as Edge gets back to his feet Ö and throws Van Dam back to the outside, looking to give himself a breather, and also to throw RVD to the dogs.
The heels put the boots to RVD, with Edge taking a walk around the ring, trying to refuel himself in the process. Jericho again gets his licks in, and rams RVD - back first - into the barricade, before AMW have the honour of throwing Van Dam back inside to Edge, as we head into a commercial break.
Commercial
And return, with Edge wearing Van Dam down some more, now with a strong chinlock applied, but it seems the hold has been locked on for some time during the commercial, with RVD now beginning to fight out of it, and back to his feet, breaking the grip, and beginning to force his comeback. Edge snuffs it out with a kick to the gut though, then shapes up for a run at Van Dam, but this time, RVD sidesteps the holder of the Money in the Bank contract, with Edge tumbling to the outside of the ring.
Out there, Chris Jericho is first to act, grabbing Edge, and smashing his head off the steel steps, then off the ring post Ö BEFORE EDGE FIGHTS BACK!!! Edge comes back at Jericho, and the two men begin to trade blows, whilst it seems itís broken down elsewhere on the outside; The Hardy Boys have collided with AMW sparking a brawl, and Kid Kash blindsides Brian Kendrick!!! With that, all the lumberjacks begin to fight, whilst in the ring, RVD sizes up the warring Edge and Jericho Ö AND SOMERSAULTS TO THE OUTSIDE ONTO BOTH MEN!!!
The fans go nuts as RVD pulls out a big spot, taking out both of his opponents ahead of the Triple Threat at WrestleMania. Meanwhile, the fight between AMW and the Hardy Boys has spilled into the crowd, whilst Kid Kash is pulled away from Brian Kendrick by a number of lumberjacks and the referee, having cheap shotted his #1 Contender. Slowly, the three men begin to recover, RVD being the first to stir. The champion drags Edge up, and rolls him back inside, then gets a final shot in on Jericho, throwing him into the steps. The champion gets back inside, catching Edge with a spin kick, then the split legged moonsault, which keeps Edge down, allowing RVD to go up top once more, this time looking for the Five Star Frog Splash Ö BUT JERICHO SHOVES HIM OFF!!!
Jericho, looking worse for wear from the journey through the steps, manages to recover and shove RVD off his perch, prolonging the match once more. This allows Edge to recover, and he picks himself up, whilst Jericho orders the distracted referee back inside the ring. Edge lies in wait, as RVD slowly pulls himself up, not expecting whatís about to come Ö SPEAR!!! Edge nails a gruesome spear, quickly hooking the leg, and nodding along with the refereeís count, 1...2...3!!!
Winner: Edge @ 14:59
Edge scores a highly important win, pinning the WWE Champion, just nine days before the major showdown at WrestleMania 23, albeit, thanks to Chris Jericho and his last minute interference. Mr. Money in the Bank has his hand raised, and peers down at the beaten RVD Ö THEN GETS BLINDSIDED BY CHRIS JERICHO WITH THE WWE CHAMPIONSHIP BELT!!! Y2J nails Edge from behind, and stands over him momentarily, before turning his attention to RVD, stomping him in the head.
Now, Jericho pulls Edge up, backing him into the corner, connecting with a number of knife edge chops, then talking trash in Edges face, dragging him out of the corner, drilling him with a clothesline!!! Quickly, Jericho turns his attention back to the champion, hitting the ropes Ö LIONSAULT!!!
Jericho stays on his knees, with a smile on his face, looking down at the fallen champion, before looking at Edge again, jumping back to his feet, running off the ropes, and back at Edge - CODEBREAKER!!!
Edge may have won the match, but itís Chris Jericho that gets the last laugh in the war tonight, laying out both Edge and Van Dam after both men went through a gruelling match up, whilst Jericho got the night off. Chris Jericho stands tall in the ring, staring at the title belt, but not reaching for it, just keeping his gaze on the richest prize in the game, whilst the champion and Mister Money in the Bank stay down, as we fade out to another commercial.
Commercial
Michael Cole:
Chris Jericho, moments ago has just sent a firm message to his two opponents next Sunday. Could Jericho, the man who crashed the expected Smackdown main event at the showcase of the immortals, go all the way, and leave New Orleans with the WWE Championship??
Tazz:
Hey, I donít see why not. Can anyone argue with the roll Jericho has been on?? He coulda walked out of SuperBrawl with the title then and there, he beat Edge at Saturday Nights Main Event to earn his spot, and last week, he beat The Undertaker. Jericho, like he said earlier himself, is in his prime!!!
Michael Cole:
Whilst itís all on the line in the triple threat match, itís pride at stake when Shawn Michaels meets Mick Foley. Officially, it wont happen, but we WILL see it go down. Unsanctioned rules on March 18.
Tazz:
Mick Foley, in his desperation, his quest, for a career defining WrestleMania moment has lost his damn mind. And hey, HBK donít call himself Mister WrestleMania for nothin. THATíS why Foley picked him. Trust me, if Foley is ever gonna get that memorable match, THIS is the year.
Michael Cole:
Elsewhere, Brent Albright faces what is surely the ultimate test of his reign as United States Champion. He got lucky against Batista at the turn of the year, but in nine days, The Animal has his rematch.
Tazz:
Do not write off Albright. That cat is gonna have a trick up his sleeve, and another in his pocket, with one more in his sock. Albright is gonna have a number of plans to outdo Batista.
Michael Cole:
Eight people, three championships, but only one fall. MNM and Mister Kennedy face Straight Edge, Alexis Laree and Rey Mysterio. Which team will walk out of New Orleans with the tag team, womens and Intercontinental titles??
Tazz:
Dubbed triple jeopardy, and thatís exactly what it is. One team will get all the gold.
Michael Cole:
Brian Kendrick takes on Kid Kash for the Cruiserweight title. Kendrick has worked his entire career for the opportunity, but the savvy veteran Kid Kash wont be giving up his title without a fight.
Tazz:
Huge opportunity for Kendrick. Great kid, with huge upside. Heíll be looking to emulate his good friend, and former tag team partner, Paul London, and win that title at the showcase of the immortals.
Michael Cole:
Speaking of Paul London, the Golden Boy is one of EIGHT superstars that will put their bodies on the line to grab the illustrious Money in the Bank briefcase, that brings a title opportunity, good for one year. Can London complete an incredible journey through the ranks on Smackdown, and earn a world title match, when and where he wants it??
Tazz:
He might, but thereís seven other guys, namely a former world champion in the shape of Randy Orton that would say otherwise. Not to forget two guys that have never lost, a rugged veteran, the black diamond, a rejuvenated Carlito and a man that is starting to hit his stride, that being Charlie Haas.
Michael Cole:
The WWE Tag Team titles are on the line, and in serious danger of changing hands, with Matt & Jeff Hardy looking to take the belts from the all conquering AMW!!!
Tazz:
Iíve been hyping this for weeks Cole, and tonight, we heard the confidence, and weíve seen the hunger of Matt and Jeff Hardy. Harris and Storm had better up their game come WrestleMania, or they aint gotta hope of holding off the challenge of the brothers Hardy.
Michael Cole:
For the first time ever, and five years in the making, itís The Game, Triple H taking on The Iron Man Brock Lesnar. As if that wasnít enough, think about the McMahon Family Empire at ringside, and Stone Cold Steve Austin as the special guest enforcer.
Tazz:
That is a situation thatís likely to blow at any given moment Cole. Lesnar is HERE, and the Iron Man is waiting for Austin. Itíll be explosive.
Michael Cole:
Then, itís The Undertaker and Kurt Angle!!! After weeks of having his mind games turned around on him, The Undertaker tonight unloaded his pent up fury on Angle, showing a tenacity that we havenít seen from him in quite some time.
Tazz:
This one screams show stealer if you ask me Cole. Could we, at the first ever WrestleMania in Nawlins, see the Undertaker defeated for the first time at the Granddaddy of Ďem all?? If you ask me, itís a BIG possibility.
Michael Cole:
Then, the main event, dubbed a ĎCollision Courseí the World Heavyweight Champion John Cena, defends his title against Captain Charisma Christian, the Royal Rumble winner. Without a doubt, the two biggest forces on Raw will go for glory in New Orleans Ö truly, a collision course is set for March 18.
Tazz:
Huge anticipation for that one Cole. Itíll be the main event, and itís pretty interesting to say the least.
Michael Cole:
Of course, there is still one week to go, and it promises to be a special week on Raw and Smackdown, with both rosters under one roof for both shows!!! And to mark the occasion, Raw has set a mouth watering main event.
Tazz:
Damn straight, the two main events are set to be represented, with Edge and Christian teaming up for the first time in years, to take on RVD and Chris Jericho, with the added twist of John Cena being the special guest referee. All the ingredients are there, and itís gonna be off the hook Cole.
Michael Cole:
And, in addition to that, Arn Anderson is expected to announce a blockbuster main event for Smackdown next week, which remember, will be broadcast LIVE, just two days from WrestleMania, as the WWE hits Louisiana, making itís final stop on the road to the Big Easy in Lafayette. It promises to be a rollercoaster week - the final stops on the road to WrestleMania 23!!!
**HERE COMES THE PAIN**
And tonight, is somewhat of a preview for next weeks blockbuster run in to WrestleMania, as a Raw angle closes Smackdown. Brock Lesnar hitís the entrance, looking full of intensity, getting a fairly strong reaction, but the fans donít appear to be sure whether to cheer Lesnar, as he gets set to confront the most popular superstar of the last decade, or to boo him. The Iron Man wastes no time hitting the ring, and calls for a mic instantly.
Brock Lesnar:
Nothing to say. Nothin at all. Steve Austin, Iím right here. You want me Ö HERE I AM!!!
Lesnar slams the mic down, and pushes the ropes, throwing his hands up, waiting for the arrival of the Texas native. The biased fans, all dying for a peek at their hero, drum up an ĎAUSTINí chant, waiting for Stone Cold to make his appearance Ö but before that Ö
**WILD HORSES**
Even though he is a popular figure, Arn Anderson isnít who the fans wanted to see, and they let him know that. Anderson accepts the boos, but holds his hands up, hoping for a chance to talk first. His music dies down, and we see a shot of a pissed off Brock Lesnar in the ring.
Arn Anderson:
Brock-
By this point, Lesnar looks ready to explode, with Anderson sensing it through the pacing of Lesnar in the ring.
Arn Anderson:
I wish you hadda let me talk to ya earlier kid, because I hate to disappoint ya.
Lesnar stops, turning his head to Andersons direction, his attention firmly caught now.
Arn Anderson:
Son, I know weíre in Texas an all-
Fans cut in with a small cheap pop. Double A pauses for a split second, before picking it up again.
Arn Anderson:
I know weíre in Stone Colds backyard Ö but Brock Ö he aint here, and he aint gonna be either.
Anderson cops the brunt of the fans anger, with Austin NOT here tonight.
Arn Anderson:
Austin is in Louisiana already, for the WWE promoting WrestleMania, he left Texas on Tuesday morning.
The fans contempt for the swerve is matched only by Lesnars. Brock picks up the mic he previously discarded, and begins to vent his anger.
Brock Lesnar:
So what the hell was this then?? A set up??
Lesnar pulls the mic away, but itís as if a light bulb has just gone off in his head, and heís just realized the deal all along.
Brock Lesnar:
I get it now.
Anderson looks confused by the words from Lesnar, whilst Lesnar cant help but smirk.
Brock Lesnar:
The McMahons and Triple H set this whole thing up. Very nice Ö very clever Ö but they just pissed off the wrong guy.
Lesnars smile disappears, and he gets set to exit the ring, having been led on a wild goose chase, but on the ramp, a stagehand is seen speaking with Arn Anderson, with the Smackdown GM looking completely surprised by what heís hearing. He quickly speaks on the mic, stopping Lesnar, just as he gets on the apron.
Arn Anderson:
Wait!! Wait a second.
The stagehand finishes talking to Anderson and runs off, as Anderson, head down, begins to speak, with Lesnar listening intently.
Arn Anderson:
Brock, it looks like Iíve been misinformed. Iíve just been told there has been an arrival to the arena.
Lesnar now sports the same look Anderson just had moments ago, with the fans going nuts, believing Steve Austin IS here after all.
The camera now switches to the parking lot, and in the distance, a vehicle approaches, with the fans reaction gaining more steam in the arena, whilst Brock nods, beginning to show fire in his eyes, believing heís about to get the showdown with Austin.
The vehicle comes closer, but as it does, we can see itís not a trademark pick up truck Ö but rather a black stretch limo?? The fans donít seem to take much notice of that fact immediately, but Lesnar begins to look a little suspicious. The limo moves right to the camera, parking up. The driver steps out, and walks around, all the way to the back, opening the door Ö as the camera shifts to the feet Ö and itís not a pair of boots, but rather black loafers???
The camera now pans up Ö AND ITíS MISTER MCMAHON!!!
The fans give massive heat to The Boss, with Vince showing up, all but confirming the switch and bait, with the Family Empire behind it. Vince buttons up his jacket, sporting a wide smile, as Stephanie, Shane and Tomko all exit the vehicle Ö and the group walks on Ö AS TRIPLE H FINALLY APPEARS FROM THE LIMO Ö DRESSED IN STREET CLOTHES Ö CARRYING THE TRUSTY SLEDGEHAMMER!!!
Lesnar is going nuts now in the ring, begging for Triple H to bring it on, not getting who he came for, but now surely getting a chance for a brawl with the man he meets in nine days time!!! Anderson though, seems completely out of the loop, shocked at what heís seeing, not expecting the boss, and turns around, shaking his head in the direction of Lesnar.
Arn Anderson:
Brock, think about this kid. You cant take all of Ďem.
The Iron Man, caught in a rage, has his mic back in his hands, totally fired up, not even thinking straight fires back.
Brock Lesnar:
Maybe not Ö BUT I CAN SURE AS HELL TRY!!!
The fans pop big time for Lesnar, as the Iron Man finally shows a bit of sense, and goes to the outside, looking for an equalizer, grabbing a steel chair, before getting back into the ring. He slams it off the mat a couple of times, then picks the mic up once more.
Brock Lesnar:
COME ON!!! Triple H?? YOU GOT ME HERE Ö NOW LETíS SEE WHAT YA GOT!!!
**TIME TO PLAY THE GAME**
Slowly, the Cerebral Assassin saunters onto the stage, closely followed by the McMahon Family Empire. Arn Anderson, powerless to stop the boss, steps to the side, as Triple H stands firms at the top of the ramp, sledgehammer slung over his shoulder, nostrils flaring, just as intense as Lesnar.
Brock looks like a caged in the ring, poised with the chair, challenging The Game to bring it on.
Brock Lesnar:
You want it?? You want a piece of me?? COME ON?? IíM STANDIN RIGHT HERE!!! You donít have to find me, Iím right here.
The Game just stands, breathing heavily, staring a hole through his WrestleMania adversary. Meanwhile, itís Vince that does the talking, looking smug (despite the ridiculous wig) while he does it.
Mr. McMahon:
Congratulations Brock Ö you fell for it.
McMahon smiles, whilst the rest of the Family Empire look on, smiling - but not Triple H. He still glares down the aisle, sledgehammer over the shoulder.
Brock Lesnar:
Fell for it?? Fell for what?? Sure, I didnít get Austin, but if Triple H has got the guts Ö Iím gonna get what I really wanted Ö a chance to put my fist through his face before WrestleMania.
Big pop from the fans, surely still expecting an Austin appearance.
Brock Lesnar:
Now, the rest of you have a choice. Leave it to me and him Ö or you can join him Ö either way Ö the end result is gonna be the same.
Another pop for Lesnar, as Vince smiles again, knowingly.
Mr. McMahon:
WE can join him?? WE??
Vince has that evil grin etched on his face, looking down the line at Shane, Stephanie and Tomko, whilst still, The Game doesnít change his expression one iota.
Mr. McMahon:
Alright Ö WE will join him.
Slowly, Triple H takes a step down the ramp, followed by the McMahons, as the fans pick up once more, as Lesnar gets himself fired up, raring to get his hands on Triple HÖ
But suddenly, we switch back to the parking lot; and a minibus has just pulled up, with the door swinging open Ö AND THE BROTHERHOOD FILE OUT Ö THEN ARE FOLLOWED BY MNM (minus Melina), SANTINO MARELLA (~?), THE NEW WAVE (minus Randy Orton), FINLAY, AND BURCHILL!!!
The twelve strong group make their way into the arena, as Lesnar spots the goings on, on the titan tron, realizing heís being set up. He shakes his head Ö THEN SLAMS THE CHAIR OFF THE MAT DEFIANTLY!!!
Lesnar doesnít back up, and urges The Game on to face him, but Triple H continues to very slowly walk down the aisle, making Lesnar waitÖ
Ö THEN Ö
DEUCE AND DOMINO COME FROM THE CROWD Ö AND INTO THE RING Ö BUT BOTH ARE MET BY THE STEEL CHAIR!!! Lesnar folds the chair over the craniums of The Greasers, but just as he does, the Mad Murdoch Twins come from the opposite side Ö but they are no match for the steel chair either!!!
Tomko now steps inside, but Lesnar ducks under a boot, AND BLASTS HIM WITH THE CHAIR TOO!!! The force of the shot sends Tomko THROUGH THE ROPES!!! The Iron Man turns, and points to Triple H, telling him to bring it on Ö BUT THE RAW STARS NOW HIT THE RAMP, WHILST THE BROTHERHOOD AMBUSH FROM BOTH SIDES OF THE RING!!!
Lesnar valiantly tries to fight them off, but each time he gets one man down, another jumps him!!! The Iron Man cant fight the odds, but tries his damndest, giving as much as he can, using his brute force to shove Mack and OJ away, but gets jumped by The New Wave!!!
As the plethora of stars beat down The Iron Man at the behest of the McMahon Family Empire, undoubtedly getting a nice little pay bonus for doing so, Triple H continues to watch, slowly climbing up the steps, whilst the rest of the family stay at ringside, watching as Lesnar takes an absolute beat down.
Benjamin, Finlay, Cade and Dinsmore hold Lesnar down, as Mark Henry backs into the ropes, plodding back out Ö FAT BASTARD SPLASH!!! Lesnar writhes, as Doane, Mack and Orlando Jordan now drag him up, with Finlay blasting him with the shillelagh right between the eyes, allowing MNM to scoop him up Ö AND DELIVER THE SNAPSHOT!!!
Lesnar lies in a heap, as The Game now enters the ring, reaching out with the sledgehammer, as the hired guns clear a path for him, with Triple H standing over the broken down Iron Man; looking around the arena, and getting the shit booed clean out of him.
The hired hands begin to file out of the ring, but Triple H stops the four members of the Brotherhood, telling them to stay. The five men now stand over Lesnar, who tries to pull himself up on Triple H, but The Game just kicks him away. On the outside, the rest of the Raw infiltrators march out of sight, whilst in the ring, Triple H orders The Brotherhood to lift Lesnar up, which they do. They hold him up, as Triple H grabs Lesnar by the face yelling at him "YOU SHOULDíVE NEVER CROSSED ME!!!" he then leans back with the hammer Ö AND LESNAR BURSTS INTO ACTION!!!
LESNAR RIPS FREE OF THE BROTHERHOODS SHACKLES, AND TACKLES THE GAME DOWN, AND UNLOADS WITH A SERIES OF BLOWS, as Texas ERUPTS!!! Lesnar gets his shots in Ö but The Brotherhood put a quick stop to it, with a four man assault. Lesnar fights to his feet, and somehow, in a sudden burst knocks down Benjamin with a clothesline, then low bridges Henry out of the ring, falling to the floor below!!! Orlando Jordan charges; but gets scooped up Ö Mack charges Ö BOOT TO THE FACE!!! F5 TO JORDAN!!!
Lesnar shoots up, running on pure adrenaline, staring down the McMahon Family Empire Ö CHOP BLOCK FROM BEHIND BY TRIPLE H!!!
The Game barks at a struggling Mark Henry on the outside, then nods to the family, whilst Benjamin is back up, and putting the boots to Lesnar again. Now, with Henry back in the ring, Mack back up, and Benjamin wearing out Brock, the three remaining members of The Brotherhood grab Lesnar, and drag him to the corner, as Triple H chucks the hammer to Vince on the apron.
The Brotherhood, with help from Vince and Shane, holding the hammer on opposite sides of the ringpost, across the chest of Lesnar, hold him down in the corner (ala the terrific visual in February Ď99 where the Corporation held down Austin in the corner, and Vince got in his face with the intensity flowing from both sides).
Triple H now leans in, grabbing the restrained Lesnar by the face, barking at him, with Brock firing insults back, all of which inaudible, as the fans continue to be white hot. The tension is reaching fever pitch here, and the fans are going nuts, with Triple H and Brock Lesnar THIS CLOSE in each others face, yelling back and forth, with Lesnar being restrained, as Triple H NAILS LESNAR, KICKING HIM IN THE FACE!!! Triple H kicks again, and sticks his boot in Lesnars face, with Brock desperately trying to break free, but cant fight off the six men restraining him (Tomko has now recovered to join in).
After half a dozen boots to the head, Triple H backs off, with Lesnar looking worse for wear. Vince chucks the hammer to The Game, as Lesnar hauls himself up, BUT GETS CLEANED WITH THE SLEDGEHAMMER!!!
The Game just runs right through The Iron Man, knocking him out, flat on the mat. He walks around the ring, yelling at the fans, pointing down at the broken Iron Man - WHO HAS BEEN BUSTED OPEN!!!
Vince, Shane and Tomko now step inside the ring, with The Brotherhood being relieved of their duties now. Tomko now drags the lifeless Lesnar to his feet, feeding him to the Cerebral Assassin, who gets Brock in position; PEDIGREE TO HELL!!!
Triple H tells Tomko to now turn Lesnar over, which the puppet gladly does, allowing The Game to now kneel down, and land with strikes - constant strikes - across the head, opening the nasty wound on the forehead, running into the short blonde hair of the Iron Man, all the while trash talking his WrestleMania opponent, wailing at the head, as Vince calls Tomko and Shane out of the ring, leaving it in the capable hands of Triple H.
The Game finally relents after an insurmountable beating, and over two dozen blows to the head. Triple H, with his white taped hands soaked in the blood of his rival, stands over Lesnar, and with the sole of his shoe, stomps Lesnars head to the mat once more.
Looking around, Triple H receives a stunning hate filled reaction from the shocked fans, with a cold, dead, look in the eyes of the Cerebral Assassin. He picks up the trusty sledgehammer once again, and raises it in the air defiantly, with the fans shitting all over The Game.
Now, Triple H turns, and begins to make his way out of the ring, but just as he steps onto the apron, he looks around, and sees Lesnar slowly turning onto his front. Despite barely being able to move, the movement itself enrages The Game even more, and he steps back inside, setting up the hammer, lying in wait Ö as Lesnar gets to his knees Ö
... AND GETS SMASHED Ö ONCE AND FOR ALL Ö WITH A SICK SLEDGEHAMMER SHOT TO THE SKULL!!!
This time, Lesnar is down, and he is out Ö COLD.
The camera focuses in on the blood soaked tape around the hand of Triple H, reddened by the blood of Brock Lesnar, soaked into the once white tape around the hands of Triple H, with the camera slowly moving up, closing in on the face of Triple H, with no commentary whatsoever from Tazz and Cole, allowing the moment to sell itself.
END OF SHOW
***
Official Card for WWE Wrestle Mania XXIII:

Date: 18th March 2007
Location: Superdome, New Orleans, Louisiana
Event Music: U2 & Green Day; The Saints are Coming & Killers; Sams Town


World Heavyweight Championship Match:
!!COLLISION COURSE!!
World Heavyweight Champion, John Cena vs.
2007 Royal Rumble Winner, Christian

WWE Championship; Triple Threat Match:
WWE Champion, Rob Van Dam vs.
Mr. Money in the Bank, Edge vs.
ĎHighlight of the Nightí Chris Jericho

WWE Tag Team Championships Match;
Americas Most Wanted vs. The Hardy Boys

One Fall; Triple Jeopardy Match:
Intercontinental, World Tag Team & Womens Championships all on the line:
Rey Mysterio, CM Punk. Gregory Helms & Alexis Laree vs. Mr. Kennedy, Mercury, Nitro & Melina

Cruiserweight Championship Match:
Kid Kash vs. Brian Kendrick

United States Championship Match:
Brent Albright vs. Batista

Money in the Bank Ladder Match:
WINNER HAS AUTOMATIC TITLE SHOT ANYTIME IN NEXT 12 MONTHS
M.V.P vs. Umaga vs. Paul London vs. Finlay vs. Carlito vs. Randy Orton vs. Charlie Haas vs. Shelton Benjamin

FIRST TIME EVER:
!!FIVE YEARS IN THE MAKING!!
Triple H vs. Brock Lesnar
With The McMahon Family Empire in the corner of Triple H, and ĎStone Coldí Steve Austin as special guest enforcer.

The Irresistible Force vs. The Immovable Object:
Kurt Angle vs. The Undertaker

Non Sanctioned Match:
Mick Foley vs. Shawn Michaels

Hall of Fame Ceremony 2007;
Hulk Hogan, Bret Hart, Paul Orndorff, Sensational Sherri, Jim Ross, Tony Atlas, Mike Tyson (Celebrity Wing)

***

So, that wraps up, imo, the best set of shows I've posted back to back. Bar maybe the Lesnar/Triple H angle on Raw, and the MITB segment on Smackdown, both of which didnt quite click for me, I was really delighted with how almost everything came off, especially the show closing angle on Smackdown.

Now, it's onto the final week of build, and this is the DEFINITE, set up for the remaining posts;

May 30 - Raw

June 5 - Smackdown

June 12 - WrestleMania preview

June 15 - WrestleMania t-3 hours news and notes (like last year)

June 19 - WrestleMania pre-show (ala Mac and Legends pre-show shin dig)

June 21 - WRESTLEMANIA.

Yep, another week delay, but I'm looking to build some anticipation for it.


Re: Being The Booker
---
SmackDown Feedback.

I know I don't offer much feedback in here anymore, but I always read and keep up with what was going but after reading this one, I think I should give you some feedback on what was a fucking great read.

Squashes kicking off shows are often shat on by many folk but I think it's fine, as long as it's got a purpose and whilst the match itself obviously did nothing other than establish Angle's awesomeness, the aftermath was obviously quality and builds towards Taker v Angle at Mania immensely. You wrote the back and forth between the duo exceptionally well and you captured the moment just as well, painting a clear picture as to what was going down in the ring. With Angle getting owned this week, I expected him to come out of next week looking quite powerful before ultimately falling victim to the streak at 'Mania. I also liked the fact that in your match recap you noted that Cody Rhodes at least attempted to put up a fight so he didn't come off as a total jobber. Taker dropping to one knee, performing his trade mark pose to end the segment was the best possible way to do so I think. Good way to start the show mate, I expect the build for Kurt v Taker to step up another level again next week. The way you wrote this, you've got a lot to live up for.

Jericho's promo was tops. I liked that you didn't go down the generic heel route and have Y2J bag RVD but rattle on about how he respects Edge etc. You captured Jericho's character very well and I'd say your build towards this triple threat has been so that there is no clear cut winner. You're doing well to make things look as if any of the three could win. Well written promo.

Matt going over Harris is fairly elementary as you build toward AMW v The Hardyz. Basic match, I like that you don't go overboard with your recaps but still give enough information to create a clear picture as to how the match went down. Clean win for Matt definitely gives him and his brother the upper hand handing towards 'Mania. This match is definitely hard to pick as well, it could certainly go either way.

Fairly basic promo from The Hardyz to follow up their win. They were right in character – bland. You're definitely showcasing the brothers in the lead up to the big title match at 'Mania, making them look as good as possible whether that it's in an effort to establish them as much as possible before a big win at 'Mania or in an effort to establish them as much as possible before taking a big fall, putting AMW over. I wouldn't be shocked at all if it was the latter.

Kid Kash comes out looking very strong here to be honest. I think you're definitely building him up for a fall and Kendrick will come out on top at 'Mania.

I quite enjoyed this promo tbh from the Money in the Bank competitors. MVP was good, you portrayed his character pretty well for the most part and you had Carlito spot on as well. You should be commended for how you portrayed Charlie Haas – I expected him to be a bit more bland than what he was. He didn't come across generic at all. I'd love for you to do something huge with Haas coming off MITB, but we'll see. London's arrival, although needed, in the long run seems a little pointless because he didn't really do much. I'm looking forward to seeing what sort of role he plays in the MITB match because although Orton seems like the obvious choice, I feel he is a bit TOO obvious for you and I think London is the dark horse. Will be interesting to see if the four of them actually do go and front 'Mags on Raw. It will certainly establish him as a dominate mother fucker if they do. The culmination of the segment was good, nice to see Haas didn't just jump on the bandwagon and beat the fuck out of Porter, instead, pairing off with London before we then move into a Fatal Fourway between the four of them.

Nice to see you go into a little more depth and detail with this match and I believe it certainly paid off. All four guys come off looking quite strong after this with The Haas picking up a huge win which is tops however I'm quite surprised to see London take the fall although he did look quite strong in the build up to the fall, so that's a plus for him.

Lesnar is here. And he's pissed off too. Hoorah.

Batista v Brent Albright is hardly a feud that many people would think would be show cased at Wrestlemania but your build towards it thus far has been quite strong. The result of this match is obviously a no brainer and Batista comes out of it looking awesome after the Batista Bomb to big Vis. The outcome of this match is also hard to predict, one would automatically think that Batista will go over but I'm sure I've seen you say somewhere that you're not the biggest fan of 'Tista and it's obvious you like Albright, so I wouldn't be shocked to see him go over.

Hmm surprised to see this match not close the show. I would've thought that it would've taken priority over the Lesnar/Austin/Hunter situation. But ah well, I must not digress. You've certainly pulled out the straps with this one, going into plenty of detail and giving the lumberjacks getting plenty of action. Both Edge and RVD were given plenty of offence which is good and I particularly liked the spot where RVD pulled off the somersault plancha down on to Edge and Jericho. The finish was good given the nature of Jericho's involvement. Having him cost RVD was a good move and he can easily turn around and say next week that Edge only won because of his interference. Jericho really dominates the aftermath which is good for him and this segment really turns out to be more about Y2J than the people actually in the match. Having him help Edge get the win only to turn around and blindside him afterwards is a nice touch.

Basic run down of the Wrestlemania card. That isn't something that's done all that often in BTB, or at least not with such depth as this was.

I still don't like this being the final segment of the show, given that it's a Raw issue. I like the fact that you've bought it SD to give it even more build and exposure but I still think that the previous match should've ended the show. Anyway, you wrote Brock really well – the way he should be written. Short and sweet and full of intensity. No surprise to see Austin not come nor was it a shock to see him replaced with Vince and Hunter but I certainly didn't expect all the cal vary to come with. Lesnar swatting off half a dozen folk with a chair certainly makes him look like a dominate mother fucker but it had to stop eventually. I actually was expecting more dialogue between Vince and Brock but keeping it short and sweet is a good thing. The culmination was just insane, wonderfully written, totally brutal and perhaps bordering on overkill, but none the less this just builds towards 'Mania even more and I think the match between Hunter and Lesnar is going to be something else. I'm totally expecting you to pull off something special with this match. Although I still don't agree with it, I understand why you made this the Main Event as you couldn't have had anything follow it.

Overall, a great offering Wolfy. Highly enjoyable, very well written with everything having a purpose and building towards Wrestlemania. Absolutely nothing on this show was a filler segment which kept interest levels high. I'll definitely be checking out the next editions of Raw and Smackers and of course the big one. I will attempt to leave some feedback as well, pending on work and pain in the ass girlfriend commitments. Well done.
Learning to break kayfabe
Join Date: May 2009
Posts: 43
Points: 6
Re: Being The Booker
---
hey wolfy, I'm finally able to post a reply here!!! my name here used to be CLV. I basically just registered myself in the forums again but under a different name. I know it's been awhile since I last replied to one of your shows, but I definitely still have been following all your shows. Since I have missed replying to many different shows, I really don't feel like going back and reviewing all of them lol. What I am gonna do is give my thoughts so far on your 5 main events for WM. Let me start with my favorite feud so far: Mick Foley/HBK. When you first starting building this match up, I never thought this would turn out to be my favorite feud leading into WM lol. You have just build this match up perfectly. I love how crazy you have build Foley to be in this feud. My 2nd favorite feud has been Brock/HHH. I love the way you've been building this feud up, with the whole "5 years in the making" hype. I also love that you added Stone Cold as the special enforcer. It makes the match much bigger than it already is. I also liked the bait and switch that you pulled on SD with not having Austin show up. I loved the whole beatdown that HHH gave Brock on SD. That just made their feud personal and I can't wait to see what Brock will do to HHH on Raw. My 3rd favorite feud has been Undertaker/Angle. You've been building this one up since before the Royal Rumble. Ever since then, the feud has just gotten better and better. I've said it before and I'll say it again, you have a big opportunity to pull of a shocker at WM. I really want Angle to win this match to make up for losing to Bret the year before. But I somehow don't think that's gonna happen. But I do like the way you've been portraying Angle in this feud. The feud reminds me a little of how WWE build up Taker/HBK at WM this year. Angle has been getting the upperhand alot lately just like HBK did leading into WM. The match they had at NWO 2006 is one of my all time favorite matches. If you have it be anywhere as good as that match, then it has a good chance of stealing the show. My 4th favorite feud has been Jericho/Edge/RVD. I'm somewhat surprised I have this so far down on my list but that just tells me how stacked this WM is. With the way you've built this match up, I have no idea as to who's going to win this match. Which is definitely a good thing. I am really freaking hoping that you have Jericho win this match since I'm a really big fan of his. But my gut tells me that you're going to have Edge win the title for the 1st time in this thread. And last but not least, my 5th favorite feud has been Christian/Cena. At first, I didn't know what I was going to think of this feud since I'm not much of a Cena fan. But you've actually build this feud good enough to the point where I can't wait too see who you're going to have win this match. The only thing I wish that there was between them 2 is more action. They haven't touched each other once in this whole feud. I tend not to like when that happens. With what happened on the last Raw, I really wished you would have had Christian go ahead and nail Cena with a conchairto at the end of Raw. It would have set up some much needed tension in that feud. Especially since Cena is gonna be the referee in the Raw/SD match next Raw, it would have definitely made things more interesting.

Onto the other matches, I like how you've been building up the MITB match so far. The logical winner in that match would be Randy Orton. But if you somehow try to pull off a surprise winner, I hope you have Shelton Benjamin win the MITB match. The guy has alot of potential and should get pushed better in the WWE in real life. I also really like how you've been building up the M@M,Kennedy/Straight Edge,Rey Mysterio,Mickie James match. I'm kind of torn as to who I wanna see win this match. On one hand, I really want to see Straight Edge win the tag team titles. But on the other hand I want to see Kennedy win the IC title. So, I have no idea who is going to win that match either. The Cruserweight Title match between Kendrick/Kash is also looking pretty good. IMO, I think this is the most predictable match so far. I think Kendrick is gonna be the new champ come WM. I know I'm probably missing other matches, but these 8 matches are the ones I'm really looking forward too.

I think I read somewhere that you have finished writing this WM. I find it amazing that this is your 3rd WM that you have written. Each year it always tends to get better than the last one. I have high expectations for this WM just like I did for the one you had last year. So yea, I can't wait to read it when you finally end up posting it up!!!
---
Last edited by CLVO; 05-25-2009 at

07:28 PM

.
Posting Rules

You may not post new threads

You may not post replies

You may not post attachments

You may not edit your posts

---

HTML code is Off

---