You're never alone, you're never disconnected...
Join Date: Aug 2008
Location: BELIEVELAND, OHIO
Posts: 4,889
Points: 4,769
Re: Being The Booker
---
Holding a child hostage to earn it? I think you poured on the Jericho persona a bit too thick. I like Edge's comment about how Jericho's never won at Wrestlemania that's a low blow. I don't think RVD would resort to saying chicken s---. Not on a network show, you don't. A shame this promo didn't end in a brawl. That would've been the icing on the preverbal cake.

What is with you and these four minute matches? Anyway, excellent way to build up the Hardys and promote the tag team title match.

"Albright getting lucky?" Sounds like the animal is making excuses. Is he... is he heel, or what?

I'm liking these MITB matches. They're a great way to cross promote and give momentum to the combatants. I can't see London hitting a German on Haas, though.

Nice interview for the champion. Still, I don't expect Kash to win. You wouldn't promote the idea of a title match at 'Mania if you weren't gonna go through with it.

And, of course, I find out that I'm right. An inside cradle. Nice. I'm not sure which way this will go now. I still think, maybe, that Super Crazy and Kendrick might go at it. Or, perhaps a triple threat. Who knows (besides you).

Like you said, I wasn't expecting promo of the year. Typical Undertaker segment at the start. Talking about taking souls and all that jazz. Eric Angle, huh? What an unexpected, yet pleasant, surprise! I'm loving the mind games ol' Kurt is playing. Hopefully, the deadman can gain some ground before the big dance.

The Buckwheat comment: not from a black guy, you don't. Fail. MVP choking on Carlito's apple? Hmmm, I don't know. I guess it's a good way to promote the match.

Squash match? Seriously? You could've made Masters put up a fight. Arm wrestling, eh? Way to mix things up, Wolfy! I'm impressed.

A near fall on the back cracker? Nice touch. A shame this match had to end with a sunset flip, though. Kinda a weak ending for an eleven minute battle, don't you think?

Edge v. Van Dam & Jericho v. Undertaker = ratings. That sounds blockbsuter. Should be dynamite, Wolfy.

Great way to put over Edge and take Lashley out of the picture. I expect Lashley to return after Wrestlemania and get his payback.

All in all, not a bad show. But I think the next show's gonna be a lot better, because of how you promoted it. This week's show wasn't all that great, tbh. I mean, the main event was a squash match? Really?
---
Re: Being The Booker
---
Sorry for the lateness.
Raw Feedback
Beautiful opening Wolfy, absolutely beautiful. Seriously, Triple H and Brock Lesnar were both spot on here, the hype to this match is sure to be unbelievable. I really don't know what to say about this promo, it was quite well long, yet it didn't bore me either which is always a good thing, just phenomenal work and Shawn Michaels facing an unknown guy should be great.
This World Tag Title thing has strung us along for weeks and I have been loving every minute of it. What the hell. Kennedy? I guess we are being strung along for a little bit longer, I think it's only a matter of time for Straight Edge but Wolf you have played this feud so well, you really have.
Intrigue built with Michaels being desperate and Triple H trying to plant some thoughts into Michaels' head, despite how desperate he is, this definitely isn't happening. Does make for a good one night cliff hanger though.
John Cena career package. Okay, I can live with that. Can't wait for Christians though, the way Christian has gone in this thread compared to how his career panned out in either company irl, the difference just amazes me.
at Marella trying to get in the match Michaels. We all know it is going to be some one who can actually give him a good go.
Kennedy loses to Rey Mysterio…again. Ooooh Wolf, this is something I certainly did not expect and certainly something I do not like. Although I am not the biggest Kennedy fan in the world I rate him higher then Rey Mysterio and hopefully he gets another crack at the title. Don't make Kennedy fail to many more times or his new serious personality is going to be hard to take serious when he can't even beat a midget.
Epic stuff here during the contract signing as well. I loved the way Christian turned things a bit personal and attacked Cena's lifestyle and what not, it really came off well, Cena replied nicely however which kind of took the sting out of things a bit I would have much preferred if Christian left Cena speechless so you could leave us hanging for a while. I can't help but think the build up to this could go a tad generic from here, that's why it would have been nice to see Cena not answer back straight away. Hopefully, and you probably will prove me wrong.
Tyson Tomko defeats Rico. Shit, that's was a bit of a shock, I thought Tomko was going to become a resident jobber as well now.
Umaga to be Michaels opponent. All of a sudden I can't see Michaels winning as Umaga is still undefeated, this is a great way to get everyone thinking, and now you have a pretty epic main event set up to.
The New Wave/Brotherhood war could lead to something different however I really don't like the look of it. Randy and Benjamin should feud over the MITB while the others in both factions should occupy their times somewhere else.
Christians video package was better then Cena's tbh.
Bischoff laying down the law, tag title match at Mania now right?
Geez, Foley chose Michaels? That was rather weird, Foley confused promo's own to be honest, keep 'em coming.
Umaga gets the win. OOHHH SHIT! This means Lesnar has all the odds stacked against him at 'Mania, still will be an epic match though. Despite the lack of good matches, this main event kind of made up for it as the promo's tonight were brilliant.
Unsanctioned match. Yes, it's back on, that's the main thing. Foley putting on Mr Socko continues to add to his insanity and this is going to be another great match now…
Overall Wolf, great show. The lack of good matches really don't matter at this point in time, the only thing I care about is 'Mania build up. You delivered with that here so I am happy.
Smackdown Feedback
Fuck, your openings for both these shows have nee extremely strong and have been promos I have read a few times just to fully take in everything. This one was not as good as your Raw opener but still phenomenal none the less, it was good how you had each man putting down the other two and stating their claims as to why they should win. I just want to say LOL at how Edge won the MITB as I was not around for that. The ending of this promo really interested me where Edger said he can not be held accountable for what he does to Lashley, we all know Lashley is on the injured list and needs a break, therefore we could get some sadistic Edge here tonight and that would really add another dimension to what is sure to be a great match.
The Hardy Boys get some easy momentum with the win over The Greasers. Usually I would complain about a squash match opening the show, but I am sure I can live with it here as the aftermath was quite interesting. The Hardys get one up on the champions and it will be interesting to see where things go from here.
Nice Batista interview. I found it a little weird that he told Josh that the second question was a "good question." I don't know, maybe it's just me, but I would much prefer to see Batista getting angry and almost demented at the fact Albright has snuck out of his grasp so many times, this happy go lucky Batista does not do it for me at all. Unleash the Animal plz.
Paul London really is doing well for himself in this thread at the moment, however this roll is just to make him competitive, ire ally can't see him over coming Randy Orton. As for Charlie Haas, he deserves better then to almost be jobbed every week.
at Kash trying to hit on Maria. Despite what he says I think he is losing both matches.
Kash loses just as I thought, I expect him to lose matches and get in some kind of rivalry with the GM, however I pray he finds a way to beat Super Crazy. The division is really a mystery at the moment, as I still can't be sure what exactly is going to happen. Unpredictability is gold in BTB.
The Undertaker was weird, even though he didn't talk for long it seemed as if you were having him ramble on just to waste a decent amount of time for Kurt Angle to come on,. 'Taker's speech did not impress me at all.
However, once Kurt Angle got going things really lifted. I love your originality Wolfy, that's what makes you so great, I mean having Angle trick 'Taker to think he is in the ring only for him not to be, awesome stuff, this is probably the best 'Mania feud I have seen the Deadman in since I have been reading BTB's. That's a huge compliment to, because Legends Lashley/Taker was almost unbeatable.
Carlito really has turned the tables. This match up between MVP and Carlito really has me interested as I like both men, and both men are on some kind of streak. I personally hope MVP wins as 'Lito's streak isn't as major as MVP's.
Batista with another easy win followed by Albright making me laugh. An arm wrestling contest? I think it's pretty obvious that Albright has something planned. This is not a very original thing to do though, so hopefully you make it good.
MVP gets the duke over Carlito which I believe was the correct booking decision. MITB is gonna' be a great read, I seriously can't wait.
Doulbe A Short and sharp. Next weeks match card is epic.
Edge over Lashley which was to be expected to be honest. The afterm,ath was great with Edge shattering Lashley's ankle, this shows the sadistic side of Edge and I explained why I liked that earlier in the review. The way you write things really helps get the mood across, your just an all around pro.

Smackdown was great here, not as strong as Raw in my opinion, but still great. Just keep the greatness of Kurt Angle coming.
---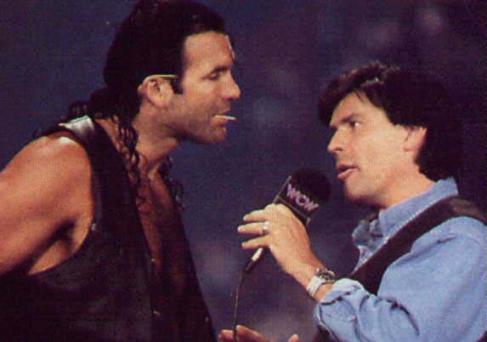 Re: Being The Booker
---
Raw Review:
Very solid way to kick off the night. It's obvious that Lesnar-Hunter will be hyped like mad because this thing just go announced last week, and now we need to time to get ready for these two to go at it. Triple H's explanation of why they have never met in the ring was pretty cool, as he plays it off like he is the baddest man in the company, not Brock. Now Hunter wants his chance to prove that Lesnar never could beat him, so that's why they're wrestling at WM23. As expected, Lesnar walks out onto the stage and makes his own case. Considering he doesn't have a ton of charisma, it was good to hear Lesnar talk himself up, as he is still in that bad-ass face role, with the crowd getting behind him each and every week. Lesnar is ready to take down the entire MFE, but here comes Bischoff. Makes sense for these two to pick reps and then have those choices face off. HBK comes out of nowhere again~! HBK is getting the nod for Brock, which will give him something to do, but now I want to see who Hunter picks. Should be someone very tough. Great way to kick off the show, imo.
ANOTHER match set to go down between MNM and Straight Edge, as I'm kinda mad that we got another short match. Melina getting kicked out was good and also Santino eating the Punk Card would have been great to see. It finally looks like Straight Edge has the Titles, but then KENNEDY comes down to the ring! He screws Straight Edge out of the Titles! Really interested to see why he did that, but it was a good way to keep the Belts on MNM, because they aren't losing those until WM23, imo.
Interesting little segment between Hunter and HBK, as Michaels is still trying to get his match with Foley back on, but Bischoff obviously shot that down in the office. Triple H saying that Vince can make the match happen? I don't see Michaels going to those lengths, but it was a good way to get these guys some face time before the match tonight.
Like the idea of using video packages to hype up Cena and Christian before their big contract signing later tonight. Cena's had quite the rise in a relatively short time. Hope that Christian's VP is just as good as this.
Damn, I REALLY thought Santino would get the match with Michaels later. Still, this was a funny segment and a good way to kill time until they actually get their wrestler chosen. Santino will wrestle eventually, imo, just not tonight.
I like the fact that Kennedy and MNM struck up a deal so that they can both walk out of tonight's show with gold. It looks like MNM are gonna help KK become the new Champion, but we couldn't just expect Straight Edge to go away after what happened earlier, as they help Rey retain the Title! Hopefully Kennedy gets another shot, because four minutes wasn't the way that this feud should end. I like that all these guys are getting involved with each other now, I just didn't like how these were the first two matches of the night. They could have been spread out, imo.
Love that Easy E was pretty much ignored by both men, as they are really only focused on what each other is going to do, and that's the way it should be, imo. So it's gonna be over just like that? They just sign the contract and we're done? Thank God Cena took the mic from Bischoff, as we GOTTA have some talking between these two. Cena is really becoming like he is IRL during this little speech, we need him to have some more edge, imo. Thankfully Christian didn't just accept the handshake, as they seem to be talking some more, as CC has got something to say. Christian pretty much says what the entire IWC has been saying for years, as Cena's act is way too boring and fake, as we saw last week that he was ready to crack CC over the head with a chair. Christian brings up some very good points, as he says that not only will Cena lose his fans, but he will lose his Title. Good way for Cena to come back, talking about the fans staying behind him, and I think that will always be the case. Very good way to end the promo, as Cena finally shows a little bit of that edge, as he heads out of the ring. Great first, serious promo between these two.
Good to see Sherri get into the Hall. Probably the best valet of all time.
I completely forgot that Rico was on the roster still, tbh. No shock that Tomko won the match, as you alluded to, as I'm intrigued to see where his push ends up going,
Finally, we get a very big, main event guy for Umaga to face one on one. There's no way that 'Maga loses tonight, so it will be interesting to see how this match goes. Kinda corny way for AAE to leave the room, but I think he got his point across well enough. Main Event should be spectacular, imo.
You weren't kidding when you said that the matches were going to be short, as Orton and Shelton should have gotten much more time. Anyway, it was good to see the little faction war take place after the match, as I can see this as being a way to kill time before WM23, with an eight-man tag maybe ready to take place in the next few weeks. This was merely a way to get these two some screen time before they really kick it into gear these next few weeks.
I actually liked Christian's VP better than Cena's, as it seems like Christian went through much more to get to where he is today. Either way, this feud has been built beautifully so far, so I really hope that continues.
Very interested to see where this thing with MNM goes. Maybe a big match is announced for WM23? That would be a very good call and a great way to get all the guys on the card.
WM23 card is shaping up very well, should be one of the best PPVs that BTB has ever seen.
I really liked the speech that Foley just said to HBK, as it was very similar to what he said to Edge before HIAC back in the summer of 2008. HBK seems to be learning what Foley is getting at, as he knows that Mick has something on his mind. Now that the main event is finally on, should be a fantastic match.
This was about as physical of a main event as I hoped to see, as HBK doesn't give in to the overwhelming strength of Umaga, but it's obvious that it is damn near impossible to beat Umaga one on one. Great way for the match to break down without anybody actually getting involved, as the referee got taken down and HBK also used the chair and a low blow. Sweet Chin Music! But Umaga somehow kicks out! Michaels did a great job sticking around until the very end, but it was just too little too late, as Umaga ends up getting the win with the wicked Samoan Spike. Lesnar now faces quite the task, as he is ready to face Hunter at WM23. Very good main event between a great veteran and an unstoppable rookie.
Mick Foley!? Guess the match between him and Michaels was always going to go down, as it will now be unsanctioned. Good way for you to have a different name for the same kind of match, as it's pretty much the same as a streetfight. Very good way to end the show, as Foley shows his crazy side again, shoving the sock down Shawn's throat, as we now know that they will meet FOR SURE.
---
Smackdown! Review:
Great way to kick off the program, as Edge, Jericho, and RVD finally get some time in the ring on the mic together. Jericho is obviously the most egomaniacal of the three, as he is already talking about winning the match at WM23 and being better than the other two. I liked how you kept it to just the two challengers in the early going, with RVD keeping his silence while letting Edge and Y2J bicker about Jericho's past 'Mania performances. Now Edge gets into RVD's face, talking about casting a cloud over his Title reign, and I think the point he brought up about people waiting for him to be Champion was true, as that's what I've been thinking about. Van Dam comes back hard, really putting Edge down and back in his place, along with Jericho, as Rob is trying to prove that he belongs where he is. Good way to end the promo, with Jericho taking over again and playing the footage of Edge winning the MITB from Rey. Edge ends the promo by saying that he will dismantle Lashley later tonight, and given the injury that Bobby has, I can very well see that happening, tbh.
Loved the kind of heels that AMW are, as they are perfect for being on the commentary team and also talking up themselves before WM23. No shock that Matt/Jeff get the win, as I'd love to see Deuce and Domino on the "future endeavors" list. The sneak attack after the match by AMW was somewhat expected, but I was glad to see the Hardyz fight it off and send AMW outside the ring. Very good way to get the feud rolling, as I see these two teams trading shots over the next three weeks.
Pretty by the books interview from Batista, as it seems like he is ready to head into WM23 and get another shot at the US Title. Like that you didn't forget about him and Masters during the Summer, as breaking the Masterlock again could be a great way to give Dave even more momentum heading into the biggest show of the year.
I'm very pleased to see that Charlie Haas hasn't been completely forgotten about, as he was pretty much irrelevant since losing the US Title. He and Haas are good opponents, and I'm glad that he was able to put up a decent fight, but I'm even happier about another London push, as I see him as a serious guy to win MITB. Good way to end the match and I can't wait to see what Paul does next to pick up even more momentum heading into WM23.
Kash is still showing that he has all the confidence in the world, even though he is in one tough situation. Loved the way he was touching Maria, just made him look like that much more of a scumbag. I see him losing at least one of the match, preferably tonight's.
The match between Kid and Spanky did not disappoint one bit, as I loved the short story that it told, as Kash needs the win and Kendrick just wants to prove that he can stick with the CW Champ. Kendrick gets the win, as I expected, but I liked the fashion that it was done, making Kid still look strong after getting pinned like he did. I see Kash somehow pulling out the victory next week, as I think we will see Spanky-Kash at WM23.
I know that you mentioned this in the "preview", but I can't remember the last time that 'Taker's gotten some time on the stick in the ring. It took a little while to get going, but I liked what he was talking about. He pretty much just puts over his 'Mania win streak, saying that Kurt Angle is not above everyone else he has faced before. Pretty sweet way for Angle to show up, as he appears on the Titan Tron, just like 'Taker does to everyone else. Angle is pretty eerie in this feud, as I love the way that he is proving just how bad-ass he's been since November. Angle comes into the ring!? No it's Eric! Great way to use him, as now it looks like Angle has the big upper hand. I see 'Taker coming back with something soon … or is Kurt Angle just that iron-willed? We will see.
Pretty good little promo/interview between Porter and 'Lito, as it looks like this is going to be quite the rivalry on the way to MITB at WM23. Porter takes the apple, which was "cool", and the two are pretty good at jawing back and forth. Loved Carly slapping MVP's chest before walking off, getting the last shot in before their big match later tonight. Should be a good one.
Won't really say much about Batista-Masters match, as I'm glad that Chris is heading out the door soon. He never really took off like I thought he would. Batista dominates but then we get to the man everyone really wants to see, as Brent gets on the mic, talking up a storm about his WM23 opponent. An Arm Wrestling Contest next week? That sounds pretty interesting, as I can't wait to see what the Champion has up his sleeve. Looking forward to that.
As I've stated before, this is one of the best WM cards in the history of BTB, imo.
I am glad to finally see these two get it on one-on-one, as I really like the prospects of both of these guys on SD!. Carlito and MVP are very evenly matched in the early going, as it looks like Carlito might actually stand a chance of ending Porter's streak. But MVP takes it to the outside and then takes over inside the ring, but Carly makes the comeback. I liked the way that the match ended, with Porter using the ropes to get the win. I really doubt that this is over, as I want to see this feud continue after WM23.
Two HUGE matches for next week, as Edge gets a one-on-one shot against RVD, and Jericho goes up against 'Taker. Some big stuff going down next week, imo.
Not shocked that the Main Event went down the way that it did, as we all knew about the Lashley injury and we knew that he would be off TV in the coming weeks. Edge dominates the match, as I liked how you played off the "injury". The post-match attack was very good to make Edge look like a monster heel, as it seems like he is favorite to win the Belt.
Two pretty good shows, as the Road to WM kicks into high gear. I can't wait to see what happens next, and I'm sorry about these reviews being so late.
---
AS LONG AS IT MAY TAKE ... NOT REMOVING UNTIL
THE CHICAGO CUBS WIN THE WORLD SERIES
PatMan Presents: World Wrestling Entertainment 2007
ROYAL RUMBLE HAS BEEN POSTED
THREAD CURRENTLY ON HIATUS (
)
Chopped Liver
Join Date: Jan 2004
Location: Six inches from a computer screen
Posts: 5,433
Points: 321
Re: Being The Booker
---
I've been pretty inactive over the last few weeks, but hopefully, I'll be back on track from this point forward. As far as the WrestleMania work is going - all the shows are long since completed, and just the two main events are left to be written for the show itself. Saying that, I havent done any work on the show in three weeks or so now.


WWE News and Notes:

News has broken this past weekend that the back injury JBL suffered at the Survivor Series in November has shown little sign of healing. Layfield is now contemplating retirement, but has spoken of battling through the pain barrier to bow out with one last angle during the summer, knowing that the company could well be stripped of a lot of talent over the summer months.

It has also been revealed that Chris Masters will be serving a thirty day suspension after failing a wellness policy test. That is likely to be the reason why Masters was comprehensively beaten by Batista last week on Smackdown.

WWE.COM has also announced a change to the main event of Raw this week. Last week it was announced that Christian would face Shelton Benjamin, but over the weekend, for unknown reasons, that match has now been changed to a 4 on 2 tag team match, which sees the four Raw superstars involved in Money in the Bank (Benjamin, Randy Orton, Finlay and Umaga) taking on the two men that will contest the WrestleMania main event, John Cena and Christian.

There are heavy rumours that Stone Cold Steve Austin is heading to Las Vegas for Smackdown this Friday. It had been reported months ago that Austin was keen to play a role of some sort at WrestleMania, but NOT to compete in a match of any type, wanting to remain retired with dignity. It's unclear though, just what role Austin could play on March 18th, especially on the Smackdown brand.

It has been reported that Eric Bischoffs contract is set to expire next month, and the Raw General Manager hasnt been keen to sign a renewal, as he intends on looking into other aspects of entertainment outside of wrestling. The company has been pushing hard to keep Bischoff, but with the former WCW president seemingly uninterested, it could well be for nothing.

Over on Smackdown, there appears to be some disappointment with Cody Rhodes, with the son of Dusty Rhodes failing to impress thus far. It's widely expected that he will be sent back to OVW or DSW for further seasoning, with many believing he isnt quite ready for the big leagues. He had been expected to be paired with fellow secnd generation star, DH Smith following the draft, but those plans look to be shelved.

Whilst Rhodes has failed to impress, Carlito, since moving to Smackdown has been said to be in extremely high spirits, getting a fresh run on Friday Nights after a horribly booked 2006. Carlito is said to have re-found his passion, and many officials and agents have been commenting of his renewed vigour, along with a budding rivalry with MVP.

Meanwhile, Paul Burchill has impressed many over on Raw with his series on squash matches on Heat in the last month. There are rumours he may even begin to appear on Raw in the next few weeks for further exposure, along with his sister, Katie Lea.

Lil Wayne, another New Orleans native, has been contacted about performing at WrestleMania. Wynton Marsalis, a famous New Orleans native, has been confirmed to play America the Beautiful at the showcase on March 18.

After his beating at the hands of Edge last week to write him off TV, Bobby Lashley is expected to be back in six to eight months after surgery.

---

I'll post a Raw preview ... maybe even as soon as tomorrow, with Raw up possibly as soon as Tuesday. As previously stated, all the shows are done. It's a case of posting them now.
Re: Being The Booker
---
JBL will have one last big angle before retiring, shame to see him go though, he is great to use in BTB.
Chris Masters is a guy i have never minded. I think he can be a solid mid carder, so hopefully when his 30 days are up you have him come back.
The MITB competitors better win, i really can't see Randy Orton or Umaga for that matter losing in a handicap match.
Is Austin going to be a referee?
I don't want Eric Bischoff to leave, he owns.
Cody Rhodes is shit, he shouldn't be in this thread anyway.
Good to see Carlito is in the good books as is MVP. These are two guys who can run the company in the future.
Paul Burchill push is greatness.
Lil Wayne is a very inconsistent artist, hopefully he blurts out a good one for your 'Mania, if you end up using him.
Chopped Liver
Join Date: Jan 2004
Location: Six inches from a computer screen
Posts: 5,433
Points: 321
Re: Being The Booker
---
Raw Preview:
Not even the nations capital is safe from the frenzy that is the Road to WrestleMania, as Raw rolls into Washington D.C this Monday for what promises to be another massive night, with the Showcase of the Immortals now just three weeks away.
Last week, Raw closed with the shocking sight of Mick Foley choking out Shawn Michaels, after HBK had valiantly fought - and lost - to Umaga, believing a victory could help regain his match with Foley at WrestleMania. However, the maniacal hardcore legend pulled the wool over everyones eyes, announcing the Un-Sanctioned match on March 18.
This week, it has been confirmed that Mick Foley IS in Washington, and Shawn Michaels has agreed to stay in Texas and allow Foley to hopefully / finally reveal why he has targeted Shawn Michaels for the last four months. Foley will open the show to get the chance to offer his explanations for his erratic actions. Will the answers finally be revealed??
It was a bad week last week for Brock Lesnar. As a result of Shawn Michaels loss to Umaga, the McMahon Family Empire will now be fully eligible to accompany Triple H at WrestleMania. The odds are now firmly stacked against The Iron Man, with not only Triple H to contend with, but the McMahons too. This week on Raw though, Lesnar has the opportunity to take out one of The Games entourage when he faces the Problem Solver, Tyson Tomko. Can Lesnar take down one of the McMahon Family Empire this week??
After FIVE straight weeks of scheduled tag team title matches, and five shady results; ranging from sickness, injury and screw jobs, this week, there is NO title match scheduled between the champions, MNM and the challengers Straight Edge. Last week though, Eric Bischoff promised MNM, along with Santino Marella and Mister Kennedy that the issues would all be finally resolved. With Kennedy involving himself with the tag team champions last week, saving their titles, and expecting a favour in return to win the Intercontinental Championship, what type of punishment could the 2006 King of the Ring be in line for, along with the tag team and womens champion. We will find out on Raw.
Then, in a change to this weeks scheduled main event, Eric Bischoff has threw a real spanner in the works, after seeing first hand the tension brewing between John Cena and Christian, has put the two men together … not just in a tag team match, but a handicap tag team match. The opponents?? The four Raw superstars that are set to compete in the Money in the Bank ladder match at WrestleMania. Will the simmering tension finally boil over between Cena and Christian this week?? And, can the four men headed for Money in the Bank stay on the same page too?? Can Umaga be restrained to compete in a tag team match?? Can the World Champion and the Royal Rumble winner co-exist and survive the test from the General Manager??
It promises to be another exciting step towards WrestleMania, and it all comes LIVE on Monday night.
***
Sorry about lack of colour, everytime I go into the proper reply, the internet closes down. Sorry bout that, hopefully it's sorted in time for Raw ... TOMORROW!!!
Re: Being The Booker
---
Seems like you've taken a bit of a backseat recently and well it's okay since WrestleMania is so close. I'm so ready to read it and see what all you've got ready for the next part of your thread. First off, it's been a while since I've posted in here but now with baseball over (at least until June) I'll be able to read this more frequently. Raw preview looks very nice and seems we'll be getting a little bit of a "tidy up" for WrestleMania as a bit more details come out for the big show. Well looking forward to it, even though I won't be able to review until probably Wednesday due to work tomorrow and a report due Wednesday but I'll definitely check it out ASAP
Re: Being The Booker
---
Mick Foley's promos have been awesome so far ever since this build up started. Foley getting a chance to explain his actions would usually mean that we would get answers, but knowing you, you're gonna' make us have a whole new way of thinking about things. Can't wait either way.
Brock Lesnar to squash Tyson Tomko, hopefully he and Trips get some more mic time to, definitely my favorite feud from the Raw side of things at the moment.
I expect some kind of eight person tag match and MNM, ugggh clusterufck.
The handicap match has tension coming from everywhere, seriously, it is set to be huge, i can't wait. I hope to get the first bit of violence between Christian and Cena on the Road to 'Mania tonight.
Show looks sexy Wolfy, i will be reading.
Chopped Liver
Join Date: Jan 2004
Location: Six inches from a computer screen
Posts: 5,433
Points: 321
Re: Being The Booker
---
Raw; February 26th; Washington D.C: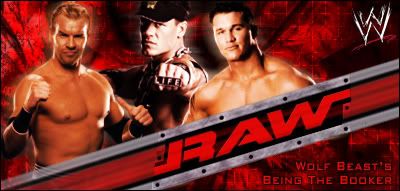 Video recap from last week, where Shawn Michaels, representing Brock Lesnar, took on Umaga, representing Triple H. Clips are shown from during the night with HBK super kicking Shane McMahon, then pondering whether or not to wrestle as a form of protest to get his match with Mick Foley back on at WrestleMania. Then, Mick Foley himself makes a surprise appearance, and stirs HBK into life giving him reason to go out and give his all, with Michaels going all out for victory against Umaga … but came up short.
Foley would then reveal that he didn't need to … as all along, he had managed to arrange a Non-Sanctioned match at WrestleMania instead.
We then cut straight into the arena … with Mick Foley stood, centre ring.

The fans give Foley heat, with the Hardcore Legend staring straight ahead, and patiently waits for the fans to quieten down.

Mick Foley: I'd like to begin with an apology.

Embarrassed, Foley puts his head down, feeling guilty, as the fans give him abuse for his actions on the beloved Shawn Michaels.

Mick Foley: Shawn Michaels … I'd like to thank you for offering to stay at home tonight, and allow me to explain myself, and my actions.

More heat for Foley.

Mick Foley: And God knows, you all deserve an explanation.

The camera focuses on Foley, looking guilty, responsible, ashamed.

Mick Foley: The truth is … I don't know what's came over me.

The fans aren't impressed, not looking for a cop out excuse.

Mick Foley: Something … j- … there is something that just seems to … take over … and I don't know how to control it. I don't even realise it's happening.

Foley closes his eyes for a moment, looking rather unstable, and highly emotional.

Mick Foley: I've had to watch the tapes back just for people to prove to me that I've actually done the things I have to Shawn. THAT'S HOW BAD IT IS!!! … That's how serious my condition is.

In the arena, the fans simmer down after the random yell from Mick. Meanwhile, Foley composes himself, and brushes his hair back.

Mick Foley: I sat back, and watched what I did to Shawn Michaels … and I was physically sick.

Foley looks around, taking a moment to take in the fans response.

Mick Foley: I watched the tape … and I didn't know who that guy was. That wasn't me … that was someone else.

Mick looks down, clenching his fist, before summoning the courage to speak again.

Mick Foley: But that's not the first time it's happened … and it's not the first time I've acknowledged it. Quite frankly … I'm scared … scared of what I'm becoming … scared of what I may do … I'm scared.

The camera closes in on the eyes of Foley, who quickly turns around, and starts to walk around the ring, talking to the audience.

Mick Foley: I'm living in fear of what I'm gonna do. I don't seem to have control over myself anymore. Something else lives here … someone else … is in control.

Foley slaps his brain, as he says the last sentence, then crouches down in the corner, with the fans dead quiet, shocked by the behaviour of Foley, who pulls at his hair, ala Mankind.

He slowly stops, then looks back up, almost in euphoria, speaking in a low tone, barely picked up on the mic.

Mick Foley: If you want answers … if you want to know, 'why Shawn Michaels??' I'LL tell you.

Foley stands up, with a wild look in his eye.

Mick Foley: For years, even before my retirement … I've became known for being a nice guy … what you might call … a cuddly teddy bear figure.

Foley starts to walk around again, talking to the audience.

Mick Foley: That's not what I am. That's not what I wanted to be. A lot of you people probably don't even realise, you're probably too ignorant to know that for years … I sacrificed my body … I've bled from every pore on my being … I've suffered second degree burns …

Foley now pulls his hair back furiously, showing off his deformed ear to the camera.

Mick Foley: I LOST two thirds of my ear in Germany, putting my body on the line.

He now shows off the massive gap in his mouth where teeth used to be.

Mick Foley: Four front teeth - KNOCKED OUT!!!

Foley gets a big close up, as he starts to reel off his 'war wounds'

Mick Foley: Over three hundred stitches, eight concussions, five broken ribs, broken nose -TWICE, broken cheekbone, jaw, and a torn abdominal.

Now, he shows off a sadistic smile, forming out the side of his mouth.

Mick Foley: Not the work of a cuddly teddy bear … not the work of a kid friendly favourite … you wouldn't hear those achievements from Sponge Bob, or Barney.

Foley holds up his finger, camera still locked on him.

Mick Foley: Because I'm not what you think I am. I'm not the jolly fat guy you have me painted as. I'M NOT THAT GUY!!!!!!

Heat from the fans, trying to start up a 'H-B-K' chant, but Foley YELLS over them, shutting the fans up.

Mick Foley: I'M THE HARDCORE LEGEND - I'M THE KING OF THE DEATHMATCH!!! … THAT'S WHO I REALLY AM!!!

Foley takes a few moments to compose himself, with the fans silent.

Mick Foley: But if anybody is to blame for that side of Mick Foley … the real Mick Foley … being forgotten … … it's me.

All the while, the camera stays focused on Mick, as he paces back and forth, head down, then up.

Mick Foley: Last year at WrestleMania, Mick Foley was part of a six man tag match … instantly forgettable … just good 'ol Mick picking up his payday, and goin back home to live his life until he needed another couple of dollars.

All the while, the camera stays focused on Mick, as he paces back and forth, head down, then up.

Mick Foley: And that sickened me…

Foley stops, then slowly closes his eyes, bringing the mic back to his mouth, struggling to get the words out.

Mick Foley: Mick Foley became everything I hated about this business … an old, washed up has-been, hanging desperately to his spot. Clinging on for another big fat payday.

Foley now opens his eyes, and glares into the camera, sneering as he talks.

Mick Foley: After WrestleMania Twenty Two … it was time for me to put a stop to the madness … it was time …

Foley brushes his hair back again, waiting for a few moments.

Mick Foley: To make things right.

Small heat for Foley, with a few boo's here and there from sections in the audience.

Mick Foley: Everything you saw me do last summer … the supposed research to "bring the good old days back" … WAS LIES … my mission … my goal … was all purely selfish.

Boos for Foley.

Mick Foley: The Boogeyman?? Please. He was just another pawn … just another example of how this business has changed for the worse … changed from what I loved about this business.

More boos now for Foley.

Mick Foley: It was all a decoy … all part of the plan … all part of the road towards the screw job at Survivor Series … and the Royal Rumble appearance.

Once more, the camera closes in on Foley.

Mick Foley: And Shawn, you weren't just in the wrong place at the wrong time … YOU … WERE THE TARGET ALL ALONG!!!

Massive heat for Mick now, as the cat comes out of the bag. Foley points at the camera, as if he was talking face to face with HBK.

Mick Foley: YOU WERE THE TARGET … YOU WERE THE GOAL!!! … Shawn Michaels, I chose you for a reason … I chose you because you were special … because you had what I needed.

Foley, who looks like he's wrestling in his mind, takes a moment, turning from the camera, thinking … head down. He turns, and brings his head up again, looking to the camera.

Mick Foley: You're the only one Shawn … you're the only one that's capable of going to the places I want to go at WrestleMania. You're the only one that's got that intangible … you're the only one that'll bring it all, no questions asked … and with no regard for your own personal well being.

Again, pointing at the camera, Foley stares ahead,

Mick Foley: You're Mister WrestleMania … and that's the guy I need on March 18.

Foley now puts his hand up, as if to defend himself.

Mick Foley: Now, I know Shawn … I know I could've just asked, couldn't I??

Foley shakes his head, disagreeing with his own comment.

Mick Foley: No. No, I couldn't Shawn. Mick Foley could've asked like a man, and asked you for the match at WrestleMania. But I didn't want that. I DIDN'T WANT YOUR RESPECT … AND I DIDN'T WANT YOUR FRIENDSHIP … all I want … is to get the very best of The Showstopper … and I wouldn't get that with your respect.

Mick puts a finger up, still defending himself.

Mick Foley: There was only one way to get The Icon … only one way to get the real Mister WrestleMania … and that was to make you hate me with every fibre in your being.

Foley turns away, and looks to the fans, addressing them again.

Mick Foley: Let me make myself clear … my intention all along has been purely selfish … I crave that spotlight once more … I crave those gasps of horror one more time … I need the Hardcore Legend to live again … and Mick Foley sold his soul to get it.

Heat from the fans, with Foley stopping in his tracks.

Mick Foley: Mick Foley has thrown away all those years of goodwill for this night of redemption.

The fans let their opinion be known to Foley, but Mick seems unfazed, and wraps up the eerie promo with one final statement.

Mick Foley: I … am so consumed by it … that Mick Foley … is losing his mind.

**HAVE A NICE DAY**

It almost seems odd that such a happy go lucky theme hits, after such a sinister, unnerving promo from a man on the brink of insanity, talking in the first, and third person at different intervals, as the truth … has been revealed.

Jim Ross: You are looking at a man … Coach … I'm actually lost for words. That's not Mick Foley … not to me. That man needs professional help.

The Coach: Am I the only one that feels really uncomfortable having listened to Mick's explanation tonight??

Jim Ross: I don't know what to say. I don't know what there is left to say after that Coach. How-. I don't know.

The Coach: And think about the words he used J.R. He was talking at times like Mick Foley was a completely different person.

Jim Ross: Y'know, right now, it seems Mick Foley is fighting a bigger battle than the one he'll face at WrestleMania. It seems to me the man is fighting himself. We're gonna go to a commercial folks. Hopefully when we come back, we can move on, for a big night here on Raw.

Commercial

We return from the commercial, back at ringside with J.R and Coach.

Jim Ross: We are back live in our nations capital, just twenty days away from WrestleMania, and Coach, I don't think I can even discuss what we heard from Mick Foley moments ago.

The Coach: I understand J.R. One of the most unsettling things I've seen in my short time sitting here at ringside.

Jim Ross: Well, folks, there is a wrestling show here tonight, and we're gonna get on with it. Two huge matches are in store, with a change to our main event tonight, which now sees a clash of WrestleMania Twenty Three Matches - it's the four men that will represent Raw in the Eight Man Money in the Bank ladder match, Shelton Benjamin, Umaga, Randy Orton and Finlay to take on the two men that will meet in the main event of WrestleMania. The 2007 Royal Rumble winner, Christian and the World Heavyweight Champion, John Cena.

The Coach: Oh boy, oh boy, oh boy. Eric Bischoff has just stuck the cat among the pigeons, hasn't he??

Jim Ross: Seems to me like a test for Cena and Christian to see if they'll implode before WrestleMania. If they are to survive tonight, they'll need to be on the same page. And Coach, it's Brock Lesnar, taking on the Problem Solver, the McMahon Family Empires hired hand, Tyson Tomko.

The Coach: And he'll be joined by the McMahon Family Empire J.R … a preview for WrestleMania.

**PAPARAZZI**

MNM make their grand entrance, joined again by the Italian Santino Marella, as the foursome enjoy their photo session, before continuing to the ring … as Mister Kennedy also appears, joining them at ringside, as they wait for Eric Bischoff to punish them.

Jim Ross: But we are kicking things off with a mixed tag team contest. One half of the tag team champions, Joey Mercury and the womens champion, Melina, are set to take on the Intercontinental Champion, Rey Mysterio and Melinas long time adversary, Alexis Laree.

The Coach: I'm just interested to see what Eric Bischoff is gonna do with these five. I hope he's had second thoughts.

Jim Ross: As you can see, MNM have not come alone. They are joined by that irritating Italian, 'Doctor' Santino Marella, and Mister Kennedy. And the relationship between these Kennedy and MNM came clear last week.
**HIGHLIGHTS FROM LAST WEEK**

Punk gets set to hook the leg of the champion, but the referee is too busy getting Marella out of the ring … AND MISTER KENNEDY COMES FROM THE CROWD … INTO THE RING … SPINS PUNK AROUND … MIC CHECK!!! Kennedy rolls Nitro onto Punk, wipes his hands, then darts out of the ring!!! The referee turns back around, looks surprised by the sudden turnaround … but counts anyway … 1...2...3!!!
Winners: And STILL World Tag Team Champions - MNM @ 04:39
****

**BOOYAKA 619**

Mysterio gets the fans on their feet, as Alexis Laree joins him … and they havent come alone. CM Punk and Greg Helms join them for support for this opening match.

Jim Ross: And here comes the Intercontinental Champion himself. And folks, if Kennedy's interference in the tag team title match last week still seems confusing, maybe this should prove the answers…

**HIGHLIGHTS FROM LAST WEEK**

Rey is forced to battle the odds from the outset, as it becomes clear that MNM and Kennedy struck some kind of 'I scratch your back, you scratch mine' deal, after helping them keep the tag titles earlier. It looks like Rey's number is up, with the referee failing to act on the continuous interference. However, the fans come alive, and stand on their feet … AS THE CAVALRY ARRIVE!!!
Straight Edge & Alexis Laree enter the arena, and make their way down the aisle, with MNM spotting the entrance, and start to panic!!! Punk, Helms and Laree now come after their foes, with the chase distracting Kennedy, who confronts Punk from the apron, distracting the referee, who tries to get Punk off the apron, taking his eye off the ring, with Kennedy turning around … AND HELMS NAILS HIM WITH THE I.C TITLE BELT!!! Kennedy staggers into the ropes … ALLOWING MYSTERIO TO COME FROM BEHIND AND ROLL HIM UP, and the referee is quickly allowed to refocus on the ring … 1...2...3!!!!!!!
Winner: And STILL Intercontinental Champion - Rey Mysterio @ 05:02
****

The Coach: Straight Edge and Alexis Laree have no business being out here J.R.

Jim Ross: Oh, I think they do Coach. I think they do.

1st Match: Inter-Gender Tag Team Match:
Rey Mysterio & Alexis Laree w/ Straight Edge vs. Joey Mercury & Melina w/ Johnny Nitro, Santino Marella & Mister Kennedy
Interference laden contest almost from the get go, with MNM and Kennedy all still awaiting Eric Bischoff's verdict on what he'll do with them, but promised to find out tonight. With all of the interference, the match doesn't last too long, but has plenty of interest from the fans, as the constant run ins and referee distractions has the audience in raptures whether it's cheering or booing. Due to all the shenanigans, the full is riddled with near falls as a result of impact moves behind the referee's back, then another from the opposite side for payback. Finally, the finish comes as all five bodies at ringside get involved in a brawl, cancelling each other out, and Mysterio battles Mercury out of the ring too, leaving Alexis and Melina to battle it out, and Laree avoids a cross body from the champion, then delivers her deadly Laree-DT, hooking the leg, 1...2...3!!!
Winners: Alexis Laree & Rey Mysterio @ 04:13

Alexis pins the champion!!! Laree has her hand raised, getting another non-title win over Melina, but she can never seem to get the job done with the title on the line. As her celebration continues … KENNEDY BLASTS HER FROM BEHIND!!! He shows no gentlemanly skills whatsoever, attacking Alexis like she was one of the guys!!! He sets her up in the corner, looking to deliver his sickening face wash … BUT PUNK MAKES THE SAVE!!!

Punk saves Alexis, and takes it to Kennedy, but the ring quickly fills up, as MNM re-enter, along with Rey and Helms, and even Santino!!! The brawl continues, and the extra man for the heel side looks to be the difference maker, as the four faces begin to suffer at their hands … but soon stop as they hear …

**I'M BACK**

Eric Bischoff isn't wasting any time, and it looks like he has the punishment he promised the heels last week.

Eric Bischoff: It's nice to see you're obviously trying to behave yourselves tonight.

The music dies down, and Bischoff waits for it end, before continuing.

Eric Bischoff: I'm not gonna waste anytime here. MNM, Mister Kennedy, I'm putting an end to this nonsense.

Pop from the fans, even though it's Bischoff. On the outside of the ring, Straight Edge, Mysterio and Laree start to regroup and listen to the announcement.

Eric Bischoff: I'm sick of the four of you-

Santino now interrupts-

Santino Marella: **COUGHS** Five. There are five of us.

Bischoff doesn't look to be in a mood to be messed around with, and cuts Marella down instantly.

Eric Bischoff: No. Four. You don't count Santino. You're not even part of my roster. The fact you seem to have access to my show every week is actually starting to get under my skin.

Bischoff now re-directs his attention to the other four he was previously addressing.

Eric Bischoff: Now, back to the four of you. As I was saying … I'm putting a stop to the constant excuses … weekly screw jobs … the never ending running … at WrestleMania.

Bischoff doesn't look to be in a mood to be messed around with, and cuts Marella down instantly.

Eric Bischoff: Because, Melina … Nitro … Mercury … and you Kennedy … the four of you are going to team up … and you're going to face the four of them!!

Bischoff points to the bottom of the ramp, where Punk, Helms, Rey and Laree stand, looking happy to be part of WrestleMania.

Eric Bischoff: But it wont just be your regular eight person tag match. No, this one will be a first of it's kind. Because at WrestleMania … the womens championship … the world tag team championships … and the Intercontinental Championship will ALL be on the line…

Bischoff starts to smile, whilst MNM are throwing fits in the ring, but Kennedy seems happy (with a shot at the I.C Title)

Eric Bischoff: And here's where it gets interesting … those championships … will be decided … with just … ONE fall.

Big cheer from the fans, whilst MNM are absolutely livid!!! They could lose all their title's at WrestleMania … yet none of them may get pinned.

Eric Bischoff: No matter who it is that makes the winning pin fall or submission, the result will be the same. MNM, if you and Kennedy win, you keep your titles … and Kennedy will become Intercontinental Champion.

Heat from the fans.

Eric Bischoff: Should you lose?? Then, Mysterio remains Intercontinental Champion, Alexis Laree will become the Womens Champion, and Straight Edge will be the new World Tag Team Champions!!!

Huge pop for the reversal of what may happen, as Bischoff nods.

Eric Bischoff: I like to call it … the first ever … triple … jeopardy match.

Honest to God - I'd thought of that match a LONG time before Smackdown used it for Triple H.

Eric Bischoff: Oh, and just to be clear … should you decide to pull any of your old tricks, and get counted out, or disqualified?? The championships will change hands AUTOMATICALLY!!!

The fans pop for the huge announcement, with Bischoff getting an unfamiliar face reaction. He grins as he looks down the ramp, looking at the furious MNM in the ring.

Eric Bischoff: Enjoy your evening.

Bischoff leaves the stage, as his music hits again, with a triple title match now on the bill for WrestleMania.

Commercial

We return with the graphic for John Cena vs. Christian at WrestleMania, as 'Sam's Town' plays in the background.

Jim Ross: There you see it, a match that needs no introduction. John Cena and Christian in twenty days, at WrestleMania 23. And just before the last commercial break, another match has been announced, and Coach, what a match it promises to be.

The Coach: I don't know what's going on with Bischoff, J.R. He's put MNM in an awful spot. They could stand to lose it all!!!

Jim Ross: Personally, I cant see what's wrong with that Coach, they've dodged the bullet plenty of times. As it happens folks, MNM, along with Mister Kennedy will be part of an eight man - sorry, eight person, tag team match, which will have THREE championships on the line, ALL in just one fall. The Intercontinental Champion, Rey Mysterio, teams with Straight Edge and Alexis Laree will be the opposition - another first in WrestleMania history.

The Coach: Another huge match up J.R. And although I don't like what's happening with my boys, I'm positive they'll get the job done under the bright lights in front of 70,000 strong.

Jim Ross: Indeed, and what a night it promises to be Coach. Last week, we looked at the career's of both Christian and John Cena. Tonight, we will take an in depth look at the preparation that both men are undertaking in the run up to the biggest match of both men's professional careers. Right now, we're going to take a look at how Christian is training ahead of WrestleMania.
**VIDEO PACKAGE; CHRISTIAN TRAINING**
The video opens in sunny Florida, early morning, sun rising, as a figure is seen jogging on the highway, with the figure revealing itself as Captain Charisma, Christian. His voice talks over the opening, as he runs into the picture…
Christian:
Failure to prepare … is to prepare for failure. I don't plan on failing.
Next we see Christian performing a series of one armed push ups, lightning quick sit ups, then pull ups on monkey bars.
Christian: If I'm going to beat John Cena in the biggest match of the year … I need to push myself to the absolute limit, because there is no doubt, he'll be coming with everything he's got.
Now, the scene cuts to Christian performing sprints up steps, then jogs back down, before repeating the process.
Christian: I have to push my body harder than ever … I have to go to places I've never been … and that's what I'll do.
A trainer of Christians at his gym now speaks, as the video shows Christian sharing a laugh and a joke, entering the gym.
Trainer: It's no secret his biggest strength is his quickness and speed. He's not going to shock anyone by lifting a truck, that's not his style. But he knows he needs to work on building his strength up as much as his speed, quickness and reactions.
In the gym now, Christian does some light weights training, playing off the fact that the power game isn't his style. We now hear from Christians real life friend, and currently injured wrestler, Rhyno, who watches Christian pushing the weights in the background, willing him on.
Rhyno: He's never been more driven than this. He's been a big trainer his whole career, but he's taken it to another level for this match.
Finally, Christian ends up with in-ring training, sparring with a boxer.
Trainer: Cena certainly presents a big challenge with his street fighting style. Ordinarily, Christian wouldn't be doing boxing training, but we're aware of the threat he possesses with his hands.
Howls, and yells are heard, with Christian getting stretched, and performing drills, getting himself out of ground and pound situations, turning his sparring partner over, and turning the tide.
Rhyno: Although he obviously doesn't plan on getting caught in the STFU, y'know, we gotta be prepared if Cena can lock it on at some point. If he gets tied up in there, I'm convinced he'll not give up, but in any event, he's gonna need to able to withstand that kinda pain and pressure the hold presents.
Next in the ring, Christian goes through a bunch of counters to signature Cena moves.
Trainer: By the time March 18 rolls around, he's gonna have Cena figured out to the last detail. In fact, I'd dare say he'll know what Cena's gonna do before Cena even thinks about what he's gonna do.
He now does sprints across the ring, into the ropes, constantly running, hitting the ropes, continuing on, punishing himself.
Rhyno: If anyone doubted the mans tenacity, and his drive to walk out of the main event of WrestleMania with the championship, they oughta come down here and watch him train for a day - I'm tired, and I've only been watchin.
Finally, the video ends, with Christian running into the sunset, as his typical day of training comes to an end with a final run.
Christian: And that's how I roll.
**END PACKAGE**
Backstage now, Todd Grisham is standing by with newcomers, Paul Burchill and Katie Lea.

Todd Grisham: Ladies and Gentlemen, please welcome two new additions to Monday Night Raw, Paul Burchill, and his step sister, Katie Lea.

The camera focuses on the new pair, as Grisham speaks.

Todd Grisham: Now, Paul, you have been turning heads recently on wwe.com Heat with a string of impressive victories. Tonight, you make your debut on Monday Night Raw. How do you feel about making such a huge step up in competition??

Burchill rubs his hand together, and speaks.

Paul Burchill: I think the question, Todd, should be how does the Raw roster feel about Paul Burchill arriving on Raw??

Burchill smiles, and lets out a low laugh, as his sister grabs the mic.

Katie Lea: My brother here is one of the most skilled fighters in Europe, and soon, he will become one of the most feared in the world. Look at his physique … his rippling biceps … his hulking posture. My brother hasn't come to Raw to play Todd … my big brother is here on Raw to create as much suffering and punishment as humanly possible.

Katie rubs her brothers shoulder.

Paul Burchill: And the best thing about it Todd?? I cant go to prison for what I do in the ring.

Burchill puts his hands on Grishams shoulders, almost menacingly.

Paul Burchill: Because believe me, if I was to act out what I plan on doing in the ring on the street … I'd be locked up … and they'd throw away the key.

Burchill laughs, and walks off, as Katie looks on, with a loving smile on her face, smitten with her own step-brother??

Katie Lea: I just love it when he talks like that.

Katie Lea skips on, chasing after her step-brother, who has disappeared from view.

J.R now speaks as we watch Katie catch up with Burchill, and the two walk down a hallway, with the Raw theme playing over them.

Jim Ross: Englands own, Paul Burchill is set for his Raw debut, in just a few moments, when we come back. I don't think you'll want to miss this prospect in action.

Commercial
1ST TIME WRESTLEMANIA MOMENT - XIX - FOR THE FIRST TIME EVER, A ROOKIE MAIN EVENTS WRESTLEMANIA - AS BROCK LESNAR, JUST TWELVE MONTHS INTO HIS TENURE IN THE WWE HEADLINES, AND WINS, IN THE MAIN EVENT OF HIS FIRST WRESTLEMANIA, DEFEATING KURT ANGLE IN A CLASSIC CONTEST, INCLUDING THE INFAMOUS BOTCHED SHOOTING STAR PRESS.
The VP then ends with the graphic for WRESTLEMANIA XXIII - MARCH 18TH 2007 - FOR THE FIRST TIME EVER IN NEW ORLEANS ... AND YOU NEVER FORGET YOUR FIRST TIME.
We return into the arena, with Stevie Richards awaiting his opponent…

**BURCHILL**

In fairness, there is little reaction to the unknown Burchill, as he and his step sister, Katie Lea make their way to the ring, talking all the way down the ramp, with Burchill looking rather excited to be getting free reign on beating the shit out of someone.

Jim Ross: We've heard a lot about this young man, Paul Burchill, from England. He's a highly regarded prospect, but he has been known for displaying a rather unsettling mean streak.

The Coach: And after a string of impressive performances on Heat, Burchill is eager to make the step up to Monday Night Raw.

Jim Ross: Certainly one to keep your eye on Coach.

2nd Match:
Paul Burchill w/ Katie Lea vs. Stevie Richards
Goes without saying - it's a squash match, and only goes as long as it does to show off the skills of Burchill, with his sister supporting him at ringside. Richards doesn't even manage to muster a single offensive move, bar a spate of defensive punches, as Burchill makes an immediate impact, finishing Richards off with a sickening stomp to the back of the skull, smashing the head off the canvas, that gets a response of groans from the audience, as Burchill makes an elementary cover, 1...2...3!!!
Winner: Paul Burchill @ 03:23

It's an ominous, and decisive debut victory for the Englishman, who is quickly joined in the ring by his step-sister, who raises his hand, with the two off to a winning start on Raw, after weeks of squash wins on Heat.

Jim Ross: Instant … impact. Paul Burchill has just caught the attention of the Raw roster, that's for damn sure.

The Coach: I think I've just found my new favourite superstar J.R.

Jim Ross: A very exciting prospect in the making Coach, and a heck of a debut to Raw. Paul Burchill is certainly for real, and I dare say, anyone that crosses this man will soon find out.

The graphic now shows for Brock Lesnar vs. Triple H at WrestleMania, as the fans come alive, seeing the graphic show up on the big screen in the arena.

Jim Ross: And in less than three weeks, we're gonna find out if Triple H's claims were true, and that Mister McMahon has protected Brock Lesnar from facing The Game, or indeed, has the Boss been protecting Triple H from The Iron Man all this time??

The Coach: Triple H's argument made a lot of sense to me, and don't forget old timer, When these two lock horns, The McMahon Family Empire will rightfully be in The Games corner.

Jim Ross: Well, coming up later, Brock Lesnar takes on The Family Empires very own Problem Solver, Tyson Tomko. But before that, let's take you back, and show the story so far, as the first ever meeting, five years in the making, Triple H and Brock Lesnar nears…

**BROCK LESNAR --- TRIPLE H … THE STORY SO FAR**
- Brock Lesnar helps Triple H retain the World Championship in December on Raw, after being promised a title shot for his services by Mr. McMahon.
- The Iron Man then finds out he's in the Royal Rumble Match, and confronts Vince, who tries to palm him off.
- Lesnar is then promised the #30 spot in the Rumble match by Mr. McMahon, again, for his services, with the McMahon Family Empire in fear of the threat from John Cena and Christian.
- In this time, the relationship between Lesnar and Triple H starts to become highly volatile.
- McMahon then offers the #30 spot to anyone that can take out Christian before the Royal Rumble - further angering Brock Lesnar, with another promise broken.
- Ironically, Lesnar enters the Royal Rumble match - #1. He lasts the duration, setting a record of over seventy minutes in the match, but is eliminated last, as Christian goes on to win.
- Brock then loses a hastily made #1 Contenders Match arranged by Eric Bischoff against John Cena, and is accused of throwing the match by Triple H, resulting in another heated argument.
- The McMahon Family Empire then require the services of Lesnar again for Saturday Nights Main Event, with McMahon promising Brock a 'big' WrestleMania match is he co-operates.
- As the time wears on, it becomes apparent that McMahon hasn't been giving thought to finding an opponent for Lesnar at WrestleMania, spending more time concentrating on helping Triple H win his appeal for a rematch against John Cena.
- Then, Triple H loses his appeal, and storms out of Monday Night Raw. Lesnar though, shows no compassion to the McMahons, and demands his opponent for WrestleMania.
- The McMahon Family Empire then lose patience with Lesnars constant threats, and look to attack him as the opponent for WrestleMania is revealed … TRIPLE H. Brock though, fights them off, and shares a stare down with The Game, as the match is set.
- Last week, Triple H declares that Lesnar had been protected from him for the last five years, but now that he crossed the McMahon Family Empire, the shackles are off, and he'll be exposed at WrestleMania.
- Lesnar taunts back though, and turns the argument around, stating that perhaps the one being protected is Triple H from him.
- Umaga defeats Shawn Michaels, meaning the McMahon Family Empire will be at ringside for Triple H at WrestleMania.
**END PACKAGE**
The graphic appears again, for Lesnar vs. Triple H - WRESTLEMANIA 23.
Commercial

3rd Match:
DH Smith vs. Rob Conway
Filler match, in front of a crowd not into the action whatsoever. Throughout the contest, J.R and Coach spend their time talking up things to come tonight and of course, the upcoming WrestleMania in three weeks time. Smith, despite a run of losses to the established stars of Raw in recent months is made to look good in this one, with Rob Conway another of the stars seemingly on the brink of the dreaded 'future endeavours' line. Smith eventually gets the win, using the signature move of his legendary father, Davey Boy Smith, the running power slam, and gets the cover, 1...2...3!!!
Winner: DH Smith @ 04:16

Smith gets a long awaited victory on Raw, and Conway inches near to the exit door, with the fans indifferent to everything that just happened.

Jim Ross: Young Harry Smith with a great victory tonight on Raw. Coach, it seems like it's been a long time coming. This young second generation rookie has certainly been thrown in at the deep end, but perhaps, he's turning the corner starting tonight.

The Coach: To be fair J.R, there has been a lot asked of this kid, and he's not backed out of a challenge yet.
Jim Ross:
It's been a good night for our British stars on Raw so far, hasn't it?? Well folks, when we come back, Br-
**GREAT GATES OF KIEV**
Suddenly, we hear lots of paper flicking from the commentary desk, with J.R seemingly flustered.
Jim Ross:
What's this?? I mean, well, it's Jerry Lawler's music, I know that. Are we expecting The King??
The camera shows the commentary desk, where The Coach, almost out of character, sits back, with a knowing grin on his face, whilst J.R seems utterly out of the loop.
Meanwhile, The King enters the arena, and stands on the entrance.
Jerry Lawler:
Ladies and Gentlemen, I've got a very special announcement to make … and it gives me so much pleasure to do it. Ladies and Gentlemen, I give to you … the next inductee into the 2007 Hall of Fame…
A short video package plays, centred on the next inductee into the 2007 WWE Hall of Fame … GOOD 'OL J.R, JIM ROSS!!!
The video ends, and back in the arena, the fans show their appreciation for the legendary announcer, who stands up, and accepts the applause, with a few tears in his eyes, with Coach even breaking character to offer a congratulatory handshake, and The King also is now at ringside, to offer a hug.
We go into the commercial, just at the top of the second hour, with no commentary, as J.R continues to take the applause, with King and Coach offering their congratulations.
Commercial
We return, with J.R back on commentary now, having had his moment. Now, composed, he gets back to work.
Tyson Tomko is already in the ring, joined by Shane, Stephanie and Vince, but Triple H is nowhere to be seen.
Jim Ross:
Folks, I'm gonna try to get umm, focused, and back on the job, but I'd like to take a moment to thank everyone to has had a part in making this happen for me. It'll be the greatest honour in my professional career. Thank you.
The Coach:
Alright, alright, enough of this babble J.R. Show to call, c'mon, show to call!!
Jim Ross:
Indeed there is, and Brock Lesnar faces a preview of sorts here for WrestleMania, because Tyson Tomko is joined by the McMahon Family Empire, however, conspicuous by his absence - Triple H.
4th Match:
Brock Lesnar vs. Tyson Tomko w/ The McMahon Family Empire
Lesnar uses The Problem Solver to send his message, with the McMahons (bar Triple H, sitting this one out) being forced to watch at ringside, with none of them having the guts to try and get in an angry Iron Mans way. Tyson gives it a shot, but is ultimately unable to handle Lesnar in this type of mood, with Brock completely dominant, giving plenty of deathly stares to the McMahon Family at ringside, before finishing Tomko off with the F5, getting the 1...2...3!!!
Winner: Brock Lesnar @ 04:21
Lesnar wins, in emphatic style, pointing at the three McMahons at ringside, before looking over at Lillian, and asking her to come forward, taking the mic from her.
Brock Lesnar:
Where is he?? WHERE IS HE???
The McMahons all look around, not answering Lesnar.
Brock Lesnar:
That's okay. There's only so much runnin Triple H can do. He cant run forever.
Lesnar now points to the Family, who are backing up the ramp.
Brock Lesnar:
What I've got to say concerns ALL of you.
Vince, Shane and Stephanie all look around at each other.
Brock Lesnar:
Because once again, you all seem to think I'm stupid.
The Family Empire all seem slightly unnerved by Lesnar, and listen intently.
Brock Lesnar:
Y'see, after you got your wish last week, and won the right to be in Triple H's corner at WrestleMania … I knew I'd need to do something.
Vince starts to seem more intrigued, and more concerned.
Brock Lesnar:
After all, I'm only one man, and I've only got two eyes … that's why I've got my own back up at WrestleMania.
The fans pop, as The McMahons all drop their mouths in shock. Before Lesnar can go any further though …
**KING OF KINGS**
Triple H finally shows up, mic in hand, joining his family at the mid point of the ramp.
Triple H:
You can stop right there Brock. Paul Heyman has had his contract with this company terminated. He lost his contract on Smackdown at Survivor Series, and there is no way he'll gain any type of access to WrestleMania.
Lesnar smirks, and shakes his head.
Brock Lesnar:
That's fine by me. That should save Paul a trip to New Orleans. What's that got to do with me though??
Triple H looks taken aback by the reaction, not expecting Lesnar to respond that way.
Triple H:
It means he cant be in your corner at WrestleMania. Not that'd matter anyway. Heyman couldn't cope with Vince, Shane and Steph.
Brock quickly cuts in, stopping The Game from going on.
Brock Lesnar:
I wasn't talking about Paul Heyman … I've got serious back up at WrestleMania … someone you ALL know … really well.
Pop from the fans, expecting a big name. Will Lesnar disappoint??
Brock Lesnar:
In my corner at WrestleMania … will be … STONE COLD STEVE AUSTIN!!!!
The Iron Man doesn't disappoint whatsoever, as the fans go berserk, whilst the camera shows the classic Vince McMahon 'gulp'. Triple H is furious on the ramp, yelling and hollering at Lesnar, who simply leans on the ropes, smiling broadly.
Jim Ross:
OH MY GAWD!!!! STONE COLD!!! STONE COLD STEVE AUSTIN WILL BE AT WRESTLEMANIA!!!! Brock Lesnar has just upped the ante ten fold!!! The McMahon Family Empire have just been out done by The Iron Man!!! The ultimate back up - The Texas Rattlesnake will be at WrestleMania, and he will be in Brock Lesnar's corner.
The Coach:
Can he do that??
Jim Ross:
Coach, he JUST DID!!!
The Coach:
Am I the only one that doesn't see the sense in this?? Just two years ago, Lesnar and Austin ripped each others heads off at WrestleMania. Those two guys cant stand each other!!!
Jim Ross:
You make a good point Coach, but perhaps, they've let bygones be bygones.
The Coach:
That doesn't sound like Austin to me J.R. DTA and all that.
Jim Ross:
Well, he doesn't trust anybody, but he doesn't despise anyone more than he does The McMahons. Stone Cold Steve Austin will be at WrestleMania folks, AND THAT'S THE BOTTOM THE LINE!!!
Commercial
We return, backstage with The McMahon Family Empire, all in a fuss.
Mr. McMahon:
This is absurd. Steve Austin??
Triple H rubs his forehead, trying to think straight.
Triple H:
I don't understand how he could pull it off. How the hell did he get Steve Austin on-side??
McMahon looks up at Hunter, shaking his head in disbelief.
Mr. McMahon:
I… Y'know, I cant get my head around it. What would Austin want to help Lesnar for??
Stephanie decides to throw her two cents in.
Stephanie McMahon-Helmsley:
He could be bluffing Dad. You said it yourself, why would Austin want to help Lesnar. They hate each other.
Triple H nods in agreement.
Triple H:
Steph's right. I mean, Austin's just as likely to beat the hell out of Lesnar as he is any one of us.
Vince listens to the words of Triple H and Stephanie.
Mr. McMahon:
You're right. Maybe he is bluffing. Okay. Let's get to the bottom of it. Shane-
Shane McMahon:
Yeah??
Mr. McMahon:
I want you to start ringing around, I want you to get in contact with anyone involved with WrestleMania. Austin is likely to have been offered a pass for WrestleMania. Look into that, see if he's accepted it. We'll work from there.
Shane nods, and instantly leaves the room, pulling out his cell phone as he leaves. Tomko now speaks up.
Tyson Tomko:
Y'know guys, Austin hasn't been on television in twelve months. Last I heard, he gained a hundred fifty pounds.
Steph, Vince and Triple H look around at each other, and start to slowly smile.
Triple H:
Maybe there's not so much to worry about after all.
The camera fades out, with the Family Empire starting to look more comfortable.
Elsewhere backstage, Kelly Kelly is standing by with the veteran Irishman, Finlay…
Kelly Kelly:
Ladies and Gentlemen, I'm standing by with one of the eight men in the Money in the Bank ladder match at WrestleMania, please welcome … Finlay.
Finlay stands, with a stern look on his face.
Kelly Kelly:
Finlay, in less than three weeks time, you'll be taking part in your first ever WrestleMania, with the opportunity to leave with the guaranteed title shot, anytime within twelve months. Tonight though, you have to team up with your other counterparts from Raw in the match, Umaga, Randy Orton and Shelton Benjamin. How do you plan on co-existing with those three men tonight??
Finlay thinks for a moment, then turns and answers, matter of factly.
Finlay:
Honestly Kelly, I don't.
Kelly looks a little confused.
Finlay:
Because I don't need to co-exist with anybody. The only thing that'll be stoppin me from crackin the three of them over the head with my shillelagh … is the chance to beat either Christian or John Cena.
Finlay waves the shillelagh about, as he talks to Kelly.
Finlay:
If I end up beatin one of them two, I'm instantly at the top of the list for a title shot, win or lose at WrestleMania. But if anyone of Orton, Umaga or Shelton tries to get in my way tonight … well, lets just say, y'know how much I love to fight.
Finlay smacks the shillelagh off his hand a couple of times, then turns … STRAIGHT INTO UMAGA!!! Of course, by his side, is Armando Estrada, grinning broadly as always. Finlay, to his credit, doesn't show any fear of Umaga, and stares the heavily breathing Samoan Bulldozer right in the eye, as Estrada chimes in.
Armando Estrada:
Ahh, excussemay me amigo, ju do not want to be doin that.
Finlay turns his attention to Estrada, with the smiling Cuban continuing.
Armando Estrada:
Ha ha, good choice. And ju make a good case. Because victory tonight is the ONLY WAY ju'll be getting a chance of a title shot. Comm WrestleMania … THE SAAAAAAMOAN BULLDOZERRR will be leaving The Big Easy, ha ha, with the big, briefcase.
Estrada continues to smile in the face of Finlay. Brave move.
Armando Estrada:
And, el mono, there isn't anything, that ju, or anybody else in the Monney in the bank ladder match can do about it.
Finlay remains stoney faced.
Armando Estrada:
So … if ju want to have that chance of a title shot … ju make sure you don't get in this monsters way.
Estrada gives Finlay a playful slap, before walking on. Umaga and Finlay stare each other down again, before Estrada calls for his savage.
Armando Estrada:
UMAGA!!
Umaga slowly shuffles past Finlay, talking in his native tongue at the fearless Irishman, moving on.
Commercial

We return from the commercial, with Theodore Long, alone, stopping outside the office of Eric Bischoff, taking a moment, then knocking. Bischoff answers from inside.

Eric Bischoff:
It's open.
Long opens the door, and enters the room, approaching Bischoff at his desk.
Eric Bischoff:
Ahh, Theodore, how can I help you??
Long prepares himself, before speaking.
Theodore Long:
Well Mister Bischoff, ya know how much I respect ya, and I appreciate all the good you've done for tha Brotherhood, ya dig?? But Mister Bischoff, Imma little upset playa.
Bischoff leans back, looking a little surprised by Long.
Eric Bischoff:
And why is that??
Theodore Long:
Well, last week, you put my boy, The Black Diamond, into this weeks main event. Shelton Benjamin, one on one, with Christian. Now, this week, we arrive here tonight, all fired up, ready to go … and suddenlay, the match is changed. Now, playa, don't be playin, I wanna know why you changed your mind. This was The Brotherhoods big chance, ya dig??
Bischoff nods, accepting Longs argument.
Eric Bischoff:
You can be rest assured Teddy. Tonight's decision wasn't anything personal. You know I'm a big fan of The Brotherhood, and you've become a vital part of my show. Actually, after I was told the stunt that Arn Anderson pulled on Smackdown last week, and decided to throw out a double main event this Friday coming, I decided to do what I do best … and better the competition.
Long looks a little confused by where this is going.
Eric Bischoff:
That's why I scrapped tonights scheduled main event. Now, let me explain. First off, I made an extremely intriguing match tonight as a replacement. I mean, tonight we're gonna see if Cena and Christian can still co-exist, and we're gonna see the four men representing Raw in the Money in the Bank ladder match forced to team up. Interesting dynamic, no??
Long nods fairly. Accepting the argument.
Eric Bischoff:
But I haven't forgotten about Shelton Benjamins big chance to shine … that'll happen next week. You see, if Arn Anderson thinks he can set up a double main event this Friday with Edge and RVD, and then a rematch of WrestleMania 22 between Chris Jericho and The Undertaker and blow me out of the water … he couldn't be more wrong.
Bischoff now smiles.
Eric Bischoff:
Next week on Raw, your boy, Shelton Benjamin will get that match with Captain Charisma, one on one. And whatever Anderson can do, I can do even better … we'll see a WrestleMania 22 rematch … bigger than his … Randy Orton, one on one … WITH JOHN CENA!!!
Huge pop in the background, with the fans cheering the decision, even though it's next week. Bischoff now gets up, and smiles at Long.
Eric Bischoff:
How does that sound??
Long smiles, nodding, as the two shake hands.
Theodore Long:
Holla, holla, holla. We'll not let ya down Mister Bischoff.
The two continue to shake hands, as we fade out.
Back into the arena…
**BURN IN MY LIGHT**
The New Wave trio of Doane, Dinsmore and Cade enter the arena for a six man tag match, using the old music of Randy Orton.
Jim Ross:
Well, what a bombshell. Next week on Raw, in San Antonio, how about a double main event Coach?? The two men that will headline WrestleMania in three weeks time will both be in singles action. Christian will face the man he had been scheduled to go one on one with tonight, that being Shelton Benjamin. And then, it's a WrestleMania 22 rematch, a match between two men with one of the most storied rivalries in WWE history, Randy Orton, and The Champ, John Cena.
The Coach:
And THAT, that is why Eric Bischoff is the greatest General Manager in WWE history. No one else could put together a pair of matches quite like that.
Jim Ross:
Credit where it's due, Eric Bischoff has just raised the bar for what promises to be an incredible night, next week in Texas.
**SOMEBODIES GONNA GET IT**
Theodore Long makes the quick trip from General Managers office to the arena, leading out The Brotherhood with Jazz, ahead of this heel vs. heel tag match.
Jim Ross:
When we come back, the two most recognisable factions on Raw today will be battling for supremacy. It should be a slobber knocker, and you'll not want to miss it.
Commercial
5th Match:
The New Wave vs. The Brotherhood w/ Theodore Long & Jazz
Heel vs. Heel for the second week running for these two sides, who appear to be in the midst of a side feud for supremacy as the top stable on Raw. It's a good six man match up, joined in progress from the commercial break, with the interesting dynamic of two heel sides meeting, but neither taking up the role of a face.
After Jordan takes a beating from the New Wave, he manages a fight back, and eventually tags in Mark Henry, who helps his side take over, with the New Wave now struggling to hold down the Worlds Strongest Man. Cade finally musters enough energy to make a tag out to Doane, and the New Wave try to plot to take down Jordan behind the referee's back. That though, just allows for the match to break down, with the Brotherhood backing up Henry.
Mack tackles Dinsmore to the outside, whilst Jordan is caught with a dropkick from Cade, putting him down for the time being. This leaves Henry, and he charges at both Doane and Cade, but the duo low bridge the ropes, and the Worlds Strongest Man drops out of the ring, CRASHING INTO LONG AND JAZZ!!! That just leaves OJ to fend off the New Wave, and he is unable to stop Doane connecting with his impressive top rope leg drop, and a cover, 1...2...3!!!
Winners: The New Wave @ 05:56
The New Wave get a measure of revenge for last week, picking up the win tonight over the Brotherhood, but quickly, the trio escape, as Mark Henry, like a bear with a sore tooth, comes bounding back inside, looking for a piece of the New Wave. The cocky trio, back up the ramp, looking pleased with themselves, as The Brotherhood regroup in the ring, looking furious that they failed tonight.
Jim Ross:
A big win tonight for The New Wave, getting the better of The Brotherhood tonight, but what will the future hold in store for both groups in ring leaders, with both Randy Orton and Shelton Benjamin being part of the Money in the Bank ladder match in just under three weeks time. Of course, they will be joined by Finlay and the unbeaten Umaga from Raw, whilst the Smackdown quartet of Paul London, M.V.P, Charlie Haas and Carlito will all be gunning for the briefcase, and the title opportunity, good for one year.
The Coach:
I cant wait J.R. WrestleMania is getting closer and closer.
Jim Ross:
And earlier tonight, Brock Lesnar raised the stakes with The McMahon Family Empire. Brock Lesnar has revealed that he has back up, and it couldn't get any better than The Texas Rattlesnake, 'Stone Cold' Steve Austin. Lesnar, with Austin set to be in his corner, takes on Triple H, with the McMahon Family Empire, for the first time ever, on March 18, in Nawlins!!!
The Coach:
I still don't believe it. Austin wouldn't side with Lesnar, surely not. But if what Tomko said earlier is true, and Austin has gained over a hundred pounds, it may be irrelevant.
Jim Ross:
This one, well, I still am trying to blank out the words of Mick Foley earlier tonight. Folks, Mick Foley is in need of some sort of help. However, despite the WWE cancelling his proposed Streetfight with Shawn Michaels at WrestleMania, they will take each other on, in an non-sanctioned match. That means anything can happen, and the WWE will not have any type of responsibility.
The Coach:
It's been dubbed the most anticipated match that'll never happen at WrestleMania. And as difficult as it is to look at Mick Foley lately, I cant help but get excited to see these two tear the SuperDome down on March 18.
Jim Ross:
Over on Smackdown meanwhile, Batista will get another shot at the long standing United States Champion, Brent Albright, with the title on the line. Can The Animal put Albright away and collect the title in New Orleans??
The Coach:
Brent Albright is in all kinds of trouble in New Orleans, J.R. He's pulled off many shocks in his four months with the title, but it'll take something else to beat Batista for a second time.
Jim Ross:
I cant help but think back to WrestleMania's past Coach, and think of the classic tag team matches for the titles when I see Americas Most Wanted and The Hardy Boys on that bill. This is one not to miss, a possible show stealer involving two of the greatest teams in WWE history.
The Coach:
As good as both teams are J.R, NEITHER have ever won a tag team match at any WrestleMania. One of them will put that statistic to bed on March 18, but the other will be forced to have that shocking record follow them for at least another year.
Jim Ross:
And from a pair of title matches from Smackdown, we go to a TRIO of titles from Raw, all on the line … in one match, and all three titles will be decided with just ONE fall. The tag team championships, womens championship and the Intercontinental Championship, ALL on the line, as MNM, Mercury, Nitro and Melina team with Mister Kennedy to take on Rey Mysterio, Alexis Laree and Straight Edge. What a contest that one promises to be.
The Coach:
Completely unfair. Eric Bischoff is undoubtedly a genius at work, but this one just seems like punishment for the A-Listers. If they lose their titles at WrestleMania, it'll be the greatest injustice EVER at WrestleMania.
Jim Ross:
Elsewhere, Kurt Angle continues to pile the pressure on The Undertaker, now turning the tables on The Deadman, using the mind games that The Phenom has inflicted on his opponents throughout the years, and Coach, it appears it HAS affected the Demon of Death Valley.
The Coach:
Kurt Angle is taking things to a whole new level J.R. He's gonna end the streak, I can feel it!!! The Undertaker has lost his edge, and that's all he had over Angle.
Jim Ross:
A huge match, undoubtedly, but not as big surely, as the triple threat match for the WWE Championship, pitting the current champion, RVD, against the holder of Money in the Bank from last year, Edge, and Chris Jericho. The first triple threat match for the WWE Championship in the twenty two year history of WrestleMania.
The Coach:
Rob Van Dam has dodged many a bullet in his reign as WWE Champion, but come WrestleMania, he's gonna run out of armour. His days are numbered, and in my opinion, Edge is primed to take the gold.
Jim Ross:
And of course, the unforgettable main event. The Collision Course, headed straight for New Orleans, with the World Heavyweight Championship at stake, the champion, John Cena, defends against the white hot, Royal Rumble winner, Captain Charisma Christian.
The Coach:
These two are surely ready to rip each others head off. It's been building for weeks now J.R. Cena and Christian are ready to explode, and I think they'll do it tonight.
Jim Ross:
The Showcase of the Immortals is nearing, and nearing. Twenty days to go folks, live on Pay Per View, the one event of the year you cannot afford to miss, WrestleMania. But now, we're going to look at the training methods, employed by John Cena, in the run up to March 18...
**VIDEO PACKAGE; JOHN CENA TRAINING**
(*Note* Some info and quotes are liften from previous, real life Cena training montages)
The video opens with an outside view, at the downtrodden 'Hard Nocks' gym.
John Cena:
If you want it … you have to earn it.
In the gym, Cena is performing massive squats, barefoot, with 500lb weights on his shoulders.
John Cena: I want to beat Christian … and I'll push myself beyond the limits to make sure I do it. Failure doesn't exist. It isn't an option.
Cena slams the weights down, letting out a roar of intensity.
John Cena: I'm training like an animal right now. I'm puking every time I walk outta here … I'm collapsing when I get in the shower, I'm literally pushing myself to an out of body experience.
It appears Cena is concentrating on weight training, as we next see him performing 545lb dead lifts, then 400lb bench presses, followed by 140lb Incline Dumbbells. All the while, Dave Nocks, owner of the gym, talks over the footage.
Dave Nocks: John is a beast. He lifts weights that two men together couldn't handle.
Now, Cena performs tricky close grips, with weights of 365lbs. Now, his brother talks over the footage.
Matt Cena: I wouldn't like to be Christian. Not if John gets his hands around his neck at WrestleMania.
Cena now starts to perform pull ups, showing off his muscles as he does.
Dave Nocks: I'd dare say that Christian has got his work cut out. John is gonna come in there like a bull in a china shop.
Thuds are heard, as the camera pans to show Cena beating the shit out of a punching bag.
Matt Cena: John knows Christian is a lot quicker. But when he gets caught, oh boy, it'll get messy.
Now, the scene cuts, and Cena is jogging around a running track.
Dave Nocks: A lot of guys see the physique, and instantly just think, he's a power guy. Sure, he's a powerful kid, but John is a cardio machine. If you underestimate his engine, you're just making trouble for yourself.
Cena is now seen in abandoned junk yard, tipping over huge tyres.
Matt Cena: He lives by what he says. He fears nothing, he regrets less. And that's down to the effort he puts in. He'll never go into a match under prepared. He'll never go into a match anything other than 100% peak condition. That's why he's the best in the business … and that's what'll carry him through WrestleMania.
Finally, the video ends with John sitting at the steps of the Hard Nocks gym, spent, after a long, hard day.
The camera races towards him, with The Champ looking towards it, and stating…
John Cena: Time to go again.
**END PACKAGE**
We then see the graphic again, JOHN CENA VS CHRISTIAN - WRESTLEMANIA 23.
Commercial


WRESTLEMANIA COUNTDOWN - 20 DAYS TO GO


We return now, with Shane McMahon entering the McMahon Family Empires room again.

Triple H: Well??

Shane, slightly breathless, starts to speak.

Shane McMahon: He's gonna be at the Hall of Fame ceremony … and he's accepted a pass for WrestleMania.

The fans pop big time in the background, whilst the McMahons all look dejected.

Triple H: Anything on him with Lesnar??

Shane shakes his head.

Shane McMahon: I didn't find out anything on that.

Triple H looks frustrated, and looks to Vince, who tries to think of something.

Mr. McMahon: Alright. Let's get to the bottom of this right away. Stephanie, get the front office onto Steve Austin. Offer him whatever it takes, and get him to Vegas for Friday night.

The fans pop again, as Triple H questions his father-in-law.

Triple H: What are you gonna do??

Vince straightens his jacket, looking more confident.

Mr. McMahon: I'm gonna find out the truth, Hunter. I'm not waiting to find out at WrestleMania. We'll get Austin in for Smackdown, and we'll see if he has gained a hundred pounds, and most importantly, we'll see if he's gonna side with Lesnar.

The remainder of the family nod, seemingly happy to go along with the idea.

Tyson Tomko: Alright, I'll get my stuff, and we'll be on our way then??

Vince stops him, shaking his head.

Mr. McMahon: No. It'll be best if I go alone. We don't want to feel like we're threatening him.

Vince now leaves the room with Stephanie, as she tries to get the message out to get Austin to Vegas for Smackdown. In the private room, the remaining three seem taken aback by Vinces reaction.

Triple H: That man is crazy.

Shane nods in agreement, as we fade out.


…


And to Christian, in the communal locker room, finishing off taping his wrists for the main event. He stops, as he feels a presence in the locker room, just behind him, and turns around … IT'S JOHN CENA.

John Cena: Yeah, I know I'm the last guy you wanna see. Feelin in mutual homie. I'm not thrilled with tonight's match either.

Christian continues to tape his wrists, but listens to what Cena says.

John Cena: But if we're gonna survive tonight, we gotta be on the same page.

Christian stops his preparations, and looks Cena, eye to eye.

John Cena: If we cant look out for each other tonight … there's a good chance that one of us, hell, maybe even both of us wont be making it to WrestleMania.

Cena looks at Christian, now waiting for an answer. Christian mulls it over for a second, then turns, and grabs his hooded top.

Christian: Look out for each other, huh??

Cena nods.

Christian: Okay.

Christian brushes past Cena, then stops, and turns around again.

Christian: But let's get something straight. I'm not lowering my guard Cena. I'm gonna be keeping an eye on ya, so if you're thinking of cheap shotting me with a chair afterwards … I'll be ready for it.

Cena speaks back, just as Christian was set to leave.

John Cena: I guess I'll be on the lookout for the same thing.

Cena turns around, and the two men look across the room at each other.

Christian: Absolutely.

Christian throws a curve ball at Cena, basically telling The Champ to watch his back later, as he leaves the locker room, with Cena nodding.

Back into the arena…

**VIRTUAL VOODOO**

It's main event time, as Umaga headlines Raw for the second week running, joined as always, by Armando Estrada.

Jim Ross: It is main event time folks, the four Raw superstars that will be looking to take the Money in the Bank briefcase at WrestleMania will team together, to face the WrestleMania main event. Highly intriguing match up Coach.

The Coach: Anytime this savage hit's the ring, it's intriguing. You cant stop the Samoan Bulldozer.

Jim Ross: How can both teams co-exist tonight?? With the tension and the focus for all six men on the main prize of WrestleMania, this is sure to boil over tonight.

**MY NAME IS FINLAY … AND I LOVE TO FIGHT**

Finlay now enters, carrying his trusty shillelagh.

Jim Ross: And the main event folks, is next.

Commercial

We return with Shelton Benjamin entering the ring, making his entrance during the commercial

**VOICES**

Randy Orton now makes his entrance, and takes his time to get to the ring, as the other three men look to be okay, although Estrada is forced to keep Umaga focused, and makes sure he doesn't go crazy on his partners.

**JUST CLOSE YOUR EYES**

Now, Christian enters, to a huge reaction, with the fans showing their support for the 2007 Royal Rumble winner, ahead of this big handicap match.

After Christian makes his entrance, he stays on the outside, with the opposition holding position in the ring.

**MY TIME IS NOW**

John Cena bursts onto the stage, with the fans greeting him as always, with a huge split reaction. Many cheer The Champ, but there are just as many boos from the anti-Cena brigade, with Cena charging down the ramp, ignoring Christian, passing him by, and slides into the ring … TAKING IT TO ORTON STRAIGHT AWAY!!!

Main Event: 4 on 2 Handicap Match:
Randy Orton, Finlay, Shelton Benjamin & Umaga vs. John Cena & Christian
Despite a fairly weak show in terms of matches, we end on a high note with a strong main event to close proceedings. Not long into the contest, Umaga, as he has in previous tag team matches, doesn't appear to understand the rules, and tries to get involved from the get go, not happy to be standing on the apron for any period of time, and no one is able to calm him down. The Samoan Bulldozer goes on the rampage, taking on both Cena and Christian, then shoves the referee away, before taking out his own partners!!!!!

Quickly, Armando Estrada is on the scene, to try and 'handle' his savage beast, but the referee has seen enough … and throws Umaga out of the match!!! The fans pop, and there is pandemonium in the ring … AS UMAGA SPIKES THE REFEREE!!! Umaga is then calmed by Estrada, who tries to lead the Bulldozer out of the ring, as we look at the carnage, before heading into a commercial break.

Commercial

We then return, with everything back under control, with Mike Chioda replacing Charles Robinson after the referee was put out of commission by Umaga just before the final commercial of the evening. Now, it is a three on two affair, with Cena and Christian coming together to take on Orton, Finlay and Benjamin. Despite the tension on both sides, all five men keep their focus on tonight's match, and don't just look ahead to WrestleMania. However, throughout the contest, Cena and Christian share plenty of tense stares with each tag.

As the trio set for Money in the Bank take over, the tension mounts on their side, with each man looking to outdo the others when in the ring, and begin to trash talk with each other, as they beat down the Royal Rumble winner. The reactions of Cena on the outside also prove to be newsworthy, with the champ looking eager to make a tag, rather than looking conflicted as to whether he wants Captain Charisma to be beaten down. Christian, as you'd expect, manages a fight back, as the three MITB competitors continue to one-up each other, but take their eyes off the ball, allowing Christian to come back, and quickly, he reaches out … as does Cena … AND A TAG IS MADE!!!

John Cena, fresh as a daisy, makes his impact on the match, and takes on all three opponents, as the match breaks down. Christian is forced to get back in on the action as all three men attack Cena, and he throws his opponent for next week, Shelton Benjamin, out of the ring, before turning his focus onto Orton, and takes him to the outside, leaving the two legal men - Cena and Finlay. The Champ has the better of the Irishman, and sets him up for the FU … until Orton slides back inside … coming from behind … AND DELIVERS AN RKO TO THE CHAMP!!! Orton stands over Cena, his opponent next week, looking at his handy work … THEN DELIVERS AN RKO TO FINLAY!!!!! Orton looks around the arena, with a cold, dead look on his face, turning on his tag team partner for the evening, then slithers out of the ring, as Cena slowly crawls over, onto Finlay, making the cover, 1...2...3!!!
Winners: John Cena & Christian @ 13:47

John Cena picks up the win, and slowly reaches his feet, still feeling the effects of Randy Ortons RKO. He has his hand raised … but WE THEN SEE CHRISTIAN SLIDE INTO THE RING … WITH A CHAIR IN HAND!!! Christian has the chair, and looking to be coming for Cena with it … BUT HE PUSHES CENA OUT OF THE WAY, AND SWINGS AT BENJAMIN ON THE APRON … but Benjamin avoids it, and jumps off.

The Black Diamond, with a smirk, backs up the ramp, as Christian yells in his direction, before turning around … right into The Champ!!!

The two men, the WrestleMania main event, come face to face, in the ring, with John Cena questioning Christians intentions. Christian though, points to Benjamin, telling Cena he was trying to help him, not attack him. Cena though, doesn't seem convinced that was his true intention, and tells the Rumble winner, he's watching him, before leaving the ring himself. Inside, Christian starts to look increasingly frustrated, and slams the chair on the mat, with the show going off the air amid huge tension, which surely, is ready to blow at any given moment.

END OF SHOW


***
Current Card for WWE Wrestle Mania XXIII:

Date:
18th March 2007
Location:
Superdome, New Orleans, Louisiana
Event Music:
U2 & Green Day; The Saints are Coming & Killers; Sams Town
World Heavyweight Championship Match:
!!COLLISION COURSE!!
World Heavyweight Champion,
John Cena vs.
2007 Royal Rumble Winner,
Christian
WWE Championship; Triple Threat Match:
WWE Champion,
Rob Van Dam vs.
Mr. Money in the Bank,
Edge vs.
'Highlight of the Night'
Chris Jericho
WWE Tag Team Championships Match;
Americas Most Wanted vs. The Hardy Boys
One Fall; Triple Jeopardy Match:
Intercontinental, World Tag Team & Womens Championships all on the line:
Rey Mysterio, CM Punk. Greg Helms & Alexis Laree vs. Mr. Kennedy, Mercury, Nitro & Melina
United States Championship Match:
Brent Albright vs. Batista
Money in the Bank Ladder Match:
WINNER HAS AUTOMATIC TITLE SHOT ANYTIME IN NEXT 12 MONTHS
M.V.P vs. Umaga vs. Paul London vs. Finlay vs. Carlito vs. Randy Orton vs. Charlie Haas vs. Shelton Benjamin
FIRST TIME EVER:
!!FIVE YEARS IN THE MAKING!!
Triple H vs. Brock Lesnar
With The McMahon Family Empire in the corner of Triple H
The Irresistible Force vs. The Immovable Object:
Kurt Angle vs. The Undertaker

Non Sanctioned Match:
Mick Foley vs. Shawn Michaels


Hall of Fame Ceremony 2007;
Hulk Hogan, Bret Hart, Sensational Sherri, Jim Ross, Mike Tyson (Celebrity Wing)

***
WM Banner Credit: Crazian
Match Banner Credit: Rocker
New banners (Main event, Angle vs Taker) credit: TKOW <3
MITB Gif: Legends supplier
You're never alone, you're never disconnected...
Join Date: Aug 2008
Location: BELIEVELAND, OHIO
Posts: 4,889
Points: 4,769
Re: Being The Booker
---
An apology? I'm scared? What kind of Mick Foley promo are you running here? Foley should never regret something that he might do, or why else is he the hardcore legend? Still, nice segue into his passionate hardcore speech. Also, I like how you mentioned last year's Wrestlemania. Way to plug yourself, eh Wolfy? So, the promo ends with Foley "losing his mind." That's not a good sign for HBK.

Awesome tag team opener. I like how the respectful duos battle it out at the end, followed by the face win. Not sure what to think of Kennedy's actions. A mid-carder striking a woman? At the top of the show? And what's this? Bischoff owns Marella and makes a major 'Mania announcement. Boy, when you put out, huh? That's a big statement made and that means the match can go any which way. Separate matches would've been boring, but you shook things up and made it interesting. Nice booking here.

ROFL You got Rhyno involved in this silly promo of Christian's! You are a delight and I enjoyed reading this convincing joke!

Mid-card promos. Pfft. What a fucking was of time. But it did kill the clock a little, I guess. As long as you make Burchill do the C4 somewhere along the line, I'll be happy. And what's this? We're gonna get a little incest from the Burchill siblings? What is this, Jerry Springer? A for effort but F- for the freaky siblings.

Squash for Burchill. Great way to cement his precious little promo. Again… no C4 and incest equals epic fail. Remember that.

Two mid-card loser matches in a row? I don't freakin' think so, buddy. And JR getting accepted? Can you honestly say that was an original idea in your head?

Four minutes is too short of a match for something like this. I would've been happier had it been longer. And what's this? Stone Cold will be in Lesnar's corner? How unlikely following the events of 'Mania XX. And why didn't the rattlesnake show up? Lesnar's bluffing.

Then again, since the McMahons come to the conclusion that Lesnar IS bluffing, he must not be bluffing. Aw, mind games. Gotta love 'em, eh?

So lemme get this straight: you did a promo with two guys who love to fight, and showed no fighting whatsoever. I don't believe that for a second.

Changing the main event during the show? I don't fucking think so, my man. Still, I guess the new match is a good way to showcase more superstars and give them TV time. And Randy Orton v. John Cena? I haven't been reading this thread too long, but haven't you actually been through that rivalry a couple times? What's the deal here?

Great tag team match-up for the New Wave. Gaining ground and such. I hope Mark Henry is kicked out of the Brotherhood for his actions. "A bear with a sore tooth." You and your terrible metaphors…

Cena's video is worse than Christian's!! But, then again, I always thought John Cena was a cornball when it came to serious video promos. Convincing, yet laughable. I like how you added the family in it…

Austin in Vegas for Smackdown. Yes. Lately, in this 'Mania build-up, you've been making Raw look better than Smackdown. But hopefully, with this Smackdown in Vegas crap, and Stone Cold, the blue brand will gain some attention.

Christian and Cena on the same page? Pfft. We've heard this a million times before from matches like these. Where opponents team up. I don't know what to expect, so I'll just leave it at that.

Everything looked swimmingly in the tag team match, until Umaga spiked the referee, and he was replaced after the break. I know you want to put over Umaga, but why would you knock the referee out if someone wasn't gonna cheat. And another thing: you wrote Cena setting up Finlay for the F-U, and Randy coming out for the RKO! What happened to Finlay there? However, I do like how you promoted Orton/Cena next week with that move too.

What's this? Tension between the partners? Even I saw that shit coming. I just didn't know whether or not they would attack each other. Obviously, it'll happen, but when we least expect it (*cough* the show before 'Mania *cough*).

All in all, Raw was okay, but Smackdown in Vegas should set the world ablaze, considering how you're selling it. I'm expecting excellence from this one…
---
---
Last edited by The Absolute; 04-29-2009 at

08:38 AM

. Reason: I saw a spelling error...
Posting Rules

You may not post new threads

You may not post replies

You may not post attachments

You may not edit your posts

---

HTML code is Off

---