Re: Being The Booker
---
Raw Feedback



Great way to kick off 2007, with what I'm sure was an awesome match between two of the best midcarders on Raw. I am not surprised that Rey got the win because he will have an awesome match with Shelton at the Rumble. Also, I think that Kennedy as a heel means that he is going to be moving back up, so him being in the Rumble is fine by me. Glad this feud is over; because we all knew Rey was gonna go over to end it.

Hopefully Carlito can get back to his winning ways during the year 2007, and doing well in the Rumble will show if you are serious about pushing him again. I expect a little bit of tension between 'Lito and HBK, but I still see them getting the win tonight.

Umaga's push has been awesome and beating Tomko was just the next step. Umaga to OWN in the Rumble, imo, though he ain't winning it.

Just what I thought, glad to see KK finally out of the I.C. picture, as he will do well in the Rumble, though it is doubtful that he will get the win. Still, I love him so much more as a heel in this thread.

Hilarious WM23 commercial, really funny stuff. We gonna get to vote on the commercials like last year?

I loved the matches that Punk and Nitro had in the past, so it was good to see them go against each other. Punk and Helms should be in the Rumble, especially after the big win of CM. I don't see this feud going all the way until 'Mania, as I think Straight Edge will get the belts in February or early March. Still, this has been a good tag team feud.

Way too much tension between the McMahon Family and Lesnar for them to succeed tonight. I don't see Brock winning the Rumble, but I do see him getting his shot at the belt at the February PPV, before heading into his feud with Cena. Lesnar will try his best tonight, but the tension will be too much to overcome.

Very good tag team action between the four Rumble combatants, as I'm glad that no one was really made to look weak. HBK pinning Orton was surprising, as I was sure that Finlay or 'Lito would take the fall. Either way, HBK is heating up heading into the Rumble, and I think he will last a very long time.

Damn Melina is pissed about Straight Edge. Good segment, but it was so much different than a segment I wrote for MNM in one of my future shows, and you'll see how different Melina is used for me. Either way, good way to get MNM focused.

Kinda awkward promo between Cena and CC, tbh. I guess it was just the fact that both men are big faces, but the tension didn't seem real. Either way, there's NO WAY these two are losing tonight.

Pretty "meh" Women's match, but only because we have seen these two go at it so many times. Laree back into the title scene, plz.

Sounded like a great plan for the New Wave, until Bischoff came and dropped the bombshell. I have no idea who will win the triple threat next week but the match between Orton and Michaels should be another classic, there's no doubt about that.

Very solid main event, just as good of a mathc as I thought it would be. Loved the way that Cena and CC worked together, really trying their best to get what they want at the Rumble. Great way to end the match, as the McMahon Family Empire gets OWNED, with Hunter falling on Steph, Shane getting thrown out of the ring, and then Vince being made to tap out. Awesome see Cena and Triple H battling it out at the Rumble, while Christian finally has a chance to go to 'Mania.

Awesome show to kick off 2007, Wolf, Royal Rumble is gonna be something special.
---
AS LONG AS IT MAY TAKE ... NOT REMOVING UNTIL
THE CHICAGO CUBS WIN THE WORLD SERIES
PatMan Presents: World Wrestling Entertainment 2007
ROYAL RUMBLE HAS BEEN POSTED
THREAD CURRENTLY ON HIATUS (
)
Re: Being The Booker
---
Raw Feedback
Shattered about Word to be honest would have been an awesome match to read even if it would have only been a few paragraphs. Can't blame you for not wanting to re do it but anyway I really wanted Kennedy to get the win but I new you were making Rey Rey win because I just did not feel a heel vs heel match coming along. Hopefully Kennedy bounces back strongly
In a Carlito interview this is probably me beaing fussy but I would prefer him being written saying stuff such as: Now das cool. Instead of that's cool. Fussiness yes but just what I would prefer. As for the actual meaning of the interview I liked how it was mentioned that it is a new year and hopefully Carlito begins to pwn mo fo's
Umaga FTW. I really don't mind Tomko though so maybe you could have not have squashed him so bad.
Kennedy as WHC would be awesome Wolfy, I would love you for it. However I do not think it will happen
LOL at the Mania video… very original. Good work some times little things like this show just how great you are.
Punk and Helms as a team is something I like as Helms can do all the mic work and Punk can just own in the ring. But as much as I like these two I like Johnny Nitro~ John Morrison tbh, just that little bit more. Therefore I personally was not happy with the result but I understand its purpose
Lovely stuff backstage between Triple H, Vince and Shane. It just gave me memories of back in 200 when they worked together and HHH was always doubting Vince. Classic stuff loved it. When Lesnar talks he is becoming very interesting because the way his character is at the moment he is very on the edge. Lesnar in this thread > Lesnar IRL tbh.
Awesomeness here in this match up every superstar is fun to watch however I am not happy with the fact Orton lost. But I guess Michaels had to get the equalizer and Michaels/Orton will continue… which has no arguments from me. Finlay seems to just be a drifter at the moment I think you need to put him in a decent feud. Carlito back on the winners list is good and wait a second I just thought maybe Carly is Finlays feud because he took out the Little Bastard. Sorry I am a little slow sometimes.
Melina yelling at MNM and I can see a John Morrison turn soon or something where Mercury gets sick of Melina bullying him or something because all I know them standing there and letting Melina slap them makes them look like bitches
Nice chemistry there between Cena and Christian loved this promo. A bit of uneasiness and tension yet a bit of humor. Very fun.
Alexis Laree > Annoying bitch who thinks she can sing any day of the week to be honest.
The New Wave getting there plan together already despite a bit of tension in the air. Seriously though what is Bischoff's problem trying to make even more tension between this group. I hope they don't break up and I hope Doane gets in the Rumble.
Awesome main event I love the extra detail you put into your main event matches not a lot of people to that. Awesome and great that CC is now in the Rumble and Triple H won't be happy at Vince. This episode of Raw kind of reminded me of KOTR 2000 LOL but it was better. Anyway great main event which has great implications and yeah I still think Lesnar is going to win the Rumble

Overall another top notch show. Absolutely nothing to complain about besides a few things that have not been done badly but they could just be hindered a bit to suit MY fancies
Anyway can't wait for Smackdown mate
---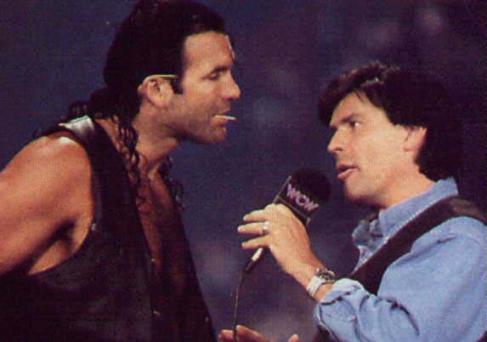 Re: Being The Booker
---
RAW Feedback



Excellent kick off to the show as we see Kennedy and Mysterio battle it out for the right to go to the Rumble to face Shelton Benjamin. Mysterio wins what looked to be a pretty good match from your 'short 'n sweet' details and Mysterio/Benjamin should be fantastic.

Don't think we'll see Carlito win the Royal Rumble but I expect a pretty top notch performance from him. Could see a push for him in my eyes but of course it's all up to you. Looking forward to see where you take him.

Can't say I don't like Umaga winning since he OWNS. Keep pushing him please and I expect him to be dominant in the Rumble match.

Kennedy promo was nice. I hope you give Kennedy a push to the WHC because I would enjoy that very much. Anyway, hope he does well in the Rumble and hope he has a bright future in this thread.

LOL at the WM Promo. Classic.

I've liked this tag team feud and really like the team of Helms and Punk. I hope to see this feud go a lengthy amount but not too long because it doesn't look like this is going all the way to 'Mania. Big win for Punk and he and Helms should probably be in the Rumble especially after that.

Great segment and I loved Brock here. In general I've liked what you've done with him throughout this entire thread, and there is no way that the McMahon Family Empire succeeds tonight. No chance.

Good win for the faces in this tag team match to kinda balance things out in this feud. I see you've started using Voices which is a fantastic song btw. I don't know if Orton's feud with Michaels will last all the way to WrestleMania but I expect some interaction in the Rumble match between them.

Melina's fearfulness makes me think the straps are coming off MNM soon. Should be fun to see where that segment goes in the near future for MNM.

Somewhat tense promo here with Cena and Christian. Liked Christian's stuff in his promo, as he is the comedic guy he's always been. Hypes up the handicap match where Cena and Christian will DEFINITELY be winning.

Laree getting the win doesn't really surprise me at all. Push her to the title plz.

Looked like a good plan from The New Wave but there's Bischoff swooping in and creating some tension between them. Should be fun to see what happens next week and Orton an Michaels probably will end now that they're facing each other next week.

Looked like a very good main event, and to no shock at all Cena and Christian get the big victory to head into the Rumble with some momentum. Don't see Cena taking the title off of HHH as it's unlikely that it will happen considering it is the Royal Rumble. Then again, stranger things have happened so maybe so. Christian could have a big night at the Rumble and could even win it imo. Great ending btw, as it seemed like stuff that would happen in the famed Attitude Era with all the pieces falling down for the Empire.

Once again, good stuff Wolfy. I cannot wait for the Rumble and this thread just keeps getting better and better as time goes on.
---
Chopped Liver
Join Date: Jan 2004
Location: Six inches from a computer screen
Posts: 5,433
Points: 321
Re: Being The Booker
---
WWE News, Notes & Rumours:
There are less than two weeks now until the Royal Rumble, and as of now, there are five main contenders for victory it would seem. There has been a big clamour as of late on the Raw writing team for Brock Lesnar to go over, with support building for a potential Lesnar vs Triple H clash at WrestleMania. Fan responses towards Lesnar have been growing over recent months, and after three and a half years as a heel, it could well be time for a tweak for the Iron Man.
Of course, with Christian now officially part of the match, he has been cast as favourite amongst the insiders, as a WrestleMania main event against Triple H had been touted as early as last summer. Along with Triple H's determination to be in the main event this year following his fury at playing second fiddle to every other big star last year, this would appear to be the main event that makes most sense. The one wild card in the mix though is John Cena. Cena is now set to face Triple H again at the Royal Rumble, and a title switch is not being ruled out, despite Triple H using his pull to remain in the main event scene towards WrestleMania 23.
Randy Orton, touted for a move to Smackdown in the near future, is another name being tossed around, and should he win, it's expected he will move to Smackdown and work a WrestleMania program with Rob Van Dam. Since the breakdown in the relationship of Ric Flair and the WWE, the booking commitee have been searching for a role for Orton to play at WrestleMania, and this could well be it. Along with these three, Chris Jerichos name has also been mentioned after a solid year working some of his best angles this year on Smackdown, and could well be rewarded with a shock Rumble win. Batistas rise on Smackdown has also not gone unnoticed over the last twelve months, and along with an expected U.S Title win this week, Batista could well be another shock winner of the Rumble match, and head into a rarely seen Champion vs Champion match on March 18 in New Orleans.
However, with Triple H's demands likely to be met, it would appear likely that it will be a race between Christian and Brock Lesnar for the main event slot to face The Game.
Edge has been all but ruled out of a Royal Rumble triumph, having already got his Money in the Bank title shot yet to be cashed in. And with time running out, it would seem the staff on Smackdown are beginning to worry over when they'll let Edge cash the title shot in. Edge had been pencilled in to cash the title shot at Cyber Sunday, but after the unfortunate injury to Chris Benoit, that was put on the back burner to give RVD a more dignified run with the belt. Then, plans for Edge to use the contract at Armageddon were shelved, with Van Dam impressing as champion. Now, it appears there is no definate date for Edge to use the contract, and Edge himself is growing restless over the angle.
Shawn Michaels has also been ruled out of the running for the Royal Rumble, with his rivalry with Mick Foley now all but a lock to culminate at WrestleMania. Foley hasnt been seen on television since November, but expect to see the Hardcore Legend return later this month to advance the ongoing angle, currently on the back burner, with HBK and Randy Orton currently engaged in a feud. Still, details of Foleys reasons for his actions earlier in the year are known by very few, with Foley insisting that he doesnt want the ins and outs of the angle to be leaked over the internet. There is a lot of pressure on Foley to deliver with the angle, and should he get it wrong, it could well be the last time that he is given such creative control over an angle.
The Money in the Bank ladder match is set to return this year at WrestleMania, and as of now, it would appear both brands will be represented in the match. Last year it was a Raw only affair.
Expect Carlito to move to Smackdown within the next couple of weeks, possibly as soon as the January 19th show. Carlito has been floundering on Raw over the last year, and the conclusion to his losing streak angle didnt go over as well as expected. Management is hoping he can make a fresh start on Smackdown.
One man that can expect a big 2007 is Mister Kennedy. The 2006 King of the Ring appeared to be slipping under the radar in the final few months of last year, and that has not gone unnoticed by Mr. McMahon. The chairman is a keen admirer of Kennedy, and has been disappointed by the use of Kennedy since a strong summer angle with Edge last year. Whether the reboot on a Mr. Kennedy push starts immediately is unknown, and it may be a case of Kennedy having to patiently wait for his break into the upper echeleon until possibly after WrestleMania.
As of now, Bret Hart is still the only name that WWE have officially confirmed for this years Hall of Fame. Bret agreed to the honour last year before his contract ran out, and although it has yet to be officially announced on TV, Hart is a lock for the ceremony.
With both The Rock and Ric Flair definately out of WrestleMania, management are keen to tie Steve Austin down for an appearance of sorts at WrestleMania. Stone Cold has not made a single appearance on television since his reitrement match in April, but has been responding well to ideas being thrown at him for a role at WrestleMania. Austin has made it clear he will not be wrestling, feeling he ended it as best as he possibly could have, but would be happy to perform a guest referee role or special enforcer role at the event.
***
No Smackdown preview this week I'm afraid, but a bit of news on the Smackdown front. I'm going to write out the final four or five in the run up to WrestleMania in full. I havent put enough effort into all things Smackdown since this return, and for WrestleMania to be a success, I think both brands need to get equal attention, otherwise there is no point in having both shows on the event. Up until then it will be in recap form though.
I'll post this weeks Smackdown update tomorrow.
Tag Teaming With James Ellsworth
Join Date: Apr 2005
Posts: 1,710
Points: 0
Re: Being The Booker
---
Wolf just read through Raw and the News and Notes. Don't really have time for a review at the moment, but I will say that Cena/Hunter at the Rumble is going to be great! Should Jericho win the Rumble that will be a huge surprise. I have a feeling that Edge will be cashing in MITB at the conclusion of Mania, at the latest. As far as Austin being apart of Mania, in a non-wrestling role, it should be interesting to see. Hopefully he isn't reglated to the now traditional Special Guest Referee role that he has the last two Manias he has been apart IRL. Finally, I know you've mentioned that the Rumble has been posted, so it should be a great show to read when posted in full. Looking forward to Smackdown!
---
[U]KOM has returned to BTB with WWE 2007: The Legacy and Aftermath of WrestleMania!
[U]
Re: Being The Booker
---
Some nice news here Wolfy, the news about the potential Rumble winners is exciting and well I have been telling you in my reviews for the past couple of weeks that Lesnar should win the Rumble I really hope it actually happens. Regarding Jericho and Batista I did not even think of them and I can not see them winning it.

I personally think Edge in the Rumble is a cover up and that he will cash it in at the PPV, no matter what this news says.

Michaels/Foley should be good they had some great matches back in 1996. It could very well be epic.

I personally think MITB is a plus.

Carlito to Smackdown is good as he has been made as nothing more then a jobber on Raw and he needs fresh scenery.

KENNEDY ~ OWNS… Main event push FTW

Austin at Mania shall be fun, don't know what else I can say because I have no idea what he is doing.

Can't wait for Smackdown.
---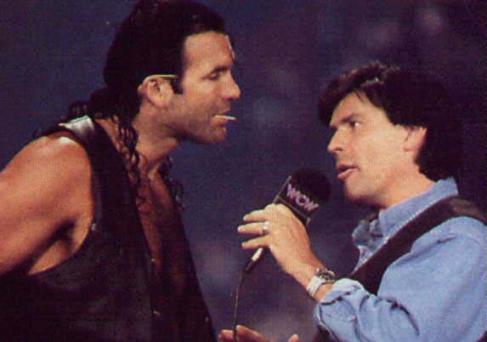 Re: Being The Booker
---
Pretty much the usual suspects for the Rumble, but I really don't see anyone but Christian winning the match. Cena/Lesnar and RVD/Orton would be too VERY good main events, imo.

The rest of the notes sounded good, especially that MITB would be between both brands. No real reason to give only Raw superstars the chance. Kennedy push is a big plus, as is Austin making a WM23 appearance.
---
AS LONG AS IT MAY TAKE ... NOT REMOVING UNTIL
THE CHICAGO CUBS WIN THE WORLD SERIES
PatMan Presents: World Wrestling Entertainment 2007
ROYAL RUMBLE HAS BEEN POSTED
THREAD CURRENTLY ON HIATUS (
)
Chopped Liver
Join Date: Jan 2004
Location: Six inches from a computer screen
Posts: 5,433
Points: 321
Re: Being The Booker
---
Tentative plans for posting the next couple of shows as follows;

Today - 5/1 Smackdown

Thursday - 8/1 Raw

Sunday 11th - 12/1 Smackdown

Friday 16th - Royal Rumble

After that, I'll have a gap of maybe 3 or 4 weeks, but for now, that's the schedule (subject to change
)

***
Smackdown; January 5th: Uncasville:


The show kicks off with a match, and it's United States Championship time, and despite losing against Batista two weeks straight, Brent Albright picks up the victory to retain his title tonight, in lucky fashion though - as Batista appeared to knock himself out, running into the ringpost, looking for a shoulder tackle on the champion, and hitting the ringpost with Albright sidestepping him. Brent quickly picked up a three count, and retains his title @ 07:22!!! Albright doesn't wait around, and looks relieved to have kept his title after two weeks of losing to The Animal, whilst the referee tries to assist Batista, who only looks to be slowly coming around now.
Backstage, a newcomer enters the office of General Manager Arn Anderson, quickly introduced by the General Manager as Cody Rhodes, the son of WWE Hall of Famer, Dusty Rhodes. Arn and Cody briefly talk backstage, with the GM giving Cody his debut tonight against Charlie Haas, and if he wins - he'll take part in the 30 Man Royal Rumble in nine days time.
Elsewhere, Americas Most Wanted catch up with Shannon Moore, on his own. The tag team champions bully the weaker competitor, ahead of their tag title defence against Moore and Matt Hardy tonight. Suddenly, James Storm SMASHES HIS BEER BOTTLE OVER MOORES HEAD!!! AMW then quickly pound Moore down, before crashing a big black box of equipment onto the leg of the MF'er, with Shannon crying out in agony as the champions scarper off, with officials and road agents quickly moving in on the scene.
Chavo Guerrero takes on Juvi in one on one action, with Psichosis in the corner of Juvi. Kendrick and Kash then join Chavo at ringside, stopping Psichosis from interfering, as Chavo wins the match, finishing Juvi with a Gory Bomb. After the match, Arn Anderson addresses the five men, telling them they'll all be in action at the Royal Rumble, as the Mexicools will reunite, to take on Chavo, Kendrick and Kash in a six man tag match - with the Cruiserweight championship on the line!!!
Everyone looks pleased by the announcement - except for the champion Super Crazy, who watches from a monitor backstage, having shown no interest in being linked to the Mexicools anymore, having grown tired of their constant bickering and backstabbing of one another. There is nothing the champion can do though - the match is officially set!!
Royal Rumble Flashback - 1988 - Jim Duggan wins the inaugural Royal Rumble Match.
Backstage, Matt Hardy catches up with the paramedics as Shannon Moore is wheeled into the ambulance. The GM arrives on the scene, and informs Hardy he'll postpone tonights match, and he is free to go to the hospital with Moore. But Hardy appears to be caught in a rage, and REFUSES to have the match called off, insisting he can go it alone, and win the title for his MF'er. Hardy defiantly tells Anderson that the match is still on, and AMW are gonna pay.
Backstage, The Mexicools join together, with Juvi trying to get Super Crazy onside, telling the CW Champion that the three of them will need to be on the same page at the Rumble, like they had been in the summer when they ran the CW division, or Super Crazy can kiss the CW title goodbye. Crazy, after talking in his native tongue, translates for the audience, explaining that it would make sense for them to stay on the same page … but Juvi and Psichosis cant be trusted as far as he is concerned.
It's tag team championship time, as Matt Hardy bravely / stupidly takes on Americas Most Wanted for the tag team championships. Needless to say, Hardy, despite a valiant effort, comes up short in his quest, losing to the champions, getting caught in the end by the numbers game, becoming easy prey for the Death Sentence and a three count. After the win, AMW think about continuing to beat down their beaten adversary, but laugh it off, as if to say they're done with that challenge, writing off Matt Hardy, now without his little buddy. In the ring, Hardy watches on as he struggles to reach his feet thanks to the help of the ropes, as the cocky champions look on, laughing at their beaten foe, and mocking his plight by feigning to cry.
***
A video now plays, with a young man, and young woman in a car, kissing. The woman pulls away for a second.
Woman: Wait, wait.
The man looks upset, as the woman pulls away from him.
Man: What's wrong??
Woman: It's just … it's my first time.
The man smiles, before reassuring the woman, whilst stroking her arm.
Man: It's okay … it's my first time too.
The woman now smiles, then looks inquisitive.
Woman: Really?? Well, have you got them??
Man: Yeah, they're right here.
The man pulls his wallet out, seemingly to pull out a condom, and off camera the woman catches a glimpse of it.
Woman: Okay … I'm ready.
The camera now shows what the man pulled from his wallet … two WrestleMania 23 tickets.
Man: Alright. WrestleMania, here we come!!
They share a quick kiss, and exit the vehicle, as they walk away, holding hands … towards the New Orleans Superdome …
The video then ends with a big WrestleMania 23 logo … FOR THE FIRST TIME EVER IN NEW ORLEANS … AND YOU NEVER FORGET YOUR FIRST TIME.
***
Josh Matthews conducts an interview with one of the two challengers for the WWE Championship at the Royal Rumble - Kurt Angle. Angle talks about the rotten 2006 he had for the most part, and it all started at the Rumble. He moves on, and says that after eight weeks to convalescence, he came back and wiped every single fans memory of '06 up to that point by making the Undertaker tap out. And if the almighty Deadman can be forced to submit … then anything can happen. Angle then calls that feat the platform for the biggest year of his career, when he once again becomes the WWE Champion … and it all begins at the Royal Rumble when he wins the WWE Championship … and that's not just true, it's inevitable.
Next up, the young Cody Rhodes makes his in ring debut on Smackdown, taking on the seasoned pro, Charlie Haas. It's a dream start for Cody, as he surprises Haas with a cradle, despite the dominance from Haas throughout the match. Cody now has himself a shot at main eventing WrestleMania, after just one match on Smackdown.
Naturally, he's over the moon, but the same can't be said for Haas, who sits in the ring following the loss, unable to comprehend his loss to the rookie, having had the whole thing under control. This continues the downward spiral for Haas ever since the Great American Bash when he lost the United States title, as he has yet to feature regularly on Smackdown ever since.
Cole & Tazz do some shilling for the Rumble in nine days, hyping the Rumble match itself, and listing the participants involved so far, with just 5 places remaining, although there is now likely to be another opened up on Smackdown given the horrific injury to Shannon Moore tonight.
For more build up towards the Royal Rumble, Paul London is in singles action, and scores an impressive win, beating the forgotten Chris Masters in a match to really just showcase Paul London as one of the thirty contenders on January 14th. He avoids The Masterlock, and eventually scores the win with his picture perfect 450 Splash, getting the fans on their feet for the move, scoring the 1,2,3.
Backstage, Edge laughs with the tag team champions, AMW, after their assault on Moore earlier, and how they dismantled Matt Hardy. As the three men joke over AMWs plan coming together, Edge starts to try and hint at an alliance between them at the Royal Rumble - but before he can get to the point … Chris Jericho interrupts the festivities. At first it looks like he is going to join in with the laughs, but quickly throws a spanner into the party atmosphere, pondering if the four of them, or indeed the three of them (Edge & AMW), will be laughing so much next Sunday if they all end up in the ring at the same time. It gets awfully quiet in the corridor, before Jericho smiles again, and tells Edge he'll see him in the ring in a minute for their tag match. Y2J swans off, having dropped a little seed of discontent between the three jokers, as Edge mumbles about hating Jericho as we fade out.
And over to RVD, who is interviewed about teaming up with the Brothers of Destruction in just a few moments. Van Dam jokes a little that he's not felt on the same wavelength as Kane & Taker when he tried to get a gameplan worked out with them earlier … Taker doesn't say much except roll his eyes, and Kane is just creepy. He continues, saying that regardless of that aspect, it's the WWE Champion, and the Brothers of Destruction … and there isn't a trio alive that can match that team.
Elsewhere, Bobby Lashley runs into United States Champion, Brent Albright. Lashley takes a good look at the title belt, and then at Albright, telling him it looks like he's in need of a new challenger. Lashley smiles, and walks off, leaving the threat in the air, and something for Albright to think long and hard about.
And it's main event time. Rob Van Dam teaming with The Undertaker & Kane takes on Kurt Angle, Chris Jericho & Edge. After the backstage awkwardness moments ago, Jericho and Edge let that animosity spill over into the match, and eventually they FIGHT EACH OTHER!!! Instantly, the two of them forget about the match, leaving Kurt Angle to try and do the impossible and overcome three men … which he cant do.
Despite a heck of a fight from the Wrestling Machine, Angle is beaten, suffering a loss to a Tombstone courtesy of his fierce rival, The Undertaker, ending the match, and giving The Deadman a first proper win against Angle during this fued. As the match ends, RVD and Kane join The Undertaker in the ring, when suddenly, TAKER TURNS ON RVD … AND DRILLS THE WWE CHAMPION WITH A CHOKESLAM!!! RVD and Angle are both down and out, courtesy of The Phenom, as Taker and Kane stand together to end the show, with The Undertaker sending his Royal Rumble opponents a chilling message, that no one is safe, just nine days from the big showdown.
END OF SHOW
***
Current Card for WWE Royal Rumble:
Date:
14th January 2007
Location:
Conseco Field House, Indianapolis, Indiana
Event Music:
Saliva, Ladies and Gentlemen
30 Man Royal Rumble:
Winner has automatic shot at EITHER brand's Champion at WrestleMania XXIII:
Entrants in Alphabetical order;
Batista, Bobby Lashley, Brent Albright, Brock Lesnar, Carlito, Chris Harris, Chris Jericho, Christian, Cody Rhodes, Edge, Finlay, James Storm, Kane, Matt Hardy, Mercury, Mr. Kennedy, M.V.P, Nitro, Paul London, Randy Orton, Shannon Moore, Shawn Michaels, Tyson Tomko, Umaga
WWE Championship; Triple Threat Match:
Rob Van Dam vs. The Undertaker vs. Kurt Angle
World Heavyweight Championship Match:
Triple H vs. John Cena
Cruiserweight Championship; 6 Man Tag Match:
The Mexicools vs. Kid Kash, Chavo Guerrero & Brian Kendrick
Intercontinental Championship Match:
Shelton Benjamin vs. Rey Mysterio
***
Re: Being The Booker
---
Man, cannot believe this booking is STILL going on, brings back good memories.

Anyway, nice to start to the night with Albright retaining against Batista, should give him some momentum going forward.

Cody Rhodes on SD!, nice to finally see him. The AMW attack on more was a great job as getting them over as heels, although attacking Moore was almost too easy to believe.

6 Man Tag Match for the CW Belt. That's a new one, just a little confused as to how it will work out, whoever gets the pin wins? Either way, like the idea.

No surprise that AMW takes down Hardy as he was on his own. A valiant effort, and gets AMW over as champions that take the easy way out.

That WM commercial was funnier the 2nd time around.

Favorite part of the show here with the great Angle promo, he truly is the man and I can definitely see him walking out of the Royal Rumble with the belt.

Not shocking that Rhodes gets the win, as Haas continues his downfall. Don't really expect Cody to go anywhere in the Rumble, but I wouldn't be shocked to see him get a key elimination of someone along the way.

London match was nice and simple, served it's purpose, got London over by beating a bigger guy giving him some credibility and taking some away from Masters doesn't hurt.

Y2J not necessairly looking at a face turn, but he's focused to win that Rumble. Good to see the intense side of him come out.

RVD acting as the ring leader before the big Main Event, gonna be awesome.

WOW! Taker chokeslamming RVD was big. That match built up so many future rivalries. The Y2J/Edge fued could be something good, even if it's heel v. heel. Angle is a machine so he really could fued with anyone, and finally RVD/Taker which could be at NWO if we see either RVD or Taker walk out of the Rumble with the belt.

Very nice show, although it seemed to be all about the Main Event, which was huge, so I have no problems. Looking forward to RAW and the Rumble.
---
TNA: Becoming Number One

A real TNA story...
Re: Being The Booker
---
Huge ME tonight, but I expect Cena and Christian to go over after Lesnar turns on HHH, then Cena beats HHH at the Rumble because of Lesnar and Christian wins the Rumble match so we get Cena vs. Christian at WM and HHH vs. Lesnar also. Just my 2 cents, though.
Simple booking 101, tbh. Mysterio was clearly going to go over to get an IC title shot and while Kennedy loses he's going to get a huge ME push towards WM. I expect a stunning performance from Kennedy in the RR, possibly to the last 5 or so, but he's an outside shot of winning it.
HBK and Carlito vs. Finlay and Orton sounds like a pretty big match-up before the RR. Finlay's taking the fall tonight, imo, and Carlito starts his 2007 with a win.
Tomko get's squashed by Umaga. What's new? I expect Umaga to get a performance like Kennedy will at the Rumble by having a good effort but not winning it all after being eliminated by someone flukeishly.
Kennedy...Kennedy making a decent case for himself, but sorry KK, you ain't gonna win it.
at the video package. Well done.
Punk to go over Nitro and next week Helms will go over Mercury so they are placed into the RR. My predictions aren't always right (
) but this one isn't going to be wrong.
HHH gots it right here. Like I said above, Lesnar isn't going to help out HHH and co., even if he's on their team. I'd be surprised if he did, tbh.
I like Voices for Orton, and change is good, so thumbs up on that. I was right on who would win, just wrong person on who would get pinned and such. Continuing the HBK/Orton feud until WM, I see, which sounds like an awesome match. Go for it plz.
Looks like Melina wears the pants in this trio.
Why are Cena and Christian revealing WM's plans so early? It's not even the Royal Rumble yet [
]. Basic interview, more buildup towards the match. Other then that, meh.
Good to see Hall actually get pushed in a thread, although they didn't get a lot of time to work with, I don't enjoy many women's wrestling matches as it is, so thumbs up.
Yeah, Orton/HBK is going to WM now. Doane is going to win the TT and Orton is going to win next week, but HBK is going to eliminate him in the Rumble to further the feud, imo. The Rumble doesn't need to be filled up by New Wave people anyways. Two is more then enough.
Finally ME time. If Cena/Christian don't go over, you're dead.
Heck of a match, very entertaining, considering two of the guys can't wrestle a lick. Obviously Cena and Christian were going to go over, and now we have a title match and the winner of the Royal Rumble in the match.
Overall: Very entertaining show to open up 2007, Wolfy. The Rumble is shaping up nicely and a SD review will be edited in soon. 8.5/10
Posting Rules

You may not post new threads

You may not post replies

You may not post attachments

You may not edit your posts

---

HTML code is Off

---