Re: Being The Booker
---
Ummm...MARK OUT! I never did get a chance to review any of your last week because you left in those unfortunate circumstances. Do you mind if we see the Summerslam card?

EDIT: No marks for shock. DDMac, FD, Renegade, kane01 and NatureBoy have all returned with new threads. Damn the BTB awards should be hotting up.

I can still vote for you as best returning BTB of the month (seeing as we have had about 20 million of 'em)
---
Re: Being The Booker
---
Wow. I was hoping you would come back, didnt exactly break "the shitty code" but i predicted it. Good luck on this, not that you need it. Great to see you back.
---

Sig Credit: CHAMPviaDQ
Re: Being The Booker
---
Yeah but Bradlel I think even Wof Beats himself will say thats pointless because he has not posted anything in the form of 'shows' yet.
Anyway Welcome back Wolf Beast. When I read the code I worked out the 29 bit and it's funny because every day since that I have been waiting for tonight. So I log on just now and find you are back with this thread
Anyway I'm looking forward to this. Hopefully I will learn a thing or two about booking and writing in general through this. Best of luck you've got a new folower.
Re: Being The Booker
---
Cool. I only joined this forum in the middle of December, so i'm not familar with you or your thread, all though i have heard about it by reputation. I'm looking forward to reading SummerSlam. Lets hope you live up to all of this hype. hehe. I'm sure you will.
---
Years I've Been a Fan > Years You've Been Alive
Join Date: Jun 2005
Location: Kansas City - At the Argosy, Playing Blackjack with Harley Race
Posts: 808
Points: 0
Re: Being The Booker
---
I broke the code! Well, not every bit of it. But I knew today was the day.

One of the greatest moments in BTB history tbh. Crazy to look back a page ago in the thread, and see where things were. I remember it all very clearly Wolf. You and I tried to battle it together. Now, the long and much needed break is over. And DA WOLF, is back! Can't wait, tbcfh, to read whatever hoopla you throw my way. I saw you "scolding" KOP yesterday, and I know exactly why you were complaining about the WM tagline.

Looking forward to SS, seeing how you handle the baby killer, and all of the future proceedings. All the yougins are already bowing at your feet, and they know fuck-all about you. Shows the rep you've earned. The best is back, and god is it about time.

BTW, I'm sure your looking for SS (better be tbh). Fucking WF kicking me off all night last night, and I could not post it. Could not stay logged the fuck in. At work now, but it'll go up when I get off. You'll probaby be dreaming about me by then though. Look for it when you log on tommorrow ... or else.

<3
---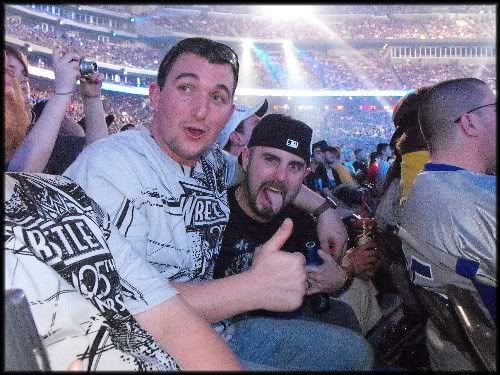 Tested Positive For Thread Performance Enhancers
Join Date: Dec 2007
Location: Nikki Roxxville, USA
Posts: 6,802
Points: 0
Re: Being The Booker
---
I'm not familiar with your work because I only joined recently, but your reputation precedes you. I'm excited to jump in on this once it's up and running again.
---

STILL A Proud Member of Roid Sox Nation

sirdilznik's Random Rhetorical Question Of The Week:
If Hornswoggle turned heel could he hide in Mike Knox's beard?



Quote:

Originally Posted by Frank Zappa

Look here brother, who you jivin' with that cosmik debris?
Re: Being The Booker
---
Quote:
Yeah but Bradlel I think even Wof Beats himself will say thats pointless because he has not posted anything in the form of 'shows' yet.
Joke. Anyway, Wolf Beast, just wondering if you are going to keep New Year's Revolution on your PPV calendar.
---
Tag Teaming With James Ellsworth
Join Date: Mar 2005
Posts: 1,214
Points: 0
Re: Being The Booker
---
Not too much of a suprise as i kind of broke the code about a week ago and knew today something was happening, and i hoped that something was this thread returning.

But still it is fucking awesome to see that the best thread imo has come back, seeing as though i didn't believe that this thread was going to come back.

Anyway look forward to you start posting shows again, and look forward to see how you book things till the next Wrestlemania
Re: Being The Booker
---
It's not a shocker because um, I knew it was coming back ages ago
. <3
Honestly, I am glad your back, but you and I both know the time struggles you could very well have, and with how injury prone your ass is, who knows when you'll be stuck in the hospital for another month
. In all honesty, I am glad you're back, but I'm not going to mark out and think this is going to be the best thing ever again, because I'm too real with you. You're old, and you have nothing left
<3
---
When An Empire Falls - The Tale of World Championship Wrestling
Szumi's back, but not in black - back in BTB! And yeah, I know, he's doing WCW again - so unoriginal.
My Awards:
2008 - Best PPV - Starrcade
2008, 2007, & 2006 - Best Promo Writer
2007 & 2006 - Best Promo(s)
2007 - Most Creative
2007 - Best Feedbacker
2006 & 2007 BTB World Cup - Top Overall Scorer
2007 BTB World Cup - Booker of the Tournament
Only Person to Ever Score Perfect Score in a Tournament
BTB Hall of Famer
World Championship Wrestling 2001 - The Trio Ownership
This was The Trio Ownership; I did it a long time ago, for a long time. T'was a good ready, I think. People liked it and stuff.
Re: Being The Booker
---
Welcome back, Wolfy
I didn't spend too much time trying to break the code {logic isn't my suit}, but I knew you were planning on coming back so all is well in the BTB-'verse. I can actually remember pretty much everything that was going on in your thread when you left it, so I'll be reading thoe recaps. Garrison Gade over HBK plz
Anyway, great to have you back, mate
Posting Rules

You may not post new threads

You may not post replies

You may not post attachments

You may not edit your posts

---

HTML code is Off

---