Chopped Liver
Join Date: Jan 2004
Location: Six inches from a computer screen
Posts: 5,433
Points: 321
Re: Being The Booker
---
Smackdown;
June 8th; Tulsa:


The show kicks off with the leader of The Cabinet, J.B.L. Layfield enters in his white stretch limo, along with his fellow Cabinet members Noble, and The Basham Brothers, looking smug - more so than usual - following his victory for SD at COTC, and steps into the ring. Immediately, Layfield overhypes his victory inside War Games from Sunday, before assuming this will mean he is now the next challenger for Chris Benoits WWE Championship.
However, in firm disagreement is Chris Jericho. The Highlight of the Night enters the fray, and initially applauds JBL for picking up the scraps at COTC, but reminds his partner that it was a team effort, and when it comes to singles accomplishments JBL - and everyone else - pales in comparison to Y2J.
Immediately after hearing this, Triple H makes himself heard, entering the stage, and blowing off Layfields argument, before telling Jericho that his own accomplishments matched against Jerichos, makes Y2J accomplishments seem like failures. They are then set to get into one, when JBL butts in, sparking a three man argument over the rightful title shot, when Heymans music hits, and the General Manager enters the arena to perhaps sort out the confusing situation.
Heyman cuts right to the chase, and makes it clear he is delighted with the performance of every Smackdown superstar at COTC, before saying the next challenger to the WWE Title will be decided tonight in a special 5 way contest, featuring JBL, Triple H, Chris Jericho, Batista and The Rock, with the title shot NEXT WEEK!!! JBL looks disgusted, believing he has done enough to warrant his title shot, whilst Jericho and Triple H seem content with the match tonight.
The action kicks off after a commercial break, with a SNME rematch, seeing Kid Kash once again defend the Cruiserweight Championship against Juventud Guerrera, after the poor officiating last time. This time, The Mexicools make their presence felt, not accompanying Juvi early on, but arriving on the scene towards the end of the contest, with Kash in control. Seeing Super Crazy and Psichosis though puts Kash off his game, and after knocking the two men off the apron, Kash walks into the path of Juvi, who looks for the Juvi Driver, but the champion fights out of it, and eventually gets the challenger up for the Dead Level, only for Crazy to pull Kash's leg, tripping him, allowing Juvi to cover, whilst the two Mexicools hold the champions legs, keeping him down, 1...2...3!!! NEW CHAMPION!!! The Mexicools scarper immediately following the win, knowing they've stolen it big time, whilst Kash is incensed in the ring with the decision.
Backstage, JBL tries to make his point to Heyman, as to why he should already have a title shot, but the GM blatantly ignores Layfield, strolling on, into his office, slamming the door in JBLs face, much to the chagrin of the New Yorker.
A promo plays, hyping the return to ring action of Matt Hardy - NEXT WEEK!!!
We then see the reaction of Charlie Haas, watching on a monitor backstage, and shakes his head, muttering "I'll finish you off for good this time".
The WWE Champion, fresh off his win at the COTC, teams up with Paul London to take on The Basham Brothers. Danny and Doug give it a good shot, but the faces are far too good for them, and Chris Benoit makes Doug tap to the Sharpshooter to give him and The Golden Boy the victory in impressive fashion.
A Video Package is played, hyping a new tag team coming to Smackdown - The Highlanders. This promo is basically more of an introduction to Rory and Robbie, and that they are embarking on a journey to Smackdown.
Backstage, Chris Benoit congratulates Paul London on his recent performances, and tells London to keep shooting for the stars because he knows better than anyone if you continue to believe in yourself, you can achieve anything in this business. We then hear a cough in the background. Both men turn their attention to the man - TRIPLE H. The Game looks London up and down, before matter of factly telling him he hasn't got what it takes, no matter how much belief he has in himself. Benoit then steps in, and tells HHH that Paul London is just as good as anyone on the roster … and has proved twice he is better than The Game. Triple H looks furious about the comment, and comments that the two losers ought to stick together, and tell each other they're really better than what they really are.
Charlie Haas defends the United States Champion, facing the challenge of the ever impressive rookie, Brent Albright. Albright puts up a stern challenge giving Haas a difficult title defence, showing he is a match for anybody, but makes a critical error, looking for his armbar, but Haas manages to fight it, and in the process catches Brent in his Haas of Pain submission!!! The U.S Champion cranks the pressure, and eventually forces the valiant challenger to tap out. Haas retains the title, and makes a point of glaring into the camera, holding the title up, pointing at the name plate, sending a message to Matt Hardy who returns next week from his knee injury at the hands of Haas.
Josh Mathews conducts an interview backstage with the 2006 King of the Ring runner up, Batista. Mathews asks The Animal about tonights main event, with Batista talking about his opponents, saying Jericho, Triple H and The Rock have all had multiple title reigns and title shots, and JBL hasn't earned a damn thing. He then states that now is the beginning of his turn, and tonight marks the beginning of his turn at the top of the pile.
Kurt Angle and Rob Van Dam are set to compete, but just as they lock up, the General Managers music hits, and Paul Heyman enters the stage, grabbing the attention of both men. Heyman tells them the match is off, and that right now, Angle is excused. The Olympian begrudgingly leaves the ring, as Heyman remains at the top of the ramp, ready to make an announcement. The GM then informs RVD that his failure to co-exist with Sabu at the COTC on Sunday has given Heyman no choice with his next decision, and has decided to punish BOTH Van Dam and Sabu … WITH INDEFINATE SUSPENSIONS!!! RVD is furious in the ring, as Heyman re-iterates that both men dug their own grave, and have no one to blame but themselves.
After a commercial, we see RVD leaving the arena, refusing to talk to Steve Romero, too incensed by his suspension.
Backstage, we see the preparation of Chris Jericho ahead of tonights main event.

The Spirit Squad (Nicky and Mitch) defend their WWE Tag Team Championships against the former champions - Americas Most Wanted. As before when these two teams have met, AMW dominate proceedings, but the numbers game proves to be the deciding factor, as Kenny, Mikey and Johnny get involved, and in the end, Mitch nails Harris with a title belt, settling the contest, scoring the 1...2...3!!! The Spirit Squad get lucky again, and somehow manage to hold onto the titles, as the numbers game stops AMW from getting the belts back.

Backstage, The Mexicools celebrate their big win earlier tonight, with Juvi winning the CW title. The trio then meet up with Chavo, and attempts to get Guerrero to celebrate with them, trying to tell him they are the side to take, but Guerrero declines the offer to celebrate with them, telling the group that he doesn't feel the celebration is warranted. Chavo walks off, leaving the Mexicools angry with his response, as their patience looks to be wearing thin, with Chavo seemingly not budging to their favour.

Josh Mathews conducts a pre-match interview with The Rock backstage, with The Peoples Champion basically giving a by the numbers Rock promo, eventually getting to the point that his title shot in long overdue, but he earns it, tonight.

The 5 Way #1 Contender main event ends the show, with Triple H, JBL, Chris Jericho, The Rock and Batista vying for the title shot next week. After a long tense match up, full of near falls and close calls, Triple H tries to get Batista to be his muscle, and help him get the win, but Batista makes it clear he isn't in it for HHH, but in it for himself now. The Game tries to roll Batista up by surprise, but The Animal kicks out at two, and looks set to unload on The Game, only for Chris Jericho to dropkick him sending Batista out of the ring. The Game then turns around … INTO A CLOTHESLINE FROM HELL!!! JBL looks to the skies, mouthing 'thank you' expecting to have it in the bag … BUT THE ROCK SENDS JBL OUT OF THE RING, INTO JERICHO AND BATISTA!!! The Rock hooks the leg of Triple H, stealing the pin from JBL, 1...2...3!!!
The Rock gets one over on JBL, stealing his certain win, and in turn earns himself the chance to meet Chris Benoit next week for the WWE Championship!!! The Rock celebrates his win in the ring to close the show, as JBL storms up the ramp, yelling 'this is an outrage', furious about how he had his victory stolen from under his nose tonight.


END OF SHOW
Re: Being The Booker
---
Smackdown Thoughts

Typical JBL to start here, praising himself and saying he is the best and should face the champion. Nice to see Jericho come out and say he is better. Triple H comes out to do they same, and at this point, I was expecting a Triple Threat Match between the three. Heyman comes out to settle it, and makes a 5-Way, adding Batista & The Rock into the mix. It should be interesting to see who the challenger for Benoit next week will be.

Now we have a SNME rematch as Kid Kash takes on Juventud Guerrera. The Mexicools get involved as anyone would expect, and cost Kid Kash the Title. It's nice to see a new Cruiserweight Champion in Juvi.

Typical backstage stuff here, JBL tries to make a point but gets ignored. Nice to see that Matt Hardy will be returning to the ring next week after Charlie Haas injured his knee. I can't wait to see what will happen next in this Hardy/Haas feud.

Now we have a tag team match as Chris Benoit teams up with Paul London to take on The Basham Brothers. Benoit & London would make one hell of a duo. So London & Benoit win, as most would expect, as Doug Basham taps to the Sharpshooter.

Nice to see that The Highlanders are coming to your BTB and coming to Smackdown. Benoit congratulates London, only to be interrupted by Triple H. I wonder how far you will have London go in this BTB, as I was impressed by his Judgment Day win. Triple H acts like he would in this situation, putting down London & Benoit. It is clear The Game's main focus is Benoit's WWE Title.

So now we have the second title defense of the night, as Haas defends his US Title against Brent Albright. Haas won as I expected, because I think he will continue his US Title feud with Matt Hardy next week. Would have been a decent TV match. Haas locks in his deadly submission maneuver and it's over. I can't wait to see what will happen once Matt Hardy returns.

It would be nice to see Batista get a title run, but I have a feeling he won't. The main event should be great, and I look forward to it.

Now we would've had Kurt Angle take on Rob Van Dam, in what would be an excellent match. So Paul Heyman comes out and says the match is off. Damn. I can't believe RVD & Sabu would get suspended because they didn't get along! Well, when their suspensions are over, it should be a nice feud between Van Dam & Sabu.

RVD says nothing, and Chris Jericho gets ready for the main event, which should be great.

Now we have the third title defense of the evening, as The Spirit Squad defends their titles against AMW. Nothing new here, as AMW dominates the match, but the Spirit Squad take advantage of the numbers game and defeat AMW to retain their WWE Tag Team Titles.

The Mexicools are celebrating and Chavo doesn't want to celebrate with them. Maybe a Chavo/Juvi feud? The Rock says what he normally would before a big match, and the main event is next!

Would've been an exciting match to watch. Nice finish here, with Batista getting dropkicked out of the ring, but I don't understand how Jericho got out there, but I guess maybe he slid under the ring to keep fighting with Batista. Triple H turns around into a Clothesline From Hell! The Rock tosses JBL out of the ring and pins Triple H for a great victory. JBL of course would be extremely upset if he was about to win and got his victory stolen. Great way to end Smackdown. I have a feeling that JBL will interfere in the Rock/Benoit match next week, and we will see a three-way feud for the title.

Overall this was a pretty good show Wolfy. The storylines for the feuds are shaping up nicely, and I really enjoyed reading this. I can't wait for your next show, and I will give this Smackdown an 8/10. Good job.
Tag Teaming With James Ellsworth
Join Date: Apr 2005
Posts: 1,710
Points: 0
Re: Being The Booker
---
Smackdown; Review-June 8th; Tulsa:

JBL, Jericho, and Hunter all state their points here in the opening segment as to who should be facing Chris Benoit next for the WWE Championship! Heyman's annoucnement of a 5-way match to determine the Number 1 Contender and the WWE Championship match for next week was great. Seems to be as if the Mexicools will now be feuding with Kid Kash, since Juvi is the new Cruiserweight Champion. Hardy is coming back next week is great, but it looks like Hass is determined on ending the career of Hardy. Not surprised that Benoit and London got the win, as anything else wouldn't make sense. Glad to see that the Highlanders are coming to this thread. While I think they are a decent team, having them on Smackdown is the better choice. Seems like the feud between Hunter and Paul London isn't over yet, and will be continuing which is good. As for the US Title match, not surprised to see Hass retain the title. I can see the Hass/Hardy feud continuing into July or possibly even until Summerslam. Batista is looking to finally become the WWE Champion, however I don't think his time is now. Based on the storyline, I'm not surprised that Van Dam and Sabu are both suspended indefinately. However I have a feeling that this might be the start of a huge angle in this thread. The Spirit Squad retains their titles as their feud with AMW. As you put it, this was a typical Rock promo. Man, I'm shocked. I thought JBL was going to win this match, surprised to see The Rock win this one. However it makes sense, as JBL shouldn't be pushed too quickly.

All in all a great show, even though it was in recapped form. I believe Unforgiven is the next PPV in this thread, and I believe it's a Raw branded event. Looking forward to Raw.
---
[U]KOM has returned to BTB with WWE 2007: The Legacy and Aftermath of WrestleMania!
[U]
Re: Being The Booker
---
The SmackDown! ending was tops Wolf. A huge 5 man match made at the start of the show and it culminated in a surprising win for The Rock, who gets one back on JBL and now has a title shot! You can bet however that JBL won't let that go anytime soon.

Matt Hardy coming back next week should be good I expect him and Haas to finish their feud at the upcoming SD! PPV, and I can also see London and Trips with another confrontation, as it seems The Game can't resist getting in London's face despite losing to the kid twice now lol.

The CW title has changed hands, and Chavo still refusing to side with the Mexicools, might see him become a victim more than a friend of the Mexicools soon if Chavo continues to stay on the fence in the feud between the Cruiserweights and Mexicools.

I don't like the Spirit Squad, and I hope that they lose their titles soon. AMW & Dudleyz have been jobbing out to them alot recently and I hope that soon someone beats the SS for the belts.

Another solid recap all round Wolf.
---
***

Re: Being The Booker
---
Smackdown Recap Comments- ORRY

Nice segment to open the show with. It makes sense realistically to have a number of men try to assure themselves a World Title shot, what with Benoit seemingly feudless at the moment, after finishing his program with Christian on Raw. The announcement for the 5 man Number 1 Contenders Match was great, and it should be very interesting to see who walks away as the victor.

As I predicted last week, Juventud Guerra is succesful in his quest to become Cruiserweight Champ, knocking off Kash who hasn't really played a huge role in recent weeks. Matt Hardy returning next week is great news; hopefully you push him to the level he was at before, and great him another oppurtunity as US Champion. I like the concept of Benoit and London teaming up, and this week the combination proves succesful as they knock of the Basham's. Triple H's interaction between the two men backstage was gold, which leads me to believe this thing between the Game and the Golden Boy is far from over.

I like the fact you are attempting to rebuild the Tag Division, but surely there must be some better options than the Highlanders? Charlie Hass defeats Brent Albreight in what would have been an awesome match, and has plenty of momentum heading into his unavoidable confrontation with Matt Hardy next week. Batista is all talk heading into quite possibly the biggest match of his career tonight, but we all know he isn't walking away as the winner.

RVD and Sabu being suspended indefinately is an unexpected move; hopefully this feud continues to be built over the weeks/months these two are out. Spirit Squad going over AMW only further establishes them as being a credible tandem, as poor Storm and Harris suffer another big defeat. The tension between Chavo and the Mexicools continues to be built, and it will be interesting to see where it all goes.

Finally, main event time and no suprise that the match seemed to be off the charts here, but in a shocking turn of events, The Rock manages to win the contest, and books himself a World Title Match against Benoit next week, which should be amazing. Obviously JBL is going to get himself involved, but in any case I am looking forward to it.

Overall, a great recapped show man, keep up the good work, and I'm looking forard to Raw.
---
Booking Credentials
# Captain of Team Oceania- 2007 BTB World Cup
# Breakout Star of 2006
# Third in WF's Favourite Booker Award 2006
# 5th in the First Annual BTB Promo Tourmament
# Best New Booker x1
# Best New BTB x1
# Most Improved Match Writer x1
# Best Used Wrestler x1
# Biggest Shock of the Month x2
Chopped Liver
Join Date: Jan 2004
Location: Six inches from a computer screen
Posts: 5,433
Points: 321
Re: Being The Booker
---
Heat Results:


Alexis Laree defeated Molly Holly
Val Venis defeated Gene Snitsky
The Brotherhood defeated Two local jobbers
Rhyno defeated Simon Dean
---
Velocity Results:
The Dudley Boys defeated The Mexicools
Chavo Guerrero defeated Jamie Noble
Chris Masters defeated Hardcore Holly in a Masterlock Challenge
William Regal defeated Maven
-----------
WWE.COM Announcements:
Raw General Manager, Eric Bischoff has exclusively revealed to wwe.com that at Unforgiven, Brock Lesnar will take on Rey Mysterio, as per request of Lesnar, following his shock loss in tag team action this past week on Raw to the diminutive Mysterio. Will lightning strike twice at Unforgiven??
And, in addition to that, Eric Bischoff has also upped the ante in the already signed match between The Heart Break Kid, Shawn Michaels and 'HB-Cade', Garrison Cade, as it will no longer be contested under normal rules, but First Blood rules!!! How will Shawn Michaels and Garrison Cade react to that news??
-----------
Raw Preview:
With Unforgiven just two weeks away, the tension will be sure to pick up on Raw this Monday from Greenville.
Eric Bischoff has been busy match making this weekend in preparations for this weeks show, looking to add to the announcement last week on Raw, that Mister Money in the Bank, Edge, will face the 2006 King of the Ring, Mister Kennedy.
And that he has, with some huge contests lined up to follow that mammoth match up. The womens championship will be defended, following Alexis Larees victory over Molly on Heat, she now gets a second bite at the cherry, facing Jillian Hall for the belt. Will the exciting newcomer to the Womens division upstage the self proclaimed most beautiful champion ever??
Meanwhile, with a title being defended, a #1 Contender will also be decided, in a triple threat match, with Rhyno, Nick Dinsmore and Finlay battling it out to face the Intercontinental Champion, Shelton Benjamin at Unforgiven in two weeks time. None of these superstars have ever held the prestigious title, but one will have a golden opportunity on June 25th.
Shelton Benjamin himself will also be in action, as his recent run ins with The Brotherhood will come to a head. He teams with Carlito this Monday to take on Orlando Jordan and Rodney Mack, after The Brotherhood helped Shelton last week to defeat Carlito. Will Benjamin finally send The Brotherhood the message he has been trying to give them in recent weeks??
And, in what promises to be a huge main event, six Unforgiven opponents will have a chance to scout, and indeed get their hands on their upcoming opponents in a big 6 man tag main event. Shawn Michaels, Rey Mysterio and the World Champion Christian will team on one side to take on their three opponents at Unforgiven, in Garrison Cade, Brock Lesnar, and last weeks appointed #1 Contender, Randy Orton. Expect fireworks in this one.
Finally, what can we expect from John Cena, following last weeks earth shattering announcement that he will officiate the World Title contest at Unforgiven. Will we hear from Cena?? Or will we see how he feels with his actions, as shown last week at the close of Raw, where Cena delivered an almight FU to Randy Orton. Just what could Cena be thinking seven days on from the humiliating announcement??
Re: Being The Booker
---
HEAT & Velocity would've been good enough to watch over any current ECW show lol.

Lesnar vs Mysterio for Unforgiven should be a good match, and a First Blood Rules match now between HBK & Cade will make for a brutal one to watch

RAW is gonna be massive, I hope Rhyno gets the chance to face Shelton but my heart knows that it'll be Finlay, as Rhyno's pre-WM push is all but over for now. The main event match will be awesome, and I expect some powerful words from John Cena who's gotta be extremely pissed off after last week.
---
***

Chopped Liver
Join Date: Jan 2004
Location: Six inches from a computer screen
Posts: 5,433
Points: 321
Re: Being The Booker
---
Raw:
June 12th; Greenville, South Carolina: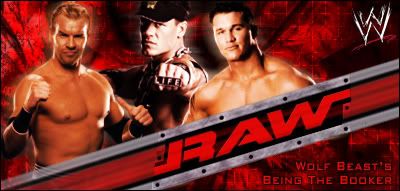 Video Package recapping last weeks #1 Contender announcement, with Randy Orton selected to face Christian at Unforgiven, with John Cena placed as special guest referee.

Opening Video

Pyro

Jim Ross:
The Bi-Lo centre is packed to the rafters in anticipation for another raucous Monday evening on the USA Network. Raw is on the air!!!

The Coach: Expect fireworks tonight J.R, this is gonna be a night like no other!!!

Jim Ross:
You're right Coach. With less than two weeks until Unforgiven, tensions are running high, tempers could be set to boil over, especially in the case of John Cena!!!
The Coach:
Who?? Is that that referee?? HA HA HA!!!
Jim Ross:
We'll be sure to hear from the former World Champion later tonight - that's right folks, he's a former world champion, NOT an official, but there is the brilliance of Eric Bischoff for you. Tonight, out main event, six man tag team action, an Unforgiven preview if you will, as Rey Mysterio, Shawn Michaels and the World Champion Christian, face Brock Lesnar, Garrison Cade and Randy Orton.
The Coach:
That could get ugly J.R. Maybe Cena should referee that one to make sure it doesn't get out of hand!!!
Jim Ross:
You're loving every God damn minute of this, arent you??
The Coach:
Absolutely. I'm happy for Cena. Finally he has a role he can be comfortable in!!! It's his niche!!!
**DING, DING, DING**
Attentions go to the ring, as Lillian Garcia stands, waiting to make an announcement.
Lillian Garcia:
The following contest is a triple threat match, with the winner facing Shelton Benjamin for the Intercontinental Championship at Unforgiven.
**MY NAME IS FINLAY, AND I LOVE TO FIGHT**
The Irishman, Finlay enters, with his solid stone face, ahead of a big title opportunity.
Jim Ross:
What a way to kick off Raw this week Coach. Three men will have an opportunity to move on towards Unforgiven and face Shelton Benjamin for the ever prestigious Intercontinental Championship!!!
1st Match: Triple Threat, Intercontinental Championship #1 Contenders Match:
Finlay vs. Rhyno vs. Nick Dinsmore
Fast paced opening match to Raw, with all three hungry for success. Dinsmore, fresh off getting Kane kicked off Raw shows plenty of promise in the early going, whilst Finlay and Rhyno go at it knock down, drag out style. With none of the men involved every having the Intercontinental Title, all three show extra fire than usual, with fierce near falls throughout the contest, and no love lost between anyone.
The finish comes just as Finlay nails the Celtic Cross on Dinsmore, and looks to finish the match off with a cover, when Rhyno charges him down connecting with the devastating GORE!!! Rhyno then looks to make the cover himself, but by this time, Ric Flair is at ringside, arguing with the referee, trying to save Dinsmores chances, as we see Rhyno with a cover, wondering where the count is. He gets up, and spots Flair, making a beeline to The Nature Boy, who goads Rhyno to chase him out of the ring!!! Rhyno seemingly loses the plot, and goes after Flair, whilst Dinsmore tries to crawl onto Finlay … WHEN WE SEE A LEPRECHAUN appear from under the ring, and picks up Finlays shillelagh, swinging, and CONNECTING WITH DINSMORE!!!!! The Prodigy topples back down, and Finlay manages to drape an arm over him, as the referee finally turns his attention back to the ring, giving up on Rhynos pursuit of Flair, making the count, 1...2...3!!!
Winner: #1 Contender for the Intercontinental Championship - Finlay @ 09:13
Finlay steals it!!! Meanwhile, J.R and Coach seem to be at a loss of words for the appearance of the leprechaun, helping Finlay to his win, as The Irishman has his hand raised in the air by the referee, and he now goes on to meet Benjamin in less than two weeks at Unforgiven. The camera focuses at the apron, trying to catch another glimpse of the Leprechaun, but all there is, is a bright green light shining.
Jim Ross:
Di- Did we really just see that?? A little troll like man just won this match for Finlay!!!
The Coach:
I'm glad you saw it too J.R, I just thought I was hallucinating.
Jim Ross:
By Gawd, I don't think I've EVER saw anything like it before Coach, a leprechaun??
The Coach:
And hey, lets not forget, Finlay is now challenging Shelton Benjamin for the Intercontinental Championship at Unforgiven!!!
Jim Ross:
And that's a big achievement for Finlay … but a troll??
Commercial
We return with a short video package, highlighting last weeks altercation between Mister Money in the Bank, Edge, and the 2006 King of the Ring, Mr. Kennedy.
Now, backstage, Todd Grisham is standing by with Edge…
Todd Grisham:
Edge, last week, y-
Edge:
Yeah, that's right, last week. Last week, Mister God Damn Kennedy made a grave mistake. He crossed my path, and thought he could get away with it. I don't think so. In just a moment though, you can be rest assured Todd, this months flash in the pan is about to suffer the consequences of punchin above his weight, and he's about to learn just where he stands in the pecking order of Raw, and that's with the rest of 'em … Below me. Bank on it Todd … Bank on it.
Back to ringside…
**KENNEDY** The 2006 King of the Ring enters the arena, to a positive response from the Carolina fans.
As Mr. Kennedy makes his way down the ramp, HE IS JUMPED FROM BEHIND BY EDGE!!!!! The Rated 'R' Superstar attacks the KOTR winner with a shot to the back of the head with the heavy briefcase. Edge kicks Kennedy down the ramp after the shocking blow to the unaware Kennedy.
Edge continues to deliver vicious kicks to the face of his opponent at the bottom of the ramp, before pulling him up, whipping Kennedy right into the steel steps, with such velocity, Kennedy plows through the steps!!! Edge, now with a deranged grin on his face walks around the steps, grabbing Kennedy, and whips him into the ringpost!!!
Kennedy slumps onto the floor, with Edge stalking around him. Edge waits, rubbing his briefcase as Kennedy tries to reach his feet, pulling on the apron to do so. As soon as Mr. King of the Ring reaches his feet … EDGE SMASHES THE BRIEFCASE RIGHT BETWEEN THE EYES!!! Kennedy goes down, as Edge stands over him, quickly then deciding to roll his opponent into the ring, following himself, before yelling at the referee to ring the bell, which the referee does, albeit begrudgingly…
2nd Match:
Mr. Kennedy vs. Edge
Edge immediately has the leg hooked, and the referee has no choice but the make the count, 1...2...3!!!
Winner: Edge @ 00:05
Thanks to a sickening attack, Edge defeats Mister Kennedy almost in record time. We see the King of the Ring, bloodied from the briefcase shot, as Edge gets to his feet, laughing hysterically at his own handy work. Edge demands the referee hold his arm in the air, whilst making sure Lillian Garcia clearly announces his victory.
Mister Money in the Bank then leaves the ring, as Kennedy slowly begins to move, having just been savagely assaulted, as we watch Edge back up the ramp, delighted with his actions, whilst we go into a commercial.
**NOTE - THIS SHOW WAS WRITTEN PRIOR TO THE MAY EDITION OF RAW WHERE THIS EXACT SAME SCENARIO TOOK PLACE**
Commercial
We return from the commercial, and see the arrival of a gleaming Randy Orton, the #1 Contender.
Back to ringside…
Jim Ross:
Well folks, there he is, The Legend Killer is here in Greenville. The man who will challenge Christian at Unforgiven, and boy does he look happy.
The Coach:
And why shouldn't he be?? Randy Orton is two weeks away from climbing back to the top of the mountain as World Heavyweight Champion, and it'll be John Cena awarding him the title. Story book ending if you ask me.
Jim Ross:
That's something I find really hard to picture right now Coach. How John Cena would even contemplate counting Christians shoulders down for three to award his arch enemy, Randy Orton the World Title that Orton cost Cena just doesn't add up in my head. But, during our commercial break over on wwe.com, it was revealed by Eric Bischoff on Unlimited that at Unforgiven, mark this one down now too - Mister Money in the Bank faces Mister King of the Ring, June 25th, Edge faces Mister Kennedy after the atrocious sneak attack from Edge moments ago.
The Coach:
Unforgiven is shaping up to be ANOTHER Pay Per View of the year candidate J.R, damn straight!!
**HAVE A NICE DAY**
To everybody's shock, MICK FOLEY is on Raw!!! The former WWE Champion, and former General Manager of Raw steps out into the arena, to a enormous pop, from the appreciative fans.
Jim Ross:
Well would you believe it!!! It appears like we have a very special guest on Raw folks!!! The Hardcore Legend himself, Mick Foley, is in the building!!!
The Coach:
I wish he had've made an appointment. This isn't the type of surprise that the Coach digs.
Foley, dressed as always with a flannel shirt, and a WWE T-Shirt, rolls into the ring, and puts his arm up getting a positive response for just even a small gesture like that. Lillian Garcia hands Foley a mic and the music dies down.
Mick looks around the arena, as the fans begin to chant his name. Foley nods in approval, as the fans chants die down, allowing the legend to speak.
Mick Foley:
Ugh, my back hurts, left knee feels a little out of place, my ear wont grow back, and the flight over was bumpy as hell … but despite that, it's great to be back, right here, IN GREENVILLE SOUTH CAROLINA!!!
Cheap pop from the fans, as Foley winks, and gives a thumbs up.
Mick Foley:
And it's great to be back in the WWE, in this ring, on this microphone, in front of all the WWE fans!!!
Another cheap pop.
Mick Foley:
It's been a while, and damn, I've missed every single minute of it since WrestleMania!!!
Pop again.
Mick Foley:
I've been watching Raw … and Smackdown for that matter, over the last few months, but I had a little free time this week, so I thought, what the hell, so I got to thinking … why don't I hop on a plane and go to Greenville for Raw this Monday!!!
Pop again.
Mick Foley:
So, I'm here tonight. NOT as Cactus Jack … not as Mankind … not even as Dude Love … but just plain old Mick Foley.
Fans pop, and start up another 'Foley' chant.
Mick Foley:
Thank you. … I'm here tonight … not to start any fights, or to ask for my old job back, not even to promote a book. I'm here tonight, simply … as one of you … a fan.
Small cheer once more.
Mick Foley:
So as you can see, right there in the front row … that's my seat for the evening, and boy, am I gonna enjoy myself!!! Have a nice day!!
**HAVE A NICE DAY** plays again, as Foley steps out of the ring, hopping over the barricade, taking his seat in the front row, with a lot of the audience bemused about his involvement here tonight, with it being completely random, with no reasoning whatsoever.
Jim Ross:
As ever, the jolly Mick Foley full of happiness it seems, here to wish the fans the best, and tonight, The Hardcore Legend is a FAN!!
The Coach:
How interesting.
**I SPIT IN THE FACE OF PEOPLE WHO DON'T WANT TO BE COOL**
Carlito now enters the arena for the upcoming tag team contest.
Jim Ross:
In just a few moments, Carlito will team up with the Intercontinental Champion, Shelton Benjamin to face Orlando Jordan and Rodney Mack of The Brotherhood. This situation is continuing to escalate in recent weeks, with Theodore Longs group not taking no for an answer from Benjamin!! What goes down tonight though?? Find out, when we come back.
Commercial
3rd Match:
Carlito & Shelton Benjamin vs. The Brotherhood w/Theodore Long, Mark Henry, Jazz
Average match up, joined in progress, as the ongoing situation between Benjamin and The Brotherhood continues, now with Carlito thrown into the mix, after he was screwed last week in his match against Benjamin, as the Brotherhood continued their attempts to win over the I.C Champion. As always, we get the absolutely astounding abilities of Shelton Benjamin to wow the fans, with Carlito chipping in too with his own eye popping offence.
Throughout the match, Long, Henry and Jazz get involved - but ONLY when it's Carlito, and make a point of taking on Benjamin fairly. This eventually leads to the heels getting the upper hand, and focusing on Carlito for a short period of the match, trying to make sure Shelton cant get back into the match.
CCC tries to fend off the heels, but the outside interference is the key to The Brotherhood staying on top, until Benjamin has seen enough, and bursts around ringside, nailing the Dragon Whip to Henry, sending the Worlds Strongest Man over the barrier, whilst Theodore Long and Jazz back away, begging off from Shelton, whilst Carlito scores with an enziguri on Jordan in the ring!!! Benjamin gets back to his corner, and makes the tag from CCC, whilst Mack tags in from OJ. Benjamin plows through the heels with his athletic offence, and Carlito takes out any outside interference attempts with a baseball slide to Long, knocking him into Jazz, whilst Henry is too slow recovering over the barricade to make any difference, leaving Benjamin to deliver the T-Bone Exploder to Mack, and covers, 1...2...3!!!
Winners: Shelton Benjamin & Carlito & 07:23
The Intercontinental Champion is victorious over the group still looking to secure his services. Shelton and Carlito share a handshake, coming together for this victory, whilst The Brotherhood are left to lick their wounds, with OJ pulling Mack out of the ring, whilst the rest of the group skulk off, unhappy with tonights result.
We now go backstage, and see Todd Grisham standing by…
Todd Grisham:
Ladies and Gentlemen, it is with great pleasure that I introduce my guest at this time … Booker T!!!
Booker T steps into the picture, to a generous reception, after six weeks missing from Raw.
Todd Grisham:
Booker T, you've been missing from Raw since the beginning of last month, when your long term tag team partner, Goldust, was released by Eric Bischoff. So, what have you been doing in your time off??
Booker T:
First off Todd, I wanna give a shout to my dawg Goldy. Sup man. As for where I've bin?? I bin searchin'. Searchin' the country, east coast to west coast, lookin' for talent, lookin' for the next generation sucka. Aint no secret I'm gettin' older dawg, aint no secret I aint got too much more in this tank, so I'm lookin' to give back now. I wanna groom the next generation, and bring 'em under my wing. An' after all my searchin', I've found just the kid. This kid has all the tools dawg, the grit, the determination and the desire like I did … when I became a five time … five time … five time … five time … FIVE TIME … WCW Champion, sucka. 'nd I wanna pass on as much of my knowledge of this business onto this kid … the future … I give to you … Elijah Burke.
We see a young black man enter the picture, smiling almost excitedly, and bumps knuckles with Booker T.
Elijah Burke:
It'll be my honour to learn from you Booker, and get to display my talents, every Monday night on Raw!!! I thank you from the bottom of my heart Booker to give me this chance, and you wont regret it. Get ready for the Elijah Experience!!!
Booker nods and smiles, before exchanging a weird handshake thing with his new protégé, before grabbing the mic.
Booker T:
NOW CAN YOU DIG DAT!!!!????
Booker T and Elijah Burke:
SUCKAAAAA!!!!
The duo walk off, leaving Grisham nodding in the background.
*ANY TEAM NAME SUGGESTIONS ARE WELCOME*
Commercial
Smackdown Rebound
Backstage, we see Shelton Benjamin talking with Carlito.
Shelton Benjamin:
Hey man thanks again for the help out there tonight. Teddy Long wont take no for a damn answer.
Carlito:
Das cool. But, uh, after last week, with The Brotherhood costing me the Intercontinental Title, it might be a good idea to grant me a rematch.
Shelton Benjamin:
Absolutely, that's the least you deserve. In fact, I'll go to see Eric Bisch-
Benjamin stops, as Finlay enters the picture.
Finlay:
I wouldn't bather Shelton.
Carlito looks at Finlay with disgust.
Carlito:
And what the hell do you want??
Finlay smiles, and puts his hands up innocently.
Finlay:
Relax. I'm just giving Shelton here a bit of advice. Don't bather going to see Bischoff. You need to start focusing on Unforgiven big man, because you have to contend with me now. So Carlito, don't you be worrying your little head about an Intercontinental Title shot right now … I'll be more than happy to give you a shot once I win the belt at Unforgiven.
Finlay pats Carlito on the back, and sports a fake grin, before glancing at Benjamin, pointing at the champion, and walks off.
Carlito:
I hate that guy.
Shelton Benjamin:
Yeah … so do I.
Carlito and Benjamin start to chatter over something, as the camera fades out, heading into the main entrance of the building, and we see an angry looking John Cena enter the building.
Jim Ross:
And there he is Ladies and Gentlemen. John Cena is here in Greenville.
The Coach:
This is ludicrous. I've never seen a referee get so much attention before!! How does Mike Chioda or Jack Doan feel about this??
Jim Ross:
Gimme a break Coach. You know as well as I do, John Cena isn't a damn official. He's paid to wrestle!!! But at U-
**MY TIME IS NOW**
John Cenas music hits to an incredible reception from the fans.
Jim Ross:
And it doesn't seem like the former World Champion is wasting any time!!! That familiar music is blasting through the arena, and we are now awaiting John Cena to burst through that curtain. What does Cena have to say?? Find out, when we return!!!
Commercial
We return, moments away from the beginning of the second hour, with John Cena waiting to speak, as his music dies down, and the fans chant his name.
John Cena:
I aint gonna lie Greenville … I've had better weeks.
Boos from the fans, not happy that Cena is unhappy.
John Cena:
Since last Monday night, I aint been happy … not at all.
Cena takes a look around, before speaking again.
John Cena:
But- I think we all finally realised something from last Monday nights broadcast … Eric Bischoff … is a moron.
Pop for the insult at Bischoff.
John Cena:
Sometimes people wonder why WCW ran into the ground. Now, I'm no expert … but my guess would be decisions like the one last week to have a wrestler referee, might just be one of the many, MANY reasons.
A small 'CENA' chant starts, which slowly builds into a big chant, with Cena nodding along.
John Cena:
At least I can say though … I am the WWE's most popular referee!!!
Small pop, with Cena being slightly sarcastic.
John Cena:
Three things though really piss me off about this. The first is the fact that I'm employed to wrestle here on Raw … and that's what I do best.
Pop for Cena.
John Cena:
So to be told that on Pay Per View, instead of fighting for the World Championship, I'll be officiating it, really, REALLY pisses me off.
Cena grits his teeth, before moving on.
John Cena:
And secondly, - now I know I'm not every single persons favourite guy … but there is a BIIIIIIG Chain Gang in my corner, and all those fans of mine sure as hell don't wanna see me running around in a black and white striped shirt, counting to three.
Heat from the fans, in support of Cena.
John Cena:
But most of all, the biggest issue coming from this to piss me off, more than having to be a referee, more than letting the Chain Gang down … is that Eric Bischoff screwed me over.
Heat for Bischoff.
John Cena:
Bischoff told me, directly to my face, eye to eye, that IF Randy Orton and I could co-exist, we'd BOTH be in line for a title shot. The fact we got the job done, and the fact Orton stole the win FROM me doesn't matter now though, because somehow, Randy Orton gets the title shot.
Heat for Orton.
John Cena:
So Eric, so be it. You've made this decision, NOW you'll have to live with it. No promise of a title shot is gonna stop me from being me this time Eric, but I just don't believe you an-
**BURN IN MY LIGHT**
The Bi-Lo Centre fills with jeers and heat for the #1 Contender, Randy Orton, who steps out into the arena, dressed for action later on, wearing his latest 'Career Killer in the Making' T-Shirt.
In the ring, John Cena looks ready to snap, as he watches the cocky, smiling third generation superstar make his way down the ramp. Orton paces around the ring for a moment, thinking about the consequences of getting into the ring right now, as he takes a mic, and finally gathers the guts to get inside.
Cena stays still surprisingly as his nemesis enters the ring, and tries to keep his distance, as the music dies down.
Randy Orton:
John, I- I- can only imagine how angry you are feeling right now. I tried to reason with Eric last week, to change the match to a triple threat at Unforgiven, honestly, I tried … but Bischoff wouldn't allow it.
'Bullshit' chants begin to reverberate around the arena, much to the dismay of the Legend Killer.
Randy Orton:
Shut up!!
Heat for Orton, who looks disgruntled by the response of the fans.
Randy Orton:
I mean John, you've earned a title shot just as much as I have … well, almost as much as I have, but still, you deserve a shot at being World Champion.
'Asshole' chants now begin to stir, as Orton grows impatient. The Legend Killer shakes his head in anger, then waits for the noise to die down, before getting back to his point.
Randy Orton:
John, I know you and I have had problems in the past, but what'dya say … lets start off afresh.
Heat from the fans, as Orton looks around, angry with the reaction, whilst Cena refuses to change his expression, staring a hole through Cena.
Randy Orton:
Lets put it all behind us John. Let bygones be bygones.
Orton extends his hand, with the fans voicing their anger still.
Meanwhile, Cena just stares at Ortons hand. Slowly, Orton realises the pretence wont wash with Cena, and pulls his hand away.
Randy Orton:
Okay. Okay, it's a little early for a handshake. I understand that, you need time to think about it. Well John, heres something else to ponder, and I'll state this clearly … you scratch my back at Unforgiven … and I'll scratch yours directly after.
More heat for Orton, as he tries to bribe Cena into helping him.
Randy Orton:
If you deliver me the World Championship John, you have my word … you'll get the first title shot.
Mixed response this time, although it leans more on heat, as Orton tries to meddle his way to becoming champion. Cena still shows no emotion, with Orton sensing the atmosphere not dying down.
Randy Orton:
Hear me out. I know right now, you're messed up. And the last thing on your mind would be doing me a favour. But think about it. You can kill two birds with one stone. Not only do you get to settle the score with me once and for all, you get to do it for the World Championship. It's a win - win situation.
Cenas jaw locks, getting overly anxious with Cena in the ring.
Randy Orton:
Think about it John. You know it's the best solution. Just think it over.
Orton drops the mic, and exit's the ring, as John Cena walks towards the ropes, watching his rival walk up the ramp, as we then see Mr. Armando Estrada enters the arena, talking over a mic.
Armando Estrada:
TUDOS!!! EXCUSSSEMAY … everybody listen … HA HA … to me.
The fans give a small amount of heat to this mysterious character, as Randy Orton passes him, leaving the stage, wondering what Estrada is up to.
Armando Estrada:
Ah … John Cena … I have an offer for joo, which ima expecting joo to like.
Estrada walks up the steps, and stands at the ropes, with that big goofy grin.
Armando Estrada:
This offer … eet is … commes ee say … life changing ha ha. But first, let me introduce myself …
Armando gets inside the ring…
Armando Estrada:
Myyyy name es ARRRRMANDO ALEJANDRRRRROOO ESSSSST-
CENA SCOOPS ESTRADA UP AND DELIVERS THE FU!!!! The fans go nuts as Cenas temper finally boils over, and the former champion snaps!!! Estrada sprawls onto the canvas, unable to even make his offer, before Cena nailed him with the FU!!!
The guest referee set for the Unforgiven main event throws the 'wordlife' signal, before leaving the ring, as the fans continue to cheer, whilst the show goes into another commercial break.
Commercial
We return with highlights from before the break, where Orton made an offer to Cena, before Armando Estrada attempted to speak with Cena, eventually feeling the wrath of Cena, getting nailed with the FU.
Jim Ross:
John Cena is not your average referee folks, and on June 25th, Christian and Randy Orton will find that out first hand, just like Mister Estrada moments ago in the ring.
The Coach:
Anarchy J.R. That's what we have coming at Unforgiven, with that lunatic as the referee!!
Jim Ross:
But what about the gall of Randy Orton?? After all the suffering he has caused Cena in recent months to attempt to bury the hatchet. It's only to benefit himself folks. Randy Orton is desperate for that World Title, and he'd be willing to sell his own father for it!!
The Coach:
And that's the type of hunger that impresses me J.R. Randy Orton will do anything to ensure he becomes World Champion!!!
Jim Ross:
But will John Cena sell himself out for that World title shot, and a shot at Orton??
4th Match:
CM Punk vs. The Hurricane
Excellent short contest, coming together after their showdown backstage on last weeks show. Both men play by the rules, making it hard for the fans to boo either man. Strangely, it's not a squash win as many would expect after Hurricane has played literally a jobbers role in the last year, but a tight match up, which Punk eventually wins, catching Hurricane after he attempts a cross body, hoisting him up, before delivering the Punk Card (Go To Sleep), for the elementary three count.
Winner: CM Punk @ 05:41
Punk remains undefeated since his debut, and chalks up another victory for himself, and for the second week running, does it with the Punk Card. Punk drags Hurricane up, after he has his hand raised, with Hurricane backing into the corner to stay on his feet. Punk grabs Hurricanes arm, and pulls him in close, shaking his hand, but mouths to him "You're better than this Greg. You're much better". Punk lets go, and walks off, as Hurricane falls into the ropes, using them to hold himself up, still feeling the effects of the Punk Card moments ago.
The camera cuts to ringside again, and we see Mick Foley, nodding on, impressed with the action he's seeing, as fans try and get in on the picture too, before we fade off backstage…
Backstage, we see John Cena standing talking to a random worker, looking anxious, and uptight still, when we see Christian with Tyson Tomko approaching in the background…
Christian:
Yo, Cena.
Cena turns around, and rolls his eyes as he sees the World Champion.
Christian:
You got a minute??
Cena nods, as the random guy pats Cenas back, telling him he'll catch him later.
John Cena:
What you want??
Christian:
Just a minute of your time. I heard all that crap earlier that Orton was feeding you. About calling it in his favour, and promising you the first title shot, bu-
Cena butts in, and sighs.
John Cena:
Lemme guess?? You're offering me a title shot right after Unforgiven if I help you win??
Christian looks oddly at Cena, almost insulted by the claim.
Christian:
No. Not at all. To be honest John, I don't need anyone to help me beat Orton. So I'm not offering you a damn thing. I'm just asking you to do the right thing, and call it as you see it. Don't get taken in by Ortons false promises John, don't buy it. You know it, I know it, Tomko knows it.
Tyson Tomko:
Yeeeep.
Both Christian and Cena turn to Tomko, then shake their heads and turn away.
Christian:
We all know he's feeding you B.S because you're messed up right now. But I'm trying to reason with ya Cena. Don't … Buy it.
Cena ponders for a moment, before taking a look at the title, and looks at Christian again.
John Cena:
I'll have to think about it. But just so you, Orton … and um, Tomko know … anything I do, is my decision … mine.
Cena walks away, whilst Christian and Tomko look to each other, as we take a commercial.
Commercial
5th Match: Womens Championship Match:
Jillian Hall vs. Alexis Laree
Laree earned the title shot with a victory on Heat last night against Victoria. The two talented wrestlers put on an above average womens contest, with Hall trying to use as many cheap tactics as she can to hold onto the title, but Laree appears to be in inspired form tonight, able to out manoeuvre the champion at every corner, which infuriates Hall throughout the match, with Jillian unable to wear the challenger down for any sustained amount of time.
Laree almost makes a fatal mistake though, going for a dropkick, only to be squatted away by Jillian, who tries to quickly follow up with an STO, but Laree blocks it, and nearly scores a three count with a cradle, which sends Hall over the edge, as she rolls out, and picks up the title belt, looking to get intentionally disqualified, but as she swings, Alexis ducks, then pushes Jillian into the turnbuckle, and rolls her up, taking the champion by surprise, 1...2...3!!!
Winner: AND NEW Womens Champion - Alexis Laree @ 06:06
The fans are in shock with a title change coming tonight, unexpectedly, with Alexis Laree out wrestling Hall to take the title. Alexis is jubilant with her win, becoming the new champion, whilst Hall slowly moves up the ramp, unable to comprehend her defeat tonight. Laree plays to the fans, rubbing her title, whilst Hall looks back, in tears, watching Laree hold the title she held for only a short period of time.
Backstage, we see trainers attending to Kennedy, giving the King of the Ring stitches after the savage beating earlier. Kelly Kelly arrives on the scene, and tries to get a word with Kennedy.
Kelly Kelly:
Umm, Mister Kennedy?? Do you have a moment??
Mister Kennedy:
Uh?? No offence sweetheart, but this isn't exactly the best of times for an interview … I'm a little busy here.
Kelly Kelly:
Oh … okay … I'll make it quick then.
Kennedy takes a look at the trainer, and shakes his head in annoyance, twirling his finger by his temple and tilting his head at Kelly.
Kelly Kelly:
Earlier tonight, Edge attacked you from behind, and then went on to beat you in less than ten seconds. Now though, Mister Bischoff has signed a rematch for Unforgiven. How do you feel about what Edge did earlier, and what are your thoughts on Unforgiven??
Kennedy sighs, and motions to the trainer to give him a minute, as he turns to answer the question.
Mister Kennedy:
Kelly, tonight, Edge thinks he got the best of me. I'll admit that … I should've been ready for a sneak attack like that. I'll applaud him for that. But now … now Edge cant pull the same trick twice. He's got two weeks to think up a strategy to hold me back, because a sneak attack wont wash twice. As far as I'm concerned Kelly … Unforgiven cant come soon enough, because until tonight … I just didn't like Edge …
(points to the cut on his forehead)
… now?? Now it's personal. And Edge is gonna find out you don't want to have an personal issue with Mister Kennedy.
Kelly nods, and looks to walk away, but Kennedy pulls her back, and grabs the mic.
Mister Kennedy:
(Through gritted teeth)
Kennedy.
Commercial
We return, looking at a graphic for Unforgiven, as J.R and Coach begin to run down the card, as 'Victim' by 18 Visions plays in the background.
Jim Ross:
We're just thirteen days away folks, Raw back on Pay Per View, with Unforgiven, June 25th from Denver Colorado. And the show is hotting up big time Coach.
The Coach:
Once again Raw delivers on Pay Per View J.R. Bouncing back from the night that was Clash of the Champions!!!
Jim Ross:
It'll be the 2006 King of the Ring, Mister Kennedy, going one on one with Mister Money in the Bank, Edge!!!
The Coach:
It'll be a massive test for Kennedy, facing the World Champion in waiting. Can Kennedy show the world he is worthy of following the likes of Steve Austin and Triple H as King of the Ring.
Jim Ross:
Immediately after Raw last week, it was revealed on wwe.com, that Brock Lesnar will meet Rey Mysterio in less than two weeks, after Mysterio upset the Iron Man last week on Raw.
The Coach:
That one could get ugly for Mysterio J.R. Brock Lesnar is one bad, bad man.
Jim Ross:
Earlier tonight, we found out that Shelton Benjamin will defend the Intercontinental Championship against the rugged Irishman, Finlay. Will the athletic ability of Benjamin be enough to hold back the challenge of the veteran??
The Coach:
Benjamin better get his focus set clearly on Finlay, and quickly, or he is in grave danger of losing that sparkling title belt from around his waist!!!
Jim Ross:
Who can forget, the World Heavyweight Championship will be on the line, with Christian taking on Randy Orton. But throw in the wild card of the former champion, John Cena, and we may have to get set for some fireworks.
The Coach:
Will Cena call it down the line?? Or will he accept the offer of Randy Orton, and book himself a title shot, and screw Christian out of the gold??
Jim Ross:
And, over the weekend we found out that Shawn Michaels will face Garrison Cade in a First Blood match!!! Last week, Cade accepted the challenge of HBK, but this past weekend, the stakes were raised!!!
The Coach:
It's time for Garrison Cade to stand up and be counted for J.R. At Unforgiven he needs to prove he has surpassed The Showstopper, and he's gonna make Michaels bleed, sweat and pay the price of underestimating HB-Cade!!!
Jim Ross:
Well right now, Marc Lloyd is standing by with The Heart Break Kid, Shawn Michaels to get his thoughts on that first blood match at Unforgiven …
Backstage…
Marc Lloyd:
Indeed, I am joined by the Heart Break Kid himself, Shawn Michaels.
HBK pops into the picture, looking more jovial than he has in recent weeks.
Marc Lloyd:
Shawn, in two weeks time, you meet Garrison Cade, your former protégé, in a First Blood match. Right now, what is your frame of mind??
Shawn Michaels:
That's a good question Marko. Right now, The Heart Break Kid is feeling good, I'm feelin positive. Shawn Michaels is at ease right now … but in less than two weeks time, The Heart Break Kid aint gonna be at ease, because I'm gonna be thick in the conflict, IN THE HEAT OF BATTLE, BEATING THE SNOT out of a guy I brought to the dance, a guy I helped along on this rocky road known as the wrasslin business.
And it'll be all for a just cause Marky Mark. Because NOBODY crosses Shawn Michaels and gets away with it scott free, willy or indeed nilly. After everything I taught you, after everything I GAVE you, after everything I sacrificed for YOU, you turned your back … not me. After treating you … like BLOOD, like one of my own family, you turned you back … and that's somethin' you don't do to HBK.
Garrison Cade, kid, you're gonna learn the hard way, you're gonna learn the BLOODY way … you're gonna learn what the consequences are when a BOY enters a MANS WORLD!!! In less than two weeks Garrison 'HB' Cade you will step into the ring, not with some other wet behind the ears punk, but for the first time you will step face to face with a REAL man, not just a man, but you will face The Showstopper … The Headliner … The Icon … The Main Event, and you're gonna taste your own blood.
Michaels storms off, having worked himself up into a frenzy, as we go back to the arena for the main event.
**BURN IN MY LIGHT**
Randy Ortons music hits, as the entrances begin for the main event.
Jim Ross:
The #1 contender for the World Heavyweight Championship is on his way out here, for our massive, huge, main event, six man tag team action, when we return…
Commercial
We return with a shot of Mick Foley again, giving a thumbs up in the crowd, as we see Rey Mysterio in the middle of his entrance, whilst Randy Orton, Brock Lesnar and Garrison Cade (joined by Ric Flair), stand in the ring, with Mysterio not taking the chance of getting inside.
**H-B-K** Shawn Michaels enters the arena to a massive response from the thousands in attendance, looking pumped up for tonights main event. Shawn shows no fear of his opponents, and storms into the ring, with the heels deciding to take a walk, as Michaels lets off his pyro, with Rey now joining him in the ring.
**JUST CLOSE YOUR EYES** The Bi-Lo Centre is on it's feet, as the World Champion, accompanied by Tyson Tomko enters the arena, to just as big a response as HBK moments ago. Captain Charisma pounds his chest, and points to the fans, as he makes his way down the ramp, but in the ring, Lesnar, Orton and Cade attack Michaels and Mysterio!!!
The three on two odds don't last for long, with Christian running to the ring, coming to the aide of his partners, as the six men pair off, with their Unforgiven opponents, starting this main event with a wild brawl!!! HBK and Cade take it to the outside, whilst Christian backs Orton into a corner, and Rey dodges The Iron Man. Eventually, the four men spill to the outside, and all six brawl on the outside of the ring, until Michaels and Orton get into the ring, starting the match officially.
Main Event: 6 Man Tag Match:
Randy Orton, Brock Lesnar & Garrison Cade w/Ric Fair vs. Shawn Michaels, Rey Mysterio & Christian w/Tyson Tomko
Long main event, and all six men are given time to get themselves ring time, whilst for the most part Tomko keeps Flair on his toes, stopping him from getting involved in favour of the heels. There are plenty of tags early on, but there is a moment where the action breaks down, as Michaels hits Sweet Chin Music OUT OF NOWHERE on Cade, and looks to make the cover, but Lesnar bounds into the ring, clobbering HBK down, sparking a brawl, leading into the commercial as the referee tries to restore order…
We return from the final commercial, with the heels now in control, from the commercial, as Lesnar caught Michaels from the top rope with a devastating Belly to Belly suplex!!! Now, it's Cade in control of HBK, and the heel trio begin to make a plethora of tags between one another, keeping Shawn from making a tag. After a prolonged beat down, and near falls, with the faces having to break a couple of covers, Cade now begins to line up Michaels for his own version of Sweet Chin Music, but HBK ducks it, and begins a big comeback, with a hat trick of inverted atomic drops, followed by a hat trick of clotheslines, then HBK nails Lesnar and Orton, knocking them off the apron, and runs at Cade, but both men have the same idea, AND CLOTHESLINE EACH OTHER!!!
Both men are down, as Lesnar and Orton both get back onto the apron, looking furious from the attack from Michaels, as Cade inches closer for a tag … AND MICHAELS NIPS UP!!! Cade tags in Lesnar, as Michaels tags in Rey Mysterio to a huge pop!!! Rey jumps onto the ropes, diving off with a clothesline, knocking his PPV opponent off his feet, running off the ropes, scoring with a head scissors, sending the Iron Man into the ropes, and Mysterio wastes no times, immediately NAILING THE 619!!! Mysterio leaps to the top, looking to Drop the Dime … BUT FLAIR SHAKES THE ROPES!!!
Immediately, the faces pour into the ring, and another wild brawl ensues!!! Christian and Orton spill to the outside, whilst Michaels hit's a cross body, taking himself and Cade to the outside. In the ring, Mysterio and Lesnar pull themselves to their feet, but Flair tries to take advantage of the referees distraction … BUT TOMKO CUTS HIM OFF!!! Flair falls over, just with The Problem Solver standing in his way!!! Flair pulls himself back from the ropes, and rips off his jacket, ready to blow his fuse at the massive figure of Tomko, but as he comes at him, Flair decides best of it, and backs off, getting out of the ring instead!!! Tomko is then set to get out of the ring, but he turns around and sees Lesnar getting Mysterio into position for the F5 … AND TOMKO BOOTS LESNAR!!! Brock drops Rey, and Mysterio rolls Lesnar up … GRABBING THE TIGHTS … AND HOLDING THE ROPES!!!! The referee makes the count, finally taking notice of the action in the ring, 1...2...3!!!
Winners: Rey Mysterio, Christian & Shawn Michaels @ 15:39
Mysterio embarrasses Lesnar AGAIN!!! We see Cade and Flair getting away from Michaels, with HBK in pursuit up the ramp, whilst Christian and Orton brawl with each other up the side of the ramp, disappearing from sight, whilst Tomko follows in the background.
In the ring, Mysterio has his hand raised, but Lesnar attacks from behind!!! Brock drags Rey up, onto his shoulders, immediately delivering the F5!!! That isn't enough for Brock though, and The Iron Man drags the lifeless Mysterio back up … AND DELIVERS ANOTHER F5!!!
Still, Lesnar hasn't finished the beating, and drags Rey up, once more, throwing the cruiserweight right over the ropes, and onto the floor below. Lesnar follows out, and runs Mysterio, back first, into the ring post. Brock hoists Mysterio onto his shoulders again, and now delivers the F5, ramming Mysterio into the ring post again!!!
Now, Lesnar leaves Rey, as the masked luchadore rolls around, clutching his knee from the last F5, as officials rush to attend to the injured superstar, whilst Brock backs up the ramp, still grim faced, furious he was beaten again by Mysterio for the second straight week, but gets the last word this time.
END OF SHOW
----------
Current Card for WWE Unforgiven
Date:
25th June 2006
Location:
Pepsi Centre, Denver, Colorado
Event Music:
18 Visions, Victim
World Heavyweight Championship:
Christian vs. Randy Orton
With Special Guest Referee: John Cena
WWE Intercontinental Championship Match:
Shelton Benjamin vs. Finlay
First Blood Match:
Shawn Michaels vs. Garrison Cade
David vs. Goliath:
Rey Mysterio vs. Brock Lesnar
Mr. Money In The Bank vs. Mr. King Of The Ring:
Edge vs. Mr. Kennedy
Chopped Liver
Join Date: Jan 2004
Location: Six inches from a computer screen
Posts: 5,433
Points: 321
Re: Being The Booker
---
Right now, I dont know what to say, so excuse me if these following paragraphs arent written as fluidly as they should be.

Yesterday, I learned that one of my idols had died. My all time favourite wrestler, was gone. At twenty years of age, maybe I shouldnt feel so attached to people I dont know, but having grown up throughout all my teenage years watching Chris Benoit, it'd be hard not to. Especially when I held him in such high regard, and such a pedastal.

Call me ignorant, but I dont think I'll ever accept the stories that are making the rounds at the moment. I just cant.

Up until this moment, booking was the last thing on my mind. It still is, but I'll address the issue I'm facing. Right now, I want to stay away from all things wrestling, that includes booking. I'm just having a hard time to understand what has happened to let it sink in. The way I feel right now, I might not even book again. My dwindling interest in wrestling is now all but gone. And even if I do, I'm left with the obvious issue of the late Chris Benoit. As easy as it is to say this now, Benoit was set to be a vital, pivital part of the Smackdown brand right through to WrestleMania. Should I discontinue Benoit, and cut him off short, or let him run his course?? Who cares right now?? These are issues I'll deal with if and when I have to. For now, I just want to get away from all things wrestling.

R.I.P The Benoit Family.
Re: Being The Booker
---
Wolf Beast, I feel the same way that you do.

I still can't get it through my head that Benoit died and that he did all of the things to his family that the reports are saying. Now, I know that my BTB just started, so it was much easier for me to write Benoit out of mine. I know that your situation is much more personal.

If you never want to book again, I totally understand. While I check constantly for your next show to be up, and I love to read every show that you put out, I realize that you are still a person like everyone else who can't just continue to write shows when something like this happens. I respect your decision, whether you decide to stop writing, or if you continue to write with or without Benoit. If you never book another show, I want to say that this thread is the best part of the forum, IMO. I have been following for over a year, and I love to read this thread. Good luck getting through this tough time.

PatMan10234
---
AS LONG AS IT MAY TAKE ... NOT REMOVING UNTIL
THE CHICAGO CUBS WIN THE WORLD SERIES
PatMan Presents: World Wrestling Entertainment 2007
ROYAL RUMBLE HAS BEEN POSTED
THREAD CURRENTLY ON HIATUS (
)
Posting Rules

You may not post new threads

You may not post replies

You may not post attachments

You may not edit your posts

---

HTML code is Off

---