Re: Being The Booker
---
Clash of the Champions Review

Heat: Obvious that Hurricane wasn't going to break the Masterlock and good to see Finlay pick up another impressive win over Holly.

Opening: Very good opening video that really showed how the feud has been between Bischoff and Heyman, RAW and Smackdown. Good to see Tazz and JR at the announce table and they will obviously be pulling for their brand.

HBK vs. Angle: Amazing match between these two but what else can you expect?? Reversals galore and some shocking kick outs. HBK winning tells me that you will have a final encounter between the two but I could be wrong. Angle losing has made him look weak since Mania and I'm interested to see what you do with him after this match. Again, great match.

Backstage: Looks to be that RAW is not sticking together before War Games. Edge and Lesnar hate each other and Kane is gone so things don't look good. Estrada handing out cards tells me that you may not be bringing in Umaga?? Could be wrong but I figured he would have debuted by now.

Spirit Squad vs. AFA: OK match but figured that it would have been longer but you do have some matches that could take up time later in the show. SS winning is no surprise as the AFA is on the way out. MNM watching backstage only adds to their feud with the AFA.

Heyman Backstage: Heyman wants to gather his troops for War Games, which is expected. Shaking hands with Benoit is good and that tells me that you may finally make Heyman a full-blown face.

Shelton vs. Haas: Very good match between two future stars but I didn't like the ending. I don't like the Brotherhood wanting Shelton and I also felt Haas could have won with the Haas of Pain. Guess this doesn't make Shelton look weak but it also doesn't make Haas look strong.

Bischoff w/ Horsemen: Dinsmore to replace Kane!! Wow, didn't see that coming. I think Kane will come out and compete anyway, after destroying Nick of course.

KOTR Final: Very good match and extremely happy to see KENNEDY WIN!!! He will do great things in your thread and you won't screw him up. I see him getting in some big feuds now and I can't wait to see the start of RAW!! On another note, glad to see Batista in the final as this makes him look good.

Heyman w/ Alfonso: Heyman threatening Alfonso and Sabu is good and I think Sabu will do the right thing tonight.

JBL Interview: Weird to see that JBL is in a different state of mind tonight. Just goes to show what the War Games structure does to people's heads.

Cena/Orton vs. RVD/Sabu: Great match and good to see you make it work with these teams. Great ending with Orton RKO'ing Cena just to get the pinfall. Interested to see where both feuds go after tonight.

Coach in the Ring: Coach running his mouth was no surprise but Tazz choking him out sure was!! Great stuff that only adds to the RAW vs. Smackdown feud.

Benoit vs. Christian: Great match between two men that have been huge in this thread. Great ending with Benoit getting the roll up as it doesn't make Christian look weak. Great to see the handshake as it makes both men look classy.

Backstage: Finally, the moment of truth is here…who will win WAR GAMES??

WAR GAMES: Sad to see Carlito go so early but he put up a good fight and is the least likely RAW star to survive. Jericho gets pinned by Mysterio!! JBL eliminates Edge and we are now down to 4 on 3, advantage Smackdown. I knew Kane would come back but sorry to see him leave by walk out. Lesnar eliminates The Rock and Paul London to get this to Rey and Lesnar vs. HHH and JBL. Triple H pedigrees Lesnar so it's now 2 on 1. Wow Rey pins Triple H!! Shocking!! JBL pins Rey and Smackdown wins !! This was a shock as I thought Triple H would screw SD for sure but I guess I was wrong. Not nearly as good as the first War Games but this was a good match nonetheless.

Overall: 9.7/10, this was one of the best PPVs that I have read in your thread, I know I say that every time but you just keep getting better and better. I loved all of the matches with the exception of SS vs. AFA. Very interested to see where this thread goes following this history making night. Will JBL be in the main event?? Will Benjamin be a part of the Brotherhood?? Will Cena and Orton face off again?? So many questions still to be answered.
---
AS LONG AS IT MAY TAKE ... NOT REMOVING UNTIL
THE CHICAGO CUBS WIN THE WORLD SERIES
PatMan Presents: World Wrestling Entertainment 2007
ROYAL RUMBLE HAS BEEN POSTED
THREAD CURRENTLY ON HIATUS (
)
---
Last edited by PatMan; 06-14-2007 at

11:44 AM

.
Chopped Liver
Join Date: Jan 2004
Location: Six inches from a computer screen
Posts: 5,433
Points: 321
Re: Being The Booker
---
Thanks for the review Patman. I guess the no return policy is taking full effect now
. Not that I'm complaining, I wouldnt waste my time on someone that wasnt going to have the courtesy to do the same.
-------------
News and Notes:
With Ken Kennedy becoming King of the Ring, it is expected this will be the first step on his road to super stardom. It's unlikely he will be pushed hard immediately, with him still in his rookie year, but some current ideas involve him working with many upper tier talent, as well as current mid card acts over the next six months, with management wary of over exposing the rising star.
Despite some of his recent comments directed at Chris Benoit in the run up to their clash last night, Christian will remain a face. The company has huge plans involving Captain Charisma, all of which see him in the role of face. The handshake at the end of last nights contest solidified his place as a face in the eyes of creative, hoping the fans would take note of that action too.
Many insiders saw the ending of last nights show as a big shock. The majority of rumours indicated that Raw would prevail for the first time in this COTC event, but a decision was made with the ever increasing Smackdown lack of depth of superstars that the Smackdown brand would benefit more from a victory of what many percieve as the 'A' show.
And, with JBL being the final survivor, in the War Games match, it looks likely that he will be the next challenger to Chris Benoit, with that program likely to headline the Smackdown brand over the summer. As of now, it is unclear whether JBL will be the man to take the belt from Benoit, or when indeed, Benoit will drop the title.
Booker T will be back on the road, starting this weekend after taking a month off to shake off some fatigue. With Goldust now released, many expect Booker T to find a new tag team partner, but few names have been brought forward as yet.
A strong rumour as of now is that the Randy Orton - John Cena feud will finally culminate at Summer Slam, with a possible Loser Leaves Raw stipulation.
Speaking of leaving Raw, the continued rumours of either Kurt Angle or Triple H trading to Raw wont go away. Both men have been pulling for a return to the Monday Night crew, and a potential long term feud with Christian. With the upcoming birth of Stephanie McMahon and Triple H's first child, which has yet to be made public on WWE television or in any WWE publications, it's unknown if The Game will be looking to take time off at that point.
It has been confirmed by insiders that The Rock will be off the booking sheets as soon as July 7th, which would be the night when Smackdown changes to Friday Nights, ahead of the switch to the CW in September.
Call ups to the main rosters in the coming weeks and months may well include; The Highlanders, Elijah Burke and Trinity. Umaga's debut could literally come at any time now, as he has been making appearances on House shows in the last few weeks, with Armando Estrada as his manager.
Right now, the rumoured main event for Unforgiven in three weeks is pencilled in as Christian vs Randy Orton vs John Cena, although this could change, with the last Raw PPV having been headlined with a triple threat match.
----------------
Raw Preview:
Just twenty four hours after Raw came up short once again to Smackdown at the Clash of the Champions, the Raw superstars will congregate in Oklahoma to try and put the devastating loss behind them. But what will Eric Bischoffs reaction be?? Well, according to the Raw General Manager speaking exclusively to wwe.com today - "Last night didnt happen, and I'm ordering the Raw locker room to follow that lead. All talk of Clash of the Champions is officially banned".
So, with the GM desperate to forget the losing ordeal, will the Raw locker room all be as quick to move on??
One man that certainly wont be will be the 2006 King of the Ring, Mister Kennedy. Last night, the rising star overcame The Animal, Batista to join the elite band of Kings, and on Raw, the show will open with the coronation of the first King in the WWE in four years.
Two championship matches have also been signed for tonights show; they see Jillian Hall defend her womens championship in a triple threat match against Trish Stratus and Lita. Meanwhile, Carlito will have the chance to finally break his losing streak, as he gets the rematch he never had, facing the Intercontinental Champion, Shelton Benjamin. After losing to Charlie Haas last night, due to The Brotherhood, will Benjamin have anything to say to Theodore Long??
And, a major tag team main event has been put in place too. Brock Lesnar teams up with Finlay, to take on John Cena and Raws final losing member in War Games, Rey Mysterio.
The World Champion, Christian, The Heart Break Kid, Shawn Michaels, The Legend Killer, Randy Orton, Kane, and Edge are all set to be present too as Raw begins to recover from the devastating loss at Clash of the Champions, and regroup on the road to Unforgiven on June 25th.
------------
Raw will be up tomorrow or Monday.
Re: Being The Booker
---
The RAW preview looks good Wolfy, and I'm intrigued to read it. I'm looking forward to seeing who Christian will defend his World title against next.
Re: Being The Booker
---
CLash of the Champions was great!!! Here are a few comments..

Great opening video, I liked how you made tonight have a war atomsphere especially with the FDR sayings..very well done. You kick of the show with great one on one action. Honestly this match was exciting from top to bottom. Shawn Michaels pulls out a well earned victory.

A nice filler match with AFA and the SS. Some great mat work in the Haas-Benjamin match, and I have to say I didn't think Haas would pull this one out. Nice to see Haas getting pushed over Benjamin for a change. I figured Kennedy would win the KOTR, and juding from your news and notes Kennedy will go far. This match was well played out, and I liked how Kennedy earned a clean finish. Cena and Orton had to win this match up and they did. Another exciting one with some weird things going on. Orton stands tall over everyone and I can see him, like Kennedy, going far. I didn't know who would win this next match up, but glad Benoit did. Maybe a turn for Christian as he shakes Benoit's hand after a good match up.

The war games match was very well written. There was a good amount of action between each entry, and eliminations. Nice to see Carlito in there will all those big names, but he had to be the first one to go. Seeing how it would hurt everyone's credibility. JBL is the last man standing, which could possibly mean good things for JBL. I like JBL (sig) and I hope you push him. Wolfy I really enjoyed this PPV, and all of your work. Just to let you know before I started booking I saw this thread and was taking back, just reading your work makes me want to write lol. Again amazing PPV, and I hope you keep up the good work.
Re: Being The Booker
---
Interesting news, will be sad to see The Rock depart for a while, but atleast the new guys coming up include Burke who is gold on the mic and would fit in well with the Brotherhood IMO. Onto COTC...

Terrific way to open the show with HBK/Angle. The match was awesome, I didn't think you'd write it out in full however, so it was even more of a treat than expected. HBK really did take a beating in the middle of the match, but somehow kept kicking out which makes me think this will be Michael's match. Crazy finish with both men countering each other's finishers, and HBK scores a rollup to win! I knew he'd do it, not in typical HBK fashion, but RAW is off to a flying start and a great match to kick off the show!

Definate stinker and had no doubt the SS would win. MNM will take the belts off the AFA very soon. The Brotherhood again! They've unintentionally caused Shelton a loss, Haas with another cheap victory in his new heel status, but Shelton is gonna be well and truly pissed off with Teddy Long and his men

MISTER KENNEDY! KENNEDY! Sorry, had to do it. Great choice to have him win, however I don't know if he can keep his face status with the new "King Kennedy" gimmick, or when he's gonna want to cash in his title shot at whoever that may be. Insanity in the tag team match, and neither team was gonna get along but what shocked me was Orton RKO'ing Cena just to get the pinfall for his team. It's gonna keep the steam in both feuds which I think will both culminate at Summerslam in gimmick matches IMO

Benoit had to win and he did. He's just been an absolute machine since the Rumble and Christian lost no pride losing to a roll up in the process. I was thinking maybe Christian was going heel but after reading your notes, it seems like he'll stay face. Benoit cannot be stopped at the moment

War Games was awesome. Simply awesome. Jericho out first gives SD! the advantage. Carlito was the weak link and he's the first to go as expected. Here comes The Rock! He turns it back to SD!'s favour before Edge bashes everyone with the briefcase. Out come London, then Rey, then JBL and it looks like Dinsmore is gonna fill in for Kane, NO! Kane is here. Holy crap he destroyed both teams just to get after Dinsmore! Lesnar eliminates London & Rock and RAW is levelling things up. JBL is gonna win this I still feel, unless Trips decides to screw him over. Rey eliminates The Game! JBL wins it for SD! I knew it!

Overall, top show even if it was recapped. Would've loved to have seen the War Games in full too, but still HBK/Angle was tops.
---
***

Re: Being The Booker
---
Clash Of The Champions Review
First Wolfie let me say sorry for not returning my promissed review so quickly. Completely forgot. Anyway on with the show (literally
).
Heat
Not really a fan of these matches couting for points but there you go. Obviously The Hurricane isn't going to break the masterlock (P.S Hurricane needs his heel turn). Also surprised you had Finlay on Heat which I found pretty pathetic for a rising superstar. Suppose he needs to make some sort of appearance though so I'll give you the benefit of the doubt.
Opening Video
Big fan of your opening videos and this one ranks up there with the best. Heyman and Bischoff are just meant to be at war with each other
.
Kurt Angle Vs Shawn Michaels
Just had to be the best match of the night
. Very surpised you started with this. Thought this would be 3rd last or something like that but I suppose you would want the fans to get into it quickly and the best way to do that is with a great match. Angle is poor at the moment. Maybe a face turn on the cards? Would certainly stop his losing streak and maybe get him another title.
Just read your notes so I know that Umaga is on his way. Would have been dissappointed if Estrada had to manage someone else even though I am not an Umaga fan. So good move on this bit
.
APA Vs. SS
Oh My God this match was terrible. Not your writing but it was always doomed to be crap. Obvious SS win here as they are the decent tag team in the match. As soon as APA gets beat with the titles on the line your tag division wil improve. MNM sequence proves my point.
Heyman making friends with Benoit. Of Course he wants victory and doesn't give a shit about him
Charlie Haas Vs. Shelton Benjamin
I am a HUGE WGTT fan so I was obviously looking for this to be one of the better matches of the night. Very dissappointed with the ending. Brotherhood are shit. Benjamin will fued with Henry no doubt. They may cost him the title on Raw. Haas picking up the cheap heel win. I suppose you really need to get him over as a great heel so this was the right move. In the end not as good as I thought it might be. In fact to be honest this match was a decent recap match. Really should have been in full and it would have been so much better.
Dinsmore in!!! Nah Kane will show up without a doubt. Probably rip the shit out of Dinsmore then destroy everyone in the cages.
Kennedy vs Batista
Another match which could have been amazing in full. Dissappointed again though (sorry for negativity). Both of these superstars deserved the KOTR push. I love Kennedy but I can't help thinking this was the wrong decision. Batista deserved the push more IMO. Batista to win the rumble. Please don't ruin the Kennedy image like the WWE did with Booker T
.
HMM JBL promisses a Smackdown victory. Think he will get the deciding pin now and get the push he deserves.
Orton and Cena Vs RVD and Sabu
Never any doubt in the result to be honest. Not very surprised that Orton did something like he did. This will be a great fued leading up to SS.
HA HA HA HA HA Coach gets choked out by Tazz. This was mint. Hopefully we can get a gimmick match in (but less screwy than King Vs Tazz at ONS 06).
Christian Vs Benoit
Good match. Bit dissappointed Captain Charisma didn't pick up the win but you had to even up the scores. Match of loads of counters. Very surprised Benoit got the pin victory rather than a submission. This adds an extra dimension to Benoit I think. Hate cheesy face handshakes but I suppose you had to have one here.
Hmm... Will Triple H screw Smackdown? Heyman is determined obviously. Bischoff lost for words
?
War Games
Triple H starting which you eluded to a few weeks ago. Hmm.. Lesnar. Obviously want a good start. Carlito out first. Will he ever catch a break? Think he needs his title back. Brotherhood could screw BenJamin again. 4-2 to Smackdown already not fancying Raw. Hmm HHH meaning to get Jericho to get caught on the ropes? As much as I hate Mysterio good to see him getting Raw back level at 3-3. AHHHHHHHHHHHHH Bloody Hell. Weapons shouldn't be bloody allowed. I suppose Edge has a retardation for bringing it in the first place. Triple H getting the pin. Screwy Finish may still happen but I'm 50/50 about that. Crap Dinsmore!!! WAIT KANE
. LMAO He takes out everyone to get Dinsmore. Mint. BOOOOOOO Kane out via walkout. Oh well at least we get to see him destroy Dinsmore in the future. Lesnar beats the Rock hmm.. is this like The Rock we knew in 2003 and his match with Goldberg? 3-2 to Smackdown. Maybe just maybe? Lesnar is a machine. Even against London this is impressive. 2-2. It could happen
. Ahh Crap. Heel Tactics to get Lesnar out. Not pleased. This next bit was madness. Had to read this 3 times before I understood it properly. Mysterio gets Triple H out
. Maybe Royal Rumble 06 esk in the next fall? BOOO Triple H get out the ring!!! What a screwy move. Obviously not screwing Smackdown anyway. Oh well JBL wins it as I predicted. I would have had him catch mysterio and nail him with a powerbomb but there you go. Good match apart from Raw losing. AGAIN!!!
.
One of your best recap shows without a doubt. My only criticisms were the matches which had huge potential if it was done in full. 95/100. Well Done.
Chopped Liver
Join Date: Jan 2004
Location: Six inches from a computer screen
Posts: 5,433
Points: 321
Re: Being The Booker
---
Raw:
June 5th; Oklahoma: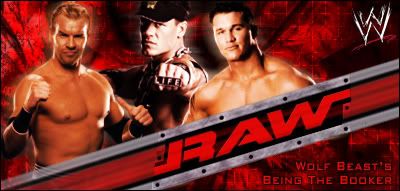 We open up straight into the ring, set up with a red carpet, and a throne, as Lillian Garcia stands by…

Lillian Garcia:
Ladies and Gentlemen, please welcome the 2006 King of the Ring … MISTER KENNEDY!!!

**KENNEDY**

The Ford Centre fills with cheers, as King Kennedy enters the stage. Kennedy soaks up the ovation at the top of the ramp, before making his way down to the ring.

Jim Ross: Twenty four hours ago, on a night that we here at Raw would mostly like to forget, Mister Kennedy, our own, Mister Kennedy was triumphant in the first King of the Ring tournament in four years. Tonight, Kennedy is set to revel in his coronation ceremony.

The Coach: First off, Smackdown got lucky last night. Secondly, lets just move on, and lets look to the future.

Jim Ross: And you certainly are looking at the future of the WWE in the ring right now. Still in his rookie year, Mister- KING Kennedy looks set to follow in the footsteps of past kings, the likes of Steve Austin, Triple H and Kurt Angle, by progressing up the mountain, and reaching the summit.

In the ring, we see Kennedy standing on the middle turnbuckle, waiting for his microphone. He receives it, then drops down, and stands in the middle of the ring, with the spotlight firmly on him in the ring.

Mister Kennedy: Ladiesss aaand Gentlemen-ahh … I give to you, the WWE fans, ME, the NEW KING OF THE RING CHAMPIONAHHHH … MISTERRRRRR KENNEDDYYYY … … … KENNEDY!!!

Pop for the KOTR.

Mister Kennedy: With God above as my witness, I can promise every single person in this arena … in this city … in this state … in this country … in this WHOLE WORLD, that right this moment, you are all bearing witness to the beginning of a new era. You are all witnessing first hand, the birth of a new star, the leader of the next generation. This is step one on my road to greatness … and you can take that to the bank, because whatever I say … I mean it, and I back it up. I don't mince my words, I just tell it like it is.

Slightly mixed response, with some a little unsure how to read the comments from Kennedy.

Mister Kennedy: And right now, I'm telling the entire planet … I will follow in the footsteps of previous kings, such as Bret Hart … such as Stone Cold Steve Austin … like The Game, Triple H … Kurt Angle … Brock Lesnar. This tonight … is just … the beginning. Lead me … KINGGGGG KENNEDYYYY … KENNEDY … to … my … throne.

Kennedy throws the mic away, and makes his way to the chair, where wwe.com Kiss Cam host, Candice Michelle presents Kennedy with his crown and septer, officially crowning the 2006 King of the Ring. Kennedy then makes his way to the turnbuckles, and poses, soaking up his big achievement, when…

**METALINGUS**

To Kennedys and everybodies surprise, Edge interrupts proceedings. The Rated 'R' Superstar makes his way out, carrying his MITB briefcase, storms to the ring, sporting a bandage on his forehead from last nights War Games effort. He steps into the ring, not looking happy, as Kennedy watches on. Edge takes a mic, and waits as the music dies down.

Edge: Very cute kid. I dig the set up. Now run along, the adults have business to attend to.

Edge blows off Kennedy, and looks set to move on with his own speech.

Edge: Last ni-

Mister Kennedy: Wait a second.

The fans pop, as Edge turns around, with Kennedy catching his attention.

Edge: Did you forget something??

Mister Kennedy: You could say that. I forgot to tell you something.

Edge: Let me guess … you forgot to mention my name when you were talking about which former Kings of the Ring you intend to follow in the footsteps of??

Kennedy breaks a smile, and replies.

Mister Kennedy: Not quite.

Kennedy steps up into Edges face.

Mister Kennedy: Quite frankly, you're raining on MY parade, and you aint invited.

Fans pop.

Mister Kennedy: I don't follow orders from anybody … especially not the likes of you.

Edge looks furious, as Kennedy goes on.

Mister Kennedy: So you can take those orders 'kid', and shove them straight up your skinny little ass.

The fans pop again, with Edge going nuts.

Mister Kennedy: Because the 2006 King of THIS Ring isn't movin a God damn muscle.

Edge looks irate, as he finally gets a chance to talk.

Edge: I think it's about time you started to get a grip 'King'. You've got two things going for ya … first off, you beat a bunch of nobodies to win a formerly prestigious honour. Second of all, you've got these morons around your little finger because you can say your name twice.

Heat from the fans.

Edge: But the real truth is … you're still down here. (Moves his hand down to around his knee) I'm all the way up here. (Moves hand to his forehead)

Edge then pats his briefcase.

Edge: And this baby right here, mightn't be quite as spectacular as a plastic crown, but it literally guarantees me the World Heavyweight Championship.

Heat. Kennedy chews on his gum, and points to Edge, nodding a little.

Mister Kennedy: That's right. That's right. And I meant to commend you on the impressive fashion you won that briefcase. But firstly, you got it a little wrong. I'm not all the way down there. You say you're about here (levels hand at Edges forehead). Well, I'm right about … here (Puts his hand way up in the air) Secondly, going back to that briefcase, and me commending you on winning it. Gotta hand it to ya Edge, it takes a real bad ass to hold a kid at ransom.

Fans laugh, as Edge runs his fingers through his hair, unable to handle the comments.

Edge: It doesn't matter how I won this briefcase, it just matters that I have Money in the Bank, and you know it. You all know it. And y'know what, I don't need to be wasting my time with a sideshow freak comedy act like you. I don't need to waste my time, arguing with a grown man wears a childs toy crown. I'm big league news, and I don't need the likes of you bringing me down!!!

Edge slams the mic down, and pushes past Kennedy, looking to leave the ring, but then swings the briefcase, looking to blindside Kennedy, but the KOTR winner senses it coming, and ducks it, before throwing the crown at Edge, right between the eyes, taking Mr. MITB by surprise, who drops his briefcase. Kennedy then knocks down Edge with a big clothesline, and follows up with a second, this time taking Edge over the top rope, and over to the floor below!!!

Kennedy takes control of the ring, as Edge scrambles on the outside, shocked by being out done by Kennedy. The King of the Ring grabs Edge's briefcase, and throws it to the outside at Edge, with the Rated 'R' Superstar having to dodge out of the way to avoid getting hit by the case. Mr. KOTR leans on the ropes, telling Edge to come get some anytime, whilst Mr. MITB backs up the ramp, clearly frustrated with what just went down.

Commercial

We return, from the commercial, with Armando Estrada making his way down the ramp.

Jim Ross: I don't know what this guy wants Coach. We've seen Mister Estrada on numerous occasions over the last month, but we still don't know what the hell this guys agenda is.

The Coach: That much is true, but lets face facts J.R. Nobody has given this gentlemen the time of day!!! Nobody wants to listen to him!!

Jim Ross: Well, you make a good point, but folks, hopefully you'll listen to this, as tonight, Raw is rockin and rollin. Two championship matches are scheduled, and a major main event is set to come later, with The Belfast native Finlay teaming up with The Iron Man, Brock Lesnar, to team up and face Rey Mysterio and John Cena. Major players involved in a major tag team main event tonight.

The Coach: Lots to come tonight J.R, you know it!!!

Jim Ross: And well … we are joined here at ringside by Mister Estrada. How are you sir??

Armando Estrada: Meester Ross, Meester Coach, it's my ahhh … PLEASURE to join ju, I sit??

The Coach: Absolutely, take a seat sir.

Estrada sits down and offers a cigar to both J.R and Coach, with J.R politely declining, and Coach taking one, then coughing as he smokes it.

1st Match: Womens Championship; Triple Threat Match:
Jillian Hall vs. Lita vs. Trish Stratus
Decent enough match up to kick off the action, with three capable female workers going at it, with the added spice of the recent feud between Trish and Lita. The early stages is mainly Trish and Lita beating the hell out of one another, with Jillian happy to take a backseat for the time being. The duo on commentary spend more time talking to Estrada, asking him what he's doing on Raw, with Estrada not giving much away. Lita and Trish fight back into the ring, with Hall finally getting involved, and tries to help Lita, but once Trish is done, Lita throws Jillian out of the ring, wanting her enemy to herself.
This fires up the champion, and Hall gets back into the ring, taking it to Lita, angered by the stab in the back. Jillian scores a near fall with a snap suplex, before Lita rolls out, leaving Trish and Hall to go at it momentarily, and both nearly takes the other by surprise, both getting inside cradles on the other for the two count. Hall whips Stratus into the corner, and looks for a corner splash, but Trish moves, and looks for a Chick Kick, but Jillian ducks under, and looks for a clothesline herself after that, but Trish does her matrix move, with Hall nailing Lita instead, knocking her back out of the ring.
This leaves Trish and Hall again, with both scoring near falls again, as Trish nails the Stratusphere for a two count, whilst Jillian catches Trish with a sidewalk slam for her own two count. The balance of power shifts though to Trish again, and she sets up Hall for a Stratusfaction, but as she looks to propel off the ropes, Lita, from the outside, grabs the champions legs, tripping her, and stopping Trish from hitting her signature move. Lita gets back inside, and knocks down Trish, before dropkicking the champion. Lita goes for Trish again, and makes the most of her opportunity to get the best of Trish, nailing the Twist of Fate!!! Lita now looks for the Moonsault from the top rope, but as she flies through the air, Jillian drags Trish out of the way, with Lita hitting the canvas!!! Hall rolls Trish out of the ring, and capitalizes on Litas weakened condition, hitting the STO, getting the cover, 1...2...3!!!
Winner: And Still Womens Champion - Jillian Hall @ 05:49

Hall retains the belt, sneaking in through the back door, taking advantage of the escalating situation between Trish and Lita. Jillian takes the belt, but demands a mic too. Her music dies down, allowing the champion to speak.

Jillian Hall: Once again, Jillian Hall, THE most beautiful, attractive, SEXIEST womens champion of all time, and the most glamorous female on the planet has shown she is not just looks, this bitch can back it up!!!

Heat for Hall, with no one buying into her 'beauty', or her claims of dominance.

Jillian Hall: Guys, make an orderly line outside the arena later, and if you are lucky enough, you might just get the chance to buy me dinner. And girls, don't be jealous, just accept by beauty, and live with it. You all know it, I am vicious … but oh soo delicious!!!

Hall rubs herself up and down the ropes, to an indifferent reaction, as we see Trish come back inside, cleaning Hall out as she turns around with the Chick Kick. Trish stands over Hall, yelling that she hasn't forgotten about her yet … when Lita attacks Trish from behind!!! Lita stands over Stratus, but Trish grabs Litas leg, and trips her down, looking to get a piece, but Lita scrambles free, and exits out of the ring, quickly escaping up the ramp, with Trish in pursuit, looking to settle her score with Lita.

Backstage, we see the arrival of Randy Orton, who is met by Todd Grisham…

Todd Grisham: Randy?? If I could have a moment of your time please??

Orton stops, and throws his hands out, as if to say, go ahead. Orton looks cocky as ever tonight, with the over bearing grin on his face.

Todd Grisham: Well last night, at the Clash of the Champions, you were victorious with John Cena, in what some would call an unlikely win. However, the main point of discussion for everyone here tonight is that since both you and John Cena held up your end of the bargain, will Eric Bischoff hold up his agreement to put both yourself and John Cena in the frame for the World Championship??

Orton smiles, tilts his head back, and puts his hand on Grishams shoulder, before looking at him, and speaking.

Randy Orton: Of course he will Todd. We all know Mister Bischoff is a terrific man, and most of all, a man of his word. Now, as for whether it should be Cena or myself getting the title shot … well, we were both victorious, but lets remember who won the match.

Todd Grisham: Well, that too is a point worth debating Randy, I m-

Randy Orton: Whoa. What?? What's the debate??

Todd Grisham: It's just that, while it was you that pinned Sabu last night, you have to admit that John Cena did the hard part, and put Van Dam down to allow a clear chance to pin his partner.

Randy Orton: Th- tha- That's a crock, and you know that. This interview is over Todd.

A clearly frustrated Orton pushes Grisham out of the way, and walks on, with Grisham trying to fix his glasses.

Commercial

Clips play from Unlimited during the commercial, where J.R was given a standing ovation by his home town fans, as he took to the ring to quickly talk about it being great to come home.

We return with Garrison Cade waiting in the ring alone, looking scared as he awaits his opponent…

**SLOW CHEMICAL**

Kane enters the arena, looking ready to unleash hell. As he makes his way to the ring, J.R and Coach discuss his crazy actions last night at COTC, wiping out both teams in the War Games match, before just walking out.

2nd Match:
Garrison Cade vs. Kane
Cade attempts to fight it out with Kane from the beginning, but is no match in terms of brute power for the Big Red Machine. Kane dominates Cade, who, to his credit tries to fight it out, and doesn't back down, but his offence has no effect on the psychotic monster. On commentary, as J.R and Coach refer to Kane as a monster, Estrada laughs, and says he knows a real monster, but both J.R and Coach move on, taking no notice of the comment. Meanwhile, Kane runs through his signature spots, until, he looks to hit the Chokeslam, when Nick Dinsmore and Ric Flair run down the aisle, taking both the officials attention and Kanes. Kane boots Flair off the apron, and catches Dinsmore, looking to choke slam him from the apron, into the ring, but a low blow from Cade soon puts the brakes on that, and the referee calls for the bell.
Winner: VIA DQ - Kane @ 02:03

Cade clubs Kane from behind, pounding the back, with Dinsmore getting inside. The two Horsemen take it to Kane, as a groggy Flair grabs a steel chair on the outside. Naitch slides it inside, coming into the ring himself, as we begin to hear the crowd pop … WITH SHAWN MICHAELS RUNNING DOWN THE AISLE!!! HBK slides into the ring, tackling down Dinsmore, before getting back up, knocking down Flair, and takes a swing at Cade, but he ducks, and slides out of the ring, dodging the bullet again. Flair and Dinsmore escape the ring as Michaels comes to the aide of Kane, although mostly for himself to get a piece of Garrison Cade.

Kane though, doesn't even bother to thank The Showstopper, and instead just leaves the ring, not taking his eyes off of Dinsmore, as he and Flair escape up the ramp, with Cade himself going off through the crowd. In the ring, Michaels asks for a mic as we see Flair, Dinsmore and Kane disappear.

Shawn Michaels: A couple weeks ago, I said I wasn't going to forget about you Cade. And kid, I havent forgotten, and I certainly havent forgiven. If you've still got the cohonas, then you'll bring your sorry ass back out here, and look me right in the eye. C'mon kid, you've gotta pay for your actions some time. Right now sounds pretty darn good to me.

HBK waits, as quickly, the camera switches to the crowd, where Garrison Cade is stood at one of the exit points, and looks torn between running and hiding, or coming back to the ring to face Michaels.

Jim Ross: We're gonna take a quick commercial break folks, but when we come back, we'll find out if Cade has the guts to come to the ring, or if he's gonna keep running like a scalded dog.

Commercial

We return from the commercial, with Cade circling the ring, mic in hand, with HBK leaning on the ropes, asking Cade to get in. Eventually, Garrison steps inside, with Michaels clapping, and the fans pop a little for Cade finally getting in the ring.

Shawn Michaels: Now, was that hard??

Cade shows no reaction, still unsure what to expect.

Shawn Michaels: As I said earlier, there comes a time when you've gotta pay the price for your actions, and sometimes kid, you've gotta pay a heavy, heavy price. Unfortunately, that applies to you 'HB-Cade'. You better get that cheque book out, because you will be paying, and you will be paying BIG.

Fans pop, as Cade gulps.

Shawn Michaels: So lets cut around the crap, and cut to the chase. Garrison, you, me, June 26th, Unforgiven.

Fans pop again, as Cade stands still, slowly shaking his head.

Shawn Michaels: No??

Cade shakes his head vehemently.

Shawn Michaels: No?? You don't want to face me??

Cade gets ready to speak, but HBK grabs his arm, and shoves it down.

Shawn Michaels: I'm not gonna stand here and listen to whatever excuse you've got you little rat faced punk.

Fans pop a little.

Shawn Michaels: Because now, it's time to stand up and be counted kid. You've made your bed, now you've gotta lie in it. At Backlash, you came to a crossroads in your career, and you choose to march to your own beat. Since then, you've made it abundantly clear that you wanted to run with the ball, that same ball I wouldn't pass to you.

Michaels gets right into Cades face now.

Shawn Michaels: You want to be the next big star, right?? You want to prove to the world that you've passed me by, right?? You want to prove to the world that you made the right decision in your career, and that I was holding you back, right??

Cade nods slowly.

Shawn Michaels: Then all you have to do Garrison is accept. You accept to face me at Unforgiven, and you'll have the opportunity to cast me aside, and ascend to the top, like you think you should.

Cade starts to look around, taking in HBKs words.

Shawn Michaels: But if you don't … then what have you proven Garrison?? Huh?? What have you proven if you continue to run and hide?? That you're a pussy??

Cheers from the fans, as Cade looks to have been angered by the comment.

Shawn Michaels: Because if you don't step up, and accept. Garrison Cade, you'll be forever ridiculed, and you'll be forever known … as a pussy.

Fans pop.

Shawn Michaels: And … if- if you listen real close, you can hear it faintly now … Cades a pussy … Cades a pussy … Cades a pussy.

Slowly the fans join in, and eventually a fully blown 'Cades a pussy' chant rings around the arena, with Garrison going nuts, kicking the ropes, telling the fans to shut up.

Shawn Michaels: So what's it to be Cade?? Are you ready??

Pop for Michaels, using the old DX catchphrase.

Shawn Michaels: Have you got what it takes to step up to the top of the mountain, to face the best. Or those cohonas building up, or are you beginning to realise you're way in over your head, and those big balls are shrinking before your eyes??

Cade walks around the ring, seemingly irate with the choice he faces. Finally he speaks up.

Garrison Cade: I'm no pussy. I've got cohonas the size of Mister McMahons grapefruits. And now is my time. You're on Shawn. And I will cast y-

MICHAELS STRIKES WITH SWEET CHIN MUSIC!!!!! The fans go nuts, as HBK looks around the arena, standing over Cade. He leans over, looking a dazed Cade in the eye…

Shawn Michaels: All I wanted … was a simple yes.

HBK drops his mic on Cade, as **H-B-K** plays into the arena again, with Michaels leaving the ring, slapping hands with some fans on the way out, whilst Cade slowly comes to, as we fade to the back.

Backstage, we see Nick Dinsmore and Ric Flair running from Kane again, as Eric Bischoff screams in the background to stop that lunatic, with The Heart Throbs trying to step in, but Kane slaps Romeo away, and hurls Antonio through a near by window!!!! The Big Red Monster continues to stalk his enemies, as we fade out with Bischoff yelling for someone to stop Kane.

Commercial

We rejoin J.R and Coach at ringside, with Armando Estrada now gone from the announce position. They talk up the HBK vs. Cade match signed for Unforgiven, before moving back to tonights show, and the upcoming match, with Carlito finally getting a rematch for the Intercontinental Title after losing it at Backlash. They then discuss Carlitos post WM record - failing to win a match since WrestleMania.

3rd Match: Intercontinental Championship Match:
Shelton Benjamin vs. Carlito
No Stacey Kiebler now, after her mutual agreement to leave the company, leaving CCC to fend for himself. The two put on another good match, like they did at Backlash, but now with a different approach as both play the face role, given Carlitos recent face turn. Despite his recent losing streak, Carlito still looks as threatening as ever, proving an equal for Benjamin throughout. The fans get into the past paced action, and the plethora of near falls from both men, with both blocking the others finishing move, knowing it would be curtains. Towards the end of the contest though, we see The Brotherhood enter the stage, which soon catches the attention of Shelton, who tries to tell them to leave him alone, but he takes too long with his eyes off the challenger, and Carlito comes from behind, nailing the Back Cracker, only for the champion to get a foot on the rope, saving the title.
Now, Theodore Long tells his troops instructions, and we see Orlando Jordan and Rodney Mack make their way down the ramp, as Henry and Jazz stay with Long at the top of the ramp. Jordan and Mack go to opposite sides of the ring, as OJ distracts the referee, and in turn Shelton, who tries to tell Jordan and The Brotherhood to take a hike, whilst on the other side of the ring, Mack cracks Carlito from behind with a steel chain, knocking him out. Meanwhile, Jordan waits until Mack is clearly out of sight, and retreats himself, leaving Benjamin to get back to work, but instantly smells a rat with Carlito down. The referee asks Benjamin if he's going to pin him or not, and Shelton shakes his head momentarily, shouting up at The Brotherhood if they were behind it, but they plead innocence, and begin to leave the stage, as Shelton looks furious, but has no choice but to make the cover, and get an elementary 1...2...3!!!
Winner: And Still Intercontinental Champion - Shelton Benjamin @ 10:14

Benjamin retains, but knows it's under dubious circumstances. As soon as he has his hand raised, Benjamin tends to Carlito, who is still out of sorts following the chain shot he took. Shelton helps him up, and can be seen apologising for what just happened, as both CCC and Benjamin look furious with The Brotherhoods involvement tonight.

Jim Ross: I don't know what the hell the deal is with The Brotherhood, but I'd love to know if they'll ever take the hint from Shelton Benjamin that he doesn't want or need their help!! They cost him dearly last night at the Clash of the Champions, and tonight gave him a tainted win!!!

The Coach: They're looking out for their own J.R, and trust me, in time, the Intercontinental Champion WILL see sense, and join up with Theodore and the gang, he just needs to realise what they can do for him.

Jim Ross: Well, the agony piles on for the winless Carlito, who has now lost in his last NINE matches since WrestleMania. How will can this winless run last for the former Intercontinental Champion??

In the parking lot, we see Kane with Ric Flair and Nick Dinsmore, with the two Horsemen at the mercy of Kane, as we see Eric Bischoff with a bunch of mid card wrestlers, ordering them to put a stop to The Big Red Machine. Kane takes no notice of the superstars, swatting them away like flies, whilst he dishes out punishment to his two main targets. Cade tries to come to the rescue of his two stable mates, but eats a choke slam onto the hood of a car bonnet, before Kane throws Dinsmore through a windscreen, as Bischoff is seen in the background making a call for more help.

Commercial

We return in the parking lot again, with Kane having now bloodied Flair too, whilst Dinsmore continues to try and peel shards of glass from his body. A team of heavily armoured Police arrive on the scene, and keep their distance from Kane, as Bischoff begins to bark out orders.

Eric Bischoff: KANE!!! KANE!!! Give it up!!! BACK OFF!!! This has gone far enough Kane. You've gone too far, and this has to stop. You're out of control. As your General Manager I am ordering you to BACK OFF, or I will force these officers to use force.

Kane begins to laugh that ever maniacal laugh, and turns his attention to Bischoff now. The Big Red Machine turns, and begins to move toward the GM, with Bischoff beginning to look scared.

Eric Bischoff: Don't move another step- I'm warning you. STOP!!! RIGHT NOW!!! These officers will not resist to use their tranquillisers …I'm serious … one more step Kane … Officers … TAKE HIM DOWN!!!

Three shots are fired, with tranquillisers firing into the back and legs of The Big Red Machine. Kane tries to move forward momentarily, but eventually succumbs to the darts, and falls to the cold ground, with the power of the darts putting him to sleep.

Eric Bischoff: Good job. Officers, take him away, and do whatever you have to, to him. And when he wakes up in that padded cell … you tell him from me, his contract on Raw HAS BEEN TERMINATED!!!

Bischoff turns and leaves, as a team of officers crowd around the fallen giant, as we pan out to see the carnage, before fading back into the arena…

In the ring, Road kill & Danny Doring are standing, awaiting their opponents…

**PAPARAZZI** MNM enter the stage ahead of just their second match, getting the red carpet treatment once again.

4th Match:
MNM vs. Road kill & Danny Doring
The forgotten team on Raw, the former ECW Tag Champions are no match for the new team on the scene, with the match basically used as a vehicle to get MNM over, running through their offence, and double team moves, whilst Melina also takes some camera time and attention with her banshee like screams. Mercury scores the pin this week following the double team Snapshot, obliterating the former World Tag Team challengers in quick fashion.
Winners: MNM @ 03:01

MNM continue their impressive start to life in the main picture, and look set to become the big news on Raws tag team scene, with two emphatic wins in as many weeks. After the match, Melina motions around her clients waists that they are eyeing the tag titles, and wont be waiting for long to get them.

As the second hour now begins, strangely backstage, the ambulance with Kane inside drives off into the night, as we see the arrival to the arena of John Cena, who, like Randy Orton, is met by Todd Grisham.

Todd Grisham: John Cena?? Could I have a few minutes of your time please??

Cena huffs, before nodding his head a little, as if to say go ahead.

Todd Grisham: Last night, yourself and Randy Orton were victorious at the Clash of the Champions in your tag team match. Now, according to Eric Bischoff when he made the match three weeks ago, if you and Orton could deliver him a victory, both of you would be in line for a World Title shot. However, as we saw, it was your FU that did the damage and kept Rob Van Dam down, but it was Randy Orton that took the victory. Where do you think you stand??

John Cena: I don't know Todd. But what I do know, and what everybody knows, is that Eric Bischoff isn't exactly reliable with promises. What I also know is that I held up my end of the bargain. As you rightly said, I did the work, but Orton snuck in and stole the win. The way I see it, I didn't get my rematch for the title, and I accomplished what was asked of me last night, so I expect Eric Bischoff to make the right choice tonight, and name John Cena as the Number One Contender.

The calm Cena walks off, as Grisham nods, taking in what has been said.

Commercial

Backstage, Eric Bischoff looks busy, toying with his phone, as Marc Lloyd approaches him. Bischoff spots him coming, and shakes his head.

Eric Bischoff: Not you. What the hell is it??

Lloyd looks a little insulted by the comment, and decides to just cut straight to the chase.

Marc Lloyd: Umm, Mister Bischoff, rumours are running wild tonight about who will be the next contender to the World Heavyweight Championship. Both Randy Orton and John Cena have made a case for themselves after delivering victory together last night, and I was wondering what decision you had made??

Eric Bischoff: And you honestly think you'd be the first to know?? Please. A decision like this one has to be made in the ring. And I will announce the Number One Contender later tonight, in the ring. As for my decision as to who will face Christian … I have a fair idea of what it'll be.

Lloyd gets set to ask another question, but Eric cuts him off.

Eric Bischoff: Now go!!!

Lloyd then leaves, as we go back to the ring…

5th Match:
CM Punk vs. Rob Conway
Rematch from Raw two weeks ago, where Punk defeated Conway in his debut match on Raw. Strangely, both men are given a slightly longer match tonight, especially for a fairly unknown within the WWE, and an at best mid card heel. The two put on a decent enough display, but the fans remain quiet for the most part, still not knowing an awful lot about Punk, and having little interest in Conway. All in all, it ends up being a fairly competitive match, but Punk always looks the likelier winner, getting the best of Conway on more occasions than not, with The Con Man not even getting an opportunity to look for his finisher, as Punk finishes him off - not with the Anaconda Vice submission he has used in the last two weeks, but a stunning knockout knee shot from the firemans carry position (Go To Sleep), with J.R calling it 'The Punk Card', as Punk covers his beaten opponent, 1...2...3!!!
Winner: CM Punk @ 07:14

It's another win for Punk, being given a longer time slot to get himself on screen tonight in a decent match, but with the fans not rabidly into it.

Jim Ross: And this young man from Chicago has gone three and 0, in as many weeks, and you cant disagree with that ratio of wins.

The Coach: CM Punk is quickly making a name for himself here on Raw, I'll give him that, but has he got what it takes to really mix it with the big boys?? We'll soon find out.

Jim Ross: Indeed I think we will, but still to come tonight, it's our massive, huge, tag team contest, featuring Brock Lesnar and Finlay, facing John Cena and Rey Mysterio. Don't miss it!!!

Commercial

We return backstage, with 'Captain Charisma' Christian approaching Eric Bischoff, with Tyson Tomko accompanying the World Champion.

Christian: Eric??

Bischoff turns, and sees it's Christian, immediately shaking his head in disgust at the champion.

Eric Bischoff: Oh, wonderful. Our GREAT World Champion is here. You're lucky I'm forgetting last night ever happened Christian. You should do that too after that pitiful performance you gave.

Christian: Hold on. Pitiful?? I don't think so. Eric, I gave my blood, sweat and tears at the Clash of the Champions last night. But last night, I came up against a guy that on that occasion was the better man. I'll admit that, but dammit Eric, I'm not gonna forget it. I'm using last nights match as an example of what I cant let happen again. Benoit beat me last night, just like Smackdown beat Raw.

Eric Bischoff: Like I said, I want to forget it ever happened. I just want to look to the future.

Christian: Well, since you mention it, that's what I came to see you about. Whose the next challenger for my world title??

Eric Bischoff: You'll find out later. But I'd suggest you start preparing for life without that title, after the way you lost last night, you arent fit to carry that belt.

Christian looks at the World Title, and re-positions it on his shoulder, before speaking again.

Christian: Oh, but I am Eric, and you better get used to me as your World Champion, because I don't intend on losing this for a long, long time … and that's how I roll.

Christian and Tomko back away, giving Eric the eye, with Bischoff taking in the comments made by Christian.

We move to the trainers room, where CM Punk is talking quietly to the trainer, mentioning an arm injury, with the trainer looking for a wrapping, when we hear a whoosh, and The Hurricane swoops into the room…

The Hurricane: Holy haberdasher!!!

Punk looks unimpressed by the charade, and looks up, shaking his head at The Hurricane.

The Hurricane: I've been watching you Citizen Punk, and I've been impressed so far. But, you don't look too cheerful … WASSUPWIDAT??!!

Punk looks for a moment at The Hurricane.

CM Punk: Y'know, I've been watching you too Greg. And I'm not impressed.

Hurricane puts on his best gurn, before speaking.

The Hurricane: You need to check your sources citizen, my true identity is not 'Greg', it's Th-

Punk slaps Hurricane across the face, nearly knocking him over.

CM Punk: Your name is Gregory Helms, and you are a world class wrestler, that doesn't need stupid childish gimmicks. I suggest you take a good, long, hard look at yourself. You're better than The Hurricane.

Punk pushes past, and storms out of the medical room. The Hurricane holds his chin, obviously taking in the harsh criticism from Punk.

Back into the arena…

**HERE COMES THE PAIN**

Brock Lesnar steps into the arena, for the upcoming match, looking focused and ready for taking out his pent up anger after losing last night.

Jim Ross: This might just end up being a long night for John Cena and Rey Mysterio. Brock Lesnar doesn't look like he is gonna mess around tonight.

The Coach: Brock Lesnar NEVER messes around J.R. Everybody seems to think Cena and Orton are the only two candidates for Number One Contendership, but don't look past Brock Lesnar is what I say.

Jim Ross: Our main event tag team contest is up next, but next week, after the situation earlier tonight, Mister Money in the Bank Edge, takes on Mister King of the Ring, Ken Kennedy one on one. That's next week in Greenville, but after the commercial break, it's Lesnar and Finlay teaming up against Mysterio and Cena, don't go away!!

Commercial

We return with Mysterio staying outside the ring, awaiting his partner…

**MY TIME IS NOW**

John Cena bursts out onto the stage to a fabulous response from the Oklahomans in attendance.

6th Match:
Brock Lesnar & Finlay vs. John Cena & Rey Mysterio
Cena and Lesnar tear it up early on, going right at, letting their frustrations out on each other, even brawling to the outside, where Finlay tries to get involved, only for Mysterio to cut him off. Cena and Brock get inside the ring, and the match officially begins, as Finlay and Mysterio take to their corners. Early on, both men make a tag to their partners, with Finlay getting the better of Mysterio, taking advantage of the size and power difference he holds.
Finlay tries to wear down Rey in the early going, and grounds him successfully for a period, but cant beat the desire of Mysterio, and Rey makes a comeback, and knocks Finlay down. Both then make a tag, making Lesnar and Cena legal again. The fight gets ugly, with Lesnar taking control, taking a chance to tag Finlay back in, who pounds Cena down, whipping him off the ropes, but Cena bounds back with a flying shoulder tackle!!! Cena tags Rey back in, but he is caught quickly by Finlay, with the Irishman, beating down Mysterio in the corner. The Belfast native whips the human highlight reel across the ring, but Mysterio jumps to the top turnbuckle, and leaps back, landing behind Finlay, rolling him up, 1...2...Kick Out. Rey turns it up a notch now, with Finlay struggling to keep up with the speed, until Mysterio tags Cena back in. Cena storms in, and begins to unload on Finlay, but Finlay hangs in, and soon enough capitalizes on a Cena mistake, and begins to give the advantage to his side once again.
Finlay eventually tags Lesnar back in, with Brock going to work on the former champion. Lesnar and Finlay begin to start work fluidly together, and begin to put Cena in plenty of trouble, with Cena having to fight to stay in with a chance, kicking out of an array of moves from both Finlay and Lesnar. Cena begins to fight back when Lesnar misses a running knee into the corner, but a nasty shot from behind from the Irishman puts the ball back into the heels court, and Lesnar scores another near fall with a Belly to Belly. As the match progresses, Finlay applies a sleeper on a beaten down Cena, but the Boston native feeds off the energy of the fans, and begins to surge back, reaching his feet, and after a hat trick of elbows, frees the sleeper, and begins his fight back, putting Finlay down with a number of running clotheslines, giving himself a chance to tag out. Both men reach for their respective corners, looking for a tag each … AND BOTH MAKE A TAG!!!
Mysterio and Lesnar charge into the ring, with the clash of styles making for an interesting dynamic. Rey has the upper hand at first thanks to his speed, but eventually is caught by Lesnar, who scoops Rey up suddenly for an F5 … but Mysterio counters into a head scissors!!! Lesnar rolls into the ropes, and Rey looks to hit the 619 … but Finlay cuts him off with an ugly, nasty clothesline!!! The Irishman picks Mysterio up, and looks to hit the Celtic Cross .. But Cena charges into the ring, and stops Finlay!!! Cena throws rights and lefts at Finlay, eventually knocking him over the top rope with a clothesline, whilst Lesnar comes in, looking for a clothesline, but Cena ducks it, and scoops Brock up … NAILING THE FU!!! Cena quickly drags Brock into the ropes, telling Rey to hit the 619 … AND HE DOES!!! The 619 connects, and Mysterio follows up, Dropping the Dime!!! Rey hooks both legs, with Lesnar down, 1...2...3!!!!!
Winners: Rey Mysterio & John Cena @ 15:26
Mysterio scores the upset!!! Cena and Mysterio hug in the ring, embracing their victory tonight, whilst we watch Finlay walk up the ramp, with no interest in the well being of Lesnar. Brock rolls out of the ring, groggy after the three big moves he just took, whilst Mysterio and Cena pump up the fans. We see Cena and Mysterio then shake hands, before Mysterio decides to leave the ring, as Cena asks for a mic…
Lillian hands Cena the mic, as the music dies down, and the former champion gets ready to talk, albeit slightly breathlessly.
John Cena:
I'm pretty sure I heard Eric Bischoff earlier, when he said he'd name the new Number One Contender later tonight. Well … it's later tonight, and I wanna know where the hell I stand!!!
Fans pop.
Jim Ross:
And where does Cena stand in terms of a title shot?? Will we find out when we come back from this commercial break??
Commercial
We return, with Cena still waiting in the ring.
John Cena:
Y'know Eric, I know I don't have all night, these fans don't want to wait all night, and the USA Network must be getting really petrified that you're gotta eat into Law and Order
(Looks into camera, and puts on his best shill voice)
which is John Cenas favourite show on the USA Network, and follows Raw every Monday Night.
Little response for the lame joke.
**BURN IN MY LIGHT** Randy Orton, to an enormous negative response from the fans. The Legend Killer makes his way down the ramp, looking as cocky as ever, with Cena having to compose himself, wanting to rip Orton in half. Randy senses Cenas anger, and decides to try and rile him, getting into the ring, and posing on the ropes, before dropping down, taking a sly look at Cena, before asking for the mic. Orton is given one by Lillian, and he begins to speak.
Randy Orton:
Don't get worked up John, because the number one contender … aint gonna be you.
Heat from the fans.
John Cena:
Well if it wont be me, then I see no reason why it'll be you Orton.
Small pop, as Orton and Cena come closer, almost nose to nose.
Randy Orton:
Oh, but I think it there is. I scored the pinfall last night Cena. I won us the match.
John Cena:
No, no, no. What you did Orton was uncalled for. You knew I had it in the bag, so you suckered me into the RKO, and STOLE the three count.
Randy looks set to shout back, but…
**JUST CLOSE YOUR EYES**
Christian enters the arena, and wastes no time in talking, beginning to speak, as he walks down the ramp, over his music, which slowly drowns out.
Christian:
Listen up. John Cena, Randy Orton, saying as the main focus here is on my World Title, I figured this concerned me.
Christian walks up the steps and gets into the ring, taking a look at both men before speaking again.
Christian:
I'm happy to face either one of you, I've beat you both before, so whomever it is, you can be guaranteed you're losing again.
Pop from the fans.
Christian:
So that leaves us with one thing … Eric Bischoff, whose it to be??
All three men look around, with Orton trying to indicate it'll be him, with Cena trying to tell him differently.
**I'M BACK**
All eyes go to the stage, and Eric Bischoff makes his entrance, staying at the top of the ramp, to make the announcement.
Eric Bischoff:
Alright gentlemen, you all want to know who faces Christian for that very World Heavyweight Championship. I'm the man that makes those decisions, and right now I'm gonna make it.
In the ring, we see Orton again point to himself, whilst Christian listens intently, and Cena paces around, awaiting the announcement.
Eric Bischoff:
On June 25th, at Unforgiven, it'll be Christian, defending the World Heavyweight Championship … against … … RANDY ORTON!!!
Heat for the announcement of Orton as the #1 Contender, but Orton is jubilant.
Eric Bischoff:
… AND … John Cena …
MASSIVE pop for the addition of Cena to the match, with Cena putting his hands in the air in celebration, whilst Orton looks irate.
Eric Bischoff:
… WILL BE THE SPECIAL GUEST REFEREE!!!
SWERVE!!! John Cenas face drops, and he slowly mouths 'referee??'. Orton though, laughs at the announcement, as the fans boo the decision. The Legend Killer grabs Cenas arm, and tries to force Cena to raise his hand, but as he does, John Cena snaps … AND HOISTS ORTON INTO THE AIR … AND DELIVERS THE FU!!!!!
The fans pop as the guest referee for Unforgiven snaps!!! Cena slams Orton into the mat, letting out his anger, and immediately points up at Bischoff, telling him in no uncertain terms the decision is 'bullshit'. Cena then turns, and goes face to face with Christian in the middle of the ring. Captain Charisma and The Dr. of Thuganomics stare one another down in the ring, with the fans going wild, as Raw comes to a close, with chaos.
END OF SHOW
Current Card for WWE Unforgiven
Date:
25th June 2006
Location:
Pepsi Centre, Denver, Colorado
Event Music:
Not Determined
World Heavyweight Championship:
Christian vs. Randy Orton
With Special Guest Referee: John Cena
Grudge Match:
Shawn Michaels vs. Garrison Cade
Re: Being The Booker
---
Raw Review
Just pleased I think you are taking my advice on Gregory Helms and the idea I had for Carlito Vs Shelton idea even though I got the decision wrong. Kennedy segment was good and I can't wait for a match with those two. I personally though Umaga would disrupt the Women's match with Estrada as commentator. Couldn't see what you were doing here which is good
. WOW Kane going crazy
. Very surprised with your contract termination here. He's gotta move to Smackdown. MNM win again. Unforgiven will be their night. CM Punk wins again obviously. Punk maybe a heel!!!! This would be gold and tie in really well if he was to win the intercontinental title in a screwy brotherhood finish. Great Recap match for main event. Wasn't really bothered who won here and could see your point for either. Rey "needs" the push. John Cena special guest ref hmm... I hope and think you are making a major swerve here as I can't just see Christian winning fairly 1-2-3. Maybe Cena heel turn and make a pack with Randy Orton. Maybe if he wins at unforgiven with my predicted screwy finish Rey could win the title down the line(hope not). Although I'm guessing you won't do it like that and just put a stipulation with him not getting a championship opportunity unless it's a fair match.
Sorry it wasn't a full review but I am currently busy
Tag Teaming With James Ellsworth
Join Date: Apr 2005
Posts: 1,710
Points: 0
Re: Being The Booker
---
Good opening segment with the new King of the Ring, Kennedy and the MITB holder Edge. Not surprised to see you have these two going at it already. I'm sure with the right booking this can be a big feud on Raw. I quite sure they wouldn't have Coach smoke the cigar on TV, but as for the match, it was good. Was going to question the recent losses with Trish, but I remember you saying something of Trish and Lita will be leaving soon from this thread and retiring. Kane has snapped! As for the segment with Michaels and Cade, it lost a lot of realism by what was said. One, Michaels nor anyone else would say that word on national TV, no matter what, as realistically it would be censored due to the audience at the show and the ones at home. With that said, the promo was nicely done, and sets up the match between the two at Unforgiven. As for the match, I have a feeling that this match will be the "passing of the torch" as Michaels loses clean to Cade. Shelton is able to get the win thanks to the Brotherhood. I'm wondering how long this will go on before Shelton either joins or confronts the Brotherhood. So, I see the tranqulizer darts return to take down Kane, and now Kane is no longer on Raw. Won't comment on MNM's win, as I'm sure that sooner or longer, they will be getting a tag team title shot. Punks wins a filler match as his push continues, while Christian's reign as champ, might be coming to an end. It looks that while the Punk/Hurricane segment played a lot like the real Punk/Shannon Moore segment last August on ECW, it seems like hopefully you give Helms his regular gimmick of being himself. Nice little plug from Cena about Law and Order following Raw, but the swerve is right! Had a feeling that this might happen with since Orton getting the winning fall he gets the title shot while Cena is now the ref. Unless things go differently and you pull another swerve, I see the match ending in a No Contest at Unforgiven.

Sorry for not reviewing COTC, but I'll try to get a review up soon. Great Raw show and looking forward to Smackdown, though it will be recapped!
---
[U]KOM has returned to BTB with WWE 2007: The Legacy and Aftermath of WrestleMania!
[U]
Re: Being The Booker
---
Definately sense an Edge/Kennedy feud to start off from here. Kennedy was very well done and Edge was typically Edge like, promo flowed nicely and Kennedy had Edge's number all through that one, which I'm sure Edge won't leave it behind

Jillian is lucky to retain there, sneaking the win. Fair enough a bit of boasting never hurt a Champ's credibility, and Trish levels her! And now Trish & Lita are at it again!

Hmm Orton isn't going into the title frame yet, if he does tho Cena will have to come into it with him as their feud is far from over

Kane is gonna destroy Cade! The Horsemen save Cade, and here comes HBK! Wild brawl as Michaels saves Kane and Kane chases Flair & Dinsmore off

HBK/Cade promo was intense, HBK especially just letting Cade have it after he turns down a match at Unforgiven with Michaels. Cade accepts and BANG! Sweet Chin Music just like that haha! Cade is layed out

Kane is still after the Horsemen, he's going crazy to get after them, it's getting worrying. Poor Heart Throbs get creamed for their effort to stop him too

Shelton beats Carlito under some very shady help from the Brotherhood who just can't take no for an answer. Makes you wonder how long it'll take before Shelton let's them have it

KANE IS FIRED FROM RAW! He absolutely brutalized the Horsemen in the parking lot and now Kane is done, as Bischoff gets riot police to stop him. Wow, Kane will be back at some point, perhaps on SmackDown! although really he has unfinished business on RAW to take care of too

MNM make another statement to AFA, they're the team to beat

Cena is awfully calm considering what just went down I must say, you can bet Bischoff won't make the right decision tho

CM Punk also looking good as the freshness of RAW comes to the forefront tonight with an easy-ish win over Conway. Will be good to see Punk finally get some competition and a real feud soon

Christian/Bischoff promo has me wondering if Bischoff will conspire to have Christian lose the belt as clearly he isn't impressed with CLB as the Champ

Punk slaps some sense into Hurricane, who from this will surely change to Gregory Helms within the coming weeks

Awesome main event, not sure why Finlay was there other than to be on the losing team I guess, but Cena & Rey have been going strong in this thread. Ending was sweet as 3 big moves put Lesnar down eventually and now Cena is on the mic

Cena and Orton go back and forth, Christian comes out, then Bischoff! Christian vs Orton vs Cena! No wait Cena is the ref! Whoa! Big swerve right there. Didn't see that coming, and you can understand that Cena is rightfully pissed off

Quality show as always Wolf. 8.5/10
---
***

Posting Rules

You may not post new threads

You may not post replies

You may not post attachments

You may not edit your posts

---

HTML code is Off

---