Chopped Liver
Join Date: Jan 2004
Location: Six inches from a computer screen
Posts: 5,433
Points: 321
Re: Being The Booker
---
Heat Results:


Road kill & Danny Doring defeated The Heart Throbs
Victoria defeated Nidia
Val Venis defeated Gene Snitsky
Simon Dean defeated The Hurricane
------------------------------
Velocity Results:
Chris Masters defeated Scotty Too Hotty in the Masterlock challenge.
William Regal defeated Luther Reigns
The Dudley Boys defeated The Basham Brothers
Chavo Guerrero defeated Akio
-------
WWE.COM NEWS AND NOTES:
WWE has come to terms with the release of Goldust. The WWE family wishes Goldust the best of wishes with his future endeavours.
Quote:
KING OF THE RING RAW HALF OF DRAW CONFIRMED

The eight Raw superstars deemed worthy of the honour of competing for the King of the Ring have been put forward, and this morning in Stamford, CT at WWE Headquarters, the Raw portion of the 2006 King of the Ring Draw was made.

*Smackdown half of draw to be confirmed at Judgment Day in eight days time*

RHYNO VS NICK DINSMORE

ROB CONWAY VS MR. KENNEDY

GARRISON CADE VS CARLITO

SHELTON BENJAMIN VS FINLAY

The tournament begins this Monday night on Raw with the first two opening round matches.
Raw Preview:
With some huge developments during the past week, Raw heads to Memphis for a potentially explosive Monday Night.
The Chairman of the board, Mr. McMahon will be at the Pyramid to confront Eric Bischoff, but no further details have been issued on what McMahon will speak to Bischoff about. What could McMahon have in store for the General Manager of Raw??
And, if one special guest wasnt enough, recent Hall of Fame inductee, and Memphis' own, Jerry 'The King' Lawler will be making a special appearance too. The King will surely be given a rousing reception from his home state where he is revered and worshipped.
Meanwhile, the King of the Ring tournament - the first in four years - kicks off in high gear this Monday Night with the first two matches from the Raw half of the draw. 'The Man Beast' Rhyno - a King of the Ring semi-finalist in 2001 - faces 'The Prodigy' Nick Dinsmore of the Horsemen, who will be making his first ever KOTR appearance. With all ringside presence BARRED for the King of the Ring tournament, will Dinsmore manage to succeed without the instrumental Ric Flair by his side.
The second match sees a Backlash rematch, with Mr. Kennedy looking to go two for two over 'The Con Man' Rob Conway. Can Conway gain redemption for the Backlash defeat?? Or will Kennedy motor on in his quest for greatness??
Despite the two monumental KOTR matches, there is still room for a collosal tag team main event, pitting the team of former World Champion John Cena and the current Intercontinental Champion, Shelton Benjamin against Mr. Money in the Bank, Edge and Brock Lesnar. A mix up last week between Edge and Lesnar cost them a victory, but this week they have a chance to redeem themselves as they are paired up again.
Shawn Michaels has requested this Monday night off, to allow Garrison Cade his chance to explain his actions from Backlash, when he turned his back on The Showstopper. Garrison Cade has obliged, and will deliver his answers on Carlitos Cabana, which could see sparks fly, as the two men get set to collide in the KOTR tournament next week on Raw.
The Raw Zone is set to explode in the Pyramid on Monday Night, with superstars galore on hand for a huge dose of Raw action this Monday Night for another unmissable night in WWE history.
----
Unofficial News and Notes:
Recent word has it that Randy Ortons suspension has been cut. Orton is back on the road, and is set to appear at some point on Monday night, declaring his 'vacation' to be over.
Meanwhile, with the release of Goldust, the future of Booker T has been thrown into doubt. Booker hasnt been used in any great role in the last eighteen months, and is expected to be 'sent home' for a few weeks until creative finds something for him. Rumours are circulating that he could be paired up with a younger talent to create a new tag team for Raw, as the re-building process looks to begin swiftly on the show.
Major plans are now starting to go into the Clash of the Champions event, set for June 4th in Kansas City. There have been recent indications that this years main event may be a 5 on 5 War Games match, following the major success of the War Games contest at Survivor Series last November.
Chavo Guerrero is now back into the fold permanently. Chavo was taken off altogether for a period of time following his uncles passing, with a handful of sporadic appearances, but it's now felt enough time has passed for Chavo to move on, without relying on any 'sympathy' cheers.
Mick Foley recently stated in an interview that he has an 'exciting', but 'surreal' idea for a long term angle he wants to pitch to creative, but he stated the angle would need to begin 'swiftly' if it's to be a success.
Creative on Smackdown have voiced fears over Charlie Haas, with his mic work not quite being up to scratch with the size of the push he is being planned to get in the coming months. Plans are set to be put in motion of pairing Haas with a manager sooner rather than later.
There has been talk of further brand switches to come in the next few months, with Edge going to Smackdown being the main rumour at this point, with no plans for him to take the World Title on Raw anytime soon. With him carrying the title shot from Money in the Bank, it's though he'll get a better main event feud with the Smackdown champion, Chris Benoit, rather than reviving his feud with Raw World Champion, Christian. Moving in the other direction could well be either Kurt Angle or Triple H. Both are said to be missing the 'live' experience every week, but if either are to move, The Games backstage power could see him get the move ahead of Angle.
Raw will be up tomorrow or Tuesday.
---
Last edited by Wolf Beast; 04-01-2007 at

02:45 PM

.
Re: Being The Booker
---
Nice news and notes Wolfy. The RAW side of the KOTR looks to be great. The War Games possibility at COTC could be great. Can't wait to see if that comes together.
---
Re: Being The Booker
---
I'm not a huge fan of the War Games, but since its a crossbrand event and you wrote War Games incredibly for your SummerSlam, and since that means you should be writing this in full since I believe you said crossbrand events are written in full correct? The Raw side of KOTR looks good, I think Kennedy will win King of the Ring to be honest. I have something I am wondering, why is Hurricane well still ... Hurricane? He's doing nothing but jobbing, he could do good as Gregory Helms sometime on a brand in a division, hope thats in the works. It all looks good, the Raw preview looks to be nice. Nice news and notes, unofficial meaning probably some of those rumors are false, heh. Good stuff, I will have a review for the next show and all, got behind.
Re: Being The Booker
---
Good update, KOTR should be pretty damn solid. Goldust gone is fine with me, but I think this may be the beginning of the end for Booker in your thread and I think you will bury him. Hopefully I am wrong and we will see him sneak his way into the KOTR by taking someone's spot, thus turning heel, winning and then becoming King Bookah!

Ok, sorry, I have woken up now.
---
WCW.
Re: Being The Booker
---
HEAT & Velocity results were nice, alot of good talent on the shows, especially seeing the Dudleyz and Masters on Velocity, but whatevers. You can't book everyone at once lol.

Cya Goldy, poor guy. Always liked him, funny jobber. I guess Booker might get a bit more exposure in the midcard?

KOTR brackets look good, I'm gonna make my predics on who's going through if ya don't mind...

RHYNO VS NICK DINSMORE

ROB CONWAY VS MR. KENNEDY

GARRISON CADE VS CARLITO

SHELTON BENJAMIN VS FINLAY

RAW is gonna be good, big main event added to the show, plus two of the KOTR matches and the Cabana, stacked show of sorts, plus all the other stuff that'll go down makes it even better

Onto the news, Orton back is logical, I expect one final match between Cena & Orton at Summerslam, so the build will start soon methinks. Great to hear the 5 vs 5 tag could return for COTC. Chavo back is cool, and I wonder what Foley's idea is? Should be huge, maybe involving himself perhaps. Haas getting a manager will be good, as his mic skills do suck, badly. Edge traded for HHH or Angle will be a sure sign that Edge will take the title off Benoit, as you are aware that Christian/Edge is done to death.


All in all, this thread is still king of BTB, and I look forward to the next show Wolf.
---
***

Chopped Liver
Join Date: Jan 2004
Location: Six inches from a computer screen
Posts: 5,433
Points: 321
Re: Being The Booker
---
As a note - I'll only be doing the 'Big Four' events in full if any. COTC and the Cyber Sunday joint PPV events will be still recapped.

Also, I'll be most likely putting the thread on hiatus for the duration of the BTB World Cup, so once I post Judgment Day in about a weeks time, the thread will be on hold.

---


Raw: May 8th; Memphis: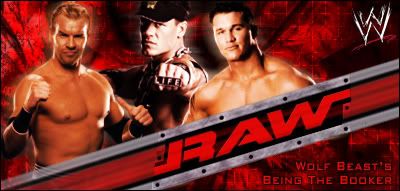 Opening Video
Pyro
Jim Ross:
The Pyramid hosts another spectacular edition of Raw, as the superstars of the WWE invade Tennessee!!! Expect another dynamite evening, with myself, Jim Ross, alongside my broadcast colleague, Jonathon Coachman, The Coach.
The Coach:
It's big time tonight J.R. The Coach is pumped, tell the people what's in store.
Jim Ross:
The 2006 King of the Ring tournament kicks off tonight, with the first two opening round matches from the Raw portion of the draw kicking us off. The draw was made on Saturday afternoon on wwe.com, and tonight, we open the first King of the ring tournament in four years, with The Man Beast, Rhyno, a former semi finalist in this tournament, taking on a King of the Ring virgin, in The Prodigy, and one third of the Horsemen, Nick Dinsmore.
The Coach:
And the second match J.R, sees a rematch from Backlash, between The Con Man, Rob Conway, and Mister Kennedy!!! Two other men, making their debuts in this prestigious competition. The other two first round matches from the Raw half of the draw take place next week.
Jim Ross:
And if you haven't had the opportunity to take a look at the Raw draw on wwe.com, then here it is now…
Quote:
Rob Conway vs. Ken Kennedy

Rhyno vs. Nick Dinsmore

Garrison Cade vs. Carlito

Shelton Benjamin vs. Finlay
The Coach:
The Smackdown draw will take place next Tuesday afternoon just for those keeping score at home by the way.
Jim Ross:
But that's not all. Tonight, in a tag team main event, Edge and Brock Lesnar will join forces again after a disastrous display last week, to face the former World Heavyweight Champion, John Cena, and the current Intercontinental Champion, Shelton Benjamin.
The Coach:
Big test for Edge and Lesnar tonight. Those two need to find the same page and they need to do it quickly.
Jim Ross:
We'll also get Garrison Cade appearing on the Cabana with Carlito, where he will explain WHY he turned his back on Shawn Michaels at Backlash eight nights ago.
The Coach:
HBK aint here tonight, as he promised, to give Cade the chance to explain himself. I say it's more along the lines of Michaels being scared to come up against Cade.
Jim Ross:
That's a load of you know what Coach … but hey, we've got two special guests on Raw this evening too!!! The Chairman of the board IS HERE!!! Mister McMahon announced over the weekend he would be on Raw tonight, what does McMahon have to say this evening?? And also, the WWE cant come to Memphis without The King!!! Jerry Lawler the Hall of Famer will make an appearance this evening!!!
The Coach:
That's all we need. Just as we were beginning to move on…
**NO CHANCE**
Jim Ross:
And here he is!!! The Chairman of the board isn't wasting time tonight!!! We are kicking the show off with Vincent Kennedy McMahon!!!
The Coach:
For the love of - STAND UP WHEN THE BOSS IS HERE!!!
Jim Ross:
Go to hell Coach … go to hell.
McMahon power walks to the ring, with J.R musing on what possible reason McMahon has for being in Memphis tonight. Vince enters the ring, and is handed a mic, with his signalling for the music to stop, which it does fairly abruptly.
Mr. McMahon:
Not to be rude, but time is of the essence this evening, and I'd like to get straight to business. Eric Bischoff, show yourself.
McMahon stands, and waits for a moment, before…
**I'M BACK**
Eric Bischoff enters the arena, looking a little uncomfortable being called out by the boss. Bischoff quickly walks down the ramp, so as not to keep McMahon waiting. Eric steps inside the ring, and shakes hands with Vince, but McMahon doesn't appear to be happy with the Raw GM.
Mr. McMahon:
Now Eric, when I re-appointed you as the General Manager of Raw, you made me a number of promises. Isn't that right??
Eric Bischoff:
Yes, Mister McMahon, that is correct.
Mr. McMahon:
Let me think now. What promises did you make to me … refresh my memory Eric.
Eric now smugly smiles, as he begins to answer.
Eric Bischoff:
Well, Mister McMahon, I pr-
Mr. McMahon:
Wait. Wait. How about we use the video evidence…
Vince points to the titan tron, as we see a clip of Eric Bischoff on the April 3rd edition of Raw, where he was re-appointed.
Quote:
This time I WONT slip up, and I wont give anyone any excuse to fire me. What I'm gonna do is shake this brand to it's very core, and take Raw to a level we've never been. I'm gonna take Raw and make it bigger than Nitro ever was … I'm gonna take Raw, and make it bigger than Raw ever was in the attitude era. This is a new era for Raw … The ERIC BISCHOFF ERA!!!!
We return, with Bischoff nodding in agreement, as Vince puts his hand into his pocket, before speaking.
Mr. McMahon:
So … do you think you're living up to your end of the bargain Eric?? Have you shaken Raw to it's very core?? Are you taking Raw to a whole new level?? Are you making Raw bigger than it's ever been??
Eric nods, and begins to speak.
Eric Bischoff:
Sir, with all due respect, these things cant be done overnight. But slowly and su-
Mr. McMahon:
SHADDUP!!!
The fans pop, as Eric takes a step back.
Mr. Mc Mahon:
I don't want someone in charge of Raw that's gonna just cower, and make excuses. I want someone in charge of this show that going to shake Raw to it's very foundations. If you make a promise I want you to BACK IT UP!!! I want you Eric … TO TAKE RAW BY THE THROAT AND SHAKE THE LIFE INTO RAW!!! … SHAKE THIS SHOW UP LIKE YOU PROMISED YOU WOULD … or I'll find someone else.
Vince sneers at Bischoff, who loosens his collar, before speaking.
Eric Bischoff:
You're right Mister McMahon. I'm going to shake Raw up. I'm going to stamp my authority over this show, starting tonight.
Vince raises his eyebrow.
Mr. McMahon:
Now Eric, before you start going and shaking things up, I also want to make it clear that my main point of concern … is your treatment of certain talent.
Eric looks puzzled.
Mr. McMahon:
It appears to me Eric as if you're catering to certain Raw superstars, such as Brock Lesnar … such as Edge, whilst you're making life difficult for the likes of Shawn Michaels, and Rey Mysterio.
Heat for Bischoff.
Mr. McMahon:
And Eric, take this as a tip. You are being warned to start treating every single piece of talent with the same amount of respect, or contempt that you do every other superstar. Is that understood??
Eric Bischoff:
Absolutely Mister McMahon. In actual fact, just before you mentioned that, I was planning on announcing that tonight, I'd like to publicly apologise … to … Rey Mysterio over my recent actions. And … to make up for forcing Mysterio to defend his rightfully won Money in the Bank contract at WrestleMania … I … …
McMahon nods, as Bischoff tries to think of something.
Eric Bischoff:
I am here by announcing that tonight, LIVE on MY Monday Night Raw, Rey Mysterio will go one on one, with … CHRISTIAN … FOR THE WORLD HEAVYWEIGHT CHAMPIONSHIP!!!
The fans pop big time, as McMahon nods, looking happy with the announcement.
Mr. McMahon:
Eric, I like it. But don't forget what I said. Treat the talent equally … and shake this damn show to it's core.
McMahon begins to walk away, but Eric stops him, smiling.
Eric Bischoff:
Y'know, I think I know just the thing to shake Raw up. In fact, by this time next Monday night, the entire world will be tuning in to Raw … just wait and see.
McMahon, looking confused, takes the comment in, before leaving the ring, and a grinning, nodding Bischoff, as he head into the first commercial of the evening.
Commercial
1st Match: KING OF THE RING TOURNAMENT - FIRST ROUND:
Rob Conway vs. Mister Kennedy
Short, disappointing match, not even matching the average contest the two had eight days ago at Backlash. Conway tries to be the aggressor on this occasion, but it's Kennedy that has too much for Conway again, and gains a much deserved win, scoring with the Green Bay Plunge, defeating The Con Man, ending any hopes for Conway to become KOTR.
Winner: Mister Kennedy @ 05:15
Kennedy has his hand raised in victory, whilst Conway makes a quick getaway, slipping out of the ring after another loss to Kennedy. Kennedy progresses, and gets on the mic, referring to himself not as Mister Kennedy, but the soon to be KING Kennedy.
A second promo plays, hyping CM Punk. In this vignette, Punk explains the reasons for his tattoos despite being Straight Edge.
Backstage, we see a relieved looking Eric Bischoff about to step into his office, when we see a hand go onto the handle of the door, stopping Eric from entering. The camera pans up, and we see an angry looking John Cena staring down the boss.
John Cena:
I think we need to talk Eric.
Eric, looking a little concerned for himself tries to speak, but Cena stops him.
John Cena:
Two things Eric. Two questions I need answered. Where the hell is Randy Orton?? And where do I stand in terms of a World Championship rematch??
Bischoff, still looking anxious, tries to calmly answer.
Eric Bischoff:
John, I understand your angry. I understand that completely.
Cena butts in.
John Cena:
Stop talkin around the subject Eric. Give me the answers.
Eric gulps.
Eric Bischoff:
Look. Randy Orton?? He's still on a leave of absence. I don't even know how he got into the building at Backlash. I told Orton not to come back until he was ready to be a team player. He could be gone for another week, another month … hell, he might never come back.
Cena looks furious, as Bischoff continues.
Eric Bischoff:
And now, I'm telling you the same thing. You're title shot depends on how you perform. You're at the back of the line now John. And like I said to Randy Orton last month … you can stay on Raw and be a team player … or you can go on a holiday, and come back when you're ready to play by MY rules.
Cena puts his head down, not happy with the ultimatum.
John Cena:
I don't play by the rules Eric … but I've got people that are here to see me, and fans to please, and I don't plan on letting them down. I WILL work my way back to the World Title, and I WILL be the World Champion again … and there's gonna be nothing you can do about it.
Cena brushes past Bischoff, who takes a deep breath, escaping a bullet there.
Commercial
2nd Match:
Finlay vs. The Hurricane
Just another showcase for Finlay, who dominates literally from bell to bell, over The Hurricane, who has done very little on Raw in the past six months since losing the now defunct Hardcore title. He does though, get a brief minute of offence, where he gets to play to the crowd with his usual antics, but the match falls apart from him, as he goes up top, taking forever to put his cape on, and gets caught in mid air, with Finlay dropping him with a rib breaker, before breaking Hurricane down again, eventually finishing him off with the Celtic Cross, 1...2...3!!!
Winner: Finlay @ 05:12
Finlay picks up another impressive win, as he prepares for his KOTR match next week, when he faces Intercontinental Champion, Shelton Benjamin.
We head backstage, and see Edge walking along the corridor, looking less than happy, stopping at Eric Bischoffs office, immediately bursting in, with Eric getting straight out of his chair, looking furious.
Edge:
Eric??
(Pauses to let Eric speak, then butts in)
No, shut up. How can you do that?? How can you just hand out a world title match to Rey Mysterio?? If you haven't forgotten Eric, HE LOST HIS CHANCE!!! He lost this.
(Raises briefcase, and pats it)
Eric now retorts, not showing any fear of the angry Rated 'R' Superstar.
Eric Bischoff:
Now hold on just a damn second. You cant come into my office, and start yelling the odds at me. Edge, if it wasn't for me, you wouldn't have that briefcase, and I'd appreciate you to remember that. I gave Mysterio the title shot tonight, and lets call a spade a spade here, I shouldn't have made Rey Mysterio defend that money in the bank. It wasn't a title to be defended.
Edge listens, but breathes heavily, showing his anger.
Eric Bischoff:
But - there is one man who can put a stop to Rey Mysterio challenging Christian this evening, isn't there??
Eric looks down at the briefcase, with Edge pulling it into his chest, holding it closely.
Edge:
Forget it. The time isn't right yet. Just letting you know Eric … the decision to give Mysterio a title shot?? STINKS!!!
Edge then turns around, and looks to storm out of the room, but walks right into the path … of BROCK LESNAR!!! Edge takes a step back, and gulps, as Lesnar looks at his tag partner for tonight with a look of resentment.
Brock Lesnar:
Tonight, after that joke last week … you better follow my lead.
Edge s......s, trying to hide his nervousness, and tries to move past, but Lesnar stops him.
Brock Lesnar:
And leave the briefcase behind … wouldn't want any accidents like last week, would we??
Again, Edge fake laughs, but his smile fades as Lesnar walks away.
Back into the arena…
**I SPIT IN THE FACE OF PEOPLE, WHO DON'T WANT TO BE COOL**
Carlito walks out onto the stage, accompanied by Stacy Kiebler, to a fairly indifferent response, after showing signs of a face turn last week. The couple walks down the ramp to present the Cabana, as J.R tells us to tune in after the break for the Cabana with The Horsemen.
Commercial
We return, with Carlito and Stacy in the ring, and it appears Carlito has been bigging up Kiebler during the commercial…
Carlito:
… But as much as I would like to compliment Stacy all night, The Cabana is back tonight, and tonight's guest is someone who has a lot of questions to answer, and I'm the man with the questions. Dat?? Das cool. My guest tonight is the same man who has the pleasure of getting beaten by me next week in the King of the Ring tournament, it is … Garrison Cade …
**WILD HORSES** Garrison Cade enters the arena, flanked by both Ric Flair, and Nick Dinsmore, who is already dressed for action, having a match to contest later this evening. The trio are given a seething amount of heat from the fans, as they cockily make their way to the ring, finally entering. The three men point a whisper at Carlito, before Flair is given a mic, and he hands it over to Cade.
Garrison Cade:
Thank you Ric. Ladie-
Cade is cut off with an 'asshole' chant from the fans, whilst Carlito smiles at the response, having been snubbed by The Horsemen as they entered the ring.
Garrison Cade:
Lets get somethin' straight here. I'm not an asshole. I'm not the bad guy here. The bad guy … is Shawn Michaels.
Heat from the fans.
Garrison Cade:
Don't dare try and turn this around on me. I did what I had to do, for MY career to progress. I turned my back on Shawn Michaels, because he wouldn't let go of the torch. He wouldn't pass it to the next generation.
Cade looks ready to snap, as the fans refuse to give him any quiet.
Garrison Cade:
But, Ric Flair?? Ric Flair offered me to the chance to progress. The Nature Boy promised to give ME the ball. And damn it, I'm running with the ball full pelt.
Heat from the fans, as Carlito now speaks up.
Carlito:
Umm … that's all well and good, but, you do realise that you just killed my interview?? You just answered all the questions I had for you.
Flair looks furious at Carlitos outburst.
Carlito:
Seriously. You've just ruined the entire Cabana, moron.
Flair goes nuts, ripping off his jacket, with Carlito looking a little worried by the behaviour.
Carlito:
Calm down Flair. You guys not give him his medication?? Do something. Sedate him or … put him to sleep, something.
Cade now comes back at Carlito, looking angry.
Garrison Cade:
Wait just a second. You cant talk about the greatest wrestler ever like that. The hell do you think you are?? That's Ric Flair you're talking about.
Carlito:
Listen. I know exactly who I'm talkin about. And I know exactly who I'm talkin to. You?? You're not cool. You?? You're nothing more than a backstabbing son of a bi-
Dinsmore now butts in, taking the mic from Cade.
Nick Dinsmore:
Hol-
Carlito:
Don't get me started on you 'Eugene'. You're just a fraud. Both of you make me sick. Let's face it, I know I'm not perfect … I'll admit that. But at least I don't pretend to be someone's friend, and then stick the knife in the back when he's not looking. And at least I don't pretend to be something I'm not.
Fans pop for Carlito, as The Horsemen go nuts with rage.
Carlito:
As far as I'm concerned, you Cade, should worship the ground Shawn Michaels walks on. If it weren't for him, you'd be nothing more than a bum. And you, Nick Dinsmore?? You oughta be in jail. In fact, you three don't deserve to be called the Horsemen. A better name to suit the three of you?? I'd say … the fraud squad.
Few fans laugh
Carlito:
You've already ruined the Cabana tonight, by coming out here and ignoring the basics of this show, and just going ahead and talking. What the hell is that supposed to be?? What do I do?? Just stand and listen to what you say?? Y'know what, I suggest the three of you get the hell off my show right now, before I personally dispose of the three of you myself.
Carlito slams his mic down, whilst Cade, Dinsmore and Flair begin to laugh. Flair grabs the mic from Dinsmore, and yells at Carlito.
Ric Flair:
You little INGRATE!!! You disrespect the biggest force in wrestling today?? Why … we oughta rip you in half, and BEAT some damn respect into you Carlito. You know I know your father very well, and y'know, I think he'll thank us … for this.
Cade and Dinsmore immediately attack Carlito clubbing him to the mat, beating at him, with Flair putting the boots to him, whilst Kiebler goes spare on the outside, crying for help for Carlito. The three men continue to beat on CCC, when suddenly…
**SLOW CHEMICAL**
Kane bursts out from behind the curtain, and just like last week, stalks to the ring, with The Horsemen quickly gathering and scampering out of the ring, and through the crowd.
Kane comes to the ring, and walks around ringside, watching at the barrier, as The Horsemen run out through an exit.
Commercial
Smackdown Rebound
We return to Raw, with a shot of Rey Mysterio preparing in the locker room, with his big title match set for later this evening.
Back to ringside…
Jim Ross:
Still to come tonight, our World Championship main event. Rey Mysterio challenges Christian for the richest prize in the game. What a match that'll be. But moments ago here on Raw, we had perhaps, the most unusual edition of The Cabana, no questions were asked but Carlito perhaps gained himself three new enemies in the shape of The Horsemen.
The Coach:
Yeah, you're right J.R. What the hell was Carlito thinking?? But J.R, what the hell is Kane doing?? What is his issue with The Horsemen!!??
Jim Ross:
Coach, your guess is as good as mine. Kane has his sights set on Flair, Cade and Dinsmore, but we sure as hell don't know why!!!
**HERE COMES THE PAIN** Brock Lesnar enters the stage, for the next match of the evening.
Jim Ross:
We'll try and find those answers later, but right now, it's time for a MAJOR tag team spectacle. Brock Lesnar and Edge team up again, this week to face the former World Heavyweight Champion, John Cena and the current, Intercontinental Champion, Shelton Benjamin!!!
**METALINGUS** Edge makes his entrance, and shares a stern glance with his tag team partner, as the tension grows between the pair.
**AINT NO STOPPING ME NOW** Shelton Benjamin bursts out onto the stage, looking pumped up for a big time match up tonight. Shelton waits down the ramp, for his partner before entering the ring…
**MY TIME IS NOW** John Cena enters the arena to a phenomenal ovation from the on looking fans. The former champ looks focused on the ring, and proceeds down the ramp, touching knuckles with Benjamin, before running into the ring, going right at it with Lesnar.
3rd Match:
Brock Lesnar & Edge vs. John Cena & Shelton Benjamin
Cena and Lesnar tear it up early on, going right at, letting their frustrations out on each other, even brawling to the outside, where Edge and Benjamin get involved, and the referee tries to regain control, as we go to a commercial.
After the commercial break, we return with Edge and Benjamin now the legal men, Edge on top, beating down Shelton in the corner. The Rated 'R' Superstar whips the IC Champion across the ring, but Shelton jumps to the middle turnbuckle, and leaps back, landing behind Edge, rolling him up, 1...2...Kick Out. Benjamin turns it up a notch now, with Edge struggling to keep up with the speed, until Benjamin tags Cena back in. Cena storms in, still seething from losing his title, and begins to unload his anger on Edge, but Edge hangs in, and soon enough capitalizes on a Cena mistake, and begins to give the advantage to his side. Edge eventually tags Lesnar back in, with Brock going to work on the former champion. Lesnar and Edge begin to start working more fluidly, seemingly forgetting their tension earlier in the night, and begin to put Cena in plenty of trouble.
Just as it looks like the two are beginning to display a team spirit between each other, Lesnar ignores a call from Edge to tag out, and decides to stay in, with The Iron Man continuing to beat on Cena instead. Edge grows frustrated, as Lesnar starts to get more cocky with himself, but is made furious, as Edge makes a blind tag, quickly racing across the ring, and knocking Benjamin off the apron. He turns around, but walks into Brock Lesnar, and the two men begin to argue, but just before they can come to blows, John Cena comes in from behind, and attacks both men, beginning a comeback. Cena starts to fire up, and Benjamin gets involved too, with the faces looking sure to win the contest now.
Cena applies the STFU on Edge, but just before he can tap out, Lesnar breaks the hold, stomping on Cena. Benjamin then leaps at Brock, but Lesnar side steps him, and Shelton hit's the referee instead!!!! Lesnar then hoists Shelton up, and goes for the F5, but as he spins Benjamin around, HE CLATTERS HIM INTO EDGE KNOCKING THEM BOTH DOWN!!!! Brock yells out, furious with his mistake, but that allows Cena to take him on, and Cena gets the better of Lesnar, eventually hitting the FU!!! Cena looks to get the referee back to his feet … BUT RANDY ORTON SLIDES INTO THE RING!!! ORTON SPINS CENA AROUND … RKO!!!! Orton, out of nowhere takes out Cena again!!! Randy licks his lips and smiles over the body of Cena, before giving the referee a slap, waking him up again. He then exit's the ring, and stands on the apron, watching as Cena struggles back up to his feet. Cena gets up, and takes a look at Orton, looking set to go for his arch nemesis, BUT EDGE SCORES WITH A SPEAR ON CENA!!! Edge hooks the leg, as the referee finally comes to, 1...2...3!!!
Winners: Edge & Brock Lesnar @ 11:24
Cena has been screwed again!!! Orton jumps off the apron, and jogs past the aisle, down the sideway of the ramp, whilst in the ring, Edge revels in his victory, getting in Lesnars face as much as anyone else's, telling Brock that HE won the match. Edge leaves the ring, celebrating like he won the lottery, as Cena is helped to his feet by Benjamin, whilst Lesnar watches on as Edge celebrates up the ramp.
Commercial
We return from the commercial, we see John Cena frantically walking through the backstage area, looking for Randy Orton, but is told by random people that Orton has left the building already. Cena looks ready to explode, and over turns a table, letting out some of his anger.
We then cut away, and come to Todd Grisham, who is standing by with Finlay.
Todd Grisham:
Ladies and Gentlemen, my guest at this time, The Fighting Irishman, Finlay.
Heat for Finlay, but not a tremendous amount.
Todd Grisham:
And Mister Finlay, after your debut just last week, you've created such an impression on Raw, that already you've been inserted into the King of the Ring tournament, facing the Intercontinental Champion, Shelton Benjamin, next week, on Raw.
Finlay takes a long look at Todd, showing a blatant lack of respect for him.
Finlay:
Todd, I didn't come to the WWE to talk to the likes of you. I didn't come to Raw to talk at all. I'm not here to win anyone's approval, or hear the fans chant my name. I'm here for the competition. I'm here to inflict as much pain and suffering as I possibly can to my opponents. And no matter who I face, whether it's Shelton Benjamin or John Cena, I'll hold nothing back ... nothing at all.
Finlay fakes a lunge at Grisham, who makes a scared feeble turn away, thinking he was about to get hit. Finlay begins to laugh, before playfully slapping Todd, and walking off.
Back into the arena…
**WILD HORSES** Nick Dinsmore wanders out, alone, as per KOTR rules, but looks on edge, constantly peering over his shoulder, after the recent events involving Kane.
Jim Ross:
When we return, it's our second King of the Ring match up, as Nick Dinsmore of The Horsemen, takes on The Man Beast, Rhyno.
Commercial
4th Match: KING OF THE RING TOURNAMENT - FIRST ROUND:
Nick Dinsmore vs. Rhyno
Joined in progress from the commercial, with Dinsmore seemingly out of sorts, facing the last man Kane faced, from Backlash, with Rhyno taking full advantage of Dinsmores state of mind. Rhyno pretty much dominates the contest, with Dinsmore barely hanging in with him, clearly thrown off by what has happened with Kane, but luckily for Dinsmore, he side steps an attempted Gore, with Rhyno crashing into the ring post, and Dinsmore manages to roll him up, putting his feet on the ropes for leverage, 1...2...3!!!
Winner: Nick Dinsmore @ 05:09
Dinsmore, somehow advances, despite taking an absolute battering throughout the match up. He has his arm raised, but quickly looks around, in fear of Kane chasing him down again. He quickly jumps out of the ring, and begins to jog up the ramp, looking to get away as quickly as he can, but as he reaches the top of the ramp …
**EXPLOSION**
Dinsmore falls to the ground, in shock of the explosion, as we see Kane now step out onto the stage, bearing down on Dinsmore, who tries to crawl away, but Kane grabs him by the tights, and drags him to his feet, with Dinsmore begging off, but Kane grabs Dinsmore by the throat, and tilts his head at the pleading Dinsmore, who tries to ask Kane to let him go … BUT KANE HOISTS HIM UP, AND CHOKESLAMS DINSMORE ON THE STEEL RAMP!!!!!
Kane looks down at Dinsmore, with no facial expression to be found, hidden beneath his mask, as Dinsmore writhes in agony on the ramp, as we fade off into a commercial.
Commercial
We return with highlights of what happened with Kane and Dinsmore moments ago, before clips from Unlimited, where Dinsmore was wheeled out of the arena, with Cade and Flair going with him.
Jim Ross:
I'm certainly not the biggest fan of The Horsemen Coach, least of all Nick Dinsmore, but I cannot think of any earthly reason, as to why Kane has taken up such a vendetta with the group.
The Coach:
And he went too far tonight J.R. WAY too far!!! Kane needs to be fined, suspended, and fired if you ask me.
Jim Ross:
I just want to know why Coach. Why does Kane want to cause pain upon The Horsemen??
The Coach:
Somebody needs to get to the bottom of it J.R. It's out of control.
**GREAT GATES OF KIEV** The Pyramid ERUPTS as Jerry Lawler steps out onto the stage, and the hometown hero waves to his adoring fans.
Jim Ross:
There he is Coach, without a doubt, the greatest colour broadcaster in WWE history, and a certified Hall of Famer. The King has come home!!! Listen to this ovation Jonathan.
The Coach:
Excuse me?? You're currently sitting next to the greatest colour commentator in wrestling history, and The King must've found that Hall of Fame plaque in a god damn lucky bag.
Jim Ross:
You'd be doing a good job Coach, if you were half the broadcaster Jerry Lawler was.
The Coach:
Oh c'mon. Be serious. Anyone can be Jerry Lawler. All he ever did was ogle women, make lame jokes, and insult midgets. OH MY PUPPIES!!!
Lawler takes in the ovation, walking down the ramp, waving to the adoring fans. Lawler steps into the ring, and is handed a mic, as the music dies down but 'Jerry' chants begin to stir.
Jerry Lawler:
… It's great to be home.
Roar from the fans.
Jerry Lawler:
Y'know, I sure do miss the thrill of sitting beside Jim Ross every Monday night. I miss the buzz of the live audience, and I most importantly miss every single fan out there.
Fans pop again.
Jerry Lawler:
But, sometimes you have to accept when it's time to move on. Hell, I don't need to complain … You're looking at a certified HALL OF FAMER!!!!
Another cheer from the fans.
Jerry Lawler:
And the moment I was given the opportunity to come out in Memphis, live on Raw tonight, to talk to you fans, the same fans that have showed me the utmost respect over the years, it was just too good of an opportunity to turn down.
Another pop from the fans.
Jerry Lawler:
Now whaddya say … just for old times sake, about The King calling the rest of Raw tonight … right there, smack dab in the middle of my good friend, good 'ol J.R, and the young pretender, Jonathan Coachman??
HUGE pop from the fans, with J.R all for it, whilst Coach (on commentary speaks to himself)
The Coach:
Over my dead body.
Jim Ross:
Hey - that can be arranged!!!
King smiles in the ring, and nods as the fans voice their approval.
Jerry Lawler:
Well … I guess that settles it!!!
Lawler begins to step out of the ring, and onto the apron, when…
**GENERIC CUBAN MUSIC** The fans look a little confused, as we see a stranger enter the arena, dressed in a pale suit, with a white hat to match. The fairly dark skinned man walks down to the ring, with a grin on his face, as Lawler steps inside the ring again, looking a little confused himself. The man steps into the ring, and picks up the microphone that Lawler had set down, as the music stops.
Unknown Man:
Ahh … tudos … excussemay … I bring how ju say … GIFT, haha, all the way from Cooba.
The man offers a Cigar to Lawler, but The King just stares at the offering, and refuses to take it. The man continues to smile, whilst putting the cigar back into his top pocket.
Unknown Man:
Dats okay … the smoke … eets bad.
Lawler continues to look at the man with a disdain, as the man starts to look a little uncomfortable, before palming his hat.
Unknown Man:
DANG!!! How … aha RUDE!!! Let me introduce myself. MY NAME EES … ARRRMANDO, ALEJANDRRRO … ESSSSSSSSSSSTRRRRRADDDDDDDDA!!!!
Heat from the fans, instantly not liking Estrada.
Armando Estrada:
And everybody listen … HAHA … to me.
Heat.
Armando Estrada:
Because … I have some very important … ehhh … information to tell joo.
Lawler narrows his eyebrows, in annoyance with Estrada.
Armando Estrada:
Meester Lawler, joo were once great. Joo were once … superstar, ha. El mono, your tiiiime has … how joo say … done.
Estrada grins, and nods, whilst the fans boo.
Armando Estrada:
And eet is time tooo … move … move on.
Lawler now rips the mic away, to the pleasure of the fans.
Jerry Lawler:
I don't know who you are, and I don't know why you're here, but pal, you're certainly in the wrong place.
Fans pop, as Armando puts his hands to his sides, in a huff.
Jerry Lawler:
So I'd suggest Mister Estrada, that you take your cheap cigars, and get the hell on out of here, before I personally escort you off the premises!!!
Fans pop, as Estradas eyes pop open, and he takes the mic back.
Armando Estrada:
Joo don't understand Lawler. Joo don't understand the … consequence.
King shakes his head, and rips the mic back again.
Jerry Lawler:
Listen pal, it's pretty clear to me you're on the wrong side of town here. Because nobody crosses Jerry Lawler in Memphis.
Estrada tries to take the mic, but Lawler loses his cool, and punches Estrada, knocking him down!!! The fans go berserk, as Lawler pulls Estrada up, and throws him right out of the ring, getting rid of the rubbish. Kings music hits again, as Estrada crawls up the ramp, having just been taken out by King.
Commercial
We return, with The Heart Throbs and Lita in the ring, whilst King has now joined J.R and Coach on commentary, as we await their opponents for this six person tag match.
**YOU LOOK SO GOOD / APA REMIX**
Rico flamboyantly enters the arena, with Simmons and Trish following behind, as Trish locks eyes on Lita in the ring, desperate to get her hands on her. As the trio walk down the ramp … we suddenly see a group of photographers swarm them, and furiously snap pictures, almost blinding them, to the extent that Rico cant even pose for a shot with a flashing of bulbs. Simmons chases them off, as J.R comments that it happened last week to Rico too, and it cost him a one on one match with Rob Conway.
5th Match:
A.F.A & Trish Stratus vs. The Heart Throbs & Lita
Short match, just to fill time until the main event, and gives Trish and Lita a chance to progress their feud, whilst getting the tag champs some air time. The faces put their weird paparazzi experience behind them, and get on with the job, as Lita and Trish take up the most of the ring time, before Rico and Romeo tag in, and we head straight for this finish, as Lita tries to distract Rico, only for Trish to nail her off the apron, with chaos now ensuing. Rico plants a lip lock on Romeo, who despite looking Gay, reacts badly to it, and starts running around the ring, slapping his mouth, walking into a spin kick from Rico, 1...2...3!!!
Winners: A.F.A & Trish Stratus @ 02:56
Rico celebrates the win in the ring, whilst Lita rakes Trish eyes on the outside, giving herself a chance to escape up the ramp away from Stratus, whilst Simmons nails a devastating Spinebuster on Antonio on the outside.
Watching backstage, we see the Womens champion, Jillian Hall standing, watching on the monitor…
Jillian Hall:
They think they're so great. I'm the one with the title. I should be the centre of attention.
Jillian turns away, and spots Todd Grisham, quickly moving in his direction, and gropes the interviewer, pinching his ass, and giving him flirty looks.
Jillian Hall:
Todd … you think I'm the prettiest … most attractive … SEXIEST diva on Raw, don't you??
Hall rubs herself up against Todd, with the geek gulping hard, uneasy with Jillian.
Jillian Hall:
I know you want me Todd…
Jillian moves in to kiss Todd, then pushes him away, and starts laughing.
Jillian Hall:
You don't really think you could have ME, do you?? As if. Todd, I'm the most attractive woman in the WWE … hell, I'm the MOST attractive woman on the planet. I'm the WWE Womens Champ, and I AM THE CENTRE OF ATTENTION!!!
Hall struts off, having just teased Grisham into boosting her own ego.
We head further backstage, and see Eric Bischoff on his phone, talking to someone concerning the condition of Nick Dinsmore.
Eric Bischoff:
That's a relief. So, he'll be ready to compete in time for next Monday?? … … What?? What do you mean 'I'm being a little inconsiderate', time is money pal, my job depends on my talent being able to fulfil obligations. … … How long are we talking here?? … … Two months?? No, no, no. I don't think so. He can take next week to recuperate, but nothing more. Got that??
Bischoff doesn't wait for a response and hangs up. Eric then dials another number, and waits for a response.
Eric Bischoff:
Hello?? Personnel?? Yeah, it's Eric Bischoff. I want you to set up some sort of interview with Kane during the week. I want to get to the bottom of his vendetta with The Horsemen. … … No one is willing to interview him?? What the hell are you people being paid for?? Fix it!!!
Eric ends the call early again, as we see Mr. McMahon enter the office. Eric puts on a smile, greeting the boss.
Eric Bischoff:
I hope you've enjoyed your evening sir.
Mr. McMahon:
I have to say, I've been impressed Eric. I just hope you keep it up … because I WILL be here next Monday to reveal the 'McMahons' choice match for the upcoming Clash of the Champions on June 4th.
Eric grins and nods.
Eric Bischoff:
Oh Mister McMahon. I know ALL about the Clash of the Champions. I'm more prepared than you might think.
Vince looks a little confused, but nods anyway.
Mr. McMahon:
Very well. I'm afraid I have to leave now though. My private jet is cleared for take off very shortly, so I'll miss the main event.
Eric Bischoff:
That's not a problem. We've loved having you here tonight. And I'm looking forward to seeing you next week.
Mr. McMahon:
Oh, but just before I go Eric … you mentioned earlier that next Monday night the entire world will be tuning in. What exactly have you got planned??
Eric devilishly grins.
Eric Bischoff:
By next Monday … it'll all make perfect sense.
We fade out, back to ringside, with our three commentators.
Jim Ross:
It's been one heck of a ride in Memphis tonight folks, we've got The King with us, and we've barely heard The Coach speak in the last ten minutes!!!
The Coach:
It's called a silent protest Jim.
Jerry Lawler:
Well, if you need sponsorship, I'm willing to hand over some money for a cause like that.
The Coach:
Y'know what. I'm going. Cya next week J.R, lets see how you two old timers cope without the glue that holds Raw together. I'm out.
Coach rips off his headset, and storms away from the announce table with fans cheering, seeing Coach storm off, and a small 'NA NA NA NA' chant begins, as J.R and King laugh at Coaches expense.
They then hype next weeks show, with the two KOTR matches, as well as the announcement of the 'McMahons Choice' match for COTC.
**619** Rey Mysterio enters the arena, to a big response, with the main event set to take place.
Jim Ross:
Could this be Rey Mysterios chance?? Could we be looking at the next World Champion?? Find out, when we come back.
Commercial
Main Event: WORLD HEAVYWEIGHT CHAMPIONSHIP MATCH:
Christian w/ Tyson Tomko vs. Rey Mysterio
Short for a World Title match, main eventing Raw, especially between two talented superstars. The two work off a good chemistry they held for a short program early in the year, only now, both men are faces, but with the title on the line, but men pick up the intensity, putting everything on the line. Christian is able to live with the speed and trickery of Mysterio, having had him scouted from previous encounters, but Rey is able to switch up his offence to trick Captain Charisma, which leads to an intriguing main event. Mysterio comes within a whisker of victory, scoring with a hurricanrana, but Christian kicks out before three. The Challenger then looks for the 619, but Christian moves out of the way, and eventually drops Rey with a reverse DDT, but instead of covering, Christian decides to climb the ropes instead, and looks for the Frog Splash … BUT REY GETS HIS KNEES UP!!!!
Christian rolls around, holding his mid section, leaning into the ropes, which is an invite for Rey to run off the ropes, and deliver the 619!!! Rey leaps up to the top rope, and DROPS THE DIME!!!! Rey hooks the leg, feeling certain of a glorious first world title, 1...2...CHRISTIAN KICKS OUT!!! Rey holds up three fingers, pleading with the official, who tells him two. Rey holds his head in his hands, before finding the energy to get back to his feet. Mysterio runs at Captain Charisma, but Christian sees him coming, and flapjacks him into the ropes, with Rey getting caught, staggering back out, into the champions path … UNPRETTIER!!! Christian hooks the leg, with Rey flat out, 1...2...3!!!
Winner: AND STILL WORLD HEAVYWEIGHT CHAMPION - Christian @ 11:31
Christian successfully retains in his first title defence!!! Captain Charisma has his hand raised, and is presented with his title, whilst a distraught Mysterio shakes his head, having come within a second of becoming champion. He offers his hand to Christian, which is duly accepted, before Rey quietly leaves the ring, as Captain Charisma celebrates another victory, keeping his world title, as the show goes off the air.
END OF SHOW
Re: Being The Booker
---
Opening promo was intriguing, and I wonder what Bischoff is gonna do to "Shake things up". He ended the promo well, and has me thinking what's going down tonight. Christian vs Rey should be decent, although I hate seeing Rey near the top titles

Kennedy was always gonna beat Conway, 'nuff said. Dissapointing opening matches on back to back RAW's

CM Punk coming soon is good, following in the footsteps of Finlay

Cena not getting the answers he wanted there, I think Orton's gonna keep showing up now and then with RKO's for Cena until he "officially" returns to RAW

Finlay gets a win here, but I don't know if he'll go over Shelton. Perhaps he may, as that would give Shelton a chance to work an angle with someone over the IC title, but it might be too early to push Finlay

Edge isn't a happy camper, and then he and Lesnar butting heads again, I wonder if Lesnar might get a bit of payback on Edge tonight to even the scores

Awesome Cabana, maybe the beginning of a face turn for Carlito as he stands up to the Horsemen after Cade rambles on. They attack Carlito but again Kane makes the save! What is Kane doing by this? I'm wondering if Kane & Carlito will be HBK's allies in this stable feud

Cool tag match, the big feel halfway thru and ORTON IS HERE AGAIN! RKO to Cena, and Edge scores the win. Once again Randy Orton has gotten one over Cena, and must have him ready to implode

Typical Finlay promo, short and to the point

Ugh why have Dinsmore go over Rhyno? Rhyno has been getting a push of sorts, and yet he dominates Dinsmore and loses. Not a fan of that, and KANE IS HERE AGAIN! Ouch! Chokeslam on the ramp is gonna hurt. What is Kane's deal?

King returns to TV and looks set to rejoin the commentary team (PLEASE) only for uhoh, AAE! No Umaga? Hmm, King mops the floor with Estrada in the end, but I can't help but think next week, Umaga is gonna DESTROY!

Entertaining six person tag, again the Paparazzi snap pics at the beginning, I wonder when MNM are gonna debut? Trish still can't get her hands on Lita fully, and the AFA keep their short reign alive, for how much longer tho is as long as MNM don't appear

YUCK! Hall is an ugly mole with a good rack. She's got a flatter ass than Lita and a face to rival Victoria or Candice (bad). I can't believe she's the Women's champ, but owell, whatever

Dinsmore gone means Rhyno might get his spot in the KOTR, but I dunno how it'll be handled if Dinsmore is out for two months, or whether it'll just be the week. Still Bischoff won't reveal that special thing he has planned, and who's gonna interview Kane? Alot going on RAW tonight, alot going on with Bischoff

Coach walks out lol. I hope he doesn't return to the desk, JR + King is the shizz

Nice way to end the show, Christian wins a well fought main event and shakes hands with Rey follows it up to cap off a very nice show.

8.5/10
---
***

Chopped Liver
Join Date: Jan 2004
Location: Six inches from a computer screen
Posts: 5,433
Points: 321
Re: Being The Booker
---
Thanks as always Renegade, just to reply to a few things; Dinsmore went over Rhyno due to being in a fairly decent push at the moment, having beaten HBK twice recently, and Rhyno hasnt done much since WM.
Oh, and as for Jillian Hall, the fact she isnt the 'prettiest' of divas was the reason behind the promo. (I mean, I dont think she's awful, but shes not the most attractive of divas), which is why she was trying to use a geek like Grisham to boost her self esteem. Hopefully that cleared a few things up.

---

Smackdown Preview:

Smackdown rolls into Nashville, 72 hours away from it's first PPV extravaganza since WrestleMania, Judgment Day.

And, in the build up towards this Sundays event, a huge six man tag team match has been signed to main event the show tonight. The Rock, United States Champion Matt Hardy and WWE Champion, Chris Benoit join forces to take on their opponents on Sunday - J.B.L, Charlie Haas and Kurt Angle. Tensions will be running high in this one, with plenty of tempers set to boil over ahead of Judgment Day. Which three men will head into Milwaukee with momentum??

Meanwhile, Chris Jericho will 'Celebrate The Phenom' on the Highlight Reel this week, just three days before he faces The Undertaker in a Casket Match. Details are sketchy on what Y2J has in store ahead of Judgment Day, but with The Highlight Reel, always expect the unexpected!!!

Triple H will face a good friend of Paul London this Thursday, as he faces Billy Kidman, just three days before he is due to take on Paul London. Last week, The Game warned London not to show up at Judgment Day, after a gruesome attack two weeks ago, injuring The Golden Boys ribs. Will Triple H use Kidman to send a final warning shot to London ahead of their proposed match up to come at Judgment Day??

Rob Van Dam will be in action too, ahead of his unsanctioned challenge at Judgment Day, with his challenge sent out to Sabu, RVD has a chance to send the unsigned former ECW veteran a message, hoping Sabu will show up on Sunday.

Expect the rocky road towards Judgment Day to get no smoother as Smackdown heads for the Final Destination on Sunday, right through this Thursday, for a show that cannot be missed!!
Re: Being The Booker
---
Wolfy mate, I know this sounds like a cop out and an excuse becasue I just can't be bothered doing it, but the truth is that is not the case at all. I know I promised you a Backlash review, and I had it done (up until the main event at least), but now I can't find it, and to be honest I don't have the motivation to do it again, becasue it was a pretty in depth review, despite the fact the PPV was recapped. I'm really sorry mate, but I promise that a Raw review will be up within the next day or two, and I will review Judgement Day when it's up. Again, sorry to dissapoint man
On a completely different note, the SD! preview looks awesome, and the show looks liek it can't be missed!
EDIT!!!
Forget what I just said, I found the Backlash review!!! It'll be up soon mate
---
Booking Credentials
# Captain of Team Oceania- 2007 BTB World Cup
# Breakout Star of 2006
# Third in WF's Favourite Booker Award 2006
# 5th in the First Annual BTB Promo Tourmament
# Best New Booker x1
# Best New BTB x1
# Most Improved Match Writer x1
# Best Used Wrestler x1
# Biggest Shock of the Month x2
---
Last edited by ORRY; 04-05-2007 at

04:42 AM

.
Re: Being The Booker
---
I thought that Finlay was facing Shelton Benjamin tonight? Oh well, should make for a good match next show. King of the Ring is a good idea, and it seems to be for people on the rise, not for anyone established.

Cena vs. Orton is an interesting feud, and one that I like, but I do not understand how long you will be able to keep it up like this because it is hard when only Cena is doing the feuding. Nevermind, Orton costs Cena out of a tag team match! Cena gets pinned, even better for the feud. The team of Lesnar and Edge actually works this week. I am not sure whether this is indicative of Orton joining Raw again, but I like these surprise appearences of RKOs!!! I can see a match at Clash of the Champions for sure and maybe even another at Summerslam with a nice gimmick or stipulation attached to it.

Kind of weird for Vince McMahon to be a face, but that happens when the GM is a heel. Bischoff seems to be reforming to appease McMahon temporarily. I do not think he will make matches like Mysterio vs. Christian for the World Title again. I hope you do not keep Vince face, you should do something with him as a heel, just a short feud.

Jerry Lawler being first to Umaga is nice. I love that you actually had Armando Estrada do something in terms of speaking a promo again and saying his name. King gets the first punch, but that will be all that he gets.

What is Jillian doing, especially with Todd? Your womens division is really losing all that excitement it used to have.

MNM should be an okay team here.

I thought Rob Conway would get a mini push, but that seems to be something that will not happen.

Kane killed Dinsmore!

I like the face vs. face main event for the World Heavyweight Title. Christian gets the clean win, and they shake hands afterwards.

There are two post Wrestlemania things I do not really understand. Starting from Wrestlemania 21 all the way to Wrestlemania 22, you built Randy Orton up as one of the biggest faces, giving him all these big face wins. Starting from Wrestlemania 21 to Wrestlemania 22, you gave Christian a multitude of heel victories. I just do not understand how you turned them opposites. I thought you build heels to be heels, and faces to be faces.
Posting Rules

You may not post new threads

You may not post replies

You may not post attachments

You may not edit your posts

---

HTML code is Off

---