Tag Teaming With James Ellsworth
Join Date: Apr 2005
Posts: 1,710
Points: 0
Re: Being The Booker
---
I know this show is going to be heavily reliant on the Main Event and Austin, but this was a good way to open the show. Hunter showing who he is, by destroying the two cruiserweights and then telling London that it was time to pay for the choice he made last week. I'm glad to see that London is still getting pushed in this thread, and I hope this feud can remain hot for the next couple of weeks or months.

Jericho seems intent on beating Taker, and it looks like soon these two will meet once again. As for the Hass match, Hass continues his vicious streak and wins once again. I'm impressed at how you're using Charlie as I find him very hard to use in storylines.

Good but short promo from JBL. While wrong in content, it did its job by keeping the heel heat on him. As for next week, I wonder what's next for the self proclaimed "Franchise Player of Smackdown!"

Taker is on Smackdown! This is big! The feud with him and Jericho will continue now, and I like how you used Jericho smiling as a form of games to the Undertaker this time.

Rock gives his regular promo, though it could've been a tad longer. Anyway, he gets the point down, and that for one more time, him and Austin will tear the house down. As for the Spirit Squad, I had a feeling they would get the win in their first match, as I have a feeling this team will be a big impact on the show for the next couple of months. The Wrestling Machine, Kurt Angle is back and I can't wait for Angle to get back into the title hunt.

Austin's promo was right to the point and it looks like we're in for a wrestling classic! I'm surprised Rock didn't get in any of his signature moves. Austin wins and gets one great send off!

Snap, you continue to impress me, and this is still the thread in my opinion to top as it comes to Booking in BTB.

9 out of 10! Great Job!
---
[U]KOM has returned to BTB with WWE 2007: The Legacy and Aftermath of WrestleMania!
[U]
Re: Being The Booker
---
Show kicks off and the Cruiserweight match is interrupted and destroyed by Trips! Long promo from The Game just calling out London and finally the youngster appears, and we have a brawl on our hands! London surprisingly holds his own quite well here and security seperates them, this is gonna make London into a star no doubt this feud

Jericho stills wants Taker, the question is, will Y2J be able to beat him next time? Methinks, no. Nice and short promo

Again Haas puts himself over as a psycho asshole, sorta like how I used to portray him back in my WIWA thread years ago. Test may've hurt his neck big time, but Haas doesn't seem to give a shit

JBL disrespecting Austin's night of commemeration and leaves the building, also putting himself more over as a total jackass

Jericho & Batista get an expected win over Hardy and the new jobber it seems in Albright. Y2J then calls out Taker and the Deadman finally shows up on SD! Chokeslam to Batista, but Jericho escapes the punishment, and finally this feud can continue to have some build towards a match at Judgment Day

Rock promo was fine, although short as you'd expect from a Rock promo. The match tonight should be sweet

Spirit Squad get the better of the Dudleyz again, pity the Dudleyz aren't being put to better use but now it seems like AMW might finally get an opponent to worry about on SD! for the first time in along time

Angle is back and he's gunning for Benoit's title. Will be interesting to see if losing to Bret actually has an affect on his in ring performances these days, which it could very well do

Austin turns up the intensity for his match, sounding a bit heelish in parts but that ain't gonna work lol. JR is here too, no doubt to call Austin's final match

Austin had most of the running in the end even after copping a Rock Bottom on the floor, and the Rattlesnake is sent off in a great way with a victory and an embrace with The Rock and a beer bash to follow. Great moment, sad to see you rid SD! of Austin, but atleast you kept The Rock around

Another good show Snap. 8.5/10
---
***

Asking JAMES ELLSWORTH for Wrestling Advice
Join Date: May 2005
Posts: 397
Points: 0
Re: Being The Booker
---
Smackdown review:
Kid Kash vs Tajiri:
Great way to start off the night, with a cruiserweight match, was dissapoited that Triple H came in and spolied it. But it's the kind of thing he would do so no complaints about that really (plus i didn't see it coming as Tajiri had gone through the trouble of earning the title shot). The HHH promo was pretty good, he dragged it on like he normally does. The concept of a London vs Triple H feud is interesting, (mainly due to the differance in star power), i can see London pulling off a Benjamin style upset over the game.
Jericho interview:
Decent promo, i like how Y2J is acting differant lately, showing that the focus and obsession he has with this feud with Taker is having an effect on him.
Charlie Haas vs Test:
I like the angle your creating with Haas, (being angry due to being drafted, and therefore taking it out on everyone else.) But due to the size differace between him and Test, it does't seem believable to me that Haas could dominate him like that, no matter how pissed off. I guess it did make Charlie look strong though, which was a good thing.
JBL interview:
You've done well pushing Bradshaw to world title status recently. This promo started off very similar to the ones we've heard from him during the last few weeks, which lost my interest a little bit. However the Stoe Cold referance was interesting. I expect because of the way Cole and Tazz reacted to it, that a superstar may feud with JBL due to those comments (possibly the Rock, since you've shown that he respects Austin).
Hardy and Batista vs Jericho and Albright:
Seemed like an average tag team match (thought the ending came a bit too suddenly though). Jericho pinning Brent seemed to kill off the momentum you gave him last week, which isn't a bad thing in my view, as you are currently pushing a lot of people. The aftermath with Taker was done well, Y2J gets to see Batista recieve the chokeslam, so he sees what he's in for, however manages to escapse it for tonight.
The Rock interview:
Rocky seemed to be in character, and said everything i assumed he would. I thought this promo could have been longer seeing as it will be an important match in his career, hell arguably one of the most important matches in WWE history.
Dudleys vs Spirit Squad:
The Spirit Squad winning came as no surprise to me, and the use of the megaphone was the perfect was for them to do it (puts over the gimmick, and doesn't completly kill the Dudley's credability). I expect the cheerleaders may recieve a title shot soon, though personally i'd like to see them feud with Bubba and D-Von longer, since their personalities contrast so much, it could make for some interesting promos in my opinion.
Kurt Angle promo:
Very good promo here, and probably the best of the night. You portrayed Angle well as the intense wrestling machine. Angle vs Benoit, even though it's been done countless times before, still sounds good to me. I don't quite understand the hype around Angle's return though... he hasn't been gone as long as Tazz and Cole would have you assume
.
Austin interview:
You did a good job of portraying Austin as the hell raiser of old. But i thought it was a bit weird that for the last couple of weeks Austin has been talking about respecting the Rock, but suddenly he seems to change his tone about that.
Austin vs Rock:
You'd probably miss out on a tonne of money by having this main event a weekly show and not a PPV, but meh
. The match started off ok (the Rock Bottom on the floor was a good touch). But the flow seemed didn't seem quite right to me after that. It looked as though the match was coming to the finshing sequance (with the signature move attempts... by the way, it was a bit weird that Rock didn't go for the people's elbow after the spinebuster as usual), but then they went back to using some basic moves, (Rock's russian leg sweep) which would have been ok if there were more near falls following it, but the end came a bit too suddenly in my view which took some excitment away. I did like Austin using his old finishers though, such as the lariet and the million dollar dream. So overall it was a good match, but there could have been a bit more exciting and tense.
Overall:
A solid show, although looking at some of your previous ones, i'd say a couple of them were a bit better. Like Deadman said, not having people like Benoit and Heyman on the show was strange (even if it was centered around Austin). But overall it was a good read
.
Chopped Liver
Join Date: Jan 2004
Location: Six inches from a computer screen
Posts: 5,433
Points: 321
Re: Being The Booker
---
*Not really my place to say this, as it's Snap that writes Smackdown now, but Paul London has been pushed as an equal to everyone on Smackdown for the past year, so it shouldnt come as a surprise that he's getting an actual feud with a top tier player*
----------------------------------------
Heat Results:
Rob Conway defeated The Hurricane
Booker T & Goldust defeated The Heart Throbs
Jillian Hall defeated Alexis Laree
Ken Kennedy defeated Orlando Jordan
Velocity Results:
Luther Reigns and Mark Jindrak defeated AMW in a Non Title Match

Brian Kendrick defeated Jamie Noble

RVD defeated Hardcore Holly

Chris Benoit defeated Lance Storm
-----------------------------------------
Official Raw Preview:
Only two weeks remain until the WWE hits PPV again, and with the Backlash card beginning to take shape, Washington DC hosts another blistering edition of Monday Night Raw.
Two Backlash challengers face each other, as Edge, who challenges Rey Mysterio for the Money in the Bank contract in an I Quit Match on April 30th, takes on the #1 Contender for the Intercontinental Championship, Shelton Benjamin. With both men looking to build momentum ahead of Backlash, victory is a must on Raw.
And, while Edge is in action, Mister Money in the Bank, Rey Mysterio has been ordered to take Monday night off, with Eric Bischoff determined to make sure there isnt a repeat of last weeks uncontrollable brawl that took place between Edge and Mysterio.
After seeing his Raw debut go terribly wrong last week, Rob Conway will attempt to rectify that first impression, as he has been granted ring time to present his own talk show. The name has not yet been announced, nor has a guest, but 'The Con Man' has promised the most entertaining show in WWE history this Monday. What exactly does Conway have to offer??
Meanwhile, with DX set to face The Horsemen in a historic tag team match at Backlash, another singles match has been signed for this Monday Night, as the two leaders, and founders of the legendary groups go head in head in a dream match scenario, as 'HBK' Shawn Michaels faces 'The Nature Boy' Ric Flair. Last week, a mix up between DX helped Nick Dinsmore score a victory over Michaels - this time though, Eric Bischoff has demanded that all outside parties will be barred from ringside, meaning the best man will win this Monday.
Despite two huge matches, Eric Bischoff has refused to rest of those, and has added a third major match to this weeks show, which has all the ingredients for an electric showdown, featuring the two #1 Contenders to the World Title, and The Champ himself, John Cena. It'll be Captain Charisma, Christian, teaming with his Problem Solver, Tyson Tomko, to face Brock Lesnar and John Cena. With Christian, Lesnar and Cena all set to do battle in two weeks at Backlash, will the tensions boil over, and can Brock Lesnar manage to co-exist with John Cena as a unit??
Find out on Monday Night, LIVE on the USA Network.
-----------------------
I'll be posting Raw tomorrow.
Re: Being The Booker
---
RAW is looking sexay as usual Wolf. The main event especially looks like a goody, and I can see something else happening between HBK & Cade again.
---
***

Re: Being The Booker
---
Raw preview looks great mate, and as Renegade said the main event should be top notch. One question though, directed to Snap, what is the World Heavyweight Champion doing wrestling on Velocity?
---
Booking Credentials
# Captain of Team Oceania- 2007 BTB World Cup
# Breakout Star of 2006
# Third in WF's Favourite Booker Award 2006
# 5th in the First Annual BTB Promo Tourmament
# Best New Booker x1
# Best New BTB x1
# Most Improved Match Writer x1
# Best Used Wrestler x1
# Biggest Shock of the Month x2
Chopped Liver
Join Date: Jan 2004
Location: Six inches from a computer screen
Posts: 5,433
Points: 321
Re: Being The Booker
---
Raw:
April 17th; Washington: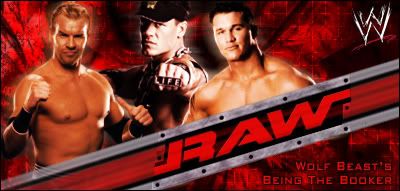 Video Package highlighting last weeks main event, and the announcement from Eric Bischoff that John Cena will meet Christian and Brock Lesnar in a triple threat match at Backlash.
Opening Video
Pyro
Jim Ross: Thirteen days separate us from Backlash, as we come into your home, live from the MCI Centre in our nations capital, Washington D.C, and tonight Eric Bischoff has provided some Pay Per View worthy match ups, as we continue the road to April 30th in Seattle.
The Coach:
And how about this for a reception J.R. It's a Presidents welcome for The Coach from D.C!!!
Jim Ross:
It sure
isn't
, but folks, lets not waste time discussing The Coach, because tonight, as previously mentioned, we've got three blockbuster matches, good enough to appear on any Pay Per View line up.
The Coach:
Of course J.R. It's a battle of challengers, as Edge, who challenges Rey Mysterio in an I Quit match at Backlash for the Money in the Bank contract, goes one on one with Shelton Benjamin, who this weekend was announced as the Number one contender to Carlitos Intercontinental Championship, with that match to take place at Backlash too. Rey Mysterio has been ordered to stay at home tonight after last weeks uncontrollable brawl with Edge too, might I add.
Jim Ross:
But even bigger than that Coach, it's a battle of two icons, two legends, two hall of fame bound superstars, who will collide in a tag team match at Backlash, as The Nature Boy, Ric Flair, tackles The Heart Break Kid, Shawn Michaels. A mouth watering prospect, if ever I saw one.
The Coach:
And, may I add, outside interference has been BANNED for that match, with Nick Dinsmore and Garrison Cade under orders from our General Manager to stay in the back.
Jim Ross:
But, despite those two main event level contests, Eric Bischoff has signed one other major contest tonight, as the World Champion, John Cena teams up with one of his two opponents come Backlash, The Iron Man, Brock Lesnar, and those two will forge an uneasy alliance, to take on the third party in that triple threat match at Backlash, Christian, and his problem solver, Tyson Tomko.
The Coach:
Oh man, what a night!!!
**Break it Down** Shawn Michaels enters the arena, to a terrific ovation from the fans in D.C.
Jim Ross:
You talk about a Presidents welcome, that ladies and gentlemen, is a Presidents reaction. What an unbelievable way to kick things into gear, tonight on Raw!!!
The Coach:
No outside interference tonight remember, it's straight up, Michaels and Flair, one on one!!!
1st Match:
Shawn Michaels vs. Ric Flair
Lots of stalling early on, with both men trying to get the crowd worked up into a frenzy, before they begin to get to business. The early going is pretty messy, with both mens timing slightly off, but both HBK and Flair keep the fans interest, with plenty of entertainment, including a back and forth chop fest. However, as the match breaks down, both men turn it up a notch, with Flair gaining control, raking the eyes of The Showstopper, just as Michaels was gaining a big advantage.
From here, Flair begins to mark his territory, and brings Michaels to the ground, beginning to work on the leg of HBK. This of course, is all set up for the Figure Four, but as Flair begins to strut around the ring, taking his mind off Michaels … HBK NIPS UP!!! The fans roar, as Michaels comes alive, and despite hobbling on his bad leg, begins to make a comeback, taking it to Flair, and even as Flair tries to outsmart him, and chuck him over the top rope for rest bite, Michaels skins the cat. HBK gets back into the ring, and corners Flair, who begs off, but Shawn has none of it, and beats Naitch down in the corner, and soon delivers the Flying Elbow, only for Flair to somehow lift his shoulder, just before three!!! Michaels though, begins to tune up the band now, and looks for Sweet Chin Music … but Flair is smart enough to duck … and kicks the leg of HBK, taking Michaels back down, back to square one.
Now, Flair wastes no time, and locks on the Figure Four, right in the middle of the ring. Michaels struggles, but feeds off the support of the fans, and manages to turn over the submission, turning the pressure onto Flair!!! The Nature Boy now groans in agony, and struggles to survive, but is closer to the ropes, and with some determination, he manages to grab the ropes, and save the match. The hold is broken, as both men struggle up, into another chop-a-thon, but Flair plays dirty again, and grabs Michaels by the tights, before pulling him into his direction, but moves, and HBK goes through onto the referee.
Flair takes full advantage of the momentary distraction for the ref, and low blows The Showstopper, before knocking him down. This gives Flair a chance to scale the ropes, and look to connect from the air … but as he jumps off the top rope … MICHAELS SCORES WITH SWEET CHIN MUSIC!!!! Michaels falls back onto Flair for an emphatic three count to take a victory, 1...2...3!!!
Winner: Shawn Michaels @ 11:49
Raw gets off to a flying start with HBK scoring an incredible win, with a surreal Sweet Chin Music. Michaels has his arm raised … when NICK DINSMORE clatters him from behind!!! Dinsmore begins to put the boots to HBK, attacking almost immediately after the bell. The Prodigy rolls out of the ring, and grabs a steel chair, but as he slides back in, we see Garrison Cade sprint to the ring to make a save (but gets a pretty bad ovation), and intercepts the chair, swinging wildly at Dinsmore, who immediately darts back out of the ring, just inches from eating steel. Cade leans over the ropes, yelling at Dinsmore, as Nick helps Flair back up, with The Nature Boy rolling to the outside. Nick helps his mentor up, and they back up the ramp, as Cade goes a little overboard with his checking up of HBK, with Michaels repeatedly telling him he's okay. Cade then demands a mic from Lillian, as Dinsmore and Flair prepare to exit the stage.
Garrison Cade:
Yo!!! Jabronis!!!!
Dinsmore and Flair both revert their attention back to the ring with Cade.
Garrison Cade:
You better run, because you cant hide from DX!!!
Very minute pop.
Garrison Cade:
Because, at Backlash, with Shawn Michaels help, you two will feel the wrath of HB-Cade!!!
Heat now for Cade, and even Michaels looks bemused.
Garrison Cade:
And that's the bottom line … cause Garrison said so!!!
No response from the bewildered, and unimpressed fans.
Garrison Cade:
And if you aint down with that, the fans of DX have two words for ya!!!
Cade holds his mic to the audience, who reply with 'SUCK IT', but not as rabidly as you'd expect.
Cade drops the mic, and hugs Michaels, who doesn't hug back, as we fade out into the first commercial of the night.
Commercial
We return from the commercial, and see Rob Conway stood in the middle of the ring, with the ring set up for a talk show. There is one stool in the middle of the ring, red carpet in the ring, and two banners, in the ring, both of Rob Conway posing like a moron.
Rob Conway:
Guys and galls, take a look at the new wave of entertainment. It's MY show, and it's ALL about me.
Conway grins, whilst the fans give him heat.
Rob Conway:
Before you begin jumping to conclusions, this isn't just Pipers Pit with a different host. This isn't just a remake of the Highlight Reel with a different host. Because those shows are now what you'd call … passe. Time has passed them by, and now, the people want to see … ME.
The Con Man poses, as the fans give more heat.
Rob Conway:
And better still, on this show, I'm making history. There will be no guests sucking up MY air time like a vacuum. That's right, this show is really … all … about … ME!!!
'You Suck' chants begin to strike up around the arena.
Rob Conway:
So I guess you could say … I'm not doing it Pipers way … I'm not doing it Jerichos way … I'm doing this … the Con-Way.
No reaction from the fans.
Rob Conway:
Now, for those of you wondering how I'll pull this off on my own … it's simple. I come out here every Monday night, and I'll tell you about the past seven days in the life of a superstar, that superstar being me. Oh, and by the way, these pictures of yours truly … au naturelle. No CGI, no enhancements. As you can tell, I'm just as pretty in real life, and I'm just as buff in the flesh.
Conway poses again, getting heat for his actions.
Rob Conway:
Tuesday. Last Tuesday … man was I busy. Woken up by Jen … or was it Sarah … no, Tuesday was Michelle. Man, she brings the goods. Michelle woke me a little after midday, I had Manny, the pool boy, brush my teeth, Arthur, my butler, served a terrific breakfast, that really set me off the rest of my day.
Slowly, the crowd start a 'Shut the F*** up' chant.
Rob Conway:
Yeah, I'm thinking of giving that old man a pay rise. Arthur then drove me to the gym … hey, you didn't really think this body just happened, did ya??
Conway takes a moment to rub his six pack, as the fans restlessness builds.
Rob Conway:
Big time workout man. Got my sweat on. Showered afterwards, and boy, were the other guys jealous of me. Those fat slobs just wouldn't stop asking for advice on how to be like me. But y'know, this advice, I give it for free. I just tell everyone the same thing. Don't do things your way … don't do things the way your brother or sister does … do everything … The Co-
**KENNEDY**
Ken Kennedy paces out onto the stage, looking extremely concerned, but the fans pop in relief. He quickly makes his way to the ring, much to the chagrin of an angry Rob Conway, who has his mouth screwed up in anger, and speaks, even before Kennedy has a mic in his hand.
Rob Conway:
Didn't you hear me?? This is MY show, and it's ALL ABOUT ME!!!
Kennedy stops, takes a look at Conway, and shakes his head, before pacing around ringside, and takes a mic.
Rob Conway:
Don't dare. Don't you dare enter this ring. You're unwelcome. I don't need you stealing my spotlight!!!
Kennedy ignores the pleas, and steps inside the ring.
Rob Conway:
I'm warn-
Kennedy slaps the mic out of Conways hand. Conway looks down, and attempts to pick it up, but Kennedy stands on it instead.
Ken Kennedy:
I need to set a few things straight with you jackass.
Pop from the fans.
Ken Kennedy:
Number one, no one wants to see you.
Cheer from the fans.
Ken Kennedy:
Number two, no one wants to hear you.
Pop.
Ken Kennedy:
Number three, pretty much combining the last two really … no one wants to see you have your own talk show.
Cheer from the fans.
Ken Kennedy:
Number four, there are only two kinds of people who wear sun glasses indoors … the blind … and assholes.
Laughs from the fans, as J.R also gets a dig in on Coach.
Ken Kennedy:
Number five, you're still wearing those absurd leopard skin pants.
Conway rips off his glasses now, and looks at his shorts.
Ken Kennedy:
And if you want the real story of your week told, you shoulda came to me, because I've been following you closely this week.
Conway looks a little shocked by the comment.
Ken Kennedy:
That's right. So first of all, I know you were a little confused who woke you on Tuesday, right?? I'll tell ya. It wasn't Sarah, it wasn't Michelle, not Jennifer. No, it was a trucker called Dave.
Fans pop, whilst Conway tries to let the fans know it isn't true.
Ken Kennedy:
And you didn't have your teeth brushed for you by the pool boy, and you didn't have breakfast made for you either, because I saw you jump onto your tricycle, and rush all the way to a big house at the beach, and there, I saw you cleaning someone else's pool!!!
Conway looks ready to snap.
Ken Kennedy:
And after that … well … I don't think I should mention what you were doing on your knees for some extra cash…
Fans 'OOOO' as Conway loses his cool, and takes a swing at Kennedy, but KK blocks it, and knocks down Conway with a big right, and clotheslines The Con Man after he gets up, right over the top rope to the floor.
Kennedy grabs the stool, and throws it out after Conway, before taking one of the big banners, ripping the picture of Conway apart, much to the dismay of Rob, who grabs little bits and pieces of his picture that Kennedy rips apart. Kennedy grabs the mic again, and speaks once more, as Conway crawls up the ramp in depression.
Ken Kennedy:
By the way 'Con Man', your show … IS CANCELLED … courtesy of MISTERRRRRRR KENNEDY!!!!
Long pause, as Kennedy walks around the ring, before stopping at the other big banner of Conway, looking directly at the life size image.
Ken Kennedy:
KEN-NED-YYYYYY!!!!
Fans pop, as Kennedys music hits again, with Conway now standing at the top of the ramp in horror, before Kennedy chirps in again.
Ken Kennedy:
Oh, and for those at home keeping score … I didn't cancel the show the Con Way …
(starts singing)
… I did it … MYYYYYYY WAYYYYYY!!!!
Kennedy drops the mic, and gets a positive reaction from the on looking fans, whilst Conway storms off the stage, irate that he has been humiliated by Kennedy two weeks running.
Commercial
2nd Match:
Trish Stratus & Alexis Laree vs. Molly Holly & Jillian Hall
As the entrances occur, we are told that at Backlash, Trish Stratus will defend the Womens title in a Fatal Four Way, facing the woman who beat her the night after WrestleMania, Jazz, the woman who beat her last week, Lita, and the woman who beat Lita on Heat three weeks ago, Molly Holly, and we are also told that Alexis and Jillian have a victory over each other, with Alexis beating Hall on the draft show, and Hall beating Laree last week on Heat.
The match is fairly drab, and pretty un-interesting for the most part, with little time to do much, as the fans still know very little about Alexis or Jillian, but the two women hold their own with the veterans. Trish makes a hot tag to Alexis, after Molly and Jillian tried to wear the champion down, and from here, we get the usual messy finish, with all four competitors involved in the action, as Trish knocks Hall out of the ring with the Chick Kick, whilst Molly misses the Molly Go Round, allowing Laree to roll her up, 1...2...3!!!
Winners: Alexis Laree & Trish Stratus @ 03:51
The two women celebrate their win, whilst Molly looks to take revenge, and attacks Trish, but Alexis helps her partner, and she teams up with the womens champion to throw Holly out of the ring, much to the pleasure of the fans, whilst we see the referee helping a dazed Jillian to her feet on the outside.
Jim Ross:
Another huge win for this up and coming youngster, Alexis Laree, who on two appearances on Raw, holds two wins, despite a loss last night on wwe.com Heat.
The Coach:
But with all the commotion in the womens division recently, does this mean Alexis Laree is now in line for a title shot too??
Jim Ross:
You may have a point there Coach. I mean, originally, Trish Stratus was scheduled to face Jazz, after Jazz defeated the champion. Then, on Heat the same week, Molly Holly got the better of Lita, but Lita then beat the Number One contender last week, meaning all three women had a case for a title shot. Now, Alexis Laree has beaten Molly, does she get positioned into a title match too??
The Coach:
… I just … made that exact point J.R.
Jim Ross:
And I clarified. But right now, Backlash is shaping up tremendously, a triple threat match for the World Championship, I Quit Match between Edge and Rey Mysterio for the Money in the Bank contract, DX face The Horsemen, the puzzling womens title scenario, which currently sees a fatal four way match, and this past weekend it was announced that Shelton Benjamin will challenge Carlito for the Intercontinental Title. But, another announcement was made, and that concerned the vacant tag team titles, which we can reveal will be decided in a fatal four way match, just like the womens championship, with Booker T & Goldust, Rene Dupree & Kenzo Suzuki, The AFA and The Brotherhood all have an opportunity to become the new tag team champions.
The Coach:
You gotta be rooting for The Brotherhood baby boy. And hey, right now Todd Grisham with standing by with my boys.
Jim Ross:
Correct. Lets join Todd, who is standing by with Theodore "don't call me Teddy" Long, and his group of opportunists.
Crossover to Todd…
Todd Grisham:
Yes, I am joined by The Brotherhood. And in less than two weeks, Theodore, your group has the chance to win it's first gold in the two years you have been together, with the group involved in two championship matches.
Theodore Long:
Holla, holla, holla.
(Points at his mouth)
You see this?? Playa, it's called a smile. And finally, after being shafted left, right and centre, The Brotherhood is being treated fairly, and given the opportunities that we've deserved for so long, and I'd like to personally thank our new General Manager, Eric Bischoff. He, is a man with a vision, much like myself, and in Mister Bischoffs vision, he sees a big future for my family. He backs the Mack, and loves the new and improved OJ, and sees Rodney Mack with Orlando Jordan as the future of tag team wrestling.
Mister Bischoff sees our little queen, baby girl, Jazz, becoming the force behind the womens division once again, back where she deserves. And you cant forget The Worlds Strongest Man. Let me holla at ya boy, Mark Henry, at the drop of any hat, and the click of any finger could be holding singles gold.
Theodore does a little jig, as the rest of the group look quite pleased.
Theodore Long:
I have a dream … and my dream sees The Brotherhood dominating Raw. HOLLA, HOLLA, HOLLA!!!
We then cut away, and see Edge walking down the hallway, preparing for the upcoming match, as we go back to ringside…
**AINT NO STOPPING ME NOW** Shelton Benjamin enters the arena to his new music, now dropping the old WGTT theme, taking his own.
Jim Ross:
When we come back, it's the battle of two Backlash challengers, as Shelton Benjamin, the #1 contender for the Intercontinental Championship, takes on the challenger for Rey Mysterios Money in the bank contract, Edge!!! It's next!!!
Commercial
3rd Match:
Shelton Benjamin vs. Edge
The two men engage in a highly athletic contest, with Benjamin finally getting to demonstrate his ability in a singles match. Shelton dazzles the crowd early on, and takes Edge by surprise with his athletic prowess, and his ability to match Edge takes the Rated 'R' Superstar by surprise, and forces him to rethink his gameplan, as he takes a time out from the ring early on, which annoys the fans, but Benjamin again takes Edge by surprise, and leaps over the ropes, taking Edge down, to a raucous pop from the on looking fans.
Shelton gets Edge back inside the ring, and continues to push the pace of the match, with Edge struggling to keep up with Benjamin, who nearly scores a quick win with a few roll ups which Edge just kicks out of at the last second. Benjamin throws Edge into the corner, and looks for a Stinger Splash, but Edge quickly dodges the bullet, and Benjamin hit's the corner, which allows Edge to take charge of the match, knocking Shelton down, and going to work in keeping him grounded. Edge beats Shelton down, as we go into the mid match commercial, with Edge taking Shelton outside, and whipping him into the steel steps.
Following the commercial, Edge has a tight chin lock applied on Shelton. Carlito has also come to ringside with Stacy to scout his backlash challenger, as Benjamin begins feeding off the crowd to help him make a comeback, and he reaches his feet, breaking the hold, and begins to make a comeback, hitting a second wind in the match, with Edge again struggling to keep up with the speed of Benjamin, as he turns up the heat. Edge tries to regain his hold on the match, and goes for a suplex, but Benjamin lands on his feet, nailing a neck breaker, which scores two, and follows up with the Stinger Splash, before nailing a super kick on the dazed Edge for another near fall. Shelton now looks to score with the T-Bone Slam, but The Rated 'R' Superstar has enough in him to elbow free, and looks to send Shelton into the corner, but Benjamin leaps to the top rope, and splashes back, taking Edge down, but Edge rolls through, and hooks the tights, 1...2...SHELTON KICKS OUT!!!
On commentary, Carlito jumps up, thinking the match had been won, but looks amazed that Shelton kicked out. Edge though, makes the most of the moment, and knocks Benjamin down, before looking to nail the Spear … but as he charges … Shelton leaps in the air, and Edge hit's the corner!!! Benjamin again looks for the T-Bone, but again, Edge fights out, and manages to nail the Buzz Killer, hooking the leg, 1...2...KICK OUT AGAIN!!! Now, Edge looks to be getting anxious, unable to put Benjamin away, and goes up top again, but suddenly, Benjamin jumps to his feet, and leaps to the top rope … immediately scoring with a superplex!!!! The fans roar in approval for the lightning spot, as both men lay in the ring. Benjamin of course, moves first, as Carlito sees enough on commentary, and instructs Stacy to do something, which she understands, and moves to the ring, distracting the referee from his duties.
Benjamin takes no notice of her, but we see Carlito slide into the ring, and nails Benjamin from behind with the title belt, knocking Shelton back to the canvas, as quickly rolls out, with the referee not suspecting a thing. This allows Edge to recover, and he sizes up a groggy Benjamin as he begins to get up after the title shot, and this time, Edge is able to connect with the Spear, pinning the plucky opponent, 1...2...3!!!
Winner: Edge @ 14:01
Edge steals it, thanks to Carlito!!! The Rated 'R' Superstar basks in his victory, for a moment, motioning that the MITB contract will be his, before holding the ropes open for Carlito, almost as a thank you for the assist, which CCC accepts graciously, whilst Edge now leaves the ring. Carlito takes a bite from an apple, chews on it, and looks down at Benjamin, before spitting the apple in his face to a big amount of heat from the fans. Carlito holds the IC Title aloft, proclaiming to the fans that he wont be losing the title.
Smackdown Rebound
Backstage, we see John Cena walking down the hallway, as J.R speaks…
Jim Ross:
There he is Coach, the World Heavyweight Champion!! John Cena will be in the ring when we come back. What does Cena have to say??
The Coach:
If he's smart, he'll be announcing that his days as champion of that belt are numbered!!!
Jim Ross:
That remains to be seen. John Cena, in the ring, when we come back.
Commercial
A video package airs, hyping the upcoming debut of the 'tough Irish bastard' FINLAY … COMING TO RAW … MAY 1ST.
We return to the arena, which is pretty quiet when …
**MY TIME IS NOW** The arena suddenly erupts, as John Cena brings the MCI Centre to its feet!!! Cena salutes the fans, and storms to the ring, sliding in, and holds up the title to a big pop, before taking a mic, and waits for the music to die down.
John Cena:
…
Cena stops, as the fans chant of 'CENA' drowns him out. Cena smiles, and nods, as the chant dies down.
John Cena:
Now that's what I call a welcome!!!
Big cheap pop.
John Cena:
Oh man, does DC rock the house??
Cheers from the fans.
John Cena:
You damn right. Looks like the Chain Gang is on fire tonight.
Another 'Cena' chant stirs, as Cena nods, before the chant dies down, and Cena begins to talk.
John Cena:
But y'know, at the minute there's something bothering me … or should I say … someone bothering me.
Cena looks around, and takes a look at the fans, before pointing at one, and nodding.
John Cena:
You got it. Randy Orton.
Heat for Orton.
John Cena:
The so called Legend Killer, who now wants to be the Career Killer. Well, the only career you're killing at the minute Orton … is your own.
'Randy sucks' chant.
John Cena:
Because right now, you've made three crucial mistakes. First and foremost, you're sitting at home, or on holiday somewhere, when you should be right here, on Raw, pleasing these fans.
Cheap pop from the fans.
John Cena:
Secondly, you've targeted the wrong man to make your mark as the 'Career Killer'. Because I can assure you Randy … my career isn't over by a long shot.
Pop again.
John Cena:
And thirdly, you're messing with the wrong guy … period. If you wanted a future in the big leagues, you've kissed it goodbye. I don't respond well to sneak attacks Orton. If you're gonna kick my ass, at least have the guts to come straight at me like a man. If you're gonna make threats … at least try to carry them out. I've said it before, and I'll keep saying it until you take notice Randy … I fear nothing, and I regret less.
Pop once more from the fans.
John Cena:
So, if you didn't hear my message for you last week, Randy, listen up, and listen good. You want to become the Career Killer, using me as an example … I say … BRING IT!!!
Support for Cena from the fans.
John Cena:
You said you want some?? I say you come get some. I'll not be hard to find. Just look for the guy at Raw every Monday night with the big shiny belt, standing in this ring, calling your ass out from whatever hole you're hiding in. It's as simple as this Randy … THE CHAMP … IS HERE!!!!
**HERE COMES THE PAIN** Brock Lesnar enters the arena, dressed in his sweats, with Cena looking ready for a fight. Brock walks down the ramp, and around ringside, picking up the mic, and steps into the ring, wasting no time to speak.
Brock Lesnar:
Correction John. You are the champ, in name only. Because unless you havent realised in less than two weeks you're losing that title … to the champion in waiting … ME!!!
Heat from the fans, as Cena shakes his head.
John Cena:
Who taught you to speak coherently??
Few laughs from the fans, as the (pretending to be) puzzled Cena looks around, wanting an answer.
John Cena:
Forget it, we'll be waiting forever for this guy to put together another two sentences back to back.
Lesnar keeps his cool, before speaking.
Brock Lesnar:
That's right John. Laugh it off. Laugh off the fact that in less than two weeks you'll no longer have that piece of bling. Then, we'll see whose laughing.
Cena drops his smile now, and gets serious.
John Cena:
I'm not laughin' now. Brock, I'm deadly serious. You want this belt?? You better be prepared to break me in half to do it.
Cena steps up, and into Brock.
Brock Lesnar:
That … can be done. In fact, I'm prepared to go much, much further.
Brock now steps into Cena, with neither man backing up an inch.
Brock Lesnar:
Even if you devoted all your attention on me, you still wouldn't stand a chance John. But face facts … you've got to think about Christian too, and you're obsessed with Randy Orton. You don't stand a chance of keeping that title.
Cena smirks.
John Cena:
I've been told I didn't stand a chance before … many, many times. But y'know … funny thing is, I'm just too dumb to listen. And funnier still, I always seem to prove every single person wrong. And there's nothing more special about you Brock than the others.
The two men stare the other out, as it looks like we're set for a brawl, when…
**JUST CLOSE YOUR EYES**
Christian steps into the arena, getting a total face pop, but not quite as strong as Cena yet. He stands at the top of the ramp, with Tomko, and prepares to speak.
Christian:
Well, what do we have here Tomko?? Look, it's our opponents tonight … The Vanilla Gorilla … and Vanilla Ice.
Mixed response from the fans.
Christian:
Shouldn't you two be bonding right now, and devising ideas on how to take your opponents apart??
Lesnar and Cena share a look, as Christian continues…
Christian:
And shouldn't you be worried about the prospect of the next World Champion being the man you're looking at right now??
Small pop.
Christian:
Cena, you're world is far too messed up right now to be focused on Backlash. You cant seem to end your love affair with Randy Orton for one, but lets not forget about your buzzing career in the world of rap. I actually agree with Lesnar on this one … you don't stand a chance at Backlash.
Heat from the fans on this occasion.
Christian:
And Brock, quit trying to make everyone think you're a re-incarnation of Godzilla. You're stepping back into the big leagues now kid, and you'll find out first hand at Backlash that winning our World title isn't as easy as winning the Smackdown version. Cena sure as hell doesn't fear you, and neither do I. Lets not forget about you tapping like a pussy at WrestleMania…
Pop from the fans, as Lesnar goes ballistic in the ring, kicking the ropes.
Christian:
I don't give a damn who John Cena is worrying about, or who John Cena is calling out. I don't give a damn whose kid Brock Lesnar just ate, or which submission he's planning of wimping out of next. If you arent concerned about the prospect of me, Captain Charisma walking out of Backlash with that title belt, then you're both more stupid than you look.
Pop again, with Christian turning up the intensity slightly.
Christian:
See you guys in the ring later.
Christian backs out, keeping his eyes on the ring, before pounding his chest, and signalling the fans, as his music blares again, with another commercial coming up.
Commercial
Backstage, we see Shawn Michaels and Garrison Cade talking…
Garrison Cade:
Shawn, I don't know how to say this … so hear me out … I think you gave too much out there tonight. I mean, you've gotta save yourself for Backlash, it's not fair just to think that I'll carry the load for us in two weeks.
Michaels looks taken aback by the comments.
Shawn Michaels:
Wait just a second. Garrison, I'm not sure what exactly has gotten into you lately, but it needs to stop. You're running around like you're in charge of me. Nobody tells HBK what to do, understood??
Cade butts in.
Garrison Cade:
Okay. I'm gonna be straight with ya Shawn. I don't think you can carry the load anymore.
Michaels expression turns to shock.
Garrison Cade:
For the past twelve months … DX kept you on top. We made you World Champion, and kept you there.
HBK ducks his head down, listening.
Garrison Cade:
If it wasn't for myself, Jindrak and Luther, you wouldn't be anything now. You picked us to keep you at the top, and the moment you thought you could cope without us … what happened?? You lost … at WrestleMania, to The Rock.
Cade continues to grill the veteran, in an strange moment, with HBK looking weak.
Garrison Cade:
And now, all you've got is me. Shawn, I'm telling you now, I quit playing the puppet. I'm pulling the strings now, and you're following my lead. You want to stay on top?? Follow, my, lead.
Cade looks over Michaels, and storms off, as Michaels looks up, and watches with his expressionless look, which strangely shows a barrel of expressions, thinking about the comments from his protégé.
Back to ringside…
4th Match:
Gene Snitsky vs. Rhyno
Short, messy brawl, with both men trading blows in a fairly even match up, as Snitsky scores a near fall on Rhyno with a big boot, and Rhyno the same with a fierce spine buster. Then, Snitsky looks to deliver a Pumphandle slam, but Rhyno slips out, and pushes Gene into the ropes, and as he comes back, falls prey to the deadly Gore!!! Rhyno covers, 1...2...3!!!
Winner: Rhyno @ 03:23
Rhyno has his hand raised, and celebrates his win, when…
**SLOW CHEMICAL**
Kane enters the fray, and takes his time getting to the ring, stepping inside, knocking Rhyno down with a big uppercut, before charging at a recovering Snitsky, nailing him in the corner, and following up with a sidewalk slam. He then motions for the Chokeslam on Gene, but as he gets his hand around the throat, RHYNO GORES KANE!!!!! The fans boo as Rhyno gets up, and looks down at Kane, yelling something, as Snitsky pats The Man Beast on the back, thanking him for the help, but Rhyno then turns on Snitsky, knocking him down with a thunderous clothesline. The fans pop a little, as Rhyno takes out the heel … and we see Kane SIT UP!!!
Rhyno looks taken aback by Kanes recovery, and slides out of the ring, grabbing a chair, before sliding back in, and without even contemplating it … SLAMS THE CHAIR ACROSS THE HEAD OF KANE!!! With the mask back again, its hard to see if the impact busted Kane open, but it certainly keeps him down, as Rhyno storms up the ramp, being the first man to get the better of Kane since his devastating return at WrestleMania.
Commercial
We return, and see Marc Lloyd catching up with Rhyno as he storms through the backstage area.
Marc Lloyd:
Rhyno?? Rhyno, can you explain what happened moments ago with Kane?? Rhyno??
Rhyno stops, turns, and rips the mic from Lloyd.
Rhyno:
You want me to explain that?? You want me to explain standing my ground?? Marc, I fear no man, and I fear no monster. They call me the Man Beast because I am just that … half man … half beast, and anyone that wants to try me … go right ahead. Kane … any time you feel like bullying anyone again … try picking on someone whose gonna fight back.
Rhyno walks off, seemingly calm, despite losing his cool moments ago.
We then cut to Rob Conway, who paces along the hallway, eventually stopping at Eric Bischoffs office, immediately storming into the room.
Eric Bischoff:
THE HELL?? You cant barge into my office like that.
Rob Conway:
Oh, understand me, this is important Mister Bischoff.
Eric Bischoff:
It better be. It better be the most important thing I've ever heard, because Rob, I don't like my employees thinking they own the place.
Rob Conway:
It's simple. For the last two weeks, Ken Kennedy has been trying to make a laughing stock out of the biggest thing to his this industry since Hogan.
Eric Bischoff:
Who??
Conways eyes burst almost out of their sockets, before the flabbergasted 'Con Man' speaks.
Rob Conway:
ME!!! I'm the biggest thing since Hogan. I'm gonna make this company more money than anyone can count, and you've got an upstart trying to ruin my good reputation.
Bischoff looks to be losing his patience.
Eric Bischoff:
Didn't you say this would be important??
Conway looks set to reply, but Eric interrupts.
Eric Bischoff:
It's not. You're wasting my time Rob. But I'm feeling generous today. So, since Ken Kennedy is getting under your skin, and is causing you so much grief, then you two can settle it the old fashioned way.
Rob Conway:
A pose off??
Eric blankly stares through Conway, before replying.
Eric Bischoff:
In a wrestling match. One on one, at Backlash.
Conway doesn't seem too happy with the call, but Eric continues on, before Conway can speak.
Eric Bischoff:
Now get the hell outta my office, and don't come back unless it's really … REALLY important.
Begrudgingly, Conway leaves the room, whilst a livid Bischoff begins to look through papers again.
Back to ringside…
Jim Ross:
It's been another one of those wild rides on Monday night Raw, but perhaps more importantly, our next PPV offering appears to be taking shape now, with a total of seven scheduled match ups.
The Coach:
And as we just saw, the latest addition to a stacked card is the inevitable meeting between Mister Ken Kennedy, and 'The Con Man' Rob Conway. Two big egos, one squared circle.
Jim Ross:
Along with four championship matches, another prize is on the line, as Rey Mysterio is forced to defend his Money in the Bank contract that he won at WrestleMania, against a disgruntled Rated 'R' Superstar, Edge. One man will be forced to utter the words, 'I Quit', and Eric Bischoff has ordered that the match cannot end until one man says those words, no matter what the circumstances.
The Coach:
From the dangerous, to the sublime, as two of the most recognized groups in wrestling history finally meet, with a depleted D-Generation X, consisting of just Shawn Michaels and HB-Cade, face the reformed Horsemen, with Ric Flair leading his protégé, 'The Prodigy', Nick Dinsmore. One of the biggest non title tag team matches EVER!!!
Jim Ross:
Lets not forget though, that the currently vacant tag team titles will also be decided, with four teams gunning for the ultimate tag team prize. Booker T and Goldust have the opportunity to climb back to the top of the tag team mountain, whilst Raw veterans, The Brotherhood and Kenzo Suzuki and Rene Dupree have a chance to wear the gold, whilst the draft picks from Smackdown, The AFA, arguably the most popular team in this decade, could win tag gold for the first time.
The Coach:
Trish Stratus faces not one, not two, but three challengers for her Womens title, with Jazz, Molly Holly and Lita in the running for the title, but the rumours I've been hearing is that we may yet see Alexis Laree inserted into that match too, with her win tonight standing the rookie in good stead.
Jim Ross:
The Intercontinental Title will be decided too, with Carlito defending against the hungry Shelton Benjamin, in what promises to be a potential show stealer.
The Coach:
But then, it's main event time. Triple threat baby.
Jim Ross:
Indeed, John Cena defends his coveted title in a match that he doesn't need to be pinned, and he doesn't have to submit to lose the belt, with two challengers, in the form of Brock Lesnar, and Christian. Are Cenas days as World Champion numbered at Backlash??
The Coach:
The smart money says yes J.R. Even you've gotta admit his chances don't look good.
Jim Ross:
Cena has battled the odds before and lived to tell the tale, but with his focus seemingly elsewhere, he may be headed for troubled waters.
**JUST CLOSE YOUR EYES**
Jim Ross:
And in just a moment, we're gonna get a sneak preview of Backlash, with all three men involved in our upcoming tag team main event. Don't go away!!!
Commercial
Christian and Tomko occupy the ring, as we watch Brock Lesnar confidently walk down the ramp, but lurks around the ring, not wanting to get into a brawl with two men. The arena quietens down for a moment, as the anticipation builds …
**MY TIME IS NOW**
John Cena bursts out from behind the curtain to a terrific reception once again, with Cena looking full of life. He makes his way to the ring, and shows no fear of his opponents, storming into the ring, and raising the title aloft to the fans, much to their delight.
Lesnar then enters the ring, and gets Cenas attention, telling the champ that Cena will follow his lead, but Cena ignores the Iron Man, and diverts his attention on Tomko, charging the Problem Solver down, kick starting the main event.
Main Event:
Christian & Tyson Tomko vs. Brock Lesnar & John Cena
Long main event, but standard quality of wrestling, with nothing terribly innovative or exciting for the most part, with plenty of tags in and out between the two teams, as neither team is beaten down for a long enough period to get a hot tag moment. Neither team strays too far into the role of heel, with Lesnar mainly the culprit with illegal chokes, but nothing too dastardly.
The match goes for quite some time, breaking up over the final commercial break, and as we return, heading just into the over run, Christian breaks out of a Lesnar bear hug, and tags in Tomko to a weird pop, as Tomko takes it to Lesnar, but Brock manages to over power The Problem Solver, rattling his cage with a Belly to Belly suplex. Lesnar then sneakily kicks Christian off the apron, and lines Tomko up for an F5, only for Christian to trip Lesnar up, stopping the move. John Cena then makes a tag on Brock, and storms into action, baseball sliding Christian, hitting a Throwback on Tomko, following up with the 5 Knuckle Shuffle, and delivers the FU, going for a cover, 1...2...CHRISTIAN BREAKS THE COUNT!!!
Captain Charisma now pounds Cena down, and looks to deliver the Unprettier, but in a strange twist, Lesnar comes to the rescue of his tag team partner for the night, and breaks the hold, before brawling to the outside with Christian. Meanwhile, in the ring, Tomko is back up, and looks to score on Cena with a big boot … but Cena ducks it, and Tomko catches his foot on the top rope, with Cena slamming him back inside, and applies the STFU submission hold, leaving The Problem Solver no alternative but to almost immediately tap out.
Winners: John Cena & Brock Lesnar @ 13:09
Cena has his hand raised, with another win for The Champion, possibly proving the doubters wrong about where his mind is at, as he watches Lesnar and Christian beat the hell out of each other on the outside, much to his pleasure, with Cena smiling at the pairs brawl. Both Lesnar and Christian have a similar idea, as we see Christian throw Brock into the time keepers position, then pick up a chair, as Lesnar sneakily takes the ring bell, and as he gets up, both men come at each other, with the weapons colliding, and both men going down.
In the ring, Cena shrugs, and hoists the title in the air again, with the fans eating it up, as we go off the air.
END OF SHOW
Current Card for WWE Backlash
Date:
30th April 2006
Location:
Key Arena; Seattle, Washington
Event Music:
Adreyu, Shameful
World Heavyweight Championship; Triple Threat Match:
John Cena vs. Christian vs. Brock Lesnar
WWE Intercontinental Championship Match:
Carlito vs. Shelton Benjamin
World Tag Team Championships Match: Fatal Four Way Match:
(Championships Vacant)
The A.F.A vs. Brotherhood vs. Booker T & Goldust vs. United Nations
WWE Womens Championship; Fatal Four Way Match:
Trish Stratus vs. Lita vs. Jazz vs. Molly Holly
I Quit Match for the Money in the Bank Contract:
Rey Mysterio vs. Edge
Grudge Match:
Shawn Michaels & Garrison Cade vs. Ric Flair & Nick Dinsmore
One on One:
Mr. Kennedy vs. Rob Conway
-----------------------------
*PLEASE READ* As of now, Snap will no longer be writing Smackdown. From this week on, I will go back to recapping the show each week, whilst writing Raw in full. I'd like to thank Snap for his time as writer of Smackdown, and despite the partnership being a short one, I was most greatful for his contribution. Thanks Snap, and best of luck in your future.
Making James Ellsworth GET MY BAGS
Join Date: Jul 2006
Location: Melbourne, Australia.
Posts: 4,945
Points: 185
Re: Being The Booker
---
Nice Raw. What was that? Snap gone? WOW! Any bets two sows will be recapped, then Wolfy's gunna find himself another partner
. Anyay, nice main event, and i can see Michaels turning face on Cade, giving him a massive push.
Re: Being The Booker
---
Deadman_014's Raw Review


The commentary to start off the show was nice, and we fly right into a big match to open up, with HBK/Flair which is a great way to get the crowd hot (happy in general for seeing Flair and HBK). HBK goes over in the opener and we get a little interesting/funnish ending with HB-Cade saving the day, but having some lame phrases, and HBK doesn't really like him a lot in the end this works a bit to give us a hint at a breakup in my mind at least. A fillerish segment for Kennedy/Conway there which actually might lead to a match at Backlash with Kennedy turning into a face which would just continue his momentum, and all that, good start to the show here I hate Conway, but Kennedy did good for the promo.

Trish & Alexis win their tag match here and nothing happens after match to either, so this is a build up thing for Trish here most likely, and continuing the push of Alexis from her debut. Long gives a nice little promo in character and all that. The Brotherhood could be a major force if given the right victories at Backlash, or could be just stay the same if they lose at Backlash, we'll see, I am enjoying the Backlash build so far since its very much so building quickly. Edge vs. Shelton is now up and it is a very nicely written out match well not fully written, but y'know what I mean. Carlito screws Benjamin here and this starts the build for their title match at Backlash.

Finlay debuts in two weeks thats very cool, I can't wait to see how you use him on Raw, it should be fun to see. Cena/Lesnar/Christian promo here is pretty decent, Cena's good, Lesnar's fine, and Christian's fine. Nothing incredibly great, but with Lesnar on the mic, and all that, its hard to make it great. Orton/Cena buildup continues and I think possibly Orton could screw Cena out of a world title win at Backlash, as I don't see Orton appearing on Raw before Backlash, unless you have a little push over match for him, but thats unlikely.

The Cade/HBK storyline continues and this should be interesting. This will lead to a HBK/HB-Cade feud very likely, but you never know, we could see HBK turn HB-Cade around, in the end I can see Cade walking out on HBK at Backlash costing him the match. Rhino wins a squash match and Kane comes out and ends up brawling with Rhino, I see Rhino/Kane being hte last match added to Backlash, and a little interview from Rhino ... very little interview tells us we will see that.

Conway vs. Kennedy now is at Backlash easily the biggest squash of the card. This promo was pretty decent with Bischoff acting dum, well actually would really feel like he was dum to the fact that Conway referred himself as a 2nd coming of Hogan lol, funny stuff. The commentators for a 2nd time build up Backlash and really using a lot to build it, earlier it got a few comments, and now again so this is really getting a nice amount of build thankfully. The big exclamation point at the end of the show with this tag match, giving us another Cena win making Tomko tap, and the end brawl leads to have Cena standing tall with the other two destroying each other.

Good show Wolf, I can't give many critism's as there weren't many flaws, I wasn't a fan of Cade's speech, or just Cade as I don't think he fits on the mic at this point he needs it though I guess. All storylines are building nicely and we have Backlash's card well set with Kane/Rhino going to be the last edition to it I suppose, and topping it up with its 8th match. Good show man and here's a review for ya, enjoy.
Tag Teaming With James Ellsworth
Join Date: Apr 2005
Posts: 1,710
Points: 0
Re: Being The Booker
---
Raw Review:

Nice opening match with Michaels and Flair. Thought the match might go a couple of minutes longer, but it was still a good opener. One comment that I will admit, is that you have an unbelievable skill of taking mid card wrestlers and elevating them to legitimate contenders or superstars entering main event status. As for the beatdown with Dinsmore, Dinsmore has grown quite a bit since the days of Eugene. Finally, it seems that you haven't forgotten the comedy side of Cade, as that promo, while bizarre, was quite funny.

Man you turned what was looking like a complete dud of promo, into a great promo by the addition of one Mr....Kennedy!!!....Kennedy!!! Looks like Kennedy and Conway will be feuding and it looks like we might have a match between these two at Backlash.

Nice to see that the Divas are getting some time on the show and it looks like we're going to crown a new champ at Backlash. Hopefully Alexis Laree gets a run as the champ sometime down the road in this thread.

Short promo from Theodore and The Brotherhood. Here is another example of what I mentioned about taking mid-carders and making them make an impact in this thread. As for the Edge/Benjamin match, these two put on a wrestling clinic, and Carlito and Stacy getting involved in the match which leads to Edge winning the match, just continues the feud between Carlito and Shelton as Backlash draws closer and the two meet for Carlito's Intercontinental Championship.

Before I comment on the Cena segment, I have a feeling that Finlay will be quite a force on Raw.

Great segment with Lesnar/Cena/Christian. I will say this, that Christian was the star of that segment. I know you have been pushing Christian since last year in this thread, going back to his 4 back to back to back to back victories/pinfalls over The Undertaker on Pay-Per-View. While I don't think Christian nor Brock is winning at Backlash, I have a feeling Christian is going to be the champion on Raw within the next couple of months, possibly a Cena/Christian feud leading into Summerslam.

I might be wrong, but I see a possible break up with Cade and Michaels and into a feud between the two possibly starting at Backlash with Cade or Michaels costing the other their tag match with Flair and Dinsmore, which leads to a Mentor vs. Protege type of feud between the two.

Good to see Rhyno getting a push in this thread as I felt he might get lost in the shuffle following Mania. As for Conway and Kennedy meeting at Backlash, I honestly see Kennedy picking up the win, as Conway is probably only on the card since this is a brand-exclusive event.

As for the Main Event, great match and Cena winning gives him the advantage as Backlash draws near. And with Brock and Christian going at it on the outside, Cena stands tall and still the champ!

Once again great show, as I felt that your 3 hour show was lacking quite a bit, save for some segments. Looking forward to your next show.
---
[U]KOM has returned to BTB with WWE 2007: The Legacy and Aftermath of WrestleMania!
[U]
Posting Rules

You may not post new threads

You may not post replies

You may not post attachments

You may not edit your posts

---

HTML code is Off

---