You Don't Know What You're Talkin' About!
Join Date: Jan 2006
Location: Hyd, Pakistan. (hataf_siyal@hotmail.com)
Posts: 8,341
Points: 0
Re: Being The Booker
---
WWE: SmackDown! - April 6th, 2006 Ė Review
It was a decent promo to kick off the show. Nothing special though. However, the announcements by the General Manager were special, and Iím really looking forward to those two matches.

Glad to see Matt Hardy somehow surviving in this match. Batista looked dominant in this match, and thatís good I guess. Itíll be interesting to see what happens in this situation from now on.

JBL looked bland to me in this promo, I donít know why. The match will be good and I really hope that JBL backs up his words. I do want to see him feuding for the WWE Championship.

I enjoyed Rob Van Dam in this promo. Everything apart from length in this promo was good. If you wanted to keep this short, then you wouldíve did a backstage segment/interview/promo with RVD.

Glad to see JBL picking up the victory, and Iím even happier to see JBL to pick up a clean victory over ďThe Alabama SlammaĒ. However, I believe that the match couldíve been a bit lengthier.

Okay, Spirit Squad vs. Dudleys for the next week looks good to me. Itís good that you didnít ended the promo there because then it wouldíve looked short. You mixed Benoit to this promo, and it looked good to me.

You captured Jericho well in this promo, and I thoroughly enjoyed this one. Brent Albright a.k.a. Gunner Scott to accept Jerichoís open challenge came off as a surprise.

It was expected that Undertakerís mind games would cost Jericho, so thatís not a surprise to me. ĎTaker vs Y2J feud is heating up, and this definitely looks great to me because these two have great talent.

Great promo here with The Rock and Stone Cold Steve Austin. Originality of this promo looked good to me because this promo was really a breath of fresh air. Loving how this match is getting hype.

It was expected that Haas would get a win here since itís his first match coming back to SmackDown!. Ya know, I hope that we see Kidman coming back for revenge because Haas vs. Kidman looks to have some potential.

Hmm, Triple H looked good in this promo. Glad to see you give some more hype to the main-event. Length of this interview was short though. I wanted to read more.

This looked once again a great encounter by both men. Great, classic battle once again between these two. Chris Benoit once again somehow survives, and that looks good to me. I have no idea why Paul London saved Triple H, but it looks damn good because Londonís my favorite wrestler!
---
**Banner/Avy Credit; Princess Xtyne**

------------------


------------------
Re: Being The Booker
---
Raw looks to be excellent as ever, buddy. I'll be r & r'ing.
Chopped Liver
Join Date: Jan 2004
Location: Six inches from a computer screen
Posts: 5,433
Points: 321
Re: Being The Booker
---
Raw:
April 10th; San Antonio: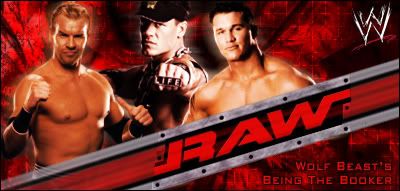 Quick highlights package from last week, with Eric Bischoff named as the new GM, and the trades from Smackdown to Raw and vice versa, with Bischoff not getting his way at all.

Opening Video

Pyro

Jim Ross:
We are in the heart of Texas, for a new look Raw, as tonight, we welcome our six new arrivals from Smackdown, here in San Antonio for Eric Bischoffs first official night in charge of the flagship show in the WWE today.

The Coach: And immediately Iím impressed J.R. The Boss has signed three major matches on his first night back, and boy, it feels like he never went away!!!

Jim Ross: Top marks for sucking up Coach. Well done. Thatís right though, three matches already in the pipeline tonight, with Randy Orton in action for the first time since Wrestle Mania, as he is scheduled go face The Brotherhoods man mountain, Mark Henry, the worlds strongest man, one on one tonight!!!

The Coach: And, Shelton Benjamin is in action, one week after having to vacate the tag titles with Charlie Haas - now on Smack down, but heís in tag action, teaming with Mister Money in the Bank, Rey Mysterio to take on the future holder of that briefcase, Edge, and the current Intercontinental Champion, Carlito!!!

Jim Ross: And how about this, the home town boy is in action too, as HBK Shawn Michaels faces Nick Dinsmore, in Dinsmores first major test on Raw in singles action, since he made it known to the world about who he really is.

The Coach: And of course, it was revealed this weekend on wwe.com, that at Backlash, itíll be the remaining two members of DX, Cade and Michaels, facing the remaining two Horsemen, Dinsmore and Flair, in tag team action, just three weeks away.

Jim Ross: Two huge factions, both depleted from the draft lottery, but tonight, Michaels and Dinsmore will look to give each side a huge boost.

**HERE COMES THE PAIN** Brock Lesnar walks out onto the stage, dressed in his sweats, looking like heís just finished a session in a gym.

Jim Ross: And folks, you are looking at the biggest name to switch rosters, at least in my opinion, last week, and Lesnar has made it known he wants one title shot - a shot he believes he deserves having not got a rematch from his loss at Wrestle Mania.

The Coach: Man oh man, think about that. Lesnar and Cena for the World Title. I know Iíd love to see that.

Lesnar wastes no time, and quickly gets to the ring, demanding a mic right away, and motions for the music to die.

Brock Lesnar: Iím not gonna beat this round the bush. Eric, youíve dodged me all night. Iíve looked up and down the hallways all night, and I havent caught a glimpse of you yet. You know what I want. Remember our conversation last week?? Eric, give me the title shot that I rightfully deserve.

Lesnar cuts himself off, as an Ďassholeí chants breaks his focus.

Brock Lesnar: I wouldnít expect you to agree with me. But Eric, you better start seeing my way of thinking, and you better start seeing my way VERY quickly. I donít have a lot of patience, and itís wearing thin already.

Lesnar stands in the ring for a few moments, in silence, before speaking again.

Brock Lesnar: ERIC!! Iím waiting. DONíT keep me waiting.

Brock leans on the ropes, looking up the ramp, waiting for someone.

Brock Lesnar: Okay, okay. Have it your way Bischoff. Iím waiting right here in this ring, until you give me an answer.

Brock spreads his arms out, as if to say, Iím still waiting. Lesnar walks to the corner, and takes a seat on the top rope, still waiting for Eric, as the fans grow restless, and start a Ďboringí chant.

Brock Lesnar: Címon Bischoff. This sure as hell isnít what you wanted your first Raw back to be like. Can you hear what the people are saying?? Theyíre calling your show boring!!! What are ya gonna do about it??

Lesnar laughs a little, and continues to wait, as the fans continue to be annoyed, untilÖ

**JUST CLOSE YOUR EYES** Christian steps out into the arena, accompanied by the ever present Tyson Tomko, getting an extremely pro reaction from the fans, now warming to Captain Charisma. The two men make their way down the ramp, much to the chagrin of Brock Lesnar.

Jim Ross: Well, we know that Captain Charisma is harbouring the same desire as Brock Lesnar. He too wants a World Title shot, and I donít think heís content with waiting his turn.

The Coach: I donít like the looks of this J.R. This could turn messy.

Christian steps into the ring, with Lesnar not taking his focus off him, as he asks for a mic, which is given to him by the time keeper. The music dies down, as Christian puts the mic to his lips.

Christian: Iím not gonna spare your feelings here Brock. Straight up, let me warn you, that although the surroundings may seem fairly similar, this isnít Smackdown. This is the flagship show youíre on now. Welcome Ö to Raw.

Slight, weird pop from the fans for the mention of Raw.

Christian: So right away, you can forget about calling the shots. You can forget about demanding title shots, because here on Raw, you need to earn it.

Lesnar prepares to speak, but Christian butts in, and takes the mic from him.

Christian: This is gonna take a while isnít it?? Brock, lesson one. Here on Raw, you wait until Iíve finished speaking before you do.

Christian looks at Lesnar, and drops Brocks mic.

Christian: Okay?? Now, lesson TWOOO. That follows lesson one. Following this okay??

Brock looks less than impressed.

Christian: Lesson two. We here at Raw donít care about what you did on Smackdown, and just because you held that joke of a title and LOST, it doesnít mean you immediately get a shot on Raw. Understood??

Lesnar tries to keep his composure.

Christian: Lesson three. Unless you havent been watching the hottest show on television for the past year, youíll notice that Iíve been earning my way to the top of the mountain, racking up the victories, quicker than youíll be racking CDís in your future career. And what that means is that any title shot you get Ö itíll be after I get my rightful shot at John Cena.

Fans pop a little, wanting to see Christian get a title shot. Lesnar now rips the mic from Christian, and Tomko gets set to step in, but Christian holds him back, wanting to hear with Lesnar says.

Brock Lesnar: Interesting. But hereís a few lessons for you. Number one, Iím Brock FREAKIN Lesnar. Number two, I donít need to wait for a damn thing, because I get what I want, and if I donít get it, Iíll take it anyway. And number three, if you dare test my patience, youíll not be sticking around for a title shot anytime soon Ö understood??

Christian nods, before taking the mic back again.

Christian: I understand Ö I understand that if you keep going the way you are, your stay on Raw is gonna be an extremely short one. Because youíll quickly find out that although I do a lot of talking, I do a hell of a lot more backing it up.

Fans pop, getting behind Captain Charisma, Lesnar now rips the mic from Christian again.

Brock Lesnar: Well, why donít you back it up right here, right now.

Fans pop, wanting to see the two men get it on, as Christian takes the mic back.

Christian: Do the peeps in San Antonio Texas want to see Captain Charisma take down King Kong??

Fans pop.

Christian: Well, in that case Ö Tomko, call the morons at the WWF, because Iím about to get sued for killing this new endangered breed of half man, half ape.

Christian drops the mic, and rolls up his sleeves, as Lesnar rips off his tank top, with the fans cheering, wanting to see the two men get it on, when Ö

**IíM BACK** Eric Bischoff quickly gets out onto the stage, yelling over his mic.

Eric Bischoff: HOLD IT!!! HOLD IT RIGHT NOW!!!

The music dies down, as the two men look up the ramp.

Eric Bischoff: I donít want my first show back in charge of Raw ending in chaos. You two better just calm right down.

Bischoff takes a moment to compose himself.

Eric Bischoff: Now, Iíve heard that both of you want a title shot at Backlash, and rightfully so. Brock Lesnar, you never got a rematch for the title you lost two weeks ago at WrestleMania. And Christian, youíre arguably the hottest property on Raw right now. John Cena versus either of you would be huge.

Both men seem to be indicating to themselves.

Eric Bischoff: So since either outcome is a winner for me, Iíve had an idea. Right here, tonight on Raw, itíll be Brock Lesnar Ö versus Christian!!!

Fans pop.

Eric Bischoff: And the winner Ö goes on to face John Cena at Backlash for the World Heavyweight Championship!!!

Fans pop for the #1 Contender Match, as Bischoffs music hits again, and he leaves the stage, as Lesnar exitís the ring, pointing back at Christian, telling Captain Charisma heíll see him later.

Commercial

1st Match:
Edge & Carlito w/ Stacy Kiebler vs. Rey Mysterio & Shelton Benjamin
High energy tag match, with Edge and Rey showing lots of fire starting off, battling, as they prepare for an I Quit Match in three weeks time at Backlash. Benjamin shows glimpses of promise, as he prepares for a new singles future, after breaking free from TWGTT due to the draft last week, and the IC Champion Carlito looks good too, as he tries to bounce back from two straight losses in recent weeks to Christian. Eventually, as the match wears on, Mysterio is singled out by Carlito and Edge as they try to pick apart the smaller opponent, and do so effectively, making sure he cant tag out to Shelton Benjamin.

As Mysterio tries to fight back each time, he is beaten back down again by the opponents, and even when it looks like heíll make a tag out, Edge or Carlito will interfere, and stop a tag taking place, pulling Benjamin off the apron, dragging Mysterio back into the centre, or distracting the referee. However, Edge begins to get a little too cocky with his beaten down enemy, and starts toying with him, taking too long to carry out simple tasks, which Mysterio uses to his advantage, as Edge shapes up to hit the Spear, and crouches down, then runs at Mister Money in the Bank, but Rey manages to nail a drop toe hold, sending Edge into the ropes!!! Rey quickly follows up, and delivers a 619, knocking Edge across the ring, but instead of following up, Mysterio finally tags out, bringing Benjamin into the action, as a fresh man, whilst Edge tags out to Carlito.

Benjamin shows off his ability, with high flying antics, out classing Carlito, who seems taken aback by Sheltons athletic prowess. Shelton nails the T-Bone on CCC, and hooks the leg, 1...2...EDGE BREAKS THE COUNT!!! Immediately, Mysterio bursts back into action, and dives at Edge, and the two men fall out of the ring, under the bottom rope, leaving the two legal men in the ring. Carlito sets up Shelton for the Apple Core Ö but Benjamin counters into a cradle Ö 1...2...3!!!!!
Winners: Shelton Benjamin & Rey Mysterio @ 13:06

BENJAMIN PINS CARLITO!!!! Shelton Benjamin starts off his new singles career with a big win (albeit ironically in a tag team match), by defeating the Intercontinental Champion!!! Benjamin has his hand raised, whilst Carlito storms up the ramp, shocked over his loss - a third in three weeks - with Kiebler following behind him.

Meanwhile, the camera shifts to the crowd, where Mysterio and Edge are fighting tooth and nail, clubbing one another, with Rey surprisingly holding his own, despite the major size difference. Security tries to break the pair up, but they continue to fight through the sea of people in the crowd, before we fade into a commercial.

Commercial

We return with highlights from during the commercial, with Mysterio and Edge finally getting separated after a huge brawl.

Now, we join Randy Orton backstage, who walks to Eric Bischoffs office, knocks the door, and decides to go ahead and enter.

Eric Bischoff: Ahh, Randy Orton. The youngest World Heavyweight Champion in history. How are you??

Randy Orton: Iíve been better, but Iím not here for pleasantries. Iíve got one question Eric. When??

Bischoff looks puzzled.

Eric Bischoff: When Ö what??

Randy Orton: When will I get my rematch against John Cena. I just saw what happened earlier with Brock Lesnar and Christian. Where the hell does that leave me??

Eric gets up from his seat, and walks around his desk to Orton.

Eric Bischoff: Randy, right now, all I want you to concentrate on Ö is your match later tonight against Mark Henry. Once you finish that, then weíll talk about your rematch.

Orton doesnít look happy.

Randy Orton: Okay. But it better be good.

Orton leaves the room, with Bischoffs smile fading from his face as Randy leaves.

Another video airs, hyping the upcoming debut of FINLAY - SOON.

2nd Match:
Jazz w/ The Brotherhood vs. Lita
As soon as Jazz makes her way to the ring, the referee is quick to intervene, and sends the entire Brotherhood away from ringside, which infuriates Jazz right from the outset, and Lita sneaks up, looking for a roll up by surprise, 1...2...Jazz just squeaks free.
From here, we get a borderline average contest, with Lita being her usual messy self, whilst Jazz tries to keep the match together as best as she can. During the match, J.R and Coach comment that right now, itís expected that Jazz will be the next contender to Trish Stratus title, after her victory two weeks ago, in a six person tag match, but strangely, itís Lita that comes out on top in this match, throwing a spanner into the works, as she plants Jazz with a DDT, before following up with the Moonsault, 1...2...3!!!
Winner: Lita @ 03:58

Lita now firmly plants herself into the womens title picture, beating the rumoured #1 Contender.

Backstage, we see Rob Conway walking down the hallway, rubbing oil on himself, preening, and generally making the women surrounding him feel sick.

Commercial

**Just Look At Me** ĎThe Con Maní Rob Conway struts out onto the stage, but looks a little angry to be getting a less than positive response. He walks down the ramp, expecting respect from the fans, but gets nothing. Conway steps into the ring, and takes a mic, before speaking.

Rob Conway: Please Ö hold your applause.

Heat for the smug Conway.

Rob Conway: Listen. It goes like this Ö Thesz Ö Graham Ö Sammartino Ö Backlund Ö Hogan Ö Hart Ö Austin Ö The Rock Ö Conway.

Little reaction, not knowing what Conway is getting at.

Rob Conway: That is the long line of legendary champions, and Iím adding my name to that list, because that is exactly where Iím heading.

ĎAssholeí chant

Rob Conway: With my superstar looks Ö my Greek Godly body Ö and my athletic skills, not only am I destined for the top of this industry Ö but I could easily be a huge star in Hollywood.

More heat for Conway.

Rob Conway: But unlike those who have come before me, and unlike those who surround me today, Iím not planning on doing things the hard way Ö but Iím not planning on doing things the easy way either. No, no. Ladies and Gentlemen Ö Iím doing things ... The Con Way!!!

No reaction.

**MISTER KENNEDY** Ken Kennedy bursts out into the arena, much to the delight of the fans, bored with Conway. Kennedy briskly makes his way down to the ring, and steps inside, immediately taking a mic from Lillian Garcia. And wastes no time, getting to his point.

Ken Kennedy: The Con Way?? What the hell is that?? (Taps his head) Oh, I get it. Itís a catchy slogan, because your name is Rob Con-way. How clever.

Conway smugly smiles, thinking Kennedy is being genuine.

Ken Kennedy: No, seriously, itís the most ridiculous thing Iíve EVER heard.

Conway rips his glasses off, and glares at Kennedy.

Ken Kennedy: And you are the most ridiculous creature Iíve seen. For the love of God Ö leopard skin pants?? Oiled up body?? Youíd look more in place at the Blue Oyster.

Laughs from the fans.

Ken Kennedy: This isnít an audition for Homosexual pornography, but Iíd dare say youíd have a better chance of making it there, than on Monday Night Raw. And just in case you are confused Ö this is the sports entertainment industry Ö not the adult entertainment industry.

Conway starts to lose his cool.

Ken Kennedy: Not only do you look like a moron, but you sound like one too. Címon, it doesnít take a scientist to work out that you arent gonna follow Hulk Hogan and Steve Austin. Buddy, youíre gonna follow Koko B Ware and Doink The Clown.

Conway shakes his head in dispute.

Ken Kennedy: There is though, one man on Raw Ö one man that is single handedly revolutionalizing this industry. One man, that may just follow Bret Hart, that may just follow The Rock Ö And his name is MISTERRRRRRR KENNEDYYYYYY Ö Ö Ö

Kennedy walks right into Conways face.

Ken Kennedy: KENNEDY!!!

Conway snaps, and takes a shot at Kennedy, but Ken blocks it, and knocks down Conway with one of his own, before taking The Con Man by the scruff of the neck, and chucks him over the top rope, to the floor below. Kennedy stands tall in the ring, as Conway regains his bearings, and thinks about getting back in, but decides against it, telling Kennedy that this isnít over. Kennedy stands in the ring, and motions for Conway to bring it on, as we fade outÖ

Smackdown Rebound

Jim Ross: Ladies and Gentlemen, I feel itís only fair to comment on the end of an era, coming this Thursday night on Smackdown. ĎStone Coldí Steve Austin will lace his boots for the final time in Dallas, to face his ultimate opponent, The Rock, in what I can only imagine will be an emotional night in Texas, as arguably the biggest name EVER in this industry, bows out in front of his home state, where it all began. I for one will be there in person, and despite being Ďthe competitioní, I urge you all to watch Smackdown this Thursday night, and give The Rattlesnake the send off he so richly deserves.

Commercial

3rd Match:
Randy Orton vs. Mark Henry w/ The Brotherhood
Assured performance from Orton, but gets roundly booed by the fans, despite facing a heel here, for his recent actions. The Legend Killer doesnít seem fazed by the huge size advantage Henry holds, and manages to take The Worlds Strongest Man apart, but plays it relatively clean, despite his apparent heel turn. The Brotherhood do very little to get involved, and play little part in the proceedings, as Orton overcomes Henry, who makes life hard for Randy, taking control for a period, but a sudden RKO ends the match swiftly, giving Orton the 1...2...3!!!
Winner: Randy Orton @ 04:23

Orton has his hand raised, but does very little in the way of celebrating the win, as he looks focused on revenge, as Mark Henry staggers up the ramp, with The Brotherhood following him.

Jim Ross: Randy Orton looked extremely impressive here tonight, with a terrific victory over Mark Henry, bouncing back in style following his heart breaking defeat at WrestleMania. Orton has made it his goal to take that World Title from Cena, and by the evidence of that performance, we may have unearthed a side of Randy Orton that perhaps even Orton didnít realise he had.

The Coach: And J.R Ö I like it.

Jim Ross: But the question remains, how does Orton fit into the title picture right now, with Lesnar and Christian set to go one on one later tonight, to crown the Number One Contender.

The Coach: If you ask me J.R, Randy Orton has just etched his name into any title match coming up at Backlash.

Jim Ross: Well, weíre sure to find out later all about it, but right now, Todd Grisham is standing byÖ

Ö

Todd Grisham: Thank you J.R. And at this time, my guests are none other than the remaining two members of D-Generation X.

Michaels and Cade step into the picture, to a HUGE pop for Michaels from the home town fans.

Todd Grisham: Gentlemen, last week, the draft lottery ripped your group apart, sending Luther Reigns and Mark Jindrak over to Smackdown. Now, there are only two remaining members of DX, but I wanted to get your thoughts on a match, announced for Backlash this past weekend, which sees both of you take on Ric Flair and Nick Dinsmore, in a tag team contest - not to mention your match tonight Shawn, in your hometown against Nick Dinsmore.

Shawn Michaels: First off Todd, itís great to be home. But Iíll get to that in a second, because as for DX losing half of itís group, Todd, it doesnít matter. None of that matters. Luther Reigns and Mark Jindrak can fly solo now on Smackdown. I took them as far as I could, and itís time for them Ö to sink or swim.

Cade butts in now.

Garrison Cade: And now, we donít need to hold back. DX, the main heart of DX gets to fly high. We donít need to carry Reigns and Jindrak. We donít need to save their ass every week. Now, itís the real star thatís gonna shine Ö the real stars, I mean. Shawn and I, weíre gonna be the biggest thing to hit Raw. So Flair, Dinsmore Ö weíve got two words for ya Ö SUCK IT!!!

Michaels looks taken aback by Cades actions, seemingly taking over.

Garrison Cade: Címon Shawny. Your match is up next.

Cade walks off, as Michaels takes a moment to think, with Cade just jumping in on his promo, cutting it short too, with Michaels seemingly not finished. HBK slowly walks off, following Cade, as we cut back to ringsideÖ

**Wild Horses** Ric Flair, dressed smartly, leads out Nick Dinsmore, to an updated version of the old Horsemen theme.

Jim Ross: When we come back, itíll be Shawn Michaels, one on one with Nick Dinsmore, right here on Monday Night Raw.

Commercial

4th Match:
Nick Dinsmore w/ Ric Flair vs. Shawn Michaels w/ Garrison Cade
We return, just at the top of the second hour, with the two men circling the ring, the match having just begun. They go through the motions early on, with the headlocks, and takedowns, and chain wrestling, with Dinsmore holding his own in a big match environment, his first since his heel turn. Michaels looks to be getting the best of the action though after the opening minutes, until a simple trip on the outside from Flair allows Dinsmore to jump all over it, and take advantage of HBK, and control of the match.

This sparks a reaction from Cade, and he tries to get in the ring, but the referee stops him, but this allows Flair to get involved, and he passes Dinsmore a chair, with Nick wearing The Showstopper out, smashing the chair against the knee of Michaels, which sets the events for the remainder of the contest. Dinsmore begins to rip Michaels knee apart from the chair shot, with his own attack, with Michaels selling top notch as always. Dinsmore plays the heel role perfectly, throwing Michaels to the outside, and distracting the referee, allowing Flair to do more damage to the knee, ramming Michaels into the steel steps. However, Garrison Cade gets involved, and attacks Flair, stopping that attack. Michaels hobbles back into the ring, but is chopped right back down by Dinsmore, who then goes for the Texas Cloverleaf Ö and applies it!!!

Michaels, spurred on by his hometown fans, refuses to give in, whilst Dinsmore clenches further back. On the outside, Cade tries to get the fans to start a HBK chant - with the only problem being that theyíve already started - but he plays it off as if he started it, as Michaels inches closer to the ropes Ö AND MAKES IT!!! This shocks Dinsmore, and he begins to think about what he can do, and grabs Michaels, looking to deliver a neck breaker Ö but Michaels counters, pushing Nick into the ropes, and delivers an arm drag as The Prodigy bounces back.

Michaels now begins his superman comeback, as he limps to his feet, and bursts back into the thick of it, with a flying forearm, but as he nips up, his knee buckles, and he loses time, trying to shake his knee loose, allowing Dinsmore to get back up. Nick looks to kick the knee, but Michaels dodges it, and fires off chops, goes for a whip, but Dinsmore reverses, sending Michaels into the corner, but Michaels jumps up, and moonsaults back taking Nick down, coming close with a near fall.

Both men get back up, with Michaels now the aggressor, and he delivers a front slam, before signalling for the elbow, with the fans now getting to their feet. He climbs, but we see Flair running around the ring to stop it, only for Cade to stop him, knocking Flair down, allowing Michaels to fly through the air, and delivers the Savage Elbow, to a huge pop. HBK gets back to his feet, still selling the knee injury, but now sets up for the Sweet Chin Music, when suddenly, we see Garrison Cade sliding a chair into the ring for Michaels. HBK looks around, and kicks the chair back out of the ring, asking Cade what heís doing, with Garrison telling Michaels to use it, which confuses HBK, as he explains to Cade he has the match won. Cade apologises, as HBK turns back around, with Dinsmore reaching his feet, and goes for Sweet Chin Music Ö but Dinsmore ducks Ö and rolls up Michaels, grabbing the tights in the process, 1...2...3!!!
Winner: Nick Dinsmore @ 14:37

Dinsmore steals it!!! Nick Dinsmore scores a cheap win over Shawn Michaels in The Showstoppers home town!!! Immediately, Michaels is up, and chews out Cade, who proved to be the distraction that cost him the victory. Cade apologises, as Michaels asks him again, why he decided to throw the chair in. Cade tries to explain, but HBK just seems too frustrated to listen, as Dinsmore and Flair celebrate up the ramp, with The Prodigy picking up his biggest win to date.

Commercial

We return, with Randy Orton approaching Eric Bischoff again, backstageÖ

Randy Orton: Eric. I need to know now. Where the hell do I stand here??

Bischoff looks a little perplexed.

Eric Bischoff: Stand on what??

Orton snaps back

Randy Orton: My rematch for the World Title?? Remember??

Eric Bischoff: Itís simple Randy. You donít have one.

Ortons mouth gapes open in shock.

Randy Orton: Whoa. You said weíd talk about this.

Eric Bischoff: Yes, that is what weíre doing now Randy. Iím telling you that you donít get a rematch. You lost at WrestleMania Randy. You have no right to a rematch as the challenger. The way I see it, that loss put you right to the back of the line.

Orton begins to fume.

Randy Orton: This is a crock, and you know it. I deserve a rematch more than Lesnar or Christian do at any shot. I need to get even with Cena. I need it.

Eric looks annoyed by Ortons persistence.

Eric Bischoff: Well itíll have to wait. You get no shot until youíve worked your way back to the top. Understood??

Randy Orton: This is your last chance Eric. I promise you, youíll regret this. Iíll walk out of this arena tonight, and Iíll not come back again.

Bischoff raises his eyebrow.

Eric Bischoff: Is that so?? Well Randy, I donít like being hassled by my talent. I donít like being given ultimatums. So instead, how about I call your bluff. Iím putting you on an official leave of absence. Take a holiday, cool off. And donít bother coming back until youíre ready to play by my rules, and be part of the Raw team.

Orton barely shows an emotion.

Randy Orton: If thatís how you want it Ö fine by me.

Orton turns and storms off, leaving Bischoff looking angry.

Back to ringside Ö

Jim Ross: Well folks, coming up momentarily, weíll have four of the six draftees from Smackdown in action, as Gene Snitsky and Simon Dean will team up, making an odd pairing to say the least, to take on the popular duo of Ron Simmons and Rico, better known as the Acolyte Fashion Agency.

The Coach: Four freaks to say the least J.R, but hopefully Simon Dean can point you into the right direction with the Simon System, if you know what Iím saying.

Jim Ross: Shut up Coach. Ladies and Gentlemen, last week, the tag team titles over here on Raw were vacated due to the draft lottery splitting the champions, Charlie Haas and Shelton Benjamin, with Haas going to Smackdown. Now, as we understand it, an announcement will be made next week on Raw concerning the future of those very titles.

The Coach: Well, there are a number of great teams on Raw right now, with The Heart Throbs, Road kill & Danny Doring, the drafted A.F.A, Booker T & Goldust, The Brotherhood, Kenzo Suzuki & Rene Dupree, all capable of becoming the champions.

5th Match:
Gene Snitsky & Simon Dean vs. A.F.A
Pretty bad match, mainly focused on comedic value. Dean spends more time trying to sell his products to fans, leaving Snitsky to do the work in the ring, with Rico playing up to his usual antics in the ring too. Ron Simmons does his thing, bringing the power game, but there is little to the match, with no heel beat down on the faces, and the finish comes with Simon Dean tagging in, and tries to sell his products to Simmons, but Ron just blasts Dean with his thunderous spine buster, hooking the leg for an elementary, 1...2...3!!!
Winners: A.F.A @ 03:04

The official literally has to scrape Dean off the canvas, as the AFA celebrate their victory. Gene Snitsky though, appears to lose his cool, and gets into the ring, taking Ricos head off with a boot to the head, before taking on Simmons Ö when Ö

**PYRO SHOOTS FROM THE RINGPOSTS**

**Slow Chemical**

Kane makes his entrance, to a huge pop from the fans, and saunters to the ring, with Gene ready to take him on, and as Kane steps over the ropes, Snitsky brings it to him. Gene dominates Kane for a short period, and drops him with the Pumphandle slam Ö BUT KANE SITS UP!!!

Kane gets to his feet, and turns the tables on Snitsky, running through all his offence, but before he can hit the Chokeslam, Snitsky bails, rolling out of the ring, and escapes through the crowd. Kane then turns his attention to Rico and Simmons, and shows his lack of care for anyone, gripping Rico by the throat, and dragging him to his feet, before delivering the devastating CHOKESLAM.

Kane then sets up, as he sees Simmons make his feet, grips his by the throat, and delivers the Chokeslam to him too!!! The Big Red Machine sets off his pyro again, as he continues his return to Raw in devastating fashion.

Commercial

We return from the commercial with clips of Randy Orton leaving the arena on wwe.com Unlimited.

Jim Ross: Well Coach, weíve just saw the last of Randy Orton Ö for God knows how long.

The Coach: Iíve got to questions Eric Bischoffs thinking here baby boy. Iím our General Managers biggest fan-

Jim Ross: Founder, leader, and sole member of his fan club.

Coach ignores the cut down.

The Coach: But giving Orton an unlimited LOA seems a little extreme.

Jim Ross: It was all over a rematch Orton feels he deserves, but Bischoff has insisted that heís going to the back of the line, as the two men at the front of that line are set to collide for the title shot at Backlash, as Brock Lesnar faces Christian for a chance to meet John Cena at Backlash for the World Championship.

The Coach: Weíve just come off the back of an awesome WrestleMania J.R Ö but Backlash is shaping up terrifically too!!!

Jim Ross: Indeed it is Coach, either Lesnar or Christian faces Cena for the World Title, Shawn Michaels & Garrison Cade, the remaining two members of DX, take on The Two Horsemen, Ric Flair and Nick Dinsmore, whilst Eric Bischoff has forced Rey Mysterio to defend the Money in the Bank contract he dutifully won at WrestleMania, in an I Quit Match to boot, against the Rated ĎRí Superstar, Edge. A match we havent seen since January of 1999, because it is so violent.

The Coach: April 30th, Seattle, Washington, I cant wait!!!

**MY TIME IS NOW** John Cena enters the arena to a tremendous reaction from the fans in attendance, as the World Champion makes his first appearance of the evening. Cena doesnít appear to be as energetic as he normally is, as he walks down the ramp, but still slaps hands with fans, before getting into the ring. He picks up a mic, and gets ready to speak.

John Cena: Sorry about being late tonight Ö especially since I just heard that Randy Orton has already left the building.

Heat for Orton.

John Cena: Let me just get this straight, because I only caught bits of this story as I arrived, so I might have my facts a little muddled up. Randy Orton isnít getting a title shot any time soon, correct??

Cena looks for a response, which is just generally nods of heads.

John Cena: And heís complained to Bischoff Ö and long story short, heís gonna be gone for a while, right??

More general nods.

John Cena: Okay, so I guess heís in a car now, heading for wherever heís going. In other words, he wont hear this. But Iíll bet youíll either eventually see this Randy, or someone will tell you about it. So listen up.

Cena looks into the camera.

John Cena: Randy Orton Ö you keep healthy. Drive safely, donít party hard, work out twice a day, wrap yourself in cotton wool, and come back as soon as you can. Because we Ö have unfinished business. And with God as my witness, Iím coming straight ahead, full steam Ö the first time I so much as catch a GLIMPSE OF YOUR PRETTY BOY FACE Ö and I will not stop Ö I SAID, I WILL NOT STOP BEATING THE LIVING HELL RIGHT OUT OF YOU, UNTIL YOU CAN BE RECOGNIZED BY DENTAL RECORDS ONLY.

Cena takes a second to cool off, just staring into the camera.

John Cena: You said last week youíd go from Legend Killer to Career Killer, using me as an example?? I say BRING IT!!! I say, Iím standing right here, and Iíll not be hard to find. You want some?? Come GET SOME!!! And this Ö this goes out to Christian, and this goes out to Brock Lesnar too. The CHAMP IS HERE!!! And Iím goin nowhere.

Cena holds the title aloft, with his music playing again, as we cut backstage, and see a split screen of Brock Lesnar on one side, and Christian with Tomko on the other walking backstage, as JR hypes the main event Ö up next.

Commercial

**HERE COMES THE PAIN** Brock Lesnar makes his entrance, for this main event, with plenty of time left on the show for them to have a worthwhile match.

Lesnar warms up in the ring, as we await Christian.

**JUST CLOSE YOUR EYES** Christian enters with Tyson Tomko, to a great reaction from Texas, as we prepare for the first ever encounter between Lesnar and Christian. Christian steps into the ring, and immediately is jumped by Lesnar!!!

Main Event: #1 Contenders Match:
Brock Lesnar vs. Christian w/ Tyson Tomko
Lesnar takes it straight to Captain Charisma, beating him down in the ring. Lesnar hitís a quick back breaker, and makes a cover, 1...2...Kick Out. Brock continues to pound down Christian quickly, looking to wear out Captain Charisma early on, with a vicious assault. Brock scores another few near falls, with a simple, but effective attack, but never enough to keep The Superstar of Today on his back for the three count. Lesnar then goes for one of his high knees into the corner, but Christian is able to move out of the way, and Lesnar crashes into the corner, which allows Christian to score some offence finally, nailing a reverse DDT for a near fall. Christian now looks set to make a fight of it, as we head into the final commercial of the evening.

Back from the break, Christian is in charge, and highlight from the commercial show an even brawl, going to the outside, where Christian took the upper hand, reversing a whip into the steel steps to take control. Captain Charisma goes up top, and looks for a missile dropkick now Ö but Lesnar moves out of the way, and Christian crashes and burns on the mat. Now, Brock Lesnar is able to take control again, and this time is more relentless than before, clubbing blows to the back of the head, which is where he focuses his attention to wear Christian down.

Brock attempts a sleeper, and has it locked in, after work on the head of Christian, but Captain Charisma musters the energy to keep his arm raised, and fights the sleeper, managing the break the sleeper hold, much to the delight of the fans. Christian begins his comeback, and speeds up the match, with his offence, which has Lesnar in all kinds of trouble. A spinning heel kick gets a near fall, and a DDT gets a long two count too. Christian then goes up top, and looks for a cross body, but Brock catches him Ö and scores with a Belly to Belly, turning the tide again!!! Lesnar brings the power game again, and scores with his delayed Fisherman buster for a close call, and the same with a German suplex. Brock looks to go in for the kill, and scoops Captain Charisma up into the air for the F5 Ö but Christian lands on his feet, and begins to slug it out with The Iron Man!!!

The two men battle back and forth, punch for punch, with Lesnar eventually driving a knee to the gut to take control, and goes for a suplex, but Christian counters, and nails a reverse neck breaker!!! Now, Christian quickly gets to his feet, climbs the ropes, steadies himself Ö AND SCORES WITH THE FROG SPLASH!!! Christian hooks the leg now, with victory assured Ö 1...2...FOOT ON THE ROPE!!!! Brock survives, and the match continues, as the over run now begins. Christian is back up, and forgets about the near call with the Frog Splash, and now wills Brock to get up for the Unprettier. He hooks Lesnar up for it, but Brock shoves him away, into the ropes, and scoops him up as he comes back Ö F5!!!! Lesnar scurries to hook the leg, 1...2...CHRISTIAN GRABS THE ROPE!!!! In a matter of moments, both men have had to use the ropes to stay in the match!!! Lesnar sees his opportunity though, and tries to drag a lifeless Christian back to his feet, for a second F5, but as he gets Christian on his feet Ö Christian cradles Lesnar Ö but does Lesnar shift?? The referee counts, as all four shoulders appear to be on the mat, 1...2...3!!!???
Winner: ??? @ 15:51

Both men hold their arms up, thinking they got the win. Lesnar points at himself, making sure Christian sees, whilst Christian does the same, as both men believe they have won.

The referee meanwhile talks in detail to Lillian Garcia, as she makes the callÖ

Lillian Garcia: The referee has informed me that the shoulders of BOTH MEN, were down for the count of three, therefore, this match is a DRAW.

HUGE heat for the bull shit finish, as both Lesnar and Christian argue with the referee that they won, when Ö

**IíM BACK** Eric Bischoff quickly scurries onto the stage.

Eric Bischoff: CUT THE MUSIC!!!

Both mens attention turns to Bischoff at the top of the ramp.

Eric Bischoff: It appears we cant have a main event here on Raw without controversy, can we?? Well, it just so happens that Iím used to controversy, but I have a solution to this problem.

Bischoff readies himself.

Eric Bischoff: Now, I said earlier that either of you would make an ideal opponent for John Cena. I said that a match against either of you would generate major Pay Per View buys. I also said that the winner would face Cena Ö and the way I see it, neither of you lost Ö because you both won.

Lesnar holds his arms up, as if to suggest he won.

Eric Bischoff: So, rather than Cena versus Christian, or Cena versus Lesnar, instead, you both deserve to be rewarded for your victory Ö so at Backlash Ö itís gonna be John Cena defending the World Heavyweight Championship Ö against Brock Lesnar Ö and against Christian Ö in a triple threat match!!!

Crowd pop for the announcement.

Jim Ross: Oh my!!! What a main event weíve got for Backlash!!! Cena, Christian, Lesnar. My Gawd can you believe it!!!

The Coach: Thatís a bad result for Cena though J.R, he now wont need to be pinned to lose the title Ö and I love it!!!

Christian and Lesnar share a war of words in the middle of the ring, as we close the show with Bischoff standing at the top of the ramp, smiling proudly at his announcement.

END OF SHOW


---
Current Card for WWE Backlash
Date:
30th April 2006
Location:
Key Arena; Seattle, Washington
Event Music:
Adreyu; Shameful
World Heavyweight Championship; Triple Threat Match:
John Cena vs. Christian vs. Brock Lesnar
I Quit Match for the Money in the Bank Contract:
Rey Mysterio vs. Edge
Grudge Match:
Shawn Michaels & Garrison Cade vs. Ric Flair & Nick Dinsmore
--------------------------
Re: Being The Booker
---
Excellent show, Wolf Beast. I will be reviewing your show again soon when I have some time. Excellent!
Re: Being The Booker
---
Edge & Carlito vs. Rey Mysterio & Shelton Benjamin
A good match but i didnt like the way you finished it with the cradle 8/10

Jazz w/ The Brotherhood vs. Lita
Good match and i am glad that Lita made the win as for a diva match you made it good 8/10

Randy Orton vs. Mark Henry w/ The Brotherhood
Good match here but no fan of orton or henry but still enjoyable 8/10

Nick Dinsmore w/ Ric Flair vs. Shawn Michaels w/ Garrison Cade
Good match and i liked the way you finished it off 9/10

Gene Snitsky & Simon Dean vs. A.F.A
An ok match but it could of been a bit longer 7/10

Brock Lesnar vs. Christian w/ Tyson Tomko
A really good match and i liked the way how you made it a double pin 10/10

Overall show Rating 8.5/10
It was a very good show and i cant wait till your Backlash is ready
Re: Being The Booker
---
The show kicks off with Lesnar coming to the ring and demanding a title shot. No response from our "honourable" GM and it seems Lesnar won't budge until he gets what he wants. Christian! Seems like he's not too happy with what's going on, and the typical humour from him was thrown in, as he too states he should have a title match. I think we'll be seeing these two at Backlash in a Number One Contender's match. Bischoff comes out and makes the match for tonight? Not that great of a decision, but maybe the match ends in a No Contest as this can't just die off after it just started

Shelton gets a major boost in his first night with Haas, although it's still a tag match, he manages to pin Carlito, I think we could see these two lock up at Backlash also for the IC strap with CCC finally dropping the belt, while Rey & Edge continue their heated rivalry

Orton is not a happy chappy, I still think he'll get into the title match tho

Lita beats Jazz, and Trish vs Lita again should be good for a match, it might just be the time for Trish to drop the belt, but you never know as she is the best Women's wrestler you've got really

Conway blabbering about nothing much really, only served as a vehicle for Kennedy to save the day, make insults at him and get the fans on his side, a little scuffle at the end makes me think they might end up at Backlash, but I dunno if Conway deserves to be on PPV

The crowd seems to have completely swerved on Orton, although he does get a win against Henry pretty easily I must say, he's gotta have something go his way soon

Wow, Cade all worked up lol, makes me think you might have him turn on Michaels and join the Horsemen, but you can never tell with you at times Wolfy, so I'll keep it in mind as the weeks unfold

Nice match between HBK & Dinsmore, and I knew it, there is desention in the ranks with HBK & Cade, as Cade inadvertantly (I'm sure) ruins the momentum Michaels had and Dinsmore steals the win with a rollup. I have no clue as to who will help HBK if DX falls apart now, which it seemingly will do

Orton is walking out? He'll be back, at Backlash, to interfere in the World title match. Interesting that Bischoff would actually let him go, as he normally pleads with the big talent and sucks up to them

What a mehish match that served no purpose really, o wait Kane is here and he destroys everyone again. Can you PLEASE give Kane something better to do than this? Please?

Cena promo was alright, not much to comment on except for the fact he knows Orton's gone but they have unfinished business, and that he won't back down from any fight

Terrific main event to end the night, the ending mauled in controversy as both men are able to pin the others shoulders down, and the confusion is settled because both men are going to face Cena at Backlash! Big triple threat match that's gonna be, can't wait for it

As usual, great stuff. 'Nuf said. 8.5/10
---
***

Re: Being The Booker
---
Wolf Beast's Raw Review
We kick off with a nice promo from the arrogant Brock Lesnar to commence with. It is a bit rich that he seems to think he automatically deserves a title shot, simply because of who he is, but I can't see Eric Bischoff disagreeing with him somehow. I like this new face Christian you are working on at the moment. Normally, I don't like him as a face, but he seems to be working well at the moment, with Tomko acting more as a friend and acquantance than an actual bodyguard. Christian and Lesnar verbally spar, with Christian winning the exchange, until Bischoff comes out and announces a huge match for tonight. I had thought before that it would be Cena/Orton at Backlash again, with Lesnar and Christian squaring off in a private feud perhaps. I can still see Orton getting in on the action though.

A good tag team contest to get things underway featuring one of the best feuds in your BTB at the moment: Edge and Rey Mysterio. With Shelton out of the WGTT I'll be expecting you to give him a decent push, as was shown with Charlie Haas on Smackdown. I didn't really like the ending, with a quick inside cradle for the win, but it looks as though, by pinning the Intercontinental Champion, Shelton may now begin a feud with Carlito. Things get really nasty between Edge and Mysterio as they brawl profusely. With 3 weeks still to go until Backlash, things are really going to heat up between those two.

Short segment with Randy Orton here, as he is still desperate for his Wrestlemania rematch with Cena. The way Bischoff sounded, it makes me think that he is going to cheat Orton out of a rematch in favour of Lesnar and Christian.

A quick victory for Lita next as she looks to capture the Womens Championship. Without the Brotherhood at ringside Jazz isn't really much of a threat and is easily disposed of.

Rob Conway makes his unimpressive debut here and doesn't come over too well thanks to Mr. Kennedy. This face Kennedy is a real revelation I have to say, as I never thought he would work as anything other than a heel. With Kennedy's potential though, I hope he doesn't get stuck in low-card feud with Conway.

Quick squash match really for Randy Orton tonight, making him come out looking very impressive, whilst Henry just looks like a 400-pound jobber. Orton was probably very eager to impress Eric Bischoff, which would explain his excellent performance in the ring.

Interesting promo with Shawn Michaels and Cade here. Not sure what is going on with this business with Cade interrupting HBK etc. I can't see the two of them lasting much longer than Backlash as a team anyway, probably thanks to the Four Horsemen.

Pretty good match up between HBK and Dinsmore to escalate their rivalry, with HBK dominating really up to the end. What the hell was Cade playing at? He throws the chair in the ring for no real reason and it only serves to distract HBK, allowing Dinsmore to roll him up for the win. There is now some definate friction within DX, and I don't think that HBK is overly fond of Cade at the moment.

Well, Bischoff is being stubborn tonight isn't he? Randy Orton goes and destroys a 400-pound man and still doesn't get his rematch. I really don't know what else Orton could do at Backlash though other than face John Cena. Orton has no other feuds. Honestly, I don't think Orton has really left the building, and I can definately see him interfering in the Christian and Brock Lesnar match later.

Like you said, this would have been a pretty bad match between Snitsky/Dean and Simmons/Rico. Luckily the aftermatch was entertaining as a pissed off Kane came down to the ring and basically chokeslammed everyone. I guess the Big Red Machine will be getting a decent push then. Good

See, with Cena's promo here, how could his rivalry with Randy Orton be over? All of Cena's intensity seems to be coming straight out of his hatred for Orton, and he hasn't exactly registered Christian and Lesnar yet. No matter what is said, I still think that Orton will be in the title match at Backlash... somehow.

Superb main event! You really allocated the time well here to allow for a good showing from these two excellent performers. The ending was controversial and reminded me a little bit of late-2004 when Edge and Benoit were involved in a similar incident. Orton didn't interfere, which surprised me, but the announcement of a triple threat match at Backlash is a good choice. However, like I said before, I still think that Orton will be added.

Overall this was another superb show from you, Wolfy. I'm really glad I found this BTB and I hope you appreciate my new reviews. I saw no real spelling or grammar errors, and your form and structure seems to be fine as well.

9 Out Of 10 - Brilliant!
Chopped Liver
Join Date: Jan 2004
Location: Six inches from a computer screen
Posts: 5,433
Points: 321
Re: Being The Booker
---
Thanks guys for the Raw reviews. I truly appreciate you taking the time to review, and I apologise for not being able to return them anymore.


-----------------------------

WWE.COM RAW NEWS:

Two more matches have been revealed by Raw General Manager, Eric Bischoff ahead of the upcoming Backlash PPV.

The first of which will be a Fatal Four Way to determine the new tag team champions of Raw, after the titles where vacated after the draft lottery night on April 3rd. The four teams gunning for the gold will be former champions, Booker T & Goldust, Rene Dupree & Kenzo Suzuki, The Brotherhood and the recently drafted A.F.A. Which team will take the gold on April 30th??

And, Carlito will defend his Intercontinental Title at Backlash, with Shelton Benjamin emerging as the Number One Contender to the title, after a pinfall victory over Carlito last Monday night. Can Benjamin kick off his singles career with a major title victory??

There is also a lot of debate as to who the true #1 Contender is to Trish Stratus' Womens Title, with Jazz, Lita and Molly Holly all claming a right to the title shot. Jazz picked up a tainted win over Trish the night after WrestleMania, whilst Lita defeated Jazz on Monday Night, but Holly scored a victory over Lita on a recent edition of Sunday Night Heat. How will this issue be resolved??

Before Backlash though, there are still two editions of Raw to come, and Eric Bischoff has signed two matches already for this coming Monday Night. The war between The Horsemen and DX will rage on, with Shawn Michaels in action again, this time, to take on The Nature Boy, Ric Flair, one on one. These two legends will meet in Washington DC this Monday night, in what has to be seen as a must see encounter.

The second match announced sees two challengers face off, as the challenger for the MITB contract - Edge, will face the challenger for the Intercontinental Championship, Shelton Benjamin, one on one, in what promises to be an electric match up


Smackdown should be posted by Snap sometime soon.
Wheelman for James Ellsworth
Join Date: Apr 2006
Posts: 615
Points: 0
Re: Being The Booker
---
Never fear; Smackdown is here. All suitable replies will be returned.
*****
WWE Smackdown
Date:
April 6th, 2007
Venue:
American Airlines Center
City:
Dallas, Texas
The Smackdown Opening Video plays before switching to the cameras panning across the Arena, as we see the live crowd on there feet in anticipation for quite possibly the biggest night in Smackdown history. Several signs are shown most pertaining to Stone Cold Steve Austin.
Michael Cole:
We are LIVE from The American Airlines Center in Dallas, Texas. After three long weeks, the time is here, Stone Cold Steve Austin's final match is tonight and much like he did throughout his career, Austin is looking to raise some hell, however for the last time.
Tazz:
This has been the buzz everywhere for the past few weeks; We saw both Austin and Rock singing and having a good time last week but tonight you have to believe its all business, especially for Austin, who's looking to go out with well, as he put it, one last big kick ass performance, and I have no doubt that's exactly what we're in for.
Michael Cole:
Austin has given it his all for the past eleven years but after tonight he hangs up his boots for good, however not before this one last match with one his closest friends and biggest rivals, The Rock. Are you ready partner? It's Austin: The Final Chapter, tonight!!
** Japanese Music ** plays as Tajiri makes his way to the ring, in preparation for a Cruiserweight Championship Match, having earned the right to face Kid Kash last week on Velocity. Tajiri gets in the ring and gets on all fours, looking up the entrance way, waiting for his opponent.

** K-I-D ** hits as The Cruiserweight Champion, Kid Kash makes his way out to the ring, getting in and going to the corner turnbuckle, raising his belt in the air to a mixed reaction. Kash then gets down and turns toward Tajiri, hacking a wad of spit at The Japanese Buzzsaw, getting a bit of heat.
1st Match:
Cruiserweight Championship
Kid Kash © vs. Tajiri
Kash and Tajiri gets into a bit of chain wrestling early on, catching each other with several take downs. Tajiri eventually gets the upper hand, nipping up as Kash has him in a wristlock, kicking him in the side of the head.
Tajiri dominates Kash for a bit, hitting with several kicks and locking in The Tarantula at one point.
Before the two can continue any farther, Triple H storms down to the ring and gets in, quickly laying out Tajiri with a clothesline. Triple H then follows up, hitting The Pedigree to major heat from the crowd. Kid Kash gets up and is immediately met with a kick to the gut and Pedigree from The Game.
Winner by Disqualification:
Tajiri
Triple H immediately requests a microphone, which he is quickly handed.
Triple H:
PAUL LONDON, GET YOUR ASS OUT HERE!!!!
Crowd Pops for London's Name
Triple H:
Let me lay it down for London and each and everyone of you. Last week Paul London decided to be a man, Paul London decided to get a little bit of revenge, and in doing so, Paul London committed the ultimate sin, Paul London cost me The WWE Championship.
Crowd Gives Pops
Triple H:
And in doing so, Paul London signed his own personal death certificate.
Crowd Gives Heat
Triple H:
And now it just so happens its time for "The Golden Boy" to pay for his wrongdoings, its time for Paul London to come out and look his devil in the eyes, its time for him to play The Game.
Crowd starts a "London" chant, which noticeably irritates The Game.
Triple H:
You see this carnage in the ring? This is NOTHING. This is bits and scraps compared to what I'm going to do when I get my hands around that little son of a bitches throat. London, you play with fire, you get burned, you play with The Game, and you get KILLED. The way I see it, I took you out, and I can sure as hell do it again, only this time, it'll be for good.
Crowd Gives Heat
Triple H:
Hell, lets speed up the process, GET YOUR ASS OUT HERE!!
Crowd Gives Pops, with many wanting to see The Game and London go at it here tonight.
Triple H:
Come on London, be the bold little son of a bitch you decided to be last week and meet me face to face. You wanted it, and now you got it. Its time to face the consequences of your actions "Golden Boy". Its time to except that for you, it's GAME .. OVER!!
Crowd gives Triple H major heat
Triple:
How long do I have to -
** Stay In The Shadow ** hits as the crowd goes absolutely nuts for Paul London, who slowly walks out onto the stage with a microphone in hand, dressed casually, not to compete. Triple H however doesn't seem to have any interest in London speaking and quickly gets out of the ring, heading up the ramp. London sees him coming and immediately lunges at him!!

Triple H and Paul London immediately get into a huge brawl, with London shockingly holding his own against The Game. Triple H however finally starts to hammer away on "The Golden Boy" and pushes him off the side of the stage, into the guard rail. Triple H then looks to clothesline London, who moves out of the way at the last second and swings behind The Game, DROPKICKING HIM AND SENDING HIM INTO THE CROWD AREA!!

Triple H doesn't seem too hurt, more shocked if anything, and quickly pulls himself together, getting to his feet and turning around as London lunges himself over the guard rail, and take The Game down with a cross body!! Triple H and London roll around trading punches as we see security empty out from the back, separating the two as quickly as possible. Both men however continue to punch and kick at each other.
Michael Cole:
Their still going at it!! Triple H stated earlier that he wants Paul London but after seeing the way these two are going at it, I'd say the feeling is more then mutual. Security is having a heck of a time with these two!!
Tazz:
Well we knew the intensity of The Game but I don't think we've ever seen Paul London like this!! These two are too eager to go at it, getting it on in a fan filled area. Security is still trying to pull them apart Cole, look at 'em go again!! This is absolutely off the chain!!
Commercial
Stone Cold Moment: Austin wins King Of The Ring 1996; Gives famous "3:16" Speech.
We are taken back to moments ago, with Michael Cole telling us that both Triple H and Paul London have been separately escorted out of the arena.
Backstage, where Steve Romero is standing by with "Y2J" Chris Jericho.
Steve Romero:
Ladies and Gentlemen I am joined now by "Y2J" Chris -
Chris Jericho:
Did you see it??
Steve Romero:
(Confused)
Did I see what??
Chris Jericho:
The lights, they went out, and then … Gong. He knows Steve, The Undertaker knows that I'm coming for him, and I think he's finally excepted my challenge. Do you know what this means?? FINALLY, I can do it. Finally I can beat The Undertaker, the match is in my grasp, I'm gonna do it Steve, I'm gonna finally put an end, to The Dead Man.
Steve Romero:
Well obviously we all saw what went down last week, but what about that mishap leading to newcomer Brent Albright pinning you 1,2,3 in the middle of the ring? You seemed pretty irritated afterward.
Chris Jericho:
Irritated? Of course. But not at that jackass, hell anyone who's anyone knows that I could beat that ass clown anytime, anywhere. I'm Chris Jericho, FIRST Undisputed Champion, and a HUGE Rock Star, I've already cemented a legacy. Brent Albright? He'll be lucky if anybody remembers his name next week.
Steve Romero:
Fair enough I guess … any comments on your match later tonight?
Chris Jericho:
No need too. I'm going out, delivering a performance like only "The Ayatollah of Rock and Rolla" can and then maybe, just maybe … well, we'll just have to wait and see what happens ….
Chris Jericho dazes off, seemingly in deep thought as we go back to ringside.
** World's Greatest ** hits and Charlie Haas makes his way out onto the ramp, looking pretty intense as he makes his way to the ring to a mixed reaction, with many really not liking his attitude over the past few weeks. Haas gets in the ring and goes to the top turnbuckle, lifting his fist in the air but surprisingly gets more of a jeer then anything else.
2nd Match:
Singles Match
Charlie Haas vs. Test
Both men trade blows to start, with Haas stiffing Test much the same way he did Kidman last week. Test makes a comeback however and begins to get a little offense, lifting Haas up in the corner at one point looking for a Running Power Slam however Haas gets behind him and nails a German Suplex that looks as if Test lands on his head.
Despite Test being blatantly injured, Haas quickly locks in a Haas of Pain, putting loads of pressure on Test's neck and back. Test quickly taps out.
Winner By Submission:
Charlie Haas
Charlie Haas doesn't let go for a moment, with the referee once again forcing him off. Haas then tries to celebrate his win by going to each turnbuckle, but again lots of jeers are heard from the crowd.
Michael Cole:
Charlie Haas picks another win here tonight, but at what expense, he may have just severely injured another Smackdown Superstar.
Tazz:
Honestly, I don't think he cares Cole. Haas has a completely new attitude since coming to Smackdown, he doesn't want to be here and he's shown that ever since he got here.
Michael Cole:
Well Billy Kidman is out of action with a back injury right now courtesy of Haas, and now Test looks to have injured his neck. In my opinion, I think Haas needs to get his act together, and start taking his frustrations out in a way that doesn't prove devastating to the health of the Smackdown roster.
Cameras cut backstage where Josh Mathews is standing by with JBL.
Josh Mathews:
Ladies and Gentlemen I am joined now by JBL, John Bradshaw Layfield, and John over the past few weeks we've watched you rebound from your Wrestlemania loss in a big way, defeating Hardcore Holly in convincing fashion last week as well getting the win alongside Team Smackdown on RAW two weeks ago, and we're just wondering, what's next?
JBL:
Let me correct you Mathews, I didn't achieve victory two weeks back along with Team Smackdown, I achieved victory FOR Team Smackdown. I was The Franchise Player in that match, no one can deny that, much like no one can deny that I am quickly becoming The Franchise Player here on Smackdown. My doubters can ignorantly doubt all they wish but there is no denying the fact that JBL is climbing the mountain of success on Thursday Nights, and climbing at record speed. Simply put, much like I guaranteed, I am making an impact.
Josh Mathews:
Well what are your plans for tonight?
JBL:
My plans are simple, I'm leaving. You see tonight is all about one man, Stone Cold Steve Austin, and quite frankly it sickens me. This company is dedicating an entire two hour program to a man who drank beer, vandalized private property and engaged in countless felonies throughout his "career" if you can even call it that. I refuse to condone this ridiculous shenanigans and therefore will take my leave and return next week, when hopefully things have returned to the norm. With that, I bid you goodbye.
JBL pushes past Josh Mathews, who is left standing there.
Commercial
Stone Cold Moment: Austin vs. Bret Hart; I Quit Match at Wrestlemania 13
Video is played of JBL running down Austin before the break.
Michael Cole:
What you've just seen happened just before we went to a commercial break, and partner, I'm sorry to say this but JBL has really sank to new lows here tonight, running down Stone Cold Steve Austin on the night of his final match. Its times like these that really make me hope Bradshaw gets what's coming to him.
Tazz:
Well I'm normally a big JBL fan but tonight I have to agree with you and I believe he will in fact get his. Austin is extremely respected among the Smackdown locker room and you have to believe some of his friends just saw that interview moments ago, if I was JBL, I'd watch myself.
** Live For The Moment ** hits as The United States Champion, Matt Hardy makes his way out to the ring to a BIG Pop, alongside his Tag Team Partner for the evening, Brent Albright. Both men shake hands with several fans on their way to the ring, getting in and going to the turnbuckles.

** Unleashed ** hits as Batista makes his way out, to some pretty big heat from the crowd. Batista poses midway down the ramp, setting off some pyro, before continuing to the ring. Batista doesn't showboat once inside however, instead just staring down Matt Hardy.

** 5,4,3,2,1 … BOOM!!!! ** hits as "Y2J" Chris Jericho does his usual ring entrance to MAJOR heat from the crowd. Chris Jericho cockishly walks down the entrance way at first, although noticeably turns every few moments to look over his shoulder. Jericho gets in the ring and taunts the crowd, before surveying the arena, obviously for any sign of The Undertaker.
3rd Match:
Tag Team Match
Chris Jericho and Batista vs. Matt Hardy and Brent Albright
Batista and Jericho take the advantage early on due to the obvious size and power advantage. Both men proceed to lay into Matt Hardy big time, keeping him in their corner. Jericho eventually goes for an Enzuguri, however Hardy ducks and grabs both of Jericho's legs, taking him down, before Slingshotting him across the ring!!
Matt Hardy makes a hot tag to Brent Albright who takes down Jericho with a number of clotheslines, before Jericho eventually staggers up to his feet and quickly tags in "The Animal".
Albright and Batista go at it, with Albright fending well against "The Animal" for a few moments, before going off the ropes, only to be caught with a Spine Buster!! From then on Batista proceeds to lay a beating on the newcomer, as Jericho yells to tag him back in, which Batista does.
Jericho quickly drags Albright in place, before jumping on the ropes and nailing The Lion Sault, cockishly covering Albright 1,2,3.
Winners By Pin Fall:
Batista and Chris Jericho
Chris Jericho somewhat avenges his loss last week here tonight. Jericho immediately starts in with calling out Undertaker, speaking into the camera. Jericho then notices Matt Hardy getting up on the apron and takes this opportunity to clothesline Matt off the apron into the guard rail before turning and talking with Batista for a moment with both looking to do further damage to Albright, until all of a sudden ….
** GONG **
The lights go completely out, as the crowd pops. Jericho and Batista stagger around for a moment before the lights come back on … UNDERTAKER IS STANDING IN THE RING!!!! The crowd goes absolutely APESHIT as Jericho's eyes widen as The Dead Man stares him down, Undertaker then grabs the nearby Batista and levels him with a CHOKESLAM!!

Jericho then suddenly makes an attempt to charge at The Dead Man, only for Undertaker to grab him by the throat. Undertaker lifts Jericho up for a Chokeslam however Jericho somehow wiggles out of it and quickly bails out of the ring, heading up the ramp. Jericho is still in shock as he reaches the top of the ramp, before suddenly smiling. Jericho starts laughing as Undertaker stares him down, with Jericho saying "I knew you'd show up".
Michael Cole:
THE - THE UNDERTAKER!! The Phenom is here!! The Phenom is officially on Smackdown!!
Tazz:
Undertaker in the house baby!! Smackdown just got a whole lot more intense in my opinion. The Undertaker is here, and his intentions are pretty clear Cole, after weeks of Jericho moaning and calling out The Dead Man, he's coming for "Y2J" yet again. Look at Jericho, he's actually smiling. This is off the hook and completely insane all at the same time, Jericho better watch himself.
Michael Cole:
Indeed. Never the less ladies and gentlemen, your eyes do not deceive you, The Undertaker is indeed here LIVE and from the looks of things, its going to be a wild ride from here on out with The Dead Man a part of Thursday nights, especially for "Y2J" Chris Jericho.
Commercial
Stone Cold Moment: Austin wins his first WWF Championship at Wrestlemania 14, defeating Shawn Michaels with The Stunner; Mike Tyson acts as Special Enforcer.
The cameras immediately cut backstage to a familiar zoomed in "Brahma Bull" T - Shirt.
Voice:
Up here jabroni!!
The camera pans out a bit and then up as we see The Rock, and hear a huge pop in the background from the LIVE crowd.
The Rock:
FINALLLLYYYYY, THE ROCK HAS COME BACK … TO DALLAS, TEXAS!!!!
Crowd Pops
The Rock:
And finally, the night is here. The night that the people have been waiting in anticipation for, the night that The Rock has been waiting in anticipation for, and most of all the night that Stone Cold Steve Austin has been waiting for. Tonight, one last time, head to head, toe to toe, nose to nose, the greatest rivalry in the history of Sports Entertainment comes to a close, along with the career of one of the greatest superstars EVER to step foot in the squared circle. The Rock vs. Stone Cold, Austin: The Final Chapter, Dallas, it doesn't get any bigger then this!! Tonight The Rattlesnake and The Brahma Bull are going to go out and beat the ever loving crap out of one another one last time, all the while entertaining the MILLIONS ..
Crowd repeats "And Millions"
The Rock:
And millions, of The Rock and Stone Cold's fans. After all the talking, all the singing, all the fun, its time for one last fight. The Rock will give it his all, Austin will give his all, Dallas is in for one HELL of a ride, if ya' SMELLLLLLL What The Rock, IS COOKING.
The Rock does the people eyebrow into the camera as we cut back to ringside.
Ringside;
Tazz:
I'm SO pumped Cole.
Michael Cole:
As am I partner, later tonight, Austin vs. Rock, Austin: The Final Chapter, and I don't know about you, but I've definitely been reflecting on the career of Stone Cold Steve Austin, especially after watching those "Stone Cold Moments". The best part being there's still more to come.
** Drop The Bombshell ** hits and The Dudley Boys make their way out to the ring, to a big pop from the crowd. Bubba does his job of pumping up the crowd on the way while D-Von looks serious and ready for business. The Dudley's get in the ring immediately go to each turnbuckle, pointing out into the crowd.

** We are The Spirit Squad ** hits as all five members of The Spirit Squad make their way out to some big heat from the crowd, jumping around as usual. The Spirit Squad get to the bottom of the ramp and huddle together, strategizing about who's going to wrestle the match. It is finally decided to be Kenny and Mikey.
4th Match: Tag Team Match
The Dudley Boys vs. Kenny and Mikey w/ The Spirit Squad
The Dudley's take it to their opposition, beating down both Kenny and Mikey, with Buh Buh chopping both senseless several times throughout the match, as well as nailing a variety of slams and other power moves.
Eventually Nicky tries to interfere, and gets caught with a 3D for his troubles, with Buh Buh rolling him out of the ring and getting out himself to brawl with Johnny, as the referee yells at them from the ring to break it up.
The distraction however allows Mitch to sneak in and crack D-Von who is the legal man, with a mega phone before placing a down and out Kenny on top of him as the referee turns around to see the cover and make the three count!! Spirit Squad steal their first victory!!!!
Winners By Pin Fall:
Kenny and Mikey
The Spirit Squad
The Spirit Squad quickly pull themselves together as Buh Buh rushes back into the ring and checks on D-Von. The Spirit Squad then head up the ramp, jubilant about their victory and taunting The Dudley's the entire time.
Michael Cole:
The Spirit Squad steal one from the veterans, The Dudley Boy's!! This has to be considered a huge upset, did you see that though? He blatantly cracked D-Von with that mega phone.
Tazz:
Well its definitely a shocker to say the least, but a wins a win, and The Spirit Squad may have just skyrocketed themselves into being a premier Tag Team here on Smackdown. I'd be lying if I said I wasn't interested in where these guys are headed, especially with such a big win over The Dudley Boy's. Wow, D-Von is out ….
Commercial
Stone Cold Moment: Stone Cold drives a Bud Weiser truck into the arena and showers Vince McMahon, Shane McMahon and The Rock in beer.
We return as ** Medal ** hits and the crowd stand in complete shock as Kurt Angle makes his return to Smackdown!! Angle walks to the ring, not playing to the crowd at all as Michael Cole and Tazz go complete insane over Angle making his surprise return tonight. Angle gets in the ring and is immediately handed a microphone.
Kurt Angle:
Do it, go right ahead. Chant all you want because nobody can put me through the mental stress that I've put myself through for the past three weeks. Heck, I'll say it with you … I TAPPED OUT, I TAPPED OUT, I TAPPED OUT!!!
Crowd continues the "You Tapped Out" and "Bret" Chants
Kurt Angle:
Go ahead, get it out of your system.
The crowd continues the chant for a moment, before it dies down
Kurt Angle:
What no more? No more "You tapped out" chants? Come on, I expected more from you people, hell I expected to hear that until next year for freaking sakes. Now if you don't mind, I've got a some things to get off my chest and when I'm done I don't want hear the words "Bret Hart" spoken in front of me ever again.
Crowd Cheers for the mention of Hart
Kurt Angle:
Lets rewind for a minute. For the past year, I was obsessed with one thing and one thing only. I had a goal, a goal that to me was bigger than winning any championship, a goal that was bigger than Main Eventing Pay Per View's and selling out arena's, and that goal was to get Bret Hart out of retirement and back into the ring for one more match, and I stuck to that goal. I was possessed, heck I was obsessed with making Bret get back into the ring for that one final match … and I did just that. I set up the match of the century … the date was set April 2nd, 2006 .. Wrestlemania 22 .. And I was ready, not just to beat Bret, but cripple him for the anguish he through while I worked long and hard to make that dream match a reality.
Angle stops and takes a long breath
Kurt Angle:
And then at Wrestlemania, something happened. By the grace of god, he beat me. Bret Hart beat me.
Crowd Pops
Kurt Angle:
It still doesn't make any sense, I went into that match one hundred and ten percent and was beaten by an old, washed up has been. A shell of a former great athlete. All my hard work, and that was the payoff?
Crowd starts up again with a "You Tapped Out" chant
Kurt Angle:
From Bret's standpoint it had to be a miracle, a one in a million situation, the whole world knows I could fight Bret Hart one hundred freaking times and wipe the mat with him every time, heck I could KILL him every time. But last Sunday … somehow he pulled it off, he beat me.
Angle puts his head down in shame for a moment before continuing
Kurt Angle:
And now, Bret is gone and here I am, still standing in the middle of this ring. I've tortured myself for the past few weeks, hell I've driven myself completely insane for the past year, but in the past three weeks I've put myself through mental hell, I even questioned retirement … until I came to a conclusion.
Angle stops for a moment before continuing
Kurt Angle:
Its time to forget the last year of my life, its time to erase Bret Hart from my mind and its time to focus on what's really important and that's none other then Bret's good buddy, the current "Canadian Wonder", Chris Benoit and his WWE Championship.
Crowd Pops for Benoit
Kurt Angle:
If this past year has shown anything, its that if I put my mind to something, I achieve it. So I'm putting Bret Hart behind me once and for all and putting all my focus on the WWE Championship. I'm working my way back up the ladder once again, and if putting Chris Benoit out of action indefinitely is what it takes to erase Wrestlemania from each and every one of your minds, and win that belt again in the process, I'll do it.
Crowd Gives Heat
Kurt Angle:
Face facts, even when I was obsessed with Bret Hart, even when my mind was completely fixed on other things, I STILL had a four month run with that title, I still managed to beat Shawn Michaels in a Sixty Minute Iron Man Match and I even beat Chris Benoit, clean as a sheet.
Crowd Gives Heat
Kurt Angle:
And honestly, what makes you think I cant do it again? Look at the facts, Chris Benoit and I have met tons of time and I've humbled him each and everyone of them, I've proved time and time again that he doesn't even belong in the same ring as me, and I've proved without a shadow of a doubt that I am the greatest Technical Wrestler alive today.
The crowd starts up with dueling chants of "Bret" and "Benoit" as well as heat for Angle.
Kurt Angle:
Go ahead, boo. I don't care anymore, chant "You Tapped Out", heck throw in a few "You Suck" chants while your at it because the fact is Wrestlemania was a one in a million situation, I don't suck and the WWE Championship is mine for the taking. Chris Benoit's time is running out and Kurt Angle is climbing back on the mountain top, OH ITS TRUE, ITS DAMN TRUE!!
Kurt Angle's music hits as he drops the microphone and goes to each turnbuckle, jaw jacking the crowd before heading up the entrance way, raising both arms as he reaches the top of the ramp.
Michael Cole:
Kurt Angle has returned!! Angle is back on Smackdown, and his intentions have been made clear. He's moving on from Bret Hart, he's moving on from the past year of his life and he's focusing on Chris Benoit and The WWE Championship.
Tazz:
A focused Kurt Angle is not good for any WWE Champion including Benoit, as you heard him say even in the most distracting times, he was still able to win the WWE Championship, and he was still able to beat Chris Benoit. The Rabid Wolverine better be on the lookout, because Angle's coming for him.
Michael Cole:
The Olympic Gold Medalist is back on Smackdown, he's focused, and he wants gold. However Ladies and Gentlemen, are you ready? The time is upon us, the biggest match in Smackdown history, its Austin vs. Rock, Austin: The Final Chapter, when we return!!
Commercial
We return with Josh Mathews standing by with Stone Cold Steve Austin.
Josh Mathews:
Ladies and Gentlemen, I am joined at this time by The Texas Rattlesnake -
Austin grabs the microphone out of Mathews hand to a HUGE pop.
Steve Austin:
You got about five seconds to get out of here before I stick this microphone straight up your ass.
Crowd Pops as Mathews scurries away as Austin turns toward the camera.
Steve Austin:
The way its goes is like this, I got one more night to kick ass, drink beer and raise all kinds of hell. Tonight I'm going out there, with the volume jacked up, The Rock is going out there, he's got his game face on, and I have every intention of slapping it right off!! Sing alone time's over, play time's over, I got one more night left and I intend on making good on it by whooping The Rock's ass!!
Crowd Pops
Steve Austin:
You see for the past year I've been the fun, lovable beer drinking SOB that everyone's come to love. Not tonight. You may have noticed they didn't show one last Stone Cold moment a few minutes ago and that's because that moment is yet to come, tonight is that moment. Tonight I have one last chance to leave an impression and raise a little more hell in the process, and I plan on making good on that chance, by kicking ass and drinking beer. Rock, you talk about waiting in anticipation? You talk about waiting for weeks for this match? Well Austin 3:16 talk's about waiting weeks to kick your ass from one side of Dallas to the other, stomping a mud hole in you, and walking it dry!!
Austin walks off as we go back to ringside where ** Sooners ** hits and Good Ol' JR makes his way out to a big ovation, tipping his hat to the crowd and walking down to the ring, joining Michael Cole and Tazz at the commentary booth.
Michael Cole:
Pleasant surprise, Jim Ross is in the house and I can only assume you're here to help us call The Rattlesnake's final match.
Jim Ross:
Michael, Tazz, it's great to be here; I wouldn't miss this for the world. The Texas Rattlesnake's final match here tonight, and I gotta believe my good friend is going out like John Wayne, all guns blazing. Everybody, RAW, Smackdown and the fans alike have been anticipating this match. It's gonna be a slobber knocker.
** Glass Shatters ** to a MASSIVE pop, no doubt the biggest of the night by far, from the crowd, as Stone Cold Steve Austin makes his way out, walking to the ring with a purpose. Austin rolls into the ring and goes to each turnbuckle, saluting the crowd, before standing in the center of the ring and staring up the ramp.
** IF YA SMELLLLL, WHAT THE ROCK …. IS COOKING ** hits as The Rock comes out, obviously to a great ovation as well, however not like Austin's. Rock walks to the ring, jumping up and down to pump himself up on the outside before getting and going to the corner turnbuckle, raising his fist before getting down and going nose to nose with The Texas Rattlesnake, in a truly surreal moment.[/I]
Main Event:
Austin: Final Chapter
Stone Cold Steve Austin vs. The Rock
Austin and The Rock automatically start out with a slugfest, with Austin eventually ducking a hard right from The Rock and coming off the ropes, tackling The Great One upon return and laying into him with rights and lefts, before getting to his feet and jaw jacking to pump himself up as the crowd cheers.
Both men continue to trade the upper hand throughout, with Rock and Austin at one point brawling on the outside, and Rock actually connecting with a Rock Bottom onto the floor!!
From there on The Rock takes the advantage, tossing Austin back into the ring and following by hitting a suplex and his signature Dangerous DDT.
Austin eventually attempts a comeback, however fails as he comes off the ropes, and Rock catches him with a Spine Buster!!
Rock then picks Austin up, looking around the crowd as he hooks Austin, before attempting a Rock Bottom!! AUSTIN GETS OUT OF IT!! Rock quickly turns around into a STONE COLD STUNNER!! Austin covers 1,2, KICKOUT!!
From there Austin hits most of hits most of his signature moves, including his stomp in the corner as well as locking in The Million Dollar Dream hold, however Rock gets to the ropes.
Austin then picks Rock up to his feet, however The Great One catches him with a right to the jaw, and follows up with another, and another before pulling his hand back and hitting Austin with one final right that takes him down. Rock then calls for Austin to get up, which he does, as Rock hooks him for a Russian Leg Sweep, but Austin pushes him off into the ropes, with Rock catching himself and quickly turning around INTO A LARIAT!!
Rock goes down hard as Austin covers 1,2, ROCK KICKS OUT!! Austin cant believe it and slowly gets to his feet as The Rock slowly pulls himself together as well, only for Austin to grab him, kick him in the gut and deliver another Stone Cold Stunner!! Austin covers 1,2,3!!!!
Winner By Pin Fall:
Stone Cold Steve Austin
Austin immediately falls back, rolling around on the mat and celebrating his win, before getting to his feet and going to each turnbuckle to salute the crowd. Austin then waits as The Rock slowly gets back to his feet, before extending his hand, which The Rock refuses, instead pulling Austin in and embracing him to a HUGE pop from the crowd. Rock then raises Austin's arm. The Rattlesnake then calls for beer, which he is tossed, handing two to The Rock and keeping four for himself. Austin and The Rock then drink beer to the delight of the crowd.

The Rock then shakes Austin's hand one more time, before leaving the ring and heading up the ramp giving Austin center stage, applauding The Rattlesnake as he reaches the top, leaving Austin in the ring to celebrate and have his final moments alone with the fans. Austin continues to drink beer.
Jim Ross:
AUSTIN WINS!! AUSTIN WINS!! Oh his final night, in his final match, Stone Cold has just beaten perhaps his greatest rival, The Rock. What a match it was, and what a way for The Rattlesnake to go out if I do say so myself. Never will I forget this night as long as I live, this has truly been one of the most rewarding moments of my career as a broadcast journalist.
Michael Cole:
There will never a man quite like him, there will never be another Texas Rattlesnake. Stone Cold Steve Austin has done it, he gotten his last big performance he so desperately craved and he can now leave on a very high note. As I said before, there will never be another Stone Cold. He will be missed.
Tazz:
Well to say The Rattlesnake will be missed is an understatement I think, but to see Austin just go out and deliver that kind of match on his last night, it's just breath taking Cole. A true rocket buster is there ever was one. Austin leaving is definitely a hard hit to the Smackdown locker room but the performance he just put on here tonight is the perfect one to leave on a high note with.
Jim Ross:
I agree with you there Tazz, and another is for sure, you cant take away from The Rock. He gave a hell of a performance, but no one was holding The Rattlesnake down on this night. This has been truly amazing. Thanks for welcoming me with open arms.
Michael Cole:
The pleasures all ours JR. The end of one of the greatest rivalries ever to take place in Sports Entertainment coincides with the end of the career of that man, undoubtedly one of the most popular wrestlers ever to step foot in a WWE ring. Stone Cold Steve has defeated The Rock in his final match, and what a match it was.
Tazz:
Look at 'em all Cole, this audience is showing their appreciation for Austin like never before … it's an amazing atmosphere here tonight.
Michael Cole:
Ladies and Gentlemen, thank you for joining us here tonight, as we pay homage to "The Texas Rattlesnake" Stone Cold Steve Austin. We hope to see you again next week, as Smackdown heats up on the road to Judgement Day, I'm Michael Cole alongside Tazz, saying goodnight and see you next week.
We see Austin on the turnbuckle once again, still downing beers as several Smackdown and RAW Superstars led by their respective World Champions, John Cena and Chris Benoit, make their way out onto the ramp, applauding The Rattlesnake while JR, Michael Cole and Tazz stand up and join in on the applause as do all the fans in the arena. The crowd continues to cheer Austin on, as we see one final shot of The Rattlesnake on the turnbuckle before fading.
End of Show
---
Who in TNA creative has the testicular fixation? Samoa Joe lost 2 PPV main events in a row because of Ball shots. Jay Lethal lost this week due to a ball shot. Matt Morgan got laid out with a Ball shot to set up the finish on the pole match. Kong should be World Champ based solely on the fact that she isnít susceptible to ball shots.
---
Last edited by Snap; 03-02-2007 at

03:54 PM

.
Re: Being The Booker
---
Deadman_014's Smackdown Review


Alright another good show it seems, I have been busy lately, but I plan on getting back on track review wise starting with this, and i'll try to add in a Raw Review later on. Austin's retirement is a big thing tonight for the show, and Austin will go over in his final match I am sure. Opening up with Kash/Tajiri and a nice little unique way to do match recaps there, eh Snap? Anyways, HHH ruins the fun, and destroys both men. Just a message to London for what happend last week and a brawl insues, which is a pretty entertaining one at that, with a decent promo in there from HHH. `The Golden Boy' is an interesting name for London, but one problem I see with this whole fiasco is that HHH/London would be a really bad idea for a feud, unless this is just a little feud to get London on the map, and give HHH a squash with London giving good efforts, this isn't the greatest uses of HHH.

Nice Austin moment there, I am actually watching that from a DVD right now. The Y2J promo, I don't know, but it was off a lot for some reason just didn't sound right. Didn't seem to much like Jericho for some reason, didn't feel something needed in that promo. I like the way your building Haas up as he wins again, as this storyline progresses, and its a way to get a few SD superstars out for awile isn't it? JBL has a mini interview here, which was in character and fine, this could be hinting at JBL/Austin, but I doubt it. Just a way to get JBL on the show, without really any purpose, and to get him off before plans for him that you probably have begin to be put into effect since he's on the uprise.

Jericho/Batista go over here and The Undertaker appears, and a nice chokeslam to `Tista, but Jericho escapes. Interesting to see Jericho and what he said at the end, this feud probably needs variation starting around next week. As if the main event doesn't have enough build, we have Rock have a nice little mini promo here, along with that little thing for Austin about him winning his first WWE Title at WM 14. Spirit Squad's debut match is here and a win there for Kenny & Mikey this is a brief of fresh air for the tag division, plus its also different to see these guys on Smackdown, so I don't really dislike them around.

A very nice Angle promo here with his return really nicely done. He's going after Benoit, but if I am not mistaken, Benoit defeated Angle before WrestleMania via tapout with Bret watching in the skybox. Another small interview here and another pretty nice promo, nothing's been horrible in the show, besides one off Jericho promo to me, but it wasn't `horrible'. J.R comes out and a little more build towards it, and the Austin/Rock match is here. Really nice headliner to the show here after all the buildup to it and Austin wins the epic final encounter like I thought he'd do.

A nice celebration a great ending, J.R fit the occasion here, and the lockerooms empty out to give him respect to end it, but I noticed Chris Benoit wasn't on the show? The new WWE Champion should someway or another be on the show, and your General Manager Paul Heyman was also in no mans land, you could of paired them together for a promo since there has been stuff between them in the past. A good show, but a flaw was the Benoit/Heyman non appearances, and the Jericho thing just didn't sound right, besides that it was a nice show. Raw review I will try to work on soon.
Posting Rules

You may not post new threads

You may not post replies

You may not post attachments

You may not edit your posts

---

HTML code is Off

---