Chopped Liver
Join Date: Jan 2004
Location: Six inches from a computer screen
Posts: 5,433
Points: 321
Re: Being The Booker
---
Raw:
April 3rd; London, England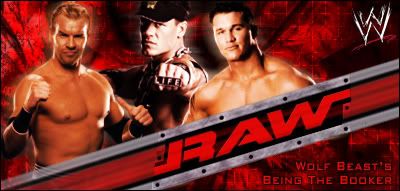 THREE HOUR SPECIAL

Video Package hyping tonights draft lottery, stating that no one is safe, and the face of the WWE could be changed forever.

Opening Video

Pyro

Jim Ross:
Earls Court is sold out in anticipation for one of the most important editions of WWE Raw this year, as in the next three hours Raw and Smackdown will have a General Manager, and both brands could well be totally re-shaped for the coming twelve months. I'm Jim Ross, alongside The Coach for this amazing three hour spectacle we are set to witness, and not only are Coach and I here to call the action, Michael Cole and Tazz from Smackdown are here too.

Michael Cole: Thank you J.R, and folks, don't adjust your television set, the Smackdown announce team ARE on Raw, and tonight, history will be made in many ways, but perhaps the biggest will be that Smackdown main events Raw tonight!! The WWE Champion, Chris Benoit will defend his title for this very first time, against a man gunning for his tenth World title, The Game, Triple H!!!

Tazz: There cant be any arguments from Raw that that match main events their show. Benoit and The Game, TONIGHT!!!

The Coach: But don't forget gentlemen, by that time, Chris Benoit, or Triple H, OR even both, could be drafted to Raw.

Jim Ross: Also tonight for this mammoth broadcast, Shawn Michaels faces the Horsemen's Animal, Batista, and the World Champion is in action, as John Cena is also up against part of the three man unit that is The Horsemen, as he faces the legendary Nature Boy, Ric Flair in a No Disqualification match.

Michael Cole: And lets not overlook a huge six man tag match J.R, featuring JBL, Chris Jericho and Matt Hardy from Smackdown, going up against Edge, Rob Van Dam and Mister Kennedy of Raw.

The Coach: Stop referring to these guys as Raw superstars and Smackdown superstars. By the time this show is over all six of those guys could potentially be on the opposite show!!!

Tazz: You're already pissing me off Coachman.

Jim Ross: And, as we found out last week, Captain Charisma, Christian, will face the Intercontinental Champion, Carlito, and the tag team championships are on the line, as-

**NO CHANCE IN HELL** Vince McMahon powers out onto the stage, looking very focused for tonight, and stands at the top of the stage, in between a Raw podium and a Smackdown podium.

Mr. McMahon: London, England…

Fans pop

Mr. McMahon: It is now time to reveal the men that will lead Raw and Smackdown for the foreseeable future. Neither man is on my Christmas card list. I don't class either as a friend, more so an enemy really. But that doesn't stop me from making what I believe to be good business decisions. It's rather strange really, and in a way it's rather ironic, but I'll explain why in a moment. However, without further ado, I give to you the WWE fans, the NEW General Manager of Raw … ERIC BISCHOFF!!!!

**I'M BACK … AND BETTER THAN EVER** Eric Bischoff enters the stage, to a mixed response at first, with excitement greeting his arrival, but his smug way about things gets him some negativity. Eric now has let his hair go grey, and short buzz cut (like in real life now) since we last saw him. He shakes hands with Vince, before stepping onto the Raw podium, and begins to speak.

Eric Bischoff: A little over two years ago now, I was fired as the General Manager of Raw.

Fans pop.

Eric Bischoff: Yeah… as I was saying, after I was fired I decided to go into management, and guided Matt Morgan to the Intercontinental Championship. I'd call that success in a field I wasn't even comfortable in. And I continued to manage that … lump for a further twelve months, until last autumn, when I decided to walk away … but when I got the call from Vin- I mean, Mister McMahon, I knew this was my opportunity to come back … and like the song says, be better than ever.

Bischoff smugly smiles.

Eric Bischoff: This time I WONT slip up, and I wont give anyone any excuse to fire me. What I'm gonna do is shake this brand to it's very core, and take Raw to a level we've never been. I'm gonna take Raw and make it bigger than Nitro ever was … I'm gonna take Raw, and make it bigger than Raw ever was in the attitude era. This is a new era for Raw … The ERIC BISCHOFF ERA!!!!

Heat from the fans.

Mr. McMahon: Thank you Eric. Now, as I mentioned earlier, these appointments of General Manager have been rather ironic I feel, as two years ago, I replaced Eric Bischoff as Raw General Manager, I also replaced the Smackdown General Manager at that time … but now, I am RE-APPOINTING that man … PAUL HEYMAN!!!!

**Extreme** Paul Heyman steps out onto the stage to a similar reaction from the fans, half excited, half giving heat for his association with Brock Lesnar. He takes his place on the podium, as we see Eric Bischoff looking furious.

Paul Heyman: (To McMahon) Thank you Sir. And hey, Eric. We meet again.

Heyman holds his hand out for a handshake, but Eric just stares at the hand.

Paul Heyman: Very well. Ladies and Gentlemen, I'm not gonna deliver any promises as to what you'll get from me as General Manager of Smack down … just watch on Thursday nights to see what I'll deliver to the audience. I will bring the world the most talked about wrestling show week after week, I will deliver cutting edge television that the entire world will buzz about, just like I did with ECW. Eric, I'm gonna take great pleasure in leaving you in my wake. I'm gonna to obliterate you, I'm going to decimate you, and I'm going to annihilate you when it comes to running Raw and Smackdown respectively. And that's a promise.

Heyman smiles, as Bischoff stays quiet.

Mr. McMahon: Well?? What are we waiting for?? Lets get this lottery off and running!!!

Two workers quickly wheel out two tumblers, one marked Raw, and one marked Smackdown.

Mr. McMahon: Now, shall we toss a coin to decide this??

Bischoff shakes his head, and speaks.

Eric Bischoff: Saying as Mr. Heyman is a guest on MY show, then I'm willing to let him pick first.

Eric smiles smugly, as Heyman plays along, and nods graciously. He sticks his hand into his tumbler, fiddles around, and picks a ball out. He hands it to McMahon, who screws the top off, and reads the piece of paper.

Mr. McMahon: Ladies and Gentlemen, the first mover of the 2006 draft lottery, going from Raw, over to Smack down … LUTHER REIGNS!!!!

Reaction of indifference from the fans, who don't care much for the midcarder, but J.R and Coach are quick to comment.

Jim Ross: And right off the bat, DX has just been trimmed to three members!!!

The Coach: Now, Michaels, Cade and Jindrak are left without the 'Insurance Policy'. Huge blow for D-Generation X.

Jim Ross: It just goes to show that absolutely no one is safe in this lottery.

Bischoff doesn't look too concerned, whilst Heyman seems pleased enough, but hardly ecstatic.

Bischoff now proceeds to pick his ball out, and hands it to McMahon, who takes the top off, before reading the paper.

Mr. McMahon: Moving from Smackdown to Raw … the former WWE Champion, and the client of the Smackdown General Manager … BROCK LESNAR!!!!

Big reaction from the fans, despite Lesnar being a heel.

Michael Cole: He just main evented Wrestle Mania as the Smackdown champion, and now, just eight days later, Brock Lesnar has been drafted to Raw!!!

Tazz: Hate to say it Cole, but that's a great way for Raw to kick this night off.

Bischoff looks overjoyed to have landed The Iron Man, whilst Heyman looks really disappointed with the loss.

Eric Bischoff: And just so we're clear Paul, you're services are no longer required as the agent of Brock Lesnar.

Bischoff walks away from the podium, and to the back looking happy, whilst Heyman looks around, realising he has just lost a big star to the competition.

Mr. McMahon: The lottery will continue throughout the night, but as of now, the action must commence!!!

**I SPIT IN THE FACE OF PEOPLE, WHO DON'T WANT TO BE COOL**

Carlito walks out onto the stage, along with Stacey, for the opening match of the night.

Jim Ross: When we come back, Carlito is in action, as he faces Christian. We'll be right back!!

Commercial

1st Match: NON TITLE MATCH:
Carlito w/ Stacy Kiebler vs. Christian w/ Tyson Tomko
The two men spend the early going just going through the motions, with a war of words, followed by a quick brawl, which Christian dominates, sending Carlito to the outside. Captain Charisma sends the fans into a frenzy, then delivering a cross body from the top rope to the outside, knocking down the IC Champ. Quickly, Christian brings it back inside, and scores a few near falls on the struggling opponent, with Carlito seemingly in a bad way. Suddenly though, the course of the match changes, as Stacy provides a distraction for the referee, showing off her long legs, catching his attention, which allows Carlito to nail an undetected low blow. Immediately, Tomko tries to intervene and level the scores, but as he gets into the ring, the referee has his attention shifted by Stacey to the Problem Solver, and the official quickly stops the big man from doing anything, promptly sending Tomko to the back. The Problem Solver is furious, and tries to explain to the referee, but all he does is make matters worse for Christian, as the distraction allows Stacy to slide the IC Title to Carlito, and CCC quickly smashes the belt over Captain Charismas head!!! He hooks the leg, as the referee finally gets Tomko removed, and makes the count, albeit later than when the leg was hooked, 1...2...KICK OUT!!!

From this point, Carlito begins to take control, coming close to victory with his double springboard moonsault, with Christian kicking out again. The IC Champ now wears down Captain Charisma, and locks in a sleeper, but the move doesn't have the desired effect with Christian soon breaking free, and mounts a comeback, scoring a near fall with a reverse DDT. He scales the ropes, looking to hit the latest move to his arsenal - the frog splash - but as he prepares to fly, Stacy tries to stop him, grabbing Captain Charismas leg. Christian squats her away with his leg, but takes too long, and allows Carlito to jump up, and arm drag him from the top!!! CCC is now in the ascendancy, and takes down a groggy Christian with the Back Cracker, for another near fall!!! Carlito now goes in for the kill, and sets up for the Apple Core, but Christian slips free, and fights back, whipping Carlito into the ropes, but CCC bounces back with a springboard elbow, knocking Christian down again!!!

Once more, Carlito drags Christian up, but Captain Charisma takes him by surprise, hitting an atomic drop, sending Carlito hobbling along the ring, back into the path of Christian, who attempts to hit the Unprettier … but as he turns around, Kiebler is on the apron, making a nuisance of herself again. Christian lets go of the opponent, and starts arguing with Stacy, allowing CCC to regain his composure, and he charges in behind Captain Charisma … BUT CHRISTIAN MOVES!!! Carlito runs into Stacy, knocking her off the apron!!! CCC looks to the outside, and takes his attention off Christian, who takes the opportunity, coming in from behind, and hit's a side suplex on Carlito, and follows up with the UNPRETTIER!!! Christian hooks the leg, 1...2...3!!!
Winner: Christian @ 11:41

Captain Charisma gets a second win over Carlito, as his amazing roll continues on Raw. The referee raises his arm, as Carlito slowly rolls out of the ring, suffering another loss to Christian. Captain Charisma soaks up the cheers of the fans who are now beginning to come around to him, as we fade to the back.

Backstage, we see Eric Bischoff walking along, pressing numbers into his phone, when he is suddenly stopped. The Raw GM looks up, and sees the man in front of him, and smiles. The camera pans around to see that the man is Brock Lesnar.

Eric Bischoff: Welcome to Raw Brock. Welcome to your new home.

Bischoff puts his hand out to shake, and Lesnar slowly decides to share the handshake.

Eric Bischoff: Let me assure you Brock, I wont give you any less of a chance here on Raw, despite your friendship with Paul Heyman. I have some huge opportunities alrea-

Brock Lesnar: I didn't want to stop and chit chat Eric. I came to give you a warning. On Smackdown, champion or not, I was the top guy. I expect to be treated the exact same way here on Raw. And Eric, after Wrestle Mania, I didn't get a rematch for the WWE Championship over on Smackdown. I think that's the least I deserve here on Raw.

Bischoff thinks, and nods.

Eric Bischoff: Leave it with me Brock, and I'll hav-

Brock Lesnar: No. That's not how this will work. Lets put it this way … do you want me as an ally?? … or an enemy??

Bischoff thinks for a moment, before Lesnar moves past, patting Eric's shoulder.

Brock Lesnar: Just think about it Eric, yeah??

Lesnar walks on, as Eric tilts his head up, as if to look to the sky, closing his eyes, already facing a dilemma with his latest acquisition.

Commercial

We return with Eric Bischoff and Paul Heyman on the stage, ready to make their second picks, as McMahon also makes his way out, with the other entrances taking place during the commercial.

Mr. McMahon: Lets not waste any more time Gentlemen. This time, it'll be you to pick first Eric.

Bischoff nods at Vince, before reaching in, and picking out a ball. He hands it to McMahon, and Vince goes through the same actions again, before reading out the name…

Mr. McMahon: The second Smackdown superstar set to switch sides, and become a member of the Raw roster … GENE SNITSKY!!!!

Basically no reaction. Bischoff looks a little disappointed that he didn't acquire a big name, but doesn't appear to be devastated.

Heyman, on instructions from McMahon now picks out his ball, handing it to the Chairman, who quickly unscrews the ball, and calls out the name…

Mr. McMahon: And, moving in the opposite direction … THE UNDERTAKER!!!!

HUGE POP from the fans, as Smackdown takes the Deadman, with Heyman keeping calm, but broadly smiling, and even laughing slightly, as we see Bischoff immediately storm off the stage, irate with such a big loss to his roster.

Mr. McMahon: Congratulations Paul, and we'll be back again, with more picks later in the show, but as for now, it is time for a debut on Raw … please welcome to two latest additions to the women's roster … Alexis Laree and Jillian Hall!!!

The two women enter the stage to generic music, and no response, as they walk out, dressed for action, flanking McMahon.

Mr. McMahon: And you're going to be making your debuts right now, which you already know … but your opponents … are each other.

Both women look a little surprised, but accept the decision, and make their way to the ring, but as they walk down … HALL ATTACKS LAREE!!! Jillian drags Alexis to the ring, and rams her into the ring apron, before rolling her inside, for the match to begin.

2nd Match:
Jillian Hall vs. Alexis Laree
Hall has control throughout the early stages, with the pre match attack, and although the offence is basic, it's enough to cause Alexis problems. The fans aren't into the match too much, with them not knowing anything about either female, but they try hard, and as Alexis makes her comeback, they pull off a superplex spot, which gets a slight reaction from the fans. Laree gets a two count for the superplex, then goes up top again, but it appears she's gone to the well too often, as Hall manages to kick the ropes, with Laree losing her balance, and gets caught up top. Jillian then gets back to her feet, and looks to make an impact, but before she can, Laree plays possum, and leaps from the top, connecting with a Top Rope Tornado DDT!!!! She covers, 1...2...3!!!
Winner: Alexis Laree @ 04:16

Alexis picks up the win on her debut, whilst Jillian Hall immediately tastes defeat. Alexis has her hand raised, and leaves the ring, looking happy with her performance, whilst Hall watches on, looking furious with losing her first match on Raw.

Backstage, we see Todd Grisham walking along the back, looking like he is preparing for an interview later, when suddenly he is stopped - BY CHRIS JERICHO

Chris Jericho: How awesome is this Rod??

Todd Grisham: Actually, my name isn't R-

Chris Jericho: Your name isn't important Junior. What's important right now is that you are standing six inches away from greatness. (shifts a little closer) You are standing just five inches now from a walking, talking, living legend.

Jericho shows a big smile, whilst Todd looks a little uncomfortable.

Chris Jericho: C'mon Monkeys, get that camera on my good side!!!

The cameraman scurries around to Jerichos 'good side'

Chris Jericho: So, what questions have you got for the King of the World??

Todd Grisham: To be honest, I haven't got any questions for you. I didn't even plan on a-

Jericho randomly butts in.

Chris Jericho: How exciting is it. The Undertaker … and Chris Jericho on the same show, at the same time, from this moment on. No more running, no more hiding Rod. The Phenom is about to be exposed on Smackdown, just like he was exposed at WrestleMania.

Grisham looks around, not interested in Jericho.

Chris Jericho: Y'know, I was walking through London today. I know, a dangerous thing to do. I had two wallets stolen, was held at gun point for my pen, and for a few moments I felt out of place because I WASN'T homeless.

Heat in the background from the listening fans.

Chris Jericho: But amidst all the hubbub surrounding a world famous rock star, the people of London have found me humble, approachable, and just like one of them … apart from me having glistening white teeth, unlike their shade of yellow … not to mention the fact that mine are perfectly straight, and they have went for the mangled look.

More heat.

Chris Jericho: But - back to my point. Every single English person that came to me in London today … and not to forget the Polish, the Asians, Scots, Welsh, Irish, Africans … yeah, pretty much every nationality … but every single one that came to me told me the same thing. My performance at WrestleMania changed their lives. My performance, despite losing, stirred the hearts of not only this nation, but the entire world.

We see that Grisham has now left Jericho, and Y2J is just rambling to himself.

Chris Jericho: It is recognized fact that watching my performance gave a female in Hong Kong the ability to climb Everest. It gave a man in Norway the courage … to walk for the first time in twenty two years. And Elvis Pressley himself rang me this morning, to tell me personally, that my performance at WrestleMania has given him the ability to rise from the dead, and I'll prove that at my next Fozzy concert, when Elvis himself will duet with Y2J!!!

More heat.

Chris Jericho: And today, as I walked through the streets of London, everyone that passed me by told me that I was now their hero!!! Each one told me that they look to me now as their national hero. Forget Tim Henman, David Beckham is old news junior … Chris Jericho is now revered as the English national sporting hero!!!

Jericho raises his arms for a second.

Chris Jericho: But … I cant accept that. Not just because I'm not English … but it's because I don't want to be.

Major heat.

Chris Jericho: And who can blame me?? You're all losers. For the love of God, your national soccer ball team haven't won a World Cup in forty years!!! And stop kidding yourselves, you wont win this summer either. I don't want to be bogged down by losers … because Chris Jericho is a winner.

Jericho closes his eyes, and points his head up, before speaking again.

Chris Jericho: And unlike all you quitters in the UK, I wont stop, I wont rest, until I get revenge on The Undertaker. And … now that The Undertaker is coming to MY show … he has nowhere to run, and nowhere to hide. Taker, sit up in your crypt or wherever you're hiding. Chris Jericho is coming after ya Deadman. You got lucky once … lightning doesn't strike twice.

Back into the arena…

**KENNEDY**

Mister Kennedy enters the arena for the upcoming six man tag match, pitting three Raw superstars against three Smackdown superstars. Kennedy does all his usual pre-match announcements, before…

**METALINGUS** Edge sprints out onto the stage, for his first match since Wrestle Mania, where he was 'robbed' of the MITB contract. He gets to the ring, and shares a few words with Kennedy, who stands his ground against Edge.

**ONE OF A KIND** RVD now enters the arena, but still looks pissed about the involvement from Sabu and Alfonso at WM where he WAS genuinely robbed of the MITB contract. As he walks down the ramp, J.R tells us to join them right after the commercial, when we'll see the big six man tag match.

Commercial

As we return, we see Matt Hardy and JBL standing at the bottom of the ramp, with JBL mouthing at Hardy, with tensions still brewing between them, when …

**Break the Walls Down** Chris Jericho struts out onto the stage, for his second match on Raw in back to back weeks, despite being a Smackdown superstar. He walks down the ramp, looking cocky and confident, whilst JBL decides too much time has been wasted, and gets inside the ring, jumpstarting the match, attacking Edge.

3rd Match:
Ken Kennedy, Edge & Rob Van Dam vs. Matt Hardy, JBL & Kurt Angle
JBL totally dominates Edge from the outset, looking incredibly fired up, beating the snot out of the Rated 'R' Superstar, as he looks to show the world that he can move up to the next level. Edge manages to get enough daylight though, and immediately looks to tag out to RVD. Van Dam enters, and tentatively goes at it with JBL, with the Wrestling God looking extremely dangerous. RVD tries to go toe to toe with Bradshaw, but JBL manages to control again, with his brawling ability far too strong for RVD to live with. Layfield doesn't look interested in making any tags, which leaves Y2J no choice but to make a blind tag to bring himself in, much to the chagrin of Layfield.

Jericho stays in the ring for a period, which sees RVD come back, and tag back out to Kennedy, who controls Y2J, before tagging out to Edge, who, after a short period of offence, slips up, and misses a dropkick, allowing Jericho to connect with the standing enziguri for a two count, and Y2J makes a tag out to Hardy. Hardy holds his own with Edge, and scores a few near falls, before Edge scarpers away, tagging out to Kennedy, who eats a deep arm drag from the US Champion, which is enough to send Kennedy looking for a tag back out, bringing Van Dam in.

RVD and Matt Hardy tear the house down with a fast and furious exchange, which sees both men go close - Hardy with the Side Effect, and Van Dam with rolling thunder, before Hardy attempts a superplex, which RVD tries to counter in mid air, but both men suffer from the move, as we go to a commercial. Following the commercial, Jericho is being worn down by Edge, as we see highlights from during the break, with Matt and Rob both tagging out (to Y2J and Kennedy), with Edge sneakily nailing Jericho from behind allowing Kennedy to gain advantage, and tag Edge in. Edge pounds down Y2J mercilessly, and goes close for the win with the Buzz Killer, before tagging in Van Dam.

RVD manages to keep Team Raw on top, scoring a few two counts on Jericho, and tags back out to Kennedy. Kennedy comes in, looking confident, but suddenly, the Canadian bursts into life, showing his fury, as he mauls Kennedy in the ring, with a series of dropkicks, arm drags and suplexes. Jericho stalks Kennedy around the ring, and looks for the Walls of Jericho, but Edge barges in, looking for a spear, but Jericho moves out of the way, and catches Edge on the rebound, nailing the Break Down!!! Jericho comes after Kennedy again, but KK kicks him away, and tags RVD back in, whilst JBL tags himself in too.

From here the match breaks down into a huge brawl, and in the midst of it, Edge becomes the legal man for Raw. JBL lines up for the Clothesline from Hell to RVD, but Van Dam leaps out of the way, and Layfield hits Hardy by accident, before Van Dam takes out JBL, and looks to hit the Five Star … but Jericho pushes him off, and to the outside!!! Jericho then brawls with Kennedy, with Y2J in control, eventually locking in the Walls … but despite the tap, it isn't legal. Meanwhile, The Basham Brothers and Jamie Noble run to ringside to check on JBL, which distracts the referee from the in ring action, allowing Jericho to keep the Walls locked on. Edge takes advantage though, and Spears Jericho!!! Jericho rolls to the outside, as Edge leans through the ropes, smiling sadistically at his handy work … WHEN MYSTERIO NAILS EDGE WITH THE MITB BRIEFCASE!!!! Edge stumbles back into the ring, allowing JBL to strike, nailing the Clothesline from Hell, hooking the leg, and the referees attention is back on the ring action … 1...2...3!!!
Winners: Matt Hardy, Chris Jericho & John 'Bradshaw' Layfield @ 17:12

Smackdown are victorious!!! We see Rey Mysterio walks up the ramp, pointing back at Edge, patting the briefcase, telling him that was payback for last week, as slowly, Edge comes around to what has happened.

Jim Ross: Smackdown is victorious over Raw here tonight, but it could've been much different had Rey Mysterio not gotten involved, and got a measure of revenge on Edge after his attack last week on the holder of the Money in the Bank briefcase.

The Coach: It would've been a lot different J.R. Mysterio cost his own side a win here tonight. That's just unacceptable.

Jim Ross: I cant defend his timing, but you reap what you sow in this world, and Edge cost Mysterio a match last week, so I guess Rey decided to go an eye for an eye.

The Coach: If the shoe had've been on the other foot J.R, you would've ran down Edge for being a no good bastard, and you know it!!!

Tazz: Would you put a sock in it Coach!!! Smackdown won, Raw lost, the end.

The Coach: I was waiting for you to chirp in munchkin. You and Cole can scurry off now, Smackdown is done for tonight.

Michael Cole: Actually for your information Coach, Smackdown main events Raw tonight, if you'd forgotten.

Coach goes awfully quiet, having realised his mistake.

Tazz: Cat got your tongue Coachman?? At last something shut you up.

We head backstage, and see Todd Grisham standing by.

Todd Grisham: Ladies and Gentlemen, my guests at this time, The new Generation of The Horsemen.

Flair (still in a suit despite a match later), Dinsmore and Batista (dressed for action) step into the picture.

Todd Grisham: Gentlemen, tonight two of the three of you are in action, with Ric Flair facing the World Champion, John Cena later this evening, but up next, Batista faces Shawn Michaels. And after last weeks run in with DX, who have already lost one member in the draft lottery tonight-

Flair grabs the mic.

Ric Flair: CENA!!! You'll get yours later tonight!! But Michaels. In just a few moments, you'll find out, first hand, why you DO NOT cross The Horsemen. In just a few moments, this man, THE ANIMAL, BA-TIS-TA will break you in half, and once you're out of the way, those two pretty boys Jindrak and Cade will falter too.

Dinsmore leans in.

Nick Dinsmore: DX, you've lost one man to the draft tonight. In just a few moments you'll lose another through a public mauling. Then, Cade and Jindrak, you two better hope and pray, or run and hide or shut up and suck up, to the new wave set to rule Raw … THE HORSEMEN!!!

Ric Flair: WOOO!!!

Flair hands the mic to Batista.

Batista: Last week, Shawn Michaels, you referred to your loss at Wrestle Mania as an all time low. After tonight, you can refer to this match as your last. Tonight, The Animal in unleashed, and DX is put out to pasture!!!

The Horsemen move off, as we head into a commercial.

Commercial

We return from the commercial, and see an image of the city of London live, before heading back into the arena, with Vince McMahon standing on the podium, with Eric and Paul either side, waiting to draw their next superstar. J.R then tells the fans that during the commercial break, Bischoff and Heyman each drew a superstar from their tumblers, with ROB CONWAY getting drafted to Raw, and MARK JINDRAK from DX getting shifted to Smackdown, with J.R commenting that it's a horrible blow for Michaels army.

Now fresh from the commercial, Vince signals to Heyman to make a pick again. Paul dips his hand in, and picks out a ball, handing it to The Chairman of the board.

Mr. McMahon: Now, superstar number four, moving from Raw to Smackdown … I guess we can now refer to him as Mister Thursday Night … ROB VAN DAM!!!

Really big pop for RVD, now switching to SD after being on Raw right from the beginning of the roster split in 2002. We then see Bischoff lean into his mic to comment.

Eric Bischoff: I'm not concerned with that loss in the slightest. Rob Van Dam is a nobody as far as I'm concerned. Nothing more than an ECW reject, and will never amount to anything more than that.

Heyman laughs into his mic, before retorting.

Paul Heyman: Oh yeah, that's right Eric. Why would you want to have the most exciting superstar in the last decade on your show, when you can just give some over the hill veteran a big fat contract to limp around the ring. Right?? Like you did ten years ago.

Mr. McMahon: That's enough Gentlemen. Eric, if you will…

Bischoff nods, and smugly grins at Paul, as he picks a ball out, handing it to Vince, who calls out the name.

Mr. McMahon: And, moving to Raw … ahem … Simon Dean.

Mainly laughs from the fans, as Bischoffs night just keeps getting worse. Eric looks to be reaching the end of his tether now, as it's Heymans turn to look smug, as the draft continues to work in his favour.

Eric storms off the stage, and walks through the back with the cameras following, as we see Simon Dean approach him, carrying a box load of Simon System products.

Simon Dean: Mister Bischoff, Mister Bischoff, you're prayers have been answered. As my new General Manager, I can exclusively offer you FOR FREE, this Simon System HAIR DYE!!!

Bischoff stops in his tracks, and the fans laugh, before excitedly, Dean continues.

Simon Dean: That's right The Simon System is branching out, no longer do we just settle on fit-

Bischoff turns around, and takes the hair dye, before chucking it away.

Eric Bischoff: If you still want a job Simon, stay the hell outta my way.

Bischoff tips the box over on Simon before storming off, but not too far, before he is met by DX.

Shawn Michaels: Eric, we need a word.

Eric Bischoff: Not now Shawn.

Shawn Michaels: Yes, now. Because later will be too late.

Bischoff keeps walking, as DX follow.

Shawn Michaels: We've already lost Luther and MJ tonight, now what are we gonna do to change that, and keep DX together??

Bischoff keeps toying with his phone, taking little notice of DX.

Eric Bischoff: WE aren't gonna do anything about it. You cant do anything about it, and I don't want to.

HBK looks shocked.

Shawn Michaels: Excuse me??

Eric stops, and looks Michaels in the eye.

Eric Bischoff: Listen. The way I see it, DX died in 1999. This right here … is just a lame tribute act. Luther Reigns isn't Chyna. These two punks aren't the Outlaws, and you're not the same HBK or even on par with Triple H back then. DX is a dead duck, and I don't want dead ducks on my show. Now, haven't you got a match??

Bischoff walks on, with Michaels stunned by the comments. Eric continues on, and makes a beeline for the mens locker room, stepping inside, and takes a look, before gleaming with a smile, and walks towards Rey Mysterio.

Eric Bischoff: Happy??

Rey turns around, and sees Bischoff, smiling at him.

Eric Bischoff: Well?? Are you happy with what you did earlier?? You happy you cost Edge a match?? A match in which Edge was representing MY Raw brand?? OUR Raw brand.

Mysterio takes a look at Eric, and is ready to speak, before Eric steps in.

Eric Bischoff: Save it. No matter what you say to me, it'll make no difference to what I have to say. For costing Raw, you deserve to be punished, and you will Mister Money in the Bank … Y'know I really love the concept of Money in the Bank. I love that concept so much … that I'm doing it again. At Backlash, Rey Mysterio, you're going to defend that briefcase against EDGE!!!!

Mysterio yells out 'WHAT', as Eric continues.

Eric Bischoff: And that's not all. We're gonna find out just how much you want that title shot, because you and Edge will do battle … IN AN I QUIT MATCH!!! And Rey, mark my words, one of you will utter those words, because the match wont end when one of you cant continue, it wont end when one of you loses too much blood. It will only end, whenever you or Edge utters the words … I Quit.

Bischoff smiles again, as we see the other stars all watching the meeting in the locker room around them.

Eric Bischoff: That goes as a lesson to all of you. Cross Eric Bischoff at your peril.

Bischoff smirks at Rey once more, before storming out of the room, as Rey shakes his head in disgust.

Commercial

We return with The Horsemen already in the ring, awaiting HBK, whilst J.R and Coach discuss the announcement moments ago.

Jim Ross: I cant agree with that call at all. Eric Bischoff has absolutely no right to put the Money in the bank briefcase that Mysterio rightfully won, on the line in twenty seven days time, in an I Quit match not to forget, against Edge.

The Coach: Don't mess with Bischoff J.R. Rey Mysterio has learnt that lesson first hand tonight. Great call as far as I'm concerned. Mysterio had no right to use that briefcase earlier tonight, and was rightfully punished.

Jim Ross: In any event, it'll be the first I Quit match in over seven years. The last?? The infamous Mick Foley I Quit Match in which he faced The Rock in 1999 at the Royal Rumble. A match so dangerous, it hasnt surfaced in so long.

**Break it Down** DX (all four members) enter the stage, surprisingly to a decent enough reaction, but not a mind blowing face pop.

4th Match:
Shawn Michaels w/ DX vs. Batista w/ The Horsemen
The early going of the match is just a plain mess, with DX and The Horsemen getting involved at every single moment, with Reigns still on the DX side, despite being drafted to SD already. Eventually, the referee has enough of all the interference, and orders all ringside presence to be sent to the back. Flair blows a gasket as you'd expect, as we go to a commercial to allows things to settle.

We return with Batista in control already, with highlights from the commercial showing him attacking HBK from behind as the arguments went on with the barring from ringside. Batista wears down Michaels with a physical beat down, using his strength to overpower Michaels easily, scoring a number of close falls, with HBK barely clinging on, playing the face role like he'd never left it. Michaels begins to make a trademark comeback, fighting out of a short bear hug attempt, but as he fights back, Michaels goes for the flying forearm … but Batista moves!!! This allows The Animal to connect with a Spine buster, which Michaels barely survives, needing to put his foot on the rope to stop a three count.

Now, Batista looks to finish HBK off, and sets him up for the dreaded Batista Bomb … but HBK stops it quickly, fighting back with chops, and inverted atomic drops, before delivering a blistering DDT, gaining a two count. Michaels keeps the momentum up, and puts Batista back down with a Russian Leg Sweep, and now climbs the ropes … delivering the flying elbow!!! Michaels makes a cover, 1...2...SHOULDER UP!!! Batista shows his determination and grit, as HBK NIPS UP!!! Michaels now tunes up the band for Sweet Chin Music, and waits for The Animal to get to his feet, and as he does … BATISTA DUCKS IT!!! Michaels comes back around, but gets caught with a kick to the gut, and Batista looks to deliver the Batista Bomb for the second time … but for the second time HBK leverages out … with a sunset flip, taking The Animal unaware, 1...2...3!!!
Winner: Shawn Michaels @ 09:53

Michaels immediately rolls out of the ring, bouncing back from his WM defeat with an important victory tonight. In the ring, Batista kicks the ropes, venting his anger at the sudden loss having dominated much of the match. Michaels reaches the top of the ramp, and looks back at Batista, before delivering the infamous crotch chop, strangely to the delight of the fans.

Jim Ross: Michaels has rebounded from that loss at Wrestle Mania in perfect fashion, with a gutsy performance tonight in the UK, and he has overcome The Animal.

The Coach: DX cant keep dodging the bullet J.R. Remember, as of tonight, they're down to just a lonesome twosome, but The Horsemen are still strong, with a terrifying threesome.

Jim Ross: Do you make those puns up yourself??

Another promo video airs, hyping the tough Irish bastard coming to Raw soon - FINLAY.

Backstage, Christian and Tyson Tomko are in the mens locker room.

Tyson Tomko: Man, that was awesome. That little freak Carlito got his ass whooped!!

Christian: Damn straight Tomko. But, y'know, that isn't the only ass whipping I want to do tonight.

Christian pats Tomkos chest, and points him into the direction where we see a bunch of beautiful women are chatting around Smackdown superstar, Test. The duo walk over towards the group, and Tomko coughs.

Christian: Ladies, let me introduce myself. Captain Charisma. (pounds his chest, and kisses his fist, before winking, and pointing at one of the ladies) Christian … at your service.

Strangely the woman looks impressed, and smiles, before speaking.

Random Woman: Wow. You're cute.

Christian smiles again, takes a look at Tomko, and nods.

Christian: And what's your name??

Random Woman: I'm Sam.

Christian: What a beautiful name. And may I say, what a beautiful English accent. I was just saying to my buddy here how much of a turn on I find the accent.

Sam smiles, and the other girls with her look impressed too. Tomko suddenly comes to life though, and points at one of them.

Tyson Tomko: HEY!!! Wait a second. I know you. I saw you with your top OFF on Page Three this morning!!!

Christian winces, expecting that to ruin their chances with the women.

Other Random Woman: Well, would you like to see me with my top off again??

Tomkos eyes burst out of his head, and stutters for a moment, before Christian chips in.

Christian: Take that as a yes.

Now, the irate Test speaks up.

Test: Hold it. I think you'll find these skanks are with me Captain Jackoff.

One of the women quickly slaps Maven, as Tomko hands Christian a copy of 'The Sun' newspaper. Christian takes a look, and seems impressed, before whispering into Sams ear, and she quickly goes off with the other women, possibly to Christians limo. Captain Charisma shouts out so the women hear what he says.

Christian: HOW DARE YOU DESCRIBE THOSE LADIES AS A PIECE OF MEAT LIKE THAT!!! You disgust me.

Christian sees that the women have disappeared, and now hands Test the paper.

Christian: Take this, you'll probably need it. Tonight, you get to be Captain Jackoff.

Christian turns away, and starts walking down the hallway with an excited Tomko.

Christian: Now it's time to have fun Tomko. Man, I love England.

Tyson Tomko: No problems to be solved here.

Christian 'hmms' a little, before speaking.

Christian: I just hope you can umm … rise … to the occasion.

Tyson Tomko: Hey, that was one time.

Christian: I hope you're right man. I'm not finishing the job for you again tonight … actually, with these lovelies … I wouldn't mind.

The two men walk out of the building, and to a black taxi, where Christian opens the door.

Christian: Oh yeah!!! Ladies, prepare for the night of your life. Wanna see how I roll??

Christian dives into the taxi, and Tomko slowly follows in, before the taxi speeds off, as we cut back into the backstage area, and see Test looking around, before taking another peek at 'The Sun', and makes a beeline for the toilets, with the paper in hand…

Commercial

5th Match: World Tag Team Championships Match; Fatal Four Way:
TWGTT vs. The Brotherhood vs. The Heart Throbs vs. Booker T & Goldust
Very short contest, despite eight men being involved. The Heart Throbs never legally enter the match until near the very end, and Goldust doesn't get into the match either, with TWGTT and The Brotherhood taking up nearly all the ring time, with Booker only being in the match to play the role of the face in peril. The Brotherhood, accompanied by Theodore Long, Mark Henry and Jazz, are able to dominate a lot of proceedings thanks to the influence from outside. Booker eventually gets a chance to make a tag, but Mark Henry pulls Goldust off the apron, but Booker then quickly decides to tag in Charlie Haas instead.

Haas bursts into action, and takes the fight to The Brotherhood, along with Benjamin, with TWGTT putting on a fine display. Romeo makes a blind tag from Rodney Mack, and tries to roll up Haas for a surprise three count, but Charlie rolls through it, and manages to lock in his deadly submission, The Haas of Pain for an immediate tap out.
Winners: Charlie Haas and Shelton Benjamin @ 06:02

Once again, Haas and Benjamin are triumphant, and retain their coveted titles. On the outside, The Brotherhood argue that Romeo wasn't legal, with them not realising he tagged in. TWGTT celebrate in the ring, and share a hug in celebration, with no team looking even close to taking the belts from them at this moment in time.

We go backstage, and see Vince McMahon appear on screen again, in his office, where he is flanked by Heyman and Bischoff.

Mr. McMahon: Ladies and Gentlemen, the remainder of tonights draft lottery will be made right here in my private office. Two more names will be picked to go to Raw and Smackdown respectively, and the first of each will be done so immediately. So, Eric, I believe this is your turn to pick first??

Eric dips his hand into his tumbler, and pulls out a ball, looking to be almost praying that he gets a top name this time.

Mr. McMahon: It's Ron Simmons.

Eric throws a strop, and yells out in anger.

Eric Bischoff: I'LL BE DAMNED!!!

Vince almost cackles, before speaking.

Mr. McMahon: That's a pretty good impression Eric. Not quite as good as the real thing though.

Eric glares at Vince, but stays silent, not wanting to get off on the wrong foot with the boss tonight. Meanwhile, Heyman picks his ball and hands it to McMahon, who quickly takes it apart.

Mr. McMahon: Wow. Batista.

Eric throws his arms up and down, flustered by the whole night, whilst Heyman nods, knowing he's drafted well this evening.

Eric Bischoff: Y'know what. I'm ready to just cut my losses here. If it's allowed, can I waive my right to draft a final superstar and request a Smackdown superstar instead??

Heyman scoffs at the idea.

Paul Heyman: Oh yeah, that sounds like good business on my part. Surrrre. Who d'ya want Eric?? Triple H?? The Rock?? Take Kurt Angle. Actually, how about you take MY World Champion, Chris Benoit. Go ahead, knock yourself o-

Eric quickly butts in.

Eric Bischoff: Rico. Okay, I want Rico.

The fans laugh in the background, and both Vince and Paul look amused.

Eric Bischoff: Face it, Ron Simmons without Rico is worthless. They should come as a package anyway.

Heyman looks amused by Bischoffs strop, before speaking.

Paul Heyman: You can have him. Rico is now a Raw superstar.

Bischoff doesn't even bother to say thank you, and instead just leaves the room, with his night over.

Further backstage, we see Charlie Haas and Shelton Benjamin walking into the back, looking extremely happy with their nights work.

Charlie Haas: I've never been so happy Shelton. You and I, at this rate, are gonna solidify ourselves as the greatest tag team EVER!!!

Shelton Benjamin: You're right Charlie. In that ring, we're untouchable at the moment.

Charlie Haas: Whoever wants a piece of us … I say bring it on, because Charlie Haas and Shelton Benjamin aren't goin anywhere!!!

Benjamin takes a look at a monitor, , and calls Charlie over, as we see Heyman and Vince preparing for the final draw of the evening.

Shelton Benjamin: I think this is the last guy going to Smackdown.

Charlie Haas: Oh, lets have a look at this.

We then see Vince McMahon reveal the name 'CHARLIE HAAS'. There is silence between Benjamin and Haas for a moment, before they take a look at each other, with Haas looking ready to blow his top. Haas chucks his title belt across the hallway, and shoves past Benjamin, before storming through the backstage area.

Charlie Haas: HOW THE HELL CAN THIS HAPPEN!!!??? TWO YEARS STRAIGHT!!! HOW THE HELL CAN YOU BREAK UP THE DAMN CHAMPIONS!!!??? HUH?? ANSWER ME!!!!

Haas continues to storm through the backstage area, pushing past people, slamming things off tables, looking for anyone at all to answer him.

Charlie Haas: YOU CANT DO THIS TO ME!!! THIS IS BULL ****!!!

Haas storms off, as we fade off to the ring…

**Space Odyssey 3000** Ric Flair walks out onto the stage for the upcoming match, against John Cena, coming up, after the break.

Commercial

6th Match: Non Title No Disqualification Match:
John Cena vs. Ric Flair
Another short match, with Cena in control right from the start. He takes the fight right to Flair, and dominates the former GM with his ground and pound assault. Cena comes close to victory with a Freestyle, only for Flair to hang on for the time being, and again, after Cena drops the 5 Knuckle Shuffle. The Champ then sets up for the FU, but as he gets The Nature Boy up, Flair rakes the eye, with Cena faltering. From here, Flair shows why he is the dirtiest player in the game, with low blows, before taking Cena to the outside, looking to take the No DQ part of the match into proceedings. Flair grabs a chair, but Cena blocks a shot, takes the chair, and smashes it over Flairs cranium, busting Ric WIDE open.

From this point on, Cena dominates again, taking the match back inside, with Flair bleeding like a stuffed pig. Cena takes full control again, with Flair seemingly unable to get back into any rhythm, until he exposes the turnbuckle, with Cena charging in, and Flair moving out of the way. Flair now gets back into it, firing off on Cena with chops, before executing a side suplex. Flair scores a two count, before going for the Figure Four, but Cena kicks him away, into the corner. Cena gets back up, and comes at Flair again, but Naitch begs off, luring Cena in, before kicking The Champ in the nuts, sending Cena to the mat again. Flair now climbs the ropes, and looks to score from the aerial assault, but as usual, he doesn't, and becomes easy pickings for Cena, who delivers the FU, and follows up with the STFU for the submission win.
Winner: John Cena @ 08:46

Cena is quickly back up, and non chalantly has his hand raised, as Flair crawls out of the ring, still bleeding. Cena raises the title in the air, and spins the logo … when RANDY ORTON slides into the ring, spins Cena around … RKO!!! Orton bounces back up, and stands over Cena, with no emotion on his face at all, as Cena lays on the mat, before fading into a commercial.

Commercial

We return from the commercial, and see Randy Orton quickly walking backstage, looking behind him, looking wary that Cena could be after him, but Marc Lloyd tries to get a word.

Marc Lloyd: Randy, can you explain your actions?? Can you explain why-

Orton stops, and takes the mic.

Randy Orton: John Cena doesn't realise how lucky he's had it. John Cena thinks he's untouchable. He's underestimated me, and he's embarrassed me at back to back Wrestle Manias. Let me officially announce that John Cena has awoken a beast in Randy Orton, that he wont be able to tame.
And soon enough I wont be known as the legend killer. Because when I get done with Cena … everyone will refer to Randy Orton … as the Career Killer.

Orton scurries off, and out the exit door, getting out of London as quickly as he can.

Back to ringside;

Jim Ross: Strong words from The Legend Killer, Randy Orton, but tonight, Orton has put his words into actions, after last week showing Cena he could take him out at any given moment, he's shown The Champ tonight that is exactly what he wants to do.

The Coach: As I suspected J.R, this issue between Orton and Cena is far from over. Randy Orton will not rest until he takes that World title from The Champ.

Jim Ross: Well now, lets round up tonights transfers, as six superstars have moved from Raw to Smackdown, and six have moved to Raw from Smackdown.

The Coach: Raw has picked up Simon Dean, Gene Snitsky, The AFA, Rob Conway, and of course, Brock Lesnar!!!

Jim Ross: Well, it's fair to say it's a mixture of talent Coach. Snitsky is a damn beast, and could cause plenty of problems for many of the Raw roster, The AFA could well step in and go for those tag titles which are now vacated of course, Simon Dean … could be annoying, whilst Rob Conway looks like a future break out star, and of course, Brock Lesnar, perhaps the biggest coo of all the draft tonight.

Michael Cole: Hey, cant deny Brock Lesnar is a big loss for Smackdown, but J.R, Smackdown has hit Raw hard tonight. Rob Van Dam, Luther Reigns, Mark Jindrak, Batista, Charlie Haas and THE UNDERTAKER!!!

Tazz: It's gonna be great to have The Deadman back on Smackdown Cole. Luther Reigns and Mark Jindrak have learnt well from HBK on Raw, Charlie Haas is one of the finest wrestlers on the planet, RVD is RVD, and I see big things for Batista, now that he can finally be unleashed on Smackdown!!!!

Michael Cole: I cannot wait to see what Paul Heyman does with such an array of talent on Smackdown in the coming weeks. Exciting times coming ahead for us partner.

Tazz: Damn straight. A new vision for Smackdown is sure to come.

Jim Ross: You've had a great night guys, but Raw is still looking pretty strong. However, this is the end of our participation tonight Coach, because as of now, Smackdown main events Raw!!! Chris Benoit makes his very first title defence in just a moment, here in Earls Court, against the nine time champion, The Game, Triple H.

Michael Cole: The stage is set, we are ready to go Tazz. Smackdown main events Raw for the first time ever!!! And man, what a main event it's gonna be!!!

Tazz: Off the hook Cole. The Game is chasing an elusive tenth World Title, and Chris Benoit is desperate to cement his legacy, not only as champion, but a great champion, and that road can only start now!!! Big time match, big time setting, lets go.

Backstage, we see Chris Benoit walking through the back, walking towards the entrance, before we cut to Triple H, pacing back and forth, setting his mind set on the upcoming match.

Commercial

Main Event: WWE Championship Match:
Chris Benoit vs. Triple H
After all the entrances, and introductions, the fans pick themselves up for the beginning of the match, with both men looking ready for a war, with plenty of the final hour still to run. The early going is very cagey from both men, with Benoit looking nervous n his first title defence EVER, and Triple H is wary of the threat that Benoit carries. They both go for lock ups at the beginning, but neither can gain an advantage, meaning we get an early stalemate. The fans appear to be getting restless, as the two men go into the lock up for the third time, with Benoit going behind, only for HHH to counter that with a hammerlock. The Wolverine snap mares out of the hold, and looks for a sleeper, but The Game rolls away, and gets up quickly, looking for a clothesline, but Benoit ducks under, then goes for one of his own, only for The Game to drop down, and roll out of the ring. Triple H walks around ringside, trying to frustrate Benoit, as we head into the commercial break.

Following the commercial, not much appears to have happened, with it appearing that The Game used much of the commercial to frustrate the fans, and Benoit, with Cole and Tazz discussing his tactics of slipping inside and outside of the ring for the past few minutes. As we return though, the two men are jostling for position in the ring, having locked up again. The Game backs Benoit into the corner, and looks to strike with a right hand, but Benoit ducks it, pushes HHH into the corner, and lets fly with a series of knife edge chops. Triple H eventually rakes the eyes to stop the Wolverine, and rolls right out of the ring again, having suffered from the chops. Benoit holds the ropes for Triple H to get in, which infuriates HHH, and The Game gets back into the ring, straight into a chop from Benoit, knocking him down again. Triple H tries to crawl out, but Benoit drags him back in, and looks to apply the Sharpshooter, but HHH kicks him away, and rolls back out of the ring again. Triple H walks around the ringside area, as Benoit finally loses his patience … AND DIVES THROUGH THE ROPES FOR A SUICIDE DIVE … AND HIT'S THE GAME!!!! Both men are down though, as the referee begins his count, and we go to another commercial break, just minutes after the last, as we prepare for a long final segment, with this set to be the last commercial of the night.

From that, we return with Benoit still in control, and we see quick clips from the break, with Benoit rolling in and out of the ring to break the count, before bringing HHH back inside, and scoring with the triple set of vertical suplexes for a near fall, as we return to the live action. Benoit now delivers a side suplex, before motioning for the Headbutt, as he climbs the ropes, with the fans going nuts for the Champion. Benoit sets himself up, and looks to fly … but Triple H rolls over, and kicks the ropes, with Benoit straddling the top turnbuckle!!! Knowing his chance is now, The Game is quickly to his feet, and climbs to the top, throwing a few rights to keep Benoit from fighting back, and quickly delivers a superplex!!!

The Game takes a few seconds to recover himself, before crawling over, and hooking the leg, 1...2...Shoulder up!!! The fans go nuts as Benoit survives the high impact move. However, Triple H is now the man in control, and he starts to take it to Benoit, pounding the current champion down in the corner, before showing off his power, whipping The Wolverine into the corner, sternum first, with Benoit slumping down to the mat, clutching his chest. This sets off more confidence in The Game, as HHH does the same thing, not once, not twice, but three more times, eventually whipping Benoit into each corner of the ring, sternum first.

Benoit rolls out, gasping for air, as Triple H's offence looks to be primarily focused on one area right now. The Games looks extremely cocky now, seeing Benoit struggling. Triple H drags Benoit up, and whips him off the ropes, delivering a high knee as The Crippler comes back. HHH quickly covers, 1...2...Kick Out again from the fighting champion. Benoit tries to get himself up in the corner, but Triple H refuses to stop the onslaught, and pounds Benoit down into the corner, before stomping the weakened chest area of Benoit. Triple H chokes the champion with his boot, breaking at the count of four twice. He drags The Wolverine back up, and looks to go for a suplex, but instead of delivering as normal, Triple H ends up hitting a reverse suplex, slamming Benoits front, instead of his back, for another close call with a two count.

Triple H continues to pile on the agony for Benoit, and even busts out a gut buster - something he doesn't normally use - to score another near fall, and continue to weaken the champion. Now though, Triple H appears to be getting anxious, as Benoit refuses to die, despite the relentless assault on the chest region. The Game now sets Benoit up for an Abdominal stretch, but Benoit realises the pain he could go through, and does his utmost to prevent it, chopping The Game away desperately, and scores with a German suplex, but fails to hold on, with his body ravaged by the attack on the chest. Benoit does manage to go for a cover though, but HHH is able to kick out early on two, with Benoit suffering.

Both men get back up, and slug it out momentarily, but it's Triple H that wins the battle, able to overpower an already weakened Benoit, but Benoit finds a surge, and battle back with his vicious chops, before picking up steam, and runs off the ropes … straight into a spine buster!!!!! The Game covers again, 1...2...shoulder just shoots up in time!!! HHH looks shocked, but doesn't stop his merciless quest, and quickly goes back to work on the chest, dropping his knee to the champion, going for another cover, 1...2...Kick Out. Now, Triple H vents his frustration, slamming the mat a few times. The Game gets back to his feet, dragging Benoit back up with him, and this time DOES apply the abdominal stretch, piling on more agony for Benoit as we reach deep into the final hour of the bumper show.

Benoit toils in the submission for what seems like an eternity, but refuses to quit, despite huge pressure put on him by the challenger. Triple H uses every trick in the book, grabbing the ropes for leverage when the referee isn't looking, pounding the rib cage when possible, and it appears to have the desired effect, as Benoit begins to fade, and the referee is forced to follow in, and go through the motions of raising and dropping the arm, with Benoit JUST holding the arm up on the third occasion, as the comeback begins!!! The Champion starts to try and fire up, with The Game realising, and lets go of the submission, and tries to strike Benoit, but The Wolverine ducks, and drops HHH with a knife edge chop, before whipping him off the ropes, knocking him down with a forearm smash. Triple H looks taken aback by the comeback, and falls prey to a German suplex - with Benoit once again unable to hang on. HHH slowly gets to his feet again, but Benoit appears to have found a second wind now, and delivers a Northern Lights suplex with a bridge, scoring only a two count with The Game slipping out of the bridge at the last moment. Triple H gets back up, but Benoit now suddenly finding his form, scores with a consecutive set of clotheslines, rocking the challenger. The Game gets back up, but Benoit quickly delivers a neck breaker, taking The Game right back down. The Crippler gets back to his feet, and signals once again for the head butt, AND THIS TIME HE SCORES!!!! Benoit takes a few moments to crawl over, and make the cover, 1...2...SHOULDER GOES UP!!! HHH survives, but the momentum looks to be swinging back in The Champions favour now. Benoit is back to his feet, and waits, as Triple H reaches his feet, and takes him down, looking to apply the Sharpshooter, but once again, HHH fights it, and kicks Benoit away … sending Benoit outside the ring!!!

Triple H soon follows, taking a moment to recover first, but rolls out, and strikes a groggy Benoit, before sending him straight into the steel steps … chest first!!! All of a sudden, The Game turns his attention to the Smackdown announce table set up, and strips it down, looking to further decimate the champion. He drags Benoit up - who is now bleeding from the mouth, showing his internal injuries, and smashes his head off the table, as Benoit reels away, with The Game looking to follow up, running for a clothesline - but Benoit moves, and Triple H scores with a clothesline to the referee instead!!!! He turns back around, and sees Benoit charges towards him, but HHH kicks him low, with no referee available to stop it!!!

Benoit drops to his knees, and Triple H immediately follows up, slamming his head onto the steel steps, before dragging Benoit to the announce table. He drags the lifeless champion to the top of the table, and puts him into the position as the stunned fans come to their feet … AS TRIPLE H DELIVERS THE PEDIGREE THROUGH THE TABLE!!!! Earls Court ERUPTS, despite The Game being a heel, as the announce table crumbles. We now get set to move into the over run of the show, with both men down, as we take one final commercial, with neither man moving from the rubble under the table.

We re-join the action, with Triple H now just rolling Benoit into the ring, having just done the same with the referee. The Game gives the official a shake, and proceeds to cover the champion, looking to end Benoits reign just one week after he won the belt … the referee though is still pretty out of sorts and takes forever with his count, 1... … … 2 … … … THR- SHOULDER JUST GOES UP!!!! Now, The Game looks to be in total disbelief, and decides to go for one more Pedigree. He drags the lifeless champion to his feet, kicks him in the mid section again, and looks to connect for the second time … but Benoit spins out, AND TAKES THE GAME DOWN - APPLYING THE CRIPPLER CROSSFACE!!!!! Triple H is caught, and looks to be in trouble, as Benoit seemingly pulls the rabbit out of a hat here, with Triple H caught in the centre of the ring. He toils in the submission, and tries to make the ropes, as Benoit applies the pressure, cranking back. The Game cant seem to get near the bottom rope, but suddenly, he rolls over, and tries to take Benoit by surprise for a pin … but Benoit releases the hold, and rolls Triple H up … 1...2...3!!!!!
Winner: Chris Benoit @ 30:21

BENOIT RETAINS!!!! The Game kicks out just at three, but it's too late, with Benoit victorious, despite taking a tremendous beating for the majority of the second half of the contest. The Game looks set to pull his hair out, after getting caught out by surprise, with Benoit proving he didn't just get lucky once, and can outsmart the most cerebral of them all. Benoit holds the belt up on the ramp, blood still seeping from his mouth, as he crouches down, feeling the effects of the devastating attack he suffered tonight at the hands of HHH.

In the ring, we see Triple H set to blow a fuse, still shocked he was taken by surprise, as Benoit is met at the top of the ramp by medical staff, as the show goes off the air.

END OF SHOW
Making James Ellsworth GET MY BAGS
Join Date: Jul 2006
Location: Melbourne, Australia.
Posts: 4,945
Points: 185
Re: Being The Booker
---
nice raw. Ill try to get a review in shortly. Nice with the draft too, made me chuckle
Re: Being The Booker
---
Da Wolf Guy's Raw Review:

Good to see the GM's announced tonight to start the show off and reminds me of the 2004 Lottery Draft with both men bickering at one another. Huge to see Lesnar go and Reigns leaving, though it doesn't seem that big is still a blow for D-X but it makes the Horsemen/D-X feud 3 on 3 now.

Christian gains another win and I see Christian moving on from here, he might even be going to Smackdown for all I know. I wouldn't mind him going there as his run on Raw seems a little tiring after awhile.

Guessing Lesnar is going to be getting many favors from Mister Bischoff for a while as you know how Bischoff really is. He'll get on the good side of anybody he can and I see that happening with Lesnar.

Ooo, the thing about Snitsky moving was funny as there was no comment what so ever! Undertaker moving isn't surprising as like you said, Smackdown needed a huge star and they got one in 'Taker.

Two talented women coming into the thread is good and glad to see Jillian on Raw. Guessing no Mickie James, but um anyways, good to see it wasn't kept too long but it got Alexis the win and both women air time.

Jericho interview was fine but until the ending when the rambling continued on and on, even though it was meant to do that. Some of it was boring but still, got the point across of him and 'Taker continuing the feud.

Long match and didn't think it would get this much time even though this is a 3 hour show. Shocked to see Rey cost his team the match but meh, it makes sense seeing as he and Edge are going to fight at Backlash most likely.

It looks pretty even right now with D-X having three and the Horsemen having three but still anything can happen tonight. Good promo and Batista not getting many words was fine, as he doesn't need to speak.

RVD moving was mentioned and sounds fine, this seems similar to the '04 Draft where Raw kept on drafting all the lower card people while SD got some top mid-carders. Meh, another D-X member gone makes me think HBK could be flying solo soon as I see Cade being traded afterwards possibly.

Huge win for HBK tonight as he needed it seeing as he lost to Rocky at 'Mania and the last night being with D-X. Batista doesn't lose too much momentum either as it was just a roll up.

Ok segment, Christian pretty much showing his way with the ladies but I do see him possibly still being drafted to Smackdown tonight. It just seems like a trade over there would benefit him.

Brotherhood and WGTT continue their feud through this and the ending pretty much means a match is coming at Backlash with both teams. I'm looking forward to seeing WGTT fight them once again.

Bischoff just can't get anything going for him, he just got Simmons and wow, Rico! Hmmm, Smackdown indeed has gotten the top stars tonight and losing Batista will hurt the Horsemen as the Horsemen just formed.

Wow, some things need to be answered and Haas being drafted proves this. Guessing he's going to get a good push hopefully on Smackdown but what happens with the titles is the question.

Cena and Flair waging war tonight but Orton coming out makes me wonder why the Backlash main event wasn't announced tonight if only four shows remain. Seems a little slow for match announcements.

Wow, long main event to cap off the night with and Benoit and HHH put on a classic as you would expect from both men to do. Benoit retains but it doesn't make Hunter look too weak as it was just a rollup.

Good show, many things need to be answered such as future trades, draft picks, tag champions, stuff like that and how Backlash is going to look. I always love reading Draft Lottery Shows as they always shake up the thread and this wasn't a disappointment either.
Re: Being The Booker
---
That was a superb show, Wolfy, superb! I will absolutely be reviewing it in full sometime later when I'm free. Brilliant!
Re: Being The Booker
---
Eh Bischoff is back, I guess this could be good although most thngs would've already been done before. He'll most likely just be as two-faced as he used to be. Can't say I'm not surprised, I always felt you would bring him back. Paul Heyman? What a throwback to 2004 this is! I like it, Heyman as GM has always been favourable for me, and I look forward to seeing what both men do now on their shows. Luther Reigns is gone to SD? That means he'll be turned into a jobber IMO, and now DX really do need some extra backup with a man down. Lesnar to RAW! Wow, that's big and there goes the chance of Heyman booking in favour for the Next Big Thing

Christian gets his expected win over Carlito and the push for him must come soon as he seems to have been successful in his face turn

I think Bischoff will crumble under Lesnar and give him a title chance soon. Top guy on SD? Was he forgetting about Rock, Austin and HHH? Lolz...

Yuck Snitsky comes to RAW, hopefully he's phased out into jobbing as he did nothing on SD! either really. Undertaker to SmackDown! That's massive, and the biggest trade so far without a doubt. I'd be happy if I was Heyman, and extemely dissapointed if I was Bischoff

Laree & Hall are new, and they get an immediate chance to wrestle, against each other. Glad you kept it short and that Alexis won (Mac's gonna love you). Looks like the Women's division on RAW will be sweet with Trish, Laree and the others around

Jericho promo was funny, but "Soccer ball"? WTF? I think you mean "Football" team right? Anyways, I can see Jericho being traded over to RAW so the Taker/Y2J feud can continue onwards

Friggin' awesome six man tag match, played out very well. JBL looks like he'll be elevated to the main event level soon, and Rey returns the favour on Edge, screwing him out of a sure fire win. The Cabinet also got involved, and I was expecting to see Sabu & Fonzie too but they didn't show, it ended up being one calamatous ending and a victory for SD!, more importantly tho, for JBL, who could be boasting about the win for a few weeks

Enjoying the bickering between the four commentators tonight too, lol Coachman getting shutdown

Nice Horsemen promo, looking forward to both matches

OUCH! Jindrak gone to SmackDown? DX has fallen apart and will most likely be no more, what a blow. Conway to RAW? Meh... RVD to SmackDown too! Awesome pick for SD! again who really are getting the better of the draw IMO. Lol another jobber aquisition for RAW in Simon Dean. Haha

Lol Dean trying to sell hair dye to Bischoff. Nasty words from Bischoff to HBK, but it's true. It wasn't the same DX, but it's gonna suck not to have them around anymore. Bischoff is not a happy man after that, and now he books Rey vs Edge for the MITB contract at Backlash in an I Quit match! That will tear the house down big time, I can see Edge winning it however, somehow

HBK scores a big victory over Batista here, the Animal won't be happy, neither will the Horsemen. DX disbanding after tonight, they're making the most of their last moments together

Finlay coming, should be a good midcard addition

Haha a nice skit between Christian/Tomko and Test. The Christian/Tomko skits are one of the highlights on RAW, I love them. Btw, you said Maven instead of Test in that promo, might wanna fix it up

WGTT get a good rebound win after their shock loss to the Brotherhood last week in the mixed tag match, while resident jobbers Booker T/Goldust and Heart Throbs were just fillers in the match. I still think we'll see the WGTT vs Brotherhood at Backlash for the tag titles, and then MNM will be introduced

Simmons to RAW, poor Bischoff not getting a good share of the trades tonight. Batista to SD! And there goes the Horsemen idea, two stables broken up and really it seems pointless to have even had the promo last week between DX and the Horsemen, unless new members are recruited. Bischoff manages to grab Rico too, just another jobber tag team really, I guess they'll both be released

Wow, Haas is gone to SD! Awful news for the RAW tag division, there goes their best tag team. Shelton will be in for a singles run on RAW, and Haas most likely the same on SmackDown, but breaking up the WGTT really leaves the RAW tag division DEAD

Cena goes over Flair pretty easily in the end in the No DQ match, and Orton this week does drill Cena with the RKO! It's gotta be a WM rematch to end this at Backlash IMO

Awesome way to end the show with a tremendous title match which breaks the half hour mark and Benoit is able to retain! What a main event, SmackDown seems to be dishing them out freely as of late. The Game will be dead set pissed after losing again, he'll most likely continue a feud with Benoit tho

Great show Wolf, some obvious and veru surprising draft picks and GM annnouncements, combined with a mix of comedic promos and well booked matches, made this a pleasure to read. 9/10

Maybe you could post a roster update soon?
---
***

Re: Being The Booker
---
Wolfy's Three Hour Special Review
Ah, I'm a little gutted because this is the first time I'll be reviewing and following this BTB. Everything I have heard has told me that it is one of the best ever. I'll be eagerly reading through your entire thing to get up to date with feuds and so forth. Now, on to the review...

Eric Bischoff is now the Raw GM, which is good to hear given that this man has a lot of heel potential. I'm a little uncertain as to what Paul Heyman's leaning is. He seems like a tweener, because having two heel GM's would be a little bland in my opinion. Anyway, this was a good way to open the show with all three egotistical men very much in character. Luther Reigns leaving is nothing too major, but I guess it does rob DX of their 'Insurance Policy'. But... BROCK LESNAR IS GOING TO RAW! Holy Cow, I did not see that one coming. An inspired choice to be sure, as Brock belongs in the World Title hunt and he has already expired his run on Smackdown. I'm sure 'The Iron Man' will be making a huge impact on Raw.

Excellent opening match up between Carlito and Christian here filled with lots of fast paced action. Well-written and so on, but I don't see you pushing this feud much, as Carlito is involved in the Intercontinental Division and Christian will undoubtedly be pushed into the Main Event scene. I was a little uncertain who was playing the heel or face here because both Tomko and Stacy interfered, generic heel moves. I might just have been unobservant, and if so please let me know.

A great segment between Brock Lesnar and Eric Bischoff here. Perfectly in character and their chemistry was clear. Brock was really intense and I'm not sure if he'll be able to get along with anyone on Raw, even a fellow heel and possible manager like Eric Bischoff.

The next draft started out as one would expect with Gene Snitsky making an unimportant jump. But...THE UNDERTAKER IS NOW ON SMACKDOWN! Genius move, placing Undertaker now on the same show as his rival Chris Jericho. Bischoff's frustration was pretty amusing.

The Women's match up was boring obviously, but you are hyping the division so I can completely understand. I've never heard of Alexis Laree, so I feel a bit stupid, and I was a little disappointed to see Jillian lose.

The Jericho segment was absolute genius! I don't think you'll top this all night. As a heel Y2J was completely, completely in character and his insults were inspired. As a huge Jericho mark and being English, it was the perfect mix. I hope you continue the Jericho/Undertaker fan to give Jericho a victory for once. Awesome!

The six-man tag team match up was a very good idea. Teaming heels with faces always confuses the fans and creates an electric atmosphere. Rey Mysterio's interference was well worked and furthered his exciting feud with Edge.

Nice interview with the Horseman. Just briefly reading through your thread I have been enjoying this stable and this interview furthered this. Ric Flair was very well-written, as was Batista, but I'm going to have to be perfectly honest and say I have no idea who Nick Dinsmore is. Anyway, they look to be feuding with DX, and the NO DQ match with HBK later on should be great.

So DX are broken up even more with Jindrak going to Smackdown and so does RVD. A good move, but Smackdown does seem to be doing extraodinarily well out of this draft. I chuckled a bit at Simon Dean's comments to Bischoff.The Bisch is certainly in a foul mood now as he even shouts down HBK in an argument and then makes an I Quit match at Backlash. An inspired choice to be sure.

A good confrontation match between the leader of DX and the muscle of the Horseman Batista. Like you said it was just an all out brawl with the stable members constantly getting involved. The outcome was correct I think with HBK picking up the win, and now I think moving on to the WWE Championship hunt.

Ha ha, the Christian and Tomko segment with the English page three girls was very good and very amusing. Here he could be considered a heel or a face I suppose, making him a tweener of sorts. He and Tomko do seem more like a tag team though i feel.

My favourite tag team Haas and Benjamin triumph again ina match where their titles were on the line, but never really in danger. No other teams are really fit for carrying the titles at the moment. You kept it short and sweet, letting only Shelton, Haas, Booker and the other good athletes get involved.

The next draft was again very funny with Bischoff hardly profitting at all from this night - except Lesnar. He gets Ron Simmons, whilst Heyman gets a member of the Horsemen Batista. With both DX and the Horseman being broken up they will probably all pursue singles careers. Woah, Charlie Haas! You just broke up literally the World's Greatest Tag Team and the Champions. A bold move to be sure, and Haas' reaction reflected my own in a way. I just hope you are doing this in order to give both men big singles pushes.

The NO DQ match between the WWE Champion and Flair was match of the night thus far, as it sounded completely brutal. Randy Orton's run in at the end wasn't surprising but I did want it t happen. Orton's comments afterwards made me certain that this feud over the WWE Championship will continue into Backlash. The feud has depth though, and I hope that Randy doesn't job again.

Yep, the Main Event for the WWE Championship was certainly your best match and accurate to a Raw special. Obviously Triple H was not going to win the title on Raw, but I feel that this feud is only beginning in earnest.

Overall this was a superb, superb show and I can fully understand why people refer to you as the best booker. I am eagerly anticipating following this BTB from now in full.

9 Out Of 10 - Wonderful!
Chopped Liver
Join Date: Jan 2004
Location: Six inches from a computer screen
Posts: 5,433
Points: 321
Re: Being The Booker
---
To answer a few questions-

The soccer ball comment from Jericho was just meant to show he had no regard for the sport, and knew nothing about it. Just another ignorant Jericho comment.

There are still two members for the DX and Horsemen factions, so the feud is far from over. As for new members, all will become clear in time.

With TWGTT being split, I just felt it was time to cut them both loose. I've got a number of new tag teams in mind (two of which havent been done before, just in case anyone thinks its the likes of Cryme Time or The Highlanders), but it'll take a few months to re-build the division.

Legend;

Christian is in the midst of a face turn, which is why it's still hard to picture him as a total face of heel at the moment. Tomkos interference was to cancel out Stacys.

Alexis Laree is the former ring name of whom you know now as Mickie James.

Nick Dinsmore is Eugene, but without the 'special' gimmick.

Appreciate the positive reviews so far. Thanks again for reading the show, as it really does mean an awful lot.
You Don't Know What You're Talkin' About!
Join Date: Jan 2006
Location: Hyd, Pakistan. (hataf_siyal@hotmail.com)
Posts: 8,341
Points: 0
Re: Being The Booker
---
WWE: SmackDown! - March 30, 2006 – Review
Ya know, the show kicked off with a good promo. All these four characters (Vince, Rock, Triple H, and Brock) were good with the microphone. However, I just think that the promo dragged on and that was the only flaw of the promo. Apart from that, it's all good and I believe that the main-event tonight will be impressing, and then the SmackDown! Showcase match at the three-hour special RAW show would be even more impressing.

AMW's interview before the match was good, and then them beating Regal and Storm was pretty much obvious because they needed their momentum back after 'Mania, but I think that now it is the time to throw some tough challengers towards them for the tag team titles.

JBL's promo was really strong and I can't find any mistakes in there. All the words that JBL said in this promo were really interesting. The three hour show at RAW will be even more interesting. I won't be surprised if JBL drafts at RAW though.

Well, this match seemed to me the squash match of the night but I believe it wasn't. It's just the way you described it. You need to write some details for the matches, so then it'll be okay. Anyway, just like AMW, Kash also needs a tough contender for his Cruiserweight Championship.

Paul London's a marquee name? Anyway, I'm glad to see that you are giving some time to Maven on the show because I don't think anyone else has done it. Oh, and yes, 'marquee' name has been used in every promo so far, hehe.

Benoit's promo was really good. It had intensity, so that was a real good one. However, the length was just too short and that's the only problem for me. But I know that writing Benoit's promo would've been hard since he's not the best promo cutter in the WWE.

I think that you need to describe more in the matches so therefore it wouldn't look 'squash' matches. Loved Cheerleader #1's (Kenny) paragraph before their attack to the Dudleys. Will be interesting to see what happens between them next week. I'd like to see AMW involve in too.

Back to back matches? Now that's what I don't want. However, This match was described well, and it truly didn't look like a squash match at all. It was expected for me to think that Matt would retain the title because you probably wouldn't want to switch the titles. Oh, and by the way, I really like that Maven's showing some credibility and I won't be surprised if he'll feud with Matt for the title.

Alright promo here, which showed that Benoit's waiting for any challenge. And yes, the booking for the main event is quite impressing. I wouldn't mind if anyone from those three win the match and head into the special edition of RAW this Monday to challenge Benoit for the title.

Triple H's promo was written well and it also had intensity, so that was good stuff.

First off, I'd like to second what Renegade said about the F5/counter thing. After it, I'd like to say that Triple H winning this match was truly a shocker because it came out of nowhere. Triple H vs. Benoit at the three-hour show RAW would rock!

Stone Cold retiring? Surprised to see Rock talking because he just wrestled in a great main-event. Anyway, Stone Cold vs. Rock looks huge man. And yes, I'd love to see Austin screwing Rock and saying that he lied, etc.

WWE: RAW - April 3rd – Review
The opening promo was okay; it was nothing special. Expected that Bischoff would be named as RAW's GM, and Heyman would be named as SD's GM. Reigns isn't a big draw, and I think that's good seeing that now the feud between Horsemen and DX have been leveled. However, Lesnar leaving SD is a shocker, and it'll be interesting to see what part he plays on RAW.

Looked like a good match to kick off the action for tonight. Christian getting a win over Carlito looked nice, and it makes me feel that Christian is in lined for a huge push. I just can't see him feuding with Carlito for long time because I think that Christian needs better feuds (main eventing feuds OR upper mid carders).

Bischoff will probably have Lesnar as an ally, and that's for sure because it suits Bischoff's character well.

Snitsky drafting back to Monday Night RAW isn't a surprise. However, Undertaker back to SmackDown! is really a major surprise, but I guess that just levels 1st and 2nd picks for both brands.

I'm just wondering why you didn't have her as Mickie James? Anyway, Jillian and Alexis are both good talents and I believe that they will prove that they are indeed good additions on the divas roster. A little bit surprised to see Alexis winning this match because before the match began, it looked like Jillian will take care of her throughout the match.

Jericho's promo started off nicely, but then it started to look bland. Don't know why but it wasn't appealing to be honest. And yes, it looks good to see that Chris Jericho vs. 'Taker isn't finished. And yes, it will be interesting to see what Snap will be doing with this feud.

Lol, I just noticed that you typed Kurt Angle instead of Chris Jericho in that match. Just a small typo. This match was a seventeen-minute match? Wow, this looks huge. Surprised a bit to see Mysterio costing the victory to his own brand, but anyway, it looks good to see JBL picking up the pinfall victory.

Interesting interview with the newly formed Horsemen backstage. Even though their little promo looked strong, I still don't think that Michaels will lose tonight to Batista.

Ouch, DX loses once more (Jindrak now) and now they might be in some trouble. Or I could see you throwing Cade to SD through trading, and then HBK might go solo. Conway isn't a big loss for SD. RVD to SD is nice. Haha, Simon Dean to RAW would add some nice fun, and it did I guess. Wow, "I Quit Match" at Backlash would rock! I'm really looking forward to it because it has special stipulation (MITB defending and I Quit Match).

Hmm, this seemed like a good match to me. I'm glad that Michaels got a win over Batista here because I think that Michaels really needed a victory after his loss at 'Mania.

Funny skit there between Christian, Tomko, Test, and those three women's. However, you made a typo there. It was supposed to be Test, instead of Maven, right? Great promo.

TWGTT have always been impressive in this thread, and this victory means that they are not just leaving away the tag team titles easily. Also, I think that now it is the right time to throw some tough challengers for them also.

Hehe, Rico and Ron Simmons to RAW. Bischoff's really not getting major players. The only major player Bischoff got was Brock, whilst SD have really hit the jackpot. Also, Batista to SD will be interesting to watch. Whoa! That surprises me! Charlie Haas to SD!? What about the tag team champs!? Oh, this shocked me man.

John Cena getting a win over Flair was necessary in my opinion. Orton coming out next was expected but I didn't think he'd drop Cena with an RKO. Looks like the rematch from 'Mania would happen at Backlash for the title.

Wow, this 30 minute match up between Benoit and Triple H looked solid man. It was written well and I thoroughly enjoyed the main event. Great match, and a great show.
---
**Banner/Avy Credit; Princess Xtyne**

------------------


------------------
---
Last edited by Apple Spitter!; 02-18-2007 at

04:01 AM

.
Re: Being The Booker
---
Quote:
Legend;

Christian is in the midst of a face turn, which is why it's still hard to picture him as a total face of heel at the moment. Tomkos interference was to cancel out Stacys.

Alexis Laree is the former ring name of whom you know now as Mickie James.

Nick Dinsmore is Eugene, but without the 'special' gimmick.
Thanks, man, I hope my stupidity wasn't annoying. I guess I just missed that bit about Christian.
Re: Being The Booker
---
Damn Wolfy, I had no idea this was up. I should be able to get a review up for it tomorrow or later on tonight. Looks excellent as usual.
---
Posting Rules

You may not post new threads

You may not post replies

You may not post attachments

You may not edit your posts

---

HTML code is Off

---