Re: Being The Booker
---
i cant wait to read raw..good luck
---
Moron
Join Date: Feb 2005
Location: New Jersey
Posts: 9,285
Points: 4,447
Re: Being The Booker
---
Nice Raw preview. Defiantly going to check it out. I will probably review Raw. Can't wait for Raw~!
Chopped Liver
Join Date: Jan 2004
Location: Six inches from a computer screen
Posts: 5,433
Points: 321
Re: Being The Booker
---
The Road Begins...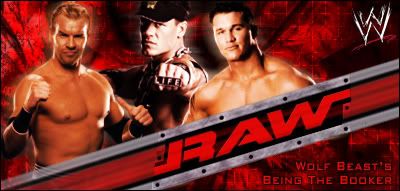 Raw: January 23rd; Madison Square Garden:
Highlight Video from the Royal Rumble Last Night is played, with Smackdown superstar, Chris Benoit winning the Royal Rumble match, thus earning a title match at Wrestle Mania.
Opening video
Pyro
Jim Ross: For the second night in a row, the WWE has invaded Madison Square Garden, and for the second night in a row, The Garden is sold out, and packed to the rafters!!! Hello everybody, I'm Jim Ross, alongside The Coach, twenty four hours removed from the 2006 Royal Rumble!!!

The Coach: And as anticipated J.R, The Royal Rumble did not disappoint!!! Sure, the results didn't quite go how The Coach called it, but kids, if you didn't see the show, you better pick up the replay!!!

Jim Ross: Of course, as you saw, Chris Benoit, from Smackdown, outlasted twenty nine other men, eliminating a record amount of superstars, on his way to the main event of Wrestle Mania.

The Coach: Well, I'm not overly pleased that a Smackdown star won the match, but it also allows The Wolverine to create history, and JUMP to Raw next week, and challenge John Cena at Wrestle Mania.

Jim Ross: That's a decision to be made by The Crippler Coach. But I would be delighted to call another Wrestle Mania main event.

The Coach: Quit hogging the limelight. I'm itching for my first Mania main event match to call.

**Space Odyssey 3000** Ric Flair struts into the arena, dressed immaculately as always, with Batista following behind him, also dressed smartly.

Jim Ross: And what a way to kick off the show. The Raw General Manager is on his way to the ring, and by Gawd, he doesn't look pleased.

The Coach: Flair doesn't look pleased J.R. That much is true. But Batista looks like he's chewing on a wasp!!

Jim Ross: And he has every right. Batista missed out on a Golden opportunity last night at The Garden.

Flair is handed a mic, and steps into the ring, looking around MSG, which gives the GM - despite being a heel - a resounding WOOO in respect.

Ric Flair: I'm not out here to ramble on…

Crowd pops, immediately grating the skin of Ric Flair.

Ric Flair: As I was saying … I'm not here to ramble, but I need to make a few big, and I mean BIG announcements, concerning Raw … tonight.

Crowd pops

Ric Flair: And in two weeks, when Raw heads to Tokyo.

Mixed reaction, with the fans not concerned about two weeks time.

Ric Flair: But first, I'm getting straight to business … CHRIS BENOIT!!!

Fans pop for mention of Benoit.

Ric Flair: The offer is on the table my friend. Raw - the big league - awaits. Benoit, you proved last night that you can perform with the best. And at Wrestle Mania, I urge you to do just that. For the World Heavyweight Championship … Chris Benoit challenges … BATISTA!!!

Fans respond with a a general 'Uh?' reaction.

Ric Flair: WOOOO!!! You heard me … BATISTA!!! Because New York City, tonight … we're having a party!!!

Mixed reaction.

Ric Flair: Because tonight, John Cena defends the World Heavyweight Championship for the very last time … WOOO

WOOO - followed by heat from the fans

Ric Flair: Against … BATISTA!!!

Crowd respond with heat for Flair.

Ric Flair: And I promise you all, that by the end of tonight, there is going to be a new World Heavyweight Champion.

Flair hands the mic over to Batista, when …

**MY TIME IS NOW** John Cena sprints out, onto the stage, getting an amazing reaction from the fans, who are on their feet for the World Champion. In the ring, Flair and Batista are fuming with Cena for interrupting.

John Cena: YO!!!

Fans pop

John Cena: New York City … where the Chain Gang at tonight??

Audience reacts with another cheer.

John Cena: And now, Madison Square Garden … I want everyone to point your index finger at the ring…

Majority of the fans dont bother to point towards the ring, although around the front rows, most do, especially the kids.

John Cena: Point, and laugh at the worlds oddest couple!!!

Laughs from fans, mostly fake laughs, just going with the flow.

John Cena: Ric Flair, sixteen times a world champion … Dave Batista … well … actually, what have you done?? Besides make an old man happy??

Fans pop, whilst Batista looks furious.

John Cena: I mean, that must be why you're getting to ride the gravy train right now, isn't it??

Batista looks at Flair, who isn't best pleased either.

John Cena: You got yourself an automatic entry into the Royal Rumble, when Ric grabbed your ball, and that's cool. He also picked your name for that free entry.

Some laughs, with Cena tilting his head slightly, waiting for Batista and Flair to understand what he meant.

John Cena: And again, you somehow managed to get a very late entry into the Royal Rumble. Anyone smelling something fishy yet??

Pretty clear 'Yes' from the fans.

John Cena: Well, guess what … I think Ric and Dave have been handing out -

Ric Flair: ENOUGH!!!

Cena raises his eyebrow. Amused that Flair is losing his cool.

Ric Flair: John Cena, you little snot nosed punk … I've HAD IT!!! I've had it with your cheap remarks. I've had ENOUGH of you walking around like you own Raw. John Cena, KISS that Championship goodbye … because tonight, Batista WILL become the World Champion, and I'll be there to see it too … AS THE REFEREE!!!!

The fans respond with a hush at first, before starting a bullshit chant. Cena nods, looking bemused by the announcement, before speaking.

John Cena: Well Ric, you wanna play that game?? That's fine by me. You wanna run this show into the ground?? I say F-U!!!

Crowd pops

John Cena: Right now, the champ is here … and later tonight, the champ will STILL be ME!!!

Crowd Pops again. Cena takes a look down the ramp, fully focused, as Batista looks ready to go berserk too. Ric Flair though, smiles, knowing he holds the advantage.

Commercial

We return from the commercial break, with clips from WWE Unlimited, as Flair continued to speak in the ring, making announcements…

Ric Flair: In two weeks time, Raw is headed to Tokyo, but not only that … Raw will be hosting from Tokyo on the USA Network for a THREE HOUR … yes, three hour, WOOO!!! Three hour show, which will revolve around eight men, in a one night tournament … for a shot at the World Heavyweight Champion, and depending on Chris Benoits decision, that title shot will happen at either Saturday Nights Main Event on February 11th … or WRESTLE - WOOOOO - MANIA!!!!

Back in the arena, Hurricane is waiting in the ring for his opponent…

1st Match:
Hurricane vs. Rob Van Dam w/ Bill Alfonso
Short match. Hurricane gets some offence in, but not enough to ever trouble RVD seriously, and Van Dam takes the win with the 5 Star Frog Splash.
Winner: Rob Van Dam

Jim Ross: RVD folks, is headed to Tokyo in two weeks time, as one of the eight men, vying for a World Title Shot, and depending on Chris Benoits decision whether to stay on Smackdown, or come to Raw, the title shot will be at Saturday Nights Main Event, or Wrestle Mania 22.

The Coach: And the time in drawing near baby boy. Wrestle Mania is most certainly upon us.

Backstage, Shawn Michaels is pacing up and down, with DX standing with him.

Shawn Michaels: Last night, didn't go how I wanted. Last night, didn't go to plan.

Cade and Jindrak nod.

Shawn Michaels: Four members of DX yet Shawn Michaels didn't win the Royal Rumble?? Doesn't add up, does it??

Cade and Jindrak agree

Shawn Michaels: Despite three of us being in the ring at the same time, we still didn't get the job done, did we??

Cade and Jindrak shake their heads

Shawn Michaels: So whose to blame??

Michaels takes a look at the three members of DX with him.

Shawn Michaels: Not Luther. He drew Number 28. The three of us were out already!!!

Reigns shrugs

Shawn Michaels: Mark Jindrak isn't to blame.

Jindrak breathes a sigh of relief. Cade though, speaks up, somewhat out of character.

Garrison Cade: Don't even think of blaming me Shawn. I saved your ass.

HBK scowls at Cade, before fading to a smile, and shaking his head.

Shawn Michaels: I wasn't goin to blame ya sourpuss. No, one man is to blame - THE ROCK!!!

Fans in the background are heard cheering at the mention of The Rock.

Shawn Michaels: He's to blame … for our crappy numbers after forcing us to the back of the line … he's to blame for Benoit eliminating you two, and he screwed me out of winning the Rumble too.

Garrison Cade: But you did get him back, remember??

Michaels puts his index finger to his mouth, silencing Cade.

Shawn Michaels: I'm not even with The Rock yet … not by a long shot.

Commercial

Wrestle Mania Recall - XIV - The Undertaker faces his brother Kane, and after three Tombstones, finally defeats him.

2nd Match: 6 Man Free For All to Qualify for World Title Shot Tournament:
Carlito vs. Luther Reigns vs. Ken Kennedy vs. Eugene vs. Booker T vs. Goldust
Bit of a clusterfuck, with all six men battling it out, inside and outside of the ring in the short match. Carlito looks to have it won, hitting the Apple Core on Eugene, but Ken Kennedy drags him out of the ring, seemingly saving the match, but Booker T sneaks in through the back door, hitting a Scissors Kick on poor Eugene, to finally score a vital three count.
Winner: Booker T

Booker T earns himself a golden opportunity to possibly main event Wrestle Mania 22, coming as a shock to many fans, who would've predicted others involved ahead of Booker. Goldust is first to congratulate his partner, whilst Carlito is furious, having missed out, and storms up the ramp with Stacy Kiebler, who tries to calm him down.

Jim Ross: There we have it folks, the final spot has been earned, along with the seven other entrants into the 8 Man, single elimination, one night only tournament in two weeks time in Japan!!!

The Coach: How about we show them the brackets J.R??

Booker T vs. Rob Van Dam ----------------
------------ Booker T/RVD/Orton/HBK
Randy Orton vs. Shawn Michaels --------
--------------------------------------------------------
Rey Mysterio vs. Christian ----------------
------------Mysterio/Christian/Taker/Edge
The Undertaker vs. Edge ------------------

We cut backstage, where Todd Grisham is standing by with a smiling Rob Van Dam, and Bill Alfonso.

Todd Grisham: Rob, clearly, you're delighted with your victory tonight, as you appear to be hitting top form, leading into the 8 Man, single elimination tournament in two weeks time, from Tokyo.

Rob Van Dam: Clearly. You know Todd, over the last few weeks, I've began to chill out a little more. I've been a little uptight to say the least over the past six months, and that hasn't really got me anywhere, has it??

Todd Grisham: I guess not.

Rob Van Dam: You'd guess right. It hasn't. I mean, RVD isn't about being an angry SOB like Steve Austin, or a grumpy loser like Triple H. Rob Van Dam is about stealing the show, night in, night out, week in, week out. RVD is about being the WHOLE DAMN SHOW!!!

Pop from fans, but Bill Alfonso looks unimpressed.

Rob Van Dam: I don't need anger management, I don't need counselling, I just need to relax. Karma is a funny thing Todd. Last night, I thought my chances of main eventing Wrestle Mania went up in smoke, and tonight, I got my second shot. In two weeks, Mr. Monday Night becomes Mr. Main Event, because I'm either going to Wrestle Mania as Number One Contender … or World Champion. That's not hype … that's just the way it's going to be.

RVD walks off, with a confused Alfonso following behind, looking to be out of the know with Van Dams attitude.

Commercial

3rd Match:
Edge & Christian vs. Randy Orton & Rey Mysterio
In a rematch from last weeks main event, Orton and Mysterio fare much better, having scouted the cheap heel tactics of Edge and Christian. All four men will be part of the tournament in two weeks in Tokyo, which creates more buzz into the match, having all four wanting to prove a point.
The finish comes with Edge and Christian breaking the rules one too many times, eventually pissing off Mysterio, who loses his rag, after Edge saves Christian from a defeat coming after an RKO, leading to a four man brawl.
During this fight, Rey makes a legal tag to Orton, which is seen by the official. Mysterio gets a roll up on Christian, but Captain Charisma rolls through, and holds the rights of Rey, scoring the victory.
Winners: Christian & Edge

Edge and Christian make it two for two against Orton and Mysterio in back to back weeks. They share an awkward look on the outside, before Christian raises his hands in the air, getting in Edges face. Edge gives Captain Charisma the bird, before walking off, but looking back to see Orton, who watches Edge intently.

Jim Ross: That is a major, major victory for the former tag team champions, Edge and Christian. Two weeks, two victories in tag team action against Orton and Mysterio. Coach, you gotta believe the momentum is resting with Christian and Edge for the Number One Contenders tournament??

The Coach: Most definitely. Christian is my pick outright. You heard it from The Coach first. Remember that.

Jim Ross: And of course, that 8 Man, One Night Only tournament will go down on a special, three hour edition of Monday Night Raw, in two weeks time, from Tokyo. And, as we have mentioned, the winner will receive his championship match at either Saturday Nights Main Event, or Wrestle Mania 22. That however, all depends on Chris Benoits decision this coming Thursday night on Smackdown.

The Coach: J.R, whilst we mention Wrestle Mania, I'd like to give a big shout out to my boys, Shinedown, for the use of their songs, 'Atmosphere', and 'Shed Some Light', as the official theme songs for Wrestle Mania 22.

Jim Ross: Indeed. Shinedown will also be performing both tracks at the MGM Grand on March 26th, which right now has one confirmed match, which we found out last night.

The Coach: And please J.R, resist the temptation. Please, unlike last night, don't wet your pants when we mention that Bret Hart faces Kurt Angle at the Showcase of the Immortals!!!!

Jim Ross: Kurt Angle sickened me last night Coach. I'd love to watch Hart wrestle Angle, but Bret Hart, for understandable reasons, had said, time and time again, he couldn't do it. Now, because of a crazy Olympian, he HAS to wrestle on March 26th.

Backstage, a worker runs around a corner, and stops at Ric Flairs office, knocking the door, and waiting for Flair to shout 'come in'. He opens the door, and walks in, as Batista does his pre match warm up, whilst Flair fixes up his referee shirt.

Random Worker: Mister Flair, Linda McMahon is on the phone, and would like to speak with you urgently.

Ric Flair: Kid, don't bother me right now. You tell Linda McMahon she can wait, and I'll ring her back after the show. Capiche??

Random Worker: But Mister Flair, Mrs McMahon clearly stated that this was an urgent message you'd need to take.

Flair smiles, and puts his hand on the workers shoulder.

Ric Flair: Tell Mrs McMahon I'll get back to her later. Now go.

The worker sighs, but gets the hint, and turns away, leaving the room.

Commercial

In the ring, Candice Michelle, the newest WWE Diva is in the ring, hosting WWE.coms Unlimited Kiss Cam, running slightly over into the main show, when suddenly…

The lights go out … before pyro blasts from the four corners of the ring. The lights stay out, as the first few notes of **Slow Chemical** play. The music abruptly stops, before the titan tron displays the same message from last nights Royal Rumble.

"Out of sight … out of mind"
…
The lights remain off, and the message then fades away, with another appearing on the screen
…
"The fire still burns"

The unmistakable laugh of Kane booms around the arena, slowly fading out as the lights come back, to a huge gasp from the fans in MSG, before sparking a small 'Kane' chant. Candice quickly exit's the ring, and walks up the side of the ramp, clearly fazed by the promo.

4th Match: World Tag Team Championships Match:
Charlie Haas & Shelton Benjamin vs. The Heart Throbs
Short match again, with Haas and Benjamin pretty much easing to a win over the Sunday Night Heat regulars, for a routine title defence, after Benjamin scores with a T-Bone Exploder on Romeo.
Winners: Shelton Benjamin & Charlie Haas

Backstage, Christian is talking with Tyson Tomko…

Christian: I told ya Tomko. I told ya all along. I'm better than Mysterio, and the facts don't lie. Two victories over the shrimp, in two nights, in the same place. Last night, I dumped his sorry ass out of the Rumble, and tonight, I out performed him for the one, two, three. That title shot?? Is as good as mine my friend. The Christian Coalition is steadily becoming the driving force … not only of Raw, but the WWE as a whole. Forget John Cena … I'm The Franchise, and soon enough, the champ?? Will be here.

Voice: Don't be so sure.

Christian turns around, and immediately is met with a flurry of kicks and punches from a furious Rey Mysterio. Tomko grabs Rey, and holds him for Christian to take care of, but Rey is forced to fight dirty, and mule kicks Tomko in the gonads, sending him to his knees. Christian takes a swing at Mysterio, but he ducks, before ramming Captain Charisma into a door, not breaking the door, but managing to create a nasty thud. Christian slumps down, holding his back, and Rey points to him, stating.

Rey Mysterio: Two weeks Christian. Two weeks, you and me. Payback is a bitch.

Smartly, Rey swiftly moves off, as Tomko nears his feet, whilst Christian grimaces with pain, holding the small of his back.

Back to ringside…

Jim Ross: Rey Mysterio folks, is furious to say the least!!! And although Rey just mentioned their one on one meeting in two weeks time, he will indeed get another crack at Captain Charisma next week, as Ric Flair has signed a huge 8 Man Tag main event, featuring the eight competitors involved, with Booker T, Mysterio, Undertaker and Randy Orton team together, forced to co-exist for one week, as will Christian, Edge, RVD and Shawn Michaels.

The Coach: That will be a deeply personal match J.R, with so many egos set to clash, one week away from the most gruelling night of those mens lives!!!

Jim Ross: And also next week, we reveal the very first inductee into the Hall of Fame for the Class of 2006.

The Coach: We've heard some of the rumours J.R, I'm just curious to see who is the first inductee this year.

Jim Ross: But tonight, we've still got this main event to go. And what a main event it promises to be, as John Cena faces arguably his biggest, and most certainly, the most daunting title defence in both his reigns. How can Cena prevail with Flair as referee?? Find out, next!!!

Commercial

Main Event: World Heavyweight Championship Match:
Guest Referee: Raw General Manager, Ric Flair
John Cena vs. Batista
Fans are hot throughout the contest, with the odds definitely stacked against the fans favourite. Right from the beginning, Ric Flair tries to screw Cena, with Batista rolling the champion up for a quick two count from Flair. Cena steps it up a gear, running through The Animal with a clothesline, following up with a Throwback, but as he covers, Flair out right refuses to count.
Cena gets up, and grabs Flair by the shirt, backing him into the corner, but Batista gets back up, and clubs the back of Cena. He whips the champion off the ropes, and scores with a spine buster, going in for a cover, but before Flair can count, Cena puts his foot on the ropes, expecting a quick unfair count.
Flair is furious, and stomps the face of Cena, as Batista gets back up. The challenger drags Cena back up, hoisting him in the air for a press slam, but Cena rolls off his back, before kicking Batista in the gut, following up with a DDT. Cena runs off the ropes, coming back, and hitting a 5 Knuckle Shuffle. The champion looks around the Garden, then gets in Ric Flairs face with a 'You cant see me' taunt. Flair is irate, and goes to punch the champion, but Cena blocks it, and knocks down The Nature Boy, with a blistering right hand.
Cena watches Batista stagger back up, and gets the challenger into position, for the FU, and looks set to deliver, despite a struggle from The Animal, but at the last moment, Ric Flair LOW BLOWS CENA!!!!!! Cena drops Batista back down, dropping onto his knees. Flair gives Batista the instructions, and The Animal gathers himself together, before getting Cena into position, and into the air … DELIVERING THE BATISTA BOMB!!!! He hooks the leg, and a joyous Ric Flair cant hide his delight, making a quick count to make sure - 1.2.3!!!!!!!!
Winner: BATISTA

NEW CHAMPION!!! Ric Flair is on his knees, whilst Batista has his hands over his face in delight, as the title belt is slid into the ring.

Lillian Garcia: Here is your winner … AND NEWWWW World Heavyweight Champion, BAAAAAATISTA!!!!

...
...
...
...
...
...
...
...
...
...
...
...
...
...
...
...
...
...
...


Batista and Flair celebrate in the middle of the ring, as if both men had won the title. Cena is at the ropes, trying to get back to his feet, when suddenly…

**REAL AMERICAN** Madison Square Garden ERUPTS as the familiar, classic Hulk Hogan theme ROARS into the arena. Ric Flair and Batista look confused, as does the beaten Cena … WITH HULK HOGAN STRUTTING INTO THE GARDEN!!!!

The Hulkster makes his way to the ring, slapping hands with fans, whilst Flair looks set to blow a gasket in the ring. Hogan walks up the steps, and into the ring, for the first time since Homecoming with MSG on its feet.

Flair and Batista stand aside, as Hogan takes centre stage, doing his whole routine with the fans, cupping his ear to each side. Hogan takes off his boa, and throws it to the outside, before being handed a mic.

Hulk Hogan: WELL LET ME TELL YA SOMETHIN BROTHER!!!!

MSG goes nuts.

Hulk Hogan: It looks to me dudes, that someone has gone a little power hungry.

'Hogan' chants ring through the arena.

Hulk Hogan: And Ric Flair brother, you've crossed the line.

Fans pop, whilst Flair is ripping at his hair in fury.

Hulk Hogan: Which is why you should've taken that phone call a little earlier brother, because Linda McMahon had to make a decision regarding your future, and dude, you're looking at it.

Another crazy pop for Hogan

Hulk Hogan: So whatcha gonna do brother?? Whatcha gonna do, when Hulk Hogan tells you … that you have yourself a Co - General Manager!!!

MAJOR pop, with yet more 'Hogan' chants

Hulk Hogan: And right now, I'm about to make my first decision dude … right here in front of the New York City hulkamaniacs!!!

Cheap pop, but once again, a crazy huge pop

Hulk Hogan: And that is for you brother, to get your scrawny little ass out of this ring, and back to OUR office!!!

Yet more big pops from the electric crowd.

Hulk Hogan: But theres one more thing dudes!!!

Big 'YAY' from NYC

Hulk Hogan: And that … is me using my authority to over rule the decision in this main event, making Batistas title win … null and void brothers!!!

'YAY' from the fans again, responding the same way to every comment. Cena nods in the corner, whilst Batista looks furious, staring at Flair.

Hulk Hogan: And Batista brother?? I'd advise you start the training, taking your vitamins, and saying your prayers … but dude, there isn't time for that.

…

Hulk Hogan: Because I'm restarting this title match … right here, right now brother!!!

Fans mark out for another Hogan announcement.

Hulk Hogan: So whatcha gonna do?? Whatcha gonna do…

Cena leans in

John Cena: When I lay an ass whooping on you!!!

Cena darts across the ring, and tackles down Batista, officially restarting the match, whilst officials escort Flair up the ramp, and Hogan watches from ringside.

Main Event: World Heavyweight Championship Match:
John Cena vs. Batista
Cena is pumped up from the beginning, whilst Batista looks to be taken unawares by the whole scenario. The champion scores a few near falls, before Batista takes over once more, but as Batista goes for a quick Batista Bomb, Cena punches out, ducks a clothesline, and scoops Batista up, instantly slamming him down with an FU!!! Cena hooks the leg, 1...2...3!!!
Winner: John Cena

Cena celebrates his title defence from the restart, to a good reaction, although the fans appear to be deflated from the reaction to Hogan. Cena gets the fans alive again though, pointing to Hogan, and getting him to celebrate with him in the ring, and play to the fans. Hogan gives in, and the two men shake hands, before they both do the whole ear cupping shebang, whilst Batista staggers up the ramp, with Flair walking back out onto the stage. They look down to the ring, where Hogan and Cena close out the show, with the fans on their feet.

END OF SHOW

---
Current Card for WWE WrestleMania XXII:
Date:
26th March 2006
Location:
MGM Grand Garden Arena; Las Vegas, Nevada
Event Music:
Shinedown; Shed Some Light & Atmosphere
WWE Championship Match:
Brock Lesnar vs. Chris Benoit OR New Number One Contender
World Heavyweight Championship Match:
Winner of Goldrush Tournament OR John Cena vs. Chris Benoit OR Winner of Goldrush Tournament
Dream Match:
Kurt Angle vs. Bret Hart
---
Smackdown recap will be posted at some point during the week.
Re: Being The Booker
---
Crazian's Raw Review
Opening Segment -
Not too up to date, but I reviewed your Royal Rumble. Flair is trying to get Cena to lose the title to Batista, and then for Beniot to challenge Batista. Great little promo. Didn't like Cena's lines. His lines are usually different, but I didn't feel like he was in character for this. I'm guessing Cena comes out champion. Just a little Crazian guess.
Tourney Announcement -
Great little announcement. I think the winner of the tourney will face Cena for the title at Wrestlemania, instead of Chris Beniot, but things could go differently.
RVD vs. Helms -
Basically a squash match to get RVD over as a competitor in the tourney. I don't expect him to win, even though the other names haven't come out to me yet, but I expect feuds to be started for Wrestlemania through this.
DX Promo -
Things are starting up with HBK and The Rock. Can't wait because it looks like a dream match is happening at Wrestlemania.
6 Man Match -
I thought that either, Carlito or Kennedy would win this, but I was wrong. Again, I don't expect Booker T to win the tourney, but anything can happen.
Tourney Prediction -
Quote:
Booker T vs. Rob Van Dam
Randy Orton vs. Shawn Michaels
Rey Mysterio vs. Christian
The Undertaker vs. Edge

Rob Van Dam vs. Randy Orton
Christian vs. Edge

Randy Orton vs. Edge
EC vs. Rey/Randy -
Great match. Realistic as something like this would happen before the tourney, in two weeks. Edge and Christian aftermath proves that my predictions could be right. Coach's pick is Christian, but I see Edge taking him out somehow, only to have Christian screw Edge the next week.
Linda Phonecall -
Sounds really urgent. Something big. Huge news probably. Hmmm...dealt with next week I think.
Kane's "Call"
- That was just odd. Kane's coming back, but we've yet to see him.
Christian/Rey Promo -
Short, but just right. Things are heating up between these two. Can't wait for their match, as I see it being the most charismatic/electric/energetic match.
Batsta vs. Cena -
What? Batista wins. That's just not right. I wonder where this is going to go. Wah?!?!?! I scroll down, and all hell breaks loose. Hulk Hogan is the co-general manager of Raw? That will definitely lead to a Hogan/Flair interaction. Maybe a match at Wrestlemania, but this is very good as it counteracts Flair's heel side, with a face co-gm. And in the end, Cena wins the restart of the match. Phew. I thought Batista actually won.
Overall -
Great Raw coming off the Royal Rumble. The promos were great, I think they're could have been one or two more hyping the main event. Raw is packed with wrestlers. It's good, that you're somehow using everyone of them. Matches/booking is great. I don't think any of this is predictable as to who's winning and such. I loved this show. First show I've read or yours, and I plan on continuing to read more. 9/10
---
Re: Being The Booker
---
wow wolfy that was one hell of a sho. There was a lot of twists and turns like you said. Expect a review from me either later tonight or tomorow.

Kane Fan 4 Ever!!!
Moron
Join Date: Feb 2005
Location: New Jersey
Posts: 9,285
Points: 4,447
Re: Being The Booker
---
Wolfie's WWE Monday Night Raw Review


Hey Wolfie. I liked your Royal Rumble and now, here is your first show after the Rumble! I have been waiting for this show for sometime. Let's get down to business.

We open up the show with the general manager Ric Flair! Wooo! He talks about Benoit, Raw in Tokyo, and finally announces the main-event for the night. Cena defends his title against Batista. Kind of reminds me of Raw in 2003/4. Cena then comes walking out and makes a few jokes to Flair and Batista. Flair then says that he will be the referee for that match. Sounds like a motherfucking great match.

1st Match of the night is RVD versus The Hurricane. RVD wins, I really cannot say anything here because it was pretty short of a match.

We then have the D-X segment. I loved it. Michaels then blames The Rock for not winning. Awesome! I want to see HBK versus The Rock at Wrestlemania 22! It will be awesome no doubt.

2nd Match of the night is a 6 man free for all qualifying match for the tournament. Booker T wins it! I think their maybe a triple threat for the title at Wrestlemania at this point. Benoit, the champion, and the winner. I would like that main-event.

RVD interview with four eyes. RVD is more relaxed as Alfonso looks confused. May lead to RVD becoming a face? Then Alfonso getting a new client and then having RVD feud with Alfonso's new client? Maybe.

3rd Match of the night. Edge and Christian versus Orton and Mysterio. Nice summary as Edge and Christian beat Orton and Mysterio. We then have a promo with a worker telling Flair that Mrs. McMahon needed to talk to him. Ric says that he does not have the time. I wonder what it could be?

Next before the next match, we have the Kane message appear again. Nothing to really say. For the match, not much to say. Benjamin and Haas win and retain. Nothing special.

Christian promo with Tomko. Christian brags about eliminating Rey last night and beating Rey. Rey says that payback is a bitch, Yada, Yada, Yada.

The MAIN EVENT! BATISTA VERSUS CENA! Sorry about that. Nice read, and Batista is the new World Heavyweight Champion! Das cool. Then suddenly, Hulk Hogan? Hogan comes walking out saying that he is the new co-general manager of Raw and announces that the match will be restarted. Hogan-Flair Mania. Cena beats Batista to get his title back. NOOOOOOO! Possibly Batista/Flair Hogan/Cena tag team match coming soon?

Verdict: Great Raw. Great Show all around. I loved the ending for the main-event. That is huge that Hogan in the co-GM. For the grade, this show will get around a 8.5/10. Great show all around. Fun read. Defiantly checking out Smackdown!
---
Last edited by Stannis Baratheon.; 09-17-2006 at

03:23 PM

.
Re: Being The Booker
---
Raw Review From Kane Fan 4 Ever!!!

Opening Promo: this was a good opening promo. I thought they were all in character. I liked the fact that Flair wants to dethrone Cena and make Batista the world champion. Is it just me or did Flair become heel then? Anyways a good opening promo and it got me hyped for the rest of the show.

Tournament announcement: this tournament sounds great. So many good matches involved in it. I think Benoit will come to Raw anyway.

RVD match: this was a squash match, but it was good. It made RVD look strong for the tournament.

DX promo: this was good. I thought Shawn Michaels and Cade were going to fight but it turns out that a huge dream match will take place at wrestlemania…Rock VS HBK, I cant wait for that if it happens.

6 man match: this was good. I thought Carlito would win but a win for booker is good. He might go as far as winning it.

Edge/Christian Vs Mysterio/Orton: very realistic match and entertaining too. Wanted Mysterio and Orton to win but this could be the buildup to a good Rey/Christian match soon.

Phonecall: well this has got me to read on. I am very interested now to what she wanted.

Kane: wow that was really good. It was realistic and I cant wait till he comes back. Hopefully he will be involved in some great angles and matches.

Christian/Rey: this is going to be a great feud and an even better match. Good start. Maybe a little short though.

Batista VS Cena: well I was happy that Batista won because you don't get to see the big titles change hands on normal TV Shows. But when I saw Hulk Hogan come out I marked out (lol) and when he became co general manager I fainted. Only kidding it was a good announcement none the less. Face vs heel general managers. Great. And I am glad that Cena is still the Champion.

Overall: this was a wiked show man. It was what I expected and more. I will keep reading your shows and reviewing. The storylines for wrestlemania are coming along which is good and I cant wait for your next show.

Kane Fan 4 Ever!!!
Re: Being The Booker
---
Opening promo seemed decent to me. Ric was in character well. Cena comes out and says his usual lines and everything...didn't really do anything for me to be honest, but still a nice promo to open the show.

Two weeks from now...that should be a blast. A one night tournament with 8 awesome stars? Got me waiting!

Ah nothing very big here. RVD over a jobber...

Good D-X promo here. Good lines from Cade and it was pretty funny. End line from Shawn makes you think that Rocky's gonna be attacked when he shows up.

6-man match seems like a good one...better than RVD/Hurricane for sure. I'd rather have Carlito or Kennedy win it, but Booker would be my 3rd choice
I just hope Booker doesn't go over RVD...

So this is the face turn from RVD? Glad to see it as I like him more as a face than a heel. Hopefully he can get a good match at Mania or maybe even win the title?

E & C vs. R & R would be a great match in real life. Edge and Christian winning was good for me. But here's the thing.



Quote:

Rey makes a legal tag to Orton, which is seen by the official. Mysterio gets a roll up on Christian, but Captain Charisma rolls through, and holds the rights of Rey, scoring the victory.

If Rey tags Orton and Orton is now the legal man, how does the pinfall go against Rey Rey? Aftermath is confusing too. Are Edge and Christian feuding or are they just yeah?

Ohhh I have a feeling Ric is going to have wished he answered the call...

What's with the Kane thing? Is it just showing that he is coming back or what? Interesting stuff there...

Second jobber match of the night, serving no purpose whatsoever except to get them onto the card I suppose?

Great promo from Christian, wished it would've went longer, but whatever. Doesn't seem like Rey to attack someone backstage, but I like it a lot. Hopefully Austin screws Christian at SNME and that feud hits the peak.

Whoa! Huge! New champion in Batista who is just being pushed all of a sudden? That's rare. Here comes Hogan? Hogan being a Co-GM seems unreal, but I still like it. Ugh, too much from the Hogan promo and it's annoying. Match starts over and the title change doesn't happen after all. I knew something wasn't right, but all things healed.

Overall: 8/10

The good
Rob Van Dam turning face
Hogan becoming Co-GM (Not the promo though)

The Bad
2 jobber matches
Hogan's promo
Tag Teaming With James Ellsworth
Join Date: Apr 2005
Posts: 1,710
Points: 0
Re: Being The Booker
---
Man, its been awhile since I've done this for your show, but lets get down to business, shall we.

Great opening with Cena and Flair/Batista. Both parties played their role correctly, even though Cena could've have been a bit better with his remarks. As for the announcement for the title match later in the show, I'll say Cena retains somehow. Big announcement from Flair concerning Raw in two weeks time from Tokyo. As for the brief DX segment, that just adds more to the build up of a possible Michaels/Rock match at Mania. Oh as for the RVD match, that was a no brainer and congrats on Booker, a person you can't stand win the match. Van Dam seems more confident and relaxed as he heads off to Raw in two weeks time. As for E/C winning, I see a possible match between these two at Mania. Good promo from Christian and I'm looking forward to the huge MAIN EVENT for next week. While I'm not a fan of Hogan being CO-GM with Flair, I'm intrigued to see how you're going to pull this off, as this was one exciting edition of Raw from The Garden, much better than the one from MSG last Monday, I'll tell you that. Great show man. 91/100=A! 1!
---
[U]KOM has returned to BTB with WWE 2007: The Legacy and Aftermath of WrestleMania!
[U]
Re: Being The Booker
---
RAW Review, January 23rd

Flair's Announcements:
Great to see the Nature Boy kicking off the show. Shocked to hear that Batista will challenging Cena tonight and Flair as the referee should be interesting but I still think that Cena will retain. Also looking forward to the 8-man tournament in Tokyo. Should be great!

RVD vs. Hurricane:
Kind of obvious that RVD would win but still a good way to start to give him a push into the 8-man tourney.

DX Promo:
Great to see HBK talk about the Rock and no doubt that they will meet and Mania and I know the match will be a classic.

6 Man Free-For-All:
Great to see Booker win even though I would have given the win to Carlito but I guess Booker is much more experienced and deserves it. Looking forward to the tournament and the matches should be great with Orton/HBK, Christian/Mysterio and Taker/Edge.

RVD Interview:
Great to see RVD return to form and I like him much better as a face. Alfonso doesn't seem too happy and that could lead to a break-up.

E & C vs. Orton/Mysterio:
Great choice to have a rematch after what happened before the Rumble. I was pulling for Orton and Mysterio but Edge and Christian are becoming huge heels so giving them the win was smart.

Flair Backstage:
Typical Flair and it seems like his time as the GM of RAW is running out.

Kane Promo:
Great to see that Kane is coming back, all there is to say

WGTT vs. Heart Throbs:
Another match that you knew the winner before the match began but it solidifies WGTT as the top tag team in the WWE.

Christian/Rey:
Great to see these guys going at each other. Their match in two weeks should be great and I am looking forward to the 8-man tag match next week.

Cena vs. Batista:
Crazy way to end the match. Couldn't believe it when Hogan came out and restarted the match. Cena winning the rematch was good and I can see a Hogan/Flair feud for Mania.

Overall: 48/50=96% A
Great RAW with a ton of surprises. Hogan coming back was great and can't wait for next week and the Tokyo special.
---
AS LONG AS IT MAY TAKE ... NOT REMOVING UNTIL
THE CHICAGO CUBS WIN THE WORLD SERIES
PatMan Presents: World Wrestling Entertainment 2007
ROYAL RUMBLE HAS BEEN POSTED
THREAD CURRENTLY ON HIATUS (
)
Posting Rules

You may not post new threads

You may not post replies

You may not post attachments

You may not edit your posts

---

HTML code is Off

---