Re: Being the booker
---
I am looking forward to the best of 2005 since I was only present for the second half, though I reviewed some of the first half PPVs. Royal Rumble on St. Patrick's day for the Irish Man....


Do not worry about that guy; he was banned by the moron killer.

EDIT: I know that you like being ahead, but you are behind by a month and a half. Are you going to do anything or just let it be?
---
Last edited by arjun14626rko; 02-08-2006 at

05:40 PM

.
Re: Being the booker
---
MONEY promo from Edge here, a real treat to see Edge so well used on the mic. And here comes Randy Orton, this'll be good. A great confrontation and a possible matchup at the Rumble on the cards? Would be a sweet undercard match IMO, then both enter the Rumble.

Man talk about a huge match, this won't be pretty, but I see Booker T surviving in the end. Poor Eugene goes first. Ha Jordan hits Mack, and he's gone. And there goes OJ & Goldust! Wow, very unexpected double elimination. Aw man you had the Brotherhood win! Nasty, as Booker is totally wiped out by a pipe shot.

What a jip! Batista in the Rumble, although it was expected. Boy o boy, I smell a rat! Kennedy, Carlito, Reigns & Christian all selected. What a load of bullshit. Poor Rhyno just can't get a break, but it's a great start for a Rhyno push as a major face.

Trish is still the champ. Can anyone beat her? I think not, in the form she's in.

Rhyno is gonna make Flair pay one day. I really do hope he keeps his push coming, and a good run in the Rumble would be good.

A top match between Rey & CLB, only to have it ruined by Tyson Tomko. Poor Rey, he's not having alot of luck since dropping the IC title to Carlito. WAIT! Reverse, and Rey wins. Ha, sweet twist in booking.

Awesome confrontation between Carlito & Kennedy, absolutely hilarious! Loved it, and I could see a brilliant IC title fued between these two men, with some sweet promo's.

Poor Rhyno, once again tossed aside. Wolfy, I am hoping he picks up a win soon, as this fued with Batista seems to be a keeps till the Rumble.

The match of the year, and a second year running WM confrontation between these two would just be terrific. Truly, you have blown the door wide open, and the WM card is already starting to take shape.

Major way to end 05 in this thread, with a blockbuster main event, and you can't help but feel, that what happens in the next few months, are gonna be off the hook.

One of your best, ever. 9.25/10
---
***

Chopped Liver
Join Date: Jan 2004
Location: Six inches from a computer screen
Posts: 5,433
Points: 321
Re: Being the booker
---
Smackdown:
El Paso; December 22nd:


Triple H opens the show, and wastes no time in talking about the Royal Rumble, mentioning it will be his first Rumble Match since 2002, when he won it. He goes on to talk about the situation where the winner has a choice of which champion he faces at Wrestle Mania, with The Game saying he WILL take advantage of that choice, and when he wins the Rumble, he'll head off to Raw, for a first ever meeting with John Cena, or end The Undertakers Wrestle Mania streak.
The Basham Brothers retain the Tag Team Titles against fellow heel team, The System Success, when AMW get involved, costing Dean and Masters the match, as revenge for the screwy finish to their match at Fully Loaded.
Kurt Angle arrives in the arena, following his loss at Fully Loaded …not in a bad mood … but actually smiling.
Jamie Noble retains the Cruiserweight Championship in a Fatal Four Way, ousting Billy Kidman, Akio and Tajiri, scoring a submission victory over Kidman for the victory.
Kurt Angle comes to the ring, carrying the contract again, still smiling for some reason. Angle tells the fans he knows they are wondering why he is so happy, despite losing at Fully Loaded. He explains that he now knows that Bret Hart subconsciously left the steel chair behind in the ring, so JBL could use it to retain the belt, and allow a match between himself and Kurt. Angle then announces that the contract expires on January 22nd, so Bret has until Royal Rumble to make up his mind if he wants a match or not.
Backstage, Bret reacts to the announcement, calling it bullshit, and saying Kurt Angle better get used to looking at a blank contract.
Matt Hardy defeats Maven in a competitive match, finishing him off with a Twist of Fate for a clean 1...2...3 victory.
In an interview with JBL, The United States Champion goes through all his achievements in 2005, going through all the guys he has beaten, before discussing being in the 2006 Royal Rumble. JBL tells Josh Matthews that he will win the thing, and go on to Wrestle Mania, and become a double champion.
Chris Jericho and Chris Benoit meet backstage, and chat together about The Royal Rumble, Benoit wishes Jericho luck against Lesnar for the WWE Championship, and says it'd be great if they could meet in the main event of Wrestle Mania, as Benoit claims he WILL win the Royal Rumble. Jericho wishes Benoit luck, and says he hopes he does win the Rumble, because Chris Jericho WILL beat Brock Lesnar at Royal Rumble.
Classic Royal Rumble Moment - Hacksaw Jim Duggan wins the First Ever Royal Rumble, eliminating One Man Gang to win.
Brock Lesnar teams up with Matt Morgan to face Chris Jericho and Paul London in a tag team match up. Bit of a let down, given three involved are incredible performers. In the end, the smaller man team of Jericho and London score the upset win, with Jericho pinning Matt Morgan, hitting the Lionsault to score the three count. Lesnar is irate with a loss, even though he wasn't pinned. He parades the title up the ramp, teasing Jericho, but Y2J tells him it'll only be a matter of time before he has it.
In a pre-taped interview with Steve Austin, The Rattlesnake talks about his recent feud with Goldberg, and matter of factly states that at some point, sooner rather than later, they will collide, and one of them … if not both, will never be coming back.
In the main event, in the hometown of Eddie Guerrero, Chris Benoit faces Chavo Guerrero in an unadvertised match, with no build up, or any pre match hype, not milking it for anything. The two men put on a terrific, match, with both men using the Three Amigos, and Chavo uses the Frog Splash, to get a very long two count. Benoit is eventually the winner, with an inside cradle, for a clean three count, to end the Smackdown year, in a 20 minute pure wrestling contest.
Current Card for WWE Royal Rumble:
Date:
22nd January 2006
Location:
Madison Square Garden; New York City, New York
Event Music:
Adema, Sevenfold
30 Man Royal Rumble:
Winner has automatic shot at EITHER brand's Champion at Wrestle Mania XXII:
Entrants in Alphabetical order;
Batista, Carlito, Christian, John 'Bradshaw' Layfield, Luther Reigns, Matt Hardy, Mr. Kennedy, The Rock, Triple H
World Heavyweight Championship Match:
John Cena vs. The Undertaker
WWE Championship Match:
Brock Lesnar vs. Chris Jericho
---------------------
Heat Results:
Hurricane defeated Rene Dupree
Jazz defeated Lita
The Heart Throbs defeated Two Local Jobbers
Shelton Benjamin & Charlie Haas defeated Roadkill & Danny Doring to retain the tag titles.
----------------------
Velocity Results:
Spike Dudley defeated Funaki
Americas Most Wanted defeated Test & Scott Steiner
The Dicks defeated Two Local Jobbers
Triple H defeated Hardcore Holly
Tag Teaming With James Ellsworth
Join Date: Apr 2005
Location: Hartlepool, England.
Posts: 1,729
Points: 0
Re: Being the booker
---
Hey, I have my BTB starting up again and I'm gonna start reviewing other shows more to try and get some more reviews, so I thought, where better to start than the top? I'll try and review as often as possible so I would greatly appreciate it if you could return the favour
Anyway, onto business...

Raw Review:
Awesome opening promo from Edge, seemed perfect, Orton was good too, and it just seemed all great, only criticism of mine, would be that Orton looked a little weak as a Face when Edge spoke for a while about how the only reason Orton got to the top was because of his last name and how Edge earned it, would have been better coming from a face maybe? Great anyway...

Great match with The Brotherhood, shame to see them win, but at least they won it by dirty tactics, damn nasties
lol...

Very good promo with Batista and Flair, all of those guys seemed good entrants for the Rumble and it was a nice way to ''screw over'' the faces of Raw, good where he said '' for no particular reason we will pick the rest from this bowl'', quite funny, No Faults that I can see, great promo overall...

Nice woman's match, at least they got a run out


Awesome match from Rey and >C<, gotta love it, Tomko interferes and Rey loses only to have the decision reversed, nice decision and a good twist...

Kennedy/Carlito promo was very good. A feud would be good. It just all seemed to work in my head, I could imagine it all happening, nice promo, top job...

Rhyno loses, fair enough, from what I got I'll take it Batista and Flair have an agenda against him, maybe he keeps getting screwed until the Rumble where he finally defeats Batista against all odds? Guess we'll have to wait and see...

Nice last minute Promo from Cena and Orton, seemed in character, liked it and it just builds towards Mania and the Main event more so...

Great Main event, loved it, with the right people winning in the end... I'll defiantly be a regular reader here if you could give my Thread a look through every now and then, 9.5/10, Awesome
-----------------------------------
Smackdown was good, all seemed to have the right winners and the promo's were well placed and seemed good, can't really guess what is gonna happen or anything with me just starting to read, anyways SD! Seemed good from the Recap…
---
Add me on Xbox Live: ToxicPhoenix69
Re: Being the booker
---
You are a very smart man, Wolfie. HHH on Velocity!! I should have thought of that.

Smackdown looked great, I loved the way that ended the year. WRESTLING, and a Benoit win.
Tag Teaming With James Ellsworth
Join Date: Apr 2005
Posts: 1,710
Points: 0
Re: Being the booker
---
Here are some comments for the recent Smackdown:

Trips seems confident in winning the Rumble and heading to Mania and ending Taker's streak or beat Cena in a first time meeting, over on Raw.

Angle continues his pursuit to face Hart. I like how you're buillding this up. And if I'm not mistaken, this has been going on for almost a year.

JBL states his claim for the Rumble match, while Jericho and Benoit wish each other the best in their matches at the Rumble. I hope that these two meet up at Mania.

Jericho and London get a surprising victory over Lesnar and Morgan in what looked like a good match.

Austin's promo gives a weird feeling that all hell will soon break loose between him and Goldberg.

Excellent main event between Chavo and Benoit. I see that Benoit gets the victory in an excellent match to end the year for Smackdown.

Overall good recap show. Looking forward to the best of Raw and the Best of Smackdown shows next week. 1!
---
[U]KOM has returned to BTB with WWE 2007: The Legacy and Aftermath of WrestleMania!
[U]
Re: Being the booker
---
Real Smackdown Comments

Triple H on Velocity and SD?? What a hog! I do not see him winning, but the Undertaker and Cena part seems interesting.

This Angle and Hart saga is killing me. It has been going on since Judgment Day. To heat up to the fullest soon.

Jericho and Benoit....... I do not see Lesnar bringing the title to Wrestlemania, but Jericho seems like a longshot too. Benoit and Jericho at Wrestlemania ... that would be awesome.

Foreshadowing for the retirement match.

Absolutely the perfect way to end 2005. Anyone could have won that. Benoit wins clean, without Chavo looking weak. Just do not turn this into a storyline.
Tag Teaming With James Ellsworth
Join Date: Jun 2005
Location: Sidford, England
Posts: 1,864
Points: 0
Re: Being the booker
---
Guess there will be some kind of eddie tribute with the show being in el paso

HHH promo opens the show, and very interesting what he is saying. I don't see him winning the rumble, but I also don't see an opponent for him at the moment. Maybe an interpromotional match against Rey?

Bashams retain the belts in a filler style match, and I guess AMW/System success will end on the next show

Good win for Noble and it puts him over as a good champion

Angle/Hart feud is being built up brilliantly and is rivalling Austin/Lesnar (the greatest feud in BTB) at the moment. I see Hart turning on Angle, and maybe at the rumble the screwjob will happen

Good win for Hardy continuing his push without much direction. Maybe a US title shot soon?

JBL gets in an interview which is nice to see

Jericho/Benoit hey? I had a feeling that those two may cross paths somewhere and a mania main event between them does sound great, but I don't think it would happen, but I could I suppose. Benoit gets a rumble win for the first time (I think), and Jericho gets a big mania match

Good win for Jericho and London, and a nice start to Lesnar/Jericho which I think the big build to will come after the new year

Nice Austin interview, and maybe we will see the retirement match at the rumble

Benoit/Chavo would have been a great touch to end the show, and a wrestling match to finish the year is always nice to see. Good win for Benoit, who ends the year on a high
Re: Being the booker
---
RAW Review:

Just so you know I am going to start following your BTB.

I absolutely loved the opening promo with Edge and Orton. I saw it happening in my head and it felt extremely real.

I loved the first match with The Brotherhood V Booker, Goldust and Eugene! I was really pulling for Booker T but it doesn't really matter.

I didn't understand this promo fully because I just started with Being the booker but I get that Ric Flair is a heel with Batista as his friend. Flair doesn't like Rhino.

Good match glad to see Trish retain.

Great match. I don't understand a lot of this though.

Great promo with Carlito, Kennedy and Batista. You are a great promo writer.

A good match with the heels winning.

Good promo with Randy and Cena

I love how you worked Undertaker into that match in the entrances. The match itself was great as well. Edge leaving RVD in the ring is just like him.

Matches: I loved most of your matches and the rest I liked – 9/10

Entertainment: You kept me entertained the whole time and wanting to read more – 10/10

Grammar/Spelling: I saw a couple of minor mistakes – 8/10

Length: 15 pages is enough for a RAW but I was wishing for more at the end – 9/10

Realism: This is probably the most realistic BTB I have ever read – 10/10

Overall: 92/100 – Great RAW dude. I will definitely start following you now!
Chopped Liver
Join Date: Jan 2004
Location: Six inches from a computer screen
Posts: 5,433
Points: 321
Re: Being the booker
---
Was going to post this tomorrow, but there is a chance I wont be on, so I thought best do it now rather than later. Few comments would be nice, as I'm sure the more long term readers of this thread may not agree with everything.

- BEST OF RAW 2005 -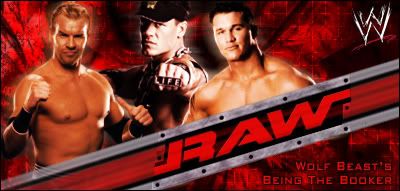 The Coach and Todd Grisham host the highlights show from WWE Studios, and briefly talk about things ahead in the show, as they will count down the top five superstars, top five moments, top five matches on Raw, and top five Raw matches on PPV.

They kick off, with the 5th rated Match from Raw in 2005

Best Raw Matches - #5
EDGE vs. THE UNDERTAKER vs. STING vs. JOHN CENA
#1 Contenders Match - September 12th - Kemper Arena, Kansas City, MO
- Edge suffers an injury after landing badly from a high risk move.
- DX cost Cena victory
- Christian costs Undertaker victory
- Sting wins the match, getting the chance to face Shawn Michaels, which would later become a 6 Pack Elimination Match at Nemesis.

The presenters talk about that thrilling match, over selling it a little, with Coach letting his ego out a little, saying the match was even better, because The Coach was calling it in his first full Raw as colour commentator.

Best Raw Moments #5
TRISH STRATUS DEFEATS SHANIQUA, ENDING THE ONE YEAR REIGN, IN HER HOME TOWN OF TORONTO.

Again, Coach and Grisham comment on the moment, saying it will be the highlight of Trish career, doing the unthinkable, and beating Shaniqua.

… After a commercial break, we return, straight into …

Best Raw Pay Per View Matches #5:
TEAM FOLEY vs. TEAM FLAIR
War Games Match for Position as GM - November 6th - Verizon Wireless Arena, Manchester, NH
- Orton and RVD start out, with Batista in 3rd.
- Team Flair dominate the match, having a one man advantage for the majority, and even a two man advantage at times, eventually getting a 4 on 2 advantage.
- Mick Foley is handcuffed to the ropes, whilst Team Flair dominate Randy Orton.
- Foley frees himself using bolt cutters, and makes a stunning comeback, eliminating two men, before being Batista Bombed through the ring, ending his night.
- The match boils down to Randy Orton (in from the beginning) and Christian, (a much later entrant)
- Ortons fatigue factor is what swings the match, eventually giving Captain Charisma the win.

Coach and Grisham discuss that brutal match, which went on for almost 60 minutes, before coming to an end. They talk about the ramifications, still being felt today, of Ric Flair as GM, and the resulting Orton - Christian feud which came of it.

Raw Superstar #5:
ROB VAN DAM
- RVD gets off to a slow start in the year, toiling in the mid card, and seemingly losing his focus.
- Van Dam becomes embroiled in a rivalry with Intercontinental Champion, Rey Mysterio, throughout the summer, which begins as a friendly rivalry, before RVD becomes a full fledged heel.
- RVD goes off the rails, going back to his old ECW roots, even bringing back Bill Alfonso, leading to a three week suspension, which does nothing but make Van Dam worse, with more four letter outbursts, eventually leading to an ECW Rules Match, that he loses to Rey at the October event, Nemesis.
- Following this, RVD makes a complete U-Turn, and instead of outbursts, RVD goes on a silent protest, refusing to speak on TV for nearly two months, before Edge gets comments from him.
- Although he hasn't had a great year in the ring in terms of victories, Rob Van Dam remains one of the most talked about stars on the Raw roster today.

Grisham and Coach laugh about RVD's roller coaster year, and neither beg to make a prediction as to how he'll turn out next year.

Classic Royal Rumble Moment - Steve Austin recovers from a year long neck injury to return and win the 2001 Royal Rumble, making him the only ever three time winner.

Best Raw Matches - #4
RANDY ORTON vs. REY MYSTERIO
Reys debut match on Raw - April 4th - Pepsi Centre, Denver, CO
- Mysterio showdown with Evolutions Flair and Batista, with Ric Flair making a match for Orton to face Rey, with Orton angry, not interested in the match.
- Orton argues with Flair, saying he should've faced Rey himself.
- Fast paced match up, making for a terrific main event.
- Orton goes for the RKO, but Mysterio dropkicks him away, into the ropes, hitting the 619, but missing the West Coast Pop, in an awesome spot.
- Batista and Flair try to get involved, but cause Orton more of a hindrance then a help, leading to a cradle victory for Mysterio.

The presenters talk about a great year for Rey since being drafted to Raw, which all began with that victory over former world champion, Randy Orton.

Best Raw Moments #4
JOHN CENA DEFEATS RANDY ORTON AT WRESTLE MANIA 21, WINNING HIS FIRST WORLD HEAVYWEIGHT CHAMPIONSHIP.

… After a commercial break, we return, straight into …

Best Raw Pay Per View Matches #4:
JOHN CENA VS SHAWN MICHAELS
Summer Slam Main Event - August 7th - San Juan, Puerto Rico
- HBK runs from Cena early on, with the Champion wanting a piece of the cocky HBK.
- Michaels slows it down, and works on the knee of Cena.
- Cena fights back, and looks to have the match wrapped up, when the referee gets knocked out.
- DX get involved, but Cena manages to keep on top, taking out each one.
- Cena then hangs through the ropes, but gets clobbered with a chair from Luther, leading to Sweet Chin Music, and a new champion.
- Shawn Michaels is the new champion, ending Cenas 4 and a half months as the champion.

Coach claps, calling it a wonderful day for Raw, but Grisham argues, saying Cena winning the belt back at Armageddon was much better … but more on that later he says.

Raw Superstar #4:
SHAWN MICHAELS
- The Showstopper kicks off the year in emphatic fashion, costing The Undertaker the World Title at Royal Rumble, as revenge for being Takers sacrificial lamb to the slaughter at Armageddon.
- HBK attempts to end Takers Wrestle Mania streak, but just doesn't have enough to down the Deadman, and Taker goes 13 - 0.
- Michaels faces Taker in a rematch at Backlash, winning a Buried Alive Match, albeit thanks to the reformation of DX, with new talent Garrison Cade, Mark Jindrak and his already appointed 'Insurance Policy' Luther Reigns.
- The formation of the group is complete, and for the next month, DX start to put their mark on Raw, despite Michaels having a broken arm, keeping him out of action until July.
- HBK leads Cade and Jindrak to become the tag champions at Bad Blood, sparking a six month run with the belts.
- Michaels defeats Taker on the June 27th edition of Raw, becoming #1 Contender for the World Title at Summer Slam.
- The Showstopper wins the title, thanks to DX, beginning his 6th run as a World Champion in the WWE.
- Michaels puts up an amazing effort at Clash of the Champions, narrowly losing to Kurt Angle in a 60 Minute Iron Man Match 2-1, tapping to the Ankle Lock after nearly two minutes in the hold.
- HBK continues his 'win at all costs' run, getting wins over Sting, John Cena, Randy Orton and others by that method, in order to retain the title.
- The wheels begin to come off the DX train at Survivor Series, as Michaels loses in an elimination match to Cena, giving Cena a title shot at Armageddon.
- HBK loses the title to Cena, ending his four months as champion.

Grisham and Coach discuss the year HBK had, before saying the future could be bleak if he and DX continue the way they ended 2005.

Best Raw Matches - #3
THE UNDERTAKER vs. SHAWN MICHAELS
#1 Contenders Match - June 27th - Albuquerque, NM
- Michaels first match since Backlash, when he suffered a broken arm, and DX is banned from ringside.
- Ring rust affects HBK early on, with Taker dominating, but HBK gains the control, with a well planned attack on the leg, but Taker, on top (no selling) form, makes a quick comeback.
- Michaels has to fight for his life not to lose, and manages to counter attempted Last Rides and Tombstones, with every move in his arsenal. Michaels then fights out of the Last Ride again, and nails the Sweet Chin Music!!! Shawn crawls to pin Taker, but Undertaker sits up!!!
- HBK freezes in shock, as Taker gets back to his feet. Michaels continues to try and keep his distance as best as possible, then ducks a boot, and hit's a second Sweet Chin Music!!! Michaels then doesn't go for the pin, but decides to tune up the band, and stomps his foot, until Taker gets up, and Michaels scores with another Sweet Chin Music!!! The third in the match!!! He covers, 1...2...3!!! MICHAELS IS GOING TO SUMMERSLAM!!!!

Both presenters talk about that main event, and what led from it, for both men, before cutting to a commercial

Best Raw Moments #3
EVOLUTION DUMP ORTON FROM THE GROUP IN MELBOURNE ON MAY 2ND, DURING A BLINDFOLD MATCH.

Grisham says, although at the time he was disgusted with Batista and Flair, he thanks them for doing it, because since then, Randy Orton has stepped up, and became a man.

Best Raw Pay Per View Matches #3:
REY MYSTERIO vs. ROB VAN DAM
ECW Rules @ Nemesis - October 9th - Freedom Hall, Louisville, KY
- Fast paced opening, with both men countering each thing the other does.
- Both men take advantage of the rules, and the match breaks down, into a classic ECW style match with both the lucha libre and the classic Van Dam approach being the main points.
- All the near falls, and spots with the steel chair ala classic Van Dam in ECW, with the champion also doing his fair share.
- Finish comes with RVD hanging out the ropes, wanting a chair from Alfonso, but Rey swings around the ropes, kicking the chair into Van Dams face for the 619, then pushes Bill off the apron through a table, and finishes the match, with a west coast pop, retaining his title.

Back in the studio, Grisham claps Rey for a scintillating performance, whilst Coach tells Todd if he keeps it up, The Coach might throw up.

Raw Superstar #3:
RANDY ORTON
- Randy starts the year as World Champion, and chalks up another legend killing, beating The Undertaker inside Hell in a Cell at the Royal Rumble.
- Orton retains the title, into Wrestle Mania, where he loses out to John Cena in the youngest Wrestle Mania main event of all time.
- The Legend Killer is ceremoniously kicked out of Evolution, after nearly two months of teasing towards the split.
- Orton feuds with his former partners over the summer, eventually ending the rivalry with a bloody cage match at Summer Slam, defeating Ric Flair.
- Orton gets a spot on Team Raw for COTC, and repays Mick Foley for his screw up the previous year, gaining the pin fall to give Raw the win.
- DX screw Orton out of the title the following night, helping HBK retain the belt in a good contest.
- The Legend Killer comes up short once more, at Nemesis, with HBK pulling out the victory to keep the belt in a 6 Man Elimination Match.
- Randy Orton gives the performance of a life time in War Games at Survivor Series, lasting the duration of the match, only to lose to Christian at the very end, but despite coming up just short, Orton is commended for his performance, showing great heart and commitment.
- Orton ends the year on a high, getting his revenge on Christian, defeating Captain Charisma at Armageddon.

A Royal Rumble preview airs, before going to a commercial

Best Raw Matches - #2
JOHN CENA vs. CHRISTIAN
World Heavyweight Championship - June 20th - Savvis Centre, St. Louis, MO
- They both give 100%, and absolutely beat the hell out of each other. The match sways back and forth between them, with both men scoring very close near falls.
- Tyson Tomko is then barred from ringside after helping Christian get control in the match.
- Christian has Cena in a bad way, working on the leg. He takes the pad off the top turnbuckle, and catapults Cena into the exposed corner, busting the Champion open.
- Christian just cant keep Cena down, despite all his efforts. He hits almost every move in his arsenal, then goes for the Unprettier, but Cena manages to block it, and forces a comeback.
- Cena then hit's the FU, but CHRISTIAN KICKS OUT AT TWO!!! Nor Cena or the fans can believe it, and now they sense a title change could be coming.
- Cena turns up the heat, and really starts to get desperate. Christian manages to get back in control, with a well timed low blow, out of the referee's sight. He then hit's the Unprettier, but Cena gets his foot on the ropes, saving the title.
- Christian continues the punishment, but as he starts to get cocky, he does Cena's "You cant see me", then goes for a clothesline, but Cena ducks, and gets Christian up, and NAILS THE FU FOR A SECOND TIME!!! 1...2...3!!!!! Cena wins!!!

The presenters talk about the year both men had, with Cena cementing his place as a main stay for years to come, and Christian having a break out year.

Best Raw Moments #2
DX IS FORMED OFFICIALLY THE NIGHT AFTER BACKLASH

Now, it is Coach clapping, and Grisham pretending to be sick, before Grisham calls for a commercial

… After a commercial break, we return, straight into …

Best Raw Pay Per View Matches #2:
RANDY ORTON vs. JOHN CENA
Wrestle Mania Main Event - March 20th - Ford Field, Detroit, MI
- Typical war of attrition to start off, with the match breaking down early on, and both men take advantage of the No DQ ruling.
- With neither man a ring general, they rely mainly on the gimmicks of blood, weapons, and finishing moves, eerily reminiscent to the Austin - Rock Wrestle Mania classics.
- Both men come close to victory on a plethora of occasions, with near falls, feet on ropes, brawling outside, with the match exploding.
- John Cena wins the match in a thrilling finish, hitting the FU off the top rope, being enough to keep Randy down for the three count, resulting in a new champion for Raw, capping off a wonderful Wrestle Mania.

The presenters talk about how much has went down on Raw this year, and they start to think about what could be the number one moments, before telling us we are about to find out, after we see who the #2 superstar is.

Raw Superstar #2:
CHRISTIAN
- The year begins well for Christian, after he sneakily becomes Intercontinental champion, taking Edges place in a match, after Edge is 'injured'
- Christian reveals he was behind the attack, and it leads to a Wrestle Mania 3 Stages of Hell match between the two, which Christian wins, once Tyson Tomko makes his debut as the problem solver for Christian.
- Captain Charisma retains the belt in a rematch at Backlash, inside a steel cage, with help once again coming from Tyson Tomko, beating Edge.
- Rey Mysterio beats Christian for the belt, but things just go up and up for Captain Charisma, and he ascends into the main event scene, challenging for the World Title.
- He scores non title wins over Cena, but never manages to beat the champion when it comes to the title matches.
- Then, Christian creates his own history, defeating The Undertaker cleanly at Summer Slam, with The Unprettier.
- He makes it 2 for 2 the following month, beating The Undertaker on the last Raw ever on Spike TV in a No Holds Barred Match.
- 3 for 3 a few weeks later, when Christian pins Taker as part of the 6 Pack Elimination Match at Nemesis.
- Then, Christian adds to his wins in August, September and October, with another win over The Deadman at Survivor Series in November, during War Games.
- Clips of Christians golden mic work during the year, which also got him plaudits, including the WM Trailer.

Coach claims it's a disgrace that Christian hasn't made it as the number one star, whilst Grisham says he has an idea who it might be. They go to a commercial, before leading into the Number Ones.

Best Raw Matches - #1
SHAWN MICHAELS VS REY MYSTERIO
Champion vs. Champion - August 15th - Resch Centre, Green Bay, Wisconsin
- Electric paced match, with HBK in control from the start, after RVD attacks Rey before the match begins.
- Rey shows his fight, causing HBK unlimited amounts of problems.
- The match turns into a complete classic, with dozens of near falls, at a furious pace throughout.
- In the end, Michaels is just too much for Mysterio, and as Mysterio springboards off the ropes, Michaels catches him with Sweet Chin Music, scoring the three count.

Grisham and Coach both agree that was a worthy match for Raw TV match of the year, before they both get excited over the remaining categories.

Best Raw Moments #1
MICK FOLEY AND RIC FLAIR SHOOT ON EACH OTHER ON SEPTEMBER 12TH.

… After a commercial break, we return, straight into …

Best Raw Pay Per View Matches #1:
RANDY ORTON vs. THE UNDERTAKER
Royal Rumble, Hell in a Cell, World Championship - January 23rd - Toyota Centre, Houston, Texas

---Full Match---
Taker stands still, looking across at Orton. Orton looks around, then slides out of the ring. He goes towards the Cell door, and realises that the door has been padlocked. He rattles the door, and tries to get it opened, but obviously cant. Bearer then shouts in at him, "Prepare to meet your maker Randy!!!"

Orton looks straight at Bearer, and looks genuinely scared. He walks around the ring, as Taker still stands still in the ring, still focused in on Orton. The Champion looks under the ring for weapons, and eventually pulls out a steel chair. He then slowly slides into the ring with it, and Taker stomps the ground, with Orton jumping back out, scared that Taker was going to get him.

He walks around the ring, as Taker still stares at him. Orton talks to himself, trying to calm himself down, carrying the chair still.
Earl Hebner tells him to get inside, and Orton tells him to kiss his ass. Taker then walks around the ring, as Orton gulps again. Scared of what Taker might do to him again.

Taker then grabs Hebner by the shirt, and chucks him across the ring, then rolls out to the outside after Orton. Orton quickly runs to the opposite side of the ring, as far away from Taker as possible. Taker then stands at the opposite side, staring out Orton. Randy tries to think, but cant, as he knows Taker is staring right at him. He slaps himself, and gets into the ring. He tells Undertaker to bring it on, and Taker, slowly gets inside the ring. Orton, stands still with the chair, and freezes, as Taker walks toward him. Orton then drops the chair, and gets out of the ring again, and walks around the ring.

Meanwhile, Taker, picks up the chair, and sets it in the corner. He then turns his back, almost asking Orton to hit him. Randy sees this, and thinks for a moment. He cautiously gets back in the ring, and lifts up the chair. He then looks across the ring at Undertaker, and slowly, walks halfway across the ring. He then pulls the chair back, and runs at Undertaker, and smacks him right across the back with the chair…..UNDERTAKER DOESN'T EVEN FLINCH!!!!!

Orton cant believe it. He stands deadly still in the ring, as Undertaker turns around. Taker then bounces off the ropes, and boots down Orton!! Taker then drops an elbow on the Champion, and chokes at him. He picks up the Legend Killer, and rams him into the corner. He hits an elbow to the face, then a knee to the midsection. Taker whips him across the ring into the opposite corner, and clotheslines him down.

Taker then watches as Orton tries to crawl out of the ring, and just as Orton thinks he is getting out, Taker holds his leg. Randy begs Taker to let him go, but Undertaker shakes his head. He drags him back in and drops an elbow. He then chokes at the World Champion again, for over thirty seconds. Taker then bounces off the ropes, and hit's a leg drop. He covers Orton, 1...2...TAKER PULLS ORTON UP BY THE HAIR!!! HE WANTS RANDY TO SUFFER!!!

Taker then pulls Orton up, and bangs his head off the turnbuckles, then punches him over the top rope.
Taker, slowly follows, and again watches as Orton tries to get away. He methodically follows him, and then grabs him by the tights, stopping him from getting away any further. Orton turns around, and throws a right hand at the Phenom, but Taker no sells them all. He then head butts Orton, and the Champion staggers around the cell.

Undertaker throws a right hand, then another, then another, with the third knocking Orton down. Taker sets Orton on the ring apron, and nails an elbow to him. Taker then gets on the apron himself, and hit's a leg drop across the throat of the Legend Killer, bringing Orton off the apron, and to the mat again.

The Deadman then stomps on the grounded Orton, and picks him up off the mat, but Orton nails a low blow!!! Taker drops to one knee, as Orton quickly tries to establish an upper hand on his opponent, with thirteen quick fire right and left hands!! He then looks under the ring for something, but immediately notices that Taker has already recovered. He stops looking and quickly sprints to the cell wall. He starts to climb the cell, even though there is no way out. Taker grabs his leg, but Orton tries to kick him away. He is eventually successful, and Orton then goes for a cross body onto Undertaker, but Taker catches him, and then rams him, head first, into the cell wall, not once, not twice, not three times, not four, but, FIVE TIMES!!!! Taker then slams Orton onto the ground, and we can see that Orton has been busted WIDE open.

Taker then wipes the blood from Ortons forehead, and wipes it onto his own chest, as the crowd now know that things are set to get ugly.
Orton pulls himself up on Taker, but Taker punches him right back down. Taker then whips the Champion into the cell wall, and knocks him back down afterwards. Undertaker then rolls Orton back into the ring, and stomps away at him wildly. He then picks up Orton, and biels him halfway across the, with Orton bouncing around in desperate pain. Taker then picks up the steel chair laying in the ring, and levels Orton with it big time, knocking the champion out cold. Taker then decides not to go for the pin, but instead waits for Orton to stir, then hits another leg drop. Taker pulls him again, and press slams him from inside the ring, into the cell wall, with Orton falling to the ground in a heap.

Undertaker then rolls out to the outside again, and bangs Ortons head off the Cell again, then rips the flesh from Ortons head, scraping his face against the steel, as Orton cries out for help. Taker then knocks Orton down again, and looks under the ring, pulling out a trashcan. He walks around to where Orton is, but as he approaches him, Orton pulls out a Fire Extinguisher, and sprays it into the face of Undertaker!!! Taker staggers around the ringside area blinded, and Orton then puts him down for the first time with a Fire Extinguisher shot to the head!!!

Orton then drops the weapon down, and takes a moment to breathe, but suddenly, Taker sits up, and locks eyes with Orton, who is shell-shocked at it. Orton tries to put Taker back down, kicking and punching, but Taker no sells some more, and then grips Orton by the throat. He then slams Orton into the Cell wall, and continues to ram him against it, then lets go, and Orton falls right to the ground, with blood pouring from his mouth.

He crawls along the mat, as Undertaker shows no emotion at all. Taker, waits, as Orton pulls himself up. He eventually does, and Taker charges toward him, but Orton sees him coming and hit's a Flapjack to the Deadman, right into the Cell!!!! Orton then tries to get away from Taker, but Taker shrugs off the flapjack, and stalks the Champion again.
Randy crawls into the ring, but he is followed by Taker. Taker stomps on Orton, then applies an wristlock. He climbs to the top rope as the crowd cheer, and call for the Old School. Taker walks the ropes, and nails the move, to a massive pop, from the Houston crowd. Undertaker then rolls Orton over, and gets a very loose pinfall, 1...2...Kick Out from Orton!!!

Taker then stands up, and raises his hand in the air, signalling for the Chokeslam. He waits for the crimson Orton to turn around, and as he does, Taker grips him. Orton looks out cold, but somehow, he musters the energy to block the move, and elbows Taker away, then out of desperation, he hits an Inverted Backbreaker!!! Orton looks to have little left in the tank, and gets to his feet, then walks toward Undertaker, then… Taker SITS UP!!!!
Orton's face is a picture, as his expression leaves, and he slowly shakes his head in disbelief. Taker gets up and comes after Orton, and Orton again goes on the run. Orton then trips over some cable, as Taker bears down on him. Orton jumps up, and blames the cameraman for the wire sitting out. He doesn't realise that Taker is now behind him, and continues to argue with the cameraman, until he feels someone behind him. He slowly turns around, and is immediately met with a stiff right hand, knocking him down. Taker then picks him up, and throws him into the Cell. Orton bounces off the structure, and Taker whips him right into the opposite side, then clotheslines him down!!!

Taker then looks to Paul Bearer, and picks up Orton again, but this time, Orton throws a fistful of powder into the face of the Deadman!!! Undertaker staggers around, and is then put down with a chair shot!!!! He never saw it coming, after being blinded!!! Orton now realises that he has to take this opportunity, and quickly scurries around, looking under the apron for a weapon. Eventually, he pulls out HANDCUFFS!!!!!!!

The crowd go kind of silent, as they wonder, just what Orton might do. He then picks up the chair again, and scores with a shot to the head of the Phenom again!!! He then puts the cuffs around one of his hands, and one cuff around the mesh of the cell!!! Taker has nowhere to go!!! Orton then starts to get cocky, and talks trash to Bearer, then waffles Undertaker with an unprotected Chair shot…..Orton looks around the crowd, and begins to get a sadistic look onto his face…..he then swings back….another unprotected shot…..AND TAKER IS BUSTED WIDE OPEN!!!!!

The blood drips down, and off the face of Undertaker like sweat, as Orton also continues to bleed, but is now in the drivers seat. He swings back….. ANOTHER SHOT….. ANOTHER SHOT…… ANOTHER SHOT….. ANOTHER SHOT….. ANOTHER SHOT….. ANOTHER SHOT….. ANOTHER SHOT….. ANOTHER SHOT!!!! TEN unprotected chair shots to the Deadman!!! Undertaker is dripping with blood, coming from every pore in his forehead!!

Randy Orton looks to Paul Bearer, and tells him that he'll see Taker in hell, swings back…..ONE MORE CHAIR SHOT!!!!
Orton then throws the crumpled chair away, as it really looks sickly dented, as the crowd hush, witnessing this sadistic side of Randy Orton. Orton looks around the Cell, and smiles. He picks up the steel steps, and runs toward Taker with them, and THROWS THE STEPS RIGHT AT THE DEADMAN!!! The crowd let out a "Ohhhhhhh" at the sickening thud.

The Champion then walks around the cell, as if he has won, badmouthing the fans, but what he doesn't notice, is that that steps, when thrown, broke the handcuffs on the cell, and Taker is now freed, although, he has yet to move since he has been broken free. Orton continues to argue with the fans, and badmouths Paul Bearer, with Bearer shouting abuse back. He then takes his time to walks back to Taker, and picks up the steps again. He still hasn't noticed that Taker isn't handcuffed to the cell, and prepares to ram the steps into him again, but Taker moves, and Orton misses. Orton cant believe it!! He then turns around, and is met with a DDT from The Phenom!!!

Undertaker then throws his head up, and blood flies off him, as Orton tries to get up too, and we see the blood continue to drip from the face of Orton. Taker then picks up Orton, and drags him around ringside, dragging Orton face against the mesh, all the way around. He then throws Orton into the ring, then he picks up Orton, but Orton nails a low blow, and follows up with a DDT of his own!!! Orton gets an arm over Undertaker, 1...2...Kick Out!!!

Orton then sets up Undertaker for the RKO, he goes for it, but Taker, but Taker pushes him away, into the ropes, and then Orton comes back off the ropes, and right into a CHOKESLAM!!!! Undertaker hooks the leg for the sure victory…
…..1.….
…
………………..
…2...
……………………..
……….
…..KICK OUT FROM ORTON!!!!!

Taker still shows no emotion as the audience gasp in shock that Orton kicked out. Taker then slams Orton, and rolls out of the ring. He then looks under the ring, and pulls out….. A 2X4, WRAPPED IN BARBED WIRE!!!!!!
An almighty roar goes over the Compaq Centre as business has now truly picked up, in this already, bloody war!!! Taker rolls into the ring, and stands over Orton, who pulls himself up on Undertaker, then realises that Taker is holding the 2x4. He looks like he is ready to shit himself, then tries to get away, but Taker doesn't let him. He swings the 2x4 at Orton, but Orton ducks, and tries knock the 2x4 out of his hand, but Taker overpowers him. He then pushes Orton away, then HITS HIM WITH THE 2X4!!!

Undertaker then poses with the weapon, and the crowd goes wild. He then, rakes it across his face, and rolls to the outside. He looks under the ring again, and this time, he pulls out a brown sandbag. He rings it into the ring, and empties the bag in the ring, but inside is not sand, it is…..THUMBTACKS!!!!!!!!
The Houston fans go wild again, as Taker empties the bag. Orton looks up, and sees what it is. He then looks to be having a flashback of Nemesis, and tries to beg off from the Undertaker, but Taker shows no remorse. He picks up Orton by the hair, and goes for a Chokeslam again, but Orton resists it. He knocks Taker away, and begins to throw right hands, and Taker staggers over the tacks. Orton then bounces off the ropes, but Taker hit's a big back body drop, with ORTON FALLING ONTO THE TACKS!!!!!

Earl Hebner then tells Taker that that is enough, but Taker doesn't listen, and boots Hebner down. He then picks up Orton, and NAILS A CHOKESLAM ONTO THE TACKS!!!!! He then rolls to the outside, and looks for a weapon, but comes up with nothing. He comes back into the ring, and picks up Orton, but nails a low blow!! He picks up the 2x4 and nails Taker across the back, then in the head!!! He then goes to the top rope, and waits for Taker to get up, then hit's the RKO from the top rope!!! He then revives the referee, and covers the Deadman…the referee eventually stirs…
…..1.….
……………………..
….
…………..
…2...
……………
……………………………..
………….
…..
………….
…KICK OUT FROM UNDERTAKER!!!!!

Orton sits up in shock. He grabs the referee, and pleads with him, but Hebner still seems a little woozy himself, and tells Orton to get off. Orton then bounces off the ropes, comes at Taker, but is met with a Sidewalk slam!!! Taker then sits up to a huge pop!!! He covers Orton, 1.….2.….KICK OUT!!!
Taker gets up again, and looks to the door. He then does the cut throat taunt, and brings Orton to the outside. He puts him on his shoulder, and rams Orton, head first, into the door. He then pulls back again, and again rams him. Taker then pulls back one more time, and rams Orton again, with the CELL DOOR FLYING OPEN!!!!

A sick smile emerges on the face of the Deadman, as he walks outside the Cell. He looks to the top and points to it. Orton tries to crawl up the ramp, but Taker drags him back. Orton elbows him, and then climbs up the cell, in an attempt to get away. Undertaker quickly comes in pursuit, and the two end up on top of the cell, as the crowd is going nuts!!!

Orton throws some desperate right hands at Taker, but Taker throws some back, only harder, and Orton staggers toward the edge. Orton looks set to fall, but at the last second, he fights back. He starts to make Taker back off, but Taker then drives a knee into the champion. He then picks him up on his shoulders, and then sets him up for a Tombstone!!! He then looks to each side of the arena, which gets a major pop, and HIT'S THE TOMBSTONE ON THE ROOF OF THE CELL!!!!!!!!

"Holy Shit, Holy Shit" is the chant from the crowd, as Taker gets back up again, to another big pop. Orton is seen trying to crawl away, but as he tries to get down, Taker stops him. Orton then hangs over the edge of the cell, hanging on by his hands. Taker then rolls his eyes back, and drops the leg, with Orton losing grip, AND FALLING THROUGH THE ANNOUNCE TABLE!!!!!!!!!!

Another "Holy Shit" chant erupts, and Undertaker stands over the edge of the cell, looking down at The Legend Killer, crumpled up in a ball, surrounded by broken bits of table. Eventually, Taker climbs down, and pushes the announcers out of the way. He picks up Orton over his shoulders, and carries him back into the ring. He goes for a cover,
…1...
……………
…..
……….
….2.…
……………………….
…………
……………….
….
TAKER LETS GO OF THE PIN!!!!

Undertaker wants the suffering to continue!!! He drags Orton's broken body up, and gets him for the Last Ride!!! He is set to nail it, but then, Orton hits Taker with the 2x4!!!! Orton picked it up on the way up!!! Taker falls to the mat, as does Orton. Hebner has no choice but to count…

…..1.…………..2.…………..3.…………..4.…………..5.…………..(Orton crawls to the ropes)……………6.…………..(Orton gets to his feet, barely)…………..7.………(Taker sits up!!!!!!!!)
Orton then goes for the RKO on Taker, but Taker pushes him away, he goes for a clothesline, but Orton ducks, and hit's the RKO!!!!!!!
He falls on top of Taker for the cover…..
…..1.….
………………..
……..
………………………………...
…2...
…………
……………………………
….
……………..
UNDERTAKER GETS A SHOULDER UP!!!!!

Orton holds his head in his hands. Taker wont stay down!!! Orton picks up the 2x4 again, and goes for Taker, but Taker grips him by the throat…..CHOKESLAM!!!!! Taker hit's the Chokeslam. He then takes a moment to get to his feet, and picks up Orton. He gets him onto his shoulders ….. LAST RIDE!!!!!

Undertaker then lies down with Orton for a few seconds…then sits up!! He gets to his feet, using the ropes as something to hold himself up. He then is set to cover Orton….but then….we see someone run through the door…he jumps into the ring…..Taker turns around….and is met with…..SWEET CHIN MUSIC!!!!!! It's SHAWN MICHAELS!!! SWEET CHIN MUSIC!!!! Taker is out for the count!!! Michaels stands over Taker, yelling something, then Orton gets an arm over the Deadman. Hebner has no choice but to count…
…..1.….
…………………………
………….
…
………………..
…2...
……………
………………………………........
……………………
…………
…..
………………………3!!!!!!!!!!!!!!!!
ORTON WINS!!!!!

Coach and Grisham discuss that brutal match, which has stood over the course of the year, to still retain its crown of Raw Match of the Year. Coach and Grisham then say their goodbyes, before leaving us with the superstar of the year…

Raw Superstar #1:
JOHN CENA
- The year of Cena kicks off in style, with John winning his second Rumble, entering at Number 17 to win the match.
- Cena heads into Wrestle Mania on the crest of a wave, and becomes the World Champion, defeating Randy Orton.
- He then goes on to defend against all comers, including Matt Morgan, Batista, Edge, Christian, Triple Threat Matches, Fatal Four Way Matches, and much more, before Shawn Michaels ends the reign at Summer Slam.
- For the rest of the summer, and through Autumn, Cena chases Michaels, with DX helping their leader dodge the bullet each time.
- Eventually, Cena starts to get the best of it, and even introduces his own custom belt, saying that In his mind, he's never lost the belt, with Michaels never beating him alone.
- Cena earns his rematch for Armageddon, beating HBK at Survivor Series in an elimination match.
- At Armageddon, in Massachusetts, Cena finally regains the title, out lasting Michaels in a hellacious Last Man Standing Match.
- Final shot of Cena throughout the year, being the focal point of Raw, as the show closes…

END OF SHOW
Posting Rules

You may not post new threads

You may not post replies

You may not post attachments

You may not edit your posts

---

HTML code is Off

---