Re: Being the booker
---
That was a cool way to turn Edge heel. Fantastic. The qualifying for the Rumble is a good idea, it adds more build up. Hopefully, the rumble is the main event.

I am almost done with Armageddon, to be posted within a hour.
Re: Being the booker
---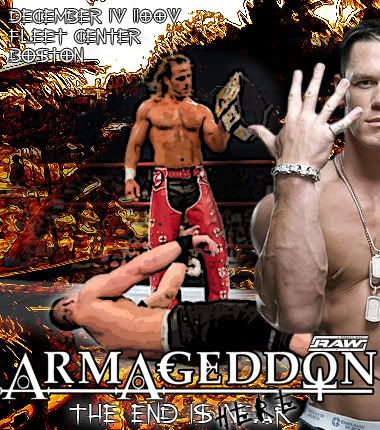 Armageddon is the first single brand PPV in this thread since I became a booker. Seven months Wolfy!!

Thank you for your extra long Wrestlemania review.

Sunday Night Heat was well done. Extra hype always works. You had every match in there, I think. A – Train wins! YAY! Not!

The opening video got stronger at the end. Not as good as usual. 8/10

Length:
Phenomenally done!! Eighty four pages is amazing for a single brand PPV. If you adhere to 200 words/minute, you are five minutes short of three hours with Heat, but I think it is a bad rule when conducting PPVS, because they have many promos and much commentary. 10/10

Spelling and Grammar:
Thanks for pointing out that over there, you guys spell with either s or z. In spite of that, there are still some spelling mistakes, which are highly uncharacteristic of you. I am seeing some grammatical errors though. There are more grammatical errors than I thought you could make. You are always perfect in this department. I will give you your due credit of having a very enriched vocabulary. 9/10

Women's Championship;
Trish Stratus vs. Victoria

Very interesting that you start with the women! I like the parts where Vicky gets heat, but Trish outdoes her with armdrags to draw cheers. Now Victoria is just showing her sheer power. Whatever happened to Chyna? I thought Trish would come back, but the comeback will have to wait. Some great action where Trish was in control, but the pinfall is not found. Victoria is looking good in this match. Nice reversal from Trish to nail the Chick Kick for the win.
Trish retains the title, but the way that Victoria has been as of late; she will not let it slide. I am sure that she will have another opportunity at the title someway or another. Above average women's match, I would have enjoyed it. 7.5/10

I do not know why, but Carlito spoke for JBL. Great promo, but nothing like what Eddie would have done. RIP

Tag Team Challenge:
Brotherhood vs. Booker T, Goldust & Eugene

The whole team made up of weirdos is dominating! Eugene gets his signature antics in early, suggesting to me that the isolation will be coming soon. Ah, Teddy breaks up any hope of Eugene going for the leg drop. I am sure that he will intervene on behalf of the brotherhood soon, since they are not faring too well. Eugene was demolished until the Hogan act and the spin – a – roonie!!! I can never imagine Eugene doing a spin a roonie. It would look horrible. OJ breaks the count on the Book End. These are perilous situations as this is how catastrophe always breaks out for faces. Booker vents frustration on Jazz and Long, but he better be careful. Booker almost wins, but Henry breaks the count! Disqualification!!! I am sure that they will complain on Raw that they were mistreated. They just leave the faces down and out.
I do not know if you are going to continue this feud or not, but I am sure that you have something contrived for the brotherhood. Maybe a tag team match against TWGTT. I do not know how Mark Henry has been the catalyst though. The match was decent, but you really cannot do much if the best man in the match is Booker T. 7/10

I want to see Cena with another run, a short one though.

Yup, Edge is almost a heel. Oh I get it; both men are upset about having been screwed for a while.

Challenge Match:
Edge vs. Rob Van Dam

It is very visible that Edge is turning into a heel in the ring as well on the microphone. The slap was very heelish. I can see Edge as a heel soon, but I cannot envision RVD as a face soon.
Man, both these guys are intense!! Leapfrog to escape the spear is RVDesque. RVD may be a heel on the stick, but he cannot be a heel in the ring with his phenomenal arsenal of moves. RVD has a burst pulling off many signature moves. Robby is pinpointing the knee. I would have thought that would have been Edge's point of attack though. Edge is susceptible all over the place. Buzzkiller … but no pin! I am surprised that Alfonso has not been a factor yet. RVD tries to run away?? I guess it is heel for him. Edge with a suicide dive!! That is quite risky for an injured man.
Got to love it when RVD is in control, the fast paced action is great, plus all the aerial maneuvers. Oh, Edge plays possum and RVD is left to dry. Spear … no avail! RVD misses the five star, but he still wins!!!
That is the perfect ending for this match up. Two upset guys, one will be happy now, and now Edge will blow steam all over the place. What a terrible loss for Edge! He had RVD hoodwinked, but RVD still won. I am not thinking a RVD face turn, though he looked like a face for the majority of the match. A very strong effort here, great match! 8.5/10

Do your commercials hint at the future?? I would love to see a Hell in a Cell match.

Who is Edge going to blow up next?

World Tag Team Championships;
Ladder Match:
The DX Duo vs. The World's Greatest Tag Team

This one has classic written all over it. I just hope I can keep everyone straight with it being a tornado match. You are not wasting anytime at all. Neckbreaker off the ladder is not exactly what I would like to see. One, I just find it highly unprobable; and two, it seems like a jobber move to me. However, the Russian leg sweep off the ladder is great innovative move. Cade gets some retribution with an agonizing super atomic drop!!! That has got to be brutal. Shelton sure is taking a lot of the punishment. Another great spot with Jindrak rebounds off the ropes before pushing Haas, but Haas tips the second ladder over!!! Sort of weird that Cade stands but Benjamin does not, takes away from the times that he can.
You really took that guillotine to a new level. Are all ladder matches spotfests?? I thought that Jindrak and Cade had the challengers, but they come back. You have done well in the regard I do not know who is in control. Cade is beaten, like a government mule!! Side suplex!!! An amazing spot by Benjamin!!! Almost like Rey Mysterio at Summerslam 2005, but better. I see the Wrestlemania XXI spot the way that this thing is going.
Oh baby, I called it. Before DX can grab the belts, Benjamin executes the Wrestlemania XXI spot as it was set up for him!! Haas is getting some action as well, so all four people are taking beatings and dishing them out. Powerbomb off the ladder has to take Benjamin out for a good time. He is up rather quick for me. Catapult into the ladder is one of my favorite spots, probably since Benoit does it to Triple H all time when he reverses the Pedigree.
Benjamin is taking way too much punishment. He should easily ascend to a big time face after this match. I was not around during the triangle TLC, but this has got to be just like it with all the spots involved. Haas saves it with the German suplex. I think you are going overboard with all the moves off the ladder. Tipping the ladder more works for me. Just seems like a ladder move all the time, must have been the same way for you when you read my ladder match. TBone off the ladder is quite plausible since it was done before and Benjamin takes most of the pain for it. I would not be surprised if all these guys are dead within the next five minutes. They are out of it. At least it is real in that regard. Getting the tables involved is very interesting, I sense danger soon. I did not see that coming, I really did not. Benjamin sacrificing himself for the tag titles!!! They win, but not physically. All four men are dead.
You made Benjamin look like superman. Everyone else looked better than usual, but Shelton was beyond unbelievable. He does not fit into the tag division. I hope to see him move through the ranks after his, but hopefully not another Haas and Benjamin feud, that is getting to be quite hackneyed, even with Benjamin as a heel.
The match itself was great, should be the one that I remember for a long time. The one major complaint that I have is that it just felt like there were too many ladder moves. Every few minutes, there would be a major move off the ladders. I have only seen one in my life, so I am not a great judge on this, but that is not how it should be. Besides that, it was superb!! 9.25/10

The Fully Loaded card is looking good. It benefits you not to write it though.

Dissension between DX!! Shame to see them break up, so many comedic moments.

You hyped the Royal Rumble at least. I am not going to berate you, everyone else did for me.

Past vs. Future:
Sting vs. Batista
Now that I look at it, I like your writing style. You only use the dots if it is after a move that might generate a three count. I do it after an elbow. I might adopt it, partially.
Batista dominating the proceedings early is the way it should be. I really do not see this being a long match, I also see Sting leaving soon. Before Sting really gets going, Batista drops him like he is hot!! Great counter from the Military press to the Scorpion Deathdrop. I will admit that I have never seen Batista perform a press before. It does suit a heel Batista though. Batista kicking out was needed, as Sting cannot win the match. Batista wins with the Batista Bomb, well done.
You really could not have made this a long match. Batista needed the win with the current storyline, and Sting is on his way out the door. After some fantastic matches though, this looked weak. Sting really did not get much in. 7.5/10

Rumble in the Garden should have some history I am not sure of.

Cool Carlito interview. Lloyd got lucky.

At least you still use Jim Ross, too many threads have succumbed to Joey Styles.

Intercontinental Championship Match:
Rey Mysterio vs. Carlito

Last time the IC title changed hands on a PPV was Armageddon 2003. Could happen again..
I can see Carlito getting upset early in a Rey match since Rey can make him look silly. Alley oop?? Since when did basketball get incorporated into wrestling? Yea!! Stacy's legs!!! Cheating part was done well. Thank you Wolfy, you taught me a new word. "Disingenuous." Not really, I know what ingenuous meant. Never saw it in the contradictory form. Funny, you taught me incorrectly, it is misspelled.
Carlito is in heel form. For some reason, in every Rey Mysterio match, WWE or booking, Rey is always dominated. It honestly gets banal after a while. Pinning combinations always add a special feel to the match though. Cool, Rey does a moonsault to both Stacy and CCC. Hopefully, the match will ameliorate itself from here.
Rey is in character with all the kickouts. Dropkick has been overused in this match and in the whole PPV. They are making punches look out of style. Here is Rey with the comeback, hopefully he can win. 619!! I hate you Stacy!! Let destiny play out!! That is all she wrote, go to hell Stacy.
You used Stacy well, as she was the deciding factor. I wish Rey would have won, his run as champion was great. It really leaves a question for where he is to go from here. He can stay here, or go for the world title. Tough question! It was a good match considering that Carlito was offensive the whole time and he does not own a large repertoire. I still resent Rey being dominated silly. 8/10

Christian has been dubbed as the myth murderer!! Great name, also includes alliteration!! I have no idea who is going to win. Tomko seems to be exasperated of Christian though.

Legend vs. Legend:
Ric Flair vs. Undertaker

Undertaker sits up early!! Long night for Flair!! At least Taker can mount some offense. I hope a decent match is not ruined by the intercession of Batista. Flair is doing well to exploit the rules. Brass knuckles are classic Ric Flair, but as usual, they do not do the trick, a la Randy Orton at Taboo Tuesday. Flair is never successful from the top rope, I believe that makes him zero for three thousand and two. It had to be expected, but Batista makes the save for his teammate.
Batista does his part. I hope that is all. Oh no, figure four!! All odds against Taker even more now that Batista does not have any intention of departing. Flair takes Batista out with the chair!!! This is what Deadman needs. I am quite confused right now. I am sure that Deadman would receive a DQ for using the chair on Batista, part of the match or not. I do not know for sure, but it was the way to end the match. Undertaker finally gets a win on a PPV after Christian owned him.
Match was very well done between a combined age of one hundred. Interesting to see what will happen with Undertaker now. 8/10

"Under the influence!"

Randy Orton vs. Christian

This is one of the matches I am looking forward to the most. What you are planning to do is beyond me. Orton has just had a huge face push, defeated countless of people, and has come close to the world title on more than one occasion. Christian has defeated the Undertaker four times in four months. It would not be right for anyone to lose.
Tomko will obviously have a role to play. Christian and Tomko combine to work together. Christian almost with an early Unprettier!! I think the Unprettier is one of the most devastating finishers. It does not make much sense to kick out of one. If Christian hits one during the match, it is lights out for Randy Orton.
Just to inform you for the fifth time now, Orton's modified neckbreaker/backbreaker is officially called the stretch backbreaker. I have counted three swinging neckbreakers in this match so far. Slapping hands with the fans definitely shows face status. Ouch, Christian eats the steep steps, and then plows the security barricade! The move that both men in this match are renowned for are their dropkicks.
Christian exposes the turnbuckle. This would not be done if it is not to be used later, but will it bite him in the butt? Why are you incorporating French words??? Tomko will help Christian I guess. It will be interesting to see when he turns on his though, if it happens. Tomko with the slam on the outside!!
Christian's anger may go against him. Everyone non – fall from now, he is bound to be pissed. I like the chair in the match, but I think it might have been better if Tomko had given it to Christian on a silver platter. Orton's cross body cannot pick up the fall. I wish he did it more often. The fans cheer the forearms? Fans are quite wishy washy then, they always boo them. Another neckbreaker?? Wolfy!! I am consternated, did Christian just hit Orton's backbreaker on Orton, or did Christian perform a backbreaker this is his, but I have never seen? Good spot where Tomko and Christian both hold Orton down … to no avail!
RKO into a DDT! Both work, but Christian kicks out! Orton is going to have to eliminate Tomko soon. Some more distraction by the billygoat!! Christian exploits them, into the Unprettier, but the referee is not there. See you later, Tomko! Orton kicking out here made sense as he was down for a few seconds. As always, a surprise RKO!!! That was almost like Summeslam 2004. Orton wins, Orton wins!!! Better yet, a face Orton wins!!
Beautiful match, full of some great moves! Christian and Undertaker sort of lost legitimacy though. Orton will go deep in the rumble. Fantastic match, this and the ladder match are the most scintillating of the night. A real joy to read is meritorious of a 9.5/10.

Cena is perfectly in character.

World Heavyweight Championship Match:
Last Man Standing Match:
Shawn Michaels vs. John Cena
Popcorn and beer are interesting, but really useless. I do like that the fight is not taking place in the right, you have to exploit your surroundings. Good to see that you are not superfluous with the counts. You are going to be realistic. Superfluity killed the only Last Man Standing Match I have seen in my life, HBK vs. HHH at Royal Rumble 2004. Triple H would punch HBK in the forehead once, and HBK would fall to the mat for the nine count. Superfluity is a pretty cool word.
Low blow!! This must be the heel HBK. You have to teach me about the heel HBK, because I need him to be the top heel on my Raw. I am a troglodyk on the heel HBK. HBK seems to be targeting the knee of John Cena, which is a brilliant move on his part, since Cena has been injured there before. CONCHAIRTO! It also is smart on Michaels part because Cena will find it tough to respond to the counts with a weak knee. Cena picked the stipulation, so he should rise to the occasion.
If Cena is to punch the chair, I am sure that he would break his wrist, especially if the chair was in motion. That is unless he used the brass knuckles. Wolfie, you are thinking!! Instead of tainting the match with the frequent count outs, you are writing them horizontally. Announce table could be perilous. I do not like the ringbell because you have used it already, and it is not like the chair that can be used excessively, at least in my mind.
Your mid – count descriptions are quite realistic, well done. This is exactly what I meant by the Triple H and HBK match, a simple move will generate a six count somehow. Think about, a knee! You should have just done a horizontal count for that one. This is the second Last man standing match I have read of yours, (the first being HBK and Angle in the last match of the tournament), but this is one flowing the best. Chair shots are boring me to death right now, utilize something new. I understand not using the tables, because they were the deciding factor in the tables match, but this is getting trite.



Quote:

Originally Posted by The Best Booker Ever

John Cena though, isn't interested in allowing Nick Patrick to issue the count, and quickly scoops Cena off the mat, gripping him from behind, and connects surprisingly, with a German Suplex!!! John Cena takes a moment to get back up, and wipes his forehead, clearing his eyes of blood, whilst Chioda begins his ten count

Just wanted to point out that you put Nick Patrick instead of Mike Chioda there. Sorry to be so meticulous about every detail, but that is my nature.
Cool, we are at the nine counts, I cannot wait to see what ends this match. F-U!! I am sure this will not do it, but HBK is on a spiral downhill. As much as it does not make any sense to have a finishing move after getting up after a nine count, I am contempt with the Sweet Chin Music, because that is how HBK rolls. Oh no, HBK goes right through the table!! Major mistake there, now it is time for Cena to take over.
HBK nips up?? Okay … there is not a such thing as an HBK match without him nipping up, but you chose the worse possible time. He just flew through a table. It is better when he is on the offensive. Oh goody, the EMPHATIC five knuckle shuffle will keep HBK down. I do now know how that can keep anyone down for one.
Chair is just hackneyed beyond belief this PPV. Sweet Chin Music and the flying elbow!! See you Cena!! Never mind, he is up after the meritorious nine count. I like that HBK grabbed both belts to commemorate his almost successful title defense. It also adds a new weapon to the wide array that have been used. What a spot!!! What a spot!!! The FU through the Spanish announce table from the Raw announce table!!!!! Now that Wolfie, is an emphatic move!!! I knew the Raw announce table switched positions for a reason. It is all academic from here, 1 – 10!!!
Cena wins in his hometown, I did not see it coming! Brilliant match for most of the way through Wolfie!! For some reason, I just went on a criticizing rage. Sorry about that, for some reason I was finding all the negatives instead of focusing on all the positives. I do not know how you write a Last Man Standing Match for fifteen pages though, seems impossible. The more impressive part is that I was entertained the whole way through instead of having vapidity throughout the counts. A great main event on a great PPV!! 9/10


Entertainment:

Enjoyable show!! Three matches that I will remember for a long time, Last man standing, ladder match, and Orton vs. Christian. This is a close call, but this edges out Great American Bash by an infinitesimal amount for the best single – brand PPV that you have written. 9.25/10


Bottomline cause Arjun the Omniscient says so:
A real joy to read! A great effort on your part on what will probably be your final single brand PPV. I do not know how you do it. There were a few problems such as hackneyed weapons and moves, plus some anomalous spelling falters, but besides that, I cannot blame you on anything. This was probably the most harsh review I have ever administered, but you still scored well. A scintillating PPV!


OVERALL = 111/130 = 85.38% = Not fitting, I have to revert back to softness. Meritorious of a 95%!
Re: Being the booker
---
Nice opening match as it sets the tone for the rest of the show and puts another win for Carlito. Christian interferes and cost Mysterio the match which I think we have a feud coming soon

Intresting promo by Flair about the Royal Rumble Match and this lottery next week should be intresting. But I wonder what the big announcement at Fully Loaded will be

I'm liking that you are using the pissed off Edge. It was great when the WWE used it and I like it now. Anyways, he feels that he has been screwed and I can't wait until the main event to see what he does

Eugene finally got some revenge for the past month after the beatings he has taken from the Brothehood. I could see one more final match with these men at some time or another

The Fully Loaded segment was nice with Christian being attacked by Mysterio, Van Dam trying to swear and HBK doing the crotch chop at the end would have been funny to see

Nice title defense for the champions and gives the titles some more credibilty. Two succesful defenses is good and I'm positive now there will be some type of Brotherhood vs Eugene and BookDust rematch

Here's the announcement and whoa! A First Blood Elimination Match! That is going to be something to see and I see Brotherhood picking up the win next week to close the year out

Undertaker's promo got the point across and just those few words can strike fear into somebody. Cena vs Undertaker at the Royal Rumble certainly will be intresting to see

Rhyno vs Batista was just basically a brawl. Batista sure proved that he should be going to Fully Loaded after that match and what a roll he has been on as of recently

John Cena interview was nice and built up the main event well. Not much comments on Undertaker and I'm intrested to see how this match is going to start building up

Main event was great and very fast paced. Nice to see the faces pick up the huge win and Edge turned heel! Finally after the past couple of months, Edge has turned heel!
Tag Teaming With James Ellsworth
Join Date: Mar 2005
Posts: 1,214
Points: 0
Re: Being the booker
---
Raw Review

Great way to start off the show with the IC Title Match. Unsurprisingly Carlito wins as it is too early to end Carlito's reign, Christian comes out at the end and it looks like he will face Mysterio possibly at the RR.

Decent promo here and it will be interesting to see what Vince's announcement will be.

A heel turn looks definite for tonight and i think he might cost his team the match probably.

Good win for Eugene getting one over the Brotherhood, but then Henry and Orlando come out to attack Eugene. Booker T and Goldust come out to save the day and I'm sure there will be a match soon between the two teams to end the feud.

Great promo here with some good comments by all 5 men. Van Dam's part was good and a little funny as he said he didn't need 60 seconds but then complains that he didn't have 60 before going for the F Bomb but being cut off. Good comments by Batista but i don't expect him to win the voting. Christian tries to speak but gets into a brawl with Mysterio. Some interesting comments made by HBK and he fails to say Suck it at the end. And then we then get an Orton Legend Killing speech. I think the it will be between Orton, RVD and Christian.

Good match here and good win for the WGTT after a bit of help from the Brotherhood furthering the feud between the Brotherhood and Booker/Goldust and Eugene.

Good typical Taker promo trying to play mind games with Cena.

Good win here for Batista proving his point on why he should be the man picked for the Gauntlet Match.

Good promo here from Cena with some nice comments by him. Good to see that he sounds very nervous about his match with Taker but i expect him to win the match.

Great Main Event with a great ending with Orton getting the win after Edge doing the damage. The Edge Heel Turn finally happens after the match and it could to a possible Edge/Orton match.

Overall it was a very good show and i look forward to both Fully Loaded and RR 8.25/10
Tag Teaming With James Ellsworth
Join Date: Apr 2005
Posts: 1,710
Points: 0
Re: Being the booker
---
Great opening match. Stacey uses her great legs to distract the ref. Christian nails Rey in the back with a steel chair, which leads Christian to get the victory and remain the Intercontinental Champion. Great match.

Huge announcement from Naitch. Will Smackdown also, get five random spots as well, or what though? Fully Loaded should be a good PPV, although it will be in summarized form. Looking forward to it.

Great promo from Edge. Edge looks determined to make an impact on Raw, and win the Rumble, and as much as I can't stand Edge at times, I don't blame him.

Eugene wins the battle, but losses the war. The Brotherhood is being pushed well, and I'm loving it.

Great segment with the five guys. Christian gets chased off by Mysterio after being attacked earlier. Honestly I see Mysterio and Christian at the Rumble, in an undercard match. I'll send my votes, by week's end.

The WGTT remain the champs, thanks in part to Henry and the Brotherhood. I see a payoff match at the Rumble, to end this once and for all. Scratch that, we got it next week in an unbelievable six man tag elimination first blood match!

Unique Undertaker promo, and I guess Taker is somewhat a heel in this role. Expecting an insane match between those two at the Rumble.

Batista wins in a great match between Rhyno, and I like that Rhyno is still being used in a sense in your thread.

Different kind of promo from Cena. Though in real life, some of the lines would have to be changed, it came across great.

Well, after all of the teases, Edge is finally a heel. Excellent match, and now Edge looks to be on a roll heading into the Rumble.

Excellent show as usual from you Wolf. If possible, can you please review my Rumble event and my Homecoming show that I've just posted last night. Thanks. 1!
---
[U]KOM has returned to BTB with WWE 2007: The Legacy and Aftermath of WrestleMania!
[U]
Chopped Liver
Join Date: Jan 2004
Location: Six inches from a computer screen
Posts: 5,433
Points: 321
Re: Being the booker
---
Thank you all for the replies for Raw, just thought I'd quickly shill the Fully Loaded voting one last time, as I was tallying the current votes, and there is 0.4% between 1st and 2nd place. The other three basically have no chance now, unless there is a minor miracle.

CHOOSE THE RAW SUPERSTAR TO REPRESENT THE BRAND AT SMACKDOWNS 'FULLY LOADED' EVENT ON DECEMBER 18TH:

BATISTA - CHRISTIAN - RANDY ORTON - ROB VAN DAM - SHAWN MICHAELS

!!!VOTING CLOSES IN 24 HOURS!!!

Please cast votes via PM, and preferably in an order of 1,2,3,4,5. With Number 1 being your first choice, and Number 5 being your last choice. If you have voted already, and want to change any of your votes, feel free to do so - one last chance to vote.

--------------------
And on another note, albeit completely random to mention, but reports suggest that WM 23 could be headed to Ford Field (the site of Superbowl XL) which is where I held my Wrestle Mania last year
Re: Being the booker
---
The actual Wrestlemania in Detroit?? They have got to be kidding me!! That is one of the worst cities there is. You cannot hold Wrestlemania there. I cannot believe that they are holding the Super Bowl there, it should be in a warm weather place. Detroit is in proximity with Chicago too. Why have two Wrestlemanias miles from each other?

Anyway, cannot wait to see who won.
Chopped Liver
Join Date: Jan 2004
Location: Six inches from a computer screen
Posts: 5,433
Points: 321
Re: Being the booker
---
Voting has closed in the Fully Loaded voting. There is one clear winner, scoring 24.7% of the voting. Second place scored 22.1%, Third place got 20.1%, 4th place was 17.7% and last place tallied 15.4%. Find out who scored what at Fully Loaded though. Some of the positioning might come as a surprise though.

I'll post this SD recap now too...


Smackdown; December 15th; Nashville:

Chris Masters defeats James Storm in one on one action, after a distraction from Simon Dean leads to the Masterlock. Harris chases Dean out of the arena, but Storm falls victim to the submission. We are told the two teams will meet this Sunday at Fully Loaded.

Chris Jericho presents the Highlight Reel, with his four Smackdown opponents for Fully Loaded as guests, but Goldberg doesn't show up. And in between sniping at each other, they run down the 5 possible guys from Raw that could be in the match, with Triple H stating HBK wouldn't stand a chance against him, and that Orton and Batista were made by The Game, and if they crossed paths, he's break them.

Jericho admits he'd prefer HBK to be chosen so he could shut him up once and for all, whilst Austin would like Christian for the same reasons. Matt Hardy doesn't state a preference, instead he claims that Fully Loaded is his night to reach the pinnacle, and earn a title shot at RR. This leads to a total breakdown between the four men, with Goldberg then taking his chance to strike, which he does, and slides into the ring, spearing Austin!!!

The in ring brawl ends, with Jericho and Hardy teaming up to taking HHH out of the ring, whilst Goldberg flees through the crowd before Austin can get back up.

Paul London defeats Akio, with Maven watching from the ramp way. After the match, Maven announces that they'll meet again at Fully Loaded, and this time, Maven claims he wont just win the match, but he'll end London's career.

Backstage, Kurt Angle pesters Bret Hart once again, telling him how big a match between them would be. Hart nearly snaps, before calmly telling Angle that if he wants to face Bret so badly, maybe he should play Smackdown vs. Raw, because that's the only place it'll happen.

Jamie Noble faces Kurt Angle, with Angle picking up the win in a highly competitive match. JBL runs in to cost Angle, but Angle had already seen him, and caught JBL with the Angle Slam, before making Noble tap out. Angle gets a mic after the match, and tells JBL he doesn't really want a title at the minute, as he has other more important goals, but for the fun of it, he'll make JBL tap at Fully Loaded.

Backstage, ahead of a six man tag match, Rico attempts to have Chris Benoit insert a special pink AFA fake tooth, to cover his gap. Benoit funnily enough, politely declines the offer, before leaving Ron Simmons to explain to Rico why that type of thing just wont sell.

The 3 members of the Dudley Clan defeat three jobbers in a 6 Man Tables Match as a taster, and preview of what's to come at Fully Loaded when they meet The Bashams and Noble in a tables match for the CW and Tag Titles. The Bashams watch backstage on a monitor, and look less than thrilled with the possibility of that match on Sunday.

In an interview with Snitsky, the deranged monster goes into depth about what he wants to do to Benoit at Fully Loaded, talking about taking his insides out, and shoving them down his throat, before concluding that whatever happens to Benoit WILL be his fault.

Snitsky teams with Test and Steiner to face Benoit and The AFA. In a fairly entertaining contest, thanks to Benoit and the antics of the AFA, Snitsky leaves his partners, just as Benoit was looking to get some of Gene, but Benoit picks up the win over Test, making him tap to the Sharpshooter.

Brock Lesnar and The Rock engage in a war of words in the ring, just mainly going through the motions to build up the title match at Fully Loaded, with both men claiming to have the edge in the match. Brock, because he has past wins in title matches over Rock, and Rock because right now, he's on the roll of a lifetime. They end the showdown with a stare down, neither man backing up.

In the main event, Chris Jericho and Goldberg wrestle to a no contest, after Triple H gets involved, attacking both men. Matt Hardy then runs out to attack The Game, leading to a four way brawl. Finally, Steve Austin runs in to a huge pop, making a beeline for Goldberg, nailing him with a Stunner. Austin then goes on a stunning spree, hitting the move on Jericho, Hardy and The Game!!!

He takes a mic, and tells the fans that it doesn't matter who stands in his way, or who gets picked from Raw, or even what entry he gets in the Gauntlet, Steve Austin will be whooping ass in Dallas at Fully Loaded, stomping a mud hole, and walking it dry, and that's the bottom line!!!

Austin drinks a number of beers as the show ends with him on top.

Official Card for WWE Fully Loaded:
Date: 18th December 2005
Location: American Airlines Arena; Dallas, Texas
Event Music: Waiting, Not Forgotten

WWE Championship Match:
Brock Lesnar vs. The Rock

WWE United States Championship Match:
John 'Bradshaw' Layfield vs. Kurt Angle

WWE Tag Team & Cruiserweight Championship's; 6 Man Tables Match:
The Cabinet (Basham Brothers & Jamie Noble - All Champions) vs. Dudley Boys


#1 Contender for WWE Championship @ Royal Rumble; Gauntlet Match:
Triple H vs. Chris Jericho vs. Steve Austin vs. Matt Hardy vs. Goldberg vs. One Raw Superstar Chosen by the fans (Christian, Shawn Michaels, Rob Van Dam, Batista, Randy Orton)


Tag Team Match:
America's Most Wanted vs. System Success

Grudge Match:
Chris Benoit vs. Gene Snitsky

One on One:
Paul London vs. Maven
-----------------------
Feel free to leave any predictions, but the show wont be in full ... however, there will be one promo done in full.

News and Notes:

Reports are indicating that WWE have agreed with Shinedown to perform at Wrestle Mania Twenty Two in Las Vegas. It would obviously mean that the band would be providing WWE with the official theme song of Wrestle Mania too.

Right now, Sting is set to see out the remainder of his contract from home. He was frustrated with his role on Raw, and it appears the decision was made before Armageddon, as he was comprehensively beaten by Batista. There is of course a chance that Sting will be back for a match at Wrestle Mania, but that would appear unlikely at this moment in time.

After this weeks Raw, it appears that in the lead up to the World Heavyweight Championship Match at Royal Rumble, that The Undertaker will be playing the 'heel' role, as he challenges John Cena, in a face vs face match.

Christian and Rey Mysterio as well as Edge and Randy Orton are expected to feud into the Royal Rumble, but neither feud is expected to result in a match at the event, with all four scheduled for the Rumble Match itself.

According to reports, a number of ex- WWE stars are in talks for an appearance at the Royal Rumble. This is likely for a surprise entry, or possibly some other role.

There also appears to be concern in the Smackdown locker room over the strength of their roster. Right now, the brand has struggled to put together a line up for the Fully Loaded PPV this Sunday, with the writing team having to revert to use a Raw superstar at the PPV. This is the final single brand PPV before Wrestle Mania, with no event in February, but Smackdown is likely to be the brand to benefit from a draft after Wrestle Mania, with the likes of Steve Austin and Goldberg unlikely to stick around after then.

Another Las Vegas themed Wrestle Mania vignette is scheduled to be taped this weekend, with the commercial to be shown at The Royal Rumble. It has been reported that the theme of this commercial will be based on a WWE hotel in Las Vegas.
---
Last edited by Wolf Beast; 02-01-2006 at

04:54 PM

.
Re: Being the booker
---
Nice little recap and I read the other day and I have to agree, Smackdown is struggling with star power so I can understand why you have decided on recapping it recently but anyways, here are my predictions for this Sunday's ppv, Fully Loaded

WWE Championship Match:
Brock Lesnar vs. The Rock

I feel since Lesnar won the title just a month ago that he definently needs to find a way to win tonight. Plus with a win over the Rock, it could work wonders for him and I'm not sure what the main event for WM for Smackdown is going to be but I could see Lesnar in it

WWE United States Championship Match:
John 'Bradshaw' Layfield vs. Kurt Angle

I'm going to come out on a limb and say that Angle will find a way to win the title somehow for a brief run with it. Maybe a month long reign but Angle need something to do before the real buildup to Angle/Hart at WrestleMania officiailly starts

WWE Tag Team & Cruiserweight Championship's; 6 Man Tables Match:
The Cabinet (Basham Brothers & Jamie Noble - All Champions) vs. Dudley Boys

Tough one to call but I am going to go with the Cabinet on this one because I see them beating the Dudley's at their own game. Bashams and Noble just got the titles and it would hurt to see them lose them that soon


#1 Contender for WWE Championship @ Royal Rumble; Gauntlet Match:
Triple H vs. Chris Jericho vs. Steve Austin vs. Matt Hardy vs. Goldberg vs. One Raw Superstar Chosen by the fans (Christian, Shawn Michaels, Rob Van Dam, Batista, Randy Orton)

I believe that whomever the Raw superstar is, he is going to find a way to go onto Royal Rumble and face the WWE Champion. It would be an intresting scenario and I wouldn't mind seeing it but as I said, whomever the Raw superstar is will win


Tag Team Match:
America's Most Wanted vs. System Success

Not much to comment on but they have had their past and this is a toss up so I am going for an upset

Grudge Match:
Chris Benoit vs. Gene Snitsky

The road to WrestleMania will be starting with Benoit and seeing as you are a big fan of his, he could play a big role at WM. Hopefully. this will be the start of better things for him

One on One:
Paul London vs. Maven

This will be London's chance at revenge. I definently see London getting the win here since Maven has already beaten him once. Hopefully, this will be over after FL
Chopped Liver
Join Date: Jan 2004
Location: Six inches from a computer screen
Posts: 5,433
Points: 321
Re: Being the booker
---
Thanks KOP. For some reason, that SD recap didnt show up as a new post on the main BTB page. W-E has been pretty messed up the last few hours for me at least ...
Posting Rules

You may not post new threads

You may not post replies

You may not post attachments

You may not edit your posts

---

HTML code is Off

---