Tag Teaming With James Ellsworth
Join Date: Mar 2005
Posts: 1,214
Points: 0
Re: Being the booker
---
Raw Review

A very good opening promo to start off the show with Cena celebrating last night's win only to be inturupted by Flair. It looks like Flair is about to challenge Cena and out comes Rhyno and he gores Cena

Good match to open the show with Cena unsuprisingly retaining the title.

Solid promo here from Edge and i think he will go quite far at the RR

Good win here for Trish retaining her title again

Good promo here, looks like there possibly will be a DX Split?

Flair is angry and he strips Rhyno off the title. It looks like there will be a feud between him and Cena soon so i have a feeling that Batista will win the Battle Royal.

Good win here for Ken Kennedy continuing his unbeaten run.

Another solid promo here by Carlito but i don't expect him to win the Battle Royal tonight.

Good win here for Edge, getting his first victory since comeback, it will be interesting to see who you make him feud with.

Intresting promo here and looks like Flair will want to take the Smackdown title to Raw if the Raw wrestler wins the title

No suprises here as the Worlds Greatest Tag Team Wouldn't lose their titles this early in their title reign.

Great promo here and looks like there will be a Christian/Rey match soon. Possibly at the Rumble?

Great Main Event and am a little suprised to see Taker become the Number 1 contender. And Cena is going to have a very tough time getting by the Deadman. Sure it will be a great match

Overall a good show here 8.25/10
Years I've Been a Fan > Years You've Been Alive
Join Date: Jun 2005
Location: Kansas City - At the Argosy, Playing Blackjack with Harley Race
Posts: 808
Points: 0
Re: Being the booker
---
I'll have you a review soon enough Wolfy. Just finished my last double shift at work, and I'm finally free!! I have promised KOPV1 and Forever Delayed Reviews first. I may do them all tonight, if not look for a review by tomorrow night. Should be a phenomenal show!
---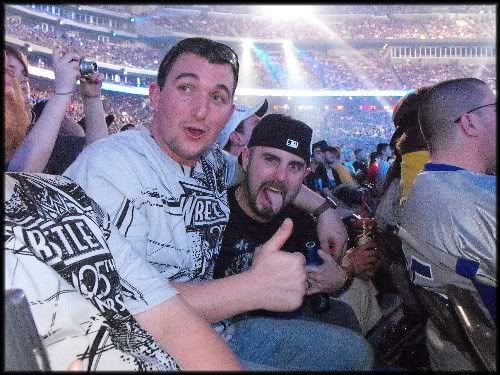 Re: Being the booker
---
alright, this RAW should be spectacular.....

Nice playing to the crowd from Cena early on, only to be interrupted by the Nature Boy. O boy, Flair is getting ripped into, and Rhyno! Man talk about huge pushes from nowhere, WHC match right now! And Rhyno dismantled Cena, but Cena comes out the winner. Awesome way to kick things off.

Hmm, Edge is not a happy camper, and the fans truly don't like him anymore.

Nice to see Gail Kim and Molly Holly around, and not Candice & Torrie wrestling. Trish retains and she could have a lengthly run as champ, or lose it to Gail which wouldn't be a bad thing.

LOL! Cade & Jindrak are idiots. And HBK is not happy at all. Maybe DX splitting up, or on the verge?

Well, I think we are going to see Rhyno turn face and side against Flair with a few others like Taker, Orton and so on, which will be a good change of character for the Manbeast.

Another win for Kennedy, and he seems to be on a roll heading into the Rumble, although he won't win it.

Ha, Carlito pwning Lloyd with the apple. Another guy just thrown into the battle royal to make up the numbers.

So Edge is in the rumble and the fans are still booing the hell out of him, yet he doesn't seem to want to go fully fledged heel yet. Interesting.

Evolution are scheming something, and the lack of respect to the Hardcore title is awful, in the trash can. I see ECW coming back maybe, with Mick Foley?

A nice win for the WGTT over Dupree/Kenzo.

Another excellent confrontation between two major tier superstars on RAW, I see both men in the Rumble, because something just doesn't feel right with HBK winning.

Funny stuff from Christian, brilliant line on Rey with "You must be this high to talk to Christian" hilarious. Ha, he's still insulting Rey. And Rey gets dominated by Tomko/Christian and left out.

A mad start to the battle royal, with this Brotherhood vs Booker/Goldust/Eugene fued continuing, and maybe another match at the Royal Rumble to end it?
There goes A-Train. And RVD and Carlito go in quick succession, and we are down to 4. Please god not Batista. Alright! Batista is gone. And Orton is gone thanks to some cheap tactics from HBK. And Undertaker is going to the Rumble to face Cena, in a blockbuster matchup.

Awesome RAW coming off the heels of Armageddon. Top stuff 9/10
---
***

Re: Being the booker
---
By the way Wolfy for reviewing your PPV you said you would give a review to anyone who reviews you rppv's so since my Judgment Day isn't going to be posted for another 6 or 7 Smackdown's in my thread I wouold just prefere for you to review my next Smackdown and if you ould the one after that but if all you can review is one Smackdown then that is fine to.
---
I'm watching you...


Re: Being the booker
---
Opening promo and first match is something I really enjoyed, you brought out the actual character of John Cena here in my opinion, where he was someone who could conqueor all odds and such. Really like how the match was written to have Cena come back to win it.
6/10

Nice lil promo going on by Edge

Then a nice short womens triple threat, nothing special, and Trish just retains title at the end of it.
5/10

Haha funny promo with the DX members I really liked it.

Nice match between Hurricane and Kennedy, like how Kennedy took the upperhand to slow it down and wear Hurricane down for the pin.
7/10

Edge comes back strong in the match with Luther Reigns to finally get a win under his belt since his return.
7/10

WGTT v. Kenzo and Rene was a interesting nice matchup with WGTT coming back for the win.
7/10

Liked the promo between Rey and Christian, Christian came across real funny and I liked that. Then a nice brawl breaking out.

After a brutal and very nicely return battle royal Undertaker is able to take over HBK and eliminate him to get the win and the shot for the title, nice, always nice to see Taker in the hunt.
8/10

Nice show I liked it alot.
7.5/10
Tag Teaming With James Ellsworth
Join Date: Jun 2005
Location: Sidford, England
Posts: 1,864
Points: 0
Re: Being the booker
---
Cena opens the show to the surprise of absolutely no-one at all. Nice opening stuff from Cena, and he gets another run with the title, but I cant see him holding the belt for a long period of time. Out comes Flair, and Cena gives some nice put downs on him. Rhyno accepts the challenge of Cena, and we have a match to open the show.

Cena gets the obvious win in the match, which was a nice way to start the show

Edge is on the verge of turning heel, but he needs to turn heel soon or this angle could get a little difficult to do. Maybe 1 or 2 weeks away from a full heel turn

Good win for Trish, which was obvious after winning last night. Good to see her title reign carry on

Definitely a lot of tension in DX. Cade and Jindrak will probably still be idiotic even if they try to be serious. Hate to say this, but I think DX is on borrowed time

Flair strips Rhino of the belt. See a face turn from Rhino coming from this, maybe to get a bit of revenge on Flair. But if Flair wants Cena to lose the belt so badly, why not strip him off the belt? Make sense doesn't it…

Kennedy beats the Hurricane. Another win for him, but he needs to start a feud or wrestle a big name to continue to get over any more with the crowd. Although he is overrated, he will do a good job in the mid card

Nice Carlito interview, but the chances of him winning tonight are about the same as me winning the match. Aint going to happen…

Edge gets a win, which must come as a surprise to him. Interesting the reaction from the fans, and a heel turn is on the way, but who will he turn heel on – a wrestler or the crowd?

Incorporating the power 25! Love it, even though it is total nonsense most of the time. Interesting concept with the vote from the fans, and i will have to think about who I should vote for.

WGTT defend the titles in a match that no-one expected them to lose. Nice start to a title reign, but other than DX and the brotherhood, there isn't many challengers

Edge and HBK to feud? Liked the comments from Edge, who is great on the mic

Good promo from Christian, with the excuses for the loss last night. Christian is more popular than Orton – he has to be. Great lines to Rey, and it looks like we have a short feud but both guys will be in the rumble match. Play on the play station! Great line there! Christian and Rey brawl, but the numbers work against Rey and he gets beaten down. Rey/Tomko on next week's show is likely

Booker/Goldust/Eugene and A-Train are out early on, as they had no chance of winning. Loving the tactics from HBK in the match, as that is what he would do. HBK eliminates RVD, and Carlito is out due to Orton. Down to the big 4, which could go any way. Taker eliminates Batista, which adds to the conflict and build to the mania match which I am sure will happen. HBK eliminates Orton sneakily, and he tries to take out Taker, but he just cant do so. Taker wins in what must be a surprise, and Taker/Cena is now happening at the RR. Strange match choice here, and I don't think it will be a great match, but will have the crowd behind it. Maybe a heel turn from someone here as face/face matches do not always work.
Re: Being the booker
---
Full Review coming for Armageddon when Mania is posted. Some comments about Raw though.

I sent you a PM on the five.

Flair as GM is actually working. I was skeptical. He advertised WWE.com very well too.

Battle Royal is a nice way for us to get excited as a preview to the Royal Rumble. You made Orton look good by staying long. Batista looked like the dominating big man. I thought there would be an Undertaker/HBK situation again, but I am guessing that will be bypassed. I see Undertaker representing the brand after that display.

I am very surprised, but it seems like DX will break up before the Royal Rumble, or at it. Usually, factions stay together for a few years, but I guess you do not have unlimited time in BTB, so you have to keep moving along. I liked the group immensely, it is a shame they have to depart. Cade and Jindrak are going to have to grow up. They should have a match soon, but I do not know when that would happen.

I do not know where you are going with Edge, but I am postive you know where you are going with it. It seems like real life, but I do not forsee with my clairvoyancey, a match with HBK or anything like that. I can see a title push, but I do not think he would win it out of the blue like that.

Great Raw, Armageddon coming soon hopefully.
Moron
Join Date: May 2005
Location: Orlando, Fl
Posts: 334
Points: 0
Re: Being the booker
---
Ugh, sorry for the lateness. Tons of crap this week, you know how it is....
John Cena opening the show was good and a nice promo leading to Flair interupting and announcing the Battle Royal before telling Cena he has a title match, the way Rhyno attacked him OWNED. Even though he lost here tonight I hope you push him a little.
Edge is a very unhappy guy, and a heel turn is on the horizon.
Nice retain for Trish and PLEASE dont bring in Mickie James as I dont like her at all, she is seriously the most annoying character in wrestling today. Victoria was pushed so well for a month too so I hope she gets another shot soon.
DX promo was fantastic and Im sensing a break up soon due to HBK treating everyone like complete crap, lmao at Cade and Jindrak "Tag Your It".
Rhino stripped of the title?! Thats crazy but this could develop into something between Flair and Rhyno and you really have the chance to elevate the mans career with this, I look forward to how this progresses.
Kennedy vs Hurricane is another alright win for Kennedy however Hurricane put up wayyyyyyy to much of a fight as in real life, Ken Kennedy would destroy him.
Carlito promo was awesome.
Edge vs. Luther Reigns was good and a good win for Edge, I see him entering The Royal Rumble and eventually getting eliminated before bitching about getting screwed and leading to a full heel turn, going after whoever eliminated him which will probably a big time face.
WGTT vs. Kenzo and Rene is a nice title defense for these two however for some reason I see them as transitional champions and feel that a break up is on the horizons, maybe a match at Mania?
Rey Mysterio and Christian promo kicked ass and Christian was hilaripous as usual, I see a match at RR between these two with Christian getting the win, although Mysterio could really use it as well.
The ME was fun, and UT vs John Cena should be good at The Royal Rumble however sadly I dont see UT winning since hes been jobbing so much lately
Good Show, cant wait for The Smackdown Recap.
Tag Teaming With James Ellsworth
Join Date: Apr 2005
Posts: 1,710
Points: 0
Re: Being the booker
---
Armageddon Review:

Great opening video. Actually I think it was right up there with your Survivor Series one, for best opening video.

WWE Womens' Championship:
Victoria v. Trish Stratus(c)
Surprised to see you went the Womens' Championship match to open the show, but honestly it came off really well. Victoria did everything she possibly she could to get the victory, but comes up short thanks to Trish's Chick Kick. What a great Womens' Match and great opening and Trish is still the Womens' Champion. ***out of 5.

Ah, once again that WrestleMania video is funny as ever. It's the best funny video I've read since Renegade's one a couple of months ago with Austin and his team against Triple H's team back at his WIWA Survivor Series PPV.

Brotherhood v. Booker T, Goldust, and Eugene:

Good match considering the people involved in it. Really, I thought that the match would end cleanly, but I guess I was wrong. The DQ finish really in my opinion put the Brotherhood over as a force to be reckoned with. Hopefully though, the push for them continues. **.5 out of 5.

Edge delivers a good promo here and it looks like we're going to be in for a great match between himself and Van Dam.


Edge v. RVD
MOTN at this point. Both men beat the living hell out of one another, even though at times RVD looked like a man who was on a mission. The powerbombs, the moonsault, everything worked in this match. Even Alfonso. I will admit, I thought that Edge had it won after nailing the spear on Van Dam. Then when Van Dam missed the five star I thought it was over. But Van Dam gets the rollup for the win. Plus, Edge nailing the spear on the ref after the match, shows that his heel turn could almost be complete. ***.5 out of 5.

Ladder Match for the World Tag Team Championships:
The DX Duo(c) v. The World's Greatest Tag Team

My respect for you has reached a new level from this match. Sunset flip power bomb from off the ladder. High spots galore are seen in this ladder classic. This goes right up there with your ladder match with Kidman and London back at Summerslam. What a match. Benjamin sacrificed his own self for Charlie to grab the belts and pick up the victory. The six month reign of HBCade and MJ are over. **** out of 5.

As much as a fan I am for Kennedy, this promo was useless and really did not belong here.

Sting v. Batista:

When I first looked at this match a couple of days ago, I was shocked by the short length in this match. 8 minutes and just a tad over three minutes is short for you, but it got the job done. Batista picks up the W in clean fashion, and I see the Animal in for a huge push after cleanly beating a legend like Sting. Also, I see Sting getting ready to leave the company. **.5out of 5.


Good promo from Carlito. Marc got lucky tonight as he was spared getting spit in the face by Carlito. But he still isn't cool.

Intercontinental Championship:
Rey Mysterio(c) v. Carlito
Great match that went a little short, but was good none the less. Carlito looked really good out there interacting with the Boston crowd, and giving Mysterio everything he has in him. Carlito catches Mysterio with the Apple Core, and finally after seven months of trying, a new Intercontinental Champion is crowned, and his name is Carlito. And that, das cool! *** out 5.

I see some friction here between Christian and Tomoko. Can the self-proclaimed "Myth Murderer take down the Legend Killer? Only time will tell.


Ric Flair v. The Undertaker:
Taker wins in another short but good match. Taker over comes the odds, as Flair tries to use every bit of an advantage he has in this match to beat Taker but to no avail Taker ducks after Flair comes after him with the chair. Flair hits Batista with the chair, and Taker nails Flair with the tombstone piledriver for the W. Great match. *** out of 5.

Van Dam looks to be the Raw entrant in Smackdown's battle royal match at Fully Loaded. But will he be selected?

Randy Orton v. Christian:
Excellent match here. The spots were right on, and since I'm stretched for time I'm going to leave at what a match here. I really thought that Christian was going to win but Orton winning seems to work. Hopefully Christian wins the Rumble though. Great match and this garners a **** out of 5.

World Heavyweight Championship: Last Man Standing
John Cena v. Shawn Michaels(c)
16 pages of pure brilliance. Everything seemed to flow in this match. Man, when I do decide to do a Last Man Standing Match, I will definitely re-read this one for some pointers. As much of a Michaels fan that I am, I knew that there was no way, Michaels was leaving Boston, Cena's hometown with the belt still with him. What a message, it was to end the match with the F-U right through the table, for the decisive win. Cena is the new World Champion! ***** out of 5.

Excellent pay-per-view, man. This beats Great American Bash as the best single brand ppv yet. Looking forward to the briefer Fully Loaded, and of course the four hour Royal Rumble PPV. 88/100=B!
---
[U]KOM has returned to BTB with WWE 2007: The Legacy and Aftermath of WrestleMania!
[U]
Wheelman for James Ellsworth
Join Date: Mar 2004
Posts: 662
Points: 18
Re: Being the booker
---
good raw

nice to see cena kick it off and i like how ric is playing mean GM towards the champ

nice womens title match and i see tish losing the title at mania to victoria finally

Rhyno attacking Cena was a nice twist.. a little upset seeing rhyno getting stripped of the title then the title being thrown away

TWGTT winning was awesome and they are continuing to get their nice push with their tag titles

i think batista and Flair make an unholy alliance on the show and i see Batista getting handed a title shot somewhere along the road

a Rey and Christian feud will be really nice and i would love to see where that one goes.

I still think Edge is going to turn heel

Taker winning the battle royal was a good idea and it will be interesting to see him face Cena at the Rumble.. i see Cena coming out on top though
Posting Rules

You may not post new threads

You may not post replies

You may not post attachments

You may not edit your posts

---

HTML code is Off

---