Chopped Liver
Join Date: Jan 2004
Location: Six inches from a computer screen
Posts: 5,433
Points: 321
Re: Being the booker
---
Thank you to everyone for the reviews for Armageddon. Really pleased to see it was well recieved.
Quote:
Kennedy promo just didn't fit quite right. There was something about it which didn't work, but I couldn't say what it was. Kennedy in the rumble is a nice move, but this promo lacked the second Kennedy at the end
I'll hold my hands up and admit, at least 50% of the promos on the show were last minute rush jobs, with the Kennedy one being one of them. I just wanted to fill a bit of time between the Ladder Match and the following contest, as I didnt want to go straight into another match after one like the Ladder Match. Also, I would go back and edit the second Kennedy in, but I'm afraid if I edit, the whole thing might end up squashed together.
--------------------------------
Raw Preview:
At Armageddon, the face of Raw changed. Three new champions were crowned, with Carlito ending the almost seemingly never ending reign of Rey Mysterio as Intercontinental Champion, and the DX strangle hold over the top of Raw was broken, as Cade and Jindrak were defeated for the World Tag Team Titles, and Shawn Michaels was beaten by John Cena in the Last Man Standing Match. Worcester hosts WWE Raw, just twenty four hours after the extravaganza, but for the Raw roster, things will be moving straight on, and looking forward into the Royal Rumble.

Even with over six weeks before the event, the number one contender for John Cenas newly won World Heavyweight Championship will be determined, as all the winners coming from Armageddon (excluding Cena, Trish Stratus and the new tag team champions, Charlie Haas and Shelton Benjamin) along with the former World Champion, Shawn Michaels will compete in an over the top rope Battle Royal. Who will book themselves a date with the Champion at Madison Square Garden on January 22nd?? Find out, Monday Night.

Speaking of the World Heavyweight Championship, the newly crowned champion, John Cena will be in the house, to address his emphatic victory last night, in front of his home state for the second night in a row. What will Cena have to say to the fans, and what type of message will he send his Royal Rumble opponent??

Trish Stratus will be defending her Womens Title once again, this time in a triple threat match against Molly Holly and Gail Kim. How much longer can Trish hold onto the title with defences seemingly coming at every direction??

And, it is expected that Ric Flair will make an announcement regarding Raws involvement in Smackdowns 'Fully Loaded' Pay Per View on December 18th, as one Raw superstar will compete in a 6 Man Gauntlet Match, with a possible title shot in the balance at the Royal Rumble should that superstar win. Who will Flair choose to represent Raw, or how will he determine who heads to Fully Loaded??

Expect all this to go down this Monday Night on Raw, and so much more from Worcester, Mass.
--------------------
Raw will be up later this week, most likely Thursday.
Re: Being the booker
---
awesome preview Wolfy, looks awesome
---
***

Tag Teaming With James Ellsworth
Join Date: Jun 2005
Location: Sidford, England
Posts: 1,864
Points: 0
Re: Being the booker
---
Preview looks good, and the new number 1 contender will be good to see. I guess the battle royal is between HBK, Batista, Taker, RVD, Orton, Carlito and maybe Booker, Goldust and Eugene as well. I'm going to take a guess at either RVD or Orton winning the match. I think Batista is the one going to fully loaded due to the influence of Flair
Re: Being the booker
---
This is going to be an awesome Raw after so many title changes. I will be reading.

I will do your Armageddon review this weekend. Then I will pick up from wherever you are with your shows.
Re: Being the booker
---
The preview looks great for Raw. I cant wait to read it. I will get back into the reviewing thing with this Raw.
Years I've Been a Fan > Years You've Been Alive
Join Date: Jun 2005
Location: Kansas City - At the Argosy, Playing Blackjack with Harley Race
Posts: 808
Points: 0
Re: Being the booker
---
Quote:
Originally posted by Da Wolf Guy: I would go back and edit the second Kennedy in, but I'm afraid if I edit, the whole thing might end up squashed together
I hear you, I hate that. Preview looks great for Raw. Looking forward to it!
---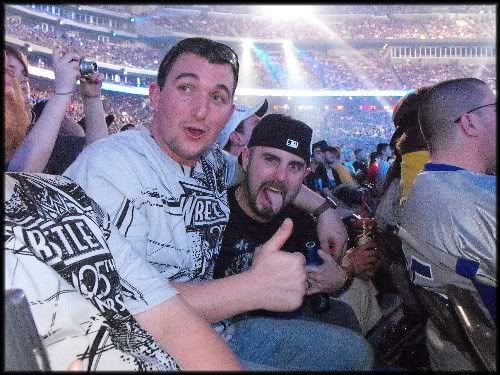 Re: Being the booker
---
I don't think that the edit thing happens here, I thought it was just the shitty NoDQ forum that had the edit bug. I could be wrong however.
---
***

Re: Being the booker
---
No, Renegade is right, you are saved here if you need to edit, so keep that in mind.
Chopped Liver
Join Date: Jan 2004
Location: Six inches from a computer screen
Posts: 5,433
Points: 321
Re: Being the booker
---
NOTE: Cannot promise all replies to be returned. Reply at your own risk.

Raw; December 5th; Worcester: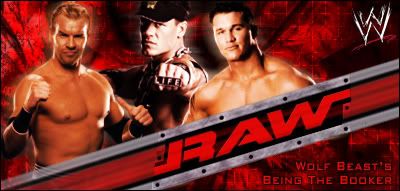 Opening Video
Pyro
Jim Ross:
We are in the midst, of a new dawn on Raw, with three new champions crowned just twenty four hours ago, at Armageddon!!! Carlito, has ended the seven month reign of Rey Mysterio as Intercontinental Champion, Charlie Haas and Shelton Benjamin climbed the ladder of success to once again reach the pinnacle of the tag team scene, and to top it all off as a horrible night for DX, John Cena has become a two time World Heavyweight Champion!!!
The Coach:
It was a special, special night J.R. I might not be a big fan of The Worlds Greatest Tag Team, or John Cena, but what I have to admit, is that last night, we witnessed something incredible.
Jim Ross:
And tonight, I expect we'll see even more fireworks, with two championship matches already signed. Trish Stratus defends her Womens title in a triple threat match, and the tag champions will be defending the gold, against The Brotherhood.
The Coach:
That could be one short reign for Haas and Benjamin. There is no way they can be 100% after last night.
Jim Ross:
And, tonights main event will determine the Number One Contender for the World Heavyweight Championship at the Royal Rumble, ten men, in a Royal Rumble-esque environment, over the top rope, Battle Royal. All the winners from last nights event, and the former World Champion, Shawn Michaels, all battling it out for a shot at The Champ.
The Coach:
What a main event partner. Shawn Michaels, Booker T, Goldust, Eugene, Rob Van Dam, A-Train, Batista, The Undertaker, Carlito, and Randy Orton.
Jim Ross:
One of those ten men are headed for a title shot on January 22nd, in the worlds most famous arena, Madison Square Garden!!!
The Coach:
I've got my ticket reserved and ready. Royal Rumble, one of my favourite events of the year!!!
**My Time is Now** John Cena slowly makes his way out to the arena, getting a HUGE state welcome from Worchester. The new champion raises both the traditional title, and his custom title in the air, before walking down the ramp, bandaged after last nights blood bath. He slides into the ring, and plays to the fans, before taking a mic, and hushing the fans.
John Cena:
What a reaction. Worcester styyyyyle!!!
Crowd Pops
John Cena:
You know, for four long months I battled, I scraped, I scratched, I clawed, I did everything possible, in pursuit of THIS World Heavyweight Championship.
Crowd Pops
John Cena:
I never backed down, never laid down, never quit. And I want to take the opportunity now, to thank every single member of the Chain Gang, every single fan who backed me, and every single person who wanted me to get the job done, because now, the Champ IS HERE!!!
'Cena' chant
John Cena:
I've bled, I've struggled, used every ounce of energy, every drop of sweat, I've give it all, for myself, for the guys in the locker room pissed off with DX, and most importantly, for each and every one of you!!!
More Cena chants
John Cena:
But now, The Champ has the belt, and whoever wins tonights main event, I've got one statement … If you want some?? Then come get some!!!
**Space Odyssey 3000** The General Manager, Ric Flair struts onto the stage, not looking 100% after a loss last night at Armageddon. He stands at the top of the ramp, with a mic in hand…
Ric Flair:
Congratulations John. Two time Heavyweight Champion. Impressive. Winning the title once, that's good, but twice, means you've made it. However, holding onto the title is the next part.
John Cena:
Ric, I'll never back down from a challenge. If you've got someone who wants some … you tell them to come get some!!!
Crowd Pops
Ric Flair:
Ha, the arrogance of youth today. When you've won title, after title, like … me, The Nat-ure Boy, WOOOO, 16 times, then, you can get cocky, you can get arrogant, and you can laugh at the youngsters, just like me.
John Cena:
That's all well and good Ric, but did Father Wisdom have anything relevant to say??
Ric Flair:
Funny you should mention that John. Because, right now, I have a big announcement that will concern you greatly.
John Cena:
You havent put a clause in my contract to be your private carer, have you??
Fans laugh a little, as Flair smirks.
Ric Flair:
No, that's not it, but ironically, after tonight, you might need help yourself.
John Cena:
Oh, is that right??
Ric Flair:
(Smiling)
Yeah, it is. Now, I know, that just last night, you were involved in a gruelling Last Man Standing match. I know you bled from every pore in your body, but yet, I don't care. You said it yourself, that if someone wanted some, to come and get some. Well, this is your lucky day John … because that has been answered.
John Cena:
That's a little greedy of you Flair. You're already the General Manager, now you want to get your ass kicked by the World Heavyweight Champion??
Ric Flair:
Not me, not me John … HIM!!!
We see the Hardcore Champion, Rhyno standing behind Cena. John Cena turns around, and eats a devastating GORE!!! Rhyno shouts to Flair to get a referee, which Flair does.
Ric Flair:
This match, for the World Heavyweight Championship starts, right now!!!
1st Match: World Heavyweight Championship Match:
John Cena vs. Rhyno
Rhyno calls the referee in, and hooks the leg immediately, 1...2...CENA GETS A FOOT ON THE ROPE!!! Rhyno pounds the champion down, keeping on top, with a commercial interrupting…
Following that, Rhyno has a sleeper hold locked on Cena, with the fans getting behind Cena, desperate for him to make a comeback, having no offence during the match, due to the pre match attack. The Champion fights out of the sleeper, and starts to make a comeback, only to be put back down with an Arn Anderson style spine buster from the challenger. Now, Rhyno takes the fight to the outside, and manages to re-open the wound on Cenas head sustained last night.
Rhyno continues to pile on the pressure, beating down Cena, and getting a slew of near falls, with Cena just managing to stay in the match. Rhyno now looks to end the match, and signals for Cena to get up, for the Gore, but as he runs at him, John Cena kicks the challenger away, before hitting the Throwback. Cena gets back up, shakes his head loose, and delivers the 5 Knuckle Shuffle, before waiting for Rhyno to get up, and as he does, Cena gets him in position, and hit's the FU!!! He covers, 1...2...3!!!
Winner: John Cena
Jim Ross:
Cena wins!!! John Cena retains the World Title!!!
The Coach:
Man, I thought that Rhyno was about to cause a major upset J.R. He had Cena right where he wanted him, but in the end, John Cena prevailed. As much as I dislike the guy, John Cena pulled out a precious win tonight, just twenty four hours after winning the title back.
Jim Ross:
That's why he is the number one guy in the industry today, Coach. John Cena has sent a message to Raw … if you want some … come get some!!!
We see Randy Orton arriving backstage, shaking hands with a few guys, before making his way to the locker room.
Commercial
We return with Todd Grisham backstage with Edge…
Todd Grisham:
Edge, last night, your return to the ring didn't quite go to plan, but t-
Edge grabs the mic
Edge:
Ya think?? Losing last night at Armageddon was slightly more than unexpected. It was unthinkable. The only reason RVD beat me, was because I got screwed!!!
We hear the crowd give heat in the background.
Edge:
But as for now, last night is forgotten, and tonight, I'll beat Luther Reigns, and on the road to Madison Square Garden for the Rumble, I'll hit the ground running. In a few weeks time, last nights loss will be FORGOTTEN, because in a few weeks time, I'll be crowned the winner of the 2006 Royal Rumble, and be on my way … TO WRESTLEMANIA!!!
Edge shoves the mic back into Grishams chest, before storming off.
Jim Ross:
Well Coach, Edge sounds mighty confident he'll be in the Royal Rumble, but from what I hear, this year, every man will need to earn his spot through qualification matches.
The Coach:
That is the word on the street J.R, but I guess time will tell if that is indeed the truth.
2nd Match: Womens Championship Match:
Trish Stratus vs. Molly Holly vs. Gail Kim
Basic triple threat match, with all three women having a period of control, before the fast paced finish, with Molly and Gail both coming close to victory over each other, but it's Trish who retains, Chick Kicking Gail out of the ring, and hitting the Stratusfaction on Molly to get the three count.
Winner: Trish Stratus
Jim Ross:
Trish Stratus successfully retains the Womens Championship, in a highly competitive triple threat match.
The Coach:
The gals of Raw have really stepped it up in recent weeks J.R, and tonight was no exception. Trish Stratus is still the champion, but with the way she has been challenged in recent weeks, she might just find herself without that title, sooner rather than later.
Commercial
We return in the DX locker room. The four men are sat down, all looking less than happy, with no gold in the group. Cade is wearing a sling for his arm, and HBK is wearing a bandage from the LMS Match last night.
Garrison Cade looks around, then quickly slaps Jindraks arm.
Garrison Cade:
Tag, you're it.
Jindrak tags Cade back
Mark Jindrak:
Tag, you're it.
Cade tags Jindrak, Jindrak tags Cade back, and the two men share tags back and forth for a few moments, before we hear a glass shatter. The camera switches to HBK, who looks across at his two DX team mates.
Garrison Cade:
You dropped your glass Shawn.
Shawn Michaels:
Yep. To get your attention.
Mark Jindrak:
You wanna play too??
Shawn Michaels:
No, I don't want to play, I want to inform you two of something. Last night, you two lost your Tag Team Championships. Last night, I lost my World Heavyweight Championship. Now, I don't know about you pair, but I don't think tonight is a time to play around.
Garrison Cade:
We-
Shawn Michaels:
DON'T say anything. I'm not finished. Now, for six months, you two have lived the high life, you two have had everything go your way. Now, it's time for you two to quit with the childishness, and its time for you two to get serious. You've got no rematch for the titles, neither have I … but tonight, even though, I'm not 100% … even though I'm crippled with pain, I will make it to that ring later, and eliminate nine other guys for a shot at Cena at the Royal Rumble. I suggest, that you two get your heads outta the sky, and do the same to get your tag team titles back. I'm not carrying you two anymore … it's time for you both to get serious.
Michaels storms out of the room, whilst Cade and Jindrak take in what he said.
Further backstage, Rhyno is in the trainers room, having his arm looked at, when the General Manager, Ric Flair storms into the room …
Ric Flair:
What the hell was that??
Rhyno:
What?? Earlier tonight??
Ric Flair:
Yeah. Earlier tonight. You said you'd get the job done. You said you'd break Cena in half, and Rhyno, ha, YOU FAILED!!!
Rhyno:
Listen, Cena got lucky. What more could I do?? I did everything you asked of me Ric.
Ric Flair:
Exactly. I set it up for you on a plate, and you still couldn't get the job done. You … are pathetic. In fact, give me that Hardcore Title.
The trainer hands the belt over to Flair.
Ric Flair:
You're stripped of this.
Rhyno:
What?? That's ridiculous. You cant do that Ric.
Ric Flair:
I cant do that?? I just did. I'm the Nature Boy, I'm the General Manager, and I CAN strip you of the Hardcore Title. You're lucky you weren't fired.
Flair storms out of the room, whilst Rhyno gets up, and slams the door, venting his anger at being stripped of his title.
Back at ringside, The Hurricane is already in the ring, ready for his match…
**Mr. Kennedy** Ken Kennedy enters the arena, and we see Lillian Garcia not even bothering to begin the announcements.
Ken Kennedy:
The following contest, is scheduled for … ONE FALLLL and it has a TWENTY minute time limmmmmmit. Introducing, from GREEEEEN BAYYYY, Wissssssssssconsin, I weigh 242 pounds … MISSSSSSTERRRRRRR KENNEDY …
Kennedy holds the mic to a young girl in the front row to say his name. The little girl goes to speak, but Kennedy pulls the mic away.
Ken Kennedy:
KEN-NEDDDDDDDYYYYYYY!!!
3rd Match:
Mr. Kennedy vs. The Hurricane
Hurricane jumps Kennedy to start the match, having seen enough. He knocks down the undefeated opponent, and flies off the top with a reverse elbow, before going to the outside, and giving the young girl his cape, after she was saddened by Kennedy moments ago.
Hurricane turns back around, but is met with an axe handle from Kennedy, which leads to Kennedy getting the upper hand. He whips Hurricane into the steps, and drops him onto the barricade, before bringing Hurricane back into the ring.
Kennedy slows things down for a few minutes, with some traditional wearing down, working on the ribs of Hurricane, before The Hurricane makes a comeback, and looks to hit the Shining Wizard, but Kennedy ducks, and gets Hurricane into position for a Samoan Drop. He quickly reaches to the second rope, and jumps off, connecting with the deadly Green Bay Plunge!!! Kennedy covers, 1...2...3!!!
Winner: Mr. Kennedy
Kennedy scores another win, still unbeaten. He goes through his usual after match routine, announcing himself as the winner, before cutting off to a Smackdown rebound…
Smackdown Rebound
Commercial
Backstage, Marc Lloyd is with Carlito…
Marc Lloyd:
Carlito, last night you won your first championship here in the WWE, taking the Intercontinental Title from Rey Mysterio, ending a seven month run. And now, should you win tonights Over the top Rope Battle Royal, you'll head to Madison Square Garden at the Royal Rumble for the World Heavyweight Championship. Your thoughts??
Carlito:
Marc, Carlito as the new Intercontinental Champion?? Das cool. All I need now, is for Stacey Kiebler to be back in time for Christmas, and for me, Carlito to win tonights Battle Royal, which would mean Carlito would soon be a double champion.
And you know what?? I will win that Battle Royal. Why?? Because I've got something that no one else in tonights match has … actually, I've got more than one thing, but the one thing that separates me from them … is that I'm cool … and they are square.
Carlito takes a bite from his apple, and looks at Lloyd, ready to spit in his face, before telling Lloyd to hold his hand out. Lloyd reluctantly does this, and Carlito drops the apple from his mouth onto Lloyds hand. CCC laughs, and takes another bite, before walking off. We see Marc Lloyd drops the apple pieces off his hand, before looking up again and gets a face full of apple from Carlito. CCC laughs harder, before walking off.
Back to the announcers…
Jim Ross:
There may not be anyone on a hotter role right now on Raw, than Carlito, who just last night, ended the run of Rey Mysterio as Intercontinental Champion. And, Coach, I have to admit, it sounds really strange referring to anyone other than Rey Mysterio as the Intercontinental Champion.
The Coach:
Well J.R, baby, you better get used to referring to Carlito as the champion of the continents, because he's here to stay, and after tonight, he's off to New York City to win double gold.
Jim Ross:
Well Coach, there are nine other men who will disagree with that statement, and we'll see just who is facing John Cena at the Rumble later tonight.
4th Match:
Edge vs. Luther Reigns
The two men go tooth and nail right from the beginning, both desperate for a victory, in order to get back on winning terms, after DX recent slump, and Edge loss to RVD last night at Armageddon. Luther uses his strength to take control early on, but Edge appears to be fired up, and manages to take control of the match.
Reigns comes back after a spell of dominance from Edge, nearly taking Edges head off with a boot. That gains a near fall, before Luther applies a chin lock. Edge tries to get the fans behind him, but after a couple of cheers, the fans begin to go against Edge, with some deep boos filtering from the fans. Edge fights out of the chin lock, and fights back, putting together some offence against Reigns, taking back control, to a lukewarm response from the fans.
Luther attempts to stop Edges comeback, and clubs the back of him, before whipping Edge off the ropes, but he misses a clothesline, and Edge comes back off the opposite side, scoring with a Spear!!! Edge gets the cover, 1...2...3!!!
Winner: Edge
Edge has his hand raised in the air, but is jeered by the fans, rather than cheered, with Edge unsure of how to react to it.
Jim Ross:
We heard earlier from Edge, who said his goal is to win the Royal Rumble, and after that performance, just 24 hours after a defeat, Edge looks to have bounced back in emphatic style!!!
The Coach:
You are looking at a true contender for the 2006 Royal Rumble J.R. Edge is desperate for success, and on this form I think he could well do it.
Commercial
Backstage, Batista and Ric Flair are in the GM Office, with Flair on the wwe.com site, looking at the Power 25.
Ric Flair:
Number One, John Cena, number four, Randy Orton, five, Michaels, six, The Undertaker, eight, Carlito, ten, the big man himself, Batista, Christian is number eleven, Van Dam at thirteen, and then you got all the other ones.
Batista:
Number ten?? Ric, after tonight, I'm shooting right up that ranking system.
Ric Flair:
Well, big man, eight Raw superstars in the top thirteen, and it's all thanks to me, The General Manager of the single greatest entity in sports entertainment. And out of those eight, five of them will be put to the vote, with the highest number of votes getting a place on the Smackdown event in two weeks.
Batista:
What five??
Ric Flair:
Well, its like this. Carlito and Cena already have titles, so they're out of the equation, and should you, Orton, Taker, Michaels or Van Dam win tonights Battle Royal, you'll already have a title shot at Royal Rumble. So, that would basically leave five, and those five will be a choice for the fans to vote for.
Batista:
And then what?? The winner of the vote is drafted to Smackdown for good??
Ric Flair:
Y'know big man, I honestly don't know. Maybe, that man will be on both shows.
Batista:
I like the sound of that Ric.
Flair and Batista laugh, as we see the Hardcore Title in a garbage can in the background of the room.
Back to ringside:
Jim Ross:
We are back on Raw, and we have just heard from the General Manager himself, Ric Flair, that five superstars from Raw will be put to the vote, with one of them headed to Smackdowns Fully Loaded Pay Per View in less than two weeks, to take part in the Gauntlet.
The Coach:
To win the gauntlet J.R. Raw guys don't compete with Smackdown, we beat them.
Jim Ross:
Still to come, the ten man over the top battle royal to determine the number one contender to face John Cena at The Royal Rumble, and now, The Worlds Greatest Tag Team will defend the World Tag Team Championships, just twenty four hours removed from Armageddon.
The Coach:
Just think how bitter Haas and Benjamin will feel, after going through heel last night to wins the belts, then lose them, less than twenty four hours later. Ha, ha, ha. Diggin it.
5th Match: World Tag Team Championships Match:
The Worlds Greatest Tag Team vs. Kenzo Suzuki & Rene Dupree w/ Hiroko
Acceptable contest, with the heel team taking control after early domination from the faces, with Haas and Benjamin feeling the effects of last nights ladder match early on in the contest. The heels single out Haas, keeping him from his partner, but this doesn't last long, as the Bronze Warrior misses a corner splash, before Haas makes a leap to his corner to tag in Benjamin.
Benjamin, fresh from a small rest, comes in all guns blazing, taking down Suzuki, and Dupree, before hitting the Dragon Whip and T-Bone on Kenzo, only for Rene to break the count. This erupts into a 4 man brawl, with Haas and Benjamin coming together, with some awesome tag team offence.
Despite the best efforts of Suzuki and Dupree, they are unable to keep up against the new champions, who eventually step it up a notch, with Haas getting the victory, making Suzuki tap out to the Haas of Pain.
Winners: The Worlds Greatest Tag Team
Jim Ross:
There ya have it folks. Our new tag team champions, and finally, a team to be proud of, fighting champions, overcoming Suzuki and Dupree to retain the World Tag Team Titles.
The Coach:
I prefer DX J.R. At least they brought some personality to the belts.
Backstage, HBK is in the trainers room, having a bandage replaced on his head, as Edge walks in. They barely acknowledge each other, as Edge fumbles around, looking for something. Michaels smiles, then grabs a bandage, and throws it to Edge.
Edge:
What the hell??
Shawn Michaels:
You're looking for a tissue right?? You look ready to cry. Anyway, I don't have any tissues here, but you can use that bandage.
Edge holds the bandage in his hands, then drops it. All the while smiling.
Edge:
Actually, I was looking for the World Title, but I forgot you lost it last night.
Shawn Michaels:
Its on a holiday. After tonight, I'm headed to the Royal Rumble, and I'm taking back my title from Cena. You?? You'll have to take your chances in a thirty man lottery called the Royal Rumble match … if you make it that far.
Edge:
I'm going to the Royal Rumble Shawn. And I'm winning the Royal Rumble. Then, I'm heading to the main event of Wrestle Mania. Who knows, I might see you there … if you make it that far.
Edge leaves the room, with HBK scratching his head, smiling at the comment.
Commercial
**Just Close Your Eyes** Christian enters the arena, along with Tyson Tomko, not looking his usual cocky self. He walks to the ring, absorbing comments from the fans, before sliding into the ring, taking a microphone. Christian then makes a cut signal at his throat, asking for the music to be cut.
Christian:
For those of you who missed it last night, congratulations, because Armageddon is to be stricken from the record books.
Crowd give heat, before starting an 'Orton' chant
Christian:
Who??
Fans give more heat, before starting another 'Orton' chant
Christian:
Or maybe, saying as you all love to hear this one so much, should I say, WHAT??
WHAT
Christian:
You're all pathetic.
WHAT
Christian:
The fact remains, win or lose, that Captain Charisma, The leader of the peepulation, Christian, the Myth Murderer, is still the face of Raw. I'm still the man that is 4 and 0 against The Undertaker, I'm still the man that got Mick Foley booted off Raw, and I'm still the single greatest wrestler in the world today.
Crowd give heat.
Christian:
And with me being the history maker that I am, in less than two weeks, you are all gonna sit at your internet screens, and you'll all vote for Captain Charisma, to head to Smackdown, and beat all the over rated, old aged, so called superstars, and become their Number One Contender.
Christian sucks chant
Christian:
And I'll prove once and for all, just how much more popular I am, than the likes of Rob Van Dam…
Mixed Response
Christian:
The Undertaker…
Massive Pop
Christian:
And Randy Orton.
Big girly pop
Christian:
That's right, I'm more popular, I'm better looking, and I'm just plain better than Orton ever has been, or ever will be.
Fans get against Christian
Christian:
Just because you think you're good Randy, it's doesn't mean that you actually are. I'm the best on Raw, and just because you got lucky … one time, on one night, it doesn't make you better than what I am.
**619** Rey Mysterio enters the arena to a magnificent pop from the fans, just 24 hours after losing the Intercontinental Title. He slaps hands with the fans, before walking around the ring, taking a mic from Lillian Garcia. Rey steps into the ring, and looks across at Christian, who is laughing at Rey.
Rey Mysterio:
Chr-
Christian:
Whoa. Hold it there kid. You need to be
(puts his hand up to his chin)
this high to talk to Captain Charisma.
Crowd gives heat.
Rey Mysterio:
Tha-
Christian:
I'm kidding. But seriously, you'll have to wait until after the show to get my autograph kid. Now, security, get this little Rey Mysterio fan out of the ring, and make sure the little scamp gets my new Peepulation T-Shirt.
Christian turns away from Rey, and laughs with Tomko.
Christian:
Isnt that cute Tomko, huh??
Tomko nods.
Rey Mysterio:
You're jokes are either old, or just not funny Christian.
Christian turns around, as if in shock from hearing Mysterio speak.
Christian:
Wow. What age are you kid?? You've got a deeper voice than the real Rey Mysterio.
Rey Mysterio:
Or about the same, numb nuts.
Crowd Pops
Rey Mysterio:
Christian, if you put as much effort into your in ring matches, rather than your one liners … well, you'd probably be out of a job.
Fans laugh a little, whilst Christian gets agitated.
Rey Mysterio:
But the thing that really annoys me about you … is when you cant admit you were beat.
Christian starts to look really angry now, as Rey raises his voice slightly.
Rey Mysterio:
Sure, you're the first one to come out here and gloat after you win a match, but now that you lost, you cant be a man and admit it?? Last night, my seven month reign as Intercontinental Champion was ended.
Fans boo, knowing Rey was screwed.
Rey Mysterio:
Sure, I'm not thrilled with the way it went down, but I'm not coming out here, and telling the fans to forget it happened. Instead, I'm prepared to move on. Instead, I'm setting myself a new goal. And that goal, is to be the World Champion.
Fans pop, whilst Tomko and Christian giggle in the opposite corner.
Christian:
Yeah, sure thing Rey. I hope Santa brings you that Playstation 2, along with Smackdown vs. Raw 2006. You should accomplish your goal … as long as you play as Captain Charisma.
Rey Mysterio:
Christian, you'd do well not to underestimate me. I'm not a push over, and I'm serious when I say I want to be World Champion. And if that means beating Thirty guys to win the Royal Rumble, then so be it.
Christian:
Keep dreaming, and keep aiming high Mysterio. But, I can tell you for a fact right now, that it'll never happen for you. You're looking at the next World Heavyweight Champion, and his name is Christian.
Rey Mysterio:
Well, if you're as good as you claim to be, how about you face me??
Christian:
Oh, it's on. You want me to face you?? It's on … … Tomko … … go get Rey a step ladder.
Christian bursts out laughing, but Rey doesn't find it amusing, and he attacks Christian with his mic. Captain Charisma falls down, with Rey mounting and punching, with Tomko helping Christian, stopping Rey.
Rey gets up, and ducks a punch from Tomko, runs off the ropes, and slides underneath Tyson, but as he gets back up, Christian tackles him from behind, before pounding Rey into oblivion. He gets Tomko to drag Mysterio up, and from there, Christian throws a number of shots at Rey, unprotected shots to the skull, before Tomko lets him go, and Mysterio slumps onto the mat.
Now, Christian drags Mysterio up, and gets him into position, before hitting the Unprettier, ending the 2 on 1 attack.
**Just Close Your Eyes** Christians theme hits again, and Captain Charisma exit's the ring, looking furious after having Mysterio run him down.
Jim Ross:
What the hell was that for??
The Coach:
Hey, don't get all high and mighty J.R. It was after all Rey Mysterio who started it. He threw the first punch.
Jim Ross:
Yeah, after being made to look a fool by Christian. And it wasn't like Christian beat up Mysterio alone. He had the Problem Solver by his side to help him.
The Coach:
C'mon baby boy. You always back up your buddies. I mean, you cant seriously say that if some guy was beating up The Coach - not that that would ever happen - but if it was to happen, you cant say you wouldn't get involved??
Jim Ross:
That's true … I'd help the guy kick your ass.
The Coach:
How da-
Jim Ross:
Folks, we'll be back in just a minute, with our 10 Man Over the top rope Battle Royal, for a title shot at John Cena, at The Royal Rumble.
Commercial
**My Time is Now** John Cena enters the arena, and joins J.R and Coach on commentary to witness the main event tonight.
Orton, RVD, Booker T, Goldust and Carlito all make their entrances before another commercial break. Following that, we see Batista making his way to the ring, with Eugene and A-Train having entered during the commercial. The Undertaker is the last man to enter, with the match finally getting under way.
Main Event: 10 Man Over The Top Rope Battle Royal - #1 Contenders Match:
Shawn Michaels, Booker T, Goldust, Eugene, A-Train, Undertaker, Carlito, Rob Van Dam, Randy Orton, Batista
All ten men last for quite a while which surprises many, with no eliminations for the first five minutes, before from the crowd, The Brotherhood storm the ring, looking to attack Booker T, Goldust and Eugene, which they do. A number of officials run to the ring, and manage to get the three male wrestlers of the group out of the ring, but the five person group keep the trio distracted, and Batista dumps both Eugene and Booker out at the same time, before he clotheslines Goldust over the top to the floor also. Booker, Eugene and Goldust brawl up the ramp with The Brotherhood, all the way to the back, whilst the action continues in the ring, headed into a commercial break.
Following the break, we see a clip from during the commercial on WWE.coms Unlimited of Randy Orton eliminating A-Train, dropkicking the big man over the top to the floor. 6 men remain, with HBK, Carlito, RVD, Batista, Taker and Orton still there. HBK keeps a low profile, still feeling the effects of last nights Last Man Standing match, and rolls out of the ring a few times, trying to keep himself fresh for later in the match. Carlito also employs a heel tactic, lying on the mat, and hooking his feet around the bottom ropes.
Taker and Batista square off, whilst RVD catches Orton with a DDT. RVD then sees that he has a clear chance, and goes up top for the Five Star Frog Splash, but as he jumps up top, HBK, who Van Dam didn't see, jumps on the apron, and pushes RVD off the top, and onto the floor!!!! Michaels laughs at RVD, who takes a minute or two to recover, after landing face first on the mat. Carlito sees an opportunity too, and he lets go of the ropes, to come after Orton. He picks Randy up, and tries to throw him out of the ring, but Orton reverses, and sends the Intercontinental Champion over the top rope, onto the floor!!!!
Suddenly, it's down to the final four. Michaels, Orton, Batista and Taker. Batista and the Deadman are still insepreble in the corner, trying to oust the other from the ring, with neither gaining any advantage. HBK now is next to try and eliminate a weakened Orton, but is unable to do so, with The Legend Killer battling on, surviving another scare. Batista and Taker eventually call a stalemate, with The Animal moving away, and going after fresh meat. He knocks down HBK with a clothesline, then begins to wear down Orton. Taker boots Michaels down, with HBK rolling to the outside, whilst Batista gets Randy between his legs for the Batista Bomb. He is set to get Orton up, until Undertaker comes after him again, and gets The Animal in position for the Chokeslam, delivering the move!!!
Batista getting eliminated becomes a formality now, with Taker dragging him up, and dumps The Animal out, ending his chances of a title match at The Royal Rumble. In the ring now is just Orton and Taker, as Michaels gathers himself on the outside once again, feeling the effects of the Last Man Standing Match again, with his cut opened up once again, from the big boot. In the ring, Orton and Taker go at it back and forth, with Ortons speed helping him get the better of Taker. Randy scores with his inverted back breaker / neck breaker, and looks to be setting Undertaker up for the RKO. He backs into the ropes, but doesn't see HBK sneakily low bridge the ropes, with Orton falling over the top, and landing on the floor!!!
Shawn Michaels and The Undertaker are left one on one, with the winner heading to The Royal Rumble to face John Cena. Michaels sets up Taker for Sweet Chin Music, and decides not to take too long with the foot stomping, AND CONNECTS!!! Taker goes down, as Michaels starts dancing around the ring, prematurely celebrating victory. HBK then turns around … AND TAKER SITS UP!!!! Michaels falls back into the corner, in shock, as Taker reaches his feet. Michaels comes at him for a second Sweet Chin Music, but Taker ducks, and grabs Michaels by the throat … but HBK scores with a low blow. Taker lets go, and Michaels bounces off the ropes, scoring with a flying forearm. Michaels nips back up, and goes up top, looking for the Elbow … AND SCORES!!!!
The Showstopper jumps up again, and looks to get Taker up and over the top, but cant, with Taker just too big. Michaels goes nuts, furious he cant get Taker up. HBK tries to think of a plan, but seemingly cant come up with one. Michaels again tries to get The Phenom up, and gets him up as far as the middle rope, before letting him go once again. Taker begins to move, with Michaels now backing up, and possibly waiting for Taker to get up, then kick him out of the ring instead. HBK waits, as The Deadman gets up. Michaels runs at him … but gets caught … Taker hoists Michaels into the air, and delivers a Chokeslam, over the top rope, onto the floor.
1: Booker T by Batista
2: Eugene by Batista
3: Goldust by Batista
4: A-Train by Randy Orton
5: Rob Van Dam by Shawn Michaels
6: Carlito by Randy Orton
7: Batista by Undertaker
8: Randy Orton by Shawn Michaels
9: Shawn Michaels by Undertaker
Winner: The Undertaker
The Undertaker wins the Battle Royal, and now, has himself a title shot at The Royal Rumble against John Cena. Takers Graveyard symphony plays through the arena, as he kneels down in the ring. At the announce desk, Cena stands up, holding the world title, and nods, knowing the challenge facing him against The Phenom.
Jim Ross:
By Gawd, The Undertaker has dominated nine other men, to earn his shot at Cena in 7 weeks at The Royal Rumble. Has the champ ever faced a challenge quite as intimidating as The Deadman?? Can Cena overcome The Phenom??
END OF SHOW
Current Card for WWE Royal Rumble:
Date:
22nd January 2006
Location:
Madison Square Garden; New York City, New York
Event Music:
Adema, Sevenfold
World Heavyweight Championship Match:
John Cena vs. The Undertaker
-----------------
AND VOTING HAS OPENED TO CHOOSE THE RAW SUPERSTAR TO REPRESENT THE BRAND AT SMACKDOWNS 'FULLY LOADED' EVENT ON DECEMBER 18TH:
BATISTA - CHRISTIAN - RANDY ORTON - ROB VAN DAM - SHAWN MICHAELS
!!!VOTING IS OPEN!!!
Please cast votes via PM, and preferably in an order of 1,2,3,4,5. With Number 1 being your first choice, and Number 5 being your last choice.
--------------------------------
Re: Being the booker
---
Oh yeah. Taker won! Who hooo! I'm a happy man. This makes me forgive you for all the oses to Christian. This and beating Ric Flair at Armageddon. Well I might leave a full review later but I may not do to it being at my own risk. But I'll give it a final rating right now of 9/10.
---
I'm watching you...


Posting Rules

You may not post new threads

You may not post replies

You may not post attachments

You may not edit your posts

---

HTML code is Off

---