Tag Teaming With James Ellsworth
Join Date: Mar 2005
Posts: 1,214
Points: 0
Re: Being the booker
---
Raw Review

A good opener to the show with a Fatal 4 way and Victoria wins and becomes the number one contender which was not a real big suprise since Trish and Victoria are currently feuding. Should be a good Womens Title defence at Armageddon.

A pretty good Cabana here with Carlito insulting Newcastle and England before RVD comes out. RVD refuses to talk and out comes the returning Edge. Edge challenges RVD to a match for Armageddon and it is on. A bit suprised than an RVD face turn is happening since he has only been heel for a few months.

No suprise here as Sting gets a good win giving him some momentum for Armageddon.

A very good promo here by Captain Charisma and his match with Orton at Armageddon should be great.

A good win here for OJ over Eugene thanks to some help by the brotherhood. Good aftermath to the match with the Brotherhood attacking Eugene and then Booker T and Goldust coming out to make the save.

A decent promo here by mysterio hyping his match at Armageddon

A good Tag Team match here with the match getting out of control and ending in a no contest

Good match here with the match ending in a DQ but then Flair makes it a No DQ Match. But this backfires on Flair as Taker gets a good victory

Great Main event here with Cena sending HBK a message by getting the victory.

The Armageddon card looks fantastic and can't wait to see it.

Overall it was a good Raw hyping up the Armageddon show well. 8/10
Re: Being the booker
---
Victoria's push continues and shes going to Armageddon. Trish to retain by the way, I hope.
Hilarious Cabana, ripping into newcastle and then onto the soccer team. I didn't know you knew so much about soccer/football. And After a strange part of the promo we get an RVD/Edge match, and finally RVD goes back to face after a solid run as heel from about July to November.
The Stinger looking good for Armageddon, god please don't have him job to Batista. Please.
Looking forward to Orton/Christian, as both men have been getting big pushes lately.
The Brotherhood making themselves noticed, poor Eugene. But here comes help in the form of Booker T & Goldust.
Big tag match, nice to see no winners as then we won't be able to guess who'll be winning at Armageddon.
Hmm nice Ric Flair cheating out Taker only for him to kick out. And he beats A-Train. Good change from all the regular matches we have seen tonight.
Awesome main event, great to see the faces get the win, but hopefully this doesn't meant that DX are coming away with the belts again.
O well, they have had them for so long, it would be a shame.
Great show Wolf, and Armageddon is going to be great.
WWE Championship
Last Man Standing
John Cena vs
HBK (c)
Intercontinental Championship
Rey Mysterio (c)
vs Carlito
Tag Team Championships
Ladder Match
WGTT
vs DX Duo (c)
Undertaker
vs Ric Flair
Randy Orton
vs Christian
RVD vs
Edge
Sting
vs Batista
6 Man Tag Match
Eugene, Booker T & Goldust vs
The Brotherhood
Womens Championship
Trish Stratus (c)
vs Victoria
it's a sensational card for a single brand PPV Wolfy, looking forward to it.
---
***

Re: Being the booker
---
I love your banner for Raw.

I have to leave terse comments as I really need to get Wrestlemania going.

Victoria is crazy. I think she will win at the next shot she gets though. It will give her more time to fuel her anger.

I am glad beyond belief that Edge came out during the Cabana. I thought he would come out for the world title. He is only challenging RVD, thank God. I am still wondering where the tweener will go. Carlito really get under everyone's skin. I do not know anything about English soccer, but he seemed to have spit in its face.

Rey and Christian both have good promos.

I do not really like the double Dq finish, but it does not leave a clear cut winner for Armageddon. I think that either both faces will win or both heels will win. Mysterio has had one hell of a long reign. I still remember that the last time the I.C. title changed hands on a PPV was Armageddon 2003, not even in your thread.

I like how Flair came out and made the modification of the rules for Undertaker. This match will be very interesting to see. Flair finally does not need to bleed.

The three faces win the main event. I cannot wait to see what happens here. You have done well in combining Cena and TWGTT with HBK and HBCade/Jindrak.

This card is looking great for a single brand PPV or even a joint - brand PPV for that matter. This is your first single brand PPV since Great American Bash. That was the point where I started reading in this thread.

I will leave my Armageddon predictions at a different time.

I do not know if I will review Armageddon before Wrestlemania or after.
Re: Being the booker
---
Intresting to see a women's match getting the first slot of the night but it was a good Fatal 4 Way and Victoria had to win. Nice to see her pick up the win heading into Armageddon with the momentum

At first I was wondering was there any point to the Cabana but Edge makes his return! Edge vs RVD at Armageddon is going to be a great match and I am pumped for it

Pretty much just a squash match to put Sting over this Sunday before his match against Batista. That should be an intresting matchup right there between both men

Christian promo was great and you are getting real good at capturing Christian's heel attititude. I'm loving what he is doing and looking for his match against Orton at Armageddon

Intresting match with the Brotherhood helping Jordan pick up the win over Eugene. Beatdown from Brotherhood but Booker T and Goldust make the save and it sounds like a six man tag match this Sunday

Interview with Mysterio leads me to think that we could be seeing Carlito walk out of Armageddon with the Intercontinental Championship. Should be a great match no matter the outcome

Nice tag match there with Carlito and Captain Charisma Christian working well to take on Mysterio and Orton. Ending adds nicely to the feuds for both of these men and builds it up further

A-Train gets himself DQ'd before the match really gets underway but Flair pulls one on 'Taker. Now it's No DQ match and Undertaker ends up winning against A-Train

Some great promos from both HBK and Cena before and after the match but good to see Cena and TWGTT get the wins before heading into Armageddon this Sunday and they have the momentum
Re: Being the booker
---
1st Match: Fatal Four Way #1 Contenders Match for Women's Title:
Lita vs. Victoria vs. Jazz vs. Nidia



A nice match to start things off you always need to start off big when you're holding an event in another country especially England. LOL. This match sounded better then I thought it would and I like the added touch of having Lita and Nidia teaming up on the heels. The woman's division is really something special in this thread as it's done so well. I personally have never tried building a woman's division as I know it will fall to pot. This thread is different and this match was evidence of this. A good win for Victoria and a well deserved win that will set up a good match for Armageddon. The finish was up to par with Lita hitting the moonsault to break the pin and then the shock by having the roll up from Victoria. Nice touch adding to the unpredictability of the show. Overall a great opener for Raw which will probably be the foundation for a solid PPV match.



The Cabana started off well with Carlito calling England. He was captured really well here and the whole thing with rats in his bed was…..Cool! I don't personally think Carlito would know the history of Newcastle United coming from the Caribbean but it was still a great way to create heat. RVD comes out with his old silent treatment and remains tight lipped at the interview question keep on coming from Carlito who slowly slinked out of character as it went on. Nothing major just a slight touch I picked up. Edge finally enters after not being around for quite a while and nearly has the fans on his side but not quite. RVD finally breaks his silence and wins the fans over by calling Edge. A little but of humour was added which was a nice touch "Are you still here?" Then the match was made overall this was a good Cabana which did it's job by making the match for Armageddon. The small touches where its strong point with the gestures of RVD being written and Carlito taking the apple before he left the ring. Edge vs. RVD should be a good match for a ppv which is building up nicely.



2nd Match:
Sting vs. Rene Dupree


An okay match which was set out to do one thing and one thing only push Sting in the eyes of the fans. It did its job and made him look strong before his match with Batista at Armageddon. The ending with the finisher Scorpion Death Drop was cool and the stare down between both Armageddon opponents was pretty good. I like the way you're going with Sting as he is showing more emotion than he did in WCW and this helps build the feud for the PPV. Batista playing it cool and leaving it until Armageddon was a nice touch for a contest that should be interesting to say the least.



The Christian promo was cool and you caught him really well. I love the comedy with him and Tomko "I don't have a lollypop" LOL. Christian dropped the comedy act and took it to a serious level to hype up his match with Randy Orton for the ppv. Overall this was a good promo which didn't hold one fault.


3rd Match:
Eugene vs. Orlando Jordan w/ Brotherhood



This match was always going one way especially with the Brotherhood being pushed well. With the referee distracted Mark Henry completes the Splash and hands his fellow member the win. A good win for OJ and the beat down begins. With Eugene being the lovable face this creates easy but well needed heat for the team before Goldust and Booker make there way to the ring. The Brotherhood scatter before the team of the Five Time WCW Champion and Goldust can extract some much needed revenge. In conclusion this match served its purpose well and was done well by all means!


The match is made with the Brotherhood taking on the two men they ran away from and the man they cheated out of a win. This wasn't surprising but the match should be good.


Nice promo with Rey Mysterio he usually doesn't get much time on the mic so this was a nice change. He got his point across well and added some flavour to his Intercontinental Title bout at Armageddon.



4th Match:
Rey Mysterio & Randy Orton vs. Carlito & Christian w/Tyson Tomko



A good solid match which was pushing two matches for the upcoming ppv. The contest itself was filled with some nice spots due to Mysterio and some solid wrestling from the others. A nice combination and a nice finish with the match going to a no contest. The aftermath was cool with the heels looking like the cowards with Christian rolling out of the ring after the stare down with Orton and then Carlito dropping the IC title and running over the barricade to escape Mysterio. Good match and a good finish which showed the faces in a good light.



5th Match:
The Undertaker vs. A-Train



A like this with the match going to a disqualification but Ric Flair stepping in and making it a no DQ match. Nice intervene and the match that follows is pretty good. I like The Undertaker sitting up after the De-Railer it makes him look strong like always and creates a pop from the crowd. There's only one finish that's happening after this and it's the Tombstone. It was unlikely that A Train was going to win unless there was a run in which there wasn't so this finish wasn't very surprising. Nevertheless it made Taker look strong as always especially with A Train's size and strength.



Main Event: 6 Man Tag:
Shawn Michaels, DX Duo w/Luther Reigns vs. John Cena & TWGTT


Nice promo before this match by the Heart Break Kid Shawn Michaels. He didn't milk it he kept it short and sweet but he got his point across before the PPV and the main event for tonight. The match was solid and never got confusing which can happen sometimes with so many contestants. HBK's momentum sends him over the ropes and a Dragon whip takes care of Jindrak whilst the FU is connected and finishes DX off. The faces get the upper hand against the heels and the following promo from John Cena was immense. You could sense the emotion as he talked whilst growing in frustration yet passion. It really did the main even no harm and pumped the fans up which Cena can do. Well supposedly! Great way to finish the show and the image of John Cena holding the title high whilst shouting "The champ is here" was excellent.



The show finishes with a high and the faces end up ruling Raw in Newcastle. Overall this was a great show which did its job of hyping Armageddon. The PPV card is looking great and the build up was helped with this show. The main event was a high point in this show along with the Cabana and the woman's fatal four wayl at the beginning. 7.5/10





World Heavyweight Championship Match: Last Man Standing Match:
Shawn Michaels vs. John Cena


Intercontinental Championship Match:
Rey Mysterio vs. Carlito

World Tag Team Championships; Ladder Match:
The DX Duo vs. The World's Greatest Tag Team

Women's Championship;
Trish Stratus vs. Victoria

Legend vs. Legend:
Ric Flair vs. Undertaker
(Flair cannot be disqualified, or counted out, and falls count anywhere)

One on One:
Randy Orton vs. Christian

Past vs. Future:
Sting vs. Batista

Challenge Match:
Edge vs. Rob Van Dam

6 Man Tag Team Match:
Brotherhood vs. Booker T, Goldust & Eugene
Re: Being the booker
---
I'm just now starting to get into BTB, so I obviously haven't been following this massive thread. I've heard that BTB primarily works on a rate and be rated system, so here goes nothin'.

Women's Title # 1 Contender Match

I like the fact that Victoria sort of escaped the match by the skin of her teeth. It puts over the Women's Division as a whole, by sending a message that anything can happen at any given time.

Carlito's Cabana

I was very impressed with this segment. You did a great job with all three men on the mic, and I like the fact that Edge and Van Dam were going back and forth about being frustrated and not having opportunities (RVD for unexplained reasons, and Edge because of his injury). It really sets you up for a match that's going to be a big indicator of where they're both going from here. Carlito was hilarious, and now I'm definately looking forward to the match on the PPV.

Sting vs. Rene Dupree

It got the job done. Good job on making the French Tickler lead to Dupree's downfall, because it didn't make him look too bad. It just made him look stupid for underestimating Sting, who was in turn able to capitalize.

Christian "Interview"

Another well-done segment, which makes me understand why people continuously read this thread. You've really got your characters down, and once again, excuse me for just noticing...I'm new to BTB. It seems like this Christian/Orton feud has been a good one, and this is another match that I'm interested to see who comes out on top in.

Orlando Jordan vs. Eugene

A classic Eugene type match. This "Brotherhood" group sounds interesting, and it's good to see that you have Booker back in the tag team with Goldust. Those two were entertaining as hell together.

Mysterio Interview

I thought it was well done, and very informative for a first-time reader like myself. My only complaint about this segment is that Mysterio sounds a bit to sophisticated. He usually uses more cliche' terms, and doesn't concentrate on details too much. That's a minor thing though, it was a good segment.

Mysterio & Orton vs. Christian & Carlito

Good decision to make this one come to a no contest. This way, no one gets an upper hand as they head into the PPV.

The Undertaker vs. A-Train

I like the way this match was done. It was a squash in the end, but still 1] Built the feud and 2] had some moments where I thought A-Train might win (You know, so that Flair can say he embarassed Taker). Being that this is the RAW before the PPV, I suppose they're a bit too far into the feud for something like that.

DX vs. Cena & TWGTT

I think Cena's team should've started off strong. DX had control of basically the whole match. I guess that by having DX crumble after a whole lot of cheating was a good way to show that Cena in a sense has HBK's number. The promo after the match was pretty good, but Cena kept on saying things that sounded like it was the end of his promo...but just kept going. This isn't even on TV and that promo made me annoyed with his character lol. Anyway, I'm looking forward to the ppv.

Overall Rating: 9/10 - Great work
Chopped Liver
Join Date: Jan 2004
Location: Six inches from a computer screen
Posts: 5,433
Points: 321
Re: Being the booker
---
Thanks for the replies for Raw everyone, and I will look to return the replies starting on Sunday.

Just a couple of quick points to make though from a few comments;

Rey Mysterio competed in a Ladder Match early on in his reign as I.C Champion on a Raw Roulette edition in May.

And RVD hasnt actually turned face. He got an initial pop for finally breaking his silence, and other pops where mainly due to the fans contempt for Edge. Both men are going to be used as tweeners for Armageddon though, with RVD still being popular despite being a heel, and Edges popularity declining despite being a face.
Re: Being the booker
---
wolfie great show buit you never returned that review i gave you from 2 raws ago the review is on page 71
Re: Being the booker
---
Lita vs. Victoria vs. Jazz vs. Nidia-Good divas match where it seemed like Lita was going to pick up the victory ,but then Victoria rolls her up for the 1,2,3!

Carlito's Cabana-Nice way to bring back Edge ,who I am not a big fan as for a face, RVD's silence is broken and I can't wait for the match.

Sting vs. Rene Dupree-A decent match for Sting to get a win before Armageddon to face off against Batista.

Good humrous Christian/Todd promo.

Eugene vs. Orlando Jordan w/ Brotherhood-A nice match with OJ picking up the win thanks to The Brotherhood.

Rey Mysterio cuts a good promo for his match with his past wins being talked about.

Rey Mysterio & Randy Orton vs. Carlito & Christian w/Tyson Tomko-Good tag team match which ended in double dq. Can't wait for this Sunday at Armageddon.

Great run down of the card where J.R. pulled for faces and Coach pulled for heels.

The Undertaker vs. A-Train-Taker dominates ,but A-Train gets dq'ed! Now a second match with Tker picking up the win anyways!

Cena's Team vs D-X-A good match with Cena's team getting a huge victory heading into this Sunday.

Predictions.

World Heavyweight Championship Match: Last Man Standing Match:
Shawn Michaels vs. John Cena-Its time for the title to return to the champ. I think somebody will try and screw Cena though. If The Brotherhood comes out I think it will be going to HBK ,but if not then The Champ Is Cena!

Intercontinental Championship Match:
Rey Mysterio vs. Carlito-This one should be great ,and normally I would say Carlito would win ,but I see Rey defending against Edge soon.

World Tag Team Championships; Ladder Match:
The DX Duo vs. The World's Greatest Tag Team-Probably is going to be tthe most shocking victory of the night thanks to Luther.

Women's Championship;
Trish Stratus vs. Victoria-If it had been a 3 months title reign for Trish then I could see Victoria picking up the win ,but since that's not the case I will give it to Trish.

Legend vs. Legend:
Ric Flair vs. Undertaker
(Flair cannot be disqualified, or counted out, and falls count anywhere)-Bottomline-Taker needs a win.

One on One:
Randy Orton vs. Christian-I can see Christian vs Cena at the next PPV so Christian will win.

Past vs. Future:
Sting vs. Batista-Sting should have a good win and this is a match that can put him back where he needs to be.

Challenge Match:
Edge vs. Rob Van Dam-RVD will win via some sort of DQ to put Edge over as a heel.

6 Man Tag Team Match:
Brotherhood vs. Booker T, Goldust & Eugene-This is a toss up. It could go either way ,but I see Brotherhood going to Tag Team Title bases and INC Championship bases.
---
"Acquire a peaceful spirit, and around you thousands will be saved." + Saint Seraphim of Sarov

Years I've Been a Fan > Years You've Been Alive
Join Date: Jun 2005
Location: Kansas City - At the Argosy, Playing Blackjack with Harley Race
Posts: 808
Points: 0
Re: Being the booker
---
It has been too long Wolfy. I see you have a PPV coming up. BTB has been calling my name. I will throw out some blind predictions. I dont know exactly what is going on, but I have an idea, and I remember everything from before I left BTB.

World Heavyweight Championship
Last Man Standing Match
John Cena vs Shawn Michaels
I dont know man, its only December. Michaels just won it in August, and a long heel reign going into Mania is always nice. However, a babyface retaining the belt at Mania is always cool, and if Cena won it now, he'd have a bit of a reign going into the grand daddy. I just gotta go with my gut.
Shawn Michaels


Intercontinental Championship Match
Rey Mysterio vs Carlito
Really the same scenario here as in the above title match except with the face/heel roles reversed. I see the amazing phenom Rey Mysterio getting a nice clean retain in a great match against a willing and able Carlito.
Rey Mysterio


World Tag Team Championship
Ladder Match
DX vs WGTT
Now if I am correct the DX duo has the belts; at least they did when I left. I could definately see this being the the title change match of the night if that is the case. I see the WGTT winning no matter what in this one. The DX duo was hot when I left, and I am sure it has continued. I just have a feeling they will lose.
WGTT


Women's Championship
Trish Stratus vs Victoria
Trish wins. No explanation really needed. Womens wrestling is hard to talk about with no known storyline.
Trish


Ric Flair vs. Undertaker
(Flair cannot be disqualified, or counted out, and falls count anywhere)
Another match where I havent a clue of the build up. I will go with what may seem a long shot. After a hell of a fight, Flair wins due to his favorable working conditions.
Ric Flair


Randy Orton vs. Christian
May be another long shot, but I'll go with the Captain here. Christian needs the win more, and Orton will not suffer as much from a big time loss as Christian would.
Christian


Past vs. Future
Sting vs. Batista
Hard, hard match to call with no info. Gotta go with what may be another underdog. I just dont think Sting can take the power of the animal.
Batista

Challenge Match
Edge vs. Rob Van Dam
Dont have any idea man. I loved RVD's character before I left, and remember being a bit frustrated when he dint win the IC belt off Rey Rey. I also know Edge was slowly turning heel off the fans lack of respect for him. Who knows?
RVD

6 Man Tag Team Match
Brotherhood vs. Booker T,Goldust & Eugene
One question...WHO? If you are writing it I know its good, but Ill just go with the guys I know.
Booker T, Goldust, Drugene

Looks fabulous Wolf. I'll definately be reading it. I'll be around.
---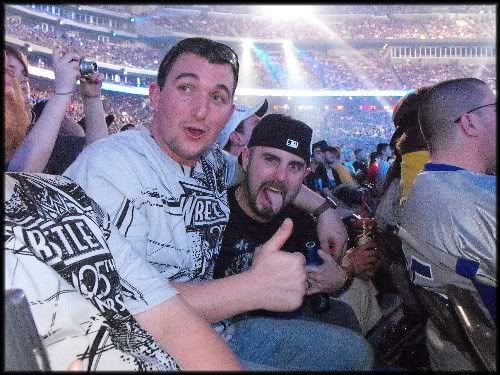 Posting Rules

You may not post new threads

You may not post replies

You may not post attachments

You may not edit your posts

---

HTML code is Off

---