Chopped Liver
Join Date: Jan 2004
Location: Six inches from a computer screen
Posts: 5,433
Points: 321
Re: Being the booker
---
WWE News and Notes:

Former Womens Champion, Shaniqua has been sent back down to OVW, as punishment for recent bad attitude shown, following her loss to Trish Stratus for the title. Shaniqua was adamant she should retain in that contest, and continue her reign for another year. When she didnt get her wish, it is said she had conducted herself in an unprofessional manner.

Recently, it has been said that Sting is unhappy with his current role on Raw. The legend has been frustrated with his lack of push since Homecoming, especially with him being eliminated early on at the Survivor Series. It should be noted that Stings contract will run out at the beginning of April, and right now it appears unless he starts to get a number of wins, and main events, he will not be renewing his contract.

This past week, it has been announced that the 2006 Royal Rumble, from Madison Square Garden, will be a four hour event. It is likely that all of the big four events will be longer running shows, with Summer Slam and Survivor Series already having been four hour events this year. There is also a possibility that Wrestle Mania may be a four hour plus event, just like two years ago, for Wrestle Mania XX.

Kane is slated to return in early April, with management wanting to make sure the Big Red Machine is ready for his return, and fully rehabbed from his quad tear, unlike Triple H when he returned in 2002. He will likely return to the ring in late January, but in OVW, to slowly wear off his ring rust.

-----------------------------------
Raw Preview:

Newcastle, England is the sight of this weeks Raw, with the United Kingdom hosting only its second ever broadcast of Raw.

And, to mark this huge occasion, Raw General Manager has signed a loaded card, just six days from the Raw Brand Pay Per View, Armageddon.

Right off the bat, the number one contender for the womens championship will be decided in a Fatal Four Way. Lita, Nidia, Jazz and Victoria will compete in the sudden death environment, with the winner moving on to Armageddon to face Trish Stratus for the championship.

And, in a surprise move, Ric Flair has sanctioned a Carlitos Cabana, with the guest being none other than Rob Van Dam. Will RVD finally break his silence?? Or will Carlito be hosting the quietest interview in WWE history??

However, that isnt all we'll see of Carlito, as he teams up with Christian to face both of their opponents at Armageddon, The Intercontinental Champion, Rey Mysterio and Randy Orton. Which duo will be heading into Armageddon with the momentum for two major one on one matches??

The Brotherhood will look to continue their recent roll, as Orlando Jordan goes one on one with Eugene. Last week, Eugene managed to defeat Mark Henry, but suffered the consequences, with The Brotherhood ganging up, and handing out a 5 on 1 attack on Eugene.

The Undertaker will be in action too, as per request by Ric Flair, taking on the 350 Pound, A-Train. With Flair set to take on Taker in six days, we can expect him to throw the rule book out the window, in an effort to weaken the Phenom.

Also, after two weeks of hype, Edge will finally return from his near three month absence. What will Edge have to say upon his return, and how will the fans react to seeing Edge back on Raw??

And, in the main event, Shawn Michaels, Garrison Cade and Mark Jindrak team up once again this week, to face John Cena, and two partners for a six man tag match. However, unlike last week, John Cena will know his partners before the match begins, and that team are the challengers for the World Tag Team Titles this Sunday, Charlie Haas and Shelton Benjamin.

All in all, this makes for possibly one of the most action packed editions of Raw in recent years, and surely an unmissable Raw, this week, from England.
----------------------------

I posted the Raw Preview today, as I've decided to post Raw tomorrow, rather than Friday. Armageddon will be done in full for those wondering, hopefully up in time for next Friday. But with it being a single brand event, it will obviously be shorter than the last two events.
Tag Teaming With James Ellsworth
Join Date: Jun 2005
Location: Sidford, England
Posts: 1,864
Points: 0
Re: Being the booker
---
Good preview there, and raw looks to be a good show, especially with it being in england.
Re: Being the booker
---
You mean it will be shorter than the last four events.

The preview looks good, you have many people excited on this forum that it will be from England. I will read it and give some comments, full review for Armageddon/
Re: Being the booker
---
Can't wait for Armageddon. A very good card indeed of course I couldn't be surprised. I am not sure what style I am going to review it in yet. I will probably review Armageddon with the same way I reviewed Nemesis. Not sure though.

News Review

Shaniqua being enraged was good ,but I guess that doesn't me we will be seeing Shaniqua wrestle at a PPV anytime soon.

I hope the Stinger stays around because he is my favorite wrestler.

Good news for RR.

Kane returning soon is good. Can't wait to see where to take him to.

Overall some good news.

Can't wait for next year. Hope you stick around as long as you can because I can't wait for Taboo Tuesday.
---
"Acquire a peaceful spirit, and around you thousands will be saved." + Saint Seraphim of Sarov

Re: Being the booker
---
good news Wolfy, Kane coming back soon is cool.

Looking forward to RAW also. And I am hoping that you keep Sting, as he is still a phenominal talent for his age of late 40's.
---
***

Moron
Join Date: Feb 2005
Location: New Jersey
Posts: 9,285
Points: 4,447
Re: Being the booker
---
Some good looking news.

I can't wait for Raw! Armageddon is shaping up to be one hell of a show!
Wheelman for James Ellsworth
Join Date: Mar 2004
Posts: 662
Points: 18
Re: Being the booker
---
thats a good review and news

i dont see sting returning after april

edge returning will be interesting i dont see him getting a warm reaction though

the six man tag will most likely highlight the show i cant wait
Chopped Liver
Join Date: Jan 2004
Location: Six inches from a computer screen
Posts: 5,433
Points: 321
Re: Being the booker
---
Raw; November 21st; Newcastle, England: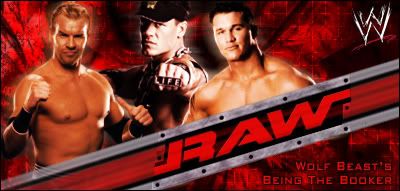 Opening Video
Pyro
Jim Ross:
The United Kingdom hosts WWE Raw for just the second time ever, and Coach, I have a feeling, with Armageddon just six days away, we might just witness something extra special.
The Coach:
Youíre witnessing something special right now J.R ... The Coach is on the air!!
Jim Ross:
Hopefully folks, thatís all of the narcissistic comments from The Coach.
The Coach:
Enough about you Jim, how about telling the folks at home about tonightís loaded show.
Jim Ross:
Weíve got two huge tag team, main event level matches here tonight folks, with Rey Mysterio and Randy Orton pairing off, to take on both of their opponents for this Sundays Pay Per View spectacular, Carlito and Christian. The Undertaker will be in action, as will Sting. And the main event, three quarters of DX team together once more, like last week to take on John Cena, and not a partner of DX choice, but in actual fact, the challengers for the tag team titles at Armageddon, Charlie Haas and Shelton Benjamin.
The Coach:
Itíll be one to remember J.R, thatís for sure. But how can you forget, Edge is back tonight!!!
Jim Ross:
Indeed he is Coach. No word on what part Edge will play on tonightís show, but we are sure to find out later on. And how about this, in what should be one of the quietest segments in Raw history, Carlito will host his Cabana, and attempt to get words from the mouth of Rob Van Dam!!!
The Coach:
Better get the subtitles out J.R for that one.
1st Match: Fatal Four Way #1 Contenders Match for Womenís Title:
Lita vs. Victoria vs. Jazz vs. Nidia
Lita and Nidia team up early on to take down Jazz and Victoria, before going at it themselves for a short period. Jazz is first to recover, and the match develops with a number of three way spots, until Victoria gets back into the match, taking down the two faces, before it comes down to her and Jazz.
Jazz and Victoria go back and forth, turning it up a notch, whilst on the outside, Lita and Nidia recover, going at it themselves. Jazz applies a cross arm breaker on Vic in the ring, but Victoria is able to fight free, with the match looking set to end at that point. Jazz then goes for a Fisherman Buster, but Victoria blocks it, and eventually hitís a Northern Lights on Jazz, bridging for a cover, 1...2...COUNT BROKEN BY NIDIA!!!
Nidia gets back involved in the ring action, and shows her skills, and toughness, able to hang with two of the more established women of the roster. She dropkicks Victoria into the corner, and nails Jazz with a Samoan Drop, getting a cover Ö 1...2...BROKEN BY A MOONSAULT FROM LITA!!!!
Both Jazz and Nidia are knocked out from the Moonsault, whilst Lita gets back to her feet, but gets taken by surprise by Victoria, who rolls her up, 1...2...3!!!
Winner: Victoria
Victoria rolls right out of the ring, smiling from relief, after nearly losing out on the chance to go to Armageddon to face the champion.
Jim Ross:
Itís official. Trish Stratus will defend the Womenís Championship this Sunday, against the dominant vixen, Victoria. And after what has went down these last few weeks, you gotta believe that this one was meant to be.
The Coach:
Itís been a long time since Victoria held the Womenís Title, but I have a feeling it wont be long now, because if you ask The Coach for his expert opinion, sheíll be too much for Trish this Sunday.
Jim Ross:
Folks, when we come back, itíll be Cabana time, with Carlitos guest, none other, than Mr Talks - a - lot, Rob Van Dam.
Commercial
We return with Carlito already in the ring, with a mic in hand.
Carlito:
So, here we are. Raw, in the UK Ö das not cool.
Cheap Heat
Carlito:
Itís not though. Seriously. I mean, itís cold and wet. And you people Ö youíre ugly, and you smell.
More cheap heat.
Carlito:
Best thing about Newcastle?? Hell, best thing about the United Kingdom Ö is the nice, warm, friendly Ö flight back to America.
Asshole chant starts.
Carlito:
You know, last night, in the hotel I had to share my bed with someone. At first, I thought it was Rey Mysterio, because the thing was so small, but, upon further inspection, Carlito saw what was in his bed. A furry, disgusting, RAT!!
Fans give more heat.
Carlito:
Rats arenít cool. And this city, this city is infested with rats.
Another asshole chant.
Carlito:
But here in Newcastle, there is only one type of animal that outnumbers rats. You know what that is?? Losers!!!
Crowd boos Carlito some more.
Carlito:
I mean, your soccer team Ö thatís right, soccer. We play proper football in the states. Your soccer team, are losers. Newcastle United havenít won anything in a long time, am I right?? And you want to know why?? Itís because of you fans.
More Heat, which is followed by a Ďfootballí chant.
Carlito:
You fans give your team a losing attitude. And of course, the main reason that Newcastle United donít win anything, is because of that old, balding, decrepit waste of space, loser, Alan Shearer!!!
Fans starts a íShearerí chant.
Carlito:
But itís not just him. Newcastle has produced a long line of failures. I mean, Alan Shearer Ö that fat loser Paul Gascoigne Ö that guy who kicked the ball over the bar that time, Chris Waddle, and who can forget the hunchback look-a-like, Peter Beardsley.
ĎNewcastleí chant starts.
Carlito:
But hey, I donít have all night to run down this city, I have a show to run, and right now, lets bring out my guest on the Cabana tonight Ö ROB VAN DAM!!!
**One of a Kind** Rob Van Dam and Bill Alfonso enter the arena, to a fairly mixed response. RVD motions with his hand that his mouth is zipped, flipping off the fans as he slides into the ring.
Carlito:
RVD, welcome, to Carlitos Cabana.
RVD nods, holding a mic in his hand, but not looking interested in speaking.
Carlito:
Rob, donít you think itís time you stopped with the silent treatment thing?? Clearly, it isnít working out. I mean, you havenít got any further than where you were four weeks or so ago when you decided not to speak anymore.
No response from Van Dam.
Carlito:
Iíll take that as a noÖ
No response from RVD.
Carlito:
I mean, when you were speaking, at least you were getting shots at Pay Per View matches. Weíve got Armageddon this Sunday, and you havenít got a match. Would you blame it on perhaps your lack of speech??
No response.
Carlito:
Maybe you can translate for us Bill??
Alfonso stands in the ring, shaking his head side to side.
Carlito:
Oooookay. The facts speak for themselves Rob. No match on Sunday, and you must admit, the silent stuff just isnít working out, is it??
RVD looks at his nails, ignoring the questions. The fans now start a íboringí chant, with the segment dying on its ass, untilÖ
**Metalingus** Edge runs out onto the stage, getting an initial big time reaction from the fans. Edge walks to the ring, shaking his head at whatís going on, before sliding in, and going to each turnbuckle, where he gets a less than positive response.
Carlito:
Edge!! Youíre back!! And, might I add, good choice of a time to come back. On the Cabana!! That?? Das c-
Edge:
Shut up buckwheat.
Crowd initially pops, before a couple of deep boos filter in.
Edge:
Rob, Iíve flown over, all the way from the States just to be here in England tonight, and when you get your time to shine, you just stand out here and donít bother to say a word??
RVD looks at Edge, with no emotion in his face.
Edge:
For three months, Iíve had to sit on the sidelines, watching Raw, week in, week out, rehabbing my knee injury, whilst morons like you, and Carlito get to complain, and whine, and bitch and moan. You donít realise how good you two have it. Carlito. You have a match this Sunday, for the Intercontinental Championship. Yet, youíre spending more time trying to rile to get some cheap heat. RVD, youíre sulking, because you arenít getting everything your own way. You make me SICK!!!
Slight pop, and a slight ĎEdge sucksí chant
Edge:
You donít realise, just how much I wouldíve given to be able to air my views. Tell the world how I was feeling. Yet, you get that chance, week in, week out, and you stand there, without breathing a word. How do you think I feel??
Van Dam puts the mic to his mouth to speak, but stops, and pulls away.
Edge:
No, come on Van Dam. Say something damn it. Say anything. Iím begging you to open your mouth, and utter a word that isnít four letters, and doesnít begin with ĎFí.
RVD looks set to speak again, but opens his mouth Ö and yawns.
Edge:
Funny. Rob, how about this Sunday, you and me. One on one. You donít have a match, and Iím dying to get one.
Mixed reaction from the fans.
Edge:
Because frankly, I need to get a lot of rage out of my system, and if you arenít going to talk, then Iíll just beat the vocabulary out of you.
Rob Van Dam:
Youíve got rage??
Fans pop, as RVD finally breaks his silence
Rob Van Dam:
You?? Edge?? You are telling me that you have rage?? Let me tell you what rage really is.
Edge:
No, let me tell you, what rage is.
Rob Van Dam:
No, I think what you would do, is show the world the difference between a whiny bitch like you, and a pissed off SOB like me.
Crowd actually pops for RVD
Rob Van Dam:
My rage has been boiling over for weeks and months, and years for cryin out loud. I havenít been able to be the Whole F-
Carlito:
Please, Rob, there are kids watching this.
Edge:
Are you still here??
Fans laugh a little, as Carlito shrugs his shoulders.
Carlito:
Of course Iím here. This is my show!!! But, you know, I donít need this. Iíve got a match later, so Iíll let you two work out your differences.
Carlito puts down his mic, and looks to exit the ring, before stopping, turning back around, and walks past both men, to his apple keg, and takes out an apple, before leaving the ring.
Rob Van Dam:
Bottom line Edge, if you want a match with me on Sunday at Armageddon, Iíll be more than willing to put you back on the shelf.
Crowd gives a mixed reaction
Edge:
I donít think so. This Sunday, marks the beginning of my ascent into the main events. Whole Damn Show or not Ö all I see you as, is a stepping stone.
Edge drops his mic, and takes a look at RVD, before climbing through the ropes, and starts to back up the ramp, keeping an eye on RVD, as his music hits again.
Jim Ross:
So, this Sunday, Edge makes his return to Pay Per View, taking on Rob Van Dam!! Coach, that could be an outright show stealer.
The Coach:
Weíll have to see about that J.R. Edge may look pretty good, but he may not be 100% to take on an athlete the calibre of RVD.
Commercial
2nd Match:
Sting vs. Rene Dupree
Dupree jumps Sting before the bell, getting the early advantage on the legend. The French Phenom gets a couple of two counts on the Stinger, but nothing that looks capable of ending the match. He hitís a simple front slam, before taking a look around, and doing his typical French Tickler, but as he goes for an Elbow, he misses, with Sting getting out of the way.
This signals the beginning of the end for Dupree, with Sting rounding out all of his regular offence set, before hitting the Scorpion Deathdrop, hooking the leg, 1...2...3!!!
Winner: Sting
Sting has his hand raised, and he looks up the ramp, seeing Batista looking down, taking a final look at Sting, before their match this Sunday at Armageddon. Sting leans over the ropes, challenging Batista to come to the ring, but Batista shakes his head, and motions that heíll see him on Sunday.
Backstage, Todd Grisham is standing by with Christian and Tyson Tomko.
Todd Grisham:
Christian, in six days time, at Armageddon, you will face Randy Orton, for the first time ever in a one on one match. Tonight however, you team with Carlito to face Orton, and Rey Mysterio.
Christian:
Well done Todd-meister. Hey Tomko, give four eyes a lolly pop.
Tyson Tomko:
I donít have any lolly pops.
Christian:
Good. He uhh, didnít deserve it anyway.
Todd Grisham:
Christian, if you could just answer the question, itíd be-
Christian:
Donít get smart with me specs. Donít make me, make you cry. Unless, youíre part of the Randy Orton fan club. You know, the one where to be a member, you have to be able to cry, and apologise for letting people down. Although, itís not like there is anything wrong with expressing your emotions like that Ö Ö if youíre a thirteen year old school girl.
Todd Grisham:
Th-
Christian:
I didnít ask you to speak twinkle toes. In fact, I donít need you here Todd. Hit the Road Ö Todd.
Tomko escorts Grisham by the scruff of the neck, whilst Christian turns to the camera.
Christian:
Randy, this Sunday, youíll be crying again. Youíll be apologising again, but this time, youíll be crying like a baby, when I kick your ass all over Boston. And youíll be apologising to me, for wasting my time, and pretending to be in my league for the last four weeks.
Randy, you call yourself the Legend Killer?? Well, from now on, I may as well call myself the Myth Murderer. And Iíll start this Sunday, by murdering the myth, that you can cut it, in the ring with Captain Charisma Ö The legend in the making!!!
Christian stares into the camera as we fade to a commercial
Commercial
3rd Match:
Eugene vs. Orlando Jordan w/ Brotherhood
Short match, with Eugene getting under the skin of OJ, infuriating Jordan with his usual antics, but eventually, Orlando gets the upper hand, thanks to his team mates distracting Eugene. Jordan wears down Eugene, with some basic offence, eventually looking to apply a sleeper, but Eugene counters out, and hitís a series of clotheslines firing up, getting into his zone.
Orlando tries to fight back, but Eugene no sells the punches, before going into a full Hogan routine, with the punches, big boot, but as he bounces off the ropes for the leg Drop, Rodney Mack grabs his leg, causing another distraction. The referee runs across, berating Mack, which gives Mark Henry a chance to get into the ring, and run down Eugene with a devastating splash in the corner. Jordan rolls up Eugene, whilst Henry rolls back out, and the referee turns back around, 1...2...3!!!
Winner: Orlando Jordan
The Brotherhood steal the win!!! The group slide into the ring, and start laying the boots to the defenceless Eugene. Teddy Long directs traffic, with Mark Henry bouncing off the ropes, hitting a big splash, whilst OJ and Mack hold Eugene down. Teddy continues to bark orders, until we see Booker T and Goldust sprint down the aisle, and slide into the ring, with The Brotherhood running off, escaping before Booker and Goldust can exact any revenge on them.
Smackdown Rebound
Commercial
WWE in the UK highlights package
Jim Ross:
The WWE has been all over Europe this past week, and for Raw, it culminates, here in Newcastle tonight. But moments ago, we witnessed The Brotherhood step up their campaign to be noticed, here on Raw, with another vicious attack on Eugene, and I guess, itís paid off, because during the commercial break, we learned that this Sunday, at Armageddon, Mark Henry, Rodney Mack and Orlando Jordan of The Brotherhood, taking on Eugene, Booker T and Goldust in a six man tag contest.
The Coach:
Finally, thanks to our greatest General Manager of all time, Ric Flair, Teddy Longs boys have a shot at gaining some recognition. And thatís exactly what theyíll do in Boston on Sunday. Carpe Diem!!! Seize the day boys!!!
Backstage, Marc Lloyd is with Rey MysterioÖ
Marc Lloyd:
Rey, on April 25th, you won the Intercontinental Championship. And over that time, almost eight months, youíve encountered, and overcome some terrific odds. Youíve come through eleven challengers in one night, youíve retained in Ladder matches, ECW Rules matches, beaten opponents twice your size, and youíre still the Intercontinental Champion. This Sunday, you will face Carlito Caribbean Cool, for the first time ever, with the title on the line. Surely, the biggest odds of all are against you now, and that, is time.
Rey Mysterio:
Marc, Iíve wrestled my whole career through adversity, and Iíve defended the Intercontinental Title for the last seven months through adversity. Like you said, Iíve wrestled in pretty much every match imaginable in the last seven months. Iíve wrestled almost every kind of wrestler on the roster. From high fliers like RVD, to power guys like Rhyno, Iíve wrestled them all.
So now, Iím used to being looked at, as the underdog. Iím used to people predicting my opponents over me, and Iím used to proving them all wrong. And sure, Iíve had one of the longest title reigns in recent history, and sure, inevitably I will lose the belt, but Marc, donít count on me walking out of the Fleet Centre this Sunday, empty handed.
Mysterio walks off, slinging the title belt over his shoulder.
Back to the announcersÖ
Jim Ross:
Rey Mysterio sure as hell doesnít look set to lose that precious Intercontinental Title anytime soon, but Iím sure Carlito will have other ideas on that front.
The Coach:
I hope Mysterio doesnít get too comfortable with the title belt, because this Sunday, his great run will be ending.
Jim Ross:
Thatís your opinion Coach, but when we come back, itís a solid fact that Mysterio will be in action, teaming up with Randy Orton, to face Carlito and Captain Charisma, Christian.
Commercial
4th Match:
Rey Mysterio & Randy Orton vs. Carlito & Christian w/Tyson Tomko
Match is joined in progress, with the match just having begun. Orton and Mysterio immediately gel well together, and control the opening few minutes, before CCC and Christian start to compose themselves, and get into the match, evening up the affair, with both teams going back and forth.
The momentum swings, thanks to the wildcard on the outside, Tyson Tomko, who distracts the referee, allowing Christian to low blow Orton, and turn the tide. This leads to a long spell of dominance from Carlito and Christian. Throughout this time, they resort to all the cheap heel tag team tactics in order to keep Mysterio out of the match, with a commercial break sandwiched in between the action.
Following the commercial, we see clips from during the break, of Orton looking to tag Mysterio, but, just at the last second, Tomko pulls Rey off the apron, giving no option for a tag. Christian and Carlito drag Orton back, and continue to beat the Legend Killer down for another period.
However, this time, Orton is fired up, and he begins a comeback, knocking down Carlito, knocking down Christian, and dropkicks Tomko off the apron. Orton crawls to his corner, and looks to make a tag Ö AND DOES!!! Mysterio makes an impact right from the get go, with a seated senton from the top rope, on Carlito, before bouncing off the ropes, dropkicking Christian on the knee. He runs off the ropes, and takes down Carlito with a head scissors, and now rolls up Christian, but the official tells him that Christian isnít the legal man!!!
Mysterio releases, and gets back up, runs at Carlito, but gets put down with a high knee. Carlito then sets Rey up for a neck breaker, but Orton breaks it, knocking down Carlito. Orton begins to stomp Carlito in the corner, whilst Mysterio counters the Unprettier from Christian, and goes for a DDT, only for Christian to rake Mysterios eyes, and start pounding him in the opposite corner.
The referee starts to try and get both Christian and Orton out of the ring, but neither man take any notice of him, pushing the official away. After both men have done this, the referee makes a rash decision, and orders a double DQ.
Winner: No Contest
Both Orton and Christian stop, as the announcement is made of the no contest. They look around, and lock eyes. Christian moves toward Orton, with Orton moving closer to Christian too, but then, Captain Charisma chickens out, and rolls out of the ring. In the ring, Orton points to Christian, who backs up the ramp with Tyson Tomko, deciding to wait until Sunday to get some of Orton.
We then see Carlito slide out of the ring, whilst Orton helps Mysterio back up to his feet. CCC watches them in the ring, and grabs the Intercontinental Title from the time keepers table, holding it in the air, which Rey spots him doing. Mysterio looks to get out of the ring, but Carlito drops the belt, and jumps the barricade, walking out through the crowd, as we go to another commercialÖ
Commercial
Jim Ross:
We are just six days away from the Raw brand sole production, WWE Armageddon, from the Fleet Centre in Boston, and Coach, we have ourselves a stacked line up, top to bottom. The DX Duo of Garrison Cade and Mark Jindrak will aim to continue their near six months as Tag Team Champions, but this time, they cant cheat, they cant run away, theyíve gotta climb a fifteen foot ladder, and retrieve the titles, against the hungry challengers, Charlie Haas and Shelton Benjamin!!!
The Coach:
You make it sound like Cade and Jindrak arenít capable of doing anything right J.R. They havenít been the champs for such a long time without having the minerals to get the job done!!
Jim Ross:
And, a champion we CAN be proud of, Rey Mysterio, seven months as the Intercontinental Champion, he faces the number one contender, Carlito.
The Coach:
Its time for a change J.R. Rey Mysterio has had a tremendous seven months with the title, but all good things must come to an end. Carlito is headed to Armageddon, with one thing in his sights, and that is Championship gold.
Jim Ross:
Edge makes his return to the ring, after a three month lay off, and he faces another man who has been frustrated to say the least in recent months, Rob Van Dam.
The Coach:
Expect to see two very pissed off men two hell for leather this Sunday. Will Edge be able to shake off his recent injury, or will a very, VERY angry and bitter RVD pin point the knee of Edge?? And who will be happy, if either, after this Sunday.
Jim Ross:
The Legend Killer, Randy Orton goes one on one for the first time ever, against Captain Charisma, Christian. Two men who have title ambitions, and need a huge win to get onto that pedestal.
The Coach:
Please, get with the program, itís The Myth Murderer, Christian taking on the Cry Baby, Randy Orton. Christian, the only man to hold four straight victories in the space of four months over The Undertaker, facing the man who just couldnít get it done at Survivor Series. Itís a no brainer.
Jim Ross:
Just announced earlier tonight, The Brotherhood take on Booker T, Goldust and Eugene in a six man tag team match. Teddy Long and his army are after some spotlight, and it doesnít come much bigger than on Pay Per View.
The Coach:
Itís been a long time in coming J.R. The Brotherhood, on the P-P-V, and now that they have the ball, itís time for Teddy and his troops to run with it.
Jim Ross:
The Legend, Sting, takes on The Future, Batista. Is it time for Batista to break through, or will Sting continue to build on his legacy??
The Coach:
Iíll be pulling for Batista in this one. Itís time to take the old horse out to pasture, and Batista is the new horse to do just that.
Jim Ross:
Womenís Championship is up for grabs, as the fighting champion, Trish Stratus meets the vivacious vixen, the psychopath, Victoria.
The Coach:
This will be hard to predict J.R. Trish has overcome the major obstacle that is Shaniqua to take the belt just about 6 weeks ago. Is it time to crown a new champion already?? I donít see how Trish can control Victoria.
Jim Ross:
Itís legend vs. legend, in a WrestleMania past rematch. The Undertaker will go one on one with our General Manager, Ric Flair. But the odds favour Flair on this occasion. He cant be disqualified, he cant be counted out, and he can pin The Deadman anywhere he wants, but The Undertaker has to play by the rules!!!
The Coach:
Smart move from The Nature Boy. This definitely gives him the edge this Sunday, but will it be enough to overcome The Phenom??
Jim Ross:
And, who can forget, the main event. Last Man Standing, for the last time, John Cena challenges Shawn Michaels, in Cenas home state, for the World Heavyweight Championship. DX banned from ringside, no easy outs for Michaels, there must be a winner.
The Coach:
Iíll admit, John Cena has been Teflon in the last few weeks, but hey, it seems to be the case every time Cena and Michaels get it on. Cena gets it done up until the big occasion, then, when it matter, Michaels comes up trumps!!!
Jim Ross:
It all goes down this Sunday, live on Pay Per View!!!
5th Match:
The Undertaker vs. A-Train
Taker dominates the early going, with a slugfest to kick things off, until The Phenom boots Train over the top to the floor. He follows out, but as Taker bears down on A-Train, he gets clobbered with the ring bell!! This immediately causes a DQ.
Winner: Via DQ - The Undertaker
**Space Odyssey 3000** Ric Flair enters the arena, immediately making the gesture for the music to cut.
Ric Flair:
I forgot to inform the official, that to give The Undertaker some preparation for his match on Sunday, for A-Train, this match will be no DQ, no count outs, and he can pin The Undertaker wherever he wants.
The bell rings to restart the match.
A-Train immediately goes for a cover, 1...2...Taker kicks out. A-Train grabs the ring bell again, and goes for Taker, but The Deadman blocks it, and takes the bell from him, thinking about using it, before realising heíd get DQíed. He drops it down, but takes too long, and gets knocked down with a clothesline from Train.
He goes for another bell shot, but once again, The Deadman catches him, and grabs him by the throat for a Chokeslam, but Train uses the rules to his advantage, scoring with a low blow. He goes for his Baldo Bomb, but Taker blocks it, and this time, he does connect with the Chokeslam!!!
Now though, Taker takes too long getting A-Train back inside, and as a result, he kicks out easily enough at two. Taker then runs through his normal set of moves, but as he goes up top for the Old School, but A-Train drags him off instead. He takes over, and hits his De-Railer, but UNDERTAKER SITS UP!!! A-Train doesnít know how to react, and gets a trashcan from the outside, only to be knocked down with a running clothesline as he gets back in. Taker hitís the Tombstone, and gets the easy cover, 1...2...3!!!
Winner: The Undertaker
The Undertaker is victorious, as the camera switches to the General Managers office, with Ric Flair watching on a monitor, looking less than confident, headed into Armageddon.
Commercial
**Break it Down** DX enter the arena for the main event, along with Luther Reigns.
Jim Ross:
Its main event time folks. Can Shawn Michaels and the tag team champions get the last laugh before this Sunday, or will there three challengers roll into Armageddon with all the momentum??
The Coach:
Doesnít matter J.R. HBK always rises on the big occasion, and Iím sure that will rub off on his compadres this Sunday.
As the music dies down, Michaels asks for a mic.
Shawn Michaels:
Iíve heard all the talk. Iíve heard all the so-called experts give their view. And The Heart Break Kid is here to tell each and every one of them, that youíre wrong.
Crowd give heat
Shawn Michaels:
This Sunday, will not mark the end of the DX stranglehold on Raw. Yeah, itís been a tough month for us four Ö but weíve faced adversity Ö and weíve beaten adversity each and every time, with some salt sprinkled on top.
More heat
Shawn Michaels:
This Sunday, HBCade, and MJ are gonna climb a ladder, and theyíre gonna retrieve those titles. Then later, itís gonna be, The Showstopper, The Icon, The Main Event, The WORRRRRRLD Heavyweight Champion, will be the only man standing, whilst John Cena, and the rest of his Chain Gang, and the rest of Massachusetts will be on itís knees.
Cena chant
Shawn Michaels:
Cena, Iíve beaten you once, Iíve beaten you twice, and this Sunday, Itíll be three strikes, and youíre out.
**My Time is Now** John Cena and The Worlds Greatest Tag Team enter the arena to a stunning response, immediately sprinting to the ring, kick starting the main event.
Main Event: 6 Man Tag:
Shawn Michaels, DX Duo w/Luther Reigns vs. John Cena & TWGTT
All out brawl to start things off, with Luther Reigns getting involved, leading to him being banished from ringside immediately. The fight continues, with Haas and Jindrak eventually getting inside, officially starting the match.
Cena and TWGTT dominate the first few minutes, with DX all at sea, being out matched by three well prepared, and focused opponents. Eventually, DX slow it down, after taking a few moments to re-group on the outside, slowly get back into the match.
The DX members begin to grasp a hold of the match, thanks to the guidance of HBK, who leads his two apprentices, as well as taking short cuts, such as distractions, illegal double team moves and illegal tags. The trio keep Haas down in the ring, leaving Cena and Benjamin frustrated on the outside, desperate for a tag in, as we go into the commercial.
Following the final commercial, we return with DX still in control, wearing one half of TWGTT down, as Cena and Shelton grow more frustrated. We are shown a clip from during the break, where Haas tagged in Benjamin, only for HBK to distract the referee long enough for him to miss the tag, and force Shelton back out, whilst DX got back to work on Charlie.
Haas continues to try and fight back, but the numbers game is too much for the time being. The trio continue the beat down, and start to become overconfident, slapping Charlie around the head, but their cockiness backfires, as Jindrak catches Haas foot as he goes for a kick. MJ starts hopping, making fun of Haas, until he scores with an enziguri!!! Charlie crawls, and crawls, as does Jindrak Ö who tags in Cade Ö as Haas tags Cena!!!
Garrison stops in his tracks as Charlie tags, and then tries to back off, but John Cena tackles him down right away, before clotheslining HBK over the top rope, and hitting a spine buster on Jindrak. Cena hitís a spinning power bomb on Cade, getting a two, before hitting the 5 Knuckle Shuffle. Michaels again comes after Cena, but the former champion low bridges, and Shawnís momentum takes him right over the top to the floor.
Cena gets Cade up, and into position for the FU, Jindrak tries to stop him, but is met with a dragon whip from Benjamin!!! Cena delivers the FU, whilst Haas holds HBK down on the outside, whilst Cena covers, 1...2...3!!!
Winners: John Cena, Charlie Haas & Shelton Benjamin
Cena and TWGTT have their hands raised, before shaking hands together, and raising each others hand. They share some words, before celebrating to the fans some more, going to each turnbuckle, whilst DX leave up the ramp, with HBK having to help both Cade and Jindrak.
In the ring, John Cena calls for a micÖ
John Cena:
Shawn Michaels. You just stay exactly where you are. I want you to hear this, loud and clear.
Crowd Pops, as HBK, along with his DX buddies turn around.
John Cena:
This Sunday, itís you and me. Once more, last time. These past few months, Iíve taken everything youíve thrown. Iíve been knocked down, Iíve been busted open, Iíve been beat up, beat down, kicked, punched, smashed with a chair, low blowed, double teamed, triple teamed, quadrouple teamed. Iíve been cheated, Iíve been screwed, but Iím still here, Iíve taken everything you could throw at me, and Iím still standing!!!
Crowd Pops
John Cena:
And once again, when itís you and me at Armageddon, Iíll bleed, Iíll be punched, kicked, hit with a chair, hit with a belt, I might get low blowed, but I wont get screwed. I wont be beaten, and I wont lay down.
Crowd Pops, and starts a Cena chant.
John Cena:
This time, there is no Insurance Policy, there is no Cade, no Jindrak, just you, just me, and the best man, will win, and that man, will be JOHN CENA!!!
Crowd pops again
John Cena:
When all the dust settles Ö when all the smoke clears, one man will be left standing, and that man will be ME!!!
Another Cena chant starts, as Michaels shakes his head up the ramp.
John Cena:
I know it, you know it, J.R knows it, Coach knows it, DX knows it, the Raw locker room knows it, Smackdown knows it, Newcastle, England knows it, Europe, America, Africa, Asia, Timbuck-frikkin-tu KNOWS IT!!! They know that your time is up Ö my time Ö is now!!!
Fans pop
John Cena:
You have the belt Shawn Ö but the champ Ö
(Cena raises his custom belt high)
Ö IS HERRRRREEEE!!!!
**My Time Is Now** Cena goes to the turnbuckle, raising his title belt high, with HBK on the ramp, mouthing something, holding his own belt up high, as the show endsÖ
END OF SHOW
**
*******************
**
Official Card for WWE Armageddon: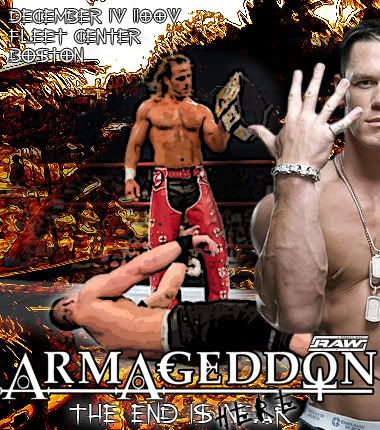 Date:
4th December 2005
Location:
Fleet Centre; Boston, Mass.
Event Music:
The End, WWE Produced
World Heavyweight Championship Match: Last Man Standing Match:
Shawn Michaels vs. John Cena
Intercontinental Championship Match:
Rey Mysterio vs. Carlito
World Tag Team Championships; Ladder Match:
The DX Duo vs. The Worldís Greatest Tag Team
Womenís Championship;
Trish Stratus vs. Victoria
Legend vs. Legend:
Ric Flair vs. Undertaker
(Flair cannot be disqualified, or counted out, and falls count anywhere)
One on One:
Randy Orton vs. Christian
Past vs. Future:
Sting vs. Batista
Challenge Match:
Edge vs. Rob Van Dam
6 Man Tag Team Match:
Brotherhood vs. Booker T, Goldust & Eugene
Thoughts and Predictions please, I'll post the SD, Heat and Velocity results on Monday / Tuesday, then Armageddon on Friday.
Moron
Join Date: May 2005
Location: Orlando, Fl
Posts: 334
Points: 0
Re: Being the booker
---
The Opening Womans Title Match was good and a great way to kick off the show, I see Victoria taking the title this Sunday and having a long reign possibly until Wrestlemania.

Nice Cabana segment, but I like Edge IMO as a face so its kinda sad to see him get booed. The match this Sunday will be to quote Tazz "Off The Hook" and I see Edge winning to further propel him up the ranks.

Nice Win for Sting here and I hope he gets a win over Batista, despite me being a Batista mark. I just dont want to see Sting leave in April but I think thats what yor pushing toward here and none the less its one of my favorite matches on the card.

Christian was funny here and really in character IMO.

Eugene loses to OJ?! That sucks but it makes for an interesting Six Man Tag Match this Sunday which I hope Booker T, Goldust and Eugene win as no one in The Brotherhood is anything special.

When did Mysterio win a ladder match? I must have missed something but never the less this was a great promo and I hope we have a night of new champions just because I want to see Mysterio challenge for the World Championship.

Great Six Man Tag and I think Orton will get the win Sunday as he will be propelled back into the World Title Mix and possibly win the RR before Christian continues his push up the ranks to the Campionship.

Nice Rundown of the card.

I saw Undertaker vs A-Train at SS 03 and actually it wasnt that bad so I think this would be a good big man match as Im a HUGE UT fan and an A-Train (err Giant Bernard as hes called in real life now) fan as well. The Ric Flair vs UT feud continues but I truly think it suffered from lack of buildup.

The Promos before and after the ME were Top Notch and the match itself would be a great way to end the show especially with Cena getting the win heading into what could be a classic Last Man Standing Match and I do NOT think Cena quote "Will Die" at the hands of HBK, New Champion!!!!

Awesome show however a little short this week, but I'll forgive you as you have a full PPV with a ton of matches to write.
Tag Teaming With James Ellsworth
Join Date: Jun 2005
Location: Sidford, England
Posts: 1,864
Points: 0
Re: Being the booker
---
Victoria picks up the obvious win in the fatal 4 way, and after her push, she will give trish a very close match at the ppv. Perhaps not a title change, but still a good chance to crown a new champion

Cabana was a hilarious segment, with some great ripping on Newcastle by Carlito. Myabe we could have seen a bit more on Geordie girls, and maybe he could have tried to imitate a Geordie accent, as that would have made the segment perfect. RVD's silence is finally broken by Edge, who comes out and says a few things, carrying on his always being screwed gimmick. Edge/RVD at the ppv will be a great match, and it will be an interesting one to read, with both men being tweeneresque

Sting picks up an easy win, giving him some momentum for the ppv

Great Christian promo, and hopefully we will be going over Orton this Sunday

OJ steals one over Eugene, but booker t and goldust make the save, and I guess this leads to a 6 man tag at the ppv, which will be a nice filler match

Good rey promo, putting himself over as someone who will never give up

Nice tag match, which did the usual build up to the ppv stuff. Christian and Orton brawl with each other, as do Carlito and Rey, and the double DQ makes it hard to call a winner at the ppv, with nobody gaining a clear advantage. Perhaps with Christian backing off, it means he might get the win

Taker/A-Train wouldn't have been a pretty match, but a good one for Taker anyway. Facing him under hardcore rules only for A-Train would have evened the match a bit, and been a nice warm up for Sunday. Taker gets the win, and is looking dominant at the moment

Nice start to the main event segment with a good promo from HBK. Very good main event match, with all 6 men being put over well, and Cena gets the pinfall over Cade at the right time. Big win for the faces, which probably means that they wont both win, and cade and jindrak come out looking the weakest, which is the way the match should have ended. Very strong promo from Cena at the end, and it will be very interesting to see if he leaves Armageddon with the belt

Predictions:

World Heavyweight Championship Match: Last Man Standing Match:
Shawn Michaels vs. John Cena - Something just tells me that HBK will somehow do enough to retain the belt, at least for another month. Dont see Cena getting it back really, and with him coming out of raw strong, this could confirm it

Intercontinental Championship Match:
Rey Mysterio vs. Carlito - Rey will hold the belt for at least a small time longer, and maybe carlito will take the belt, but not just yet

World Tag Team Championships; Ladder Match:
The DX Duo vs. The World's Greatest Tag Team - This is the match where the title change happens. DX duo have had the belts for a while, and although they are still entertaining, i think new champs is needed

Women's Championship;
Trish Stratus vs. Victoria - Dont see Trish's title reing ending just yet, but victoria will take the title in a rematch

Legend vs. Legend:
Ric Flair vs. Undertaker
(Flair cannot be disqualified, or counted out, and falls count anywhere)
- Taker has lost so often over the last few ppv's, and he needs a win to get a bit of momentum back. Flair winning would boost him in any way, with him only a part-timer, so Taker must go over

One on One:
Randy Orton vs. Christian - Christian has been a lot as of late, and he will carry on his push with another win here methinks. Orton has been going stale a bit of late, whilst Christian gets better, so he has to take the win

Past vs. Future:
Sting vs. Batista - Batista could do with the win more, as his push has started nicely

Challenge Match:
Edge vs. Rob Van Dam - Wild guess here - this match could go either way, but i think RVD will take the win, with Edge turning fully heel the next night on Raw

6 Man Tag Team Match:
Brotherhood vs. Booker T, Goldust & Eugene - Have had a small push recently, so why night a ppv win as well?
Posting Rules

You may not post new threads

You may not post replies

You may not post attachments

You may not edit your posts

---

HTML code is Off

---