Re: Being the booker
---
1st Match: Intercontinental Championship; #1 Contenders Match:
Carlito vs. Eugene


I liked this match to start things off. Nothing special but it was given some added spice with the Intercontinental Title match on the line. I never thought Eugene would pick up the win but you never know. I'm glad he didn't as Eugene has gotten really stale in my opinion. Carlito uses the roll up like always to pick up the win with a nice handful of the tights. Anyway good match to start things off and a good win for Carlito Caribbean Cool. Carlito vs. Rey Mysterio should be a good match I'm looking forward to who will come out on top with this one.



I've loved this following segment with Haas and Benjamin announcing there title match will be a Ladder Match and then cutting to the DX locker room. This was where the promo shined as the little things where done well with HBK telling Cade and Jindrak to stand up on there own feet and then having Michaels unconvincingly say "yeah you're right." I liked this promo a lot as it flowed beautifully and kept to the point without padding it with useless catchphrases.



2nd Match:
Shelton Benjamin w/Charlie Haas vs. Luther Reigns w/Cade & Jindrak


An okay match here but was always a case of who was going to cheat first to get the win. The most likely answer was DX and I was right, the usual heel tactics from Cade and Jindrak which has Luther Reigns picking up the win! The beat down ensues and the message is clearly sent to Benjamin and Haas. I'm looking forward to the ladder match between these two as Benjamin can do a lot with ladders and Jindrak does have the highest vertical leap in wrestling so this could be utilized well. Overall this wasn't overly exciting but it served it's purpose of pumping up the ladder match for the Tag Team Titles.


I liked the following Brotherhood segment. I like this team a lot as its members really fit together well with Teddy Long in charge this faction could go places. I liked them wanting to make an impact and then attacking Eugene. The usual bullying a defenceless Eugene but it works well. I liked the image of all the Brotherhood laughing at Eugene being beaten with all the commotion. Also



Mark Henry punches a huge dent into a vending machine (surprisingly not injuring himself,



LOL great stuff Wolfy!



I love the partnership of Christian and his problem solver Tomko. Even though Tyson is a big oath who doesn't really have much charisma, with Christian he can act like a dumb ass and Christian can make it sound like gold. I loved them bickering as they where leaving and Christian bringing up that people think they where gay! Excellent! Randy Orton vs. Christian at Armageddon should be great, really looking forward to this one.


I loved the contract signing especially with Mr Kennedy being the ring announcer and commentating on every single aspect like "I'm giving him the pen" great stuff. Kennedy had to leave as the mood couldn't be tense enough with him around. I liked how he punk'd out HBK before leaving though. A Last Man Standing Match should be great with the added bonus of Cade and Jindrak banned from ring side. I hope however HBK retains at Armageddon as Cena is as talented as Luther Reigns IMO.


3rd Match:
Batista vs. Sting


Sting basically wants revenge on Batista and gets himself disqualified for his troubles. Overall this match was to show Stings rage along with a foundation for the incoming segment which went over well.



4th Match: Womens Championship Match:
Trish Stratus vs. Nidia



Sounds like a good solid Diva match with some nice reversals from Nidia. The match seemed to keep up a good pace and looked likely to finish at anytime. Overall Trish was always going to win and she did with a great chick kick to finish things off. Victoria spoils the Sports Woman Ship and hits the Widows Peak on the champion. A feud will most likely sprout from this with a match at Armageddon. I hope Victoria nails the Peak at the PPV and goes on to pick up the three count.



Christian and RVD segment was okay. Never really got going but Christian kept it readable.


Flair looks sounds pretty nervous and is adamant not to open the door until he finds out its DX?


Main Event:
Christian, Tyson Tomko & Rob Van Dam vs. Randy Orton, Booker T & Goldust


This main even flowed well for so many competitors in one ring. I never really got confused and it really kept the match going well. I was always wondering who was picking up the three count here but overall it doesn't really matter. Loved the finish as the exposed turnbuckle looks likely to set Orton up for the Unprettier but no! Orton reverses it into the deadly RKO! Great stuff here as usually once a wrestler hits the exposed buckle you might as well call it a day so this was a nice surprise. Overall this was a good solid main event but I have seen better.


In conclusion this was a good solid show which built up some good feuds which will all probably end at Armageddon. The Brotherhood are a team I'm looking forward to reading about in the coming weeks and the Mysterio and Carlito title match will probably add up some interesting situations between the two. I liked the idea of Victoria vs. Trish Stratus for the Woman's Title and HBK vs. Cena in a Last Man Standing Match will be off the charts!


7.5/10
Re: Being the booker
---
nice Tribute show for Eddie, Wolfy.

Loving the news, especially Kennedy how he is going to be used in the next few months, and also the idea of an 8 person inter-gender tag match at Armageddon, that'll be off the hook.
---
***

Re: Being the booker
---
Good news Wolfy! I finished reading your Survivor Series last night but had no time to finish the review and was busy all day today so I pretty much didn't get anything done there. Expect your SS review up either tomorrow or Wednesday!
Chopped Liver
Join Date: Jan 2004
Location: Six inches from a computer screen
Posts: 5,433
Points: 321
Re: Being the booker
---
Since most people missed it, it was announced on last weeks Raw before the main event by J.R and Coach that this week, after DX meeting with Flair, it would be HBK, Cade and Jindrak vs John Cena and a partner of DX choosing, in a three on two handicap match.

Raw; November 21st; Huntsville: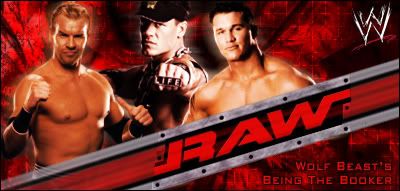 In the opening match, Charlie Haas meets Luther Reigns. Benjamin accompanies Haas, whilst the DX Duo back up Luther. Jindrak and Cade help Reigns get the upper hand, but once Haas makes a comeback, they try to get involved again, only for them to be taken down by Benjamin. This leads to a distraction for Reigns from the commotion on the outside, and he gets cradled by Haas for the three count!!!
After the commercial, Reigns chews out Cade and Jindrak for costing him the match, but he is soon calmed down by HBK, with Michaels getting his team mates ready for the arrival of their hand picked partner for Cena.
Trish & Lita team up to face Victoria & Jazz. Victoria continues to go off the rails, and in fact, gets herself disqualified for not releasing a choke on Trish. After the match, Trish is choked out by Victoria, who ends the attack with the Widows Peak.
In an interview with Randy Orton, The Legend Killer talks about his match with Christian at Armageddon, before moving on to tonight's match against the Problem Solver. Suddenly, Ken Kennedy interrupts the interview, and pushes Grisham out of the way, before interviewing Orton. Orton isn't sure how to react, and answers the questions, before making his excuses and leaving.
Orton defeats Tyson Tomko, despite interference from Christian, in a relatively good match. The finish comes as Christian holds up Orton, for Tyson to boot him, only for Randy to duck, Tomko to boot Christian off the apron, before falling prey to the RKO, leading to the inevitable three count.
Backstage, DX walk in their hand picked partner for Cena, but keep a cover over him so that he isn't seen by any cameras.
On the titan tron, The Undertaker appears, and rambles on for a moment, before making a challenge to Ric Flair for a match at Armageddon.
Rey Mysterio teams up with Sting, and they face both of their opponents for Armageddon, Carlito and Batista. The match goes long, broken up over a commercial, with the advantage switching back and forth. At a certain point, the match inevitably breaks down, with all four men brawling amongst each other. Rey and Carlito on the outside fight back and forth, whilst in the ring, Batista pushes Sting into the referee, before low blowing Sting, and following up with a Batista Bomb. He hooks the leg, 1...2...3!!! Batista steals the win, and a priceless one at that, over Sting.
Backstage, The Brotherhood pump up Mark Henry for his upcoming match with Eugene, telling him that this is their chance for recognition.
Somehow, Eugene manages to pull off an upset win over Mark Henry, countering The Worlds Strongest Slam into a cradle for the three count. After the bell, OJ, Mack, Long and Jazz attack Eugene, with a five on one attack on the defenceless Eugene.
After a commercial, Ric Flair walks onto the stage, and briefly talks, before accepting The Undertakers challenge for Armageddon, but as the GM, he makes the rules. Flair then says that Taker can be Disqualified, and counted out, but Flair cannot.
In the main event, DX enter first, and then we get John Cena, who waits at the bottom of the ramp for his unknown partner, whoc DX introduce before …
**Goldbergs March**
The fans expect Goldberg to appear, but instead, we get Duane 'Gillberg' Gill, as his partner. Cena is furious obviously, as he faces almost insurmountable odds. Gillberg growls like an idiot, with Cena telling him to just stay on the apron.
Cena takes on the three members of DX, not even thinking about making a tag. HBK is rightly cocky, having things going exactly as he wants it. Cena puts up a brave fight, getting the best of Cade and Jindrak early on, but soon, with DX making consistent tags, keeping fresh, Cena is over powered, and things start to go all in favour of Michaels.
DX wear down Cena, with Gillberg not sure whether to want a tag or not. Cena doesn't look interested in making a tag either, as the match goes on. DX start to get too cocky though, which leads to a comeback for Cena.
Cena starts his fight back, and has a chance to make a tag, but decides against it, which leads to DX getting back on top of proceedings. Jindrak and Cade go for a double suplex, but Cena counters, and hit's a double DDT!!! Michaels immediately gets in, and goes for Sweet Chin Music, but Cena catches the foot, spins Michaels around, and clotheslines him out of the ring!!!
Cena low bridges Cade, who falls out of the ring, landing on top of HBK. Jindrak staggers into the path of Cena, who gets him up for the FU. Gillberg then gets in, and tries to stop Cena, but gets a kick in the gut, before Cena delivers the FU. He grabs Gillberg, and throws him over the top, onto HBK and Cade, before covering Jindrak, 1...2...3!!!
John Cena, once again overcomes the odds, and gets another one over DX!!! On the outside, Michaels is furious, and gives Gillberg Sweet Chin Music, before storming up the ramp, with Cena in the ring, celebrating with his custom title belt as the show ends.
Current Card for WWE Armageddon: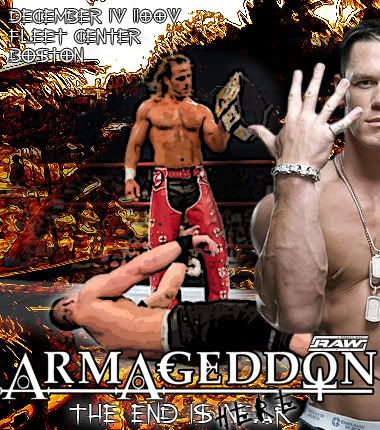 Date: 4th December 2005
Location: Fleet Centre; Boston, Mass.
Event Music: The End, WWE Produced

World Heavyweight Championship Match: Last Man Standing Match:
Shawn Michaels vs. John Cena

Intercontinental Championship Match:
Rey Mysterio vs. Carlito

World Tag Team Championships; Ladder Match:
The DX Duo vs. The World's Greatest Tag Team

Legend vs. Legend:
Ric Flair vs. Undertaker
(Flair cannot be disqualified or counted out)

One on One:
Randy Orton vs. Christian

Past vs. Future:
Sting vs. Batista

------------------------------------------

Smackdown SPECIAL; November 22nd; Birmingham, Alabama:

Chris Jericho & Chris Benoit defeat Americas Most Wanted, with Gene Snitsky attacking Chris Benoit after the match again, just like two weeks ago on Smackdown.

Interview with The Rock, where he talks about heading to Fully Loaded

Jamie Noble retains the Cruiserweight Championship in a Lumberjack Match against Tajiri, thanks to help from The Basham Brothers.

Backstage, Bret Hart announces Lesnar & Triple H to face The Rock & Chris Jericho this Thursday on Smackdown.

In the Main Event, Brock Lesnar becomes the new WWE Champion, in a triple threat match against Kurt Angle & Triple H, with Lesnar pinning Triple H after an F5 on Triple H, followed by an F5 to Angle, onto The Game, before getting the pinfall.

-------------------------------

Smackdown; November 24th: Birmingham, Alabama:

Brock Lesnar is officially crowned WWE Champion by Paul Heyman, and they then talk about The Rock, and their match to come at Fully Loaded. This brings out The Rock, and the two men share a brief exchange of words, before it breaks down into the fight. Rock knocks Lesnar over the top rope, then nails Heyman with the Rock Bottom. Lesnar thinks about coming back for more, but decides against it.

Matt Hardy defeats Maven in a hard fought contest, with a Twist of Fate.

In an interview with The Cabinet, Jamie Noble and The Basham Brothers run down The Dudley Boys, whilst JBL runs down America for not all being like JBL, then refers to himself as a Wrestling God. Kurt Angle overhears him speaking, and interrupts, telling JBL he's anything but a God of Wrestling. Angle then lists guys who can be called Wrestling Gods, naming himself and Bret Hart.

Angle starts to go off on a tangent, saying how much a match between Hart and Angle would be a dream, even asking The Cabinet if they would like to see it. Noble and The Bashams agree, whilst JBL says to him, it'll never be anything over than a dream, especially if he ever comes into his face again, before The Cabinet walk off.

AMW defeat La Resistance with The Death Sentence.

Backstage, The Rock and Triple H come face to face, and trade insults, before agreeing to meet next week in England.

Jamie Noble cheats to beat Spike Dudley, and to retain the WWE Cruiserweight Title, holding the tights for leverage. Afterwards, The Cabinet beat down Spike quickly, before The Dudley Boys run in for the save, sending The Cabinet running.

Kurt Angle walks into Bret Harts office, and again shows him the Contract, asking him to accept for a match. Bret Hart, again ignores the question, and tells Angle that after seeing his showdown with JBL earlier, that next week he will team up with the three Dudleys, to face The Cabinet, and if his team win, they all get title shots at Fully Loaded.

Angle is frustrated, and tells Bret that how about if he wins, he gets a chance to wrestle Bret. Hart looks at Angle with a look of stone, before asking him to leave.

Gene Snitsky gets disqualified wrestling Paul London, after nailing London with a steel chair. He looks to continue the attack, but Chris Benoit saves London, and runs off Snitsky, gaining a measure of revenge for two consecutive attacks by Snitsky.

We find out that next week, both Steve Austin and Goldberg will be at the show in England.

In the main event, The Rock & Chris Jericho defeat Triple H & Brock Lesnar via DQ, with Triple H hitting The Rock with a chair as he goes for a Rock Bottom on Lesnar. They beat down Jericho and Rock to end the show.

----------------------------

Heat Results:

Ken Kennedy defeated Billy Gunn

Orlando Jordan and Rodney Mack defeated Two Local Jobbers

Nidia defeated Molly Holly

Booker T & Goldust defeated Rene Dupree & Kenzo Suzuki

-------------------------------

Velocity Results:

William Regal & Lance Storm defeated two local jobbers

Hardcore Holly defeated Test

Tajiri defeated Billy Kidman

Chris Benoit defeated Scott Steiner

--------------------------------------

Next Raw will be in full, and posted on Friday. Couple of comments would be terrific, and for the people still waiting on replies to be returned for Raw, expect them in the next 24 hours.
Making James Ellsworth GET MY BAGS
Join Date: May 2004
Location: Central London
Posts: 4,641
Points: 0
Re: Being the booker
---
Great recaps and the Armageddon card is looking hott.

Bold decision to put the strap on Lesnar and his match with Rock at Fully Loaded should be a good 'un.

Looking forward to your show on Friday.
Tag Teaming With James Ellsworth
Join Date: Mar 2005
Posts: 1,214
Points: 0
Re: Being the booker
---
Good recaps to all shows. Nice to see Brock Lesner with the title for the first time in your thread, and Brock v Rock should be great. Both shows looked overall very good, building your main feuds nicely. Look forward to Raw
Re: Being the booker
---
Raw and Smackdown recaps were both fine. Armageddon is shaping up to be a hot card. Is it going to be in full?

It was a bold move to give the title to Brock. I am not sure if this is an altered plan, but I do not like Brock that much. I hope him and the ROck have a good match at Fully Loaded.
Tag Teaming With James Ellsworth
Join Date: Jun 2005
Location: Sidford, England
Posts: 1,864
Points: 0
Re: Being the booker
---
Raw

Good opener with Haas picking up the win, and this feud between DX and WGTT has some nice momentum, and the ladder match should be a top one.

Victoria as the psycho is nice to see, and maybe she will take the title at Armageddon

Kennedy keeps getting involved, and I'm sure the interview with Orton would have been good. Win over Tomko was expected, as it happens with everyone that Christian feuds with.

Very interesting to see who the partner will be, as my original guess of luther reigns seems to be wrong

Flair/Taker will be a good match, but the rules will be in favour of flair

Good tag match, and a nice win for the heels. I think sting will get his win back at the ppv, whilst Rey/Carlito is still up in the air

Eugene picks up a big win, but he pays for it.

Nice rules for the flair/taker match, and I think it is one that taker does need to win

Gillberg as the partner was a nice move, and makes the odds on Cena winning less. Of course, this means he will pick up the win, as that is what he does. Gilberg gets the pin that wins the match! Huge win for him, and maybe the next champ??? Cena still has the momentum, but I think his luck will run at the ppv

Smackdown Special

Good tag match, and a good win for Jericho and benoit, who always make a great tag team

Noble retains the title well, and he is looking a good strong champion at the moment

Lesnar wins the title, as I said he would do. Pity I had it down for SS though! Lesnar as the champ is probably a good move, as he and the Rock still have a few issues, and it will make for a great main event.

Smackdown

Good opening brawl between lesnar and the rock, giving good build to the ppv match

Nice to see hardy pick up a win, and it has to be a while since he has lost now? But then again, he hasn't really been pushed to the extent he could be

Angle/JBL could be on the cards, as well as Bashams/Dudleyz. Angle/Hart feud is being promoted at every opportunity, and is being done so very well. When the eventual turn happens, it will be a great moment

AMW get a nice win in what seemed a filler match

Rock/HHH next week will be a great match

Noble over Spike was the right decision, but the cheating and the post match attack could mean to a ppv match. Will be nice to see, but I don't see anything coming from it, and it seems to have sidelined London, which is a shame after his push

8 man tag next week will be a good match, and I can see the faces taking the win

Snitsky/benoit is a strange feud that you have dreamed up, but it is being done well. Will be a nice ppv match as long as benoit wins, and then gets a push after it

Good main event, and the DQ ending actually worked here, but this show did seem to contain a few dusty finishes. Maybe HHH/Jericho at the ppv as well, as it seems to be the only match for both guys
Moron
Join Date: May 2005
Location: Orlando, Fl
Posts: 334
Points: 0
Re: Being the booker
---
Surprised you gave Cena the win expecially since I expect a few weeks of DX tormenting him.

Brock with the title will be good IMO and I think he can have some good feuds but hopefully drop it at Wrestlemania to Benoit.

AMW should turn heel and side with Triple H.

Goldberg and SCSA should start a feud soon and lead up to either RR or preferrably Wrestlemania.
Re: Being the booker
---
Ok as promised, my Survivor Series Review!

First off, nice way to get the night started off with having Heat and the video package for Survivor Series was great. Surviving is indeed on everybody's minds tonight and I am getting really excited to read on for this ppv even more!

Here comes Cena to start the show and funny with the "ass backward" comment and I am surprised that this is starting the show. I was thinking of Team JBL vs Team Y2J to start but owell! Anyways, very nice way to get the night started off with. First man to go is Charlie Haas and it makes since for Cena to be fighting the odds to find a way to get the World-Heavyweight Championship back. Jindrak next to go with Sting taking him out but Reigns comes from behind to eliminate Sting, huge win right there! Cena takes out Reigns and the ending was dragged out well. Howeever, things certainly are picking up and Team Thuganomics gets the win!

Austin looks pumped up but here comes Christian. Nice to see Christian once more interfering on behalf of a legend and perhaps a WM feud is coming soon? I wouldnt mind seeing these two men in the same ring come WM 22!

And it's time for the Women's 10 Woman Battle Royal. Probably one of the better women's matches I have seen in a while. Shaniqua is first one eliminated which is a huge shock and it took all of the other nine competitors to get her out! Some other eliminations that are notable but I'm going to skip up to the ending with Trish and Victoria. Glad to see that Trish does retain her title and as we know right now, Trish is feuding with Victoria and it certainly is going to see things pick up soon!

Survivor Series next year in Houston!

Promo of the night right there with D-X and The Rock! That was great and funny at the same time with the "D-X" Duo being their normal selves with all of the gay jokes. I am calling it right now along with everybody else and it's going to be the showdown of ages, Shawn Michaels vs The Rock at WrestleMania 22. It is going to be one hell of a match and I can't wait. Maybe one more showdown to come at the Royal Rumble before it officially starts up?

Now I liked this next match and it had some intresting stipulations with three titles on the line in one match! First off, another huge shocker pulled on us with Jericho being eliminated first! James Storm is quickly out then and it leaves only London and Harris. Both of them worked together real well to take on the four men and it pays off with both of the Bashams being eliminated back to back! However, it starts to slow down and Harris is next to be eliminated leaving London to face Noble and JBL. London gave it a hard right eliminating Noble and almost eliminating JBL but it was too much and the Cabinet has all of the gold!

Great WM 22 Promo and I could just picture it in my mind with the expressions on the face of Chavo Guerrero, JBL, RVD, and the rest of them. Funny with Jericho talking before his huge performance and the "John Smith" was great too! Would have been nice to see Eddie Guerrero in this but RIP Eddie Guerrero!

Some hardcore action there with the Hardcore Gauntlet. Most notably out of this match was Booker T's run defeating A-Train, Richards, and Tomko before the champion, Rhyno comes down. Some hardcore action there between Booker T and Rhyno and the Hardcore Champion finds a way to retain over Booker T but I would have liked to have seen Rhyno maybe have been earlier up in the gauntlet, would have made him have to fight harder

I am loving these Angle and Hart promos with Kurt Angle tempting Bret Hart to get back into the ring with him for a match and Hart is going to accept one day or another. And most likely, he is going to accept before WrestleMania 22 for their huge match there. Hart assures Angle he will retain his title tonight but Angle doesn't sound so confident himself. Wonder where things can go from here between these two men tonight?

Victoria is certainly ticked off after that loss. She officially made her heel turn tonight beating down Gail Kim (who I thought was heel) and Lita tries to talk some since into her. Right now, we know she is starting to feud with Trish and that feud could be getting intresting soon. Hopefully, you add a twist to it because it has been done way many times in real life

Another great Elimination Match and I am a huge fan of Survivor Series and I love the idea of each match having some type of survival needed to win. Anyways moving on, nice match with the AFA being the first two people eliminated but soon after, Rock, Benoit, and Austin all pull it out and put on their best they can give. First Steiner is gone, followed by Test, Gene Snitsky, and then Matt Morgan before it comes down to the team leader Goldberg. Goldberg put up the fight but in the end, Team Just Bring It, specifically Austin, Rock, and Benoit were too much for Goldberg

Nice little promo before the huge War Games match to come tonight with Team Foley looking rather confident, I'm going to go on a limb and say that Team Flair is going to win this (well, I already know that anyways) but it should be a great match.

And now it's time for the WWE Championship in the Fatal 4 Way Elimination Match! First elimination goes to Lesnar and what a great way to do it with Guerrero playing possum with acting like Lesnar hit him with the chair and Lesnar is gone! Long time of action until next elimination in which sees Guerrero get the other elimination this time over Angle via reversal from Ankle Lock. Guerrero is definently going to win now as a sign of respect and I am right with Guerrero nailing the Frog Splash and finally overcoming Triple H to win the title. First off, I am glad you did this as it shows a huge sign of respect for Guerrero and secondly, good to see that the title has now been vacated and Guerrero has been removed from the roster

Nothing much to say about the coinflip but other than Team Flair gets the huge advanatage heading into the match. Funny with Goldberg walking by and OMG! Rey Mysterio cussed!!! Haha, that's great right there and what has the world come to?

Amazing match! I cannot believe what I have read with all of the blood shed, bodies on the line and so much more but in the end Team Flair walks away the winners. First elimination with Mysterio being eliminated was shocking to me. I saw Mysterio staying in a little bit longer because I thought Eugene would be first to go but he was soon after. Eugene being eliminated by Rob Van Dam gives Team Flair the five on two advantage for then until.....*GONG.....*GONG*.....*GONG hits! Undertaker takes his time as normal and they continue the beatdown on Orton and Foley until Taker arrives. Carlito is first member of Team Flair to be gone by 'Taker with a Tombstone. But once more, Christian shocks the world getting another pin over the Undertaker after the Unprettier. Vicious way for Van Dam to be eliminated with the Double Arm DDT by Cactus Jack onto the barbed wire bat! Flair then gets taken out by his rival Cactus Jack with the Mandible Claw and Batista tried but too late. OH MY! Foley gets eliminated with a Batista Bomb through the ring and that knocked Foley out. Batista shouldn't have even pinned him,Foley would have been eliminated by knockout after that! Later on in the match,RKO from Randy Orton onto Batista and it has come down to two huge future generation stars in Orton and Christian. Christian ends up getting the win after surviving the RKO and nails the Unprettier onto the chair! Team Flair gets the win and Christian has made himself known tonight!
Posting Rules

You may not post new threads

You may not post replies

You may not post attachments

You may not edit your posts

---

HTML code is Off

---