Registered User
Join Date: Sep 2013
Location: The United States of Essex
Posts: 218
Points: 185
Re: WWE: The Network Era
---

Tough Enough 2014


After a several year hiatus it has been confirmed that Tough Enough will be returning under a brand new format. Unlike the 2011 adaption which saw Stone Cold Steve Austin, Booker T, Bill Demott and Trish Stratus coach a mixture of pro wrestlers, models and mma fighters to see who exactly was tough enough. This time the selected 16 men will already be trained wrestlers looking to show they are tough enough to compete on the grandest stage in Professional wrestling. Once again under the harsh eyes of Stone Cold Steve Austin as well as the training by respected veterans William Regal, Joey Mercury, Bill DeMott and Norman Smiley this cast of 16 will be slowly whittled down to one who will be crowned the 2014 Tough Enough Champion and will be offered a chance to sign with either Monday Night Raw or Friday Night Smackdown. The confirmed cast for this is as followed....

Ahtu Arkum - 6'5 - 297 pounds - Philadelphia, Pennsylvania
Alexandre Freitas (Alex Silva) - 6'0 - 200 pounds - Montreal Quebec, Canada
Bobby Smith (Bobby Beverly) - 5'10 - 209 pounds - Youngstown, Ohio
Cody Taylor Hall - 6'8 - 250 pounds - Atlanta, Georgia
David Phillips (Shawn Schultz) - 5'10 - 207 pounds - Oak Ridge, Tennessee
Dylan Bostic - 5'11 - 196 pounds - Morristown, Indiana
Elias Evan Markopoulos - 6'1 - 195 pounds - Kalamata, Greece
Jason Alexander Lindsey (Cedric Alexander) - 6'0 - 209 pounds - New Albany, Louisiana
Julian Micevski (Ethan Page) - 6'2 - 222 pounds - Stoney Creek Ontario, Canada
Marc Dionne (Stupefied) - 5'10 - 187 pounds - Victoriaville Quebec, Canada
Mark Angelosetti (Mr Touchdown) - 5'11 - 194 pounds - Allentown, Pennsylvania
Michael Cichowicz (Michael Facade) - 6'0 -199 pounds - Port Vue, Pennsylvania
Nathan Irwin (Nathan Cruz) - 5'11 - 185 pounds - Hull, England
Shane Strickland - 5'9 - 169 pounds - Tacoma, Washington
Thomas Stintsman (Blaster McMassive) - 6'5 - 250 pounds - Levittown, Pennsylvania
Trevor Lee Caldwell - 5'11 - 210 pounds - Cameron, North Carolina
These 16 men have been selected after a strenuous audition process which saw the men tested on their athletic abilities, charisma, mental toughness and in ring skills. This process reportedly saw over 100 applicants so for these 16 to be selected. You can be sure they all have something special.
---
Last edited by Shade; 05-01-2014 at

05:52 PM

.
Registered User
Join Date: Sep 2013
Location: The United States of Essex
Posts: 218
Points: 185
Re: WWE: The Network Era
---
WWE holds press conference announcing a huge signing for the promotion
Earlier on today in a WWE Network exclusive a press conference was held by Triple H in regards to a new talent signing made by the WWE. This man in Triple H's words is a legend in his home country of Japan and has the skills and talent to become a legend across the world. With that Triple H then introduced to the world the man formerly known as KENTA who will now be coming to the WWE as Ronin.
Registered User
Join Date: Sep 2013
Location: The United States of Essex
Posts: 218
Points: 185
Re: WWE: The Network Era
---

WWE Monday Night Raw
April 21st 2014
Baltimore, Maryland

Tonight is the Night

The latest edition of Monday Night Raw opens up with a video package detailing all of the key events from the previous show this includes focusing on the announcement that David Otunga will be running Monday Night Raw whilst Brad Maddox investigates this new group. Also highlighted are clips of Maddox interrogating the likes of Dean Ambrose, Antonio Cesaro, Christian and Daniel Bryan. Once this comes to an end highlights of the main event between Roman Reigns and Randy Orton begin to play before the latest edition of monday night raw officially begins. JBL and Josh Matthews on commentary begin to hype up the show especially the main event of the evening which will see Randy Orton put his title on the line against Roman Reigns.

ALL ABOUT THE POWER

The packed crowd in attendance erupt into boos as David Otunga's theme plays out from the titantron. Slowly making his way out onto the stage from the back is the current interim general manager David Otunga. Once he reaches the ringside area David Otunga grabs himself a microphone before he climbs into the ring.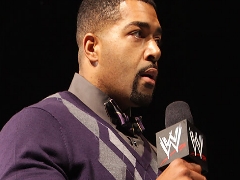 Otunga: Unfortunately despite working tirelessly over the past few weeks. Despite having questioned and interrogated as many members of the roster as physically possible. Brad Maddox has been unable to find out any information regarding the hostile actions of this group which viciously and violently assaulted some of Raw's top stars without any given reason.

Clips from the attacks on Orton, Sheamus, The Usos and Xavier Woods play on the titantron.

Otunga: Some people may want to believe this group are cool. That they are trying to make a name. That they deserve respect for taking out the top dogs on Monday Night Raw. But in thinking that you are just as bad as that group of thugs. Yes you heard me. They are nothing more then street thugs looking to generate some buzz among the foolish people that sit in this arena and chant Yes.

The crowd begins to boo before a Yes chant begins much to David's displeasure.

Otunga: However and I am speaking directly to the mindless violent thugs that comprise that group. I want you to know that your actions will have great consequence. See you don't get to just show up here on Monday Night Raw when I am in charge and act like this is your show. In fact it seems to me the only time this group shows their faces is when they know they can get in their little cheap shots on people. But when it comes down to it. This only proves the fact that not only are they thugs but they are also cowards.

David Otunga then drops the microphone and leaves the ring. But as he nears the bottom of the ramp David looks over to his right hand side where a hooded man can be seen holding a sign with the words 'The fallen shall rise'. Otunga looks confused when the hooded man pulls his hood down revealing himself to be the leader of this mystery group standing by the leader is the dark haired girl. Otunga starts to back up when he walks into the other three members of the group. Quickly the two big men of this mystery group as well as the scruffy one take Otunga down on the ramp before they begin putting the boots to him. As the leader and the dark haired girl look on the two big men lift up Otunga before then slam him violently down onto the steel ramp with a double thrust spine buster. Whilst this was happening the scruffy haired man was laying out a couple of security guards who tried to get involved before the group disappears through the crowd.

-----------------------------------------------------------------------------

Match One: Christian and Dean Ambrose vs Antonio Cesaro and Daniel Bryan

The opening contest of the evening saw four of the men interrogated by Brad Maddox last week clash in a tag team match. Based on all the men involved talents as you would expect this was a great match to open up Raw with the crowd very much on the side of Daniel Bryan and Antonio Cesaro. Bryan started things off with Christian and was actually on the offensive for most of the early portion until Christian was able to catch him off of the ropes with a power slam. From here Christian and Ambrose showed some surprisingly excellent team work as they cut the ring off and began to work over Bryan preventing him from tagging out to Cesaro. This continued for the vast majority of the match until Bryan was able to duck under a double clothesline before laying out both men with a split legged dropkick. From here Bryan made a desperation tag to Cesaro. Fired up Cesaro took the fight to both men hitting them both with uppercuts before he scored a near fall on Christian following a suplex. Cesaro then readied Christian for the Neutralizer when Ambrose tried to get back into the ring but before he could interfere he was laid out with a running knee strike by Bryan. This allowed Cesaro to hit Christian with the Neutralizer before making a cover for the win.

Justin: And the winners of the match Antonio Cesaro and Daniel Bryan.

The crowd explodes into cheers as Antonio Cesaro climbs to his feet before he is joined by Daniel Bryan. Bryan and Cesaro both get their arms raised in the air as on the outside of the ring the unstable Dean Ambrose kicks the steel steps in frustration.

-----------------------------------------------------------------------------

Up in one of the sky boxes in the arena a suited up Sylvester Lefort is sitting down on a leather chair drinking champagne as he watches the show go on. Sitting with him is Sasha Banks who is wearing a long red dress. Renee Young walks into the room looking to get a few words with Lefort when from the side of the doorway a suited up Titus O'Neal steps out in front of her.

Titus: Can I help you?

Renee: I just wanted to get a few words with Lefort.

Titus: Well I can assure you now. Mr.Lefort is too busy to be speaking with you.

Renee: And since when did you speak for him Titus?

Titus: Since I was hired by Mr.Lefort to act as his personal bodyguard. And my job is to ensure that whilst he is scouting for his clients. That he is not disturbed. So do yourself a favor Renee and leave now. So that Mr.Lefort can continue his scouting.

Before Renee can even reply Titus backs her out of the room before slamming the door shut.

-----------------------------------------------------------------------------

Backstage in the parking lot Brad Maddox steps out from his car and slowly walks into the arena. But as he starts to walk to his office he sees Daniel Bryan signing an autograph for a lucky fan.

Brad: Daniel Bryan. It's good to see you.

Bryan: What do you want Brad? To question me some more about this group.

Brad: No.

Bryan: Because I told you. I had nothing to do with it.

Brad: I believe you. In fact I wanted to speak with you about something.

Bryan: Alright.

Brad: Look I've just heard your team won earlier and I feel with that and some of your recent performances you've earned this opportunity. So the winner of tonight's match between Orton and Reigns. Will be your opponent at Extreme Rules with the title on the line.

-----------------------------------------------------------------------------

Match Two: Aksana vs Emma vs Eva Marie vs Naomi vs Natalya vs Summer Rae - Women's Championship Battle Royal

A battle royal to crown the first Raw Women's Champion was next and it saw the six divas on the roster collide just to see who could hold that title. In the early stages everyone in the match paired off with Naomi battling the women responsible for her eye injury in Aksana and Natalya battling Total Divas rival Summer Rae. This left Emma to fight with Eva Marie in the center of the ring. But as always in these matches it didn't last that way as an alliance by Summer Rae and Eva quickly led to the elimination of Natalya before Summer laid out Emma with a spin kick. Following this up Summer and Eva then attacked Naomi drafting in Aksana to help them eliminate her. But just as it looked like it might be 3 on 1 against Emma, Summer Rae blindsided Aksana and threw her out of the ring. The crowd booed as Summer and Eva then beat down on Emma until a comeback from Emma ended with a dropkick which sent Eva out of the ring eliminating her. This left it down to Summer and Emma and the crowd was solidly behind Emma. The match between these two was very back and forth until both girls wound up on the turnbuckle. A few shots back and forth then saw both girls tumbling to the floor at the same time much to the confusion of the crowd.

Justin: And the..... Winners of the match Emma and Summer Rae

The crowd are as confused as everyone else when on the titantron both girls feet hit the floor at the same time. Both Emma and Rae climb to their feet and begin arguing as the footage replays once again.

-----------------------------------------------------------------------------

Backstage in the locker room area Antonio Cesaro is packing up his gear getting ready to leave the arena. But as he nears the door Dean Ambrose walks into the room.

Dean: So you think you are something special right now huh?

Cesaro: What are you talking about?

Dean: You talk trash to me the other week and now you win that tag. So what you think you are better then me?

Cesaro: I didn't say that Dean. You are clearly imagining things.

Dean: Are you saying I'm crazy.

Cesaro: No I'm saying you are still out of it from one of my European Uppercuts earlier.

Dean: You had better shut up now...

Cesaro: Or what? Dean the honest truth is I don't think I am better then you. The real truth is i know I am better then you. And I certainly am a better US Champion then you ever was.

Dean: Well from what I remember. I beat the guy who beat you for this title. So that proves something.

Cesaro: Well why don't you try and prove something else and take me on with the title on the line.

Dean: When?

Cesaro: Extreme Rules.

Dean: Deal.

-----------------------------------------------------------------------------

Brad Maddox is in his office watching some footage of what happened to David Otunga earlier on in the night when suddenly in walks Sheamus and The Usos.

Sheamus: You wanted to see us Brad.

Brad: Yes. I know you are all upset about what has been going on and I am to. This group is striking at any chance they can get.

Sheamus: So I take it you want us to rough em up for you.

Brad: Yes. But first of all I want to know why they are doing what they are doing. Which is why I am making it known next week there will be an open mic for whoever this is to speak.

Sheamus goes to speak but Maddox cuts him off.

Brad: But just because I am doing that doesn't mean they are getting off for what they have done. I want the three of you to call them out at Extreme Rules.

Jimmy: But there is four of them. I know we are all down for a fight. But they can play on the numbers game.

Brad: Go get the Miz and tell him he can have his shot at redemption as well. I imagine he is just as angry.

-----------------------------------------------------------------------------

Match Three: Cody Rhodes, Evan Bourne, Sami Zayn and Goldust vs William Regal, Curtis Axel, Fandango and JTG

It was now time for the next match of the evening and it was a big eight man tag featuring some of Raw's rising stars as well as established veterans. The early stages of the match saw Sami Zayn take on William Regal in what was an enjoyable grappling match until Curtis Axel entered the ring and cheap shotted Zayn. William Regal for his part did not look too impressed but a blind tag was then made by JTG who went right after Sami Zayn. JTG stomped on Sami several times before he attempted a fisherman buster only to have Sami block it and tag out to Bourne. Bourne quickly sprang into the ring with a clothesline. But before he could make a cover Fandango broke things up. The match then broke down with everyone entering the ring and it looked like the referee was going to call for the bell when suddenly the group that has been jumping Raw superstars left and right hopped the rail. Before anyone in the ring could react. Cody Rhodes, Curtis Axel, JTG and Fandango were all pulled out of the ring by the four men. The large man with the black Mohawk quickly laid out JTG with a brutal clothesline whilst his longer haired partner threw Axel straight into the ring post laying him out. On the other side of the ring the scruffy haired man DDTed Fandango on the floor. This left Cody Rhodes who was actually getting the better of the leader of the group until he was low blowed by the dark haired women. This allowed the leader to throw Cody into the steps but before any more damage could be down Goldust left the ring to save his brother. The leader could be heard telling Goldust to stand aside as he didn't want to hurt him but Goldust refused and was quickly beaten down by the four men. This left just William Regal, Sami Zayn and Evan Bourne in the ring but as the group climbed up onto the apron and then into the ring the leader instead of sending them after Bourne, Zayn and Regal told them to stand aside and let them leave the ring. Confused both Zayn and Bourne left the ring but Regal refuses. The leader doesn't look happy as his group surrounds Regal and again he can be heard saying he doesn't want to hurt Regal but to his shock Regal responds with a right hand. The crowd explodes into cheers but before Regal can follow up he is pinned against the corner by the two big men of this stable. The leader stares at Regal and it looks like he is about to take a shot at him when Goldust climbs back into the ring. But before Goldust can do anything the scruffy member of the group and the leader pounce on him whilst the two big men hold Regal back forcing him to watch. The leader of the group then drags Goldust to his feet before he then drives him into the canvas with a Belly to Back Piledriver. The crowd in attendance all wince as Goldust is laid out on the canvas. Knowing the damage is down the leader has the two big men just shove Regal onto the canvas before they leave the ring and once again disappear into the crowd.

-----------------------------------------------------------------------------

Having just seen what happened to Goldust on a monitor. A troubled Brad Maddox continues to watch as Goldust in the ring is placed on a stretcher. But just then he is distracted when both Summer Rae and Emma walk into the office arguing.

Brad: Please be quiet now.

Summer: But...

Brad: I said be quiet. Look I understand you are both upset about what happened in the battle royal.

Summer: I should have been named the winner her feet hit first.

Emma: We both hit the floor at the same time Summer. I'm down for a rematch tonight but all you keep on going on about is that you should be champion.

Brad: Neither of you are champion. Not yet at least. But you will both get your chance to prove who is the real champion at Extreme Rules. As it will be Summer Rae vs Emma for the Women's Championship.

Emma smiles whilst Summer Rae is clearly not happy and storms out of the room.

-----------------------------------------------------------------------------

ONE MAN BAND

The crowd in attendance boos loudly as Heath Slater's theme plays out from the titantron. Slowly strutting out from the back is a grinning Heath Slater as clips of his win over Darren Young last week play on the titantron. Slater walks down to the ring before he grabs a microphone and despite the boos continuing from the crowd Heath still has a big smile on his face. Once in the ring Heath then mimics some air guitar before speaking into the mic




Heath: Ladies and Gentleman. HEATH SLATER IS HERE TO ROCK THE HOUSE. That's right people Heath Slater solo superstar is here once again to gain the ratings that I truly deserve. Because if you didn't see it last week. Last week I stepped in here and I showed to the world that I was the real star of the Nexus. And the real star of NXT Season One. Which I proved when I defeated Darren Young.

Again a replay of the finish airs whilst Slater smiles.

Heath: See Darren. You might be good. But you ain't Heath Slater. And I'm sure there are many guys in the back right now realizing that as well. Because I am now so much more then just a solo artist. No I am a star. I am a pop culture sensation all the way across the world. Because they know when Raw is live. When Raw goes Primetime. It's Slater time Baby.

The crowd boos louder.

Heath: I mean think about it people. Who else can say the things I can. I've eclipsed every star in Wrestling. It's not about Hulkamania anymore. It's all about Slatermania. Because everywhere I go. I'm looked at as a hero. It don't matter if it's Iceland, England, Mexico, Japan or even somewhere like Bulgaria. They all know Heath Slater. And that is why once again I'm challenging anyone in the back to a match to share in my spotlight for all my fans across the world.

ROAR OF THE LION
As soon as Alexander Rusev's theme plays from the titantron Heath's smile fades. Rusev and Lana then slowly walk out from the back as a nervous Slater looks on from in the ring.

-----------------------------------------------------------------------------

Match Four: Heath Slater vs Alexander Rusev w/Lana

Matched up against the undefeated Alexander Rusev. It was safe to say Heath Slater was not sporting his usual confidence. And that became quickly apparent why when right off of the bat Slater clocked Rusev with a right hand only to have Rusev stare him down. Heath then tried to quickly flee the ring only to have Rusev catch him and throw him into the corner. From here Rusev battered Heath with some knees to the mid section before he he threw him down onto the canvas with a Sambo Throw. Slater staggered to his feet and a vicious spinning heel kick by Rusev followed. The force of which looked like it knocked out Slater. With Slater down Rusev then clamped on the Accolade. With Slater out from the kick the referee has no choice but to call for the bell.

Justin: And the winner of the match Alexander Rusev.

The crowd just watched on as Rusev keeps hold of the submission until Lana orders him to let go. An emotionless Rusev then raises his arms in the air over Slater as Lana smiles.

-----------------------------------------------------------------------------

Backstage in the hallway of the arena The Miz can be seen on his phone talking to someone when Sheamus and the Usos walk over to him.

Sheamus: Miz. We need to talk.

Miz: I have nothing to say to you.

Sheamus: Good then all you have to do is listen.

Miz: What do you want?

Jimmy: We need your help.

Miz smirks.

Miz: Really. You want my help. I mean Really.

Sheamus: Miz cut the crap. This group is attacking everyone. We need to stop them.

Miz: I don't need to do anything Sheamus. Especially not with you losers.

Jey: So it doesn't matter to you what they are doing.

Miz: Not in the slightest.

Miz then shakes his head before he goes to walk off but he turns round into a stiff right hand by William Regal which knocks him down on the floor. Regal then looks over at Sheamus and the Usos.

Regal: If you are looking for someone to fight with you against those bloody hooligans. Then look no further. I may be past my prime. I may not be a spring chicken, But my body is still packed full of vile venom and I want a fight.

Sheamus: That's good enough for us.

-----------------------------------------------------------------------------

To all the superstars here on Monday Night Raw. I'm afraid I've got some Bad News.....


Bad News Barrett returns to in ring competition

May 5th

-----------------------------------------------------------------------------

Main Event: Randy Orton vs Roman Reigns - WWE World Heavyweight Championship Match

Finally in the main event of the evening. Randy Orton had to defend his title against the man who defeated him last week in Roman Reigns. The crowd was entirely behind Roman Reigns right from the off looking to see him possibly win the title tonight from the much hated champion. The early stages of this match was all Orton who took the fight to his much stronger challenger looking to possibly end it early. But after hitting the ropes and looking for one of his trademark clotheslines. Orton was countered with a samoan drop by Reigns. This was a key turning point in the match as Roman began to go on the offense hitting Orton with a devastating array of power moves. Reigns then motioned for the superman punch but as he went for it Randy caught him in mid air with a power slam. With both men down the crowd continued to chant for Reigns. Roman staggered to his feet and Randy tried for an RKO only to have Reigns shove him off into the ropes. Reigns then tried again for the superman punch on the return but Orton ducked under and shoved Roman shoulder first into the ring post. From here Orton tactically went to work on the arm as on commentary JBL cited that if Reigns' arm is weakened so is the force of the spear. Continuing to attack the arm of Reigns Orton was clearly looking to completely render Roman's right arm useless. Locking in a fujiwara armbar on roman. It looked like Randy might get the submission right here but somehow Roman was able to grab the ropes. Orton then stalked Roman as he climbed to his feet and it looked like once again he was going to go for the RKO only to have Reigns shove him off down to the canvas. Despite feeling the effects of his right arm Reigns cracked Orton with a superman punch to a massive pop before he motioned for the spear. Orton staggered to his feet and Roman charged at him only to have Randy side step and fling him shoulder first into the ring post. Roman staggers back into an RKO from Randy who then makes a cover for the win.

Justin: And the winner of the match and still Champion Randy Orton.

The crowd erupts into boos as the announcement is made and slowly a victorious Randy Orton climbs to his feet in the ring. After being handed his title by the referee a smirking Orton then slowly climbs the turnbuckle and raises his title in the air as Daniel Bryan walks out onto the stage and stares at the man he will be facing at Extreme Rules.

---
Last edited by Shade; 05-05-2014 at

11:45 AM

.
Registered User
Join Date: Sep 2013
Location: The United States of Essex
Posts: 218
Points: 185
Re: WWE: The Network Era
---
WWE The Network Era
Smackdown Recap
April 11th - May 2nd
The Animal rules again

With the draft taking away not only the Tag Team Championships but as well as the WWE World Heavyweight Championship. It was safe to say that Smackdown did not come off well when it come to the title front. But when it come to sheer star power it was clear Smackdown had done very well for itself when the opening segment on it's April 11th card saw Batista, John Cena, The Big Show, Mark Henry, Dolph Ziggler and Seth Rollins all come out and argue over who should be named the champion of Smackdown. To the crowd's shock and the wrestlers shock. CM Punk then finally returned to the WWE and in a manner similar to his pipebomb promo tore into the company for it's treatment of him before then tearing down ever single person in the ring. Before anyone could reply a loud Excuse me echoed out before Vickie Guerrero walked out from the back onto the stage. After reminding everyone that she makes the decisions and no-one has the right to just call them self a champion. Vickie announced a battle royal later on in the evening to crown the first ever Smackdown Champion. Everyone in the ring nodded their head when the lights went out in the arena and when they switched back on the Wyatts had pulled Cena out of the ring and began beating him down. Before Big Show could help Cena he was cheap shotted by Batista whilst Dolph Ziggler attacked Mark Henry. Seth Rollins for his part looked conflicted as to whether he should help Cena but before he got his chance he was pulled out of the ring and flung into the ring post by CM Punk.
The battle royal that evening saw the entire Smackdown Roster of Alberto Del Rio, Batista, Big E Langston, Big Show, Billy Gunn, Bray Wyatt, Brodus Clay, Camacho, CM Punk, Diego, Dolph Ziggler, Drew McIntrye, Erick Rowan, Fernando, Hornswoggle, Jack Swagger, Jinder Mahal, John Cena, Kane, Luke Harper, Mark Henry, Rey Mysterio, Road Dogg, Ryback, Santino, Seth Rollins, Sin Cara, Tensai, The Great Khali, Yoshi Tatsu and Zack Ryder. Despite the knowledge that the title was on the line judging by some of the competitors actions it was clear they had other reasons for being in the match. John Cena was one of these as he went right for the Wyatt Family but much to his anger Bray and his group eliminated themselves from the match before he could get to them. With Cena distracted by the Wyatts he was flipped right out of the ring by CM Punk who appeared to be showing a new heel side to himself where he was willing to take any and every cheap shot possible. With two of the big names going quickly some of the newer superstars in the match began to show off some real potential to becoming favorites to win as both Brodus Clay and Big E Langston earned themselves several impressive eliminations each with Brodus tossing out Tensai, Tatsu, Ryder, Khali, Hornswoggle and much to everyone's surprise Rey Mysterio whilst Langston eliminated Alberto Del Rio, The New Age Outlaws and Camacho. But when these two beasts come face to face it was Langston who continued to impress when he eliminated Clay but before he could even turn back round he was also flipped out of the ring by CM Punk. Getting cockier and cockier Punk clapped his hands like Langston and mimicked his taunt only to turn round into a dropkick by Rollins which eliminated him from the match. As the battle royal continued and many more were eliminated we got down to the final four of Seth Rollins, Batista, Dolph Ziggler and Mark Henry. It was here that loud chants for Seth Rollins could be heard coming from the crowd and after eliminating both Henry and Ziggler before drilling Batista with a Curb Stomp it looked like Seth was going to win the match when he was hit with a GTS by Punk. Smirking Punk then left the ring and allowed Batista to toss Rollins out of the ring and become the First ever Smackdown Champion.
The next week on Smackdown Batista had a full on championship presentation ceremony in which he reminded everyone that he did not return to the WWE for the fans or to make friends. That instead the reason for his return was to simply make money and win the title. Much to Batista's surprise he was interrupted by the Big Show who criticized the new champion for his attitude and challenged him to a contest for the title that night. Firing back Batista reminded Show that he didn't even make it to the final four last week. But before Batista could continue his tirade he was knocked out by the Giant. Later on in the main event of the evening The Big Show defeated Alberto Del Rio in singles competition only to then be hit with a spear by Batista who standing over Big Show told him he accepted his challenge but that it would take place at Extreme Rules. April 25th's Smackdown opened up with the Big Show in ring speaking about his history with Batista in the past and saying that he personally has always thought Batista was the arrogant and selfish man that is now in possession of the title. Before Show could finish his promo a suited up Batista appeared on the titantron and branded Big Show as nothing more then a side show act designed to draw in casual viewers. This statement clearly irritated Big Show who later on in the evening defeated Rey Mysterio with a KO Punch. On the last edition of Smackdown a contract signing was held for the Smackdown Championship match between Big Show and Batista and after a few harsh words back and forth Batista tried to cheap shot Big Show only to wind up being choke slammed through the table.
Another title introduced to the Smackdown Brand was the Smackdown Tag Team Championships. But unlike the Smackdown Championship. These titles were not going to be decided in a battle royal. Instead Vickie Guerrero announced an eight team tournament to crown the champions. The first one of these matches took place on the April 11th edition of Smackdown with Los Matadores defeating The New Age Outlaws when Diego pinned Road Dogg following a double Samoan Drop. With their win Los Matadores found out the next week that their opponents in the next round would be none other then the Wyatt Family after Luke Harper pinned Yoshi Tatsu following a discuss lariat. The third match in the tournament saw Big E Langston and Mark Henry take on Sin Cara and Rey Mysterio. But in a shocking moment just as it looked like Big E might put Rey away with a Big Ending he was spun round and hit with a Worlds Strongest Slam by Mark Henry. Henry then put Rey on top of Langston and just watched on as the ref made the count. Finally in the last match in the first round of this tournament which took place saw Drew McIntrye and Jinder Mahal team up to face a debuting team from NXT of Jason Jordan and Tye Dillinger. In an impressive performance from the debuting team they quickly impressed the fans with some solid team work before Jordan pinned Drew with a cross body block. In a post match interview it became clear that this team was of a Teacher in Tye Dillinger and his protege Jason Jordan.
With his shocking turn on Big E Langston during the tag team tournament. Fans would have to wait until the show before Extreme Rules to find out exactly why he did what he did. In a scathing promo Henry chastised Langston saying that whilst it is was good that Big E won the battle royal. He should have stood aside and let Henry win. As unlike Langston who has his whole career ahead of him. For Henry time is running out and that win could have been his road back to a title. Big E Langston then walked out to the ring. Langston called Henry a mentor to him and said he always respected him. But now he couldn't respect the man in front of him for what he has become. Langston then offered Henry a chance to get his hands on a title by saying he would put his intercontinental championship on the line. Smirking Henry accepted the match before he left the ring and made his way backstage.
Another champion who didn't have to look too far for her challenger was Divas Champion AJ Lee. Since winning the title AJ has held on to it for a record amount of time. Hitting 292 days as champion when it reached April 11th. However to her shock when AJ cut a promo on April 11th calling herself not only the greatest women's champion of all time but also the greatest women's wrestler of all time. Her Bodyguard Tamina yanked the microphone from her and said she was sick and tired of hearing people boast about AJ's reign when half of the time it was down to Tamina's interference that she was able to retain that title. Before AJ could respond much to the delight of the fans in attendance Tamina dropped her with a Samoan Drop before following up with a Superfly splash. Over the next two weeks Tamina would pick up some impressive wins over Layla and Cameron when after a hard fought win over Layla she was attacked from behind by AJ Lee who locked in the Black Widow. Once Tamina was down AJ then grabbed a mic and called her an ingrate after everything AJ had done for her. Finally on the may 2nd edition of Smackdown it was under the orders of Vickie Guerrero that AJ would have to put her women's title on the line against Tamina at Extreme Rules.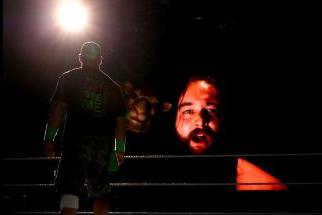 One feud which did carry over from Wrestle Mania was Bray Wyatt and John Cena. Although some might have thought with John's win against Bray Wyatt at Wrestlemania was the end of this saga. It clearly wasn't in the mind of Bray Wyatt as he didn't just continue the mind games so much as he escalated them drastically. As on the April 18th edition of Smackdown Wyatt began to stalk Nikki Bella and midway through a match between John Cena and Brodus Clay later on in the evening. On the titantron footage of Wyatt and his family standing by with a terrified Nikki Bella began to play causing Cena to abandon the match and run backstage. After chasing roud the arena after Wyatt. In a shocking scene Cena found Nikki tied up to a chair with a goat mask covering her face. The next week on Smackdown Cena was clearly angered and said he didn't think Bray could stoop any lower with all the other things he has done But that targeting Nikki was a new low even for him. Demanding a rematch with Wyatt for Extreme Rules. Cena didn't have to wait too long for an answer as Bray showed up on the titantron and began to compare Cena to a super hero. But just like every super hero he had a weakness. And that weakness is all the fans who chant his name. Because be it them saying he sucks or them saying let's go Cena. He mattered to them. He meant something and it was now Bray's mission to take away that meaning. Which is what he will do to John Cena at Extreme Rules.
Ever since his return to the WWE CM Punk made it clear that he wasn't here to make friends or win fans. Instead all he was here to do was win matches and get another title put round his waist before as he put it he takes another vacation. But much to his anger and annoyance his chance at becoming the first Smackdown Champion was sullied when he was eliminated by the growing ever popular Seth Rollins. But once Seth made it to the final two a bitter Punk attacked him which allowed Batista to eliminate Rollins. Still bitter the next week CM Punk walked out to the ring and called Seth Rollins a cheap imitation of himself. Mentioning their back stories as well as similarities in their hair styles at points. Punk berated Rollins calling him a lower class version of himself. Not willing to stand for these insults Rollins charged the ring and he and Punk engaged in a very heated brawl which spilled out of the ring before security got involved. Later on that evening Rollins challenged Punk to a match the next week on the April 25th edition of Smackdown but the match never really got underway because once the bell rung Punk offered a test of strength to Rollins before pulling him in and kneeing him to the groin. Following up with a Go to Sleep on Rollins. Punk smirked and said he could not believe everyone in the building was that stupid. Because one thing that should be known by now is that CM Punk only competes on his own terms and that if Seth wants a match he will have to wait until Extreme Rules. An irate Rollins the next week accepted Punk's challenge stating that when he was a young man starting out in the business he idolized punk. but as he got to know him he saw that Punk was not someone who you could idolize. Instead he was a selfish, incredibly disrespectful and ungrateful and that he is dying for a chance to knock CM Punk down a peg at Extreme Rules.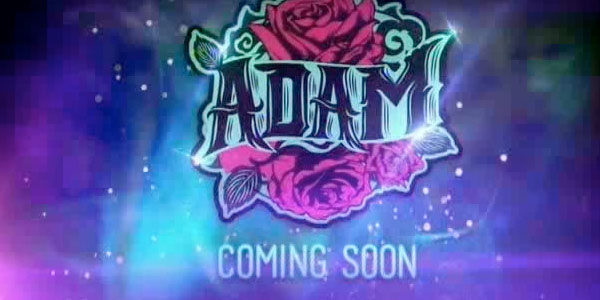 Finally with it being post Wrestlemania as seen with Raw. Several new talents made their debuts. With Dillinger and Jordan making an instant impact in the Tag Team Division. Smackdown Fans were also introduced to two more faces set to join the brand. One of which had several vignettes hyping up his debut in Adam Rose. Whilst the other man who made his debut on April 11th was high flying Brit Adrian Neville. Picking up a win in his debut match over Jinder Mahal in which he wowed audiences with his high flying moves especially his finisher an imploding 450 splash. Neville then followed up with another victory on April 18th when he defeated Zack Ryder. However this was a quick turning point in Neville's main roster run. As after a win on April 18th over Drew McIntrye with his imploding 450 Neville was attacked by Ryder. On May 2nd a bitter and frustrated Ryder explained his attack on Neville by saying that at one stage he was Adrian Neville. He was the hero of the fans and all the little kids. But now he has been thrown aside and called a loser. And now because of the fans turning against him and picking themselves a new favorite. He will make it his mission to beat all of their heroes.
Extreme Rules Smackdown Matches
Big Show vs Batista - Smackdown Heavyweight Championship Match
CM Punk vs Seth Rollins
Big E Langston vs Mark Henry - Intercontinental Championship Match
AJ Lee vs Layla - Divas Championship
John Cena vs Bray Wyatt
Registered User
Join Date: Sep 2013
Location: The United States of Essex
Posts: 218
Points: 185
Re: WWE: The Network Era
---
Tough Enough 2014
Episode One: Just how tough is enough?
It is the very first episode of Tough Enough Season 1 on the WWE Network in 2014! The show opens up with the host of Tough Enough Stone Cold Steve Austin standing inside one of the many rings in the WWE Performance Center. Austin then begins to talk in depth about Tough Enough calling this season the real toughest of the bunch. As this will not be 16 trainees with full time jobs looking to change their lives. No this will be 16 wrestlers who are on the brink of becoming stars. Men who have been on the cusp of being signed in the past. But for some reason or other have never been able to reach their full potential until now. Because these 16 men now all will get one huge opportunity to make their dreams come true. As these 16 men will battle out to show that they are indeed tough enough to earn a place on the main roster.
With that Austin goes on to introduce the contestants for this year's tough enough. They include the power house from Pennsylvania Ahtu, Self dubbed Canadian bad boy Alexandre Freitas, Flashy Ohio Native Bobby Smith, 2nd generation wrestler Cody Hall, Gritty Tennessee native David Phillips, Young prospect Dylan Bostic, Fellow youngster and veteran Elias Evan Markopoulos, Highly touted Louisiana native Jason Alexander Lindsey, Self dubbed Feature presentation Julian Micevski, Video game obsessed Marc Dionne, Football standout Mark Angelosetti, Daredevil Michael Cichowicz, Cocky Englishman Nathan Irwin, Tacoma native Shane Strickland, 6'5 titan Thomas Stintsman and North Carolinian Trevor Lee Caldwell.
The 16 contestants then walked into the performance center and all looked awestruck at the surrounding and the facility as a whole. The group grow a bit more star struck as Austin has them all climb up onto the apron of the ring he is standing in and he tells them to get used to this ring and this building as they will be spending a very long time in this facility. Because unlike all past seasons of tough enough. Austin says he knows these guys are good. Or else they wouldn't be standing in front of him. But what he needs to know is just how good are they. Just how tough are they and most importantly can they make it in the WWE. Which is why to help them on their way he has brought in several of the great coaches from the performance center to help them. They are veteran trainer Bill Demott, WCW veteran Norman Smiley, WWE and ECW veteran Joey Mercury and of course one of the greatest wrestlers to come out of the UK William Regal.
The coaches all joined Austin in the ring to a round of applause from all the contestants. All the contestants are highly respectful of their coaches but one or two namely Irwin and Micevski claim that whilst the coaches are all great. It isn't their intention to be great it's their intention to be legendary. With all the coaches and contestants present Austin finally revealed the premise for this season of Tough Enough. Because as he has said a few times already. It's not a matter of are these guys tough enough. It's a matter of are these guys tough enough to make it in the WWE. Which is why this years competition has been designed to make sure they are completely ready for the challenges they will face on the main roster. Because for the first time ever in Tough Enough History it won't be a matter of winning competitions or challenges. No this time the winner of tough enough will be the most proven competitor in the bunch. As this time round instead the winner of tough enough will be decided in an old fashion round robin style tournament to declare the champion. With the winner gaining two points for every victory as the tournament goes on those falling behind on points will slowly be eliminated from the competition. Which means that every match you are in is just as important as the next as wins and losses matter in this tournament. The looks on the contestants faces varied here as some were shocked, a couple didn't look to happy and some looked pleased with the announcement. But all this changed with another curve ball announcement by Austin in that these matches will take place in the performance center in front of WWE personnel as well as WWE superstars and Performance Center trainees.
Austin laughed as he saw the stunned expressions on all 16 contestant's faces before he explained that when it comes to the WWE you have to expect the unexpected at any and all times. And that includes tonight. Because right now all 16 will be put to the test in an over the top rope battle royal. With the winner being able to select his first opponent in the tournament. All the contestants looked shocked as Austin and the coaches all exited the ring and climbed out onto the apron. As Austin and the coaches all then climbed down from the apron the stunned contestants all entered the ring for the battle. With the coaches all watching on it was safe to say the pressure was on these guys as Austin walked over to a small table positioned near ringside and rang the bell.
Despite not being prepared or ready for the match none of the participants waste any time in brawling with one another. Despite the fact that this was supposed to be every man for himself it did not take long for alliances to form as Nathan Irwin, Mark Angelosetti, Julian Micevski and Alexandre Freitas all began to watch out for one another and target one of the Three big men in the match in Thomas Stintsman. Another two men who worked together were Bobby Smith and David Phillips who targeted young prospect Evan Markopoulos. This left the rest of the participants battling among themselves until Ahtu Arkum began to put his devastating power into display leveling several men before pressing Dylan Bostic over his head before throwing him out of the ring. Continuing to put his power on display Ahtu then tossed out Trevor Lee and Marc Dionne before he and Cody Hall began brawling. But as these two big men tussled by the ropes they were unable to defend themselves when Jason Lindsey flipped them out of the ring. Lindsey then turns round and sees Cichowicz charging at him only to have Jason dump him out of the ring. The match was now down to ten and continued on with the group of four managing to eliminate Stintsman and Strickland before Markopoulos hit Freitas with a dropkick knocking him out of the ring. But as Evan climbed to his feet he was spine bustered by Angelosetti who tossed him out of the ring. As the eliminated contestants all stood round ringside and the eliminations continued the match finally come down to Jason Lindsey, Nathan Irwin and Bobby Smith. Lindsey who had been impressive the whole match hit Smith with an impressive springboard kick which wobbled him and allowed Jason to then toss him out of the ring. But before he could turn round Lindsey was flipped out of the ring by Irwin who won the match.
The coaches at ringside all applauded before all gave some thoughts and in put on the match. Regal for his part said he was most impressed with the guts displayed by Evan Markopoulos but also said he liked the attitude of Irwin in that he has a win at all costs mentality which reminds him of himself. Smiley and Mercury on the other hand shared the opinion that Lindsey and Ahtu were the ones to watch out for. Whilst Demott again like Regal said he loved that Iwrin capitalized on Lindsey's mistake. However as to be expected it was Austin who really hit the nail on the head when he said in a battle royal it is every man for himself and whilst Jason looked impressive. He took his eye off the ball. With that Irwin was then allowed to choose his first opponent in the tournament and he selected the youngest in the group Elias Evan Markopoulos. With that the matches for the next show were all lined up as followed.
Nathan Irwin vs Elia Evan Markopoulos
Ahtu Arkum vs Bobby Smith
Alexandre Freitas vs Dylan Bostic
Trevor Lee Caldwell vs Thomas Stintsman
Julian Micevski vs Marc Dionne
Jason Alexander Lindsey vs David Phillips
Mark Angelosetti vs Cody Taylor Hall
Shane Strickland vs Michael Cichowicz
Posting Rules

You may not post new threads

You may not post replies

You may not post attachments

You may not edit your posts

---

HTML code is Off

---