WCW 2000 - Fuck Your Shoots, We Are Wrestling
---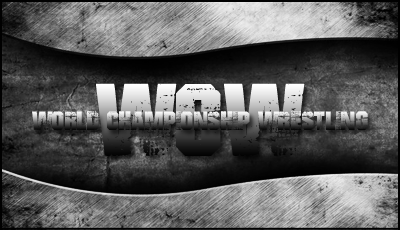 WCW 2000 - Fuck Your Shoots, We Are Wrestling
A Caesar WCWR Production

~ INTRODUCTION ~
In 2000, the landscape of WCW changed. The Russo/Ferrera regime that catapulted the WWF in the Attitude Era did nothing to help the ailing WCW. Starrcade 1999 achieved the lowest buyrate in WCW history, despite being headlined by Bret Hart and Goldberg. This is the same company that achieved the highest buyrates it ever did just two years prior. Pathetic. Within two years, WCW fell to a new low it had not seen since the pre-Bischoff Era.

WCW's troubles were exacerbated when on the eve of Souled Out, Vince Russo received two phone calls - one from Bret Hart, the WCW Champion, and one from Jeff Jarrett, the US Champion. Neither man was in any condition to be at Souled Out, so it was decided to vacate both titles in the interim. Vince Russo proposed an idea to have Tank Abbott run with the WCW title until the situation got sorted, but WCW executives would have none of his nonsense. He was sent home and offered a release, at which time Kevin Sullivan took up duties and rewrote the show to compensate for Hart and Jarrett's absence. This was the result -

WCW Souled Out Results
Billy Kidman def. Dean Malenko in a Catch-as-Catch Can match
Vampiro def. David Flair and Crowbar
Big Vito & Johnny The Bull def. Ron & Don Harris
Oklahoma def. Madusa to win the WCW World Cruiserweight Championship
Brian Knobbs def. Fit Finlay, Norman Smiley, and Meng to retain the WCW Hardcore Championship
Billy Kidman def. Perry Saturn in a Bunkhouse match
Booker T def. Stevie Ray by disqualification - Big T debuted
Tank Abbott def. Jerry Flynn
Buff Bagwell def. Diamond Dallas Page in a Last Man Standing match
The Wall def. Billy Kidman in a Caged Heat match
Kevin Nash def. Terry Funk to become the new WCW Commissioner
Chris Benoit def. Sid Vicious to win the vacant WCW World Heavyweight Championship

The pay-per-view was a pretty poor effort on the part of WCW. Following the pay-per-view, an incredible shift occurred. Several WCW talents, including but not limited to Chris Benoit, Dean Malenko, Eddie Guerrero, and Perry Saturn threatened to walk out if Kevin Sullivan was not fired. Kevin Sullivan had just replaced Vince Russo as head writer a night or so prior. It was Kevin Sullivan himself who decided to put the belt on Benoit, despite their differences, in order to assuage him, but it was to no avail. Benoit, the Filthy Animals, and the Revolution wanted no part of Kevin Sullivan's regime.

In order to appease the talents involved and save face, a relative unknown stepped up to the plate - a young, inexperienced, and ambitious Time Warner executive named Joaquin Vélez offered to take control of WCW's creative direction. Bill Busch, WCW's Executive Vice President, and Harvey Schiller, the President of Turner Sports, took the young gun's offer and named him the new Head of Creative. The ink and pen was finalized on the morning after Souled Out.

With the new blood taking charge of creative, a booking committee was formed around him the day of Nitro in order to ease him into the position. Mike Tenay, Terry Taylor, Arn Anderson, Tony Schiavone, Jimmy Hart, and J.J. Dillon took to the task of guiding the young, new head of creative and turning WCW around. With Bret Hart's future uncertain, Goldberg injured, Sting injured, and Hulk Hogan on leave until who knows when, they will have to turn to WCW's young blood and look ahead to the future rather than live in the past. Perhaps the arrival of a new, young writer spearheading the charge with a new WCW Champion is just the shot in the arm the company needs.

With that said, WCW is either on the brink of great, positive change or inevitable collapse. This is WCW 2000 - Fuck Your Shoots, WE ARE WRESTLING.

---

~ WCW NEWS & NOTES ~

WCW STARS RELEASED
WCW has come to terms with the contractual terminations of the following talent. May they have success in other endeavors.

Asya
Ed Ferrera
Kevin Sullivan
Midnight
Rhonda Singh
Vince Russo

WCW TITLE CHANGES
WCW Creative has officially retired the WCW Hardcore Championship, despite the title being a mere two months old. What works for the WWF does not always work for WCW. This was one such case. Brian Knobbs is officially recognized as the final WCW Hardcore Champion. It's been said that the new head booker was not a fan of the title, so that might have contributed to its premature demise.

The WCW Television title has also been quietly retired, just several months after Scott Hall threw the belt in the trash on live TV. The belt's reputation was tarnished and there was no point in bringing it back, so WCW creative could not be bothered to find the title in yesterday's garbage.

The WCW Cruiserweight title was vacated following Ed Ferrera's departure. Though the title's reputation has also been damaged, Joaquin feels that the title can be salvaged. With most of the cruiserweight division having moved up or moved on, the division will be rebuilt from the ground up. In the next few weeks, scouts will be scouring not only the United States but Mexico and Japan as well for fresh, new talent for the division.

WCW PAY-PER-VIEW & EVENT CHANGES
On the eve of Nitro, WCW executives slashed two pay-per-views from the forecast - Road Wild was removed from the schedule and Mayhem was moved to January of 2001, replacing Souled Out and leaving November open. WCW has no plans to fill the November slot, as a three month build for Starrcade is planned. Another Pay-Per-View smack dab in the middle of it is unnecessary.

Clash of the Champions will return to primetime television this year after two years of being off the air. For all intents and purposes, it will replace Road Wild, albeit not as a Pay-Per-View. The event will be live, free, and will feature marquee matches as part of the promotion towards Fall Brawl, which is being touted as a marquee event for the calendar year. It is scheduled to be held in Philadelphia, which is traditionally ECW country.

WCW also rebranded September 4th's scheduled broadcast of Nitro as Nitro: 5th Anniversary. What this means is anybody's guess, but we're guessing something special is scheduled for the event, as it is the show's fifth anniversary. The show will also be part of the promotion towards Fall Brawl, which as we mentioned before is being held in high regard for the year. From what we learned, Joaquin wants to start the build towards Starrcade at Fall Brawl. Clash of the Champions and Nitro's Fifth Anniversary Show will serve as bridges towards that build-up.

Starrcade is now Starrcade XVIII, or Starrcade 18. Joaquin feels that the previous Starrcade events were steps in the right direction as it relates to their production values and atmosphere, but feels that the event should be more spectacular and grandiose, in the vein of WWF's Wrestlemania. Since the build-up was previously mentioned to begin as early as Fall Brawl, there should be no doubt that the first Starrcade of the millenium will be a grand event worthy of the name 'Starrcade'. Jimmy Crockett Jr. would be proud.


---

~ WCW Roster ~

~ The Brass and Bold ~
The King of WCW – Kevin Nash

The Voices of Nitro – The Voice Tony Schiavone, The Professor Mike Tenay, & Bobby The Brain Heenan
The Voices of Thunder – Tony Schiavone, Mike Tenay, & Scott Hudson
Ring Announcers – David Penzer & Michael Buffer *For Marquee Matches
Backstage Interviewer – Mean Gene Okerlund

~ The Hall of Champions ~
WCW World Heavyweight Champion – Chris Benoit
WCW United States Heavyweight Champion – Vacant
WCW World Cruiserweight Champion – Vacant
WCW World Tag Team Champions – David Flair & Crowbar

~ WCW Wrestlers ~
Adrian Byrd
Al Green
The Beast from the East Bam Bam Bigelow
Barbarian
Berlyn *
Big T
Big Vito
Da Man Bill Goldberg *
Billy Kidman
Booker T
Brian Adams
Brian Knobbs
Bryan Clark *
Buff The Stuff Bagwell
Buzzkill
Chavo Guerrero Jr.
The Horseman of War Chris Benoit
Champagne Chris Kanyon
Christian York
Crowbar
The Perfect Curt Hennig
Sir Dave Taylor
David Flair
The Man of 1,000 Holds Dean Malenko
Diamond Dallas Page
Disco Inferno
Don Harris
American Nightmare Dustin Rhodes
Eddie Guerrero
El Dandy
Ernest The Cat Miller
Evan Karagias
Fit Finlay
Frankie Lancaster
Horace Hogan *
Hugh Morrus
The Immortal Hulk Hogan *
J.C. Ice
Jamie-San
The Chosen One Jeff Jarrett
Hacksaw Jim Duggan
Jimmy Yang
Joey Matthews
Johnny The Bull
The Juice Juventud Guerrera
Kaz Hayashi
Big Sexy Kevin Nash
Kid Romeo
Konnan
La Parka
The Ragin' Cajun Lash LeRoux
Lenny Lane
The Total Package Lex Luger
Lodi
Mean Mike
The Face of Terror Meng
Mike Rotunda
Screamin' Norman Smiley
Perry Saturn
Psychosis
Macho Man Randy Savage *
Rey Mysterio Jr.
The Nature Boy Ric Flair
Rick Fuller
The Dog-Faced Gremlin Rick Steiner
Ron Harris
The Bad Guy Scott Hall
Big Poppa Pump Scott Steiner
Scotty O
The Franchise Shane Douglas
Shane Helms
Shannon Moore
Shark Boy
Master and Ruler of the World Sid Vicious
Silver King
Sonny Siaki
Lord Steven Regal
Stevie Ray
The Icon Sting *
Tank Abbott
Terry Funk
The Artist
The KISS Demon
The Maestro
The Wall
Tough Tom
Tony Marinara
Vampiro
Villaño IV
Villaño V
Wolfie D

~ Nitro Girls & Valets ~
Baby
Chae
Chameleon
Daffney - Valet of The New Hardcore Revolution
Kimberly Page - Valet of Diamond Dallas Page
Leia Meow - Valet of The Varsity Club
Madusa
Major Gunns *
Midajah
Miss Elizabeth - Valet of Lex Luger
Miss Hancock - Valet of Standards & Practices
Mona *
Paisley - Valet of The Artist
Spice
Symphony - Valet of The Maestro
Syren
Torrie Wilson - Valet of Billy Kidman
Tygress - Valet of The Filthy Animals

~ Managers & Other On-Screen Personalities ~
The Enforcer Arn Anderson
Bobby Eaton
Bret The Hitman Hart *
J. Biggs - Manager of Chris Kanyon
J.J. Dillon
The Mouth of the South Jimmy Hart
The Living Legend Larry Zbyszko
Mr. Wonderful Paul Orndorff
Rowdy Roddy Piper

* Injured or Inactive

~ Tandems & Troupes ~
3-Count - Shane Helms, Shannon Moore, & Evan Karagias
Badstreet Boys, The - Christian York & Joey Matthews
Blue Bloods, The - Dave Taylor & Steven Regal
Brothers in Paint - Sting & Vampiro
Disorderly Conduct - Tough Tom & Mean Mike
Filthy Animals, The - Konnan, Billy Kidman, Eddie Guerrero, & Rey Mysterio Jr. w/Torrie Wilson & Tygress
Hardcore Soldiers, The - Brian Knobbs & Fit Finlay
Harlem Heat 2000 - Stevie Ray & Big T
Horsemen, The - Chris Benoit, Ric Flair, & Arn Anderson
Jung Dragons - Kaz Hayashi, Jamie-San, & Jimmy Yang
Los Villaños - Villaño IV & Villaño V
Mamalukes, The - Big Vito, Johnny The Bull, Disco Inferno, & Tony Marinara
New Hardcore Revolution, The - David Flair & Crowbar w/Daffney
nWo 2000 - Kevin Nash, Jeff Jarrett, Scott Hall, Scott Steiner, & Don and Ron Harris
Old Age Outlaws, The - Terry Funk, Paul Orndorff, & Larry Zbyszko
PG-13 - J.C. Ice & Wolfie D
Revolution, The - Shane Douglas, Dean Malenko, & Perry Saturn
Standards & Practices - Lenny Lane & Lodi w/Miss Hancock
Varsity Club, The - Mike Rotunda & Rick Steiner w/Leia Meow

~ Pay-Per-View Schedule ~
SuperBrawl X - February 20th, 2000 in San Francisco, California
UnCensored - March 19th, 2000 in Miami, Florida
Spring Stampede - April 16th, 2000 in Chicago, Illinois
Slamboree - May 7th, 2000 in Kansas City, Missouri
The Great American Bash - June 11th, 2000 in Baltimore, Maryland
Bash At The Beach - July 9th, 2000 in Daytona Beach, Florida
Fall Brawl - September 17th, 2000 in Buffalo, New York
Halloween Havoc - October 29th, 2000 in Las Vegas, Nevada
Starrcade XVIII - December 17th, 2000 in Washington, D.C.
Mayhem - January 14th, 2001 in Minneapolis, Minnesota

~ Upcoming Specials ~
Clash of the Champions XXXVI - August 17th, 2000 in Philadelphia, Pennsylvania
Nitro: 5th Anniversary - September 4th, 2000 in Atlanta, Georgia

~ Weekly Programs ~
WCW Nitro
120 min. at 8 ET/7 CT on Mon. on TNT

WCW Thunder
120 Min. at 9 ET/8 CT on Wed. on TBS

WCW Saturday Night
60 min. at 6 ET/ 5 CT on Sat. on TBS

~ WCW Power Plant ~
Head Trainer – Sarge DeWayne Bruce

~ Students ~
Alan Funk
Chuck Palumbo
Elix Skipper
Mark Jindrak
Mike Sanders
Rick Cornell
Sean Haire
As much as I watched back then, I had to research this entire timeframe because as you can see, the roster is immense. I have 91 active wrestlers on the roster, 98 if count the Power Plant trainees since they frequent WCW Saturday Night, which will be an incredibly brief recap if you're wondering. I have plenty of dead weight ripe for squash matches, though, so I'm fine with it. With that said, I'm hoping this is it. I'm motivated and I'm ready. It's been nearly five years since my last show. If not, enjoy the opening post, as it is quite a beautiful one. It's also a great reference for those who want to begin a WCW thread in this time period, as the roster is as complete as I could get it. Took a lot of digging, it did. WCW had so much crap on payroll, it's unbelievable. No wonder they lost money.


Woooo!
Winning World titles, Custom Made Clothes
Join Date: Jun 2011
Location: Belleville, Indiana
Posts: 19,270
Points: 13,202
Very interested to see where this goes man. Really though, the roster was that big? Insane.
---
Re: WCW 2000 - Fuck Your Shoots, We Are Wrestling
---
Of all the projects you've embarked on in your time here, this seems to be the one that you just keep coming back to, so I really hope this time you'll get beyond the opening post. Your style of writing is unique so it'd be nice to see you producing some work in the section.

I never really watched WCW at this time, but it doesn't matter, because it's you, and I know you'll write in such a way that'll keep me intrigued. Looking forward to the first show.
Oh, wow. I am super excited for this. I spend too much of my time wondering what would have happened if "The Radicalz" never jumped ship. Benoit probably would have dropped the belt a week later, they would have continued to job and then WCW would still be dead... But, I am excited to see how they fit into this. The roster is stacked, good luck with that. There was so much crap in WCW at this time, I can't wait to see your changes. I love your schedule changes, especially the long build to Starcade. I think you are a tremendous booker, and I really hope you stick with this, because I think it could be a great thread. Good luck, old friend.
Sent from
Verticalsports.com Free App
---
WCW.
Re: WCW 2000 - Fuck Your Shoots, We Are Wrestling
---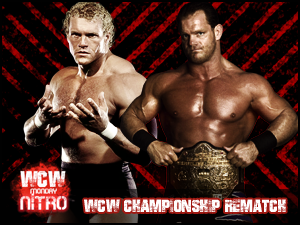 NITRO Preview

Nitro On Nash-Forward...

Tonight's edition of Nitro comes to you live from Columbus, Ohio.

Last night was a landmark Pay-Per-View in WCW history. A new, first-time World Champion was crowned and Nitro has a new King. His name is Kevin Nash, and his regime has officially begun. Bow down.

Souled Out ended with a picture perfect moment of a dream becoming reality - Chris Benoit defeated Sid to become the new WCW World Heavyweight Champion. However, the night did not end with pomp and pageantry - it ended with a threat from the head honcho himself, Kevin Nash. Nash proclaimed before the end of the broadcast that the title belonged to the nWo. Despite this, however, Chris Benoit, out of pure sportsmanship, has granted Sid a rematch for the title tonight. Will Kevin Nash and his band of cohorts crash the party, or will Benoit prove that he is a fighting Champion willing to take on all comers? Oh come on, Nash will prevail. We all know this.

New WCW Commissioner and the leader of the nWo, Kevin Nash, has also promised a historic night for Nitro, beginning with what he calls, "Throwing out the trash." What does this mean? Well, we know that DDP and Buff Bagwell had a hellacious match-up last night at Souled Out, but Nash does not want the fun to stop there. On WCW.com, Nash issued a declaration, that as the new "King of WCW," he wants to see both men tear each other apart again, "because I want Kim all for myself, that's why." Such a nice guy. Not to mention, whoever wins will be made a honorary member of the nWo and will also receive a commemorative nWo T-shirt and cup. Wow, isn't that something? All hail the King of WCW.

The former United States Champion, Jeff Jarrett, was unable to compete last night, but tonight, Nash will grant him a chance to compete for the title once more. The catch? He's not gonna let little Jeffrey Jarrett off that easy, regardless of his affiliations. He isn't going to be the only man competing for a chance at the title come Superbrawl, as seven other guys have permission from Big Sexy himself to make Jarrett's life "less than peachy," in his own words. Two first round matches will commence tonight, with Eddie Guerrero battling the Brit from Blackpool, Steven Regal, while Jeff Jarrett is left to contend with the Mamalukes' personal "Enforcer", Disco Inferno. Looks like Jarrett will have his hands full this time around, thanks to his leader. We here at WCW.com would like to say, "slapnuts."

World Championship Wrestling presents Monday Nitro, live tonight. At 8 PM ET/8 PM CT, Kevin Nash takes over...

~ Scheduled Matches ~

WCW World Heavyweight Championship - The Rematch
Sid Vs. Chris Benoit (c)

Buff Bagwell Vs. Diamond Dallas Page

WCW United States Heavyweight Championship Tournament - First Round
Eddie Guerrero Vs. Steven Regal

WCW United States Heavyweight Championship Tournament - First Round
Jeff Jarrett Vs. Disco Inferno

Card Subject To Change, because Nash says so

~ The Nash Fan Club
If this preview looks familiar, that's because it is. It's a cut and paste job from my other WCW 2000 thread, because they're damn near one and the same. No point in changing it. Show goes up Monday after next. All my Nitros will fall on Mondays while my Thunders will fall on Wednesdays. Brief WCW Saturday Night summaries will drop on Saturdays, accompanied by News & Notes to end the week. Thanks for the interest, guys.
Learning to break kayfabe
Join Date: Jan 2014
Posts: 56
Points: 50
Re: WCW 2000 - Fuck Your Shoots, We Are Wrestling
---
This could be a really nice btb but I would start to cut dead weight. You could have Bam Bam snap and start to kill jobbers not literally though. I don't know man, I will wait to see how you catch my attention.
Re: WCW 2000 - Fuck Your Shoots, We Are Wrestling
---
Not that I personally have any problem with this, but I thought that you couldn't write a BTB with dead wrestlers in them in here?
Quote:
Originally Posted by Rules
8) Deceased Wrestlers
Do not use deceased wrestlers for a modern day show, or a show with a roster of completely deceased wrestlers. You can use a superstar past his date of death ONLY if you used him before he passed away. Ex. You can use Eddie Guerrero past 2005 if the thread started before November 2005.
Now that I got that out of the way, I have to say that this sounds pretty interesting. It's always fun and challenging to play around with a company which just about has the final nail in it's coffin, while trying to come up with a solution. Have to wait and see what you come up with.
---
sig by A$AP
Re: WCW 2000 - Fuck Your Shoots, We Are Wrestling
---
You can use 'em when they're alive. They were all alive in 2000, so I can use 'em.
Re: WCW 2000 - Fuck Your Shoots, We Are Wrestling
---
Ohh okay. Did not know that. My mistake.
---
sig by A$AP
Posting Rules

You may not post new threads

You may not post replies

You may not post attachments

You may not edit your posts

---

HTML code is Off

---