Re: WWE 2007: Unleash the Fury
---
Raw Feedback
John Cena to open the showÖ He seemed very pumped after all the stuff that has happened between himself and Kennedy. This feud has been pretty golden so far in my eyes, and I am pretty positive that Cena will eventually come out on topÖ Cena seemed nice here, in character sucking up to the fans big time, also seemed very angry and pumped so hopefully over the coming weeks he becomes more aggressive, aggressive face Cena would be much better then ass kissing Cena to be honest. Anyway started off strongly here.
Mr Kennedy makes an appearance and from here the promo got better, I was hoping for intense Cena but instead Cena continued to rattle off his little jokes and try and get under Kennedyís skin. Kennedy is cockiness, so for this second part of the feud to work, I think you may need to step it up and make Cena ultra intense for a while, especially if Kennedy is boycotting, otherwise it could become a little boring. Anyway, strong start though KOP, I was really, really impressed with this promo.
Matt Hardy beats Elijah Burke. Its kind of weird how Matt Hardy is probably just going to slot back into a normal face roll, like Summerslam never happened or something. Anyway, looks like he wants the US Title back, but I think he had a good enough reign and you should keep it away from him. Matt Hardy really bores me at times, because he is not charismatic, I say get the title off of Shelton but donít give it to Hardy.
Batista attacking Shane McMahon continues to show off this mans ruthlessness. I think a Shane/Batista match will eventually happen and well, Bischoff seemed very happy with this which makes me think everyone better watch out for Bischoff. He is the dark horse in all this mystery business that has been going on. Triple H competing alone? Someone will help him I think.
Triple Hís attitude really got himself into a bit of trouble here it seems. He will now compete in a handicap match against the two most ruthless guys on the Raw roster, but I am not to fussed as I still believe there will be some kind of swerve. On a side note, I have loved the cockiness of Eric Bischoff and the confidence that is back in him, ever since he has been given power on both shows. Despite booking a shitty main event, I donít like handicap matches, he has been ownage over your last two shows, and I expect this to continue over time.
Kenny Dykstra has finally escaped from the annoyance and extra baggage that was Hardcore Holly. That is a good thing, Dykstra, I feel in this thread has been built nicely and can start some kind of journey to greatness from here. Santino isnít exactly an ideal opponent, but I guess its just for now until you can find him something better. Hopefully this happens sooner rather then later, because as I stated last week I believe Kenny has heaps of momentum in this thread, you just donít want him beating jobbers for to long, it could make you miss the boat.
Mr Kennedy made some good points about Foley having to make sure he is not overshadowed by Bischoff, I personally hope this means Foley will become way more exciting and make a whole heap of cutting edge decisions. Kennedy getting to choose Cenaís opponent is a clever way to stall the next match in their series, I can see Kennedy picking some kind of big monster that Cena will run through. Kennedy will still make a appearance at Unforgiven, I really canít see the whole PPV and especially Cenaís match going without a Kennedy appearance. Geez, your promoís have impressed me so far, they seem better then previous weeks.
Beth Phoenix and Mickie James is continuing and well, it didnít take a genius to figure that out. They are easily your two best divas going around at the moment, and they should have another decent match at Unforgiven.
The Undertaker and William Regal is a very unique feud to say the least. These are two guys who I donít think have ever crossed passed in BTB, therefore I am well and truly intrigued to see just where you go with this thing. Seems like a generic feud to waste time, since you admitted it yourself, and that is a bit disappointing but hopefully you entertain us with it anyway.
Short and sharp from Kane but very nice indeed. I am interested to see where you take this evil Kane from here, despite his lack of skill in the ring these days if booked correctly I believe he can still be a big asset to a BTB.
Nice interview from Randy Orton, he is easily your best character at the moment, I continue to repeat this because I canít stress this enough, he needs to win the title off Triple H, you canít have him lose after he has gotten so over.
Nice win for Priceless here, this week Ted DiBiase going over CM Punk, and all this does is further along the feud. Priceless are being built as the next best thing here and I think itís only a matter of time before they get themselves some tag team gold. The continuing disrespect of their fathers is something I like as most people seem to have them living off their fathers, but you have them doing the complete opposite. I am not sure what to make of Unforgiven, on one hand it could be to soon for Priceless to get tag team gold, but on the other hand if you donít do it Priceless could lose a ton of momentum.
Handicap match is a no contest and despite being dominated that is basically a win for Triple H. I canít help but lol at Shane McMahon getting the best of Batista here, steel chair or not I hate when monster wrestlers are made to look weak. Orton took care of McMahon and Triple H got the advantage on Orton as well. This was a good ending for the faces and this was just some nice storyline progression with these four guys.
Overall KOP, probably the best show I have read from you. You really did seem on the ball for this one and that is a good thing, hopefully you keep it up with Smackdown, you know I will be around for it.
---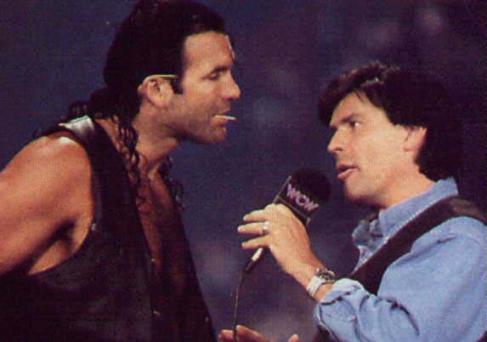 Re: WWE 2007: Unleash the Fury
---
Posting Rules

You may not post new threads

You may not post replies

You may not post attachments

You may not edit your posts

---

HTML code is Off

---